Design software is no longer an option is the architectural design process; it is the backbone of architectural design and production.  While sketching and understanding of space are, of course, essential to the design process, the software is integral in representing your ideas and producing your deliverables, with efficiency and accuracy in the digital world in which we live.
Suppose you are a student pursuing architecture or an experienced architect working in the field for years. In that case, this blog post aims to give you an overview of the different programs available for the various phases of the architectural design process, specifically the Design & Documentation phases.
As someone trained in architecture and now working for an Autodesk reseller and as a consultant and trainer, I have a useful perspective that understands what it means to work in an architectural office and what it takes to learn to utilize several different types of software all performing various tasks.
Of course, you don't have to be an expert at all of the programs I will be discussing (I'm not), but you should have a basic knowledge of them and understand which are most useful, depending on your role in your office.  This foundation will allow you to move seamlessly between software so that you can contribute to any number of tasks in an office and grow in the future. 
AutoCAD
The first two pieces of software on this list are likely known to most.  AutoCAD has long been a primary tool of the AEC industry as it is a mainstay for 2D drafting.  3D modeling and rendering are possible in AutoCAD, but it is not its specialty than some others in this list.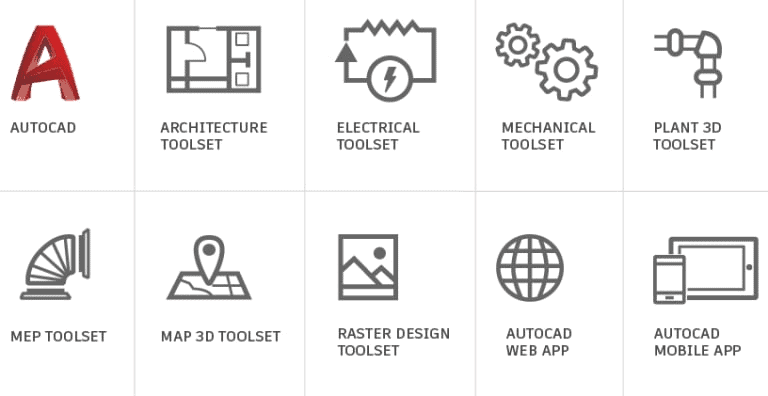 As of 2018, AutoCAD is combined and includes industry-specific features and libraries for architecture, mechanical design, electrical design, and more. The AutoCAD industry toolsets now included in AutoCAD offer intelligent features that will help users work faster and be more efficient. For example, by using the Architecture toolset to model design, you'll save a significant amount of time incorporating real architectural elements such as doors, walls, and windows, instead of starting from lines and circles.
Revit
A majority of architecture firms have adopted Revit as their leading architectural design software.  Revit is BIM (Building Information Modeling) software, which not only enables designers to model their building using 3D modeling and 2D drafting tools, but it also provides collaboration both internally and externally.  Internally, multiple team members can work in the same model at the same time (unlike AutoCAD files that can only be opened by one user at a time).  Externally, designers can collaborate with consultant models through coordination and clash detection. 
Revit is focused on automation and streamlining the design process.  Through parametric design, Revit allows designers to instantly see changes made carried throughout the entire model.  For example, a change made to a door in a 3D view will be reflected across all plans, elevations, sections, schedules, etc. which show that door.
FormIT or SketchUP
SketchUp and FormIt are best utilized for schematics and presentations.  SketchUp is the more widely known of the two. However, FormIt is the Autodesk version of SketchUp, providing much of the same functionality.  The benefit of FormIt is that it is developed by Autodesk, and therefore speaks the same language as other Autodesk products (i.e., Revit), thus allowing for a seamless transition from one product to the other. 
Both of these software pieces have easy to use interfaces and tools and provide the ability to quickly model and convey design ideas.  Both also offer extensive materials and the ability to pull in additional objects and information for quick and rather detailed views that are presentation-ready.
Rhino or 3DS Max
Rhino and 3ds Max are both 3D modeling visualization programs.  Given that they create geometries differently (3ds Max uses Polygon Mesh, whereas Rhino uses NURBS), one may be more appropriate than the other depending on what you are looking to accomplish. 
While 3ds Max is still used in the architecture industry for architectural visualization, it is predominantly used for making 3D animations, interactive games, visual effects for the entertainment industry and architectural visualization studios.  Given its dedicated tools for rigging character animations, curvature controls, painting, and sculpting, 3ds Max is best utilized as a visualization tool instead of a design tool.
On the other hand, Rhino, given its ability to import/export 30 different CAD file formats and utilize plugins from various resources (food4Rhino, for example), is a more flexible product for architects to create a document and edit their designs.  Like 3DS Max, Rhino also provides tools for rendering and animations, which can be further extended by third-party plugins (such as V-Ray by Chaos Group for photo-realistic renderings VisualARQ by Asuni CAD for connecting to BIM platforms). 
McNeel & Associates, the developers of Rhino, have just recently released Rhino.Inside, which is an open-source project allowing Rhino and Grasshopper to run directly inside applications such as Revit and AutoCAD via a plugin so you can create and use native objects in the host application.  This project also allows the user to import Rhino models into Revit with ease and export Revit models into Rhino.  
Grasshopper or Dynamo
Grasshopper and Dynamo are open-source software that helps automate tasks and provide tools for creating and editing complex geometries in other software such as Revit or AutoCAD.  Both are considered a Visual Programming Language, which means they are utilized through graphs and scripts instead of text-based programs that typically require an understanding of programming language.  Therefore, both Grasshopper and Dynamo are more accessible to those with more visual thinking and working.  
Due to them being open source, both benefit from having large communities generating scripts and tools.  This allows you to not necessarily be an expert on either one, but through the use of plugins, you can extend the capabilities of your software by downloading and using scripts and tools someone else has already created.
V-Ray or Enscape
V-Ray and Enscape are two of your more popular rendering plugins in the industry.  Neither is standalone design software, but they are powerful tools nonetheless.  While most of the software already listed has some form of rendering tools already built-in, V-Ray and Enscape can extend your software's capabilities to create even more photorealistic renderings with the additional tools and libraries image maps that come with each.
Each option has its pros and cons, but each is used widely for renderings, so you should find success with whichever option you explore.
Bluebeam
Bluebeam, now an industry standard for marking up PDFs, performing takeoffs, organizing drawings, and collaboration, is likely a familiar piece of software for many of you reading this post as well.  More than a simple PDF viewer, Bluebeam allows architectural users to perform the following tasks: design review, QA/QC, takeoffs, document management, submittal review, RFI postings, punch process, project handover, and site logistics. 
As far as collaboration capabilities go, 'Studio' sessions in Bluebeam Revu allow you to invite team members from anywhere to collaborate in real-time on your projects. 
Conclusion
By no means is this an exhaustive list of all design software available to you as an architect.  However, it does provide a pretty good sampling of the most popular within each category, and for what purpose you would use them.