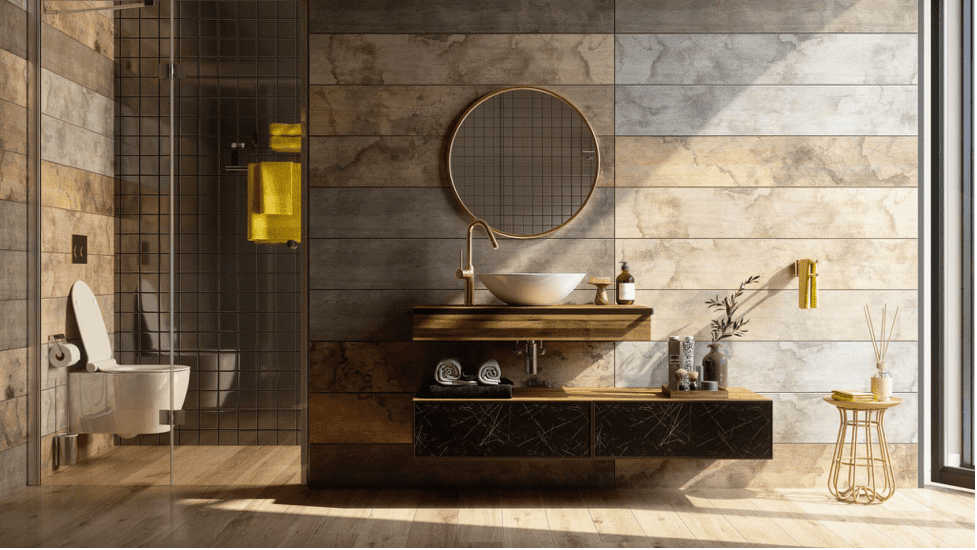 7 Bathroom trends Your Bathroom Needs in 2022
With the new year comes new expectations, the need to keep your bathroom up to date with current bathroom trends. Regardless of whether you have wet rooms or walk-in showers installed in your home, you must incorporate trendy features in your bathroom design to give it that sleek, welcoming feel when you or your guests use your facilities. The following are ways homeowners can give their old bathrooms a makeover with earthy tones and natural finishes, to name a few.
Get with the trend today. Here are some bathroom trends you need to get behind
Only what you need
Lots of greenery
Vintage fittings
Standout wallpapers
Stools and benches
Touch of DIY
High tech bathroom fixtures
7 trends you should incorporate in your bathroom in 2022
1. Only what you need
It is effortless to get carried away with several trends you want to be reflected in your bathroom designs, but one essential bathroom trend is knowing when to stop. You do not want to go over the top with your fittings and fixtures for multiple reasons. One of such reasons is that it takes your renovation bill much higher than it should, and another is that it uses up all the bathroom space.
Having unnecessary bathroom fixtures removes spaces that you could have otherwise used to house cabinets and other storage options. You can carve out more space by looking into tiled shower enclosures. They are usually in the corner, and the traditional glass doors allow you to see more of the room at every glance, giving the illusion of space.
2. Lots of greenery
One way to keep your bath space looking refreshed is to introduce natural materials like plants and succulents. These organic materials give your bathroom a spa-like feel. The natural hues add colours to your overall bathroom look. Your plant choice should be any that thrive in conditions similar to the humid bathroom environment and does not need to be watered too frequently to avoid becoming a chore.
3. Vintage fittings
Using old brass sinks and recovered spent vintage wood in your bath design is guaranteed to add some character to your space. These fittings can contrast your polished bathroom and be the centre of attention immediately someone steps in. Pulling this off gives your bath a sense of timelessness and nostalgia that is sure to transform your space.
4. Standout wallpapers
One big trend you need to get behind is having one or more statement walls in your bathroom. You can prop up your statement wall however you see fit, but one easy way to make it come alive is with bespoke, standout wallpapers. Be sure to check out several bathroom design inspirations to see how best to incorporate this idea but be assured that your interior design would score serious points when pulled off. You should favour wallpapers with white and grey shades, especially if your bathroom features matte black fixtures.
5. Stools and benches
New additions you should expect to see in most bathrooms in 2022 are small stools and benches. These new additions give owners more room to work with and reduce clutter on the bathroom countertop. The mobility gives you the advantage of moving your care products effortlessly in the bathroom. These benches and stool blend functionality and aesthetics seamlessly, as their usual textured and soft build is a subtle statement in your overall bathroom outlook.
6. Touch of DIY
Having trendy bathroom ideas is just the start. It is vital that you can take these ideas and make them your own. For this reason, you should consider adding some DIY touches to your bathroom design. This allows you to repurpose existing ideas into original renditions that give your bathroom a unique look. It defeats the purpose of having your space remodelled if, in the end, it looks like any other bathroom.
While making your bath reflect your taste is crucial, it is essential to remember that you are not a constructor and should ensure to stay off tasks that might need experience from construction workers or interior designers.
7. High tech bathroom fixtures
Technology is constantly getting better as time passes. Companies are rolling out fixtures with luxury features that ensure the homeowner gets the most out of their investment. These tech fixtures blend with the natural elements in your bathroom to give the most comfort and a range of functionality.
Some of these high tech bathroom fixtures include but are not limited to the following:
Electronic mirror defoggers: It is inconvenient when steam lingers on your mirror surface longer than it should and for you to take time wiping it clean. The solution is to own mirrors with this piece of technology that automatically defogs.
Digital shower: A digital shower gives the user the option to choose the water temperature in seconds and, in some cases, even the water pressure.
Conclusion
Your new bathroom is all but set. Follow the above-listed tips, and you are on your way to not just having your dream bathroom but one that is in with the times. Good luck!