Whether you enjoy creating charcuterie boards or you run a restaurant, finding the best commercial is no mean feat. Investing in the best meat slicer can save you a lot of time and energy and guarantee you slices of meat, cheese, or vegetables that you can proudly present, especially if you run a business.
We created a guide that outlines features to consider when buying the best commercial meat slicer and the 5 best options in the market. Our first choice goes to the BESWOOD 10" Premium Meat Slicer due to its versatility in any kitchen. It is followed by a close second, the KWS MS-10NT Premium Commercial Slicer, which has a built-in sharpener to keep the blade ready to slice at all times. Our third slicer is the Anescra 200W Electric Deli Meat Slicer which offers child lock protection and other amazing safety features. Keep reading to find out what they are.
The 5 Best Commercial Meat Slicers
| | | | |
| --- | --- | --- | --- |
| | | | |
| | | | |
| | | | |
| | | | |
| | | | |
1) BESWOOD 10" Premium Meat Slicer
BESWOOD 10" Premium Chromium-plated Steel Blade...
Premium Chromium-plated Steel Blade with protection against...
There is no need to sharpen the blade frequently
Double Illuminated ON/OFF Switch 24V to avoid power shock for...
Slicing meat, cheese, veggies, ham, fruit precisely
USA standard approved: ETL, NSF
Beswood Premium Meat slicer has a chromium-plated carbon Steel 10" blade; hence it's protected from rust and corrosion. We liked that the food slicer features a double illuminated on/off switch. It has skidproof Rubber Feet & a Blade Ring Guard for safety purposes.
2) KWS MS-10NT Premium Commercial Slicer
This KWS MS-10 NT Commercial meat slicer is best suited for those who slice regularly. It features a Teflon blade and is semi-automatic. We all agreed that the commercial meat slicer is perfect for slicing meats, vegetables, fruits, and cheeses from paper-thin to 0.4 inches thick. Additionally, it features a built-in sharpener that helps sharpen the blade, ensuring it's always ready to slice.
Image source: kitchenwarestation.com
The meat slicer has a waterproof on/off switch and skid-proof rubber feet that help secure the deli meat slicer on the countertop while slicing. The commercial slicer features a 0.4 hp motor and power transformer, which helps deliver the power needed to tackle the slicing needed. We tested it on raw meat, and it worked without a problem. This is largely due to the motor, which is constructed from high-quality copper, making the slicer more durable and increasing its level of performance.
The transformer helps prevent electric leakage and short circuit. Lastly, the meat slicer features a product tray that can hold food of up to 7 (L) X 7.5(W) X 5.5 (H). The tray can easily be removed for cleaning.
3) Anescra 200W Electric Deli Meat Slicer
Sale
Meat Slicer, Anescra 200W Electric Deli Food Slicer...
✔ 200W Powerful Meat Slicer: The update electric food slicer is...
✔ Two 7. 5'' Stainless Steel Blade: We understand that the...
✔ Easy to Clean: Seamless and removable features make...
✔ Precise Adjustable Thickness: This food slicer built-in...
✔ Compact and Durable Design: The construction is solid cast...
The Anescra 200W meat slicer stands out because it comes with two 7.5-inch stainless steel slicer blades. One is serrated, and the other is a straight-edge blade. A serrated blade is great for slicing raw foods and crusty bread, while the straight edge blade can slice through anything, but in this case, both cooked and raw food.
Image source: dontwasteyourmoney.com
With this commercial slicer, you can slice bread, meat, deli food, cheese, fruits, and vegetables. It has a thickness control dial that allows you to customize slice thickness from ultra-thin to 9/16" with a simple turn of the knob. The best part for us was that this commercial meat slicer has a detachable button that allows food carriage to be quickly removed for easy cleaning.
For safety purposes, the meat slicer is equipped with suction cup non-slip feet that ensure that it stays put when placed on a countertop during use. It withstood our testing, and the suction didn't budge even a little. Furthermore, this electric meat slicer also has a recessed power switch that prevents accidental power on or power off and food/debris from damaging the switch. The meat slicer comes with child lock protection allowing you to keep your little ones safe.
4) LELOCLE Commercial Meat Slicer 340W
Meat Slicer,Commercial Meat Slicer,340W Frozen Meat...
A great choice for commercial needs and family gatherings: Our...
Precise process Durable Construction: Blade diameter 10 In,This...
Premium Material: German Imported blades,there is no need to...
Easy to clean: The detachable blade makes it easy to clean the...
Package and service: 1 food slicer, 1 manual, 2x cut-resistant...
The Super Deal electric meat slicer is ideal if you're looking for a handy slicer for home use. The electric meat slicer features a built-in sharpener and is surrounded by a knife ring guard designed to protect users. The 10 " blade slices both meat and vegetables, and we are sure since it shredded a head of lettuce and meat for cold cuts.
Image source: edinburghcashmere.com
It's made of stainless steel, which prevents it from corrosion. The deli meat slicer features a simple dial that provides you with control over the slice thickness. We were delighted that there are 15 options from the thinnest slices to 1/2" cuts to allow for ultra-fine, tissue-thin cuts or thicker slices.
The commercial meat slicer features a slicing tray that can hold foods up to 7.9" wide by 6.7" high. It comes with an ergonomic handle on the side, allowing us to maintain complete control of the slicer during operation.
5) VEVOR Commercial Deli Meat Slicer
VEVOR Commercial Meat Slicer, 10 inch Electric Food...
Excellent Performance: This meat slicer is constructed with a...
Precise Adjustable Thickness: Our electric deli food slicer is...
Powerful Copper Motor: Input Power: 240W; Output Power: 150W. Our...
Security-ensuring Designs: This slicer machine has a built-in...
Compact Body For Wide Applications: This electric food slicer is...
The Vevor commercial meat slicer features a built-in blade sharpener and has sharpening control buttons that help you control how sharp you want the blade to be. The meat slicer is powered by 240 watts, which we thought was more than enough to run this machine.
Image source: ebay.com
The blade is constructed from stainless steel and has a diameter of 10 inches. The cut thickness is easily adjustable from 0 - 17mm. Furthermore, this meat slicer has a fixed ring guard, which ensures safety and protects the user. We were happy that the safety features worked well.
It also features skid-proof rubber feet for table use and an on/off switch. Water-resistant protection covers the switch. Whether you want to keep stored meats fresh or just for meal prepping, this slicer is best suited to slice cheese, vegetables, fruit, and different types of meat like beef, venison, mutton, turkey, ham, and bread.
Factors To Consider When Buying The Best Commercial Meat Slicer
a) The Type of Meat Slicer
There are three types of electric meat slicers: heavy-duty commercial, frequent, and light home use.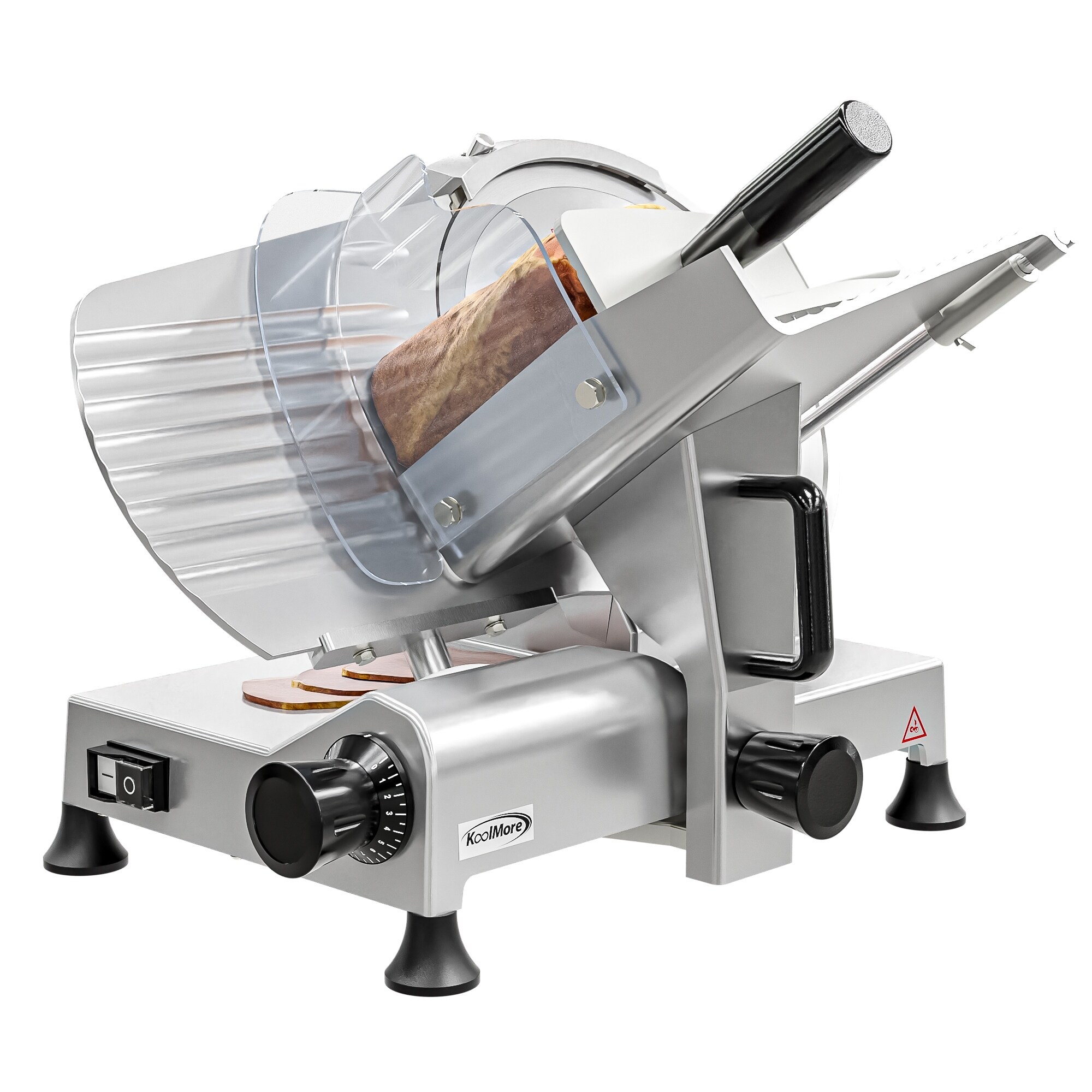 Image source: overstock.com
1. Heavy-Duty / Commercial
These commercial meat slicers are designed to be the fastest, biggest, most robust, capable, and top-of-the-line in the market. They tend to be bulky and big and hence cannot be moved in and out of storage.
They usually weigh around 50 lbs and have ½ HP plus motors. The electric meat slicers have a minimum of 10-inch blades but often have 12 to 14 inches and can slice anything. They can also run for hours without breaks.
These commercial meat slicers come with plenty of safety and convenience features, for instance, moisture-proof touchpad controls, removable carriages for cleaning, zero to minimal blade exposure for safety, and automatic shut-off.
This commercial meat slicer is ideal if you're looking for a handy tool for your restaurant or if you regularly slice at home.
2. Frequent use
These meat slicers' weight range from about 10 – 40 pounds. This allows you to move them in and out of storage when necessary. They are normally constructed from stainless steel and aluminum alloys with some plastic parts. They run on motors that range between 240 -320 watts and have a 9 to 10-inch blade.
With these slicers, you can handle various types of meat and hard cheeses. However, it's not ideal for heavy use as the motor can become strained if used for more than 30 minutes continuously.
Meat slicers in this category are ideal for prepping for brunch, cookouts, big gatherings, or family sandwiches. They can be used for regular tasks, the same way you would use a set of knives for the job.
3. Light Use
These meat slicers are ideal for minimal use, with less than 1 hour of slicing per day. They are great for slicing vegetables, fruits, meat, and bread and not raw or frozen meat or cheese.
These meat slicers run slower as their motors range between 120W -150Watts and, as a result, will often need to take breaks to cool down if the slicing job is beyond what it can handle. They usually have a 7 to 8-inch diameter blade; hence you cannot slice anything longer than 5 inches as the blade won't be able to cut through it.
This is an ideal food slicer if you're looking for an affordable machine that you can occasionally use.
b) Blade Size
The best meat slicers will have strong, large, and rust-free blades, just like the butcher knives used to cut raw meats. These will help in cutting the meat to your desired thickness. A good meat slicer should have a standard blade size of 9 to 10 inches. While a quality commercial meat slicer ideally should have a blade size of 12 inches to 14 inches.
Image source: Consiglio'skitchenware.com
Blade sizes between 7 inches to 9 inches are usually for lighter use, while those ranging between 10 to 14 inches are for commercial/heavy use. A good way to measure the blade size is by looking at the height of the food. If its 2 inches shorter than the blade size, this means:
A 12-inch blade can slice up to 14-inch high food.

A 10-inch blade can slice up to 12-inch high food.

A 7-inch blade can slice up to 5-inch high food.
c) Belt Driven or Gear Driven
This refers to what connects the blade to the motor. Most commercial meat slicers are belt-driven. This is because they are easier to repair and affordable compared to slicers that operate on gears.
Image source: briceaustralia.com
However, gear-driven slicers are more durable, especially nylon gears, as they are top quality and run quietly. However, the downside with gear-driven systems is that they eventually wear down, and it's costly to replace them.
d) Serrated or Straight Edge Blade
A serrated meat slicer blade is best suited for slicing tough bread crust and very tough meats. However, if you're looking to have those thin slices that you can line up on your charcuterie board, a serrated blade would not be ideal because it can grip and tear.
Image source: dontwasteyuormoney.com
A straight-edge blade can slice thick or thin as long you have a powerful motor. It can also slice through crusty bread. It's a "do-it-all" kind of blade.
e) Ease of Cleaning
Image source: quantumfoodsolutions.com
Food hygiene and sanitation are key, especially when dealing with meat. Some slicers come with a special attachment hence making the removal and cleaning of the blade easier. If you don't enjoy cleaning, take note of the process, and if it's doable so that you don't have to take out the manual every time, you have to clean the slicer.
f) Safety Features
Safety is key when considering buying a commercial meat slicer. It's important to remember that a meat slicer is run by a powerful electrical motor with a razor-sharp blade. When turned on, a food slicer rotates very fast; hence it can easily chop your fingers or the whole hand if not cautious.
Image source: prorestaurantequipment.com
Some of the safety features you should check on are:
1. Blade guard
Most times, commercial meat slicers have their blades exposed. When a blade rotates at high speed, it can easily cut your fingers. However, with a blade guard in place, you can turn on the meat slicer when certain that the guard is in place.
Most modern commercial meat slicers come with permanent blade guards.
2. Gauge plate interlock
This is one of the most essential safety features. When set at point 'zero', a gauge plate interlock ensures the safe removal of the slicer tray. This is essential when cleaning the carriage tray.
3. No-volt release
The no-volt release feature allows you to restart the slicer after cleaning. It also works every time a power outage or fluctuation occurs.
g) Power of the Slicer
Entry-level meat slicers have motors with power that range between 120W / 0.2 HP. They can slice cooked meats, vegetables, and bread. However, the slicers have to be left to rest after 15 minutes to allow the motor to cool.
Image source: lemproducts.com
For higher power, you can go up to 420W / 0.5HP. This can slice semi-frozen meat or cheeses. Meat Slicers with motors with power higher than 0 .5HP w can slice any food you feed through them.
Frequently Asked Questions About the Best Commercial Meat Slicer for Home Use 
i) What size blade is the best for a meat slicer for home use?
The best blade size ranges between 12-inch to 14-inch. Mid-tier and premium slicers have larger blades. They are the best for all-around use, including slicing raw meat. However, 12-inch blades are more common in the industry compared to other blade sizes.
ii) Can a meat slicer for home use cut-cooked meat?
Meat slicers are meant to cut cooked meat. It can either be hot or partially frozen meat. Furthermore, you can cut meat into thin slices for sandwiches, or thick ones, if you wish to.
iii) How thick can a meat slicer for home use slice meat?
Most meat slicers cut meat to paper-thin proportions. These slices can range between 0.2mm to 0.6mm per slice. That's very thin, considering you can also use the same electric meat slicer to cut meat to thicker sizes of at least a quarter of an inch. If you want to get the best meat slices, set the proper settings on your machine. You can find the settings in your manual.
iv) Should you wear gloves when using a meat slicer for home use?
Yes, you should. Cut-resistant gloves are recommended for anyone handling slicing meat. Remember, it only takes a second for a finger or hand to slip and get cut on an electric meat slicer.
v) What is the best meat slicer to buy for home use?
The best meat slicers are the Beswood electric meat slicers. They have a chromium-plated carbon Steel 10″ blade, which is perfect for slicing meat. Not to mention any Beswood machine is the right meat slicer for any job involving slicing meat.
vi) Can a meat slicer for home use cut other things?
Yes. As long as you can cut it with a mandoline slicer, you can cut it with a meat slicer. That goes for vegetables like lettuce. You can also use it for slicing cheese.
vii) What are the advantages of having an automatic meat slicer for home use?
A compact meat slicer will help you to make thin slices of meat that are easier to store. You can also use them for cold cuts. Additionally, with a meat slicer, you can get extra thin slices in a batch. It's better than using a knife since it's less time-consuming, and you can use it with tougher meats.
viii) Do I need to clean my meat slicer after use?
Yes, you do. It is not only hygienic but also good for the slicer itself. You can start by using a cleaning sponge, dish soap, and hot water to remove any food debris and wash even the areas that are hard to reach. Remember to be very careful with your hands when cleaning the blade.
ix) Is it cheaper to slice meat using your slicer for home use?
Yes, it is. Especially if you buy deli meats in bulk for storage. Additionally, depending on how frequently you use the slicer, it can be cheaper to slice your meats.
x) What should I look for when buying a meat slicer for home use?
The most important factor to consider is the horsepower. This determines how much meat volume the slicer can handle at once. The blade size also matters since the bigger the blade, the more efficient a slicer is. Furthermore, you should also decide whether you prefer a manual meat slicer or an electric one.
Lastly, look for a gravity feed in a slicer since it is easier to use despite occupying more space than a vertical feed, and there's less chance that you could cut your fingers.
The Bottom Line
The best commercial meat slicer for home use is an excellent way to ease the slicing process. Using a knife is a tiring and time-consuming endeavor. Additionally, you don't always have to use the slicer for meat only. Slicers are versatile and can be used to slice several other foods.