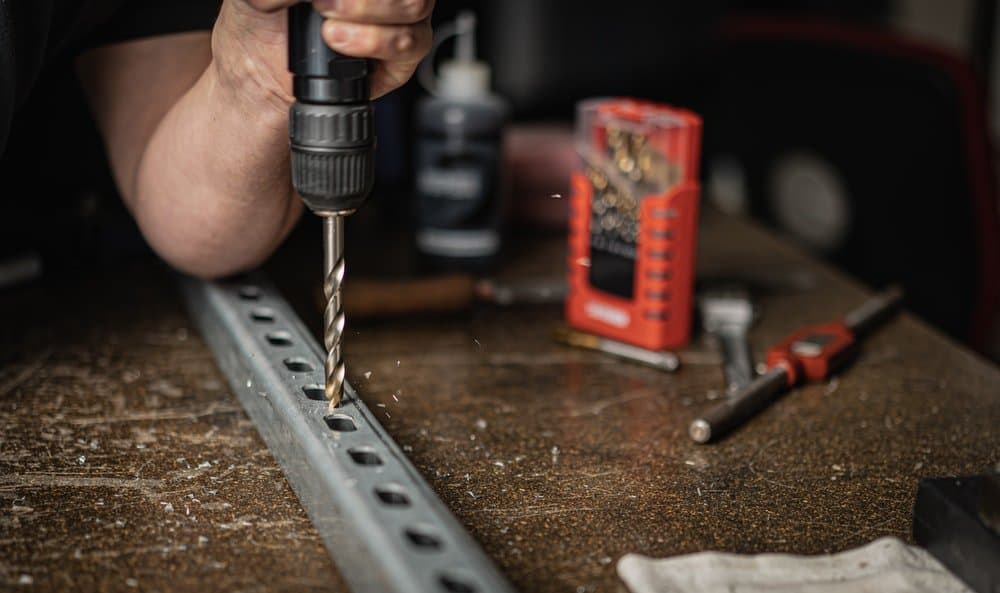 Best Drill Bits for Metal for DIYers and Professionals
Do you have a project that requires you to use the drill a lot? If so, do you also need to drill into metal? If the answer is yes, we are happy to review the best drill bits for metal so you can finish your project with little hassle. But, first, let's see what a drill bit is and where you can use it.
What is a Drill Bit?
A drill bit is a cutting tool designed to pierce into different kinds of metal. When buying a drill bit, you are likely to buy it in a set so you can get your bits in various sizes.
You will find drill bits made with different materials such as carbide, high-speed steel (HSS), and cobalt. Besides the material, drill bits also come with other coatings designed to make them stronger. These are coatings made with titanium, black oxide, carbon oxide, or more.
A drill bit can create holes in stainless steel, hardened steel, or other non-ferrous metals on top of other softer materials such as wood, plastic, and, in some instances, porcelain. When buying your best drill bits for metal, consider, among other factors, the material, coating, and the ideal flute length to cut through your material.
Before we further detail these considerations, let us see the five best drill bit sets you can buy today with complete reviews that include their pros and cons. Then, we will also discuss the most critical factors to consider before you purchase or use the bits for drilling through metal surfaces.
What are the Strongest Drill Bits For Metal?
Sale
DEWALT Titanium Drill Bit Set, Pilot Point, 21-Piece...
DEWALT drill bit set has connectable accessory storage system to...
Patented bit-bar design of the drill bits set allows easy removal...
Clear lid of the titanium drill bit set allows you to easily see...
Clip latch for secure closing
Small Bulk Storage size fits inside the Small and Medium...
When buying the best drill bits for metal, it is best to have as many bit options as you can; this will allow you to start and complete many DIY and professional projects without having to source for bits all the time. This Dewalt Titanium drill bit set comes with 21 bits, thus, ideal for any project.
When drilling through metal, you need the strongest guarantees that your bits will not break into two; this could expose you to injuries or stall your projects. These Dewalt drill bits come in a Patented web taper design that makes drilling easier while reducing the risk of breakages. Another advantage is the pilot design; these bits come with titanium pilot points to make drilling easy while guaranteeing clean cuts.
The set comes with 21 spiral drill bits in different sizes for all your projects. They are easy to fasten and remove from your drill, and they come packaged in a durable, clip-latch box with a clear case so you can see which bit to get for your project.
They are made with titanium making the bits better suited to drill through stainless steel surfaces. They are also very durable, but, like many other titanium products, they can get blunt over time, so you will need to carry out regular maintenance before the coating wears off.
CO-Z 5pcs Hss Cobalt Multiple Hole 50 Sizes Step Drill...
Cobalt high speed steel along with the titanium coating ensures...
Different sized shanks ensure compatibility with 1/4, 3/8 and 1/2...
Non-walking drill tip provides fast and smooth drills on steel...
Please mark the spot that you are to drill for easier drilling...
All the bits come in a well-organized case for easy transport and...
Sometimes, your projects need only a few drill bit sizes. If yours also involves drilling through thin metal sheets, this set from Co-Z is an ideal buy. The set, made with cobalt high-speed steel and coated with a thick titanium layer, will allow you to make 50 different hole sizes.
When working with thin metal sheets, you need a drill bit that offers excellent precision. Therefore, you need to minimize any potential for your drill bits walking, which you get from this set. These bits are non-walking and provide fast, smooth drills so your project can go on smoothly.
While the bits are short, they are made with durable cobalt to easily cut through hardened steel sheets. The drill bit set is also very affordable and comes in a well-organized, durable case for easy transportation and storage.
Hymnorq 15 Piece Metric M35 Cobalt HSS Drill Bit Kit...
COBALT STEEL - Manufactured from M35 cobalt steel, with...
135°SPLIT POINT - the 135°quick-cut split point are...
15PC METRIC SET - The set includes 15pcs of M35 cobalt steel...
FOR METALWORKING - Particularly successful in cutting through...
DOWNLOADABLE USER GUIDE - We've summed up some tips of drilling...
If you are looking for solid drill bits, this set from Hymnorq comes with 15 pieces made of cobalt steel. The construction has molybdenum added to the steel to create a hardened alloy. Thus, these drill bits are durable and guarantee faster and more precise cutting than other high-speed steel drill bits.
With such durable construction, this cobalt drill bit set is ideal for drilling holes into a hardened steel surface such as stainless steel and cast iron. And, while it can become blunt, it will be easier to sharpen and continue using for many years. The bits come with 135-degree split points for highly centered impact and also for mitigating breakage.
The 15 bits come nicely packaged in a plastic indexed storage case for easier transportation and storage. In addition, the bits come in different sizes that make their usage versatile across different surfaces. It is an affordable set with an equally durable bronze oxide coating, and the bits have round shanks for easy installation.
Sale
amoolo Hex Shank Drill Bit Set (13Pcs Set+3 Pcs Free),...
【COMBO SET OF 16 PCS】13 most commonly-used sizes...
【PREMIUM HSS TITANIUM COATING】Industry grade 4341 high speed...
【FULLY GROUND PROCESS & 135° SPLIT POINT】Fully ground spiral...
【QUICK CHANGE】1/4"(6.4mm) hex shank fits into majority pistol...
【MULTIPLE APPLICATION】Small Drill bits for soft metal, wood,...
If you need the best drill bits for metal to use for basic household maintenance, this set of 16 from Amoolo is your ideal buy. The bits come with 1/4" hex shanks, so you can easily fit them into regular pistol drills for use on softer metals.
The bits are made with high-speed steel plus a titanium nitride coating for more durability. When drilling, you will love the 135-degree split points that allow faster and stable cutting. In addition, the bits come in a spiral flute type that enables a quicker drill and offers extra cooling benefits as you work. Also, the straightening groove eliminates wobbling and walking while also reducing friction when drilling.
This Amaloo drill bit set comes at an affordable price and is also available in different options with fewer or more bits of different sizes and shanks. The set comes in a durable plastic case for easy transportation and storage.
If you are a professional looking for the best metal drill bits, look no further than this pro set from Irwin. It comes with 29 bits made with cobalt steel. If you need fewer bits, you can find an alternative set with fewer drill bits ranging from five to 21 pieces. One thing is a guarantee here; you get a good set that allows versatility for all DIY or professional projects.
This 29-piece set is one of the best drill bits sets for drilling holes in metal; its cobalt steel construction guarantees durability and is one of the best materials for heat and abrasion resistance. Each bit comes with a 135-degree split pilot point that effectively reduces walking for faster results. In addition, the spiral flute design reduces friction and heat for even better results.
Like other bits designed to tear holes in hardened steel, this set needs constant oil lubrication for cooling and maintenance. That said, the drill bits come in a sturdy case with a rubber exterior to prevent breaking if dropped. Inside, the 29 bits are arranged in removable cartridges and automatic indexing for easy access.
Factors to Consider When Buying the Best Drill Bits for Metal
When you look to buy a new drill bit set to use on your metal surfaces, any of these five options are ideal choices to invest in. But, there are specific considerations you have to make even when you have the best bits. These are;
a) Bit material
As mentioned earlier, drill bits are made from high-quality materials such as carbide, cobalt steel, or other forms of high-speed steel. Now, these are the materials to choose for different metal surfaces,
Cobalt steel drill bits are ideal for hardened metal or stainless steel. Hardened steel is a form of medium or high carbon steel alloy that is heat-treated and put through a tempering process to make it harder and more water and corrosion-resistant. You need a cobalt drill bit for these types of metal because it is harder, plus you can sharpen the bit split point if it becomes dull.
Carbide metal drilling bits are ideal for non-ferrous metals like aluminum and titanium. In short, these metals do not contain iron or steel. Carbide bits are ideal since they can stay sharper longer than most bits and are ideal for highly abrasive metals.
High-speed steel or HSS drill bits are suitable for drilling all metals.
b) Coating
While choosing the material making the bits look for coatings that reduce friction, heating, and breaking. The purpose of most coatings is to improve your bits' strength and increase their drilling speeds. The most common types of coatings are titanium, carbon oxide, gold oxide, and black oxide.
c) Size
When buying your best drilling bit set, you need to understand the best bits in terms of length to drill holes in your metal without breakages successfully.
How to Drill Holes Through Metal
When you have your step bits or drill bits, also called twist bits, you can follow the following steps to create the holes in your metal surface.
Wear heavy leather gloves and safety glasses to keep the sharp metal chippings away.
Clamp your metal pieces to guarantee they stay in place even if you run into issues with your drill bit.
Place your sacrificial boards in place before drilling. These are pieces of scrap wood you can drill through as you make your way to the metal surface. They are good when you want your tool to create a clean hole through the metal.
Make a dimple before drilling. As you know, drill bits are designed to work at somewhat high speeds, and this makes them wander off the mark when you are starting to drill; unfortunately, this can leave ugly marks on your metal or destroy it. For best results, make a dimple using a center punch or hammer as a slight depression will keep the bit intact when you start to drill.
Add some oil to the dimple before you start drilling to reduce friction and heating as the drill works. Also, the oil prevents the tool from dulling fast.
Prepare your drill press. While the drill bits are easy to use, you may not have the strength or patience to hold a pistol drill as it cuts through layers of hardened steel which is why you need to use the best drill presses.
Start drilling at low speeds. To drill successfully, start at half the tool's speed and understand to drill even slower when using larger or jobber length bits.
Add more oil if you notice any smoke.
Frequently Asked Questions about the Best Drill Bits for Metal
a) Which is the best drill bit for metal?
If you want to drill holes in metal successfully, you will need heavy-duty titanium or cobalt drill bits for the best results.
b) How do I buy the best drill bits for metal?
When buying your new metal drill bits, look for those made with high-speed steel labels, as they can work on different ferrous and non-ferrous metals.
c) Do I need to use oil when drilling metal?
When drilling metal, it is best to lubricate the surface and the bits with oil. Oil helps the bits dissipate heat and also stay sharp. However, only use non-flammable oils to prevent fatal accidents.
Image source: unsplash.com