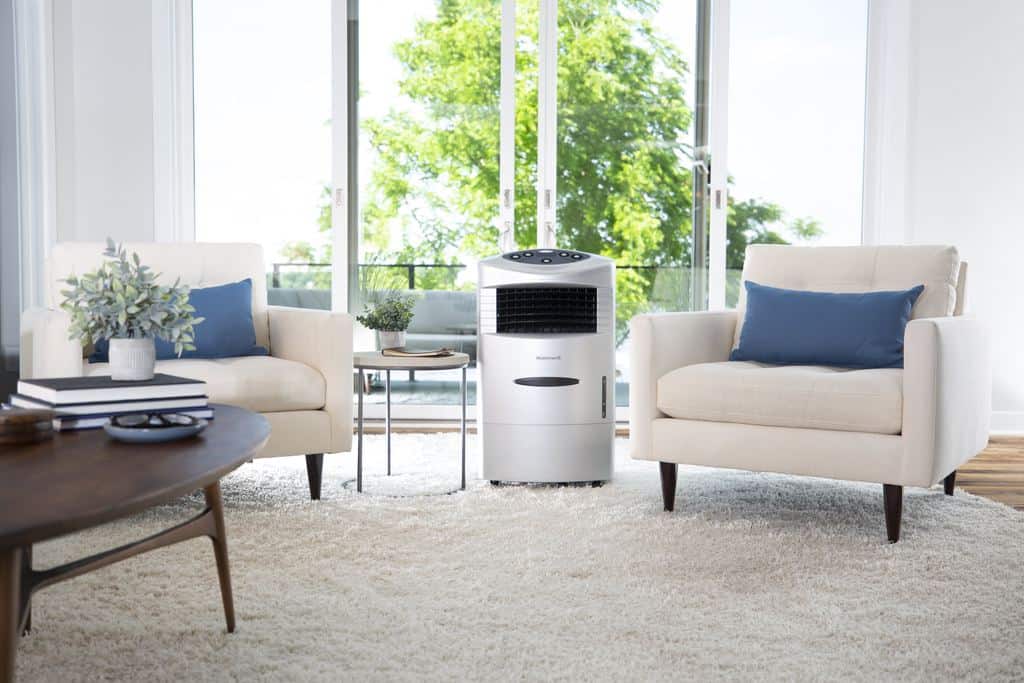 The Best Evaporative Air Cooler For Your Home & Buying Guide
Evaporative air coolers (also known as swamp coolers or evaporative coolers) are air conditioning systems that lower your home's temperature by combining the power of evaporating water and a fan. They are energy efficient and don't use any cooling chemicals; hence they tend to be considered a more affordable and eco-friendly choice than air conditioners. The best evaporative air coolers are powerful enough to cool down your space quickly without taking too much room. All you need to do is add water or ice if you want your room to be extra cool.
When looking for an evaporative air cooler, one of the factors to consider is your area's climate. Evaporative air coolers tend to work best in dry to semi-arid climates. This means that your area should at least experience less than 60% humidity during the months you'd like to use the evaporative air cooler.
We compiled a list of five of the best evaporative air coolers and buying guide with features to consider when shopping for them. This should hopefully make your shopping process a little easier.
The Best Evaporative Air Coolers
1. Hessaire MC37M Evaporative Cooler
Hessaire MC37M Portable Evaporative Cooler, 3100 Cubic...
PORTABLE - 4 heavy duty locking casters for cooling home, patio...
COMPACT YET POWERFUL – 37x17x24 inches; 3, 100 Cubic Feet per...
EASY TO OPERATE & SIMPLE TO MAINTAIN – 3 simple rotary controls...
MANUAL & CONTINUOUS FILL – Utilize the Continuous Fill option...
SUPERCHARGED, ECONOMICAL COOLING – 3-sided rigid high-density...
Hessaire is renowned for creating air coolers that provide effective cooling at an affordable cost. The Hessaire MC37M Evaporative Air Cooler is our top choice as the best evaporative air cooler. It has a cooling range of 950 square feet, making it ideal for your home, workshop, or patio. The Hessaire MC37M is fitted with 3 sided rigid high-density cooling pads that increase evaporative surface area, generating cooler air.
It has 3100CFM strong airflow, which allows for cool air to reach every corner hence ensuring maximum cooling. The evaporative air cooler has left-right oscillating louvers that allow for air distribution to a wide range of areas. It is fitted with a 10.3gallon water tank that can run continuously for 4 hours once filled. There's an easy-to-read water level indicator that reminds you of the water level in the tank.
If you work in a garage, you'll find the tool tray provided by the MC37M pretty handy as you can use it to store some of your tools. The evaporative cooler has a rotary switch whose fan speed can be set to low, medium, or high, depending on your preference. The swamp cooler has a strong build and weighs about 40 pounds. It has 4 heavy-duty castor wheels on the base that allow you to move the air cooler around. It comes with a 1-year warranty.
The cooling system has three fan modes. It however, has no remote control or timer. Hence, you have to get up to turn it on or off. If using it outside and want to keep refilling the tank, you can use the continuous fill feature by attaching a garden hose to the air cooler.
2. ComfyHome Evaporative Air Cooler
COMFYHOME 2-in-1 32" Evaporative Air Cooler & Tower Fan...
【Ample Cooling & Dual Control】At 32" tall, the stylish...
【Humidifier & Fan in one】Equipped with 1 Gallon large...
【Save your Wallet, Save the Earth】Save your wallet today by...
【Asthetic, Space-friendly & Bladeless】Designed for any rooms...
【Ultra-quiet, Oscillation & 15 Hour Timer】ComfyHome cares...
Comfyhome has over 40 years of experience in the cooling industry; hence is considered a trusted cooler brand. Their Comfyhome Evaporative Air Cooler comes in second and is quite popular. It is a 2 in 1 cooler that works as an air cooler and humidifier. The air cooler is affordable and can be used in your kitchen, office, bedroom, living room, etc.
The cooling system features 3 wind modes and 3-speed settings that can be customized based on your preferences. It comes with a remote control that allows you to customize and adjust the wind mode and speed settings. The air cooler is fitted with a 1-gallon water tank which can be refilled from your kitchen or bathroom. It also has an auto shut-off system that raises the alarm once the water runs out; thereafter, it will automatically stop working. Comfyhome air cooler comes 40°angle oscillating cooler that distributes air flows evenly to your space in a left-right direction that ensures that your whole space is covered. The cooler has up to a maximum 15-hour timing control function; hence you can have an uninterrupted sleep as it keeps running. The air cooler is 32 inches tall and weighs about 15 pounds. It comes with a built-in handle that makes it easy to carry and move around. The air cooler also comes with 7-year warranty.
3. COSTWAY Evaporative Cooler
COSTWAY Evaporative Cooler, 3-in-1 Portable Air...
????【Multi-functional Air Cooler】------The evaporative cooler...
????【Three Wind Speeds】------The air cooler features with 3...
????【7.5-Hour Timer】------The easy-to-read control panel and...
????【Energy Saving & Healthy Air Circulator】------This unit...
????【Efficient Cooling】------Equipped with an 8-liter large...
COSTWAY Evaporative Cooler is a 3 in cooler that works as an air cooler, fan, and humidifier. The air cooler features 3 wind modes and 3-speed settings that can be easily set based on your preferences. The air cooler can be used in your kitchen, bedroom, living room, office, etc. The air cooler features an 8-liter water tank, so once filled, it will give you about six hours of cooling before the next refill. The air cooler features 70-degree oscillation and has a timer that is programmable for up to 7.5 hours. It comes with a built-in handle at the top and sits on 4 castor wheels, making it easily portable. The air cooler weighs 13.5 pounds and height of 29 inches.
4. Honeywell 525 CFM Evaporative Cooler
Sale
Honeywell 525 CFM Indoor Outdoor Portable Evaporative...
Product Dimensions: 18" W 13.8" D 33.7" H | Product Weight: 24.9...
Recommended for areas up to 320 sq. ft.
Backyard BBQ's, pool parties, relaxing on the porch, garden or...
US Compliant, Outdoor-Rated Honeywell Swamp Cooler with UV...
Built to cool large spaces with minimal effort! Top loading ice...
The Honeywell brand has been in the home appliance industry for over 100 years. The Honeywell evaporative coolers are fitted with triple-sided honeycomb cooling pads that provide evaporative cooling throughout the day. The air cooler is ideal for rooms with square feet of up to 320 and it provides a strong airflow of 525-729 CFM.
The evaporative cooler can be used in indoor living spaces, patios, backyard decks, gardens, etc. The air cooler comes with a detachable 7.9-gallon water tank making it easier for water refilling and maintenance. It also comes with an ice compartment to add ice for colder air during those hotter days. The evaporative cooler comes with a remote control allowing you to set the wind modes and speed without leaving your seat.
The evaporative cooler is programmable for up to 7.5 hours. The air cooler has 4 wheels making it easy to move around. It weighs 24.9 pounds and has a height of 33.7 inches.
5. SHSTFD Evaporative Air Cooler
SHSTFD Portable Air Conditioner Fan, Small Personal...
???? MULTIFUNCTION - You can use it as a normal little fan, or...
???? ENERGY SAVING - This evaporative air cooler and Humidifier...
???? AIR HUMIDIFICATION - Water tank after adding water and ice,...
???? EASY & PORTABLE DESIGN - This air conditioner fan size is...
???? PRODUCTS - Package includes 1 x Air Conditioner Fan, 1 x DC...
The SHSTFD MINI evaporative air cooler is a small personal cooler that can be found on your office desk, your bedside table, study table, or even when you're camping. The air cooler also doubles up as a humidifier. It is fitted with a 420 ml tank and can continuously spray cooling mist for 4-6 hours. You can add ice cubes or ice water to accelerate the cooling speed.
The evaporative cooler offers 3-speed options, and you can choose based on your preference. It weighs 1.95 pounds and has a height of 9.5inches hence making it an extremely portable evaporative air cooler. The air cooler's wind outlet blade is flexible and can be adjusted 120°adjusted up and down like air conditioning.
Features To Consider When Buying The Best Evaporative Coolers (Buying Guide)
a) Cooling Area
Before buying an evaporative cooler, you should always read the cooling area specification written on the model description. This will allow you to know if the cooler you are buying is adequate for your space. For instance, garages and workshops are considered larger, cooler areas; hence they would need air coolers to meet this need. While smaller or average-sized areas are considered low cooling areas. It's also important to remember that the cooling area of the swamp cooler you are buying should always be greater than or equal to the area you want to cool.
b) Cooling Pads
There are two types of cooling pads in the market.
Honeycomb cooling pad: They are high density, made of cellulose, and resemble honeycomb in structure. They provide more cooling compared to other types of cooling pads. Honeycomb cooling pads are durable and highly efficient. The downside is that they are expensive.
Aspen or wood/wool cooling pads: They resemble grass in structure and provide less cooling. They are affordable but less efficient and durable.
c) CFM and Square Footage
When considering the best evaporative coolers, there are two dimensions to pay attention to CFM, which refers to cubic feet per minute and square footage.
Square footage refers to the room or area you plan to cool. To measure this, all you need is to measure the length and width of a room and multiply the figures to get the square footage. You'll need to check the products to confirm if their square footage ratings are compatible with yours. CFM lets you know how much air a machine can remove. Every manufacturer lists this, and this goes hand in hand with your square footage.
d) Water Tank Capacity and Indicator
As the size of your cooling area increases, so does your required water tank size. Selecting an evaporative cooler with an adequate tank capacity will prevent you from constantly having to refill the tank. Outdoor swamp coolers usually have garden hose hookup attachments.
The water level indicator notifies you of the amount of water present in the cooler. When it reaches the minimum level, the empty tank will notify you to refill the tank. This feature saves the swamp cooler from getting any damage on running water-free.
e) Air Swing Delivery System
This feature ensures the reach of air blows by the air cooler in all directions of the space. The swamp cooler comes with an oscillation of 40°, 70°, 120°, and as the degree of oscillation increases, the range of air blown also increases. This is an important feature to consider against the size of your room. As the bigger your space, the higher degree of oscillation you will need.
f) Speed Control
This feature allows you to control the flow of air you want by increasing or decreasing the fan's speed. There are three speeds offered: Low, Medium, and High.
g) Extra Features:
Timer Function: A timer function allows you to program your swamp cooler for uninterrupted running, and once it reaches the set time, it will automatically go off. Swamp coolers come with a maximum timer function of 7.5 hours or 15 hours. Depending on your needs, you can select what works for you.
Wheels at Base: Wheels allow ease of movement. Most evaporative coolers have 4 caster wheels making them easy to move around your indoor or outdoor space.
Remote Control: This can be considered an extra feature but convenient. It allows you to control your evaporative cooler from a distance with the help of a remote.
h) Power Consumption
When considering buying an evaporative cooler, power consumption should always be top min. Though an evaporative cooler's initial cost is one-off, the running cost concerning power consumption is life-time.
Hence if you come across an evaporative cooler that is eco-friendly and consumes less power, that should always be one worth considering. However, this is also dependent on the size of the cooling area