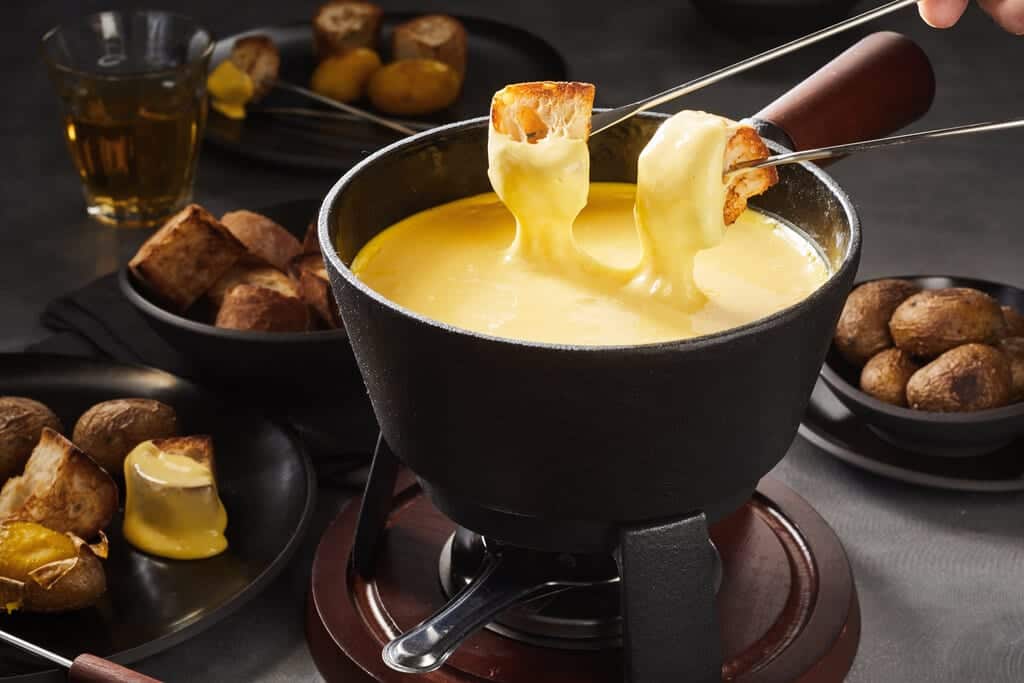 Best Fondue Pot Set For Every Type Of Fondue
Whether you are serving a chocolate dipping sauce or classic cheese fondue, there are fundamental guidelines on how to fondue. You will need the best fondue pot, accessories, and great recipes on dipping sauces and foods. This article will review the best fondue pots that you could purchase for comforting family meals and dinner parties.
What is the best material for a fondue pot?
What is a Fondue Pot?
Traditionally, fondue is a Swiss melted cheese meal served in a standard pot that hails from Switzerland. Mostly the fondue is eaten by dipping bread into cheese using long-stemmed fondue forks. The fondue pot is a type of cookware that has a pot with a heat source that is placed directly below the pot.
This pot has a portable cooking fuel or electrical heating element. The pot is used for the food preparation process known as fondues. The fondue pots are filled with either cooking oil, cheese, wine, chocolate and other ingredients, depending on the recipe you are using. Typically, a fondue pot will accommodate six people.
Safety and stability are necessary. Regardless of the type of fondue you want to prepare, you must choose the best fondue pot. For that reason, we have analyzed the five best fondue poots that will make fondue mixes in perfect consistency.
1. Cuisinart CFO-3SS Electric Fondue Pot
Cuisinart CFO-3SS Electric Fondue Maker, Brushed...
Electric fondue set suitable for chocolate, cheese, broth or oil
Includes base, bowl, temperature probe, 8 fondue forks, and fork...
Elegant, brushed stainless-steel 3-quart bowl with nonstick...
Removable temperature control is adjustable for wide range of...
Dimensions : 6.12-Inch x 10.50-Inch x 7.00-Inch (LxWxH)
The Cuisinart CFO-3SS Electric Fondue maker is an electric fondue pot that is super convenient and attractive. This stainless steel pot has a brushed finishing of the ring and bowl, while the stand and handles have a mirrored finish.
The Cuisinart Electric Pot is an excellent choice since you can make any fondue, including broth, chocolate, or cheese. The electric fondue set features eight different settings that help you control the temperature. Of course, the perfect thing is to heat your food directly on this pot without using a stove or oven cooking first.
It has a bowl with 3 quarts and stainless steel material with an anon-stick coating that makes easy cleaning. The pot also comes with eight fondue forks, and the pot is dishwasher safe. This will be the best choice if a pot is suitable for oil, broth, cheesy or chocolatey offerings.
2. Nostalgia Stainless Steel Chocolate Fondue Fountain
Nostalgia CFF986 32-Ounce Stainless Steel Chocolate...
Fondue fun: 4-tier chocolate fountain has a 2-pound capacity,...
Great for other sauces: This isn't just a chocolate fountain...
Stainless look: The elegant stainless steel heated bowl keeps the...
Four tiers: The 4-tier fountain creates a beautiful cascading...
Auger-style fountain: The auger-styled fountain (no pump)...
If you prefer chocolate fondue, Nostalgia Stainless Steel Chocolate pot is the best option. These best fondue pots will hold up to two pounds of sweet treats. This stainless steel fondue set keeps the decadent chocolate sauce flowing at precise temperatures. It also comes with six fondue forks.
Nostalgia features a different switch for heating and the motor. This is the best option to melt chocolate, but you could also use it for sauces or cheese fondues. These 1 quart pots are easy to assemble and easy to disassemble for easy cleaning.
Additionally, the fondue set has a stainless look heated bowl. It has four tiers fountain that creates a wonderful cascading effect. The Nostalgia Stainless Steel Chocolate Fondue pot is dishwasher safe and is more suitable for chocolate.
3. Oster Fondue Pot Titanium Infused Dura-Ceramic Fondue Maker
Oster Fondue Pot | Titanium Infused DuraCeramic Fondue...
Cooks up to 30% faster to save Energy and time
Removable, adjustable temperature control
Unique, innovative Titanium infused DuraCeramic non-stick ceramic...
Magnetic breakaway cord for added safety
Includes 8 fondue forks & Fork holder ring
If you are new to making fondue, this is the best option that is simple and inexpensive. The Oster 3 quart fondue pot with forks is a lightweight yet durable pot that includes eight forks. In addition, this cheap and straightforward pot operates on electricity, meaning it's easy to use whenever you need it.
The Oster 3 Quart Pot with Forks features a non-stick interior that will heat your food evenly. The pot has handles that are cool to touch and is easy to clean. The pot has a ceramic interior that is easy to clean. The ceramic fondue pot comes with temperature control that helps make your food delicious.
The ceramic pot comes with eight color-coded fondue forks and a fork holder ring that help keep the forks neatly in place. The ceramic fondue pot allows you to set the temperature from warm to 400 degrees. The pot is perfect for preparing meat, vegetables in oil, chocolate and cheese.
4. Swissmar Lugano Cast Iron Cheese Fondue Set
Swissmar Lugano 2-Quart Cast Iron Cheese Fondue Set,...
9-piece fondue set from swissmar
Enameled cast iron fondue pot; rests on rechaud/stand or can be...
Paste burner includes 1 swissmar, 3-ounce fire-gel container
Set includes 6 fondue forks and 1 recipe; use wooden or non-stick...
Set measures 15 by 10-3/4 by 9-inch; weighs 12 pounds
Swissmar Cast Iron Cheese Fondue Set is a traditional fondue pot that will prepare classic fondue using wine, lemon juice, and a blend of shredded Swiss cheese fondue or gruyere cheeses. It has a great design that looks rustic and charming.
The Swissmar Lugano Cast Iron Cheese Fondue Sets are decorative and sturdy pots. The enameled cast iron fondue pot has excellent heat retention capabilities. This way, you are guaranteed even cooking abilities. This cast iron fondue set heats up pretty fast and stays hot for a while.
The enameled cast iron pot is super durable and requires proper care for longevity. Like any other cast iron fondue set, this cast iron fondue pot can be hand cleaned only with mild dish soap and a scrubber. Additionally, the enameled cast iron pot is the best for fondue parties.
5. BOSKA Holland Tea lights Fondue set
Sale
The Boska holland tealight fondue set is the best fondue pot designed for tapas or cheese fondue. This square pot comes with a metal ring and a wooden stand that holds the tea light. The fantastic thing is that this fondue set comes with four forks.
This electric fondue maker is an excellent choice if you want to serve restaurant-style dinner in the convenience of your home. This tea light set of butter warmers are lightweight yet very durable pots. They hold 13.5 ounces of melted chocolate or cheese.
This fondue set would be a great piece that you could use as a centerpiece at a dinner party. The pot functions ideally like the traditional fondue pots and will be a perfect addition to your kitchen. The electric fondue set is designed for cheese and chocolate.
What are the Different Types of Fondue Pots?
1. Electric Fondue Pots
An electric found pot is a type that is built with a heating element in the base. They are designed to sit on an electric burner. The electric models are easy to adjust to heat, making them perfect for cooking with broth or oil. This is because they allow you to reach a high temperature. Additionally, they come with a temperature probe that lets you choose the right temperature.
2. Manual Fondue Pots
The manual pots are usually set over an open flame. The advantage of these manual sets is advantageous since you can use them anywhere. Some of the manual fondue sets use a candle, and they are perfect for individual pots.
3. Glazed Ceramic Fondue Pots
The glazed ceramic fondue pot is the type that is best suited for cheese fondue. The ceramic sets are relatively heavy and shallow vessel that distributes heat evenly. These pots are perfect for Gruyere cheeses, making them a perfect choice for melting cheese.
4. Stainless-Steel Pots
The stainless steel pot is a perfect option for hot oil or hot broth cooking. They are lightweight and will heat quickly yet super durable.
5. Enameled Metal Fondue Pots
The enameled metal fondue set is made with cast iron which makes them super durable. In addition, an electric fondue pot mostly comes with temperature controls that you can be use with a wide range of fondue applications
What Factors Should I Consider When Buying the Best Fondue Pot?
1. Traditional Pot or Electric Pot
When shopping for the best pot, you must know if you want an electric or traditional fondue pot. For example, if you like to use open fire sources, you could go for traditional, ceramic, cast iron, or aluminum. On the other hand, if you require a more versatile option, you could go for an electric pot with a heating element.
2. Size
While choosing the most appropriate fondue pot, you must know the size that will be best for you. In addition, you need to know the number of people you are serving. For example, the most miniature cheese fondue pot is usually designed for two people, while the largest will serve up to ten people.
3. Pot Material
The material used to make the pot is another factor that you should look out for. The best fondue pot is a durable material that will last long, like, ceramic, cast aluminum, cast iron, or metal.
4. Inside coating
Even though the set you get is electric or traditional, you must check the inner coating. The inner coasting will give you easy cleaning or hard cleaning time. You could pick anon-stick or ceramic coating that will guarantee that your cheese will not stick on the pot.
5. Heat and Splash Protection
Heat and Splash Protection is another factor that you should look out for. This means that the pot should have cool-to-handle protection that prevents heat up. Whether you get the traditional or electric fondue set, it should have a cool-to-touch handle. You could get the ones that have silicone anti-splash protection or those with a longer handle.
6. Stability and Versatility
When making a purchase, you should look for a pot that will offer stability and versatility. You will need to pick a piece that has an easily accessible heat source. Additionally, the pot you choose should be easy to choose, and you should understand the functionality of the pot properly.
Frequently Asked Question on the Best Fondue Pots
1. Can you use a metal fondue pot for cheese fondue?
Yes, you can use this metal pot to make cheese fondue. Usually, these pots need high heat when cooking, especially making barbecue sauce or cooking meat. Mostly they are best suited for meat and cheese fondues, but you have to keep the heat regulated at low temperatures.
2. What is the perfect material for a fondue pot?
When shopping for the best fondue pot, you will find that they are made using different materials. Some of the commonly used materials are Cast iron, cast aluminum and ceramic. The ceramic is one of the best since it heated up slowly and retained the same temperature for a long while. With is ceramic pots, you can hardly go wrong with melted cheese or chocolate. Cast iron is another perfect option that is best suited for meat fondue. These pots will take a while to heat up but can also retain heat for a long.
3. How do you clean a fondue pot?
The cleaning design for a cheese pot will mainly differ based on the material used to make it. It is best to clean a cooking pot made of enameled cast iron using a mild soap and a gentle scrubber. It is essential that if you choose the hand wash only, you pick one with an easy-to-clean material. You will find other pots that are dishwasher safe, meaning you can clean them using a dishwasher machine.