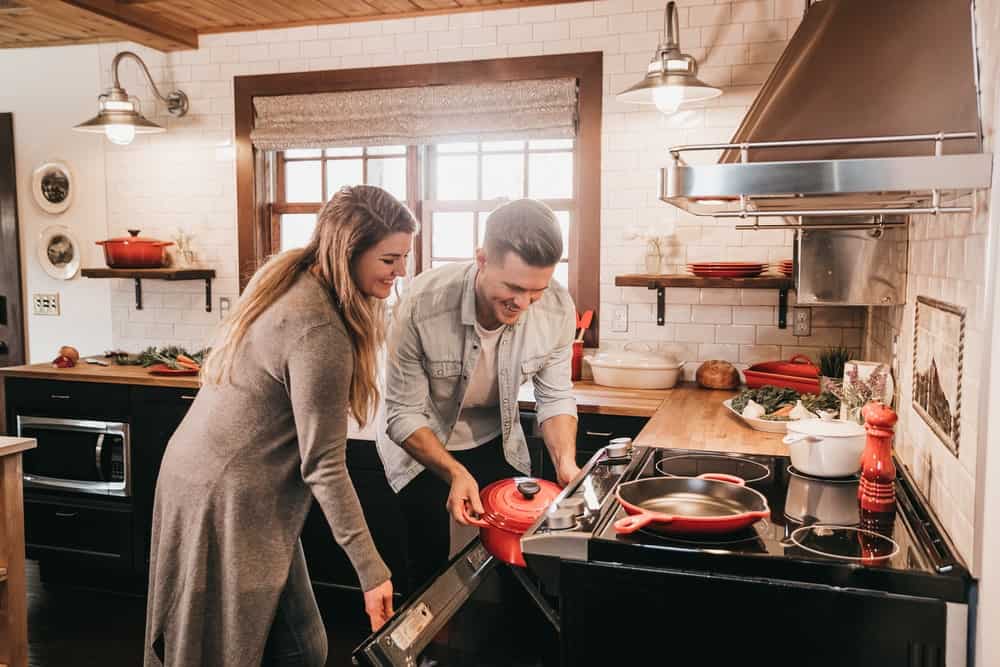 Best Gas Range to Efficiently Handle All Your Cooking Needs
There's nothing you can't do with a high-quality gas range. Even your most complicated recipes will feel like a breeze once you get your hands on the best gas range. Getting the right combination of a gas stove and the right oven capacity will allow you to fulfill all your baking and cooking skills because you'll have the right equipment to execute.
We have taken upon ourselves the liberty to compile for you the best gas ranges on the market so that you can have a simple time choosing the one you like based on the description. We have budget-friendly and more expensive options that come with lots of extra features. You'll get to choose your new gas range based on what is in the market and your pocket. Let's dive in.
1. Cosmo Freestanding/Slide-in Gas Range
Cosmo GRP304 30 in. Freestanding/Slide-in Gas Range...
4 SEALED ITALIAN BURNERS: High-performance gas burners allow you...
RAPID CONVECTION OVEN: 3.9 cu. ft. capacity oven features Rapid...
MODERN EUROPEAN DESIGN: Transform your kitchen from ordinary to...
HEAVY-DUTY CONSTRUCTION: Constructed of corrosion-resistant...
2-YEAR LIMITED: Our customer support team is based proudly in the...
Starting us off is this best gas range with 4-sealed gas burners to fulfill your various cooking needs. Ranging from 4.5k to 18k BTU, you can set the temperature to suit whatever you are cooking. You can precise temperature control to simmer your delicate sauces without worrying about overcooking. The convection oven is great and works great for baking and broiling.
The oven capacity is 3.9 cu ft which works for cooking daily meals for your family. Although this oven capacity is slightly lower than other convection ovens, it's still effective for this slide-in range. The convection oven also has a cooling feature that ensures that your cake won't overheat while your back is turned.
You can use the temperature probe to set the oven temperature you desire. This 3.9 cubic foot convection oven has a cool-to-touch handle that prevents any accidental burns. If you love the European look, these gas stoves will add that style to your kitchen with their European design. The continuous cast-iron grates ensure that there's even cooking in these slide-in ranges.
2. GE JGBS30REKSS Freestanding Gas Range
We've looked at one of the best slide-in ranges, now let's look at one of the best freestanding gas ranges. This innovative freestanding range has an oven capacity of 4.8 cubic feet which is appropriate for a typical household. Although it doesn't have a double oven, this gas range has a broiler compartment at the bottom of its oven that comes in very handy.
The stainless steel finish makes this freestanding range very convenient and easy to clean. The four sealed burners have black steel grates, which is also a feature that makes this range very easy to clean. The burner outputs are low, two mediums, and one high-powered surface.
This freestanding gas range allows you to check on your food as it bakes easily. We understand that sometimes as a beginner, it can be hard to trust that the process is going off without a hitch. Therefore, this is a very convenient feature. If you love baking, you'll love that this 4.8 cubic foot oven has a broiler compartment at the bottom. This allows the oven to be located at the top.
3. Frigidaire Gallery Series Slide-In Gas Range
When it comes to convection cooking, few gas ranges can get to the level of this Frigidaire's True convection oven. The convection fan and the third heating element are some of the features that make this spacious convection oven stand out from the crowd. This gas convection oven circulates the hot air evenly, ensuring that all parts of your dish are cooked.
You'll get even and faster cooking even if you are doing multi-rack baking. These slide-in gas ranges employ Convection Conversion technology that enables the convection oven to adjust its temperature to give a more consistent heat distribution process. The four sealed burners ensure that you'll have an easy time cleaning the top surface, no matter if you've made multiple dishes.
The three continuous cast-iron grates give you an easier time as you move heavy pots in this slide-in range. This range has a burner power that ranges from 5,000 to 17,000 BTU. This self-cleaning oven has a Self-Clean Cycle that cleans your oven in as little as two hours. The quick pre-heating option also makes things easier as you cook.
4. Avanti Gas Range with Sealed Burners
Sale
Avanti GR2416CSS 24" Gas Range with Sealed Burners, in...
Freestanding 24" Gas Range
Automatic Electronic Ignition. Oven Temperature Range : 300° -...
See-Thru Glass Oven Door. 2.6 Cubic Feet Oven Capacity
Oven Cavity Light with ON/OFF Switch. Power(Igniter) 120V / 60Hz
62 Minute Timer. NOTE: Refer user manual before use and check...
At 2.6 cu ft oven capacity, this Avanti freestanding range is smaller than the other freestanding ranges on this list. This makes this range perfect for small kitchens and households that have a smaller space. If you don't have a large family or live by yourself, this may be the best gas range to get yourself.
The temperature probe lets you set the cooking temperature you want, and the four sealed-type cooktop burners include two semi-rapid stoves, a simmer, and a rapid stove. These gas-powered burners in this free-standing range work well with all the dishes. You can use the simmer burner, which is still an oval burner, to cook delicate sauces. These four burners on the cooking surface can work at the same time with the oven.
The automatic ignition of this free-standing range makes it all the more convenient to use. The see-through glass window allows you to monitor the dish to ensure that the oven settings work well in this spacious oven. These gas-powered ovens in this smart range work well with the gas burners to give you incredible service.
5. Bosch 4.8 Cu.Ft. Stainless Gas Slide-in Range
Our fifth pick is a slide-in range that is a step up from other Bosch free-standing models. This affordable range is an upgrade in terms of aesthetics and style. If you want the best gas range to complement your kitchen in a cool and subtle way, this 4.8 cu ft control gas range is the right choice for you.
Although we don't have any double oven gas range or double oven electric gas range on this list, this single oven and the other gas ranges above do a great job while still being space-conscious. The metal control knobs, heavy-duty construction, and glass panel are some of the features that make this single oven range stand out.
This 4.8 cu ft range can sit flush with your cabinets and make the kitchen look tidy and organized. You can comfortably fit your Thanksgiving turkey in here without much hassle on your part. The warming drawer acts like a very convenient storage drawer, especially when you are entertaining. The three oven racks are also a handy feature.
Factors to Consider When Getting the Best Gas Range
1. Capacity
The capacity of your best gas range is measured in cubic feet. These cubic feet cover the size of your oven cavity. If your gas has multiple ovens, then these cubic feet will cover the cavities of all your ovens. This capacity of oven space can range from 4.8 to 6.2 cubic feet.
If you've got a large family or would like lots of space, you can get a gas range that has a large capacity. Most of the best gas ranges revolve around an approximate capacity of 5.2 cubic feet. If you ever want to entertain during the holidays, getting a gas range of a higher capacity will allow you to roast your turkey without any issues.
2. Self-Cleaning Setting
The advantage of having the self-cleaning setting for your oven is that it tackles grime, oil stains, and odors on your behalf. Therefore, you don't have to get down on your knees and do the scrubbing yourself.
All you have to do is select this setting on your gas range and ensure the oven door is properly locked. After three or four hours, the cleaning cycle should be complete. This cleaning setting uses very high temperatures to turn all the debris and stains to ash.
Therefore, expect your gas range to get very hot as this process is taking place. Even if your gas range is budget-friendly, you can still get this very convenient setting.
3. Slide-in vs. Freestanding
You can either choose a freestanding or slide-in gas range build. This comes down to how you want your gas range to look in your kitchen, as well as how you'll install it. If you choose a slide-in model, you'll find that it sits flush on your countertop and will likely have a front control panel instead of a back control panel.
The downside of having a slide-in gas range is that you won't get as much space or capacity as the freestanding model. The latter can be placed wherever you like in your kitchen and has a back control panel.
Although the freestanding model is not as flashy and stylish as the slide-in model, you can get it at a comfortably affordable price.
4. Features
The best gas ranges may vary depending on the features they have. Here are some standout features that you can look out for to determine which appliance is for you.
a). Proofing Setting
If you are a passionate baker, here is a factor that you should strongly consider. This feature transforms your regular range into a warm and humid console that enables your dough to rise before it bakes.
The reason for this is that this warmth triggers the fermentation process, which makes the yeast expand. If your gas range is paired with a convection oven, you'll be awed at the results you get. You can use this as a professional baker, and your customers will be mesmerized by your creations.
b). Reversible Burner Grates
If you're getting a high-end gas range, you'll get to enjoy this feature that allows you to flip the cast-iron grates and expose a subtle and central dip.
When you place these over your gas stove burner, you can put very large cookware such as woks. If you use a variety of tools to prepare intricate meals, this feature will serve you well.
c). Griddle
A gas stove or stovetop griddle eliminates the need for another appliance when preparing pancakes, hot sandwiches, and bacon. If this feature is not included with your best gas range, you can get it separately.
However, it would be convenient to get the whole package at once for your convenience. You can place this griddle over a central burner when you need to integrate it between two sets of burners.
If you don't have ample kitchen space to store a separate appliance for making breakfast, this griddle feature will come in very handy.
Frequently Asked Questions (FAQs)
1. Are gas ranges dangerous?
No. Although you still need to operate them with the same care and caution as any applicable, gas ranges are not dangerous to use or operate. Some points to note is that you should ensure that your range is properly installed to avoid any fumes or leaks destroying your happy home.
If you're in doubt about how to go about any part of the installation process, it would be best to call in for backup from a professional. You can also purchase a separate hood that'll help you filter toxic fumes from your air. Ensure that you follow all the safety guidelines in the user manual.
2.What is the life span of gas ranges?
Good quality gas ranges can last for up to 15 years. However, this is only if they are properly maintained. One way to ensure that they reach this level is to clean the oven cavity and burners regularly.
This will keep all the stains and grime away. The disadvantage of letting the grime stay is that it blocks the gas from flowing freely, making your range heat up.
3. Do gas ranges use electricity?
Yes. Although the name may suggest differently, gas ranges use electricity to light the burners on the cooktop. Gas ranges also use electricity to run some features like the digital control panel and the timer.
However, gas ranges use much less electricity compared to electric ranges. Electric ranges use electricity to heat the range and cook your food.