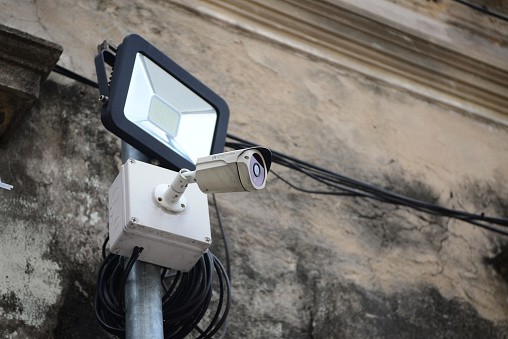 Best PoE Security Camera System For Outdoor Security
Power over Ethernet (PoE) security camera system is one of the widely used surveillance camera systems today. They are known for making it easier to transfer power and data to other devices using a single network cable.
PoE security camera systems use an injector device that delivers electricity to compatible devices like a PoE camera over a network data cable. Power over Ethernet cameras is a perfect solution for situations where no power outlet is close to the installation point.
With PoE cameras, it has become easier to install and also maintain security surveillance devices in your home. Some PoE cameras are configured with Network Video Recorders (NVR) to provide a fast and reliable video capturing capability. NVR provides IP-based connections and also the ability to save large videos on external storage devices, for example, USB flash drives and memory cards.
Whether you're hoping to upgrade your surveillance cameras from an analog security system to an advanced IP camera system or you're just in search of a new security system, PoE security systems are an excellent option. Nowadays, there are a lot of PoE cameras on the market. As a result, we have a list of the best PoE security cameras in the market to make the decision-making process more manageable.
5 Best Poe Security Cameras
1. ZOSI 1080p H.265+ PoE Home Security Camera System
ZOSI 1080p H.265+ PoE Home Security Camera System...
(1). [ Advanced H. 265+ High Efficiency Video Compression ] __...
(2). [ PoE System Overview ] __ Exclusive 5MP H.265+ 8CH PoE NVR...
(3). [ Local or Remote Access Anytime & Anywhere ] __ View and...
(4). [ Advance Motion Detection & Alert Push ] __ You can...
(5). [ Customize Each Camera with Different Record Modes ] __Our...
If you're looking for a dependable security camera system that you can easily set up yourself, then you should consider getting the ZOSI 1080p H.265+ PoE Home Security Camera. This camera system features advanced H. 265+ video technology that offers larger storage space, better image quality, and a smooth viewing experience.
It comes paired with 4 Weatherproof 1080p bullet IP cameras with 120ft night vision and a 110 degrees viewing angle. The ZOSI 1080p PoE camera uses a single network cabling that provides both video and power to your cameras, which means a more stable and reliable security system.
It features four recording modes that include record footage continuously, schedule the time when to record, setting to record only when motion is detected, and also recycle record. This means that you can easily customize every camera to have a different recording mode. You can also download the recorded files for a USB backup.
The presence of the remote access feature means you have the ability to control your security system locally by either connecting it to a monitor or using free ZOSI Client software on Mac and Windows, or via iOS and Android App (ZOSI Smart ) on smartphone devices. Moreover, you can customize motion detection to minimize false alerts.
2. Amcrest 5MP UltraHD Security IP Turret PoE Camera
Amcrest 5MP UltraHD Outdoor Security IP Turret PoE...
STARLIGHT ILLUMINATION & MIC – Stunning low-light 5MP...
SMARTER SECURITY & STORAGE OPTIONS – Receive motion alert...
DAY OR NIGHT, RAIN OR SHINE – Built to weather any storm and...
SECURE REMOTE STORAGE – The optional Amcrest Cloud remote video...
SIMPLE, RELIABLE, SECURE - This camera features a secure...
The Amcrest 5MP UltraHD Outdoor Security IP Turret PoE Camera is a smarter outdoor security camera with a wide viewing angle of 103 degrees that allows you to cover more ground area. It is a fixed camera that neither pans nor tilts. It is built to withstand any weather condition since it features a durable weatherproof IP67 rating housing.
The built-in IR LEDs and Starlight technology image sensor helps to achieve low-light performance and night-vision of up to 98 feet. Moreover, it uses a dual H.265/H.264 compression technology that allows for backward compatibility with legacy platforms and maximum encryption with the latest technology.
This Amcrest 5MP UltraHD camera features an FCC certificate, secure SSL/HTTPS connection, and regular firmware updates. You can receive motion alert notifications and review footage via your smartphone using the Amcrest View app. You can also playback or record on a PC using the Amcrest Surveillance Pro for Windows and MAC or third-party software, for example, Blue Iris.
3. Reolink 5MP PoE Video Surveillance System
Sale
Reolink 5MP PoE Camera (Pack of 2) Outdoor Indoor Video...
5MP HD Poe Camera with 100ft Night Vision: This 5MP Super HD PoE...
Remote Access Anytime: Work with Google Assistant, the 5mp poe...
PoE Camera Outdoor and Indoor: PoE security camera wired with...
Smart Motion Detect and Alert: The PoE security camera has...
Sound Recording and 24x7 NVR Recording: Built-in microphone...
The Reolink 5MP PoE Video Surveillance System is one of the most reliable PoE cameras, thanks to its MP lens resolution of 2560×1920, which means that it is about 2.4 times the 1080p Full HD resolution. It features 18 Infrared LEDs and also a powerful night vision mode.
With its wide viewing angle of 80 degrees, the Reolink 5MP PoE camera has the ability to capture crystal clear videos up to a distance of 100 feet. It also has an audio recording feature that can record sounds up to 15 feet, so you won't have to view a silent video feed. The weather-resistant features make it more secure and practical for outdoor use. It features IP66 waterproof rating that makes it be able to withstand harsh weather conditions.
It comes with full remote access via the free Reolink digital apps for Android and iOS, as well as Reolink client software for your PC or laptop. Its compatibility with Reolink NVR allows you to record footage directly to an external storage device. You will receive real-time motion detection alerts through email and push notifications on your smartphone.
4. HeimVision 5MP PoE Security Camera System
HeimVision 5MP PoE Security Camera System with 10 inch...
【All-in-One and Easy Setup】Heimvision POE camera system...
【IP66 Weatherproof Camera】Records in 1920P Full HD to capture...
【Motion Alert and Face Detection】HeimVision wired...
【Remote Viewing and Playback】Connect the NVR to the home...
【Expandable Operation and Sevice】The expandable system can...
The Heimvision POE camera system features a 10" full HD 5MP monitor that captures quality images and provides a crystal-clear HD live video. The IP cameras are paired with a Network Video Recorder monitor with the Ethernet cable provided to achieve a 24/ 7. The NVR is an HD video recorder that aids in recording, transmitting, and storing the recordings.
It features a night vision capability of up to 65ft. The cameras are rated as dustproof, durable housing, and waterproof with a rating of IP66. It features a wired surveillance system to minimize false alerts and is perfect for home or office use. You get smart notifications and alerts to your smartphone to get notified about what's happening.
Furthermore, you can customize the detection area for each camera. It is expandable and can support up to eight cameras. The Heimvision video recorder system supports recording, video preview, sync-playback, motion detection, email alarm, backup, among other valuable features. You can also access the video footage anywhere and at any time.
5. Hiseeu 5MP PoE Security Camera System with 3TB Hard Drive
Sale
Hiseeu 5MP PoE Security Camera System with 3TB Hard...
8CH 5MP POE DOME CAMERA SYSTEM: 5MP Super HD(2.5*1080P), 8...
PoE PLUG-PLAY EASY SETUP: Power over Ethernet Allows You Setup...
24/7 VIDEO & AUDIO RECORDING: The 5MP PoE Dome Cameras with...
REMOTE ACCESS No MONTHLY FEE: PoE NVR System Can Working Without...
WORRY-FREE: 1 Month Free Return & Exchange Service, 60-Days Money...
The Hiseeu 5MP PoE Security Camera System with 3TB Hard Drive is an eight-channel expandable power over ethernet security system that you can easily set up in your home. It features 5MP PoE Dome Cameras with a Vandal-proof Housing, IP67 Waterproof ability, sound support, and a Built-in 1-Way Audio.
This security system features excellent HD video quality. You also get a 3TB HDD that is pre-installed to give you up to 60 Days of Video Storage. The system detects faces that appear in the video feed to notify you via the mobile app. You have the option of recording faces of up to 20 feet.
The PoE NVR System is meant to work with an internet connection. However, an internet connection may be necessary when you need to access the footage remotely from a mobile device. It also comes with a free mobile App known as XMeye Pro for both iOS and Android versions as well as a PC Client software, with no additional costs.
Factors to Consider Before Buying a Poe Security Camera System
1. Types of POE cameras
There are three main types of PoE cameras which include;
i. Bullet Cameras
These are bullet-shaped cameras that offer an excellent visual deterrent and can also be used to monitor a large area.
ii. Dome Cameras
These ones have a dome shape which means that they have a wider camera angle, and they are not quite visible to people. This means that the direction of the security camera to which the dome is pointed is not obvious to intruders.
iii. PTZ cameras
PTZ generally means Pan, Tilt, Zoom. Ideally, these are security cameras that feature the pan and tilt options as well as zoom features via remote control. The PTZ cameras are usually high-resolution cameras with great scalability and flexibility.
2. Audio Recording
One of the main features that you should consider in PoE cameras is the audio recording, especially if one of your needs and requirements includes the ability to hear the sounds around the area you are securing. A number of PoE cameras come with a built-in microphone, while others can be compatible with other external audio recording devices.
3. Weatherproof & Vandal-proof
Most PoE cameras are installed outdoors, and this is why it is crucial to get one with weatherproofing features or rather the impact of weather improves their performance. The performance of these security cameras can be affected by both low and high temperatures as well as rainy or snowy weather conditions. This is why most PoE cameras have a weatherproof rating of IP66 or IP67 to be able to survive in all weather conditions.
4. Resolution
The resolution is an essential factor to consider because it plays an essential role in showing what was actually happening in the surveillance videos. There is a wide of resolutions and picture quality options you can find in PoE cameras, ranging from HD to 4K.
Moreover, some IP cameras offer additional functionality, for example, the optical zoom that allows you to focus on a specific area. Ideally, the higher the resolution the camera has, the more expensive the security camera systems will be.
5. Viewing Angle
Most PoE cameras come with a wide viewing angle, while some of them provide the ability to adjust it remotely. There are different options and variations available, from 80 degrees to full 360 degrees. As a result, before purchasing any surveillance camera, it is essential to carry out a survey of the area in order to decide the viewing angle that you need to get.
6. Night Vision Mode
You don't want to have camera systems that work only in the day and not at night. This is why night vision is one of the most important features to consider before buying a PoE camera. Luckily, many of these cameras work well in daylight and equally well at night because of their built-in Infrared LEDs and long-range technologies.
7. Remote Access
A higher percentage of intrusions takes place when you're away from the property. This is why remote access to your security cameras is important. On most PoE camera systems, after a simple configuration, you have the ability to view and fully control your camera.
In some cameras, you can also pan, tilt and zoom the cameras remotely to record footage of break-ins or act as a deterrent. This remote access is available through mobile applications, web browsers as well as desktop softwares.
8. Motion Detection Alerts
As most PoE cameras have great surveillance capabilities, you also want to get one that sends you motion alerts and instant notifications. They help alert you of any unusual activity in the surveillance area. You can receive these notifications or alerts on your smartphone or email to help you carry out the best precautionary measures after viewing them.
Frequently Asked Questions (FAQs) on Poe Security Camera System
1. Are PoE security cameras better?
PoE cameras are best known for providing the best image quality in all the cameras. This is because an ethernet cable supports a higher bandwidth compared to a wireless connection.
2. Is PoE better than BNC?
PoE is better especially if your network can give PoE and the cable run is under 90 meters. Although BNC can give you more range, you'll need a power supply available at the camera's location.
3. Is PoE better than WIFI?
PoE and Wi-Fi cameras can both provide essential monitoring functions. However, when it comes to security and coverage, PoE cameras tend to better. The Wi-FI cameras are easier to install compared to PoE.