Nowadays, consumers have developed a focus on environmental sustainability by using solar panels as an energy saver and cutting on electricity bills. However, the question is, "can solar panels be installed on a metal roof?" Before installing solar panels, you need to know how they will affect your roof and if it is compatible.
The short answer is yes! Metal roofs are the most compatible roofing materials for solar panels. They are light, durable, and made of eco-friendly materials. Most homeowners prefer it because of its ease of installation and environmental benefits. Our article discusses how to use solar panels in metal roofing and the benefits involved.
Using Solar Panels on Standing Seam Metal Roofs
Image Credits: electricchoice.com
Since metal roofs are compatible with solar panels, it is best to use them on standing seam panels. Standing seam panels do not require you to make any holes in the roof when you install solar panels. Instead, a standing seam solar panel has vertical ribs on the edges of the panel that you attach to a solar mounting system without making penetrations.
Any penetrations in the roof surface can make it less weathertight and leaves the roof susceptible to leaking. A standing seam is one of the most compatible with solar panels. For this case, you can also use flexible solar panels since they also do not require drilling.
How To Use Solar Panels on Corrugated Metal Roofs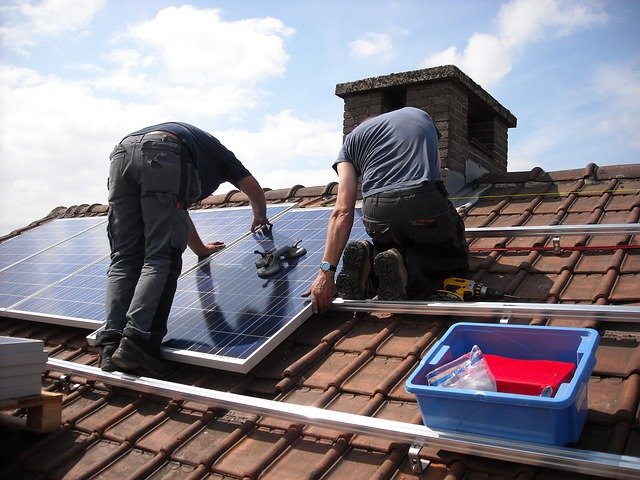 Image Credits: hoymiles.com
A corrugated or ribbed metal roof is also popular for installing a solar panel system. Despite being made of metal, it is not installed the same way as a standing seam roof. You will require some penetrations in the roof while installing solar panels. However, you must be careful in the installation process and do it le in a manner that maintains the integrity and weatherproofing of your roof.
Start by mounting a small foot over or between the ribs; the foot will log into the truss or purlin of your corrugated metal roofs. Next, reach out at the bottom and locate a rubber bushing to seal those holes to keep water out securely. You will then attach the solar panels to the racking system via the brackets.
Can Metal Roofs Handle The Weight of Solar Panels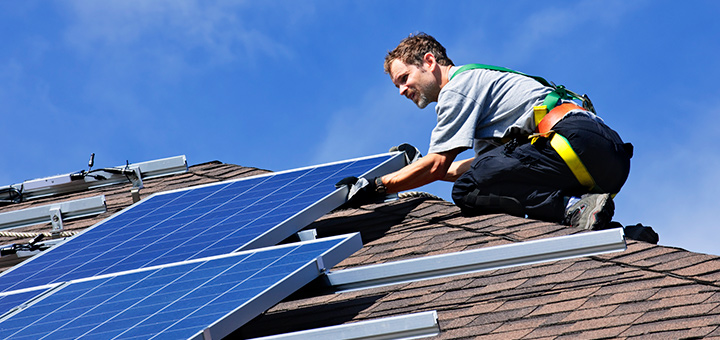 Image Credits: electricchoice.com
Metal roofs can endure the weight of solar panels. However, each roof has been built differently, so it is best to evaluate the type of metal roof you use before installing solar panels.
You can pay a third-party engineer to visit your building and look at your roof type's structure to ensure it can withstand the additional weight of your solar panels. The engineer can sign off on the project if the roof can handle the added weight.
You will need additional support to install the solar system safely on the metal roofs that dont pass the inspection. The engineer will help make the required recommendations to reinforce the roof and the structure. If you are willing to start the project, you can consult your engineer to visit the site and sign the project.
How Long Can a Solar Panels Last On Metal Roofing?
Solar panels can be long-lasting, depending on the brand you purchase. Manufacturers guarantee 25 or even 30 years for different solar panel brands. These panels also continue producing solar energy after the warranty.
However, installing solar panels on metal roofing can last 40 to 70 years. Metal roofs boost longevity since they outlast solar panels. If you use other roofing materials, the solar panels may outlast the roofing itself, giving you the expense of uninstalling and re-installing the panels on a new roof.
Do Solar Panels Damage a Metal Roof?
Metal roof solar installations are the best investment since they are long-lasting. So, you should avoid doing things on your roof that will cut its life short. In addition, you should do a proper solar installation to avoid holes that may leak water. Although you can clean your solar panels with water, water may corrode any cheap metal roof surface.
Image Credits: cnet.com
As long as you install the solar panels according to par and industry standards, you may not cause short- or long-term damage to your roof. Instead, the solar panel system may end up protecting your metal roof.
That does not mean that solar panels are indestructible, but they are designed and installed to withstand harsh conditions from mother nature. They act as a buffer ad shield your roof from wear and tear over time.
When properly securing your solar panels on your metal roofing, you will be assured that you won't expose your building to any leaks. You can install solar panels on standing seam roofs if you don't want any penetration on your roofing.
However, if you choose ribbed metal roofs, you may need penetrations. However, the bolting system is specifically designed to prevent leaks and maintain the lifespan of your solar system.
Why Should You Install Solar Panels On a Metal Roof?
1. They are Easy To Mount
In most cases, a solar installer will drill holes in your roof to attach the mounting for your solar panels. Most homeowners find it a matter of concern since when the hole is drilled improperly, it may cause leaks or other roofing issues. It would help if you got qualified solar installers as they offer artistry and roof warranties to assure customers of no issues during the installation.
In other cases, the solar installer doe not drill holes in the roof, which eliminates the possibility of having roofing issues. You can use the following alternatives to install solar panels without drilling holes in your metal roofing.
a). Use a Standing Seam Metal Roof
If you have a standing seam metal roof, your solar installer attaches panels using a system that clamps onto the roof's seams without drilling holes. This roof is an added advantage for quick installation time and a low labor cost because the installer does not have to spend time drilling holes.
b). Use Metal Tile Roofs
Image Credits: Floridasolardesigngroup
Some companies manufacture tile replacement mounts to make installing solar panels on a metal tile roof easier. The tile replacement mount products are shaped like roof tiles so you can swap them out without the existing tiles on your metal roofing.
In addition, they make the installation process easier and ensure that your solar power installation is completely watertight since the process involves replacing tiles on your roof to mount solar panels.
c). Use Corrugated Metal Roofs
Image Credits: cgtn.africa
Unlike the previous two metal types of roofing, corrugated roofs require you to drill holes during solar installation. However, mounting companies offer solutions for installing solar panels on a corrugated roof.
The solution is installing straddle blocks to sit on the roof and allow you to drill screws through the roof. It s easier to waterproof using this method since there will be actual holes to secure your racking system.
2. Solar Metal Roofs Host Thin-Film Panels In Addition To Standard PV Panels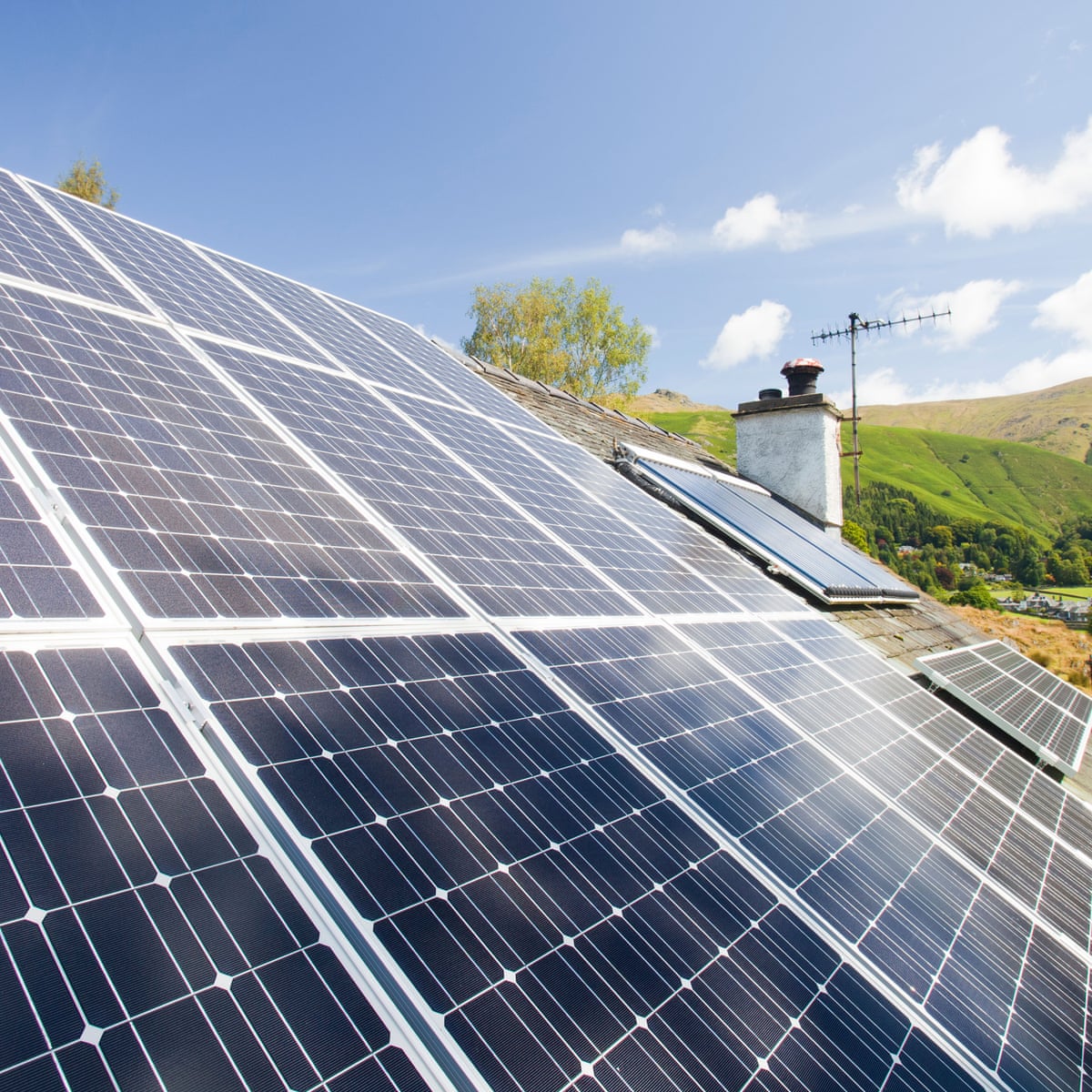 Image Credits: theguardian.com
Most homeowners nowadays are installing standard silicon (PV) solar panels. However, if some have metal roofing, you can opt for thin-film solar. In addition, you can install the thin film solar on certain types of roofing-thee roofs, including standing seam metal roofs.
While PV panels have higher efficiency per square foot, thin film solar panels are easier to install and have a low profile. They also need less energy to manufacture than silicon solar cells, making them a lower emissions renewable energy option.
3. Metal Roofs Are Durable and Outlast Solar Panels
Image Credits: homelogic.com
Solar panels are durable and can last 25 to 30 years, making them a great investment in your home. In most cases, the solar panel can outlive your roof, giving you more expense while installing another roof.
If your roof has aged before the solar panels, you will have to install a new one before re-installing the solar panels. You will incur additional costs of removing and re-installing your solar panels during the whole process.
It would be best to use metal roofing since it is durable and the conventional roofing material available. In addition, if your home has a metal roof, it will likely last longer than your solar panels, saving you the expenses in the long run.
4. Solar Panels Maximize The Cooling Benefits Of a Metal Roof
Image Credits: ecogreenenergy.com
Metal roofs coated with reflective paint are an added benefit since they keep your home cool during hot weather and reduce energy use. Painted metal roofs reflect more sunlight than traditional black asphalt shingles.
Some metal roofs also have reflective paint to increase the effects. In addition, you can install PV solar panels to save electric bills and save more when you shade the roof's surface.
5. Metal Roofs and Solar Pair To Make an Eco-friendly Home
Image Credits: brilliantharvest.com
To live in an eco-friendly home, you can incorporate your metal roofing with solar panels. You can install a cool metal roof and earn points through green building certification programs such as LEED and ENERGY STAR. These programs encourage home renewable energy options like solar panels.
Solar panels on metal roofing are an added environmental benefit since they are recyclable.
Featured Image Credits: sunengis.com