The Okaysou Airmax8L Medical Grade is built in a sleek unique design that is best when used in small to large rooms such as the office, bedroom, kitchens, and even basements. It weighs 13.75 pounds (6.2kg) and is of size 12.9 by 7.1 by 19.4 inches. (32 by 18 by 49.28 cm)
1. Coverage
This Okaysou air purifier is recommended for 320 square feet (29.73 square meters) up to 800 square feet (74.32 square meters). It generates 1.5 times per hour in a room of 800sq.ft (74.32 square meters) room, 3 times per hour in 500sq.ft(46.45 square meters) room, and 5 times per hour in 320sq.ft(29.73 square meters) room.
2. HEPA Filters
This Airmax8L comes with a dual filter that is responsible for increasing the amount of activated carbon exposed to the air to provide superior removal of odors and any harmful gases.
The Okaysu Airmax8L has a 5-stage air cleaning system and this makes it quite unique.
Pre-filter- This prefilter captures large particles such as dust mites, pet dander, and fur. This helps to protect the main filter's life and hence extending its life in general. This prefilter is washable.
True HEPA filter- These are excellent for cleaning out 99.7% of any particles or germs as tiny as 0.3 microns such as dust, pollen, pet dander and even mold spores.
Anti-microbial treatment- Prevents any growth of bacteria on the surface of other filters.
Activated Carbon filter – This absorbs any strong or mild smell such as the cooking smells, cigarette smell, pet odors, and even an ammonia smell.
Cold Catalyst filter- This filter mostly helps to decompose Volatile Organic Compounds (VOCs)
The anti-microbial treatment and the Cold Catalyst filter are present to support the main HEPA filter. This Okaysu is ideal for asthmatics and allergic individuals as it cleans out any asthma triggers when clearing the air in the room.
Even though there are several filters, the user needs to replace the filters every 6months for optimal performance and safety purposes. The replacement of the filter costs approximately $69 per year depending on where you get them from.
3. Filter Replacement Indicator
Notably, this Airmax8L comes with a certain sensor with an indicator base light that automatically detects airborne particles. This air filter indicator alerts you when the filter needs to be changed. To turn off the indicator light after changing the filters, you should press the sleep button for 3seconds.
4. Timer
Additionally, it comes with a timer that the user can customize and schedule to either 1, 2, 4, or 8 hours of operation. This provides you with unique purification needs for your desired time and helps to save energy.
5. Child Lock
This feature comes handy to any house with kids. When you put the child lock on, you are guaranteed no options will be interfered with or any buttons pressed accidentally. This works as a bonus feature if you own pets and even kids.
6. Sleep Mode
Okaysou Airmax8L Medical Grade is a silent air purifier but when total silence is needed, the sleep mode gives you that. When you turn on the sleep mode, the fans operate at a low speed and the light goes out. You can sleep soundly with the air purifier on without any noise problem or distraction.
7. Warranty
This air purifier packs a generous five-year warranty. This is enough proof of the good quality this Okaysou Airmax8L Medical Grade is.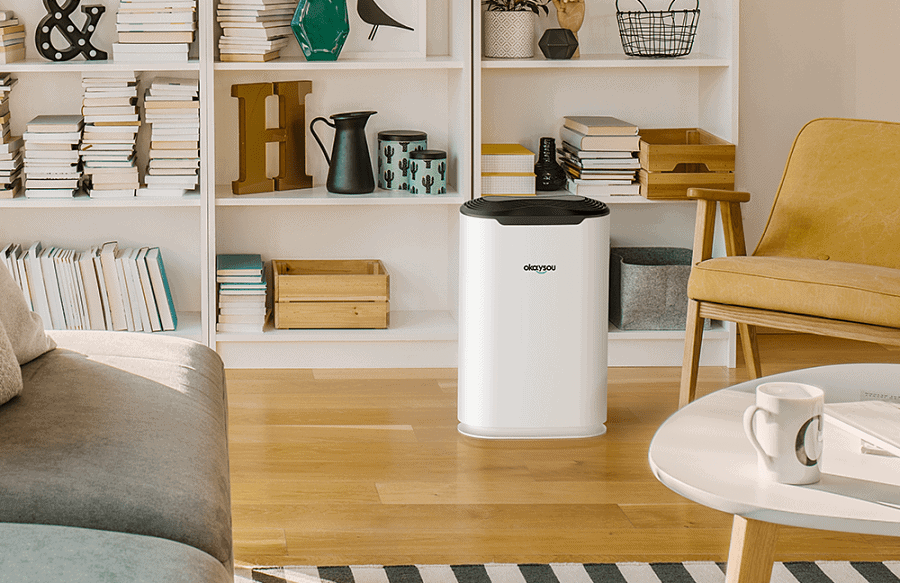 Pros
Comes with multiple timer settings
Has a relatively large filter surface area
Built in a sleek premium-feel design
Decent quality and performance
Comes with a touch control panel
True HEPA filter for easy removal of particles
Comes with handles on the side that allows easy mobility
Has a 5-stage filtration, moderate CADR level
Packs beneficial features such as child-lock, sleep mode, and timers
Affordable pricing
Ozone free 100%
5-years warranty cover,
CE, FCC, ETL, and CARB compliant
Cons
Does not have an air quality sensor and no auto mode
Does not have a remote control or a mobile application