If you regularly spend a lot of time in your home workshop or just the sliver of your garage on DIY projects, then you really need a quality workbench. Woodworking is an awesome hobby that not only saves you money on overpriced store-bought furniture and items, but woodworking is also a wonderful way to manage anxiety and stress. So explore the various DIY workbench ideas that can help you utilize and maximize that unused space in the garage.
Not Sure Where to Start on Your DIY Workbench Plans?
Crafting anything with your own hands is beautiful. You don't have to start perfectly, but slowly you learn how to perfect it. Also, many free DIY workbench plans within detailed instructions guide you on how to build that workbench in your shed or garage.
You can even get yourself some extra storage space in your garage, depending on the plan you choose. These free workbench plans will vary in skill level, the cost of tools and supplies, and the average time it will take to complete them. But, overall, it costs less to work on these projects.
DIY workbench projects can also be an income-generating activity because it's a way to sell and advertise your creations. Once you have identified what amount of space and dimensions you can use, settle for a workbench plan that's workable for you. Here are 6 designs that are sure to suit your needs.
Free DIY Work Bench Ideas for You
1. Folding and Mobile Workbench Idea
Featured Image Source: familyhandyman.com
If you want a folding workbench that's mobile, super simple to build, and that gives you a sizable work area, then this is the DIY plan for you. This DIY collapsible workbench folds up to only 7 inches thick and only requires super affordable materials at home centers.
Like many workbench projects, you can always build it in any size that suits your home or workshop by adjusting frame sizes to accommodate the parts that fold. 
On average, you only need 2 hours, some 2 x 4s, 3/4-inch plywood, and 8' of 1×4. For the detailed guide, check the full plans, technical art, and video tutorial for this project on Family handyman: The Saturday Morning Workshop.
Tools Required
Jigsaw
Drill/driver
Circular saw, or table saw or
Materials Required
1-3/4″ construction screws
1 x 4 pine
2 x 4 pine (30′)
3-inch construction screws
(4) 3-inch locking swivel casters
(8) 3-inch butt hinges
4′ x 8′ sheet of 3/4-inch plywood
(4) 5-inch strap hinges
(2) hook-and-eye latches
Wood glue
2. The Simple Sturdy Garage Workbench
Featured Image Source: morningchores.com
If your garage doubles up as your workshop, then this is the workbench idea for you. Not only would you have an assembly table, but you'd also have a designated storage place to work and also leave your tools. A bonus, is the fact that's it actually super easy to build.
This workbench idea will give a simple yet sturdy garage workbench with no stands, using just a few tools and minimal investment in materials. In addition, this super simple workbench gives easy storage and easy cleanup down below.
This simple, rugged yet sturdy DIY workbench could be customized to give you a larger bench.  This simple bench also works well for a confined workspace. Here are the complete plans.
Material Required:
(1) 1/2-inch particle board 4 x 10
(5) 2 x 4 x 10′ support bracing
(4) 13 x 19 inches metal angled brackets
(24) 5/16 x 3 inches lag bolts
1/2 pound of #16 spikes and 10 penny nails
(1) 1/4-inch wood screws.
3. The Ultimate Stow-Away Workbench System
Featured Image Source: familyhandyman.com
If you need a workbench and additional storage space, but don't have as much space, then this quick-build, fold-up workbench idea is for you. The best part about building a workbench in this plan is its storage and the fact that you can always fold it up and out of the way when it's not used to create more workspace. In addition, the construction of this workbench plan is straightforward, that anyone can build it even if you've never built anything before.
You'll only require a saw and a drill, standard-sized lumber, the pegboard, and a plywood workbench top that's already cut to the ideal size. All these items listed are readily available and inexpensive.
In the case of the lumber, get the total length needed plus an allowance for some waste as you cut. Overall, the workbench should take 3-4 hours to build. Here are the complete plans.
Tools Required
Clamps
Circular saw
Drill
Materials Required
12' of 1×2
2' x 4' piece of 1/8-inch pegboard
12' of 1×10
Benchtop frame and worktop
16' of 1×4 for the benchtop frame and hinge bracing
2' x 4' piece of 1/2″ plywood or particleboard for the worktop
8' of 2×4
6' of 1×8 board
1-1/4-inch drywall screws
3-inch drywall screws
(4) 6" T-hinges
1/4 x 1-inch lag bolts with 1/4-inch washers
Swiveling safety hasp
Right- and left-hand support hinges
4. Simple Workbench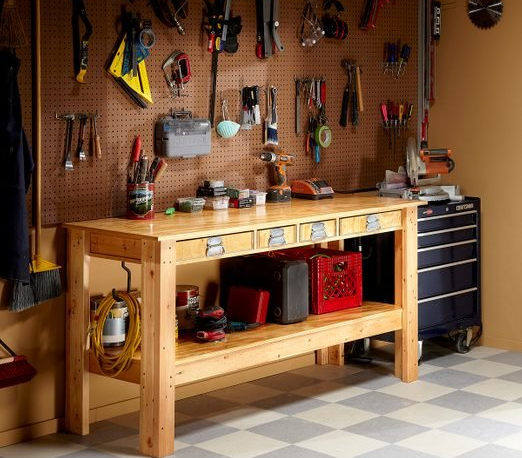 Featured Image Source: familyhandyman.com
This simple bench plan is sturdy, easy to build, and a tough workbench that should last you decades. Its workbench top gives the ideal work space, while the drawers and shelves are great for tool storage. In addition, it is inexpensive to build.
An experienced woodworker could build it in a day. It not only gives you space and storage, but it's also an upgrade. Workbench plans come in hundreds if not thousands, but not many of them actually use plywood.
Plywood gives your workbench a flat, stable working surface that doesn't need to be clamped, planed, or glued. Here are the complete plans. This workbench table is;
Simple enough to build in a day
Easy enough for the beginner to understand and build
Strong enough
Tough enough
Tools and Materials Required:
Circular saw
Framing square
Chalk line
Drill bit set
Drill/driver – cordless
Hammer
Tape measure
Wood glue
5. Modular Workbench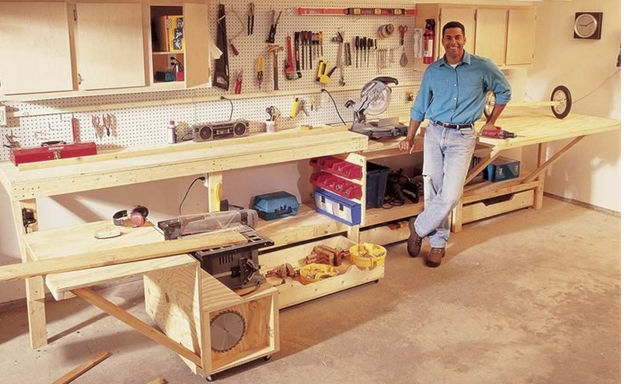 Featured Image Source: familyhandyman.com
Like other plans and projects, this bench comes with 5 foldout features that make this bench a perfect project to build, even in a small space. Another fold-out storage work table comes with a roll-out table saw stand, miter box table, and plenty of storage, including cabinets, pegboard, and shelves to save on storage and space.
It is also inexpensive, easy to build, and is ideal if you have a garage with limited space. This storage bench layout quickly folds out, slides out, and pivots into all the positions you need for your work area. Then, when done for the day, you can neatly stash away in less than 5 minutes. Find the complete plans here.
Tools Required
Socket/ratchet set
Miter saw
Chalk line
4 ft. level
Speed square
Circular saw
Drill/driver – cordless
Framing square
Hammer
One-handed bar clamps
Tape measure
6. Garage Workbench With Tool Storage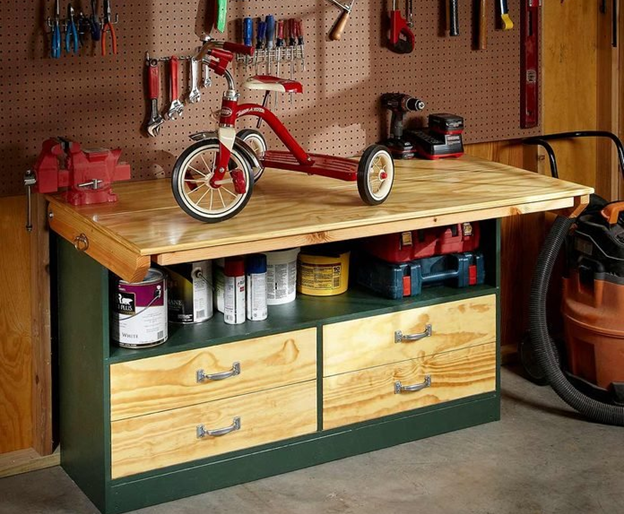 Featured Image Source: familyhandyman.com
This simple garage workbench style folds out to give you a spacious benchtop work area that also folds back down to make more room when needed for your car. Also high on the list of priorities of why this garage workbench is great is that it also gives you ample workspace and a lot of storage. This is a mobile workbench-style project that lets you build a cabinet or shelves underneath with drawers that you can pull out to store all of your tools.
Midway has an open shelf above the bottom shelf that comes in handy when you need to store things that might be too large to fit in the drawer. Or merely just to place items that you'll need to reach quickly. If you have enough garage space for this workbench style, then you should know that this compact garage workbench comes with an expanding top that also folds out to give extra workspace and also tucks away when not in use. Here are the complete plans.
Required Tools and Materials:
Jigsaw
Speed square
Circular saw
Straightedge
Drill bit set
Drill/driver – cordless
Framing square
Paintbrush
Tape measure
120-grit sandpaper
Wood glue
7. Mini Classic Kids DIY Workbench
Featured Image Source: familyhandyman.com
Every kid will need their workspace so give your kid space and chance to work on their projects and get creative on their own mini classic basic DIY workbench. This is a mini-scale version of the classic table design that dates back over a century.
The tools, materials, and construction steps are the same, just a tad smaller to fit the young creative woodworker in your family. The height works well for the 42-48-inch tall DIYer, but the height can easily be increased to make the table legs much longer.
Like other easy DIY projects, this is a basic workbench that you could involve your little one as you build for some fun bonding time. Here are the complete plans.
Required Tools and Materials:
Circular saw
Caulk gun
Cordless drill
Framing square
Tape measure
Drill bit set
Level
Miter saw
Safety glasses
Factors to Consider for the Best Work Bench Ideas
A) Adequate Working Surface Length
An indoor workbench can never be too long; as long as your workshop space can accommodate it, get it done. First, however, it's always best to get the actual measurements of your garage workshop where you are planning on setting your DIY workbench.
This way, you can maximize your space and work area. As our thinking of the bench location, consider any obstructions, such as walls, doors, or posts.
B) Work Surface Width
When working out your DIY workbench plans for the work top surface width, stick to a workbench that's no more than 3 feet wide. You'd wonder why.
Think about it. At the average height, you'd have a hard time trying to reach past the third foot if you rest the bench against a wall.
C) Bench Height Vs. Your Height
The general rule of thumb when working on your DIY garage workbench is that its height should at least reach your thigh area. A DIY Wok bench that's lower than that will have you slouching or hunker down, which can cause some serious stress on your shoulders, neck, and back.
D) Thick Work Surface Material
Regardless of whatever workbench projects you're planning to be work on, always invest in a heavy-duty bench material, especially for your work surface. Stainless steel workbench tops are among the best materials you can use to build a workbench. A metal top is super tough and can withstand constant serious hitting.
Stainless steel is also highly resistant to corrosion and temperature differences. Moreover, it is easy to clean and maintain.
Frequently Asked Questions on Work Bench Ideas
1. What is the best depth for a sturdy workbench?
Most workbenches will range between 28-36 inches deep, 48-96 inches wide, and 28-38 inches tall. The workspace and work area you have will determine the ultimate depth and width of the bench. Always go for a bench size that will allow you to move equipment and material past it freely.
2. What is the best material for a DIY workbench top?
A 3/4-inch Medium Density Fiberboard (MDF) sheet is best for a great workbench top. It is stout and sturdy enough to hold any load you might have for your woodworking projects, has a smooth surface that doesn't scratch wood, and can be easily flipped or even replaced if it gets too nicked up to work on. Additionally, you can add a coat of beeswax finish to keep it from staining.
3. How much weight do workbenches hold?
Typically, a heavy-duty workbench could hold up to 5,000 lb. load capacity. However, if you build a workbench that is 96 inches wide, its load capacity will go down to roughly 4,000 lbs. Extra heavy-duty workbenches will take up to 10,000 lb. load capacity.