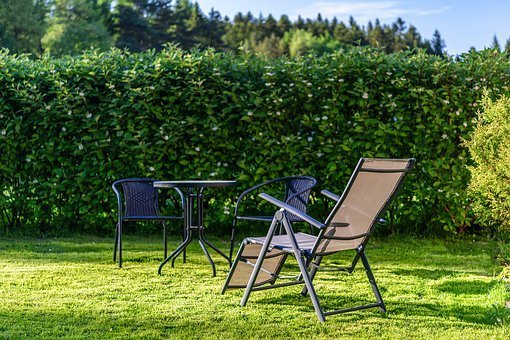 Best Zero Gravity Chair for Maximum Outdoor Comfort
The biggest risk of having to sit is bad posture. However, a badly designed seat is even worse than having to remind yourself to sit well all the time. Sitting out on your patio should not feel like work. Gravity seats were first designed for astronauts to help distribute weight evenly across the body, focusing on the pressure points. Zero gravity chairs reduce the tension on your body and make you feel weightless each time you recline on one. Let us take a look at the best zero gravity chair available for you in the market.
Best Zero Gravity Chair
1. Caravan Sports Infinity Zero Gravity Chair
Caravan Sports Infinity Zero Gravity Chair, Blue,...
Durable textaline fabric suspended by double bungee system
Relax with the smooth recline function that locks in any...
Dual finger tip locking system
Folds down to only 6.3 inches wide; Seat Tube Diameter:0.86" x...
Supports up to 300 lbs; Size:25.5″ x 45″ x 64.5″Regular
Caravan sports infinity gives you the option to relax, recline and enjoy a good rest wherever you want. You can bring the zero gravity chair with you anywhere you want because of its portability. Reclining has been made easy by the locking system, which allows you to secure the chair in any position you like to help you recline or fall asleep even faster.
The zero gravity chair has an adjustable headrest to ensure you have good lumbar support, maintaining good posture whenever you are. The weather-resistant Textilene fabric on the zero gravity chairs makes it possible to bring the chairs outdoors, on the beach, or to a safari. The fabric is suspended by a unique double bungee system fastened on a high strength powder-coated steel frame.
The zero gravity chairs have a very simple locking mechanism that requires only a few steps to achieve. Unlocking the chair is just as easy.
2. Timber Ridge Zero Gravity Chairs
Timber Ridge Zero Gravity Chair Oversized Recliner...
Outstanding Loading Capacity: Anti gravity chair supports up to...
Adjustable Reclining Position: Patented locking mechanism on this...
Oversized Dimension: 43.5 x 22 x 21.3 inches. The fully reclined...
Comfortable Design: Padded folding chair designed with full...
No Assembly: This folding lawn chair can be folded and unfold in...
Timber ridge zero gravity patio chair is one of the best recliners you will find in the market. The chair has a very strong body and can support up to 350 pounds of body weight. The zero gravity chairs have a sturdy steel tube frame which ensures the seat does not buckle under any weight whatsoever.
Timber ridge zero gravity chairs have cup holders, which makes it easier for you to bring along drinks without worrying about holding them the whole time. Timber chairs have a patented locking mechanism that pushes the technology of comfort to its limits. The zero gravity chairs have removable padding to make them easier to store and transport. The chairs do not need to be assembled before use. You only need to fold and unfold the zero gravity chair before enjoying your time.
3. Lafuma Futura Air Comfort Gravity Chairs
Sale
Lafuma Futura Air Comfort Zero Gravity Recliner...
ZERO GRAVITY CHAIR - This chair features ergonomic construction...
OUTDOOR PATIO FURNITURE - Take one of these reclining chairs...
PADDED RECLINER WITH HIGH-QUALITY FABRIC - AirComfort seat pad is...
COMFORT AND EASE - Relax on the deck or patio in one of these...
DIMENSIONS - This padded reclining chair with HLE Steel frame...
Lafuma is the ultimate outdoor furniture that has to be in your possession. The pandemic has forced most recreational activities to be cancelled, and Lafuma intends to bring some of that comfort back. The zero gravity chairs feature an air comfort seat pad which makes your entire body feel weightless and relaxed. You easily recline in positions with your knees elevated to make you feel like you are floating in space.
The zero gravity chairs are made using durable and breathable fabric, which performs well outdoors under different weather conditions. The gravity lounger can be used on the beach, for sporting activities and camping. The zero gravity recliners have been made with HLE steel frames, durable and sturdy enough to support your weight for years.
The folded dimensions of the gravity chair are (71 by 113 by 83) cm.
4. Portal Mesh Back Zero Gravity Recliner
Sale
PORTAL Oversized Mesh Back Zero Gravity Recliner Chair,...
ADJUSTABLE POSITION: Recliner is designed with a locking system...
ERGONOMIC DESIGNED: The Length of chair when fully reclined is 72...
MULTIFUCTIONAL DESIGN: Breathable mesh back connected to padded...
OVERSIZED DIMENSION: Set up size is 30" L x 29" W x 44" H, off...
NO ASSEMBLY: Easy folding and compact structure is suitable for...
Portal has zero gravity chairs that are suitable for everyone, regardless of the size or height. In a reclined position, the zero gravity recliner can fit a 6'2" tall person. The chairs have weight capacities of up to 350 pounds, which is well above many people's weight. The zero gravity chair has a padded adjustable pillow for maximum comfort on the head and lumbar region.
Portal has the best zero gravity recliner for outdoor relaxation because of its side table, which can hold your phone and drinks. The table can also act as a cup holder for your beverage when camping or enjoying nature. The zero gravity lounger has a design that does not need to be assembled before use. The armrest is made of environmentally friendly wood, unlike the plastic counterparts. The zero gravity chair locks in any reclining position that best fits your desires. The chair will centre your body to a neutral position for maximum comfort that you would rarely get from a normal chair.
5. BalanceFrom Adjustable Zero Gravity Lounge Chair
BalanceFrom is one of the best zero gravity chairs because it gives you an option to attach or detach the cup tray to hold your books, beverage, phone and anything you need. When in the zero-gravity position, the chair feels very comfortable and relaxing. The zero gravity chairs have easily adjustable knobs, which locks the chair in any comfortable position. The chair is lightweight and foldable, which are the most important features of an outdoor chair.
BalanceFrom is the perfect chair to use outdoors because it has weather-resistant Textilene fabric, which can withstand any weather condition thrown at it. The adjustable padded headrest helps you achieve an ergonomic zero gravity position making BakanceFrom the most excellent zero gravity chairs.
Factors to Consider Before Buying a Zero Gravity Chair
a) Locking Mechanism
All zero gravity chairs should be able to lock in multiple positions for maximum comfort. The locking system should be simple and easy to adjust.
b) Weight Capacity
Some zero gravity chairs have a weight capacity of 300 pounds while others, 350 pounds. A zero gravity chair should be able to accommodate the weight of an average adult without buckling comfortably.
c) Adjustable Headrest
A perfect zero gravity chair should accommodate people of different heights comfortably. The headrest is meant to support the head and lumbar region by distributing the weight equally and evenly across all pressure points.
d) Weight
The best zero gravity chairs are meant for outdoor hangouts and relaxation. You will have to carry it around everywhere you go, in your car and to the beach. Therefore, the lighter the chair, the better. You can carry two chairs at one go.
e) Fabric Material
The material on the chair should be able to withstand any weather conditions. The best zero gravity chair has a breathable mesh backrest, keeping your back fresh all day.
f) Size
A wide chair will make it possible for you to have any zero gravity position when sitting out. A large zero gravity chair will accommodate different sizes of people comfortably.
g) Design
Zero gravity chairs with contoured armrests are more comfortable than their flat arm counterparts. Built-in canopy, adjustable footrests, head pillows and a lockable adjustable position will reduce the chances of getting back pain while maximizing comfort.