Moving into your new house sure can be exciting- until you remember you need all the arranging you'll need to do after. Remember the curtains; yes, hanging them is also going to be a pain — dragging out that ladder, taking the measurements, drilling into the walls, only to realize halfway that your curtain rods are somewhat crooked- frustrating, to say the least! Luckily, there are easier ways and here's how to hang curtains without a rod that'll only take you a couple of minutes.
If you're actually living in a rented space or just don't want to spoil your walls, there are some quick and easy curtain hanging solutions and window treatments. Other than avoiding the use of screws, nails or drills, these curtain project options will help you display your eclectic styles and enable you to hang curtains. There is no hard-and-fast rule that says you should use the traditional curtain rod. In fact, like most interior designers, you can creatively forgo the use of the conventional traditional curtain rods in favor of the modern and unique ways to hang curtains.
1. Using 3M Command Hooks
Image Credit: pinterest.com
These work perfectly to hang curtains without drilling. Here are the ways to hang curtains using command hooks:
You're going to need at least two command hooks, which you'll use to hang the curtain rod. Remember, if your window is more than 30 inches apart, you're going to need a third Command hook to create some support at the middle.
You can use your measuring tape to carefully measure out where to place the curtains, then mark the wall where each hook will be placed.
After establishing that your marks are okay and well-positioned, peel off the Command strip adhesive and then apply it to each hook.
Press the Command hook firmly onto the wall for roughly 30 seconds, then repeat this process with the other hook.
Give it at least close to 30 minutes before you start hanging your curtains.
Overall, Command hooks come in really handy in a lot of projects but are also not the most durable option. They are ideal for hanging curtains for short periods.
2. Using Kwik-Hang Curtain Rod Brackets
Image Credit: pinterest.com
The Kwik-Hang curtain rod brackets will solve two of the most annoying parts in the hanging curtains process: having to take accurate and even measurements and damaging your walls while at it. Kwik-Hang eliminates these pains and hold curtains firmly while at it.
As one of the best ways to hang curtains that are relatively heavy, this is a revolutionary bracket design that can hold up to 20 pounds. You can also hang heavier drapes for that luxury drape effect. They are quite easy to work with, and it'll only take you a few minutes to install. They also won't require you to take any measurements or drill pilot holes for curtain rods that'll damage your wall.
You can install Kwik-Hang without a drill and achieve perfectly aligned curtains every time. Using the Kwik-Hang is one of the fastest, easiest and most durable ways to hang curtains without all the drilling. With this, you can hang any window treatment type, ranging from the sheers to the heavy draperies.
How to Use your Kwik-Hang brackets to hang curtains
Start by positioning the curtain rod brackets at each corner of the window frame
Tap each with a hammer, and you're all done
3. Using Tension Rod Curtains
Image Credit: pinterest.com
Tension rod curtains can be adjusted and stretched from each side of the window frame. This is also one of the fastest, easiest and tidiest ways to hang curtains that don't need any complicated installation or measurements. Tension rods are best suited for light to sheer curtains being put on relatively small windows.
How to Use Tension Rods As You Hang Curtains
Get a tension rod that's closest to the window frame size
Test out the tension rod until it snugly fits within the window frame
Remove your rod, thread your curtain directly onto the rod
Reinsert it into the window frame
4. Coat Hooks As Curtain Holders
Image Credit: pinterest.com
Coat hooks from the local dollar store can be surprisingly versatile. Besides holding your raincoats or bags, you can use them to hang curtains without a rod. Curtain hooks are best suited for the decorative curtains on windows that won't need adjusting often.
Using Coat Hooks To Hang Curtains
First, you'll need to determine how many hooks you're going to need to hang the curtains
Measure the curtains length.
Measure as you mark how far apart the coat hooks can be evenly distributed
Carefully screw each coat hook into the wall or window frame
Loop the curtain holes onto each of the hooks
5. Metal Doors With Magnetic Curtain Rods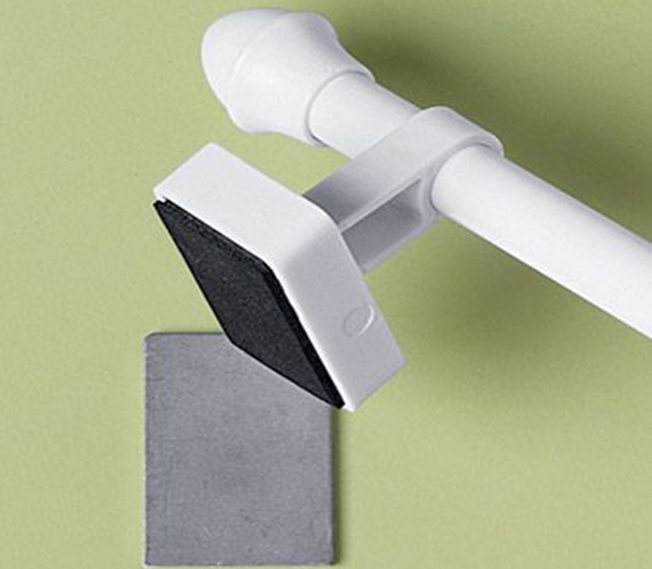 Image Credit: pinterest.com
Magnetic curtain rods are another easy way to hang your curtains without needing to drill. Ideally, the use of these magnetic curtain rods in hanging curtains is limited over a metal door. Magnetic curtain rods are best for metal doors that aren't opened and closed often.
Using Magnetic Curtain Rods To Hang Curtains
Measure the window opening to determine the size of the curtains
Leave space between the edge of the window and the edge of your door to accommodate these magnetic curtain rod bracket
'Click' the bracket onto the metal door, then thread in the curtain onto the rod
6. Making A Faux Roman Shade
Image Credit: pinterest.com
You can create a faux Roman shade by creating custom-sized curtain panels with pockets at both the top and bottom for the tension rods. If you're good at sewing a straight line, this should be a breeze, and the DIY aspect lets you customize the colors and patterns of the window treatment.
7. Twist And Fit Curtain Rods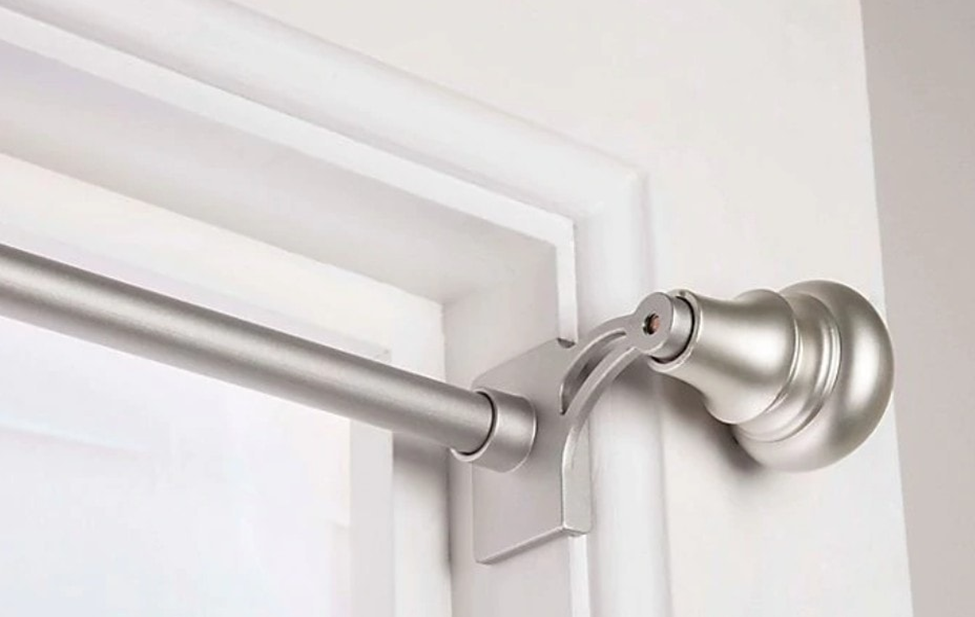 Image Credit: pinterest.com
The twist and fit curtain rods are well secured across your window. They come in a design that gives the impression of a hook and rod, but it's actually all one piece. Twist and fit curtain rods are also a great alternative if you want to hang curtains without making holes.
The removable rod works quite similarly to the tension rod, but it actually comes with decorative ends sticking out from the window. With this, you can attach a real curtain rod so curtains can sit in front of the window instead of inside.
8. Drop The Curtains An Use No-Drill Shades
Image Credit: pinterest.com
Alternatively, if you only want to block out the light rather than add the decorative touch, you can consider skipping the whole idea of using curtains and using a shade instead. There are plenty of shades that can be attached to the top of your window without needing any drilling.
What's The Best Way to Hang Curtains Without Any Wall Damage?
Ultimately, the easiest way to put up those curtains without damaging your wall is Kwik-Hang's damage-free curtain rod brackets and holdbacks.
Here's why Kwik-Hang's the ultimate solution to hang curtains without drilling for your wall:
Its sturdy, stable, and has the capacity to support all types of fabrics, curtains and curtain panels
Doesn't require any measuring, adjustments or drilling
Gives perfectly aligned curtains every time you hang
Affordable cost
Suited for all kinds of room in the house
Beautiful and works so seamlessly with whatever home decor
It is available in different colors for either single or double curtain rods
It also has center support brackets that are also made available for curtain rods that are longer than 30"
Featured Image:pintrest.com