The best freestanding bathtub demand is increasing yearly, which is unsurprising, given how cutting-edge they appear and feel. Some examples are sleek and modern and loaded with extra features for comfort, which you won't experience with a standard one.
In contrast, others include features that help you relieve potential pressure points, which leaves you feeling relaxed and refreshed after each bath. They are perfect for people who enjoy long baths and can also make for nice decor in any bathroom to give it a spa-like feel. However, how will you know which freestanding bathtub is best for you?
Below are the products we reviewed, with the G Ganen Ice Bath topping the list because it offers the unique feature of ice bath therapy for reducing inflammation. We chose the KINGSTON BRASS as our second option because of its high-quality acrylic construction that ensures durability and longevity, falling short of first place due to its unsuitability for larger bathrooms. Our third pick was Empava Acrylic Freestanding Bathtub which we found ideal due to its ergonomic design that provides maximum comfort.
Read on!
What Is a Freestanding Tub?
Image credit: hgtv.com
Freestanding bathtubs are different from the traditional ones seen in most homes. They are tubs that can be placed anywhere in the bathroom, depending on the free space available or your convenience.
Freestanding tubs can stand alone without needing to be built in or glued because they are finished on all sides. Despite the wide range of bathtub alternatives available today, the best freestanding bathtub typically provides an exceptional and relaxing experience thanks to its design.
| | | | |
| --- | --- | --- | --- |
| | | | |
| | | | |
| | | | |
| | | | |
| | | | |
| | | | |
| | | | |
| | | | |
| | | | |
| | | | |
1. G Ganen Ice Bath Hot SPA Tub
G Ganen Ice Bath Hot SPA Tub Unisex Portable Foldable...
Application: Indoor and Outdoor bathtub;Size:...
Very light and portable, save much place, very suitable for small...
Imported Non-phthalate PVC materials meet with EN71-3, SGS, 6P...
Durable and easy to clean, made of 3 layers water proof and...
You can stretch your feet freely in the water, big enough for two...
The G Ganen Ice Bath Hot SPA Tub is a portable and foldable inflatable bathtub that promises a relaxing and rejuvenating spa-like experience in your home. With its 3-layer PVC construction and diameter of 29.5 inches, I liked how this unisex freestanding bathtub offers convenience, versatility, and functionality.
The G Ganen Tub offered us the unique feature of ice bath therapy. By filling the bathtub with cold water and adding ice cubes, I could experience the benefits of cold therapy, such as reducing inflammation, soothing muscle soreness, and improving recovery after intense physical activities. This versatility sets it apart from traditional hot tubs and adds value to the product.
Image credit: amazon.com
Nonetheless, there are a few areas where the G Ganen Tub could be improved. Firstly, the tub lacks built-in seating or backrest support, which may affect comfort during extended bathing sessions. Another consideration is the absence of a drainage system.
2. KINGSTON BRASS
Sale
KINGSTON BRASS VTDE603122L 60-Inch Contemporary Alcove...
Acrylic construction with fiberglass and resin reinforcement,...
Product dimensions – 30-11/16" W x 60" L x 22-1/6" H | Water...
Left hand drain bathtub
Three wall alcove installation with tile flange
Extremely user-friendly with effortless installation and...
With its left-hand drain and overflow holes, this modern bathtub is an exceptional addition to any bathroom, combining style, functionality, and durability in one elegant package. One of the standout features of this bathtub that I liked is its alcove design, which makes it perfect for smaller bathrooms without sacrificing comfort. It neatly fits into my three-wall enclosure, maximizing the available space and providing a cozy bathing area.
Image credit: amazon.com
The high-quality acrylic material is resistant to stains, chipping, and fading, making it easy to maintain and keeping its pristine appearance intact for years. I appreciate the peace of mind of knowing that this bathtub is built to withstand the rigors of daily use. The left-hand drain and strategically placed overflow holes are thoughtfully designed features that enhance the functionality of this bathtub.
The drain allows for easy and efficient water drainage, preventing any unwanted pooling, while the overflow holes prevent overfilling and provide an added layer of safety. I found these practical elements convenient and contribute to a satisfying bathing experience.
The Kingston Brass is an outstanding choice for anyone seeking a stylish and functional upgrade to their bathroom. Its eye-catching design, durable construction, and convenient features make it a worthwhile investment.
3. Empava Freestanding Bathtub
Empava EMPV-FT1503 71" Acrylic Freestanding Bathtub
SPECIFICATIONS: Outer Dimension: 71" Long x 35" Wide x 23" Deep;...
DURABLE CONSTRUCTION: The Empava's freestanding tub is made out...
CONTEMPORARY DESIGN:This Empava's Freestanding Bathtub can be...
ERGONOMICALLY ENGINEERED: Empava Bathtubs are as pleasing to the...
CERTIFICATION and cUPC Certified; 5-Year Limited. Besides,...
As a couple looking for a freestanding tub to fit both of you, there is no better choice than this. I guarantee you will relax because you will recline thanks to the two ergonomic sides, double slipper, and large design comfortably.
Image Credit: Empava.com
Like other high-quality stand-alone bathtubs, it boasts a double-walled design that keeps your water at an ultimate temperature for long periods. Consequently, the great tub allowed me to soak my aching muscles comfortably in hot water before the water cooled.
4. Ferdy Bali 59" Acrylic Freestanding Bathtub
FerdY 47" Bali Acrylic Freestanding Bathtub, Gracefully...
🛀 GRACEFUL SHAPE: Our FerdY Bali freestanding bathtub offers...
🛀 A PERFECT BATHING EXPERIENCE: With 47-inch length and...
🛀 TOP CLASS MATERIAL: 100% glossy white acrylic reinforced...
🛀 EASY INSTALLATION: Illustrated guide with step-by-step...
🛀 FAST AND EFFICIENT AFTER-SALES EXPERIENCE: We are committed...
I recommend if you are shopping for a product that will fit small bathrooms because you don't have a lot of space. The soaking tub can carry 39 gallons and weighs 75.8 pounds, but it's still enough to get a good soak in, thanks to the extra soaking depth of a traditional bathtub.
Image credit: amazon.com
Ferdy Bali Acrylic Tub is also the best bathtub for an eco-friendly and durable product since it's 100% glossy white acrylic reinforced with fiberglass. In addition, it is priced reasonably and has an integrated slotted overflow drain making it perfect for small bathrooms.
It is among my best choices due to its easy installation process and minimalist design. In addition, it comes with a precise instruction manual that illustrates a step-by-step guide on implementing the tub into your bathroom.
5. Vanity Art Modern Soaking Tub
Sale
Vanity Art Freestanding White Acrylic Bathtub Modern...
Relax and wind down in your pure-scape luxurious freestanding...
The freestanding bathtub can be paired with any tub filler (not...
Bathtubs are as pleasing to the eye as they are comfortable to...
Easy clean, easy maintenance, stain-resistant, scratch-resistant...
Delivery and return policy: Curbside Delivery Only. We accept...
Vanity Art Modern Soaking Tub is among our top choice if you seek the best bathtubs with a contemporary design for long soaks without breaking the bank. The tub has an oval shape and a slippered end giving it a contemporary touch. After all, the look echos a modern twist on slippered claw foot tubs.
Image credit: amazon.com
I also like the polished chrome on the pop-up drain on the left side, including a similarly finished drain. However, since this Vanity Art model comes at an affordable price, it doesn't include all the features. For instance, it lacks jets and a substandard plumbing line you cannot replace.
6. WOODBRIDGE B-0013 B0013 Bathtub
WOODBRIDGE B-0010 Bathtub, Brushed Nickel
DIMENSIONS AND SPECIFICATIONS: Exterior Dimension: 67" Long x 31...
NON-SLIP DESIGN: Non-Slip bathtub meet ASTM standards for Slip...
PREMIUM QUALITY CONSTRUCTION: WOODBRIDGE bathtub is made out of...
DESIGN INSPIRATION: WOODBRIDGE bathtub is luxury, comfort and...
ENDURACLEAN: Easy clean, easy maintenance, stain-resistant,...
WOODBRIDGE Modern freestanding tub is my favorite for its durability as it's designed with top-notch sturdy materials like glossy white lucite acrylic, reinforced with Ashland resin and fiberglass on the tub walls. In addition, the acrylic bathtub is double-walled, meaning the water in the tub can hold the heat for long periods.
Image credit: amazon.com
Although the tub has a 60-gallon capacity, taller users should know it is only 67 inches long. Although I am quite tall, the length is not an issue because the tub's edges slope to be kind on my neck and back. In addition, the tub has a pre-installed brushed nickel overflow valve and pop-up drain where the drain is meant to prevent odors and backflow, ensuring it won't crack from cold or warm temperatures.
Lastly, the thick walls have a scratch and stain-resistant finish that will easily get wiped down when cleaning the tub. The durable acrylic material is also covered with a one-year warranty which I found a great bonus considering it was built with premium materials and came at a high price.
7. Ove Decors Freestanding Bathtub
Sale
Ove Decors Acrylic Freestanding Soaking Bathtub with...
✅[OVERALL SPECIFICATIONS]: Freestanding Soaking Acrylic Bathtub...
✅[TOP QUALITY MATERIALS]: Made with 3mm Durable Acrylic...
✅[ELEGANT AND CUSTOMIZABLE DESIGN]: You make the choice with...
✅[NO MORE SPILLING]: Chrome Pop-Up Drain and Modern Overflow...
✅[DO IT YOURSELF]: Include 4 Concealed Adjustable Leveling Legs...
The freestanding design adds an elegant touch and makes it the central piece of any bathroom. The sleek and smooth lines of the tub enhance its visual appeal, creating a truly eye-catching centerpiece.
Image credit: amazon.com
One feature that stands out is the chrome pop-up drain and waste overflow system. It functions flawlessly, efficiently draining the water and preventing potential overflow issues. Whether you prefer a soothing bath or a deep soak, this tub accommodates both perfectly. The depth of the tub is also worth mentioning, as it allowed me a satisfying immersion, ensuring a truly rejuvenating bathing experience.
The bathtub is constructed from high-quality acrylic, which looks and feels premium and ensures durability and longevity. I loved the glossy finish that was easy to clean and maintain, which saved me time and effort in the long run. The instructions were clear and concise, making them easy to set up. The tub is also lightweight compared to similar models, which is a significant advantage when moving or repositioning it if needed.
8. American Standard Freestanding Bathtub
American Standard 2691004.020 Townsend 68 in. Acrylic...
CONTEMPORARY DESIGN with sleek, clean lines
FLAT BACK offers flexibility to install flush-to-the-wall or...
DEEP BATHING WELL for complete soaking comfort
High-quality seamless acrylic with fiberglass reinforcement
High-gloss surface is smooth, lustrous and easy to clean
American Standard bathtub is one of the best freestanding tubs if you want to incorporate your showers in bathtubs. I recommend it for showering since you can install the shower head anywhere, thanks to the drain in the middle.
Image Credit: americanstandard-us.com
Another reason I recommend this tub for showering is that it has a smooth surface that is super easy to clean. Hence, cleaning it after I was done with my shower took a short while, and I avoided the tub getting slippery.
9. Rebecca 65 inch Freestanding Bathtub
Rebecca 65 inch Freestanding Bathtub in White with...
Much deeper than standard tubs for full immersion. Warmer to the...
Acrylic construction for strength and ease of handling and...
Includes brushed nickel pop-up drain upgrade. Includes brushed...
Tub filler not included. UPC and cUPC Approved.
Quality Guaranteed - Comes with a Manufacturer Two Year Limited...
The Rebecca 65-Inch Freestanding Bathtub epitomizes elegance and luxury, transforming any bathroom into a tranquil sanctuary. As a proud owner of this stunning bathtub, I can confidently say that it has surpassed my expectations regarding functionality and aesthetics.
Image credit: amazon.com
The first thing that grabbed my awareness was the tub's impressive size. With its generous dimensions, the Rebecca bathtub offers ample space for relaxation and indulgence. Whether you prefer a rejuvenating soak or a romantic bubble bath for two, this bathtub has enough room to accommodate your desires.
One of the standout features of the Rebecca bathtub is its exceptional comfort. The ergonomic design contours to the body, allowing you to unwind and enjoy a truly immersive bathing experience. The sloping sides and backrest provide excellent support, allowing you to relax for extended periods comfortably. The tub's depth is ideal for submerging oneself fully, promoting deep relaxation and stress relief.
10. Wyndham Collection Freestanding Bathtub
Soho 72 inch Freestanding Bathtub in White with...
Much deeper than standard tubs for full immersion. Warmer to the...
Acrylic construction for strength and ease of handling and...
Cable-driven pop-up drain and waste overflow are included and...
UPC and cUPC Approved.
Quality Guaranteed - Comes with a Manufacturer Two Year Limited...
I couldn't finish the list without recommending a freestanding tub deep enough to give you enough support while taking your bath. This acrylic bathtub is more comfortable than casual steel or enamel bathtubs due to its quality construction and material.
Image Credit: Wyndhamcollection.com
I like that the Wyndham freestanding bathtub has a cable-driven pop-up drain and overflow, which come with the product. However, I had to purchase a separate tub filler since this large tub doesn't include one.
Not only is it comfortable, but this bathtub is also durable thanks to its acrylic construction, which makes it sturdy enough for worry-free installation. The installment also carries a two-year warranty to ensure a seamless experience. Plus, it's warmer to the touch compared to traditional bathtubs.
What Are the Main Types of Freestanding Bathtubs?
Freestanding tubs come in different types, which you can choose according to your preference, bathroom style, and the most appealing. Below are the common types you will find in most stores or during online shopping:
1. Single-Slipper Tubs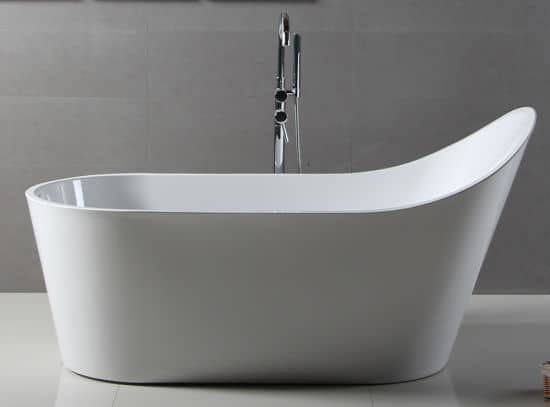 Image Credit: madeinchina.com
Single slipper designs are made in a way that they have one raised end and the other is at the normal level. We recommend this style if you prefer sitting in the freestanding tub alone, especially for its extra comfort.
Also, thanks to the raised end, you are guaranteed your back will get enough support, allowing you to sit and relax comfortably.
2. Double-Slipper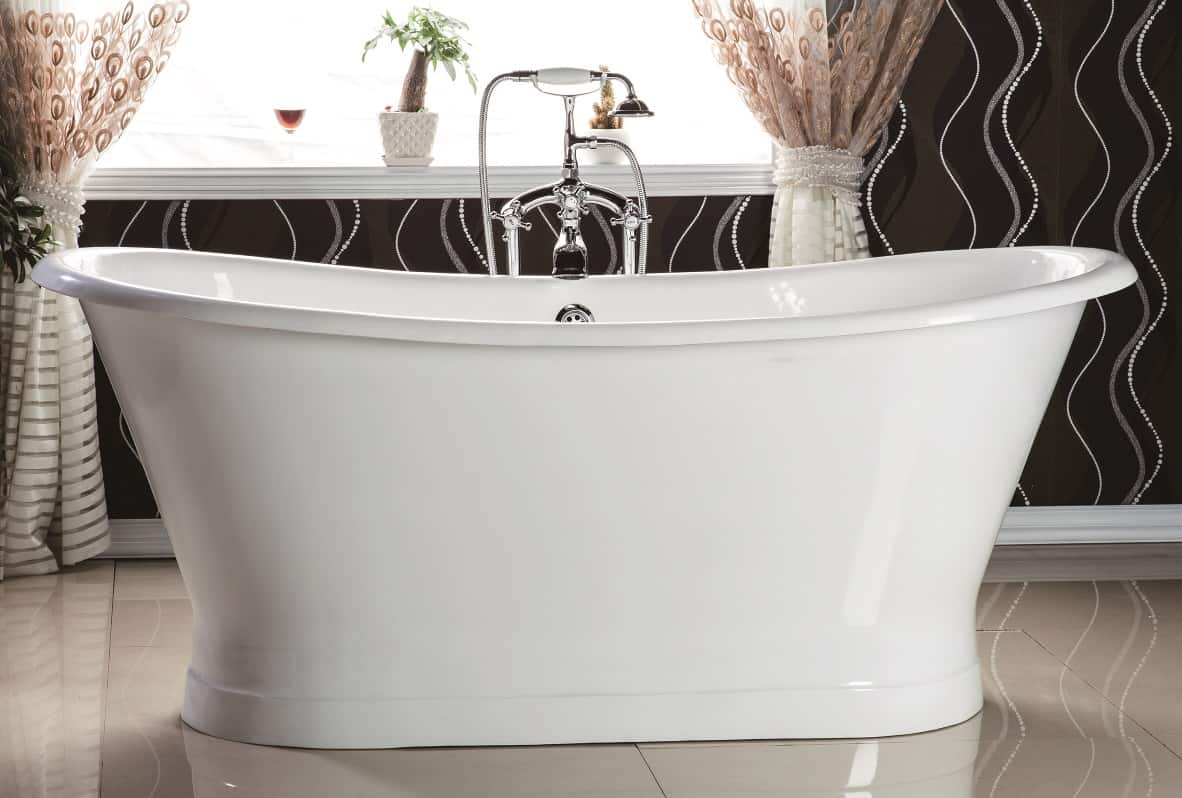 Image Credit: ingeniovirtual.com
Double slipper designs are styles with slightly lower middles, with both ends raised, making them perfect for couples. For example, if you enjoy bathing with your significant other, the tubs let you lay your head on each end.
3. Double-Ended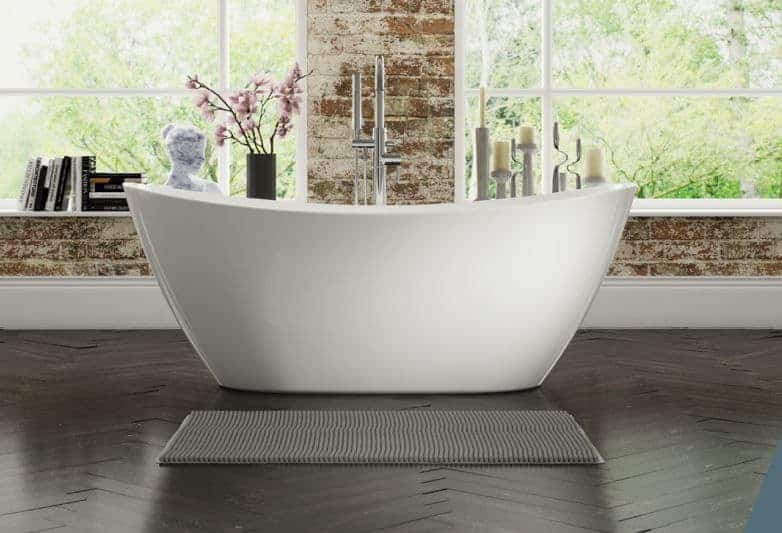 Image Credit: bathcenter.com
As its name suggests, double-ended designs have two rounded ends that allow you to bathe from any side where the bathtub walls are sloped to ensure maximum comfort. The ends are leveled and not raised, allowing you to lay your head on the edges while soaking and relaxing in warm water.
If you wish to take a bath with someone, the bathtub should be big enough for both of you, although these styles can exist in various sizes to suit your demands.
4. Single-Ended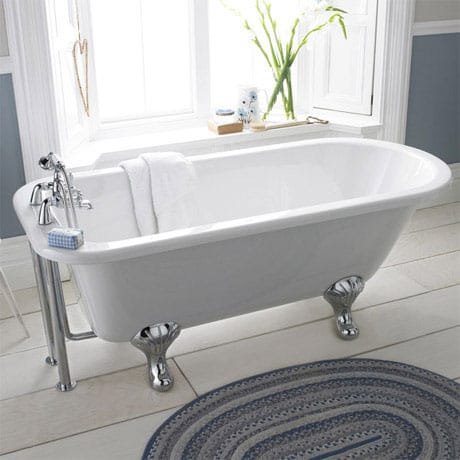 Image Credit: victorianplumbinguk.com
The single-ended freestanding tub style is common in most homes with only one rounded end. This freestanding bath is meant for lounging. Also, the other end can be used for the deck mounted tub faucets and drain.
5. Pedestal or Skirted Bathtubs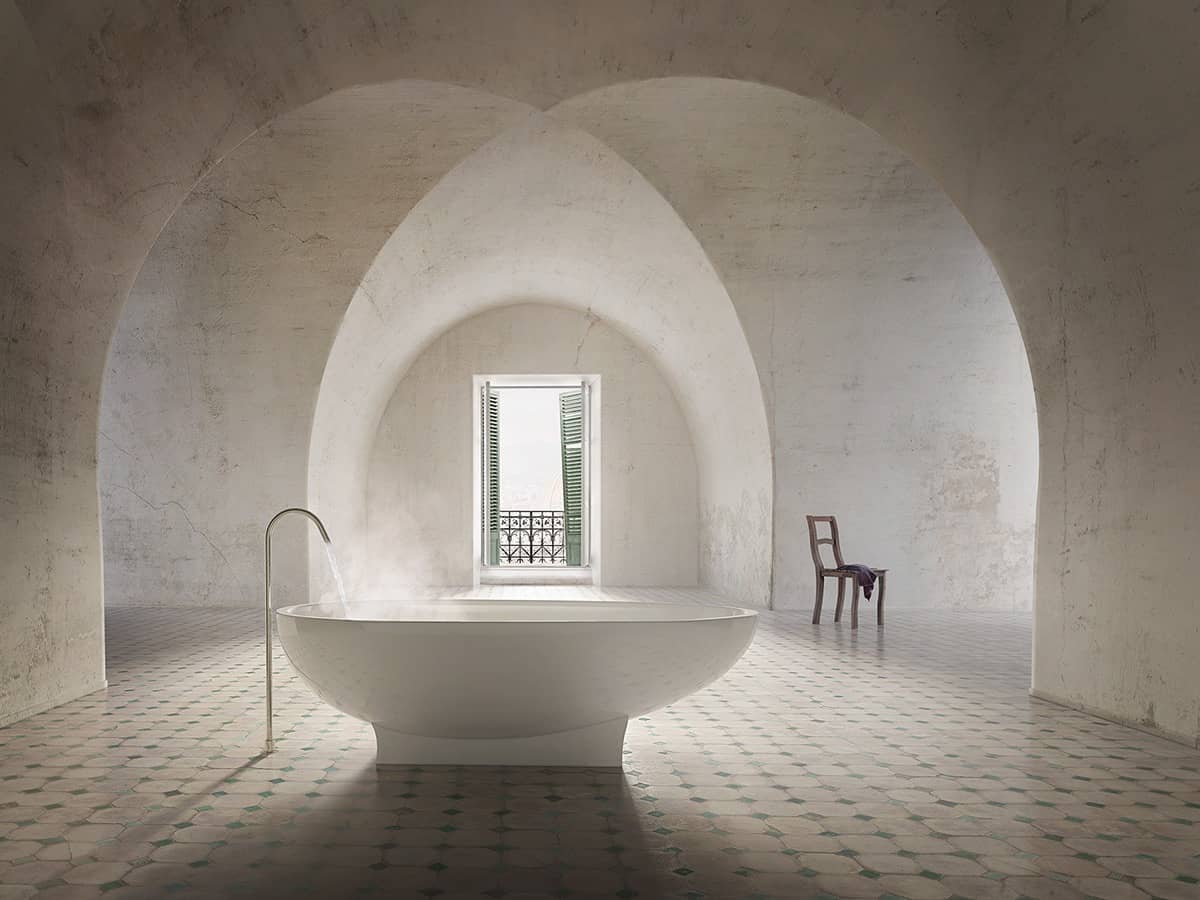 Image Credit: home-designing.com
Pedestal tubs are freestanding tubs that use a plinth to stand on the floor to make you feel like you are standing on a pedestal, unlike others that use claw feet. They are mostly combined with other styles, such as single-ended, single-slipper, or double-slipper designs.
6. Clawfoot Tub
Clawfoot freestanding tubs are the opposite of pedestal types and have been popular since the 80s. However, like the pedestal style, the claw foot tub types can also feature in other bathtub styles.
Clawfoot types are a perfect blend of vintage accents with a modern twist and will be a unique decoration in your bathroom. They are perfect for people who want to replace the old clawfoot tubs but still want to maintain the same traditional, beautiful look.
7. Japanese Soaking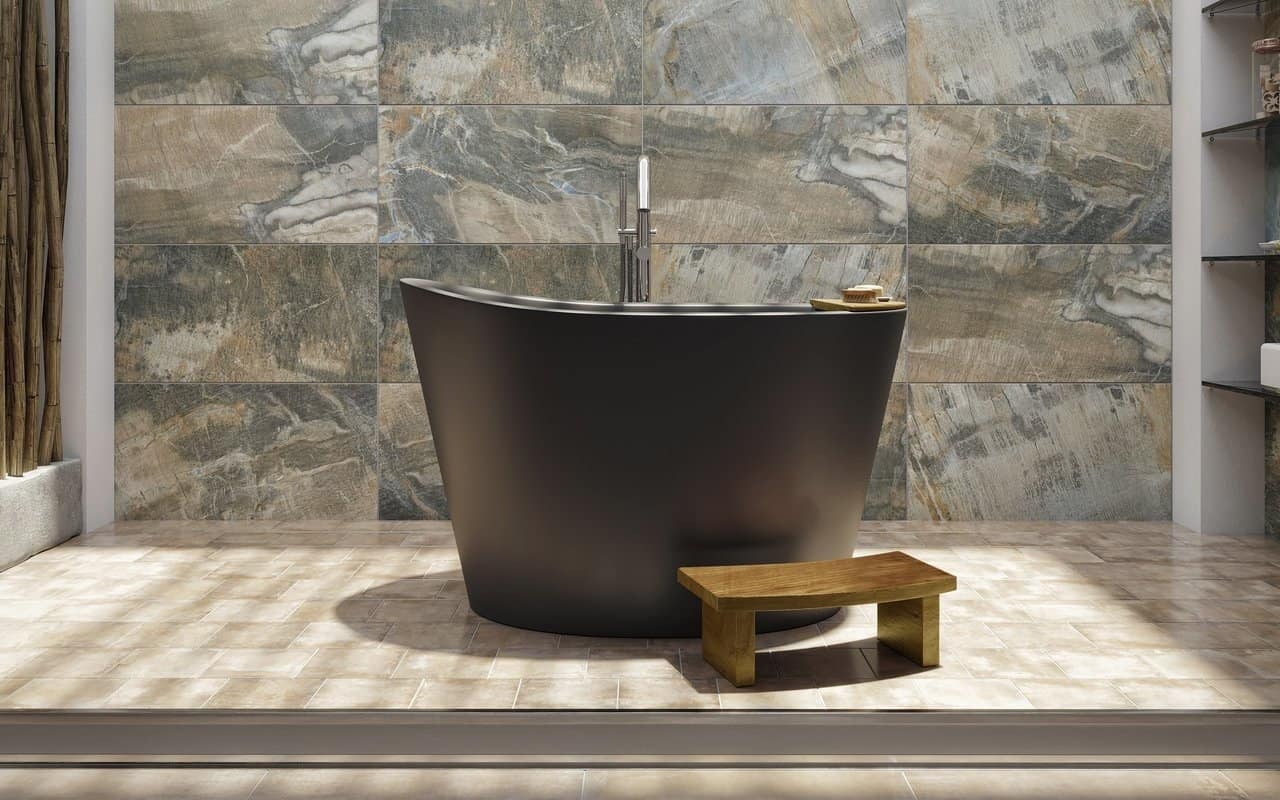 Image Credit: aquaticabath.eu
Japanese soaking tubs are the smallest in length, but they have a bigger soaking depth, and when bathing, you will be submerged in water that will reach your shoulders. These may also come in larger sizes, accommodating two people; some will add an extra integrated seat.
They are not the best tub style if you prefer a tub that allows you to lie inside as you do in your bed. However, finding Japanese soaking tubs can be difficult; the few available might not be as eye-catching as one would want.
8. Walk-In Freestanding Tub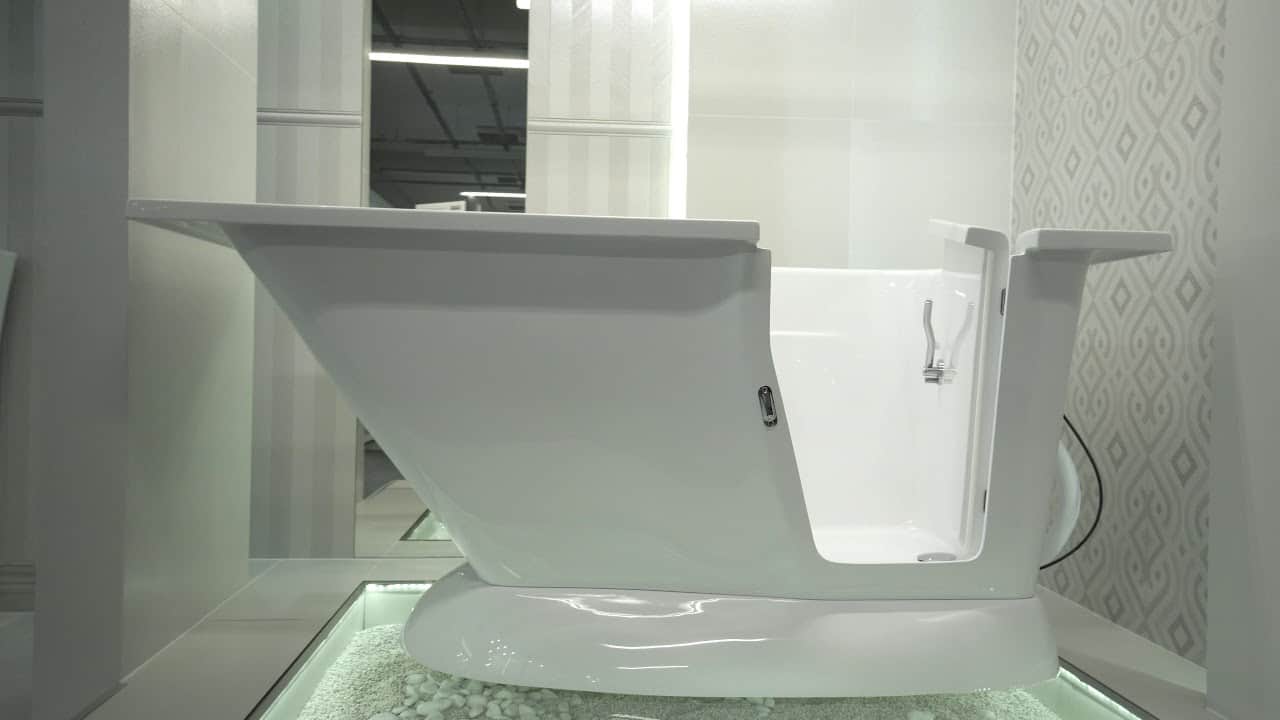 Image Credit: smooth baths
Walk-in styles are the best freestanding tubs if you have mobility issues. They come with a door-like part that gives access to the inside, meaning you won't have to lift your legs whenever you want to get in.
Factors to Consider Before Purchasing the Best Freestanding Tub
If you want to figure out the best freestanding tub, there are several factors you should consider before you purchase a product. They include:
1. Construction
Freestanding bathtubs can be manufactured from several materials, like other tub types. Whatever material you decide on should be resistant to stains and scratches.
The following are popular materials used to make freestanding tubs, including:
A). Copper
Although the copper material is heavy and expensive, freestanding copper tubs have a visual appeal unlike any other.
B). Acrylic
The standard for the best freestanding tubs is fiberglass-reinforced acrylic material which is extremely durable, lightweight, and affordable. In addition, a double-walled construction will retain heat better than a single-walled acrylic tub.
C). Cast Iron tub
This classic tub material is super durable but heavy. Additionally, the tubs are the perfect choice if you like partial to long soaks because they retain heat well.
D). Resin
Resin tubs are quite heavy, so they need to be reinforced on the bathroom floor. They also come with a built-in overflow drain system; the material is beautiful since it has a modern style.
E). Stone
Stone is another freestanding bathtub material used to create elegant yet durable tubs that work well in retaining heat. However, it is super heavy and quite difficult to install safely.
2. Size and Capacity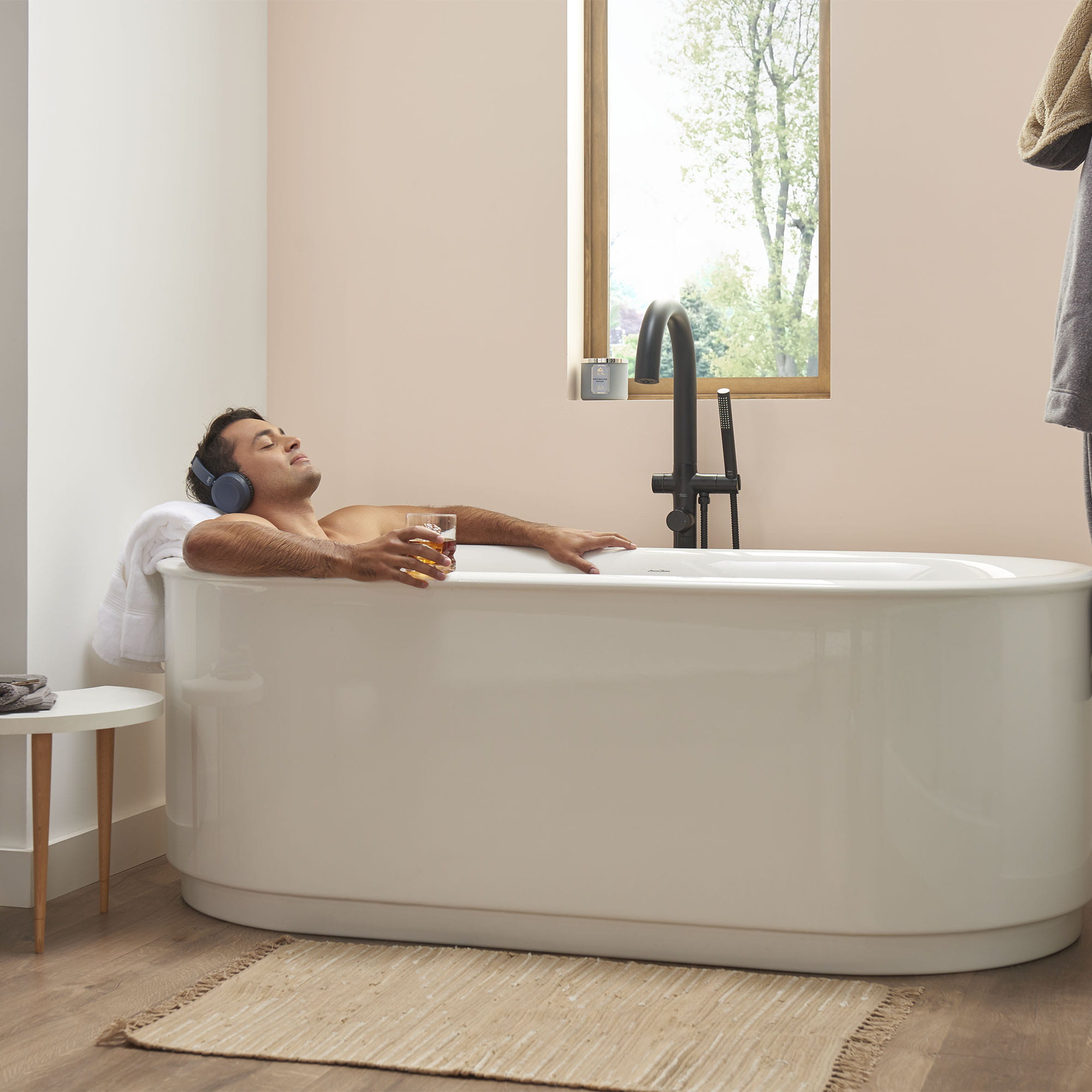 Image credit: americanstandard-us.com
When shopping for the best freestanding tubs, you must ensure they're large enough to fit you and your partner. Freestanding tubs are not attached to the floor, unlike built-in tubs, but they stay put once positioned because of their balance and weight.
The size is important because if your freestanding tub is too large, your whole bathroom might need remodeling. However, if it's too small, you might find that it will not only fit you but will not be aesthetically pleasing within the space.
Freestanding tubs come in different sizes, and they start from 55 inches long and can go up to 72 inches or more. Another thing you should note is how deep the tubs are, where deeper tubs are better for soaking, and longer tubs work best for two people.
Opt for tubs with at least 13 inches of soaking depth to allow you to submerge yourself fully.
3. Style
The tub's aesthetic appeal is not an issue for some people. Why should appearance matter when you only use it to clean yourself?
In some situations, it does matter, especially if you're a perfectionist who cares about how everything looks. Fortunately, since they are all so beautiful, freestanding bathtubs are a safe bet. First, however, you must consider a design that complements the surroundings.
Weigh the look you want to create: Is it more classic or contemporary? This assessment should aid in making a decision. 
For instance, a vintage slipper bathtub could come together beautifully if you want a classical aesthetic. In contrast, you should use a metallic finish for a trendy look.
4. Features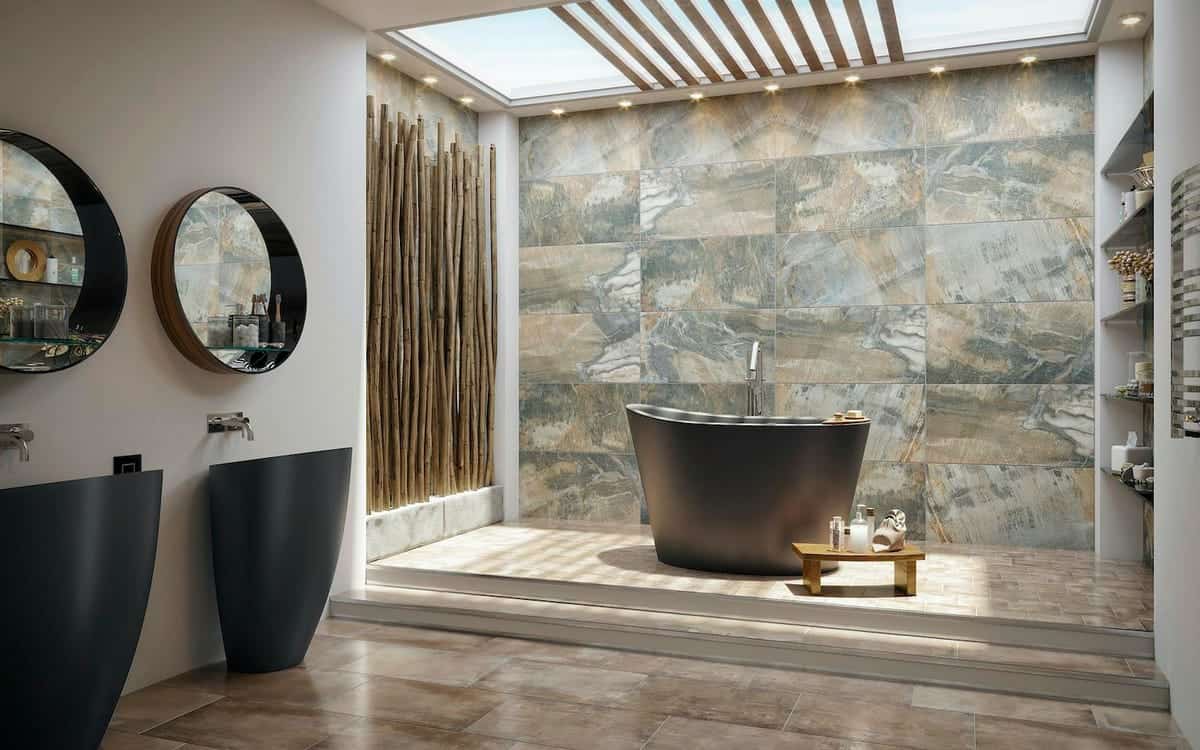 Image Credit: forbes.com
When shopping for anything, one with extra features will always have the upper hand over the others.
A). Feet
Freestanding tubs have different features; some have built-in feet, and others have a flat bottom that rests on your floor. Claw feet, a popular choice, are made from metal, but different designs come with different feet types.
Choose adjustable feet, as they help to level your tub on an uneven surface to prevent it from rocking.
B). Fixtures
Faucets
While it's rare, there are freestanding tubs that have a faucet and a handheld sprayer included. If you don't find one with a faucet, check if all the necessary hardware needed for installation is included.
Chrome is the least expensive of the three commonly used faucet materials (bronze, chrome, and nickel), although it exhibits fingerprints and wet spots more readily than the other two.
Acrylic and cast iron tubs might have many faucet options, like inner-wall tub drillings or the rolled rim.
Jets And Lights
Although rare, some additions come with the best freestanding tubs, like underwater lighting and air or water jets. These are great additional features to add to your relaxation, even though they will directly affect the cost.
Drains And Pipes
These are necessary elements in the bathtub installation process and operations, and they mostly come with the tub.
C). Edge
Image credit: amazon.com
Some of the best freestanding tubs come with straight edges, while others feature a curved lip. These edges help to provide a smooth yet elegant appearance, but they will also limit the types of faucets you can install.
D). Overflow
Overflows are common in sinks and bathtubs, where they protect your bathroom against flooding if you forget to turn off the faucet. However, most tubs don't include this feature, and you must purchase the faucet separately, so be cautious while shopping.
Some freestanding tubs will feature a cutout for overflow protection; others will include ornate materials like a brushed nickel finish.
Frequently Asked Questions on the Best Freestanding Tubs
a) What is the best freestanding bathtub?
I strongly recommend the G Ganen Ice Bath due to its exceptional, unique feature of ice bath therapy. This unisex freestanding bathtub offers convenience, versatility, and functionality. This sets it apart from traditional hot tubs and adds value to the product. The portable and foldable design allows for easy setup and takedown. I find it quite practical as it has a suitable size for adults and children.
b) What is the most comfortable shape for a freestanding tub?
Oval bathtubs are among the most comfortable options available on the market, and their design offers several reasons for their superior comfort. One prominent feature of oval bathtubs is their natural lumbar angles, contributing to a more comfortable and relaxing bathing experience.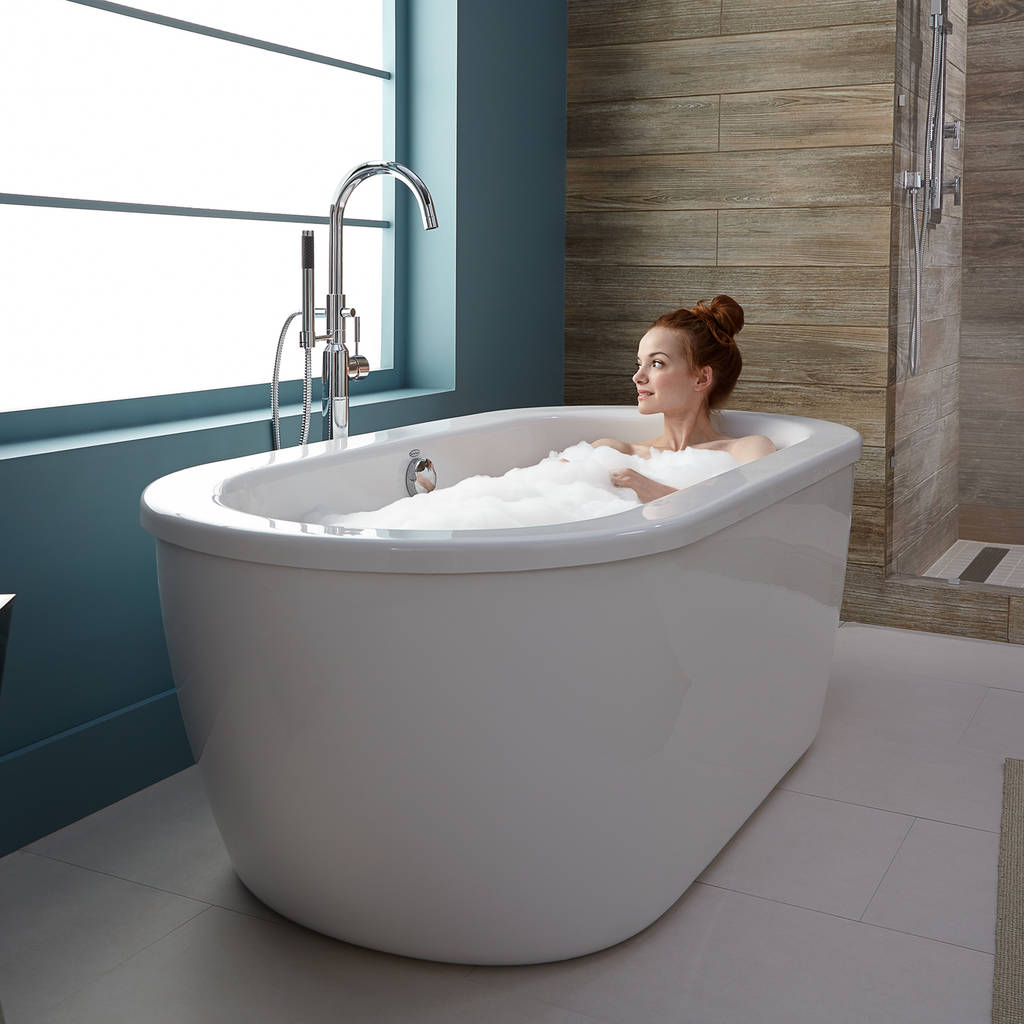 Image credit: americanstandard.ca
Compared to other bathtub shapes, such as rectangular or square, oval bathtubs often have a wider and more spacious bathing area. This additional space allows for more freedom of movement and allows bathers to stretch out and find a comfortable position without feeling cramped or restricted.
c) Are freestanding bathtubs practical?
Freestanding bathtubs can be practical depending on individual preferences and needs. They offer several advantages, such as flexibility in placement and design, making them suitable for small and large bathrooms. Freestanding tubs can create a luxurious and spa-like ambiance, enhancing relaxation and aesthetic appeal. They often have a larger water capacity, allowing for a more immersive bathing experience.
However, they may require more space and can be challenging to clean due to their exposed sides. Additionally, the absence of built-in features like storage or shower attachments may be a drawback for some. The practicality of freestanding bathtubs varies based on personal requirements and the bathroom layout.
d) What is the difference between a soaking and freestanding tub?
A soaking and freestanding tub differ primarily in design and functionality. Deep soaking tubs are specifically designed for deep, immersive baths, allowing users to submerge their entire bodies comfortably. It is typically deeper and wider, providing a luxurious and relaxing bathing experience.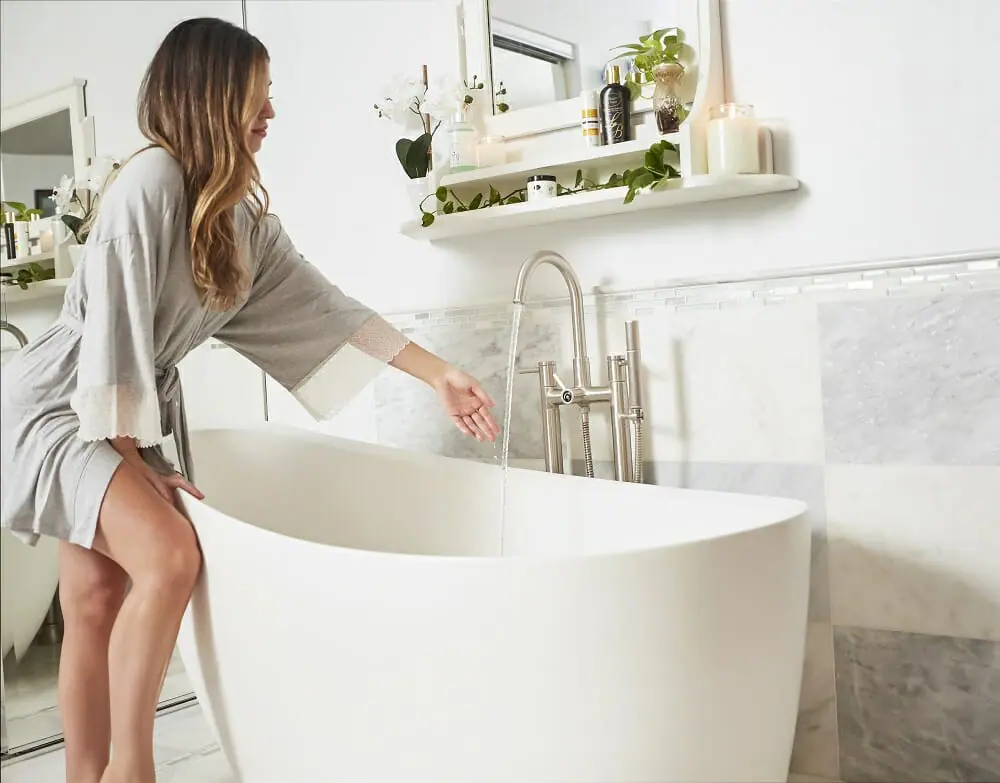 Image credit: tandlinternational.com
On the other hand, a freestanding tub refers to any bathtub not attached to a wall and can be placed anywhere in the bathroom. While freestanding tubs can also be used for soaking, they come in various shapes and sizes, offering more diverse aesthetic options to complement the overall bathroom design.
Conclusion on the Best Freestanding Tubs
Investing in the best freestanding bathtub gives your bathroom an exquisite, contemporary look while providing comfort and relaxation at the end of a long day. With this guide, you should figure out which kind of freestanding tub best suits your needs.
We have identified the benefits and why they are important by examining the various specifications of particular units. Of course, owning freestanding baths has its benefits and drawbacks, but there is no doubt about how stylish the modern design of these products is.