The bathroom is where we spend our most intimate moments with ourselves and give ourselves a spa-like retreat. Therefore, such a place deserves finishes with colors that have a calming effect. Here, we will discuss the top choices in the search for the best color for bathroom walls, cabinets and other accessories.
Best Color for Bathroom
1) Light Grey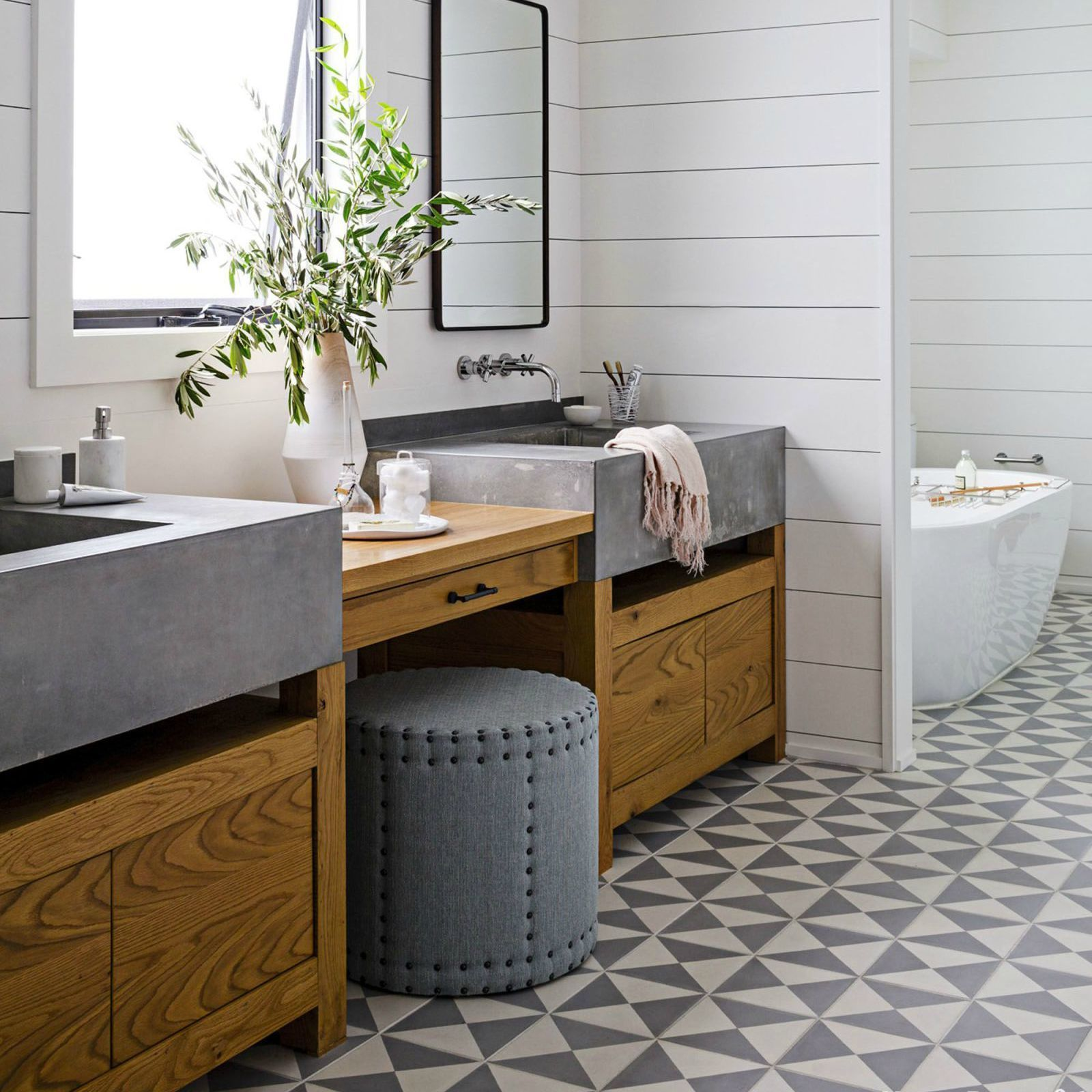 Image Source: housebeautiful.com
Grey is the most popular choice for a bathroom finish today. This is because it creates a lot of opportunities to include minimalist designs. Most sleek finishes with neat bathtubs and sinks have a grey finish.
Grey is plain enough to allow other aspects of design, like lighting or large windows, to thrive without much competition.
Grey is one of the easy colors to match with gold and other strong accents. This is because grey creates a beautiful background that creates a strong foundation for other colors to stand on.
2) Light Green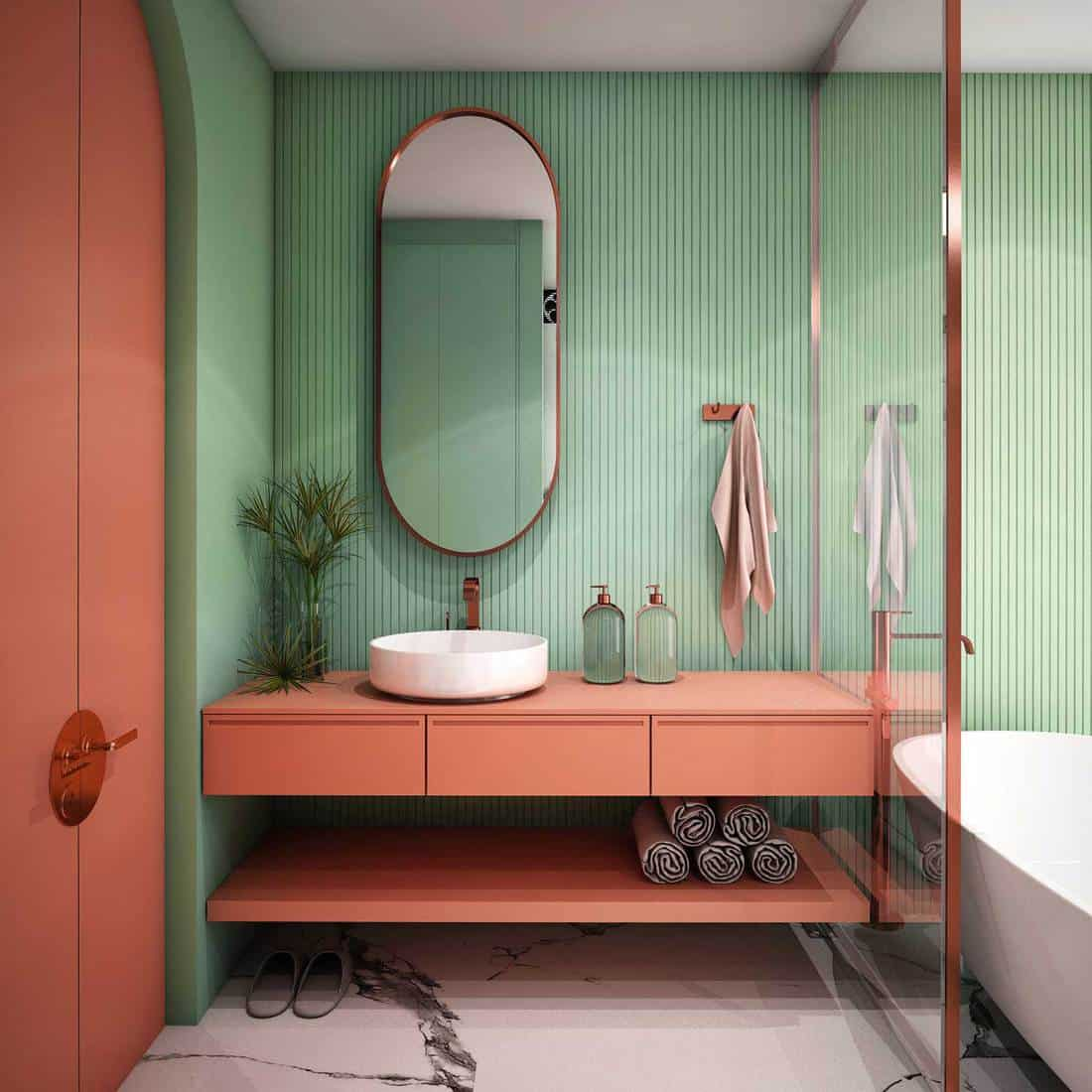 Image Source: homedecorbliss.com
Green accents have a fresh feel and are some of the best bathroom paint colors. Light green has a natural feel, especially when coupled with natural light. Light green interiors are calming and work well with wood accents to mimic nature.
3) Powder Blue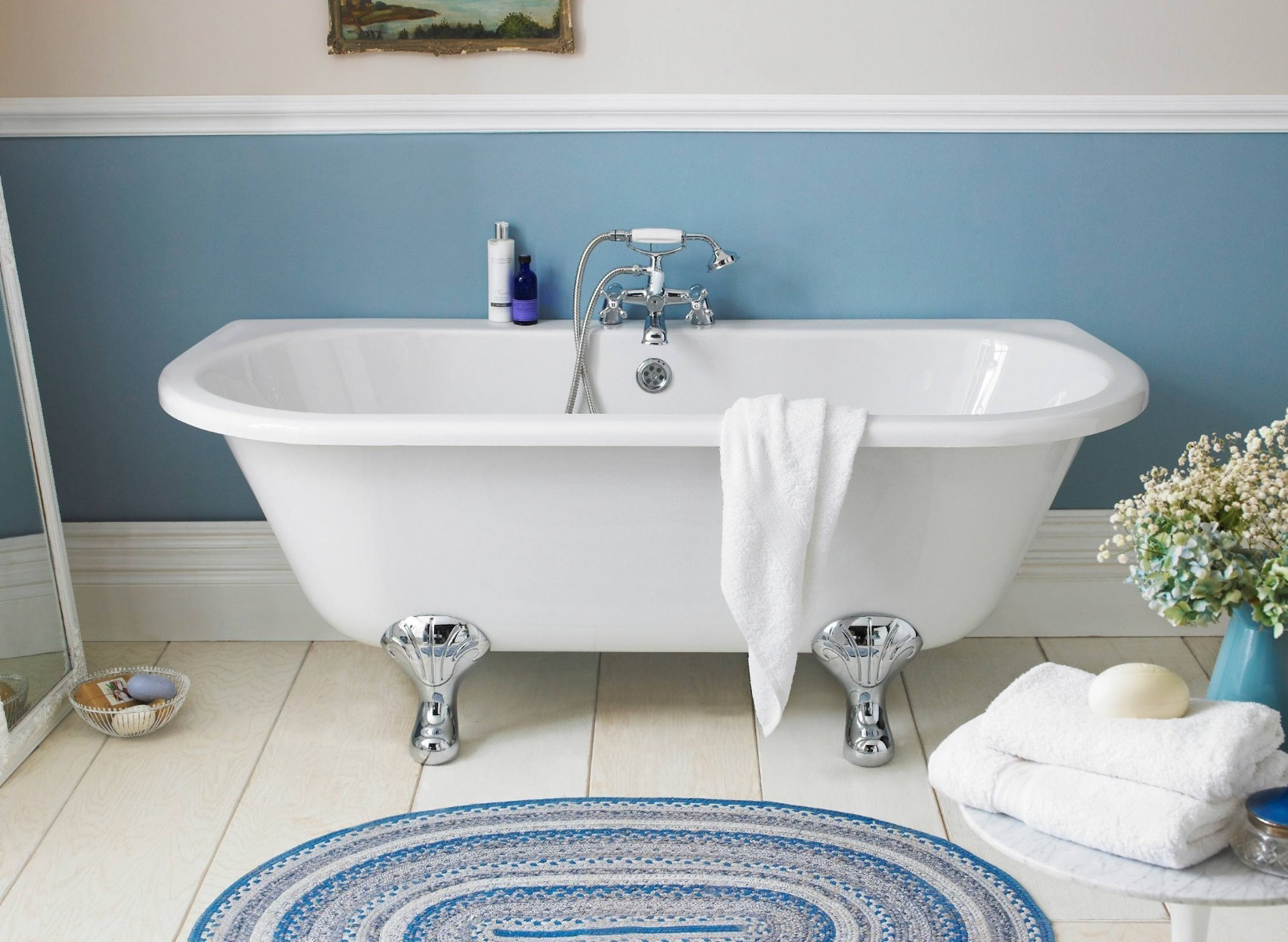 Image Source: tradebase.com
Powder blue is one of the best color ideas for bathroom walls because it works almost in a similar way as grey does but with a little bit of color. Powder blue works well for your powder room because it represents one of the main components of such a room; water.
Powder blue brings a lot of coherence with the blue skies outdoors, extending the feeling of being on a beach inside your house.
4) Gold Accents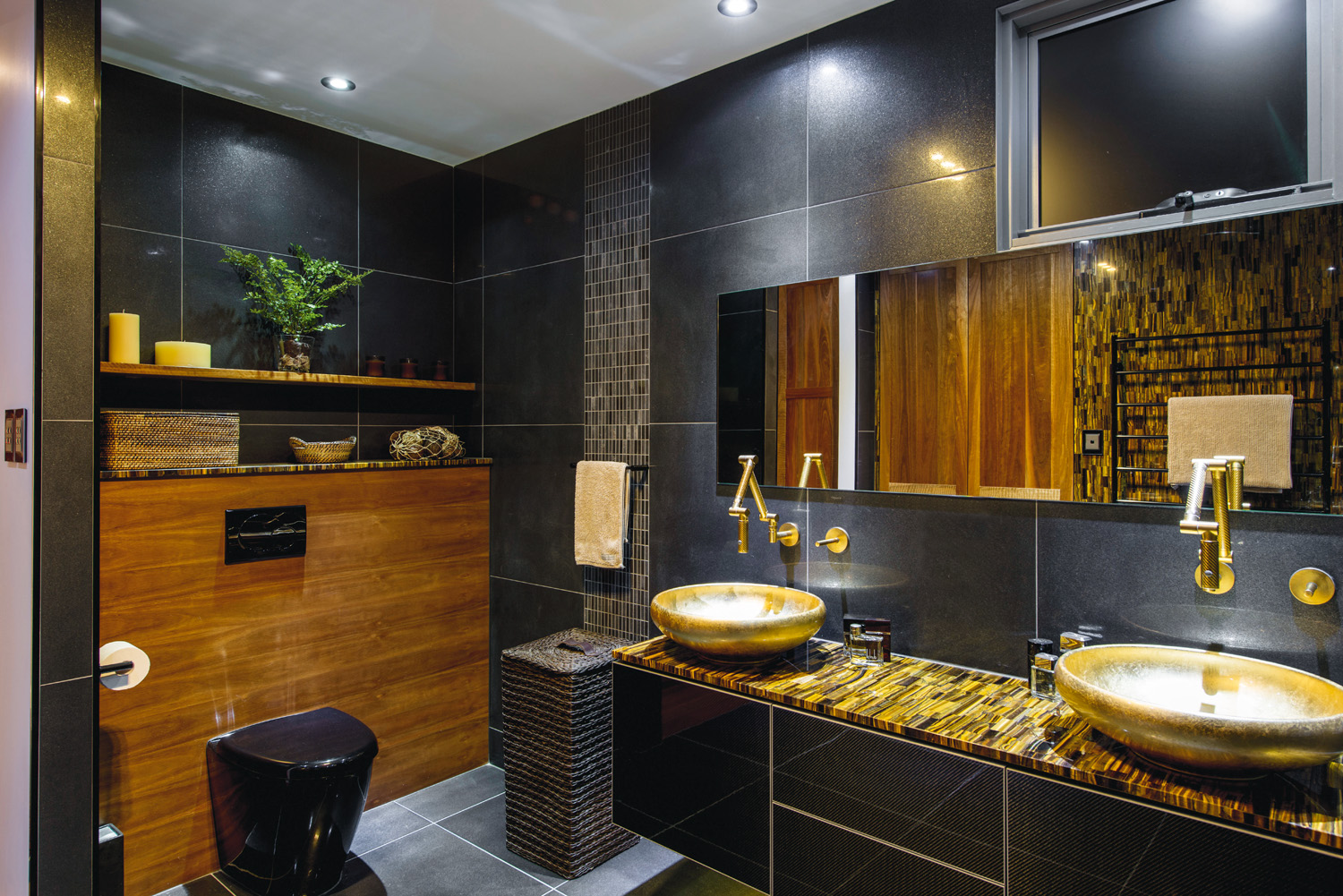 Image Source: completehome.com
Gold is bold, making it hard to work with as a main color. If you want to use gold as the main color, you have to commit to it fully. Otherwise, the best way to use gold is to use it in detailing. Gold works well on handles, railings, edges, lamp holders, and other details.
Gold is easy to detail with because it works with almost any color. It is very hard to go wrong with gold, which should give you the confidence to work with gold.
5) Bright White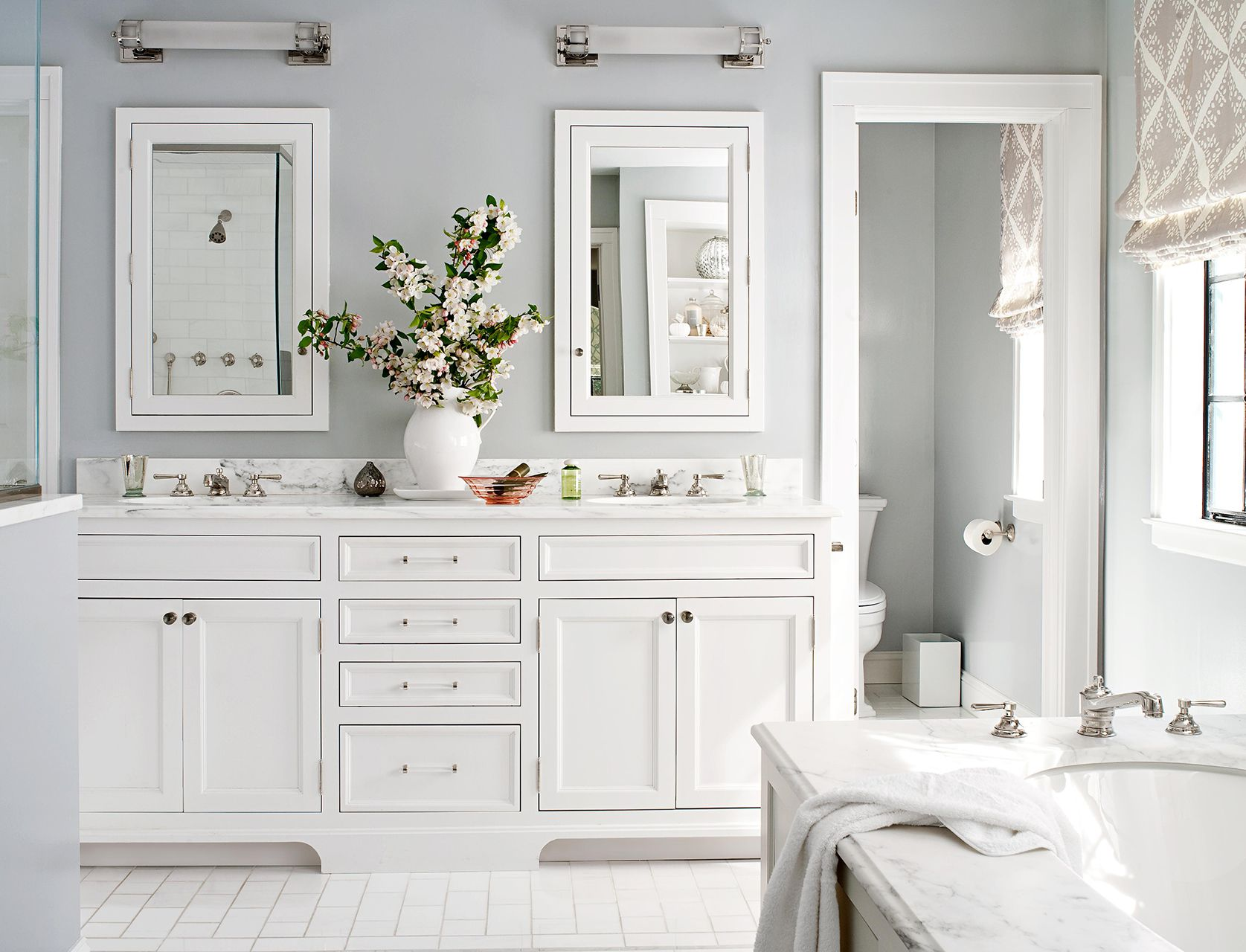 Image Source: bhg.com
The most common bathroom paint color is white, and the most common go-to material is white tiles. While white has a lot of cleaning and maintenance to do, it makes the bathroom look exquisite.
White serves as an empty canvas for those who appreciate minimalist designs. You can use accents of all kinds with a white wall color.
White is the best paint color for bathrooms for people who are neat freaks. While a color like grey can hide mold at its initial stages, white will expose any tiny changes on the walls.
6) Seafoam Green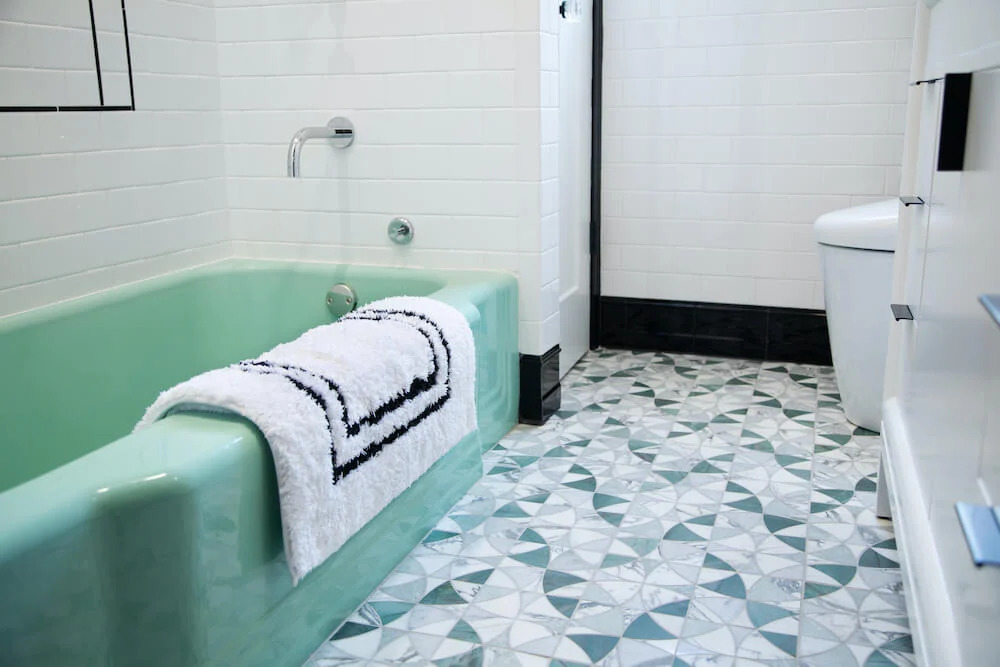 Image Source: sweeten.com
Seafoam green is a unique color to work with in bathrooms because it opens up space for a vintage aesthetic. Seafoam green is relaxing and brings a feeling that is not monotonous. Most of the bathrooms you get in look similar, and a great way to break the monotony is to have yours in a different color, such as seafoam green.
7) Powdery Pink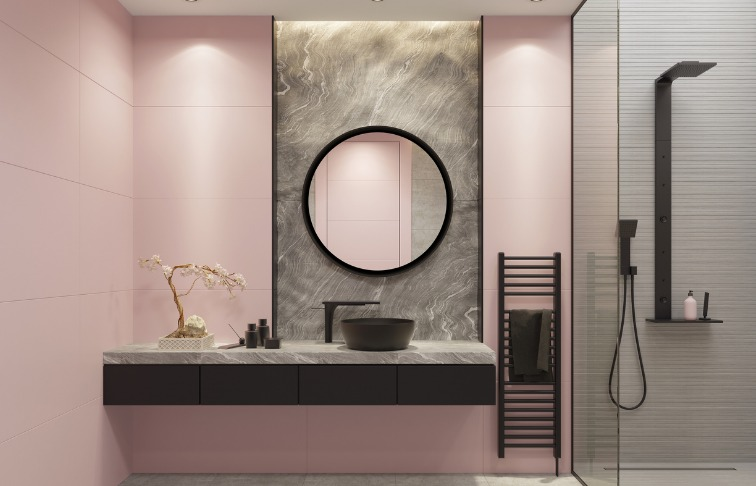 Image Source: blog.luxuryhomemarketing.com
Powdery pink is elegant in the form of paint, especially when used on a bathroom wall. Powdery pink works well with gold accents, making any room a combination of those two decorous and perfect for refreshing baths.
Powdery pink can work perfectly with other colors, such as emerald green, with a similar attractive pull.
8) Black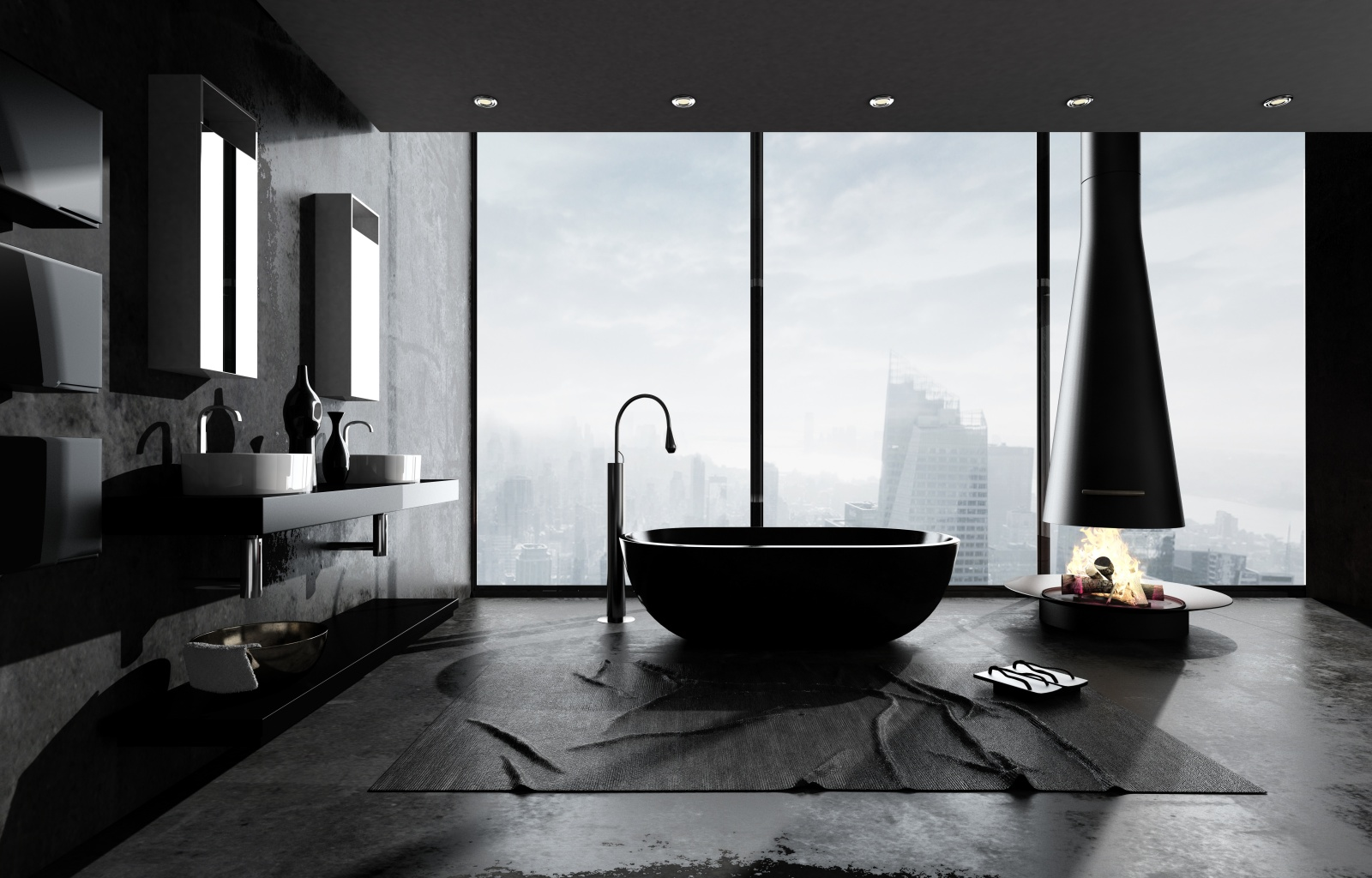 Image Source: discount.com
Black is not the first thing that comes to mind when considering a bathroom. However, with modern interior design, pulling off black is easier and more embraced. You can pull off black in two ways. The first way is by detailing using black.
If you have a largely white bathroom, detailing the switches, handles, edges, and more can be exciting when using black. Black creates a dramatic effect in a room, giving the eye a visual play.
9) Red Bathroom
Image Source: aquaticbath.ca
Red is a modish pick for anyone looking to turn their bathroom into an exciting part of the house. Red is a bold color for a bathroom, but not too bold to make it work. When matched with the right shade of other colors, anyone can love red in a bathroom.
Some colors to mix with red include grey, green, white, and more. Red works nicely as a detailing color but can also do well as the main wall color.
10) Soft Taupe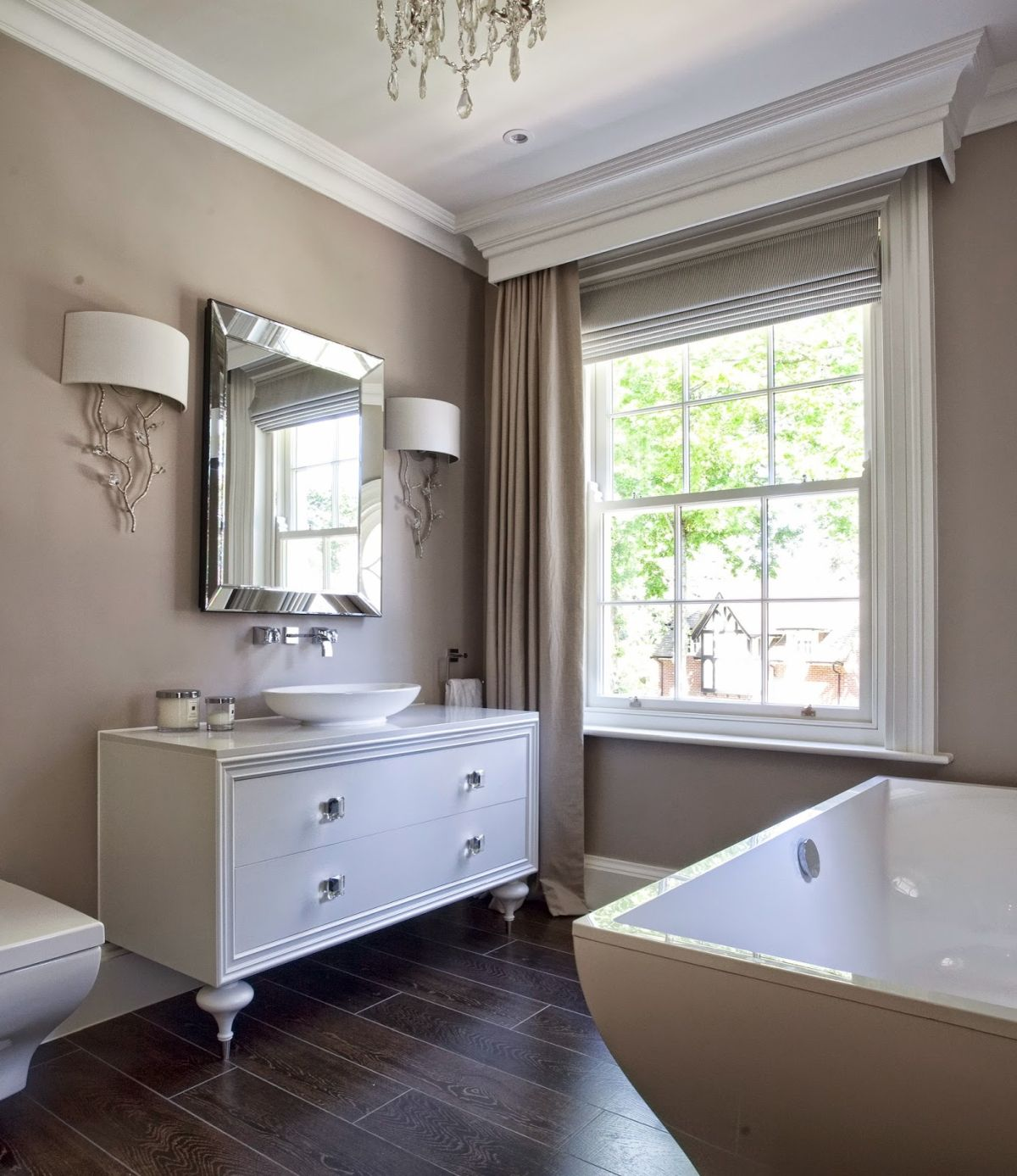 Image Source: homedit.com
Taupe is a refined earth color to pick when going for a laid-back look. Taupe is a strong color that gives the bathroom a rich look with no sensory overload of colors. Soft taupe makes for a background that can work well with soft pink or red accents.
Taupe matches nicely with off-white and creates a spa-like backdrop for an exciting light play and plant backdrop.
11) Dark Blue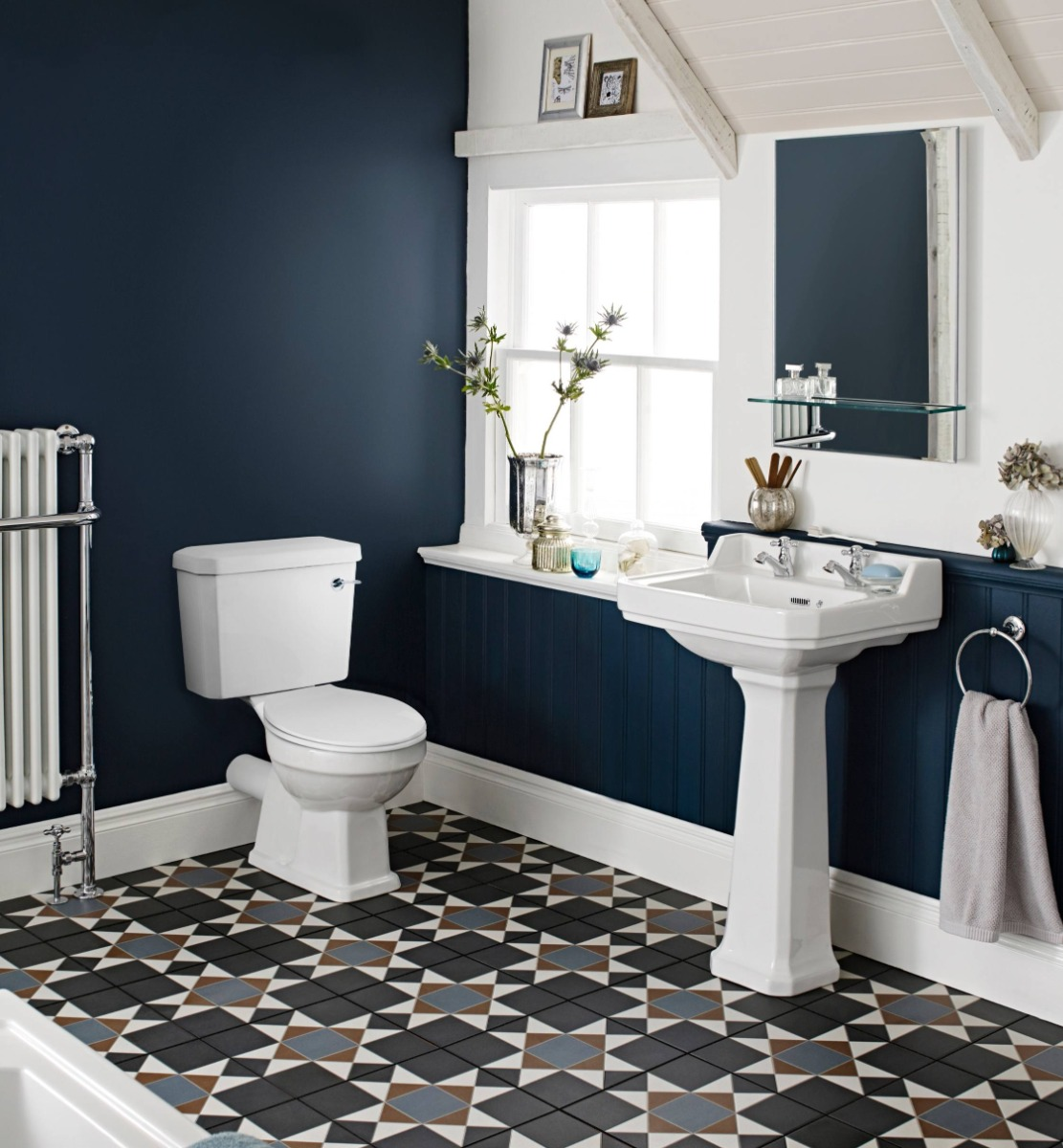 Image Source: tradebase.com
Dark blue not only works well as an accent wall color but as a main color as well. Dark blue is bold but does not create a dark space as one might imagine. A dark blue color comes with many opportunities to work with other colors. From metal accents like gold, silver, or copper to yellow lights, dark blue is a great way to make other colors pop.
12) Emerald Green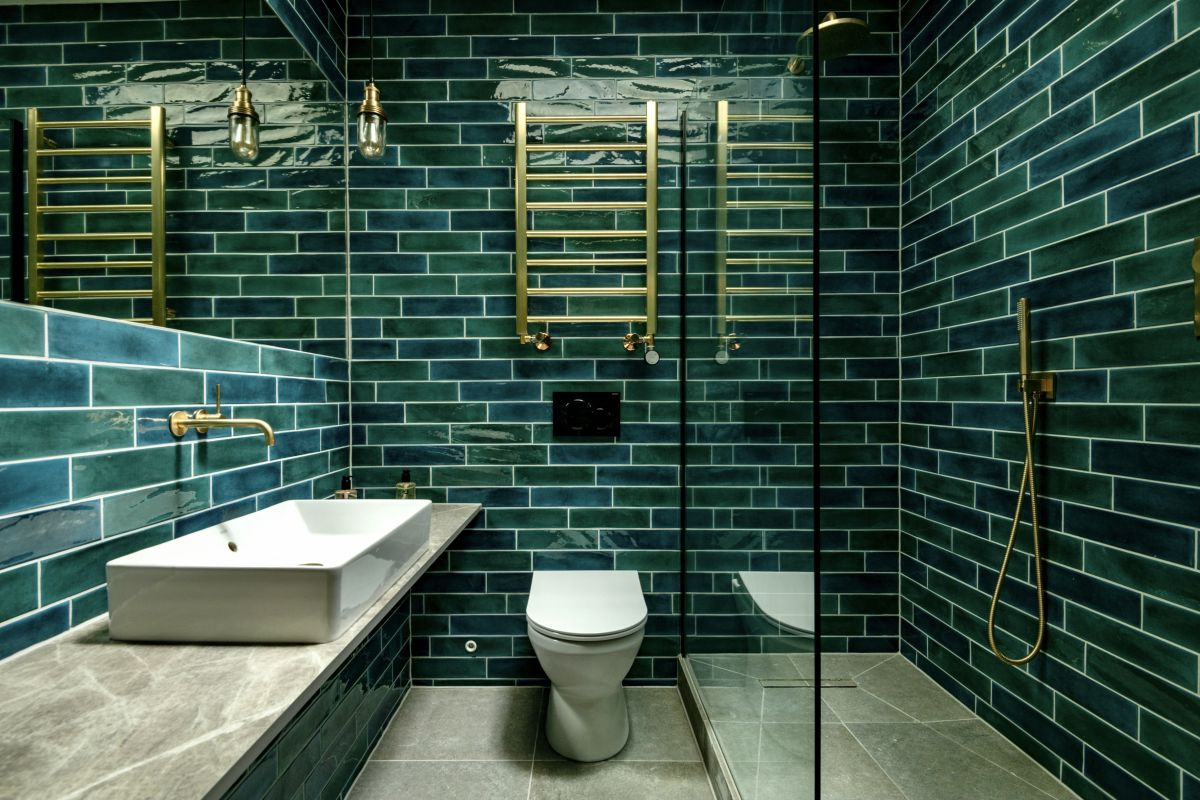 Image Source: homesandgardens.com
Emerald green creates an inviting space in the bathroom with a rich feeling. Emerald green has a bold energy that allows dark and bright colors to thrive and look stylish while serving a cozy feel. Emerald green can be paired with white as effectively as gold or silver accents.
Emerald green works perfectly with silver and gold accents, making the colors look classic. Emerald green complements mirrors, which creates a breathtaking yet relaxing mood.
13) Sky Blue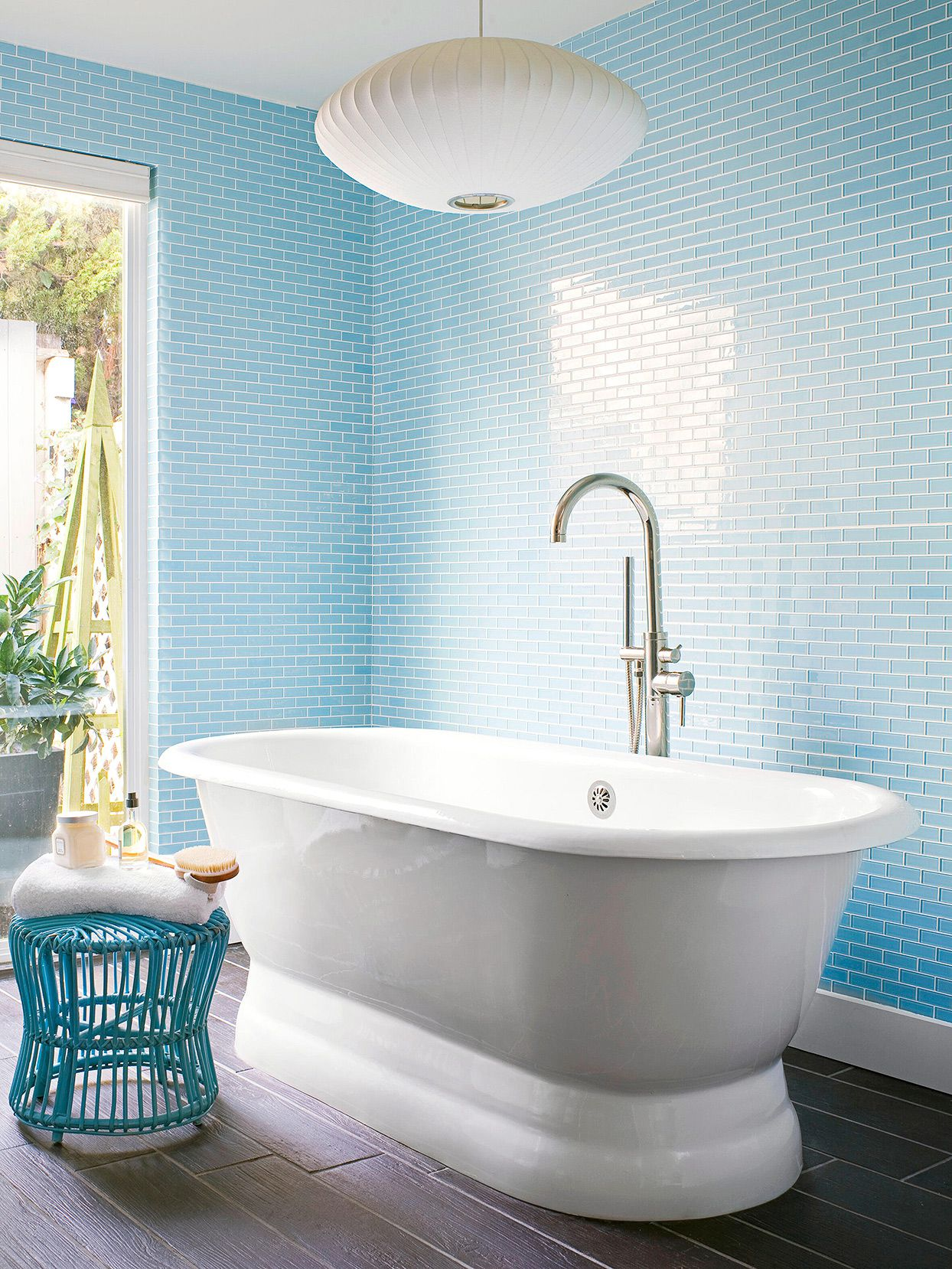 Image Source: bhg.com
Sky blue is great for a windowless bathroom to make up for the outdoor views. Furthermore, sky blue make any small space feel relaxing if used properly. Sky blue is great for a bathroom color because it gives water a light blue shade, which we mostly associate with clean and relaxing water bodies.
14) Jade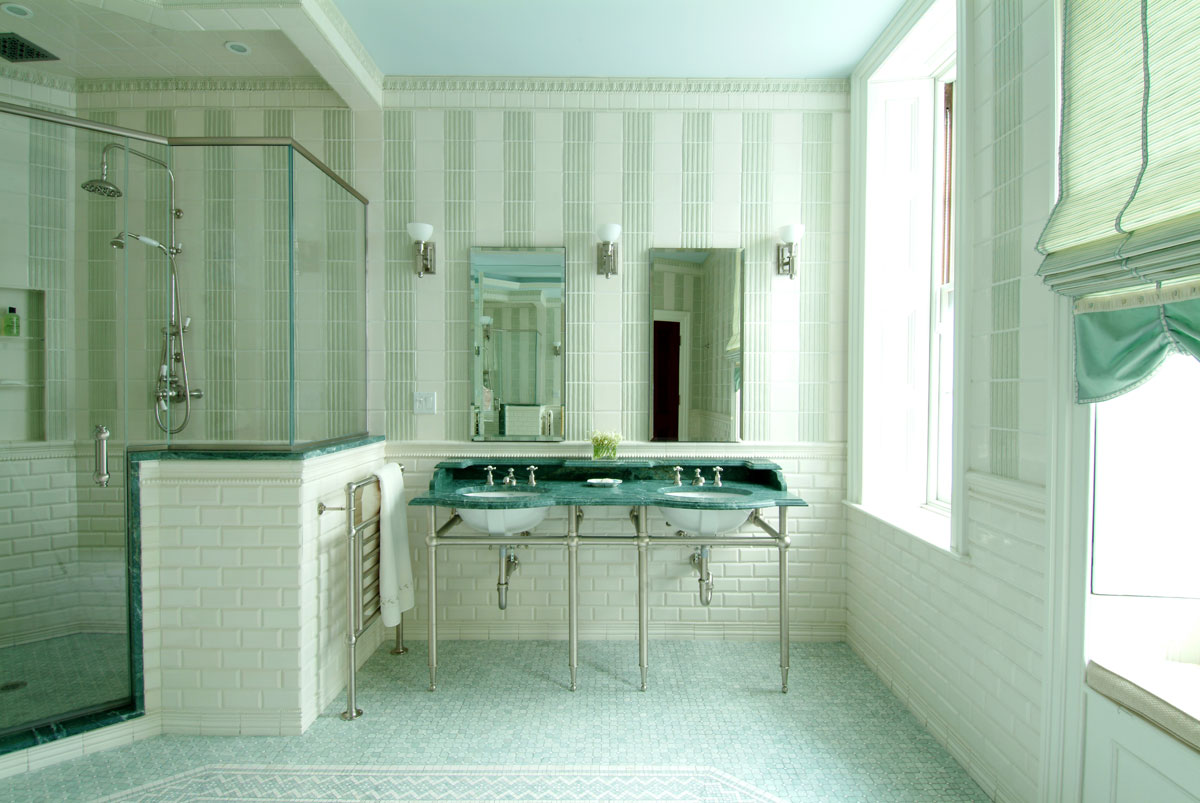 Image Source: heidipribell.com
Jade is a powerful yet calm color that works well for the bathroom. Jade works well with light wood accents to give a feel of what a calm outdoors has.
Jade is not only strong but works well for darker spaces. However, not amount the very popular bathroom paint colors, jade is never a miss when used on a bathroom wall.
15) Navy Blue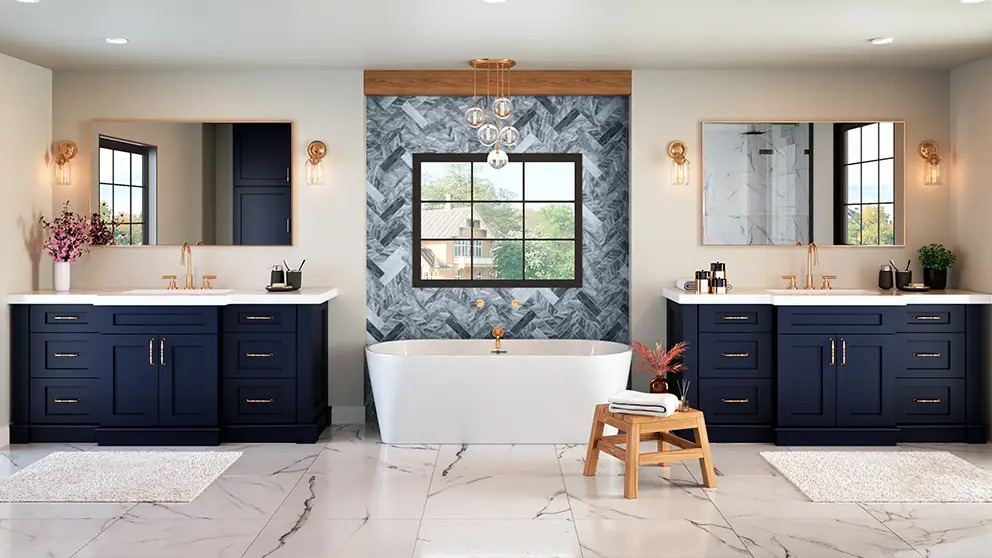 Image Source: lilyanncabinets.com
Navy blue is a neat color for the primary bathroom of offices, studios, schools, and more. Navy Blue works for a home setting too. There is something official about mixing navy blue with white, which gives off a neat finish.
Navy blue can match most colors that have warm undertones. While navy blue works perfectly with white, it can work with other colors, such as light yellow.
Tips on How to Match Bathroom Colors
a) Metallic Accents
Image Source: maisonvaletina.net
Metallic accents work with almost all colors. Furthermore, metal accents work for both large and small bathrooms. Working with metal accents is as easy as incorporating them into handles and edges. This way, you can add excitement to a well-finished interior design look.
Metallic accents can work with paints too. Some paints give metallic finishes, which can work well in detailing and drawing patterns.
b) Primary Colors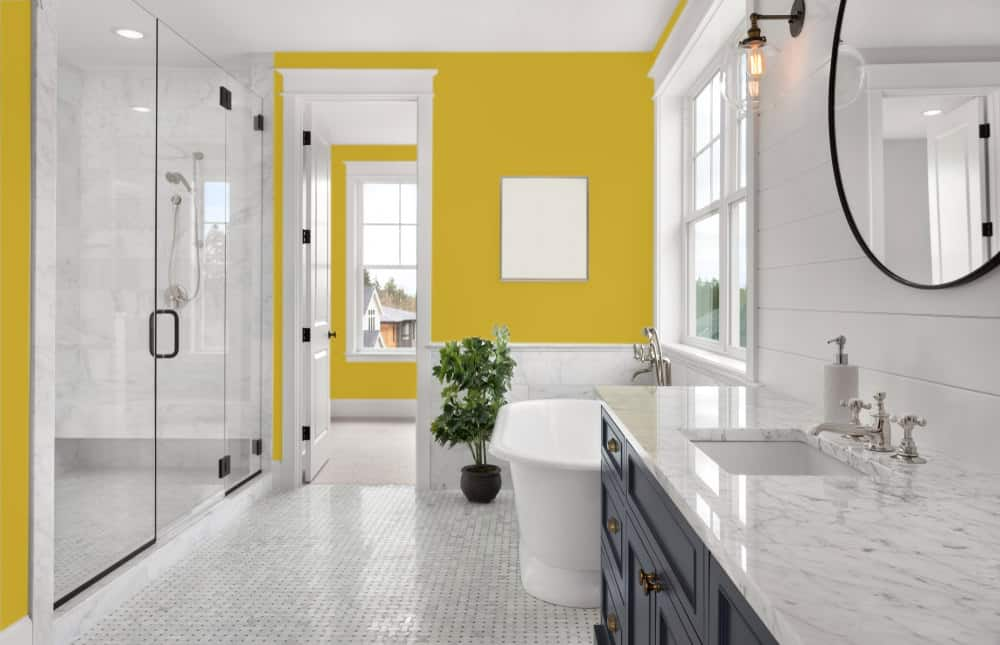 Image Source: homestratophere.com
Primary colors work well with most other colors because, in most cases, other colors are a shade of primary colors. Working with primary colors never goes wrong because they are where all the other colors originate.
c) Black and White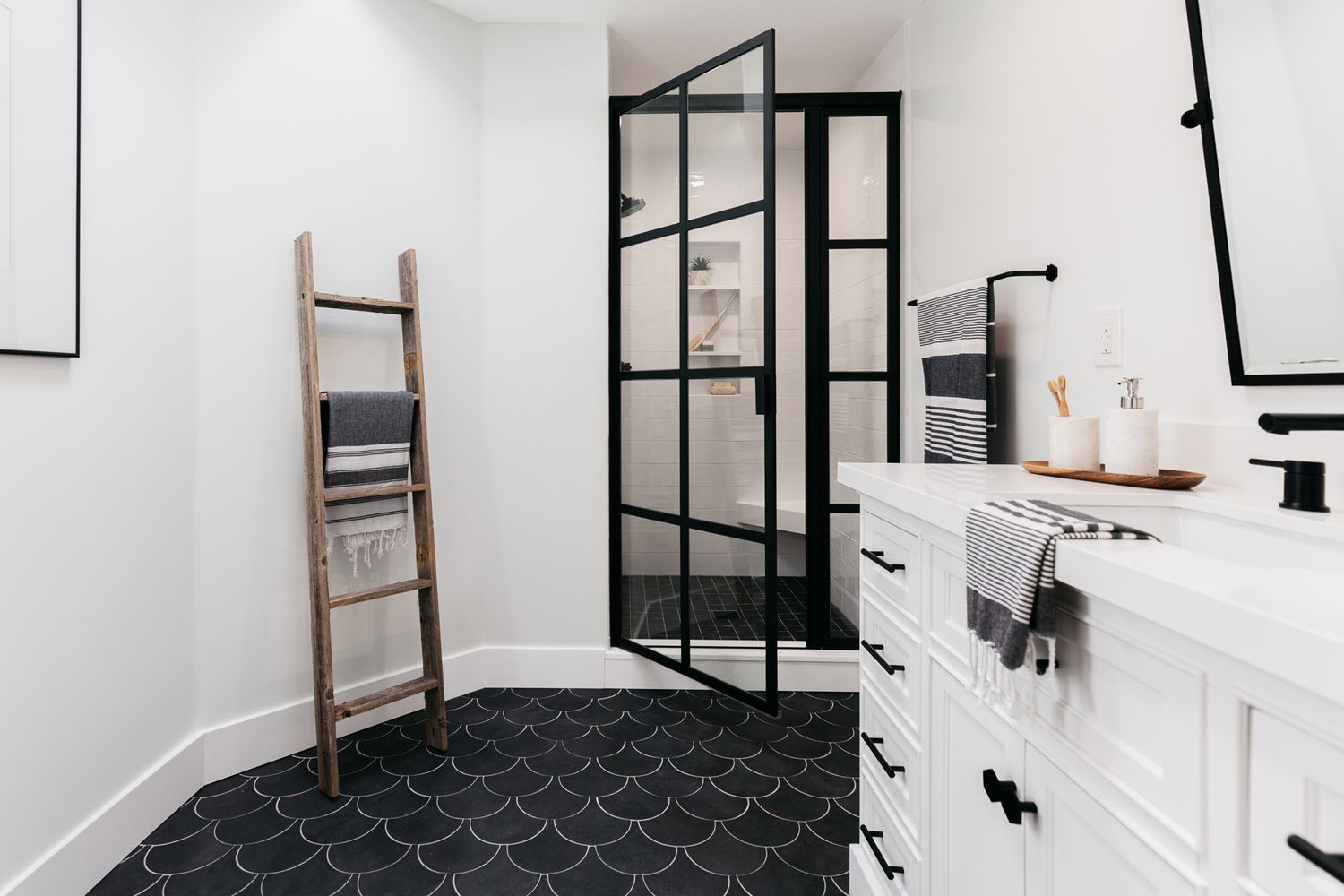 Image Source: thespruce.com
Other colors, like white and black, may not fall into the primary colors category. However, the colors can affect other colors by either darkening or lightening. White and black can also work as standalone colors on walls.
White and back are mixed to create grey in different shades. You can mix bright whites and black to come up with ash grey, charcoal grey, and other shades of grey. This combination is turning out to be the most popular pick for interior design today.
d) Complimentary Colors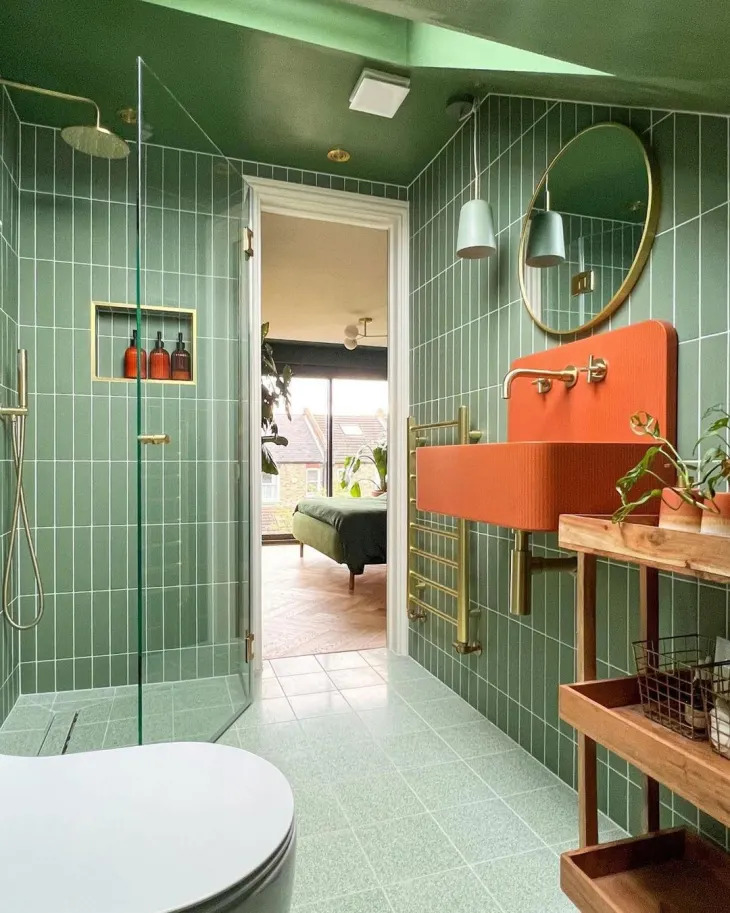 Image Source: apartmenttherapy.com
Sometimes, having a single color in an interior design project can be boring. However, if you have to mix colors, there are some rules you must follow. One of those rules is the use of complementary colors. These are colors that are opposite each other on the color wheel.
Since complementary colors have different wavelengths, they tend to make each other stand out, which works for designers.
e) Analogous Colors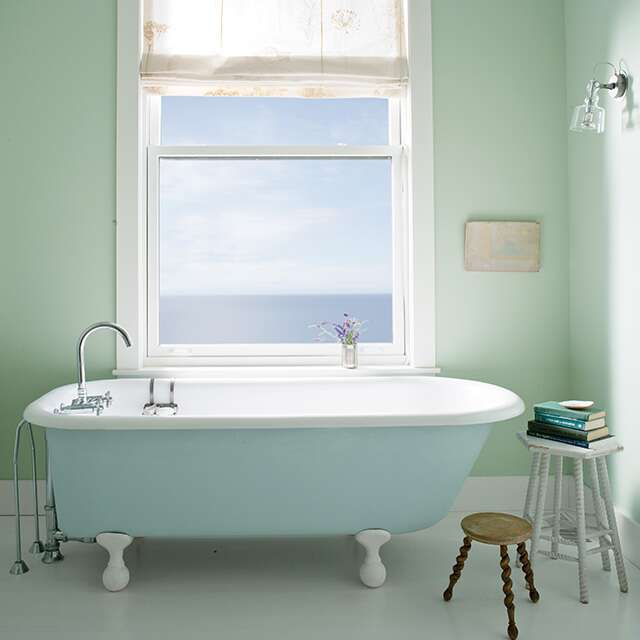 Image Source: benjaminmoore.com
Unlike complementary colors, analogous colors border each other on the color wheel. Being right next to each other, one would think that the colors do not complement. However, any two analogous colors will blend nicely into each other.
f) Add Mirrors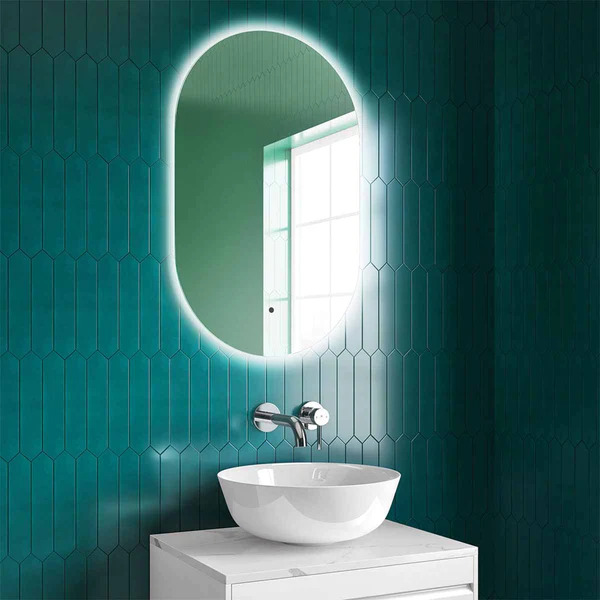 Image Source: Deluxebathrooms.ie
Mirrors are one of the main features of a bathroom. While mirrors serve the primary purpose of creating a reflection for the user, they can serve other purposes. For one, mirrors make any small space, like a small powder room, look larger than it is. A mirror reflects light and the colors on the wall for design purposes, making any room more visually exciting than a room without mirrors.
g) Frames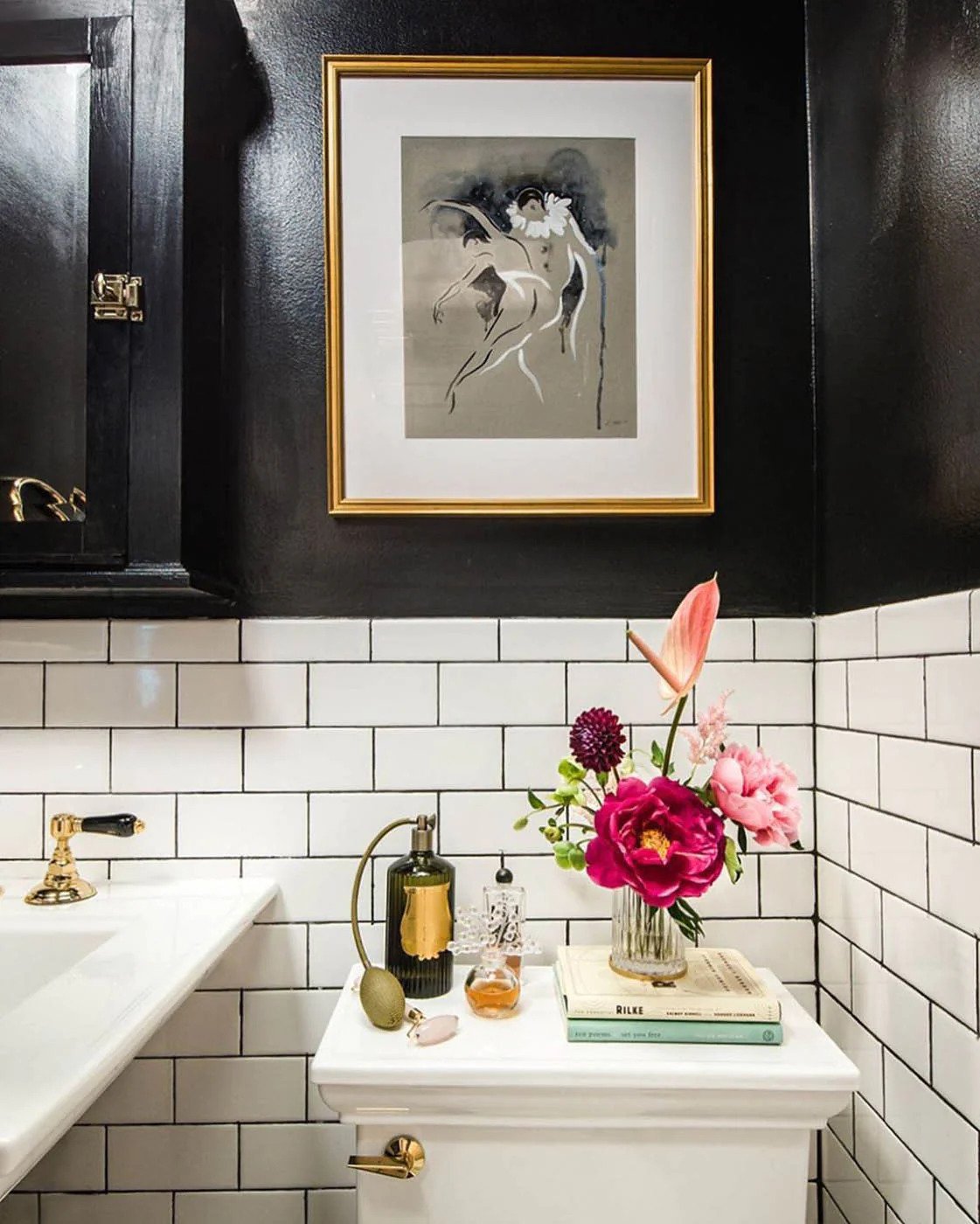 Image Source: clare.com
A frame allows you to do anything you want within it. You can have framed artwork with different colors to make your wall exciting. While finding artwork in most bathrooms is uncommon, you can give it a shot and will not regret it.
Frames can work with other features in a bathroom, such as mirrors. Framing mirrors make them bold and exciting. You can frame other bathroom accessories, such as wall lamps.
h) Earth Colors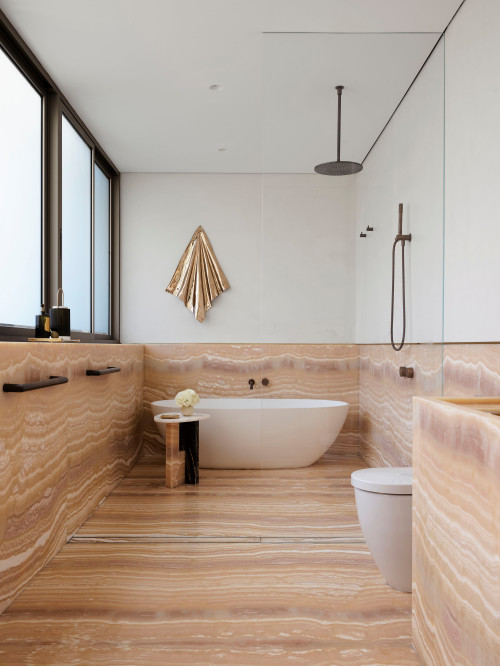 Image Source: backsplash.com
Using earth colors is a great place to start when building on bathroom color ideas. Earth colors are easy to work with, and they embrace other colors by giving them a foundation to work on.
Earth colors work well as analogous colors, as they do not compete but create a space for each other to look good.
i) Accent Walls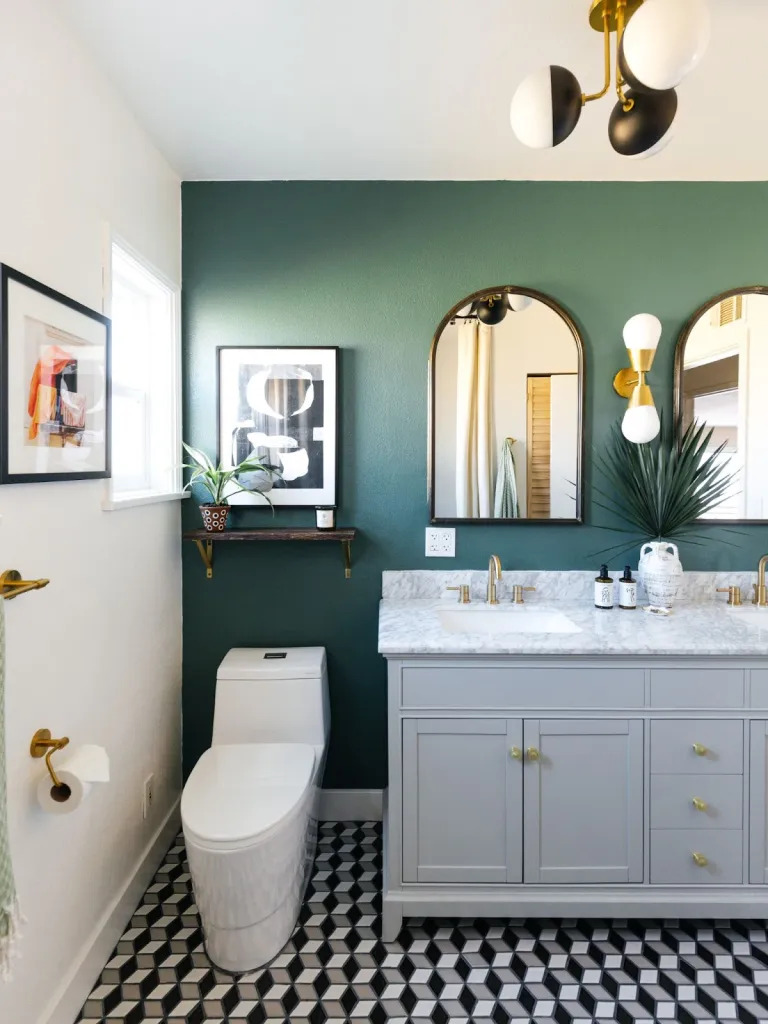 Image Source: koloapp.in
An accent wall allows you to play around with colors however you want while keeping the general mood of the house. Accent walls work
j) Pastel Colors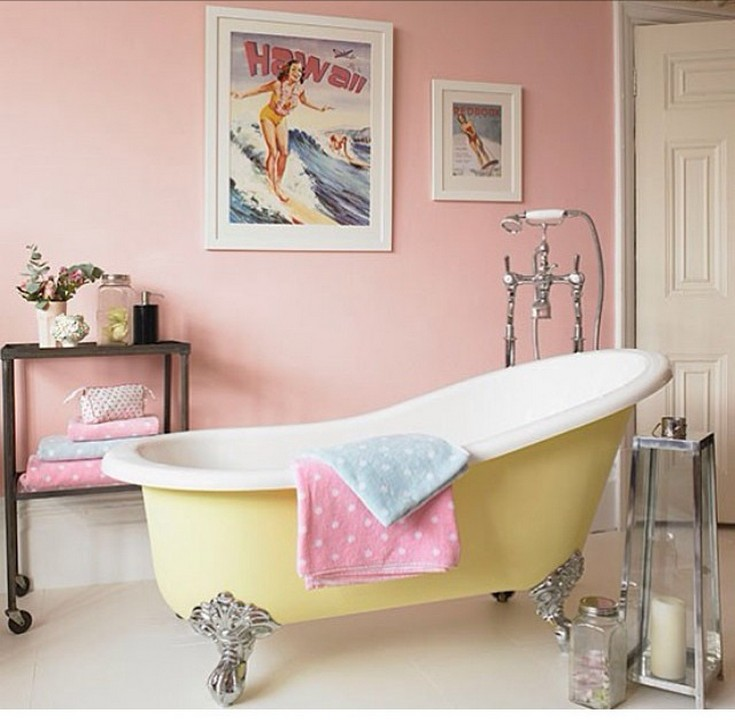 Image Source: maisonvalentina.com
Pastel colors are satisfying to look at and have a calming effect. These colors are soft and work well with each other, regardless of how you mix them. Pastel colors have a chalky effect and are great for anyone not into shiny surfaces.
k) Retro Aesthetic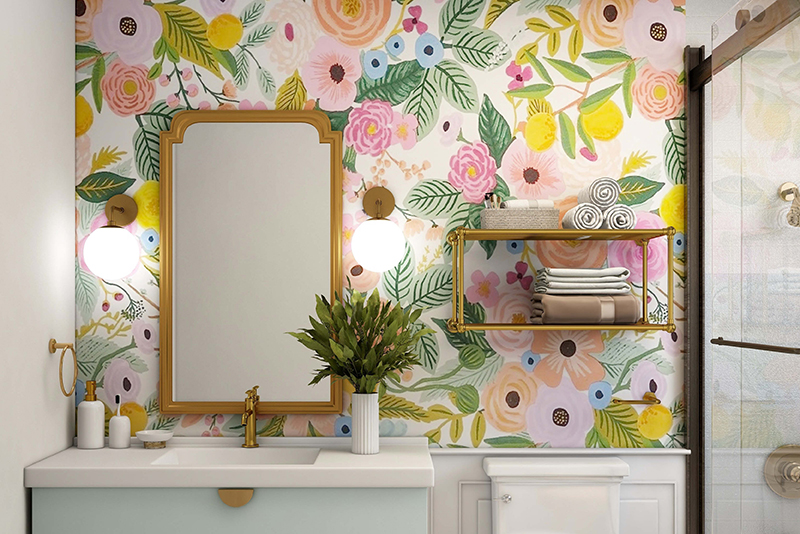 Image Source: baysideplasterboard.com
A retro aesthetic is a great way to break from the modern interior design in all interiors today. Going vintage brings a fresh vibe and is satisfying for anyone who is into the 70s lifestyle.
Having a retro aesthetic makes it possible to recycle old items for use in the bathroom. Some items have to be passed down creatively through interior design.
l) Matte Finish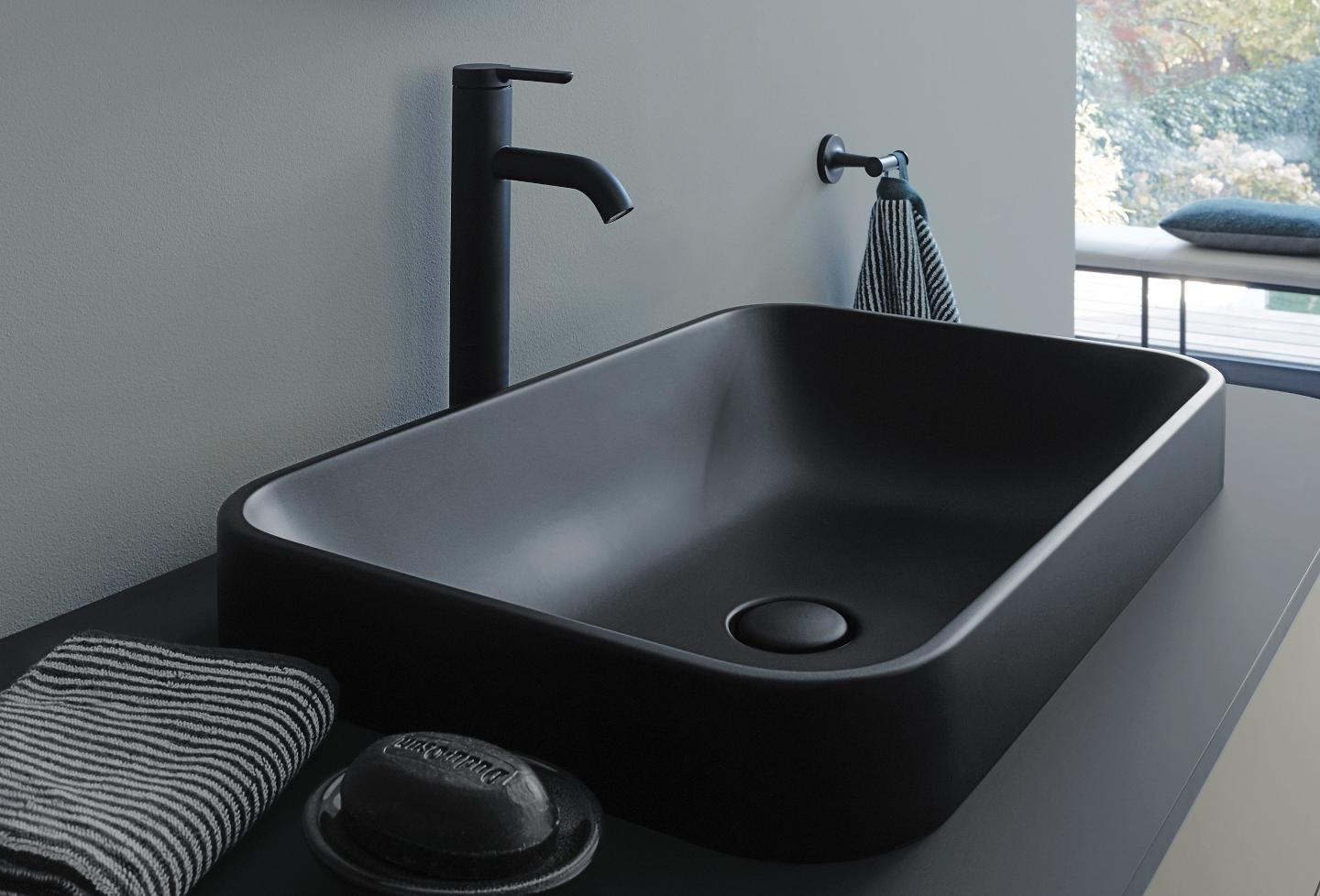 Image Source: duravit.in
A matte finish is a great way to use colors, especially in vivid colors like black. Matte finishes are sleek in their way if done well. For instance, matching matte grey with a vivid color like pastel green has a pleasant effect.
m) Victorian Aesthetic*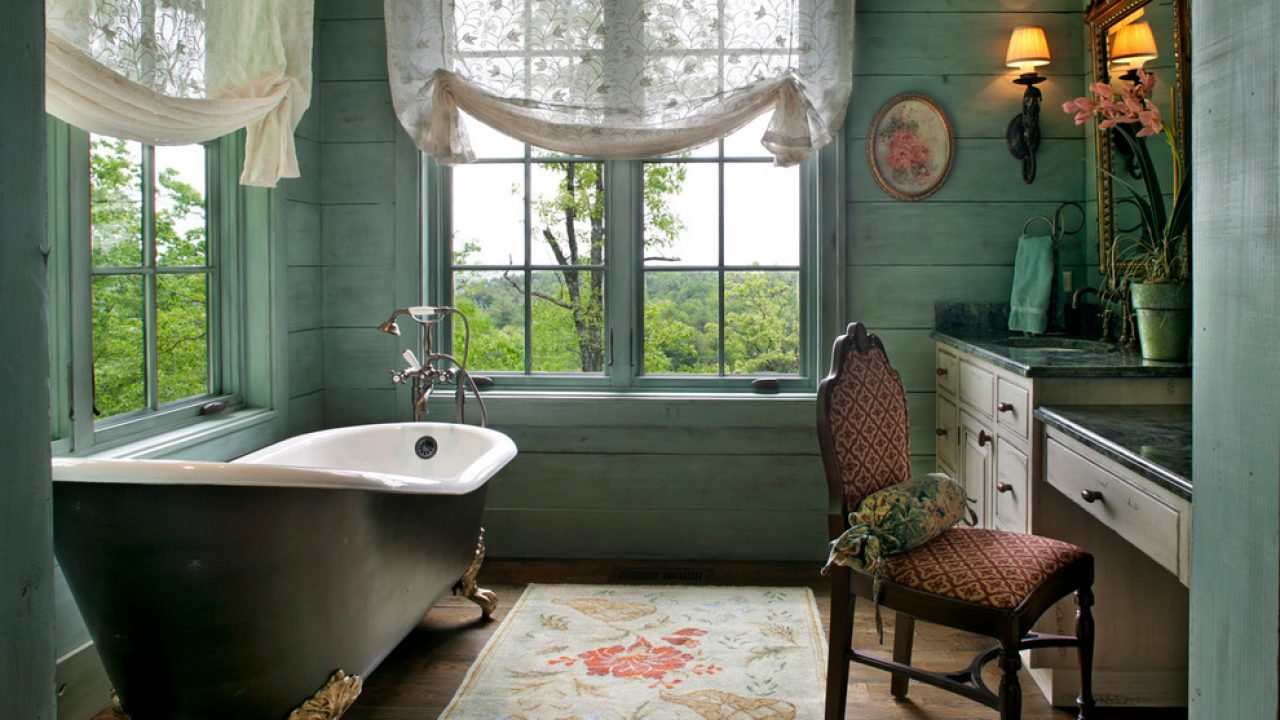 Image Source: architecturedesigns.com
Victorian houses are still here, with most finishes emulating the architectural era. However, this happens mostly on the exterior. Changing the norm with Victorian shapes and colors will make your bathroom the most exciting in the neighborhood.
Frequently Asked Questions About Bathroom Colors
1) What color makes a bathroom look larger?
Bright colors make bathrooms look less claustrophobic. Cool tones are a no-go for trying to give the illusion of space in the bathroom unless you use additions like mirrors, fewer doors, and large windows.
2) What color is best for bathroom ceiling?
The best bathroom ceiling is white to reflect the maximum light in the bathroom. Other paint colors for bathrooms, like pink or cream, can work for the ceiling as long as it is a bright shade. When working with ceiling-installed bathroom exhaust fans, matching the colors on both the fan and the ceiling is better.
White paint has simple maintenance; all one needs is a fresh coat to make the ceiling more vibrant.
3) Should a bathroom be light or dark in color?
Whether a bathroom is light or dark boils down to the owner's personal preference. Some people like themed bathrooms which may have darker accents. Furthermore, you can get interesting results from mixing up the dark and light shades in the bathroom.
4) What colors brighten a small bathroom?
White is the first go-to paint to brighten small bathrooms and make them feel more spacious. Other colors that can work for such spaces include blush pink, off-white, baby blue, and bright colors.
5) Which color is best for bathroom tiles?
white tiles are great for reflecting light into the bathroom. There are a variety of color schemes and shapes that tiles come in, but predominantly white tiles will work best for your bathroom.
Final Thoughts
A bathroom is a place where you visit more than once every day. Furthermore, the bathroom is where you refresh physically, mentally, and spiritually. Therefore, you have to give it a finish that matches the solemnity of the room. The best way to do this is to choose a color that matches your energy, and there are endless options to help you get the right color combination.