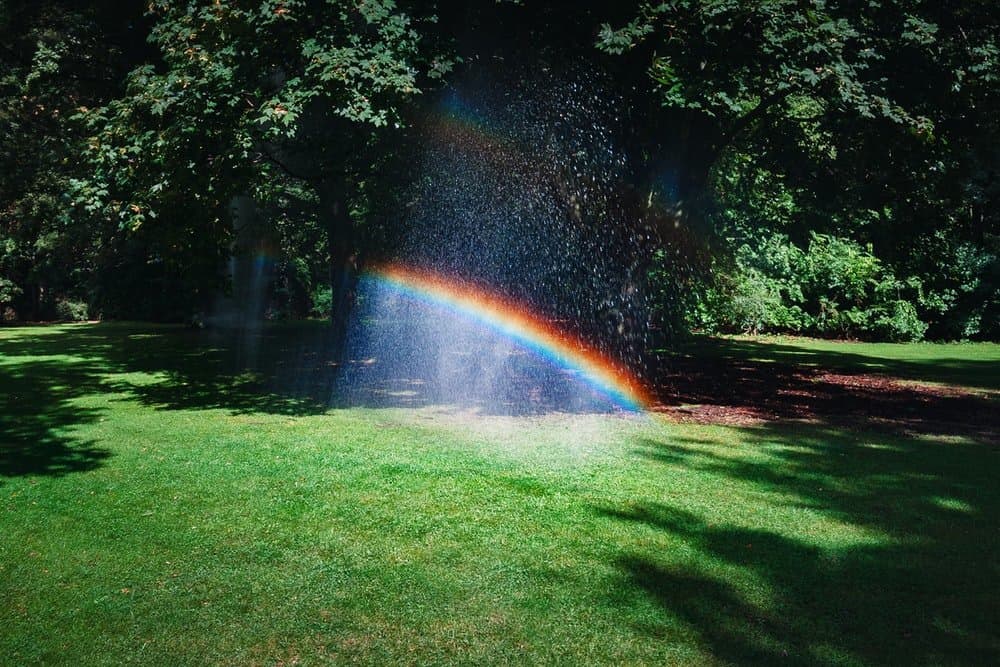 Best Liquid Fertilizer for Grass and A Luscious Green Lawn
When it comes to simple lawn solutions, getting the best liquid fertilizer for grass is your best bet. Liquid fertilizers are easy to apply, have better distribution, are more versatile, and have better bioavailability. We'll look at these advantages later on in the article.
Nonetheless, if you want to see your luscious green lawn maintained all year round with minimal effort, select a quality liquid lawn fertilizer from the options below and get started. The best part about a liquid fertilizer is that it contains nitrogen which is crucial for healthy grass.
Let's look at some of the best liquid fertilizers in the market and how they work.
1. Lawn Food Quality Liquid Nitrogen Fertilizer
Sale
Advanced 16-4-8 Balanced NPK - Lawn Food Quality Liquid...
Complete NPK Lawn Food: 16-4-8 is the perfect blend of key...
Contains High Quality Feed Grade Ingredients: Nourish your lawn...
Easy To Use: Designed to be easily applied. This complete...
All Grass types: Including Bermuda, St. Augustine, Zoysia,...
Produced In The United States: 16-4-8 is manufactured in the...
Kicking off our list is this best lawn liquid food turf fertilizer that contains seaweed, fish, and nitrogen. This 16-4-8 quality liquid nitrogen fertilizer provides quick release fertilization to your lawn. These three major ingredients are what make this best liquid fertilizer for grass very effective.
The disadvantage of this effectiveness is that you may have to regularly apply it to your lawn until you see significant results. Luckily, this best liquid lawn fertilizer purchase comes in a ready-to-spray bottle with a fertilizer sprayer nozzle. So you can easily connect this bottle to your garden hose and start the application.
Whether it's spring or summer, you can rely on this good-quality liquid nitrogen fertilizer that works on all types of grass. The purchase of this 32-ounce bottle is enough to cover up to 3,200 square feet. One factor to consider is that you should always keep your lawn sufficiently watered for the best results with this fertilizer. Keeping your lawn watered will allow for better nutrient absorption from this nitrogen fertilizer.
Simple Lawn Solutions always delivers when it comes to the ready-to-spray bottle, and it has never disappointed. Another great thing about using these quality liquid lawn fertilizers by Simple Lawn Solutions is that you will see significant changes within days of application.
2. Scotts Liquid Turf Builder with Weed Control Fertilizer
Sale
Scotts Liquid Turf Builder with Plus 2 Weed Control...
Fertilizes in 24 hours while controlling for weeds
Kills dandelions, clover and other major lawn weeds
Other weeds include buckhorn, chickweed, ground ivy, henbit,...
Easy to use, simply attach hose and spray. For grass lawns only....
Spray when weeds are actively growing
Our second pick is another ready to spray lawn fertilizer that will transform your grass. Just like our previous pick, the raving liquid lawn fertilizer reviews will tell you just how well this Scotts turf builder works. However, the convenience of applying liquid lawn fertilizer cannot be compared to this one. You get to water your grass at the same time as you are applying this Scotts turf builder.
Another great thing about this Scotts turf builder is that it is safe to use on all types of grass. However, the difference between these best liquid lawn fertilizers and the ones below is that they take time to kick in. You will also need to apply several times throughout the year for the best results.
If you're looking for a liquid lawn fertilizer that will thicken your grass, this is it. It doesn't matter if you planted your new grass from seed or sod. This best fertilizer for grass will work its magic. The working mechanism of this Scotts turf builder is that it works on the roots, where it stimulates root growth.
This best liquid lawn fertilizer works better than the best granular fertilizers. The convenience that comes with spraying is just a bonus. However, note that one bottle of this quality liquid fertilizer only covers about 600 square feet.
3. Extreme Grass Growth Lawn Fertilizer
Sale
Extreme Grass Growth Lawn Booster- Liquid Spray...
Economical Size: Refill your Simple Lawn Solutions: Growth...
Commercial Size: Covers up to 12,000 square feet. Refill Green...
Great for New Sod & New Seeding: Advanced Formula increases...
All Grass types: Including Bermuda, St. Augustine, Zoysia,...
Produced In The United States: Growth Booster is manufactured in...
If you're looking for a quick and sure solution that will give your grass a load of nutrients in the shortest amount possible, you've hit the jackpot with this natural liquid fertilizer. This natural liquid fertilizer from Simple Lawn Solutions will increase your grass's lateral and vertical growth in no time.
A few days after application, you'll start to notice that your grass is changing and growing. One of the reasons for this quick transformation is the high phosphate concentrate (6-19-0) that this organic liquid fertilizer contains. In addition, this concentrate is energized with fulvic and humic acid that is great for boosting seeding and new turf.
Another great thing about this natural liquid fertilizer is that it also works on worn-out lawns. Therefore, if you're trying to revive your lawn or grass, this Simple Lawn Solutions fertilizer will breathe life into it. In addition, this purchase comes with a hose-end sprayer for your convenience.
You can stay comfortable knowing that these quality liquid fertilizers will not harm your kids or pets. The natural ingredients in these fertilizers are not harmful to your loved ones. You can attach this bottle to your garden hose and start spraying.
4. Scotts Liquid Turf Builder Lawn Food Fertilizer
Sale
Scotts Liquid Turf Builder Lawn Food Fertilizer
Feeds and greens while watering your lawn
Apply to any grass type
Use when turf is actively growing
Improved greening (when compared to previous Scotts Liquid Turf...
Feeds and strengthens to help protect against future problems
These best liquid fertilizers are 2 in 1 product that gives your grass the nutrients it needs. You can easily attach a garden hose and get to work on your lawn. The convenience of watering your lawn while you fertilize saves you time by allowing you to kill two birds with one stone.
The 29-0-3 nutrient ratio that this best liquid lawn fertilizer delivers ensures that your lawn is well cared for throughout the season. You will be pleasantly surprised by the lush green appearance of your lawn, thanks to the greening agent in this liquid lawn food fertilizer. The convenient on/off lever on top of this bottle helps you control the flow of water.
With this liquid lawn food fertilizer, 32 fl oz. bottle, you can easily cover an area of about 2,000 sq ft. However, this coverage is also dependant on the pressure of your garden hose. This is because the flow of water is what draws out the fertilizer. Therefore, the faster the flow of water, the faster your fertilizer will come out.
For efficient use, screw your garden hose into the back of this bottle and then activate the trigger spray. Once you are done watering your lawn, release the water pressure, then unscrew your bottle to use again later. You can use this liquid lawn food fertilizer all through the growing season of your grass.
5. Southern Chelated Liquid Iron Fertilizer
Southern Ag 01952 Chelated Liquid Iron, 16oz-1 Pint
Size: 16 OZ
Corrects Iron deficiency in flowers, vegetables, shrubs and...
Use in lawns for a deep, rich green color.
APPLICATION: Mix with water. Apply as a drenching spray.
For large quantity discount consideration or to request a mixed...
Do you want your lawn to blind your neighbors and bypassers with its bright and beautiful essence? This is the quality liquid fertilizer for you. Your grass will never suffer from iron deficiency, thanks to this fertilizer liquid. If you feel like your grass types suffer from iron deficiency, you can also use this fertilizer. It is just as good as the Lawnstar Chelated liquid iron fertilizer, if not better.
You will love the deep and rich green color that your lawn will turn into once you use this fertilizer for your lawn. You can use this fertilizer to apply some green growth to your lawn. In addition to using it to fertilize your lawn, you can use this liquid on grass, shrubs, trees, flowers, and vegetables.
This liquid grass magic can also be used on any vegetables and flowers you have. For easy application, mix this fertilizer with water and apply it as a drenching spray. Your yellowing grass will turn green and healthy right before your eyes.
When using this liquid lawn fertilizer concentrate, an important thing to note is to wear a reliable pair of gloves before applying it to avoid staining your hands.
What Are Advantages of Using Liquid Lawn Fertilizers?
As we mentioned earlier, some of the advantages of using liquid fertilizers include even distribution, better bioavailability, ease of application, and more. Let's look at some of this in greater detail.
1. Ease of Application
The one great thing about using the best liquid lawn fertilizer to fertilize your lawn is that you won't struggle. Most of these fertilizers come ready to spray, and you can water your new grass and lawn simultaneously as you are fertilizing it.
Picking a liquid fertilizer for lawns will allow you to kill two birds with one stone. You can also get to put the right amount of fertilizer on your grass and soil.
2. Even Distribution
This second advantage is tied in with the first. Thanks to the mode of application, you get to give your lawn even distribution of the fertilizer. So, whether your lawn needs application twice a year or more, you'll be at ease knowing that each inch of your lawn has received an equal application.
The ability to attach the garden hose with the spray bottle ensures that a uniform amount of fertilizer lands on your grass. This mechanism also prevents scorching or burning to some areas of your lawn. Whether the liquid fertilizer you choose is made in the USA or another country, you'll find that it beats any granular fertilizer when it comes to ease of application.
3. Higher Bioavailability
Better bioavailability means that your grass will be able to absorb the nutrients easily. In addition, because this fertilizer is liquid, it's able to move through your new grass and get to the roots much faster.
You'll then be able to see visible results to your lawn care that you wouldn't if you had used a typical granular fertilizer.
3. Versatility
When fertilizing your lawn with the best liquid lawn fertilizers, you can either choose the one that's ready to go or one that needs dilution. Both of these options have their advantages. However, the best liquid fertilizer for grass that you choose is up to you.
Check-in with your lawn and grass to see which would be most convenient. Factors such as health, root strength, soil structure, and more may determine your decision. Therefore, whether you want the Lawnstar Chelated liquid iron fertilizer or any other that needs dilution, you'll still get results.
What Are the Disadvantages of Using the Best Liquid Fertilizer for Grass?
1. Frequency of Application
One of the major disadvantages of using the best liquid fertilizer for grass is that you need to apply it frequently. Especially for the liquid fertilizers that are fast releasing, you may have to do more than one application to sustain these good results.
However, ensure that you don't apply too much at once, hoping that you won't have to do it again as this may cause burning.
2. High Cost
Because of this frequent application, you'll find that you may end up incurring high costs over time. This is one disadvantage that liquid fertilizers have over granular fertilizers.
Nonetheless, the convenience and ease of application make up for the higher cost.
Frequently Asked Questions (FAQs)
1. Should I water after applying liquid fertilizer?
Yes. Watering your grass after applying liquid fertilizer can help with nutrient absorption. You can also water your lawn while you apply the fertilizer.
Thanks to the design of the bottles we've looked at above, you can kill these two birds with one stone.
2. Can you fertilize grass in the morning?
Yes. Fertilizing your grass in the morning will allow your grass to use the cooler temperatures and the dew to absorb the nutrients. The risk of burning is also very low at this time.