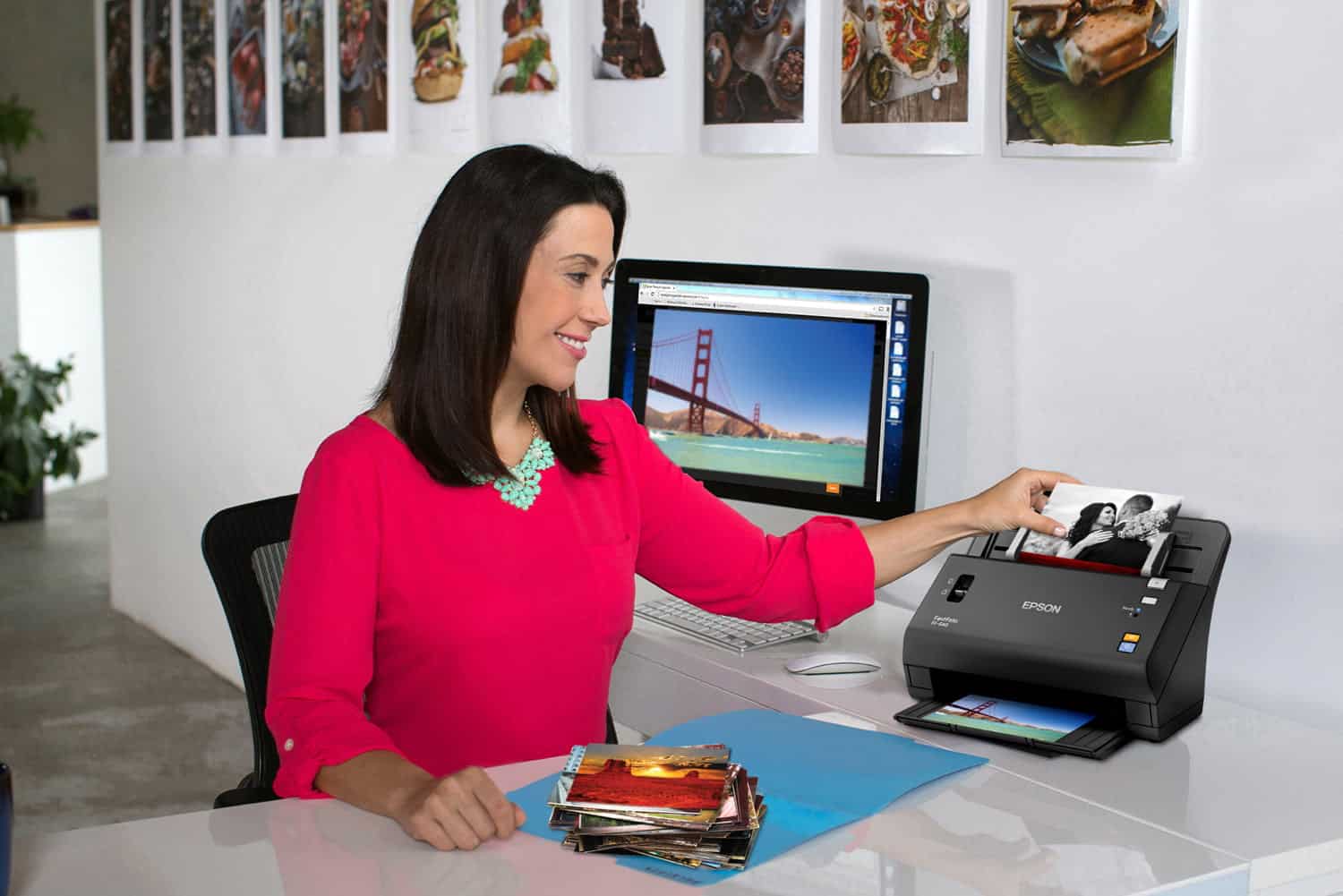 Best Photo Scanner to Digitize your Old & Damaged Photos
When it comes to preserving and restoring some of our best memories, photo scanners are indispensable, and turning a physical photo into a digital image will require a special touch. With the best photo scanner, you can convert your slides, negatives, and snapshots to a digital format with a click of a button. This means if you ever lose or damage the original photos accidentally, you will still have a digital copy that is just as good.
What is a Photo Scanner?
A photo scanner is a machine that can enhance your old and damaged photos and make them look like the first time they were taken. Since they are made with specialized sensors, you can digitize your treasured prints consistently, and the best photo scanners will help you keep treasured memories forever. Photo scanners are designed for use with photographs specifically, unlike normal scanners meaning they give a high resolution capturing every detail without complications. They range from flatbeds to automatic feeds and even those capable of scanning from negatives or prints.
However, the photo scanners market can be daunting, and finding the best photo scanner for your needs can be difficult, and knowing what to consider before making your purchase. Therefore, have researched and identified some of the best photo scanners on the market with their advantages and disadvantages. In addition, we have included a buying guide to help you understand what to look out for.
1. Canon Canoscan Lide 400
Canon CanoScan Lide 400 Slim Scanner, 7.7" x 14.5" x...
Enjoy high speed scanning in as fast as 8 seconds, with the...
Preserve detailed photos and images thanks to 4800 x 4800 dpi...
Enjoy ease of use with 'EZ' Buttons. With auto scan mode, the...
Paper size: 8.27 x 11.69, 8.50 x 11.69
Canon Canoscan Lide 400 is an entry-level software-rich flatbed photo scanner that handles both photo and text documents with a lot of ease. It is a reliable scanner and will take up small desktop space, and it can be stored by folding it upright on a kickstand and making it available when you need to scan and hiding it when you don't. It is a suitable option for photographers or small businesses that want to scan both photos and documents.
Canon Canoscan Lide 400 is made with a great design, and the photo scanner will digitize your photos accurately. In addition, it can scan documents turning them into editable text using the included software. The extra software is a CD-ROM that you can use to locate a disk drive, especially for new computers. This is a great photo scanner if you digitize your photos occasionally and are looking for a budget-friendly way to scan your old photos.
2. Epson Perfection v600
Epson Perfection V600 Color Photo, Image, Film,...
Create extraordinary enlargements from film: 6400 x 9600 dpi for...
Remove the appearance of dust and scratches from film: Digital...
Remove the appearance of tears and creases from photos: Digital...
Restore faded color photos with one touch: Epson easy photo fix...
Scan slides, negatives and medium format panoramic film: Built in...
Epson Perfection v600 is one of the best photo scanners in the market, which is a balance of versatility and price with a high optical scan resolution of 6400 dpi that will produce a quality digitized representation of your photos. In addition, it is a flatbed scanner that perfectly scans your photos, and thanks to Digital Ice Technology, it can clean up your older photos by removing any dust and scratches.
Epson Perfection v600 comes with a pair of film holders that make positioning straightforward and handle every size and format, including mounted slides and 35mm. It will capture all your details thanks to the resolution. The product will come with a built-in transparency unit, a power cable, and a USB cable, and the device not only scans but also restores and saves images to Google Drive and directly to emails.
3. Plustek Ephoto Z300
Plustek Photo Scanner - ephoto Z300, Scan 4x6 Photo in...
The easiest way to scan photos and documents. Supports 3x5, 4x6,...
Fast and easy, 2 seconds for one 4x6 photo and 5 seconds for one...
More efficient than a flatbed scanner. Just insert the photos one...
Powerful Image Enhancement functions included. Quickly enhance...
ePhoto Z300 works with both Mac and PC : Supports Windows 7/8/10...
Plustek Ephoto Z300 is an affordable sheet-fed scanner suitable for household use, and it has striking looks that will stand out from the crowd. It is more of a photo scanner than a document scanner, and with the 600 dpi resolution, it will be more than enough for photo scanning your snapshots.
Plustek Ephoto Z300 scanner includes some handy image-enhancing tools that will guarantee you get the best out of your old photos and even the faded snaps. However, this model does not have Wi-Fi, and since it's a manual photo scanner, you will have to feed each print one at a time, and even though the 600 dpi resolution may not be enough for pro photographers, it works well for the average family pictures.
4. Epson Fastfoto FF 680w
Epson FastFoto FF-680W Wireless High-Speed Photo and...
World's Fastest Personal Photo Scanner (1) — scan thousands...
Preserve Your Priceless Photos — restore, organize, protect and...
Share Stories for Future Generations — use the Epson FastFoto...
Perfect Picture Imaging System — bring new life to old photos...
Single-step Technology — capture both the image and any...
Epson Fastfoto FF 680w is a sheet-fed desktop scanner that will perfectly scan many snapshots at a go while perfectly also being a document scanner for general scanning documents. It can simply load up to 36 photo prints at a go and will scan at an impressive rate, and it qualifies as the best photo scanner for anyone looking for speed.
Epson Fastfoto ff 680w sheet-fed scanner has an optical resolution of 300 dpi which will power one photo a second, and it's perfect for snapshots and quality results. You may need to dial the resolution to 600 dpi and also wait longer for your scan. The sheet-fed scanner is great for treating your photos gently, and it includes a program that scans, digitizes and saves up to 36 photos in less than two minutes.
5. Epson Perfection V39
Epson Perfection V39 Color Photo & Document Scanner...
High quality scanning for photos and documents : 4800 dpi optical...
Preserve priceless memories: Restore, archive and share family...
Scan to Google Drive and other cloud services (2): Epson Document...
Convenient: Easy to use buttons for scan jobs, plus a space...
Scan over sized prints, documents and artwork : ArcSoft Scan n...
Epson Perfection V39 is among the best photo scanners to scan photographic prints, short documents, editable text, and even searchable text formats. The photo and document scanner come with a 4800 dpi optical resolution that is perfect at the price as long as you don't need a slide scanner or extremely high-quality scans. In addition, the device uses an Easy Photo Fix technology that restores color to your old photos, making it perfect for digitizing old family photos.
Epson Perfection V39 is among the best photo scanners to scan your photos directly to Google Drive and other cloud services and send them directly to your emails. When scanning the photos, you can remove your lid for convenience, and there is special use software that you can use for oversized images.
Is the Scanner on an All-in-One Printer Enough?
Even though most people who scan many photos prefer a single functioning scanner, most multifunction printers (MFPs) will also be referred to as all-in-ones (AIOs) will have a flatbed that can scan photos and any other materials. However, the photo scanning quality may vary depending on the software and hardware used, as most single-function photo scanners will fall short for scanning quality prints and some photo-centric features.
Some models known as home photo labs scan negatives and slides and prints, and they have various photo-centric features while still offering the normal MFP functions such as coming, printing, and sometimes faxing. These models are worth it, especially for scrapbookers or photo buffs who need a versatile photo scanner that can print and make copies and identify these models to check a vendor's specifically photo-minded AIOs. In addition, AIO's save a lot of space compared to a printer or a flatbed scanner.
Factors to Consider Before Purchasing the Best Photo Scanners
1. Scan Speed
The speed factor is crucial, especially if you often have a lot of items to scan within a short time, and you should check how many pages a scanner will be able to handle per minute. Also, check for scanners with an automatic document feeder as they help speed up the photo scanning process and reduce the time you would spend manually trying to place each item on the scanner.
2. Cloud support
Cloud support is important if you would like access to your scanned documents from anywhere. Nowadays, most document and photo scanners can scan and upload files directly to the cloud and when looking for a cloud-friendly photo scanner, opt for one that supports Dropbox, Google Drive, or your preferred cloud services.
3. Media type
You should figure out what you are planning to scan, whether documents, photos, or both, and then decide accordingly since some scanners are better for scanning photos than documents. Others are better at creating copies of letters and any other documents than photos. Depending on your budget, the higher-end units are suitable for scanning documents and photos. They include features like separate bays and adjustable sliders that help handle difficult documents and laminate identification cards.
4. Automatic vs. Manual Feeders
You will need to choose between the two feeders from the wide range of scanners. Flatbed scanners featured a flat and glass surface where you lay the documents and scanned underneath, and each document or photo is placed manually into the scanner. They produce more high-quality photo scans than their counterparts, but the manual process is longer, and they are ideal for scanning old and fragile photos.
On the other hand, automatic feeders will layer your documents or photos in bulk and scan them similarly to a printer's paper feed. The scanner will sort through the photos and documents and scan each one automatically but remember they are prone to paper jams from time to time, and this may damage your photos, especially if fragile.
5. Scan Resolution
Dots Per Inch(DPI) is the number of pixels or dots that fit in an inch of any image or document file and is widely known as resolution. A high DPI means you will get a higher quality image where if your need for scans is to upload to social media, 300 DPI would be enough, but for scanning high detailed sources such as film negatives and slides, then a scanner of between 4800 and 6400 dpi is the best.
Frequently Asked Questions on the Best Photo Scanner
1. What is the best resolution to scan old photos?
The best resolution for scanning old photos will depend on what you want to use the photos for, and for photo prints with a higher resolution, opt for less than 300 DPI and even higher. For example, if you plan to use the photos on the web only, a DPI resolution of about 72 to 96 is adequate.
2. Is it better to scan photos as PDF or JPEG?
It is better to save anything online to a Jpeg format as PDFs are great only for images containing text. You will get the best quality if you save them as TIFF. PDF files are commonly used for images since they have automatic image compression, and JPEGs are suitable for images since they can compress large files down to a small size.
3. Is it better to scan or photograph old photos?
Scanning is faster and simpler and produces better photos than copying or photographing photos using a camera. The only exception is when the surface texture is silk, which will need offset lighting to overcome.
4. How good is Epson Perfection V850 Pro?
Epson Perfection V850 Pro gives an impressive performance, especially in the 48-bit mode where it resolves the grain in both 4×5-inch films and 35 mm films and packs a dual-lens system. In addition, the scanned film produces great results for both negatives and slides and better difficult originals.
Image Source: digitaltrends.com