Commercial interior design is coming into the spotlight as a spectacular concept to fascinate visitors and appeal to customers. The fact that this trend can be implemented for just about any company and can make a difference in how people feel about working there speaks volumes about how important the concept is.
These concepts can incorporate creatively designed building signs with the right placement that will add an elegant twist and a welcoming environment to your commercial venue.
Whatever the specifics of your chic commercial interior design project are, make sure you put them into practice in a tasteful way. It's important to remember that this trend is meant to be elegant and sophisticated, not flashy or over the top.
This article discusses information related to interior architectural design, specifically for corporations. Take a look at how to decorate your offices with a level of sophistication that's sure to impress.
Our 7 Best Commercial Interior Design Ideas
The first thing you need to ensure to incorporate this trend for your company is to have a good space. Natural light is an important aspect to consider. Once this is secured, have a checklist of what elements you want to include in your commercial design. You can hire a professional interior designer or firm to deal with the intricacies, such as clean lines, color schemes, and different textures.
Thus the need for it to be beautiful and chic, and reflect a sophisticated aura. The interior spaces should provide both functionality and aesthetics to people working there and visitors.
1. Open-Concept Workspaces
Open-concept offices are becoming increasingly popular because they offer a more comfortable working environment and allow for collaborative work environments. By designating certain office areas as "shared space" and placing movable partitions in other areas, companies can create an open-concept workspace that caters to all types of employees.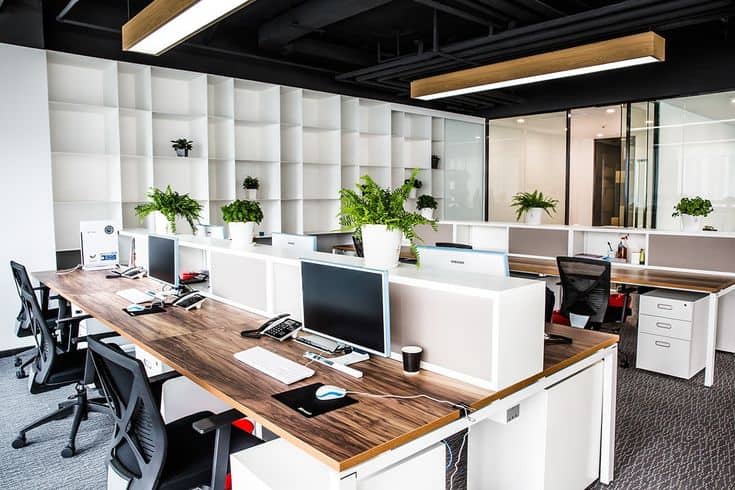 Image Credits: pinterest.com
This type of setup is great for people who want to be able to interact with their colleagues while still maintaining some privacy. Open-concept offices have shown several benefits, such as:
Improved worker morale
Increased work satisfaction
Flexibility and opportunity for creativity
Decreased time spent on paperwork.
As a result of all these benefits, open-concept offices are often seen as more cost-effective than traditional offices.
2. Sound Absorption Solutions
Sound absorption solutions are an area of design in which sound waves can diminish the impact or noise it makes when transmitting through a room. This is achieved by strategically positioning absorbers and diffusers in commercial spaces, reducing reverberation.
Sound absorption is the most crucial commercial architectural detail in ensuring optimal success in whichever commercial interior space.
Image Credits: medium.com
While proper absorption can be achieved through many different methods and materials, some of the most popular sound absorption solutions are acoustic plaster, tiles and soundproof flooring. It is a great way to reduce noise and keep your employees productive.
Sound absorption solutions may be your best choice if you're looking for an effective and affordable solution that keeps your team calm and focused.
3. Color & Pattern
Color and pattern are two critical elements of any commercial design, and as technology advances, these trends are poised to continue. Choosing the right color & pattern for retail space can add visual interest and help to divide the space to create a sense of coherence among employees
Choosing the right color for commercial interior designs is very important because it helps:
Enhance employee experience
Create a more relaxed atmosphere for employees
Inject some personality into the professional space
Image source: parterreflooring.com
With the ever-growing trend toward minimalism, incorporating color and patterns into your design can be a great way to add personality while keeping commercial spaces clean and modern.
4. Glass Walls and Creative Dividers
The glass wall and creative dividers are a new trend in offices that is changing the way workers are treated. Glass walls are a physical barrier between employees and their supervisors, and they have the potential to improve communication, collaboration, and teamwork within an organization.
Glass walls allow more natural lighting into the commercial space and provide an unobstructed view of how employees work. While this should not be used as a way to micromanage employees, it provides a view into the daily workings of the office, which can be analyzed to ensure the existing conditions are optimal.
The benefits of using glass walls and creative dividers in commercial spaces are clear. No pun intended. Not only do they create a more open and collaborative work environment, but they also reduce stress and improve communication. Glass walls and creative dividers also make employees more engaged and motivated, as they can see the progress of their projects from start to finish.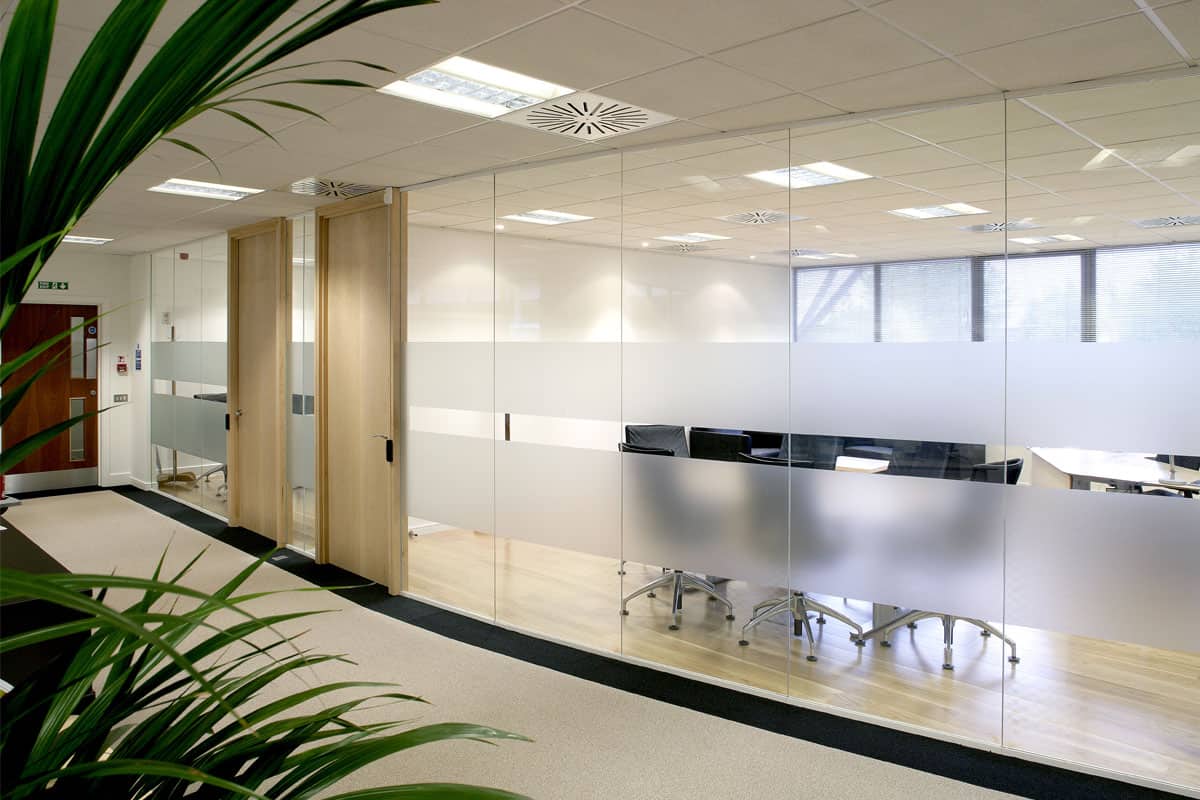 Image Credits: avantisystemsusa.com
In addition, glass walls help to encourage creativity and innovation by allowing employees to share their ideas with others. Overall, using glass walls & creative dividers in an office is a great way to improve productivity and morale.
5. Ergonomic Furniture
Whether designing a new or existing commercial interior space, ergonomic furniture should be considered part of the design. To do this, there is much to consider, such as whether the furniture is comfortable, if it facilitates mental and physical activity, and reduces strain on body parts.
From mid-century furniture to modern design, there are plenty of mix-and-match designs to try and visualize the interior in the perfect setting. It is intended to promote good posture and reduce fatigue leading to a more productive workday. Ergonomic furniture can be found in commercial interior design applications, such as office spaces, conference rooms, and training facilities.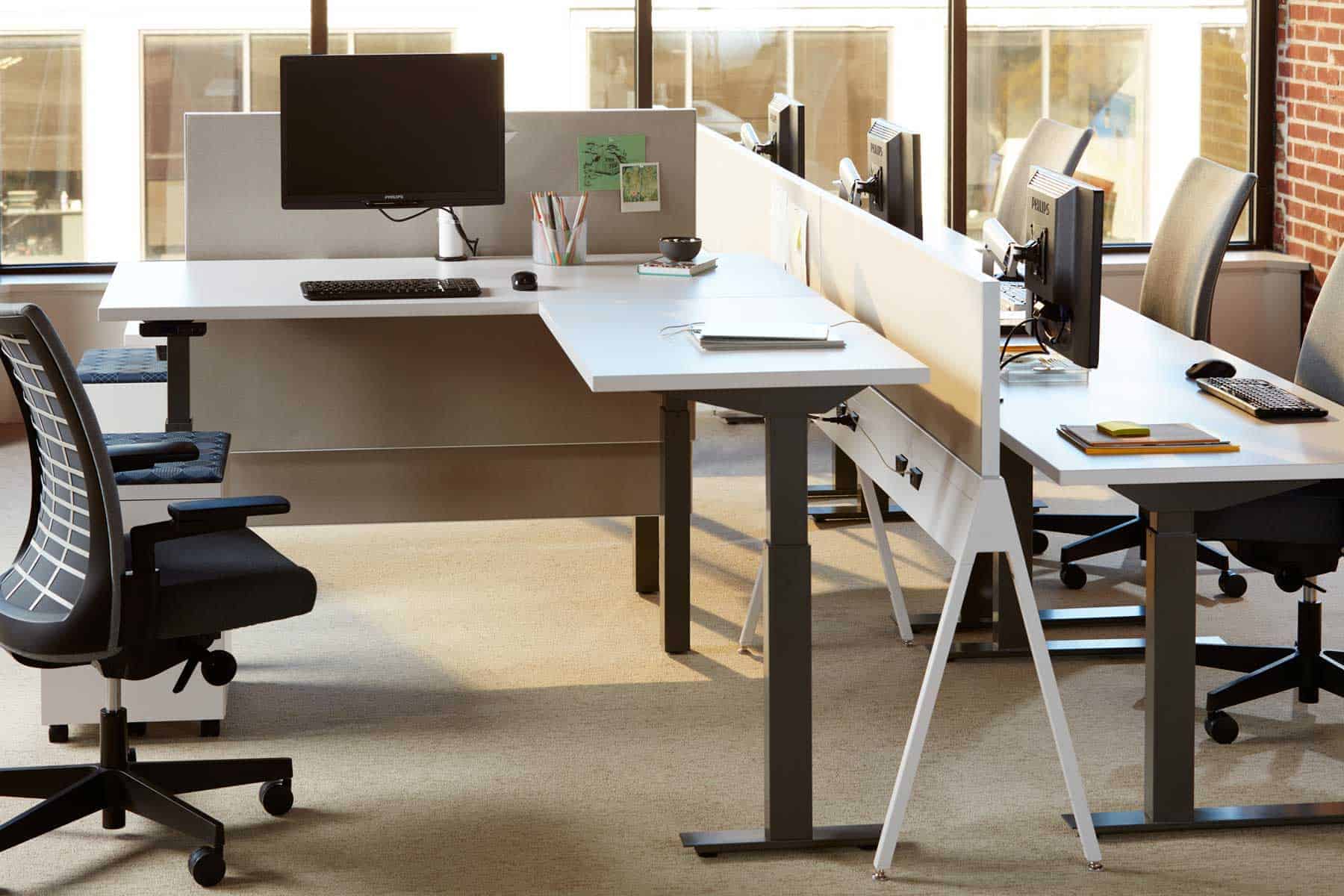 Image Credits: sysfurniture.com
Some benefits of using ergonomic furniture in commercial interior design are reduced stress levels, increased productivity, and improved morale. By designing with ergonomics in mind, businesses can create a more comfortable environment for their employees.
Ergonomic furniture can be used to promote a healthy work-life balance by promoting a good posture and reducing fatigue.
6. Biophilic Design
Biophilic design is the idea that design should mimic and reflect the natural world. In essence, it's about creating things that are ecosystem-based (in other words, eco-friendly) rather than only looking at a product from a single dimension.
In other words, it incorporates environmental health into architectural design. Such a commercial interior design can make offices more appealing, calming, and enjoyable for the employees, consequently improving productivity. You may consider adding functional business branding elements to add a touch of creativity and focus on elevating the exposure of your brand.
Image Credits: biofilico.com
Biophilic designs are used to make the workplace more flexible. This can help employees adapt to changes in their work schedule and make it easier for them to finish their work.
Working in such a beautiful, fresh commercial space makes you feel as if you are working in a large biodome. Corporate offices that incorporate this concept into their design elements can use the following ideas:
Growing a green wall
Have potted plants or hanging plants from the ceiling design
Using wall art that reflects the greenery
Allow in as much natural light as possible
Expose wooden beams
7. Multipurpose Spaces
In our modern society, the idea of a multipurpose space is not new. It is inherently used in different communities and institutions. All this starts with space planning, and then the designer works with the architect, who then takes the commercial interior design ideas and makes them a reality.
Creating such a commercial space can redefine the need of prospects for different purposes. This type of interior design is essential because it adds more efficient spaces and better serves the versatile needs of management and employees. There are many multipurpose workspace concepts worth considering.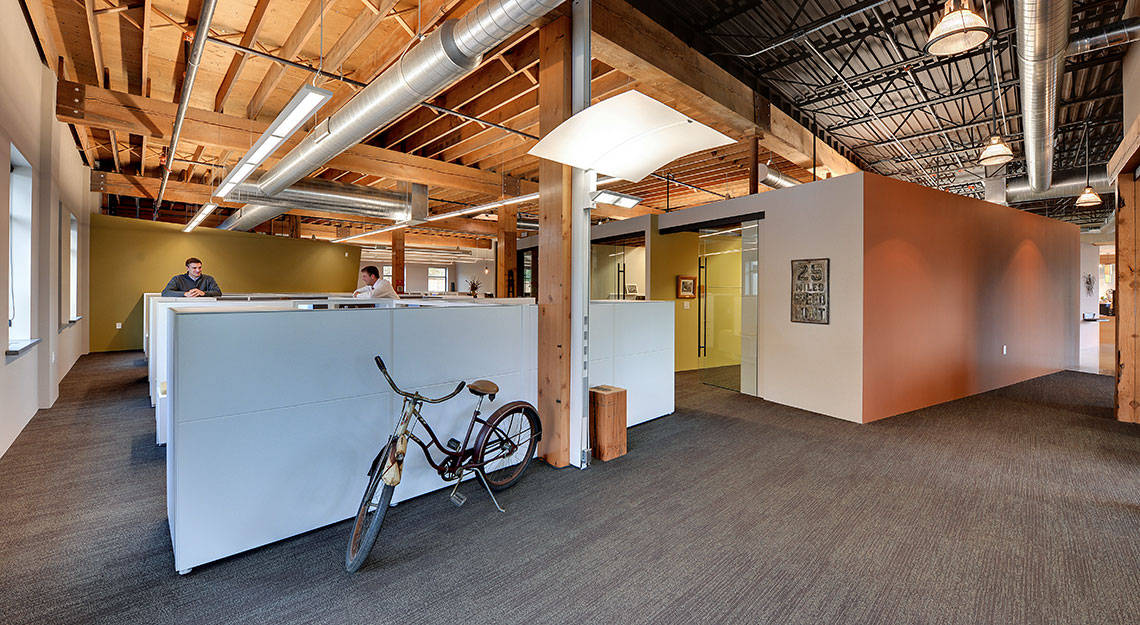 Image Credits: planforcegroup.com
A multipurpose space can be used for meetings, training, or workshops. It can also be used for collaboration or sharing ideas. Multipurpose rooms are easier to manage and less cluttered than individual offices. They also allow employees to work together more efficiently.
Frequently Asked Questions (FAQs) on Commercial Interior Design
1. What Are the Types of Commercial Interior Design?
Architectural designs vary for different commercial spaces. For instance, a residential interior designer will focus on the home, while a medical interior designer aims to improve the medical space. The difference in complexity is blatant.
Image Credits: ID21.com
There are several types of commercial interior design, such as:
Residential interior design. Residential interior designers focus on home improvement and daily life living.
Office renovation so it can be more functional and relevant to changing trends and needs.
Retail interior design to make storefronts and retail spaces more appealing to customers. Gathering client feedback on retail stores is important, as you get to understand what they need and what they don't.
Medical interior design for hospitals and medical facilities.
Industrial interior design; customization of buildings so they serve a specific purpose.
2. What Are the Functions of Commercial Interior Designers?
Generally, commercial interior designers are creative professionals who aim to merge the business's physical space with the employees' objectives. They ensure that the space augurs with the required functionality to maximize profits.
Other functions include:
Create draft drawings of the building and set a clear project scope
Decide on the best color palette, furnishings, and other fixtures
Ensure the whole renovation and interior design project for a new space falls within the client's budget
Image Credits: newschool.com
Clients visualize a business according to the interior design of its offices. A timeless interior design concept plays a significant role in making the space more visually appealing.
3. What Skills Do You Need to Be a Commercial Interior Designer?
Commercial interior designers have a bachelor's degree in interior design and should have completed an apprenticeship to prepare them for the actual work. Some states will require licensing.
They will also need organizational and management skills. Further, they should be creative and have interpersonal skills to be able to communicate effectively with clients.
4. What Are the Advantages of Commercial Interior Design?
The following are some of the advantages of commercial interior design:
You'll get optimal features such as amazing lighting, colors that work, and unique fixtures that are practical and will turn heads.
The project will achieve all code requirements. Having code-compliant commercial interior spaces is a bonus.
Designers save time because of years of experience and expertise and general passion for the project.
Beautiful interior design appeals to clients and makes them trust your brand more. Designers need to take into consideration the importance of making the space work for both the employees working there daily and the visiting clients who may pop in once in a while.
5. Why Hire a Commercial Interior Designer?
A commercial interior designer acts as your design project manager. Their role revolves around ensuring your space is work-friendly and eco-friendly and will lead to more profits.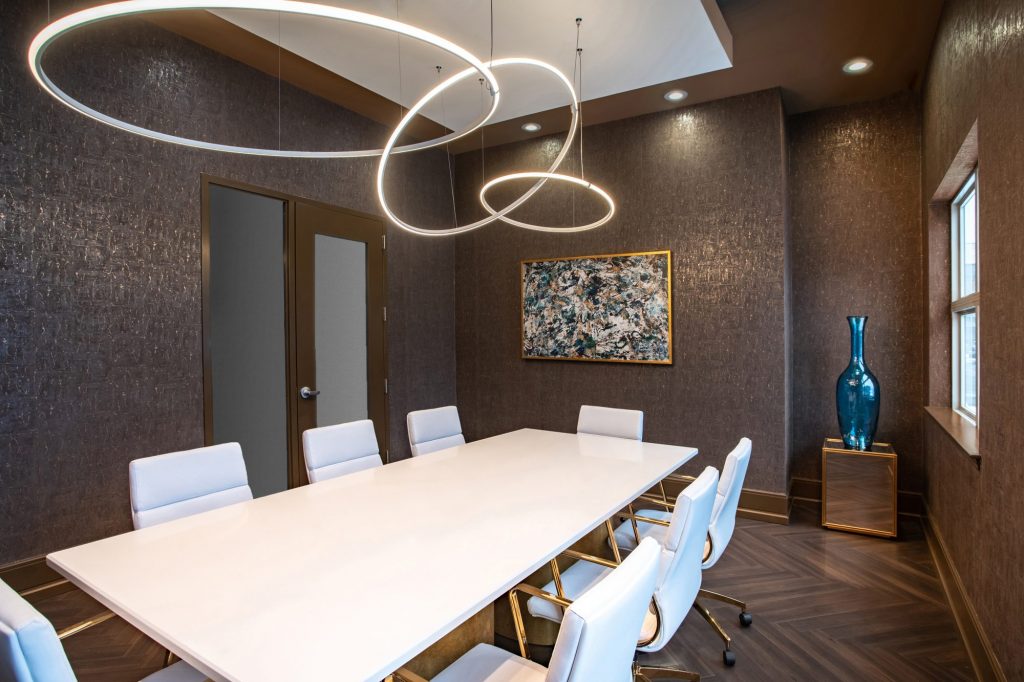 Image Credits: henriettaheislerinteriors.com
Simple things such as natural light, coordinating color schemes, and patterns ensure that commercial properties reflect the right and intended brand message to clients. And while these may seem like easy tasks to accomplish, they are best left to the experts.
Final Recommendations on Commercial Interior Design
Commercial interiors can be pretty daunting, especially if you're unfamiliar with the style or the industry. But don't worry; we've compiled a list of the seven best chic commercial interior design trends to help make your interior design process a little easier.
From ergonomic furniture to multipurpose spaces, these styles will give your business an edge and let your employees know that you take commercial interior design and business seriously.