Sometimes it can be hard to describe the sofa style you want to a salesperson, especially if you don't know the parts of a sofa. First, you need to know that a sofa comprises several different parts, each giving a unique look and feel.
Knowing all of the different parts of sofa and couch models will save you time when buying the best sofa for your living room and help you buy the exact one that will meet your needs.
What Are the Main Types of Sofa Backs?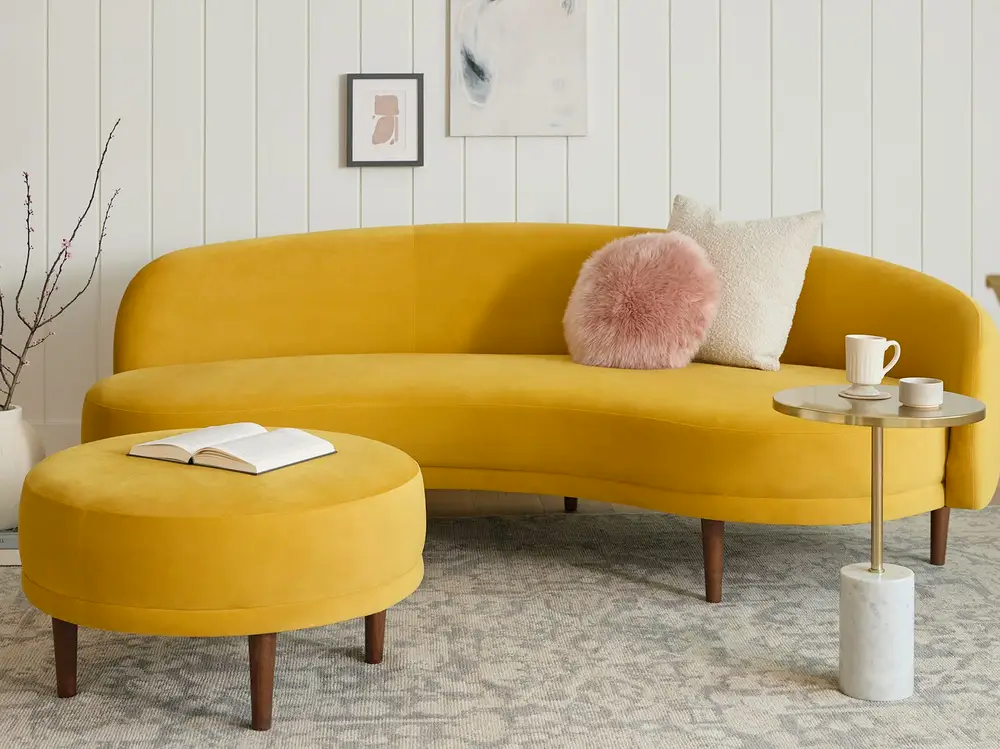 Image Source: https://ifreebsd.ru.com
1. Attached Back
The cushions are attached, clipped, or sewn to the back of the sofa. The good thing is that they usually stay nicely in place, and you don't have to keep moving them or plumping them up regularly.  
2. Pillow Back
The back design has more cushions than the seating area, making it softer. It provides back support and optimal comfort that you can adjust by moving the cushions around. However, this back design requires more maintenance.
3. Tight Back
The tight-back design is upholstered but doesn't have loose cushions. As a result, the back is strong and can create a clean, fitted, and formal appearance. Besides, the tight-back design is often accompanied by a tight seat.
4. Channel Back
Like a tight back, a channel back design has deep vertical grooves features.
5. Loose Cushion Back
Unlike attached back sofas, loose cushions are separate seat cushions from the sofa back. This makes cleaning easier. Besides, these are cushions that you can move, similar to cushion seats.
6. Camel Back
As the name implies, this type resembles the shape of a camel's hump, high in the center and sloping down lower at both ends. It often gives off a formal appearance. Think of the type of sofa on which the royal family may sit for an official portrait.
7. Curved Back
A curved-back sofa's back bends all the way around, forming one piece with the arms that aren't attached separately.
8. Waterfall Back
The waterfall back usually features two or more vertical layers of gathered and billowing cushions attached to the back.
What Are the Main Types of Sofa Arms?
Image Source: distinctivechesterfields.com
1. Rolled Arm
The rolled arm design is a standard shape for sofa arms; a rolled arm curves outward. It's very comfortable for sitting around with a book or a box set. However, though rolled arms are comfortable for lounging and reading, they take up more space.
2. Lawson Arm
A Lawson's arm is a low-profile, scaled-down model of a rolled arm.
3. English Roll Arm
An English roll arm is low and set back from the seat's front edge, as seen on classic country design sofas, such as those in comfortable inns next to a blazing fire. English arm designs are low-profile and ideal for taking naps on your sofa. They are also suitable for small places since they do not protrude beyond the sofa's body.
4. Tuxedo Arm
This is a slightly flared arm with the same height as the sofa seat back, giving an on-trend contemporary aesthetic.
5. Pleated Arm
A pleated sofa arm is similar to Lawson's but without the fixed front panel. Instead, the arm design comes with pleated fabric on the ends.Also, the front part extends from the inside of the arm.
6. Square Arm
A square arm (also known as a box arm) usually gives the sofa clean straight lines and angles if you like a minimalist appearance. In addition, square arms are handy in the entertainment space since they serve as seats. However, they aren't as comfortable as rolled arms.
7. Track Arm
The track arm is a sofa arm design with flat parallel sides and a flat top.
What Are the Main Types of Sofa Seats?
Image Source: vdecordesigns.com
1. Cushioned Seat
A cushioned seat is made up of two or three cushions. The seat cushions (referring to the part of the couch you sit on) are often firmer than back cushions since they are designed to sustain the weight of any sitter. On the other hand, the shape of the cushions depends on how many they are on the seat. Plus, they can be either square or rectangular. Besides, the end cushions are sometimes T-shaped to accommodate the arms.
2. Single-Cushion Seat
Some sofa seats (bench seats) usually come with one cushion. Besides, a bench seat gives a neat, simple appearance that can be combined with a pillow back which is more about casual comfort rather than minimalism.
3. Tight Seat
Tight seats are sofas that don't have separate seat cushions. This design is common on both traditional and modern sofas, as well as those with wood frames. It usually portrays a formal appearance.
What Are the Different Sofa Parts?
i). Frame
The frame has the bones of a sofa which usually determine its shape and quality. For instance, most high-quality sofas feature kiln-dried hardwood frames with sturdy reinforced joints.
ii). Sofa Bed Frame
Some sofas can fold out to act as a sleeping area. For example, a foldable bed frame often rests beneath the seats or cushions of a sofa bed or futon. The spring-loaded bed structure is normally covered by the sofa's external frame when using it as a seat.
iii). Deck
This is the surface right beneath the seat cushions.
iv). Plinth Base
A plinth base is a box-like base commonly used on modern sofas in place of traditional legs.
v). Down-Proof Ticking
Down-proof ticking is the tightly woven inner lining of a cushion that usually prevents tiny down feathers from getting out of the cushion.
vi). Filling
Filling may be padding, down, or foam to make the sofa cushion comfortable.
vii). Webbing
Webbing comprises interwoven strips of synthetic material fastened to a sofa's wood frame. It's commonly used in place of support springs.
viii). Eight-Way Hand-Tied Springs
Hand-tied springs are connected with sturdy twine that goes side to side, front to back, and diagonally in both directions. The springs are interconnected in this structure for durability and consistent support.
What Are the Main Designs of Sofas?
1. Standard Sofas
Image Source: standardfurniture.net
Different types of sofa sets usually provide different levels of comfort. Therefore, when choosing one, look for the most basic, comfortable options available- static sofa sets. Other sofa seats include fabricsofas, leatherette sofas, and genuine leather sofas.
2. Corner Sofas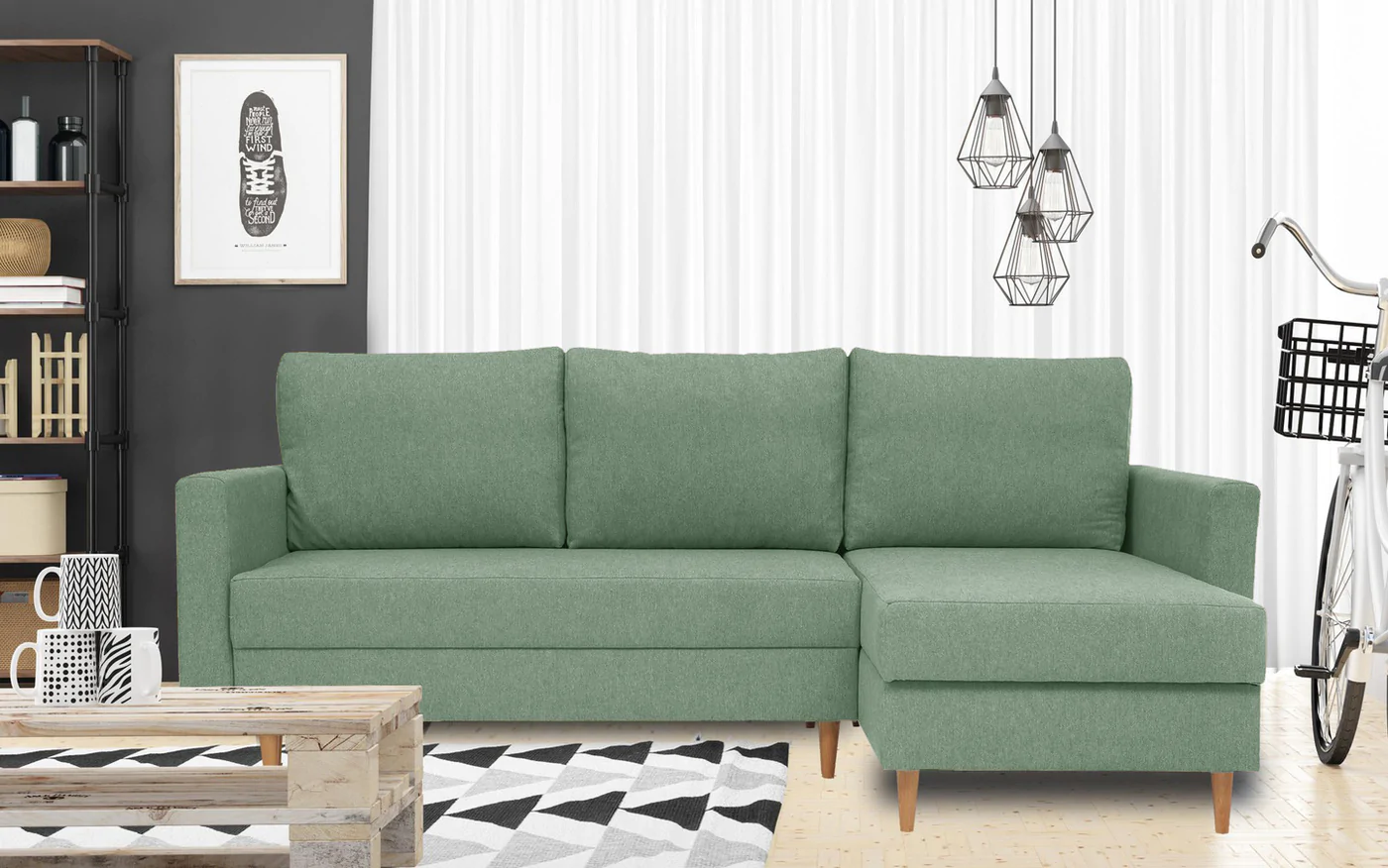 Image Source: sm-sofas.co.uk
Corner sofa seats usually provide a way for more space by leaving the main walkway in the room free. Besides, it's the ideal option for accommodating larger families. Also, this type 0f sofa sets are ideal for small living rooms and are a great option for freeing up space to walk through.
3. Sofa Bed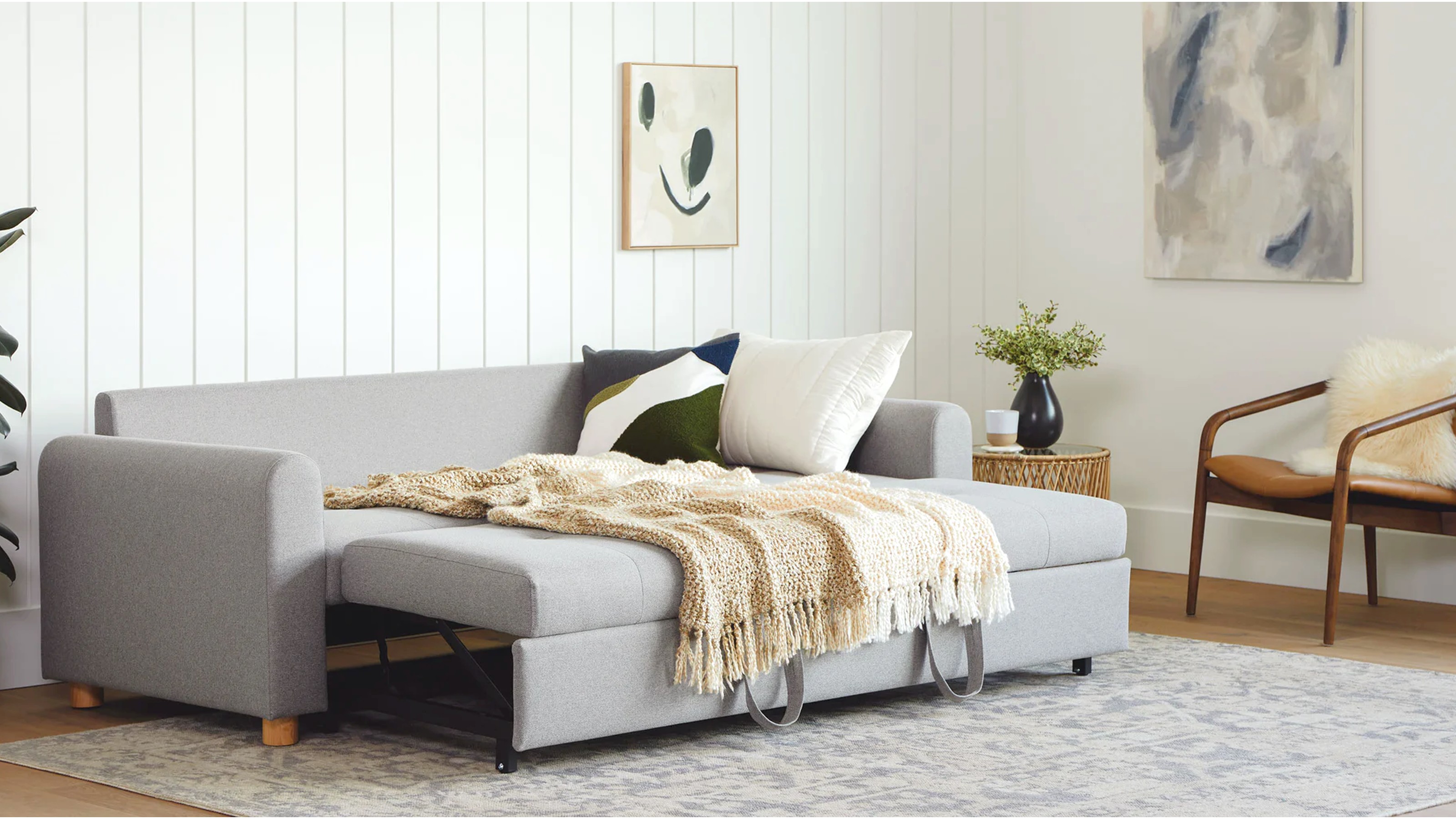 Image Source: realhomes.com
Sofa beds (also known as divans) can be of different types. Not all of these sofa designs need opening from beneath. You can use these versatile types of sofa sets as a bed as well as a sofa. This usually helps maximize your space and unwind into bed at night with the same furniture.
4. Recliner Sofa Sets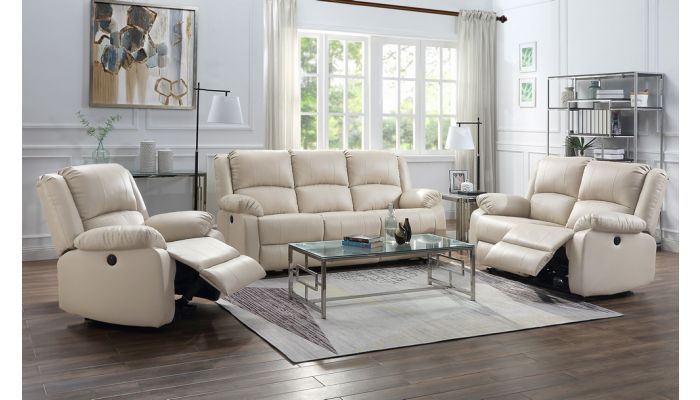 Image Source: furniturestorelosangeles.com
Recliner sofa sets are one of the most inviting seats in a house. The sofa seats are also very comfortable, making them ideal for a nice evening of unwinding. Besides, recliner sofas are perfect for handicapped and disabled people. There are two types of this furniture; manual and automatic ones.
5. Ottoman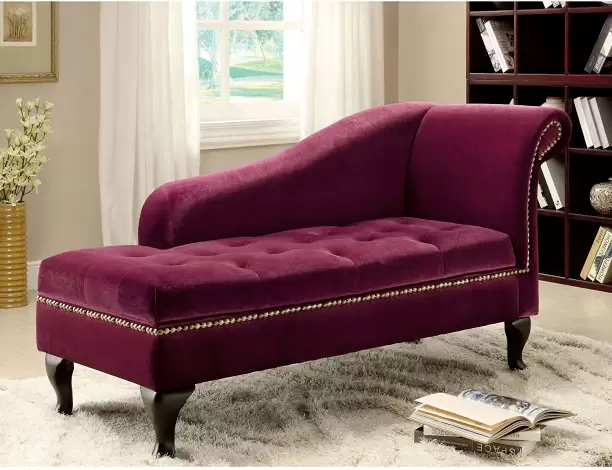 Image Source: flipkart.com
An ottoman is commonly used as a footrest. You can set it near your sofa seat to lift your legs while watching your favorite shows. Alternatively, you can sit on it like it's another small sofa without the recliner. Besides, this is a great accent to your hall couch set.
6. Armchairs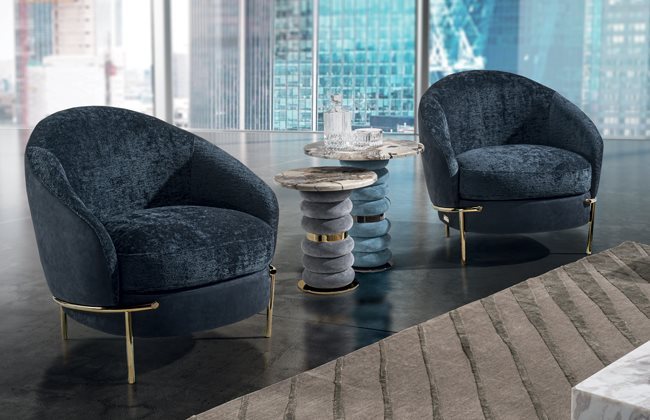 Image Source: longhi.it
Armchairs are often placed in the living room corner. For example, you can design a reading corner in your living room andadd this furniture.Besides, you can put a small end table there. In addition, the background of your bookrack will enhance the entire corner.
7. Tuxedo Sofas
Image Source: gammarr.com
Tuxedo sofas (also known as straight backs) usually have a backrest that's the same height as the armrest. They also feature a trendy minimalistic design. This hall sofa set is available in various materials, but we recommend using leather. It looks strong, bold, and makes a statement. Besides, if you want a modern sofa design, you can go for tuxedo sofas.
8. L-type Sofa Set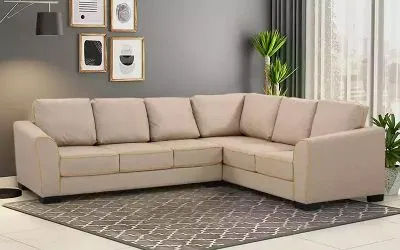 Image Source: royaloakindia.com
You can use the L-type sofa seat for the living area, hall, etc. The design usually takes up less space and provides more space to decorate your home's interior. Besides, the sofa seat is ideal for small and large living spaces. One L-type sofa set design is enough for small areas.
9. Camel Back Sofas
Image Source: goldenleaffurniture.ca
The camelback sofa design is one of the most elegant sofa seats. It usually exudes a royal essence, and the design amply justifies the statement. If you have a spacious room, you can use this unit as an extra seater in a corner.
10. Chaise lounge
A chaise lounge is a sectional sofa with a deeper cushion than most sofas. It's designed to allow stretching out of legs while sitting upright. Besides, this sofa is one of the most common types of sectional couches. It's suitable for use on either side of the sectional.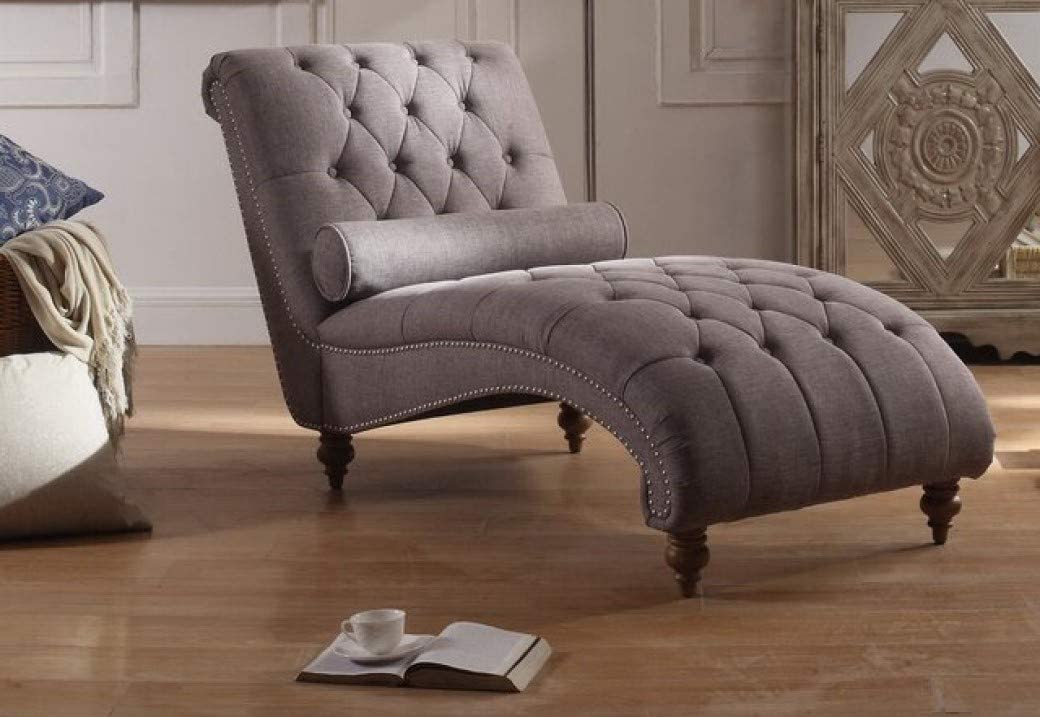 Image Source: reclinerland.com
Furthermore, the sofa is ideal for reading or watching television while reclining. You can add it to the end of a regular couch to create a great sectional feel in a small room. Besides, you will like how comfortable it looks compared to a traditional sofa and the ability to recline with your feet up.
11. Loveseat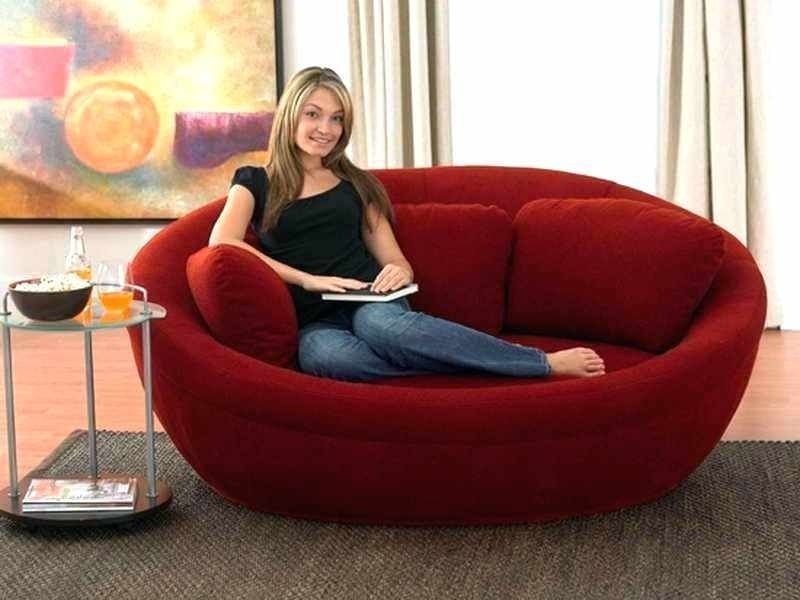 Image Source: foter.com
When it comes to small-space sofa sets, a loveseat is the best option. This is because the designs are often simple with a strong sense of style. Therefore, they are the perfect sofa set for small living spaces that convey elegance and comfort. Furthermore, a loveseat is often a 2- or 3-seater smaller than a conventional sofa. Consequently, its sleek style makes the living space cozier and more spacious.
Frequently Asked Questions on Parts of a Sofa
1. What's the bottom section of a sofa called?
The bottom section of a sofa is referred to as the plinth base. It's a box-like base commonly found on modern sofas instead of traditional legs.
2. How do I stop a sofa set from sagging?
With webbing, you can effectively stop your sofa from sagging. This involves weaving synthetic material strips and attaching them to the couch frame. High-quality sofa sets feature a foam filling on a webbing base, which always springs back into shape.
3. What's the difference between a settee and a sofa?
Nowadays, there is no difference between a settee and a sofa, and many people use the words interchangeably. If you live in the north of England, you will probably hear the term settee more often, but it's been mostly replaced by sofas in recent years.
4. What is the material used to fill a sofa cushion?
Sofa cushions are often filled with foam, feathers, or both. Feathers are soft, fluffy, and insulating. On the other hand, foam is low-maintenance, retains shape, and offers adequate support. Besides, the cushions feature a ticking inner lining, a tightly woven fabric that prevents small feathers from poking through the sofa cushions.
5. What do you call the cushions on a sofa?
Throw pillows; although they are often used on sofas or armchairs, they are also used on day beds, beds, and floors.Throw pillows usually serve an aesthetic and a functional purpose.
Featured Image Source: livingcozy.com