Do you want to give your bathroom walls a fresh coat of paint? With the best paint for bathroom walls, you can transform your bathroom into a tranquil spa experience or a vibrant space to start your day. I know what you're thinking. What difference does it make in the paint you use on the bathroom walls?
Well, the bathroom can be a really demanding environment. Humidity, moisture, and accidental water splashes can cause damage to the wrong type of paint and finishes. With that in mind, let's check out the best paint for bathroom walls.
The Best Paint for Bathroom Walls
1. Eggshell, Matte, or Flat Paint
Professional painters usually recommend against using flat, matte, or eggshell paints in humid environments like bathrooms because they are easily prone to mildew. They are also hard to clean than other options, which is especially crucial in a bathroom.
Image Source: homedepot.com
However, some manufacturers make high-end eggshell or matte paints that are moisture-resistant and can be used in these high-humidity environments. Besides, matte walls add a soft dimension to a smooth, glossy room, giving it a luxurious, designer aesthetic.
These advantages and disadvantages relate to regular flat paint finishes, with the eggshell finish being more durable than matte finishes.
2. High-Gloss or Semi-Gloss Paint
High gloss is usually easy to clean, the most durable, and moisture- and mold-resistant. However, that does not always make it the best paint for bathrooms. High-gloss paints are perfect for bathroom doors, vanity cabinet drawers, and window frames.
Image Source: bestglitterpaintforwalls.com
Semi-gloss paints share the qualities of high gloss, though on a less extreme level, which is why they're a popular choice for painting bathroom walls.
3. Oil Paint or Latex Paint
We recommend water-based latex paints for your bathroom. However, oil-based paints have a reputation for durability and resistance to scrubbing. Oil paints also require mineral spirits for cleanup, dry slowly between layers, and have the potential to fade over time.
Image Source: thespruce.com
Latex paints for bathrooms offer much-improved moisture resistance and durability. The good thing about water-based latex paints is that they have a tighter molecular structure that does not allow water to penetrate, so you can scrub away residue and stains without worrying about damaging the paint finish.
4. Satin Paint
Satin usually sits between gloss and eggshell paints. It forms a thin layer of protection, making cleanup easier than with no-sheen paints. It's no surprise that satin finishes are often used for bathroom walls because they are durable and moisture-resistant without being excessively glossy. This is the best paint option if you're looking for a softer-than-gloss texture on your bathroom walls.
Image Source: thedecoratorsforum.com
The Best Type of Paint for Bathrooms
1. Waterproof Paint Over the Tile
Waterproof paint over tile is a cost-effective way to update the look of your tiled bathroom walls without tearing them up and starting over. The waterproof paint needs to have a high bond to adhere to the tile. Besides, it should adhere to surfaces resistant to coatings, creating a solid bond for any topcoat (including solvent-based paint and epoxies).
Image Source: homedit.com
Water-based epoxy paint, such as Rust-Oleum Specialty Tub & Tile Spray Paint, 28882, is a durable, water-resistant product used on bath surrounds and shower stalls.
2. Bathroom Primers
Priming is the first and most critical step in most paint projects. Before priming, we recommend cleaning and lightly sanding the bathroom walls to de-gloss the surface.
The right primer for the bathroom performs several essential functions:
It helps to ensure proper adhesion.
Enhances paint durability
Blocks moisture from penetrating porous surfaces
It provides an even undercoat for the paint to stick to.
Blocks stains and spills from bleeding through;
It covers dark colors.
Paint manufacturers are producing paint and primers in one. Though this concept is great, the result may not be as promising. We recommend priming your bathroom walls separately, especially from dark to light colors, or working with bare walls.
3. Mold and Mildew-Resistant Paint
Using paint with an antibacterial additive will create a bacterial barrier, preventing odor-causing fungus and existing mildew from growing.
Image Source: kilz.com
A mildew-resistant standout is Zinsser Mold Killing Primer, 276087. This high-performing water-based formula protects moisture-prone areas and prevents mold and mildew growth.
4. Moisture-Repellent Paint
Use moisture-resistant paint to protect bathroom walls and ceilings from splattering and splashing. Because of its high moisture tolerance and scrub ability, mold can be quickly and easily removed from any surface.
Things to Consider When Looking for the Best Paint for Bathroom Walls
1. Moisture and Humidity Resistance
When choosing paint for bathroom remodeling, consider its moisture and humidity resistance. Bathroom walls are usually exposed to high moisture levels from showers, steam, and humidity, which can cause damage and contribute to the growth of mold and mildew.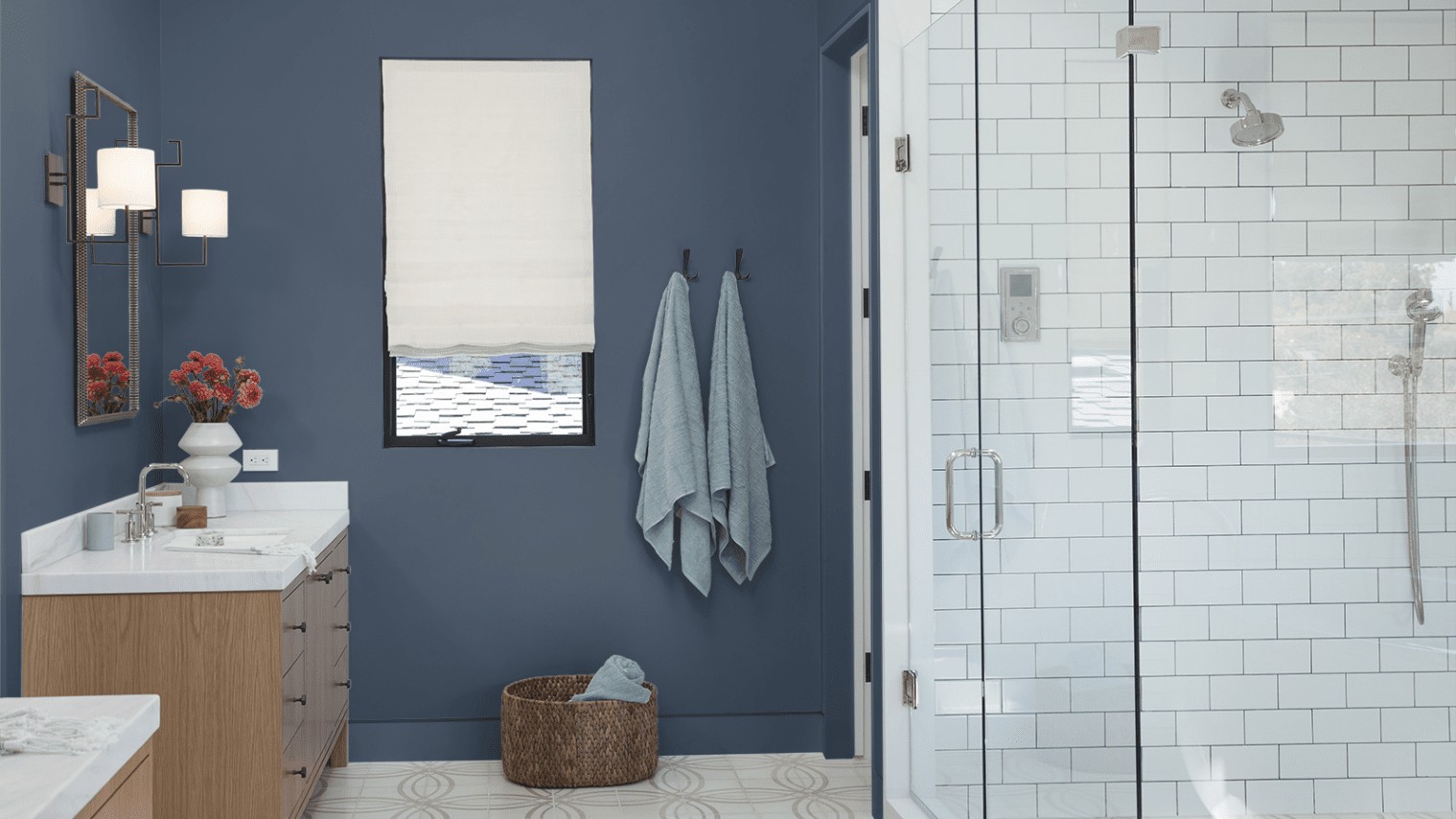 Image Source: decoratedlife.com
To ensure your paint can withstand these conditions, look for moisture-resistant paint formulated explicitly for moisture-prone areas. Water-based latex paints are a popular bathroom option because of their high moisture resistance. They form a protective barrier, preventing moisture from penetrating the walls and causing issues.
Conversely, you can go for mold-resistant pans, which include elements specifically designed to inhibit mold and mildew growth. These paints have antimicrobial properties that prevent mold development, even in humid environments.
2. Stain and Splash Resistance
Before buying the best paint for bathroom walls, consider its stain and splash resistance. Bathroom walls can be prone to stains and water splashes. We recommend using paints with stain-resistant properties, specifically designed to repel common bathroom stains such as soap scum, water spots, and toothpaste marks. These bathroom paints have a protective coating that makes it easier to wipe away stains and splashes and maintain a clean appearance.
3. Drying Time
Another factor to consider when looking for the best paint for bathrooms is the drying time since it determines how long you will need to wait before applying additional coats or using the bathroom again.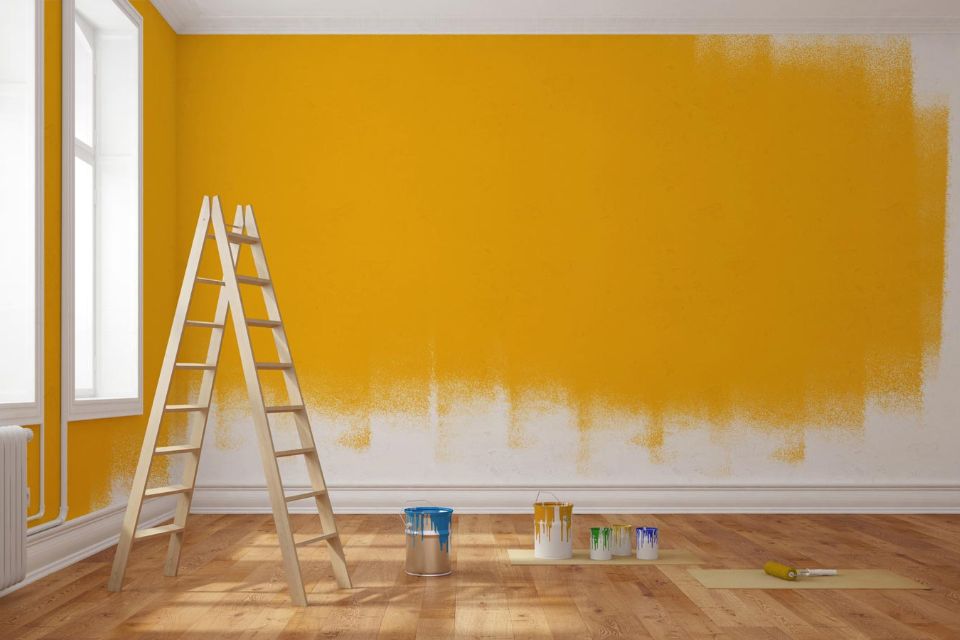 Image Source: homehow.co.uk
Quick-drying paints are preferable for bathroom walls since they allow you to return to your routine sooner. However, it's vital to strike a balance between drying time and the quality of the paint. While some bathroom paints dry quickly, others need longer curing times to reach their full durability and stain- and moisture-resistance potential.
4. Finishes
Different paint finishes usually have different levels of sheen and appearance. Besides, the finish determines the painted surface's gloss or sheen level, affecting the paint's functionality and aesthetic appeal in a bathroom setting.
We recommend satin or semi-gloss finishes for bathroom walls. These finishes usually offer a pleasing aesthetic and better moisture resistance. They are easier to clean than flat or matte finishes.
5. Durability and Longevity
Bathrooms are high-traffic areas often exposed to moisture and general wear and tear. Besides, bathroom walls are subject to frequent cleaning and splashes. We recommend using durable paints that can withstand regular cleaning without peeling or fading. Paint with good durability will maintain its appearance and keep your walls protected for a long time.
What Are the Tips for Painting Bathroom Walls?
1. Ensure You Use High-Quality Tools
Although it looks simple, choosing high-quality tools is the easiest way to enhance the finish you can achieve. The quality of your paintbrush, roller, and other tools usually greatly impacts the quality of the painting project.
Image Source: housedigest.com
When buying painting tools, we recommend getting the best you can afford. The difference in quality between cheap and good-quality tools is a huge plus in the scheme of a painting project; the price will be insignificant.
2. Ensure the Room is Dry.
Paint and moisture don't work well together; therefore, ensure the bathroom has enough time to dry off before painting it. If you don't do this, moisture will get trapped between the paint film and the wall and cause the paint to flake and peel.
3. Choose the Right Color
Bathrooms are usually smaller than other rooms and need a clean feel, which makes choosing the right color crucial. For instance, you can use white, light gray, or blue colors to create light in your small bathroom.
Image Source: roca.com
If your bathroom is larger, you can use darker tones, such as black or anthracite gray, to create an ultra-modern look.
4. Remove Your Toilet Tank.
Toilet tanks can make it hard to paint a bathroom wall perfectly. We, therefore, recommend removing it as with any fitting, such as light fixtures, to get the best results.
5. Masking
Compared to other rooms, a bathroom cannot be cleared of every fitting when painting. Therefore, it's important to mask and cover anything you don't want to be painted before you start. This will simplify tidying up and ensure a nice, polished finish.
Furthermore, we recommend masking yourself when painting to protect your health and ensure your safety as a painter.
Frequently Asked Questions on the Best Paint for Bathroom Walls
1. Which Paint is Recommended for Bathroom Walls?
Paint with a satin, semi-gloss, or glossy finish with a mildew-resistant component is ideal for bathroom walls. The paint you choose should last well over time. But if you're dead set on a flat or matte finish, you have options too. Remember to clean and prime the bathroom walls before painting for the best results.
2. Does a Bathroom Wall Need Special Paint?
Yes, your bathroom walls need specialty mold- and mildew-resistant paint. Also, ensure your bathroom is well-ventilated. A modern-formulated paint like satin or acrylic eggshell finish paint is what you need for your bathroom walls.
3. What is the Ideal Paint for a Bathroom with High Humidity?
We recommend a semi-gloss or satin-finish paint. Paints with a glossy sheen, like semi-gloss or satin, are ideal for humid rooms. Unlike matte or eggshell finishes, they deflect moisture instead of absorbing it. Besides, glossy paints are more water-resistant due to their durable finish.
4. Should Bathroom Paint be Flat or Glossy?
Usually, the shinier the bathroom sheen, the better it resists moisture and is easier to clean. We recommend using a semi-gloss in bathrooms since it virtually resists moisture. On the other hand, we recommend satin and eggshell sheens for bathrooms without much usages, such as guest bathrooms or powder rooms.
5. Can I Use Regular Paint on a Bathroom Wall?
You can use almost any paint on bathroom walls and woodwork. Anti-mold paints usually prevent the growth of mold. You can make a paint anti-fungal by adding speciality components. Any bathroom has a higher possibility of moisture and should be treated with extra precautions.
6. What is the Main Difference Between Bathroom Paint and Wall Paint?
Bathroom paints usually have moisture-resistant properties, so moisture and water cannot be absorbed. Using regular paint in a bathroom without special primer products to reduce mold growth can lead to peeling, blistering, paint decomposition, and bubbles. It's also worth mentioning that bathroom paint often has higher levels of mildewcide, a chemical that inhibits mildew growth.