Renaissance architecture sits right in between Gothic architecture and Baroque architecture. It emerged in 1400, with the chief architect being Filippo Brunelleschi, and Michelangelo was another key player in the movement.
When the Florence cathedral's dome was being built, there was a dilemma over which Renaissance architect to employ. According to Giorgio Vasari, another legend in the renaissance movement, Filippo won the contract due to his ingenuity. Filippo suggested that the winner should make an egg to stand on its end. The others tried but were unsuccessful. Filippo broke the egg and made it stand, causing the other Italian architects to be disgruntled.
His response? If he had informed them of his plans, they would have been the ones to build the dome. This was a shrewd elimination method. This amusing anecdote amplifies what architecture exemplifies; any design could be a masterpiece as long as it is showcased with pride.
Anyway, now that you've got a brief peek into the man behind Renaissance architecture, it's time to understand what it means in the first place.
Image Credits: mymodernmet.com
What Is Renaissance Architecture?
Renaissance architecture emerged in Florence, Italy, between the 14th and 17th centuries. It featured revived classical architecture, such as domes, columns, and arches. Renaissance actually means 'revival,' meaning that the styles used are not original ideas but improved ones from ancient Greek and Roman architecture.
Image Credits:viator.com
Italian Renaissance architecture spread to the rest of Europe within the next two centuries in different degrees and forms. Therefore, you can find a cathedral built in Florence using this architecture and another in Valencia using the same architecture but with obvious physical differences.
The Renaissance period was divided into three eras:
Early Renaissance architecture (from 1400)
High Renaissance architecture (from 1500)
Late Renaissance architecture (from 1520)
Characteristics of Renaissance Architecture
Like preceding and succeeding architectural styles, some distinct features set renaissance architecture apart. So, if you're vacationing in Europe, you can identify the structures using the following characteristics:
1) Symmetry and Proportion
Symmetry is beautiful, simple, and harmonious. Further, it proved economical as it involved the use of simple shapes and designs compared to the more complicated Gothic style.
Image Credits: smarthistory.com
Renaissance architecture displayed symmetry and proportion in:
Evenly spaced-out windows
Columns that progress toward the center
Precise ratios of height and width
Image Credits: unsplash.com
Leonardo da Vinci, an artist during the Renaissance period, held this thought about symmetry:
"If nature, God's creation, is mathematical, proportionate, and symmetrical, then man-made creations ought to be so too."
2) Geometrical Shapes
The purpose of using geometrical shapes is two-fold. One, it maximizes the available space and ensures a sturdy foundation. Additionally, since the height of a building is directly proportional to its foundation, buildings with geometrical shapes have a higher probability of having more stories and going higher.
Image Credits: delightfullyitaly.com
In the Renaissance period, the architectural style was heavily mathematical and involved the use of squares, circles, and linear perspectives.
3) Use of Space and Light
Renaissance architects intended to flood spaces with light yet somehow obscure its source. This creates a sense of grandeur and peace, two seemingly conflicting qualities.
Image Credits: mymodernmet.com
For instance, the famed St. Peter's Basilica in Rome features a dome, which contributes to the magnificence of the building while still allowing a splash of light. Columns and arches were also used to deepen light and make it seem to have volume, so to speak.
4) Revival of Classical Themes
As with most other careers at the time, renaissance architects looked to ancient Roman and Greek styles for inspiration. Classical ideals of harmony, symmetry, and proportion had to feature in their designs.
Moreover, the new style had to differ from the previous Gothic style. Still, classical elements such as columns and pediments featured heavily in Renaissance architecture.
Notable Examples of Renaissance Architecture
1) St. Peter's Basilica, Rome
St. Peter's Basilica is one of the most popular Christian buildings and one of the largest churches in the world by internal measurements. It is located in Vatican City, Rome, Italy. Its construction began in 1506 and ended in 1626, within the Renaissance period.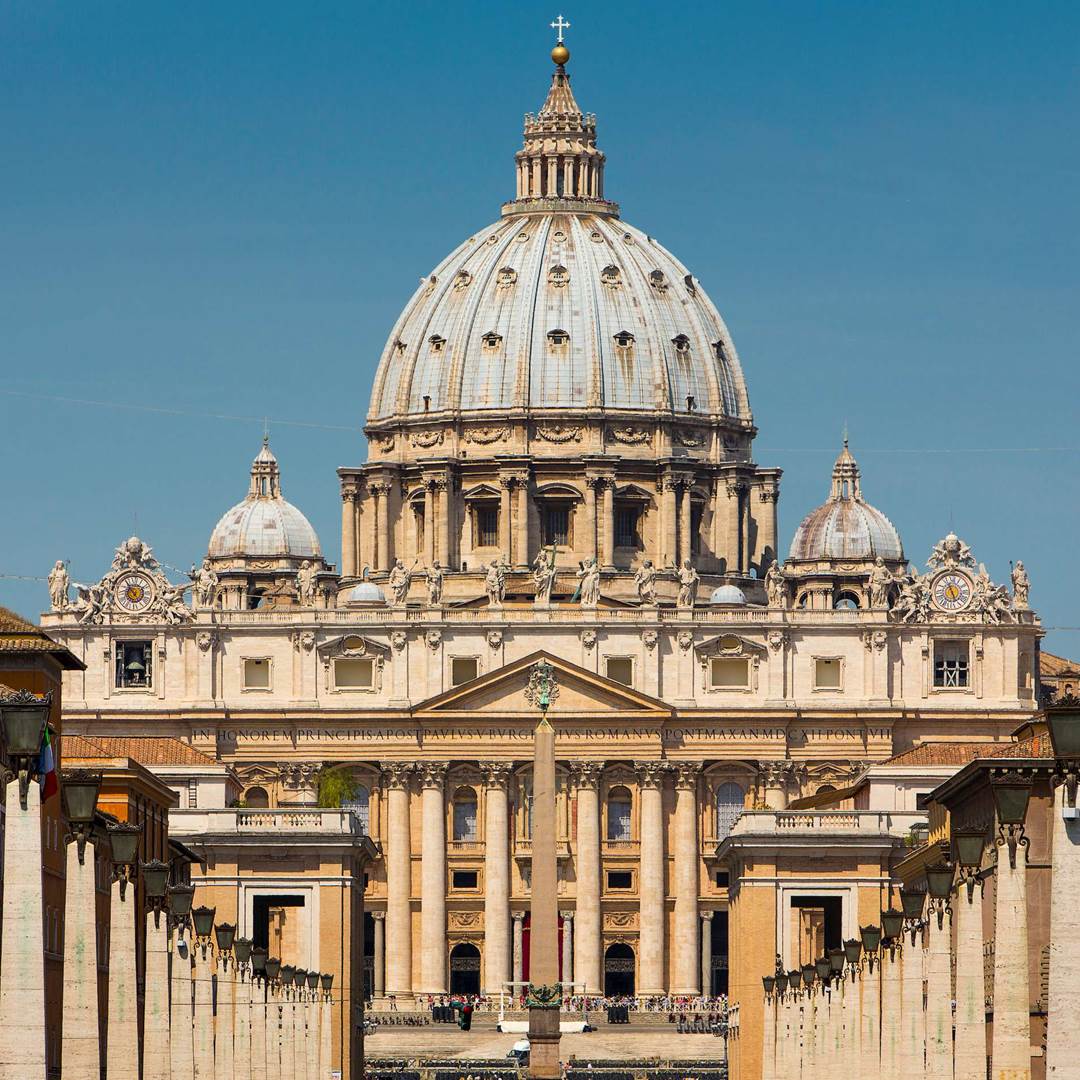 Image Credits: trainline.com
It is the most celebrated work in Renaissance architecture, built by famous architects and designed by popular artists such as Michelangelo, Raphael, and Donato Bramante. It is also known as the Basilica Papale di San Pietro.
It uses both Renaissance and Baroque architectural styles and is modeled after the Roman pantheon seen below.
Image Credits: getyourguide.com
The church is made out of travertine stone. It hosts the Pieta by Michelangelo, a marble statue depicting Mary (the mother of Jesus) holding his dead body before being placed in the tomb.
Bramante, the original designer, intended that the building be shaped as a cross, with a dome supported on four large piers instead of a circular wall. But he died in 1514, just eight years after the commissioning, so different architects took over the project.
Michelangelo designed the dome, which stands 136.6 meters high. He also used four pendentives to increase the stability of the building.
2) Basilica di San Lorenzo, Florence
Also known as the Basilica of St. Lawrence, this is one of Florence's largest and oldest churches. It is a parish church and, consequently, the burial site for most members of the Medici family.
Image Credits: theflorentine.net
Filippo Brunelleschi was the architect in charge of its building, but it was completed after his death due to insufficient funds and changes in design. The wealthy Medici family took over the expenses, and Antonio Manetti finished the construction.
Image Credits: european-traveler.com
The ratio between the nave and aisle was 2:1, and the arches and Corinthian columns were symmetrical. Inside, the basilica is shaped like a Latin cross.
Michelangelo designed an outer facade made out of white Carrara marble. The facade was intended to model the ideal proportions of the human body. However, this remains unbuilt and largely contributes to the sober physical appearance of the basilica.
3) San Pietro, Montorio
Also called Saint Peter on the Golden Mountain, this church in Montorio, Rome, was built by Donato Bramante. Presumably, this is where Saint Peter was crucified. King Ferdinand commissioned it, and its groundbreaking was in 1481.
It housed Raphael's final masterpiece, the Transfiguration, until 1797. It also holds other prominent frescos in renaissance art.
Its design is unique. Being a rectangular church, a tempietto sits in the middle, which is a smaller, circular temple. While this serves no functional purpose, it works to exemplify the aesthetics and is a show of architectural mastery. Its niches and pilasters are also perfectly spaced.
Image Credits: romeing.com
4) Palazzo Rucellai
Not all renaissance buildings were churches; the Palazzo Rucellai is an exception. It is a palatial townhouse owned by Giovanni di Paolo Rucellai. Plus, Battista Alberti designed it.
Image Credits: smarthistory.com
It had four floors, the first being for business, as the Rucellai family were bankers. The second floor was the guest reception room (also called the piano nobile), and the third was the family's private chambers and bedrooms. The fourth was a hidden floor, quite invisible from the outside, but housing the servants.
Image Credits: arsartisticadventureofmankind.wordpress.com
5) Palazzo Medici Riccardi
Another Florentine residential building, the Palazzo Medici Riccardi, housed the powerful Medici family. It is considered the renaissance's birthplace. It was designed by Michelozzo di Bartolomeo.
Image Credits: florencechoral.com
The Renaissance building has a unique tripartite elevation, which might seem like it is actually taller than it is. Each floor is designed differently as well. The kneeling windows by Michelangelo are one of the most prominent features of the Palazzo.
Cosimo de Medici commissioned the project. He intended for the palace to be built from scratch, unlike other houses which were built from what was present. He also wanted the exterior to be simple, to create a facade that there wasn't much wealth to be displayed.
Image Credits: magentaflorence.com
6) Florence Cathedral
It is the cathedral of Florence and also goes by Cattedrale di Santa Maria del Fiore or the 'Cathedral of Saint Mary of the Flower' in English. The cathedral was built in 1296 during the Gothic period, and Filippo Brunelleschi engineered the dome.
Image Credit: mymodernmet.com
The cathedral has six windows, with only four allowing light (the ones closest to the transept), and the other two are ornamental.
The David by Michelangelo could not be placed in the cathedral because it weighed 6 tons. However, a replica was placed in 2010 for a day.
7) Château de Chambord
This is an example of French Renaissance architecture, combining traditional medieval styles and classical ones. It was constructed by Francis I, the king of France, but was never completed.
Image Credits: ft.com
The Château has an open double-spiral staircase. It is believed that Leonardo da Vinci might have been the one who designed the staircase. In fact, the Mona Lisa and Venus de Milo were once stored here before the outbreak of World War II to keep them safe.
Image Credits: countrylife.co.uk
It remains one of the French's most notable examples of its architectural history and has been used for marketing purposes, such as chocolates.
8) Hospital of Innocents
Also known as the Ospedale degli Innocenti in the Italian-Tuscan dialect, this is the only hospital on our list. Designed by Filippo Brunelleschi and located in Florence, Italy, the hospital was originally a children's orphanage.
Image Credits: tuscany.co
It blended late Gothic, Classical Roman, and Italian Romanesque architecture.
9) Palace of Charles V
Situated in Granada, southern Spain, the Palace of Charles V remained without a roof until 1636. Still, there has never been a monarch who has lived in the palace. Pedro Machuca, a protege of Michelangelo, designed it.
Image Credits: lovegranada.com
It merged the Renaissance and Plateresque styles of construction. It had an inner circular patio, which was unheard of in renaissance architecture.
Nowadays, the upper floor hosts the Fine Arts Museum of Granada, while the ground floor is the Alhambra Museum.
10) Sistine Chapel
It is a chapel located in the official residence of the pope, called the Apostolic Palace. The Sistine Chapel is famous for its impressive collection of Renaissance art painted by the world's most popular artists.
For instance, Michelangelo designed the ceiling, and he did this so passionately that it is believed to have permanently damaged his vision. The chapel also contains the Drunkenness of Noah, the Separation of Light from Darkness, and the Last Judgment, some of the most famous artworks in the Renaissance movement.
Image Credits: thoughtco.com
It is believed that the dimensions of the Sistine Chapel are similar to those of Solomon's Temple in Jerusalem. The Sistine Chapel is monumental in Catholicism, as it is where the cardinals' voting status is broadcast when they select the next pope.
11) Olympic Theater (Teatro Olimpico)
This was Andrea Palladio's final design and is found in Vicenza, northern Italy. In fact, it was completed after his death but remains one of his greatest masterpieces.

Image Credits: theatreartlife.com
Vincenza was his hometown, and he returned home with years of expertise in Roman architecture. It is believed that Palladio had more understanding of classic theatre architectural history than any other person at the time.
Image Credits: theatreartlife.com
12) Villa la Rotonda
Just outside Vincenza, Villa la Rotunda was designed by Andrea Palladio. It was a country house built by a priest as his retirement home in 1565. Palladio, the architect, intended for the building to be more of a palazzo than a villa.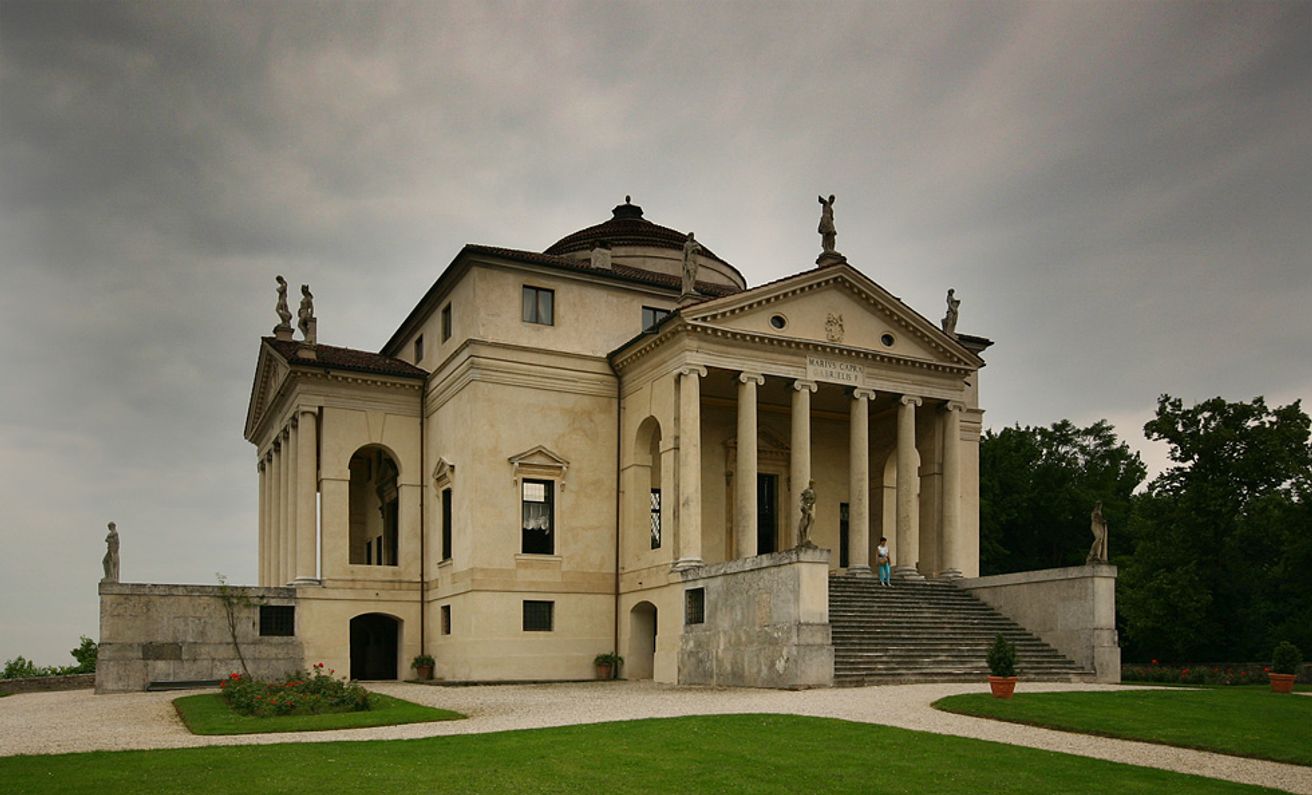 Image Credits: architectuul.com
Rotonda is derived from 'rotunda,' which is a building with a circular floor and a dome (not always). However, the floor plan of the villa is square-based. Still, the circle is considered to be imaginary, and it touches each corner of the building.
Image Credits: pinterest.com
13) Sforzesco Castle (Castello Sforzesco)
This castle in Milan was built in the 15th century by Francesco Sforza of the House of Sforza. Leonardo da Vinci was hired to fresco some rooms in the castle. Bramante also did some frescoes.
Image Credits: wheremilan.com
14) Antwerp City Hall (Stadhuis)
Located in the city of Antwerp, Belgium, this City Hall was built between 1561 and 1565. Antwerp was a small town, yet it bustled with trading activities. In fact, it was one of the most prosperous cities in Northern Europe.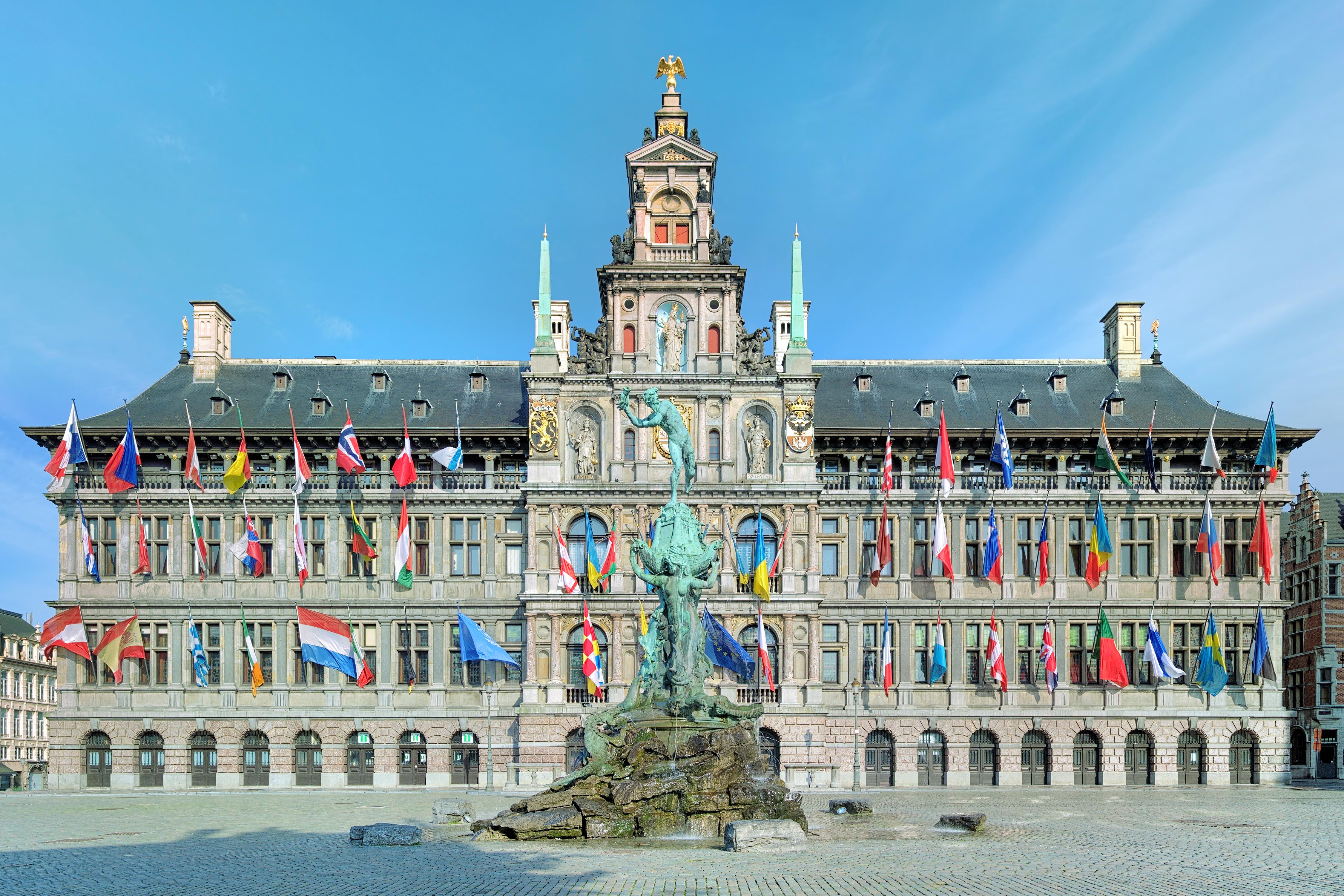 Image Credits: trip.com
The project would have been built using Gothic elements of style, but due to threats of war, it was postponed until the Renaissance architecture was beginning.
Conclusion
Renaissance architecture was a major turning point in the history of architecture and continues to shape the modern architecture. It created a new way for architects to be creative yet functional. Numerous European buildings still maintain Renaissance themes and can be identified from miles away.