When pruning woody branches and undergrowth, you can either use a pruning saw or a pruning shear. You will need long-handled pruning shears when pruning branches over 1 inch in diameter. This will prevent the branches from breaking.
On the other hand, the work will be tedious if you use a pruning saw. Long-handled pruning shears are also referred to as loppers. Loppers can snap thick twigs that require more leverage than a regular pruner can. With the best pair of long-handled pruning shears, trimming trees and shrubs and clearing away heavy growth is easy.
They have long handles that let you reach high, giving you the leverage to remove thicker branches. This and other roles make loppers one of the most important additions to your gardening tools.
It is important to note that long-handled pruning shears are available in various styles, sizes, and prices. The ideal one depends on the kind of task at hand. It is vital that you know how to choose one that suits your needs.
Hence, this guide will show you how to narrow your search to the most appropriate pair of loppers for the job.
Types of Long-Handled Pruning Shears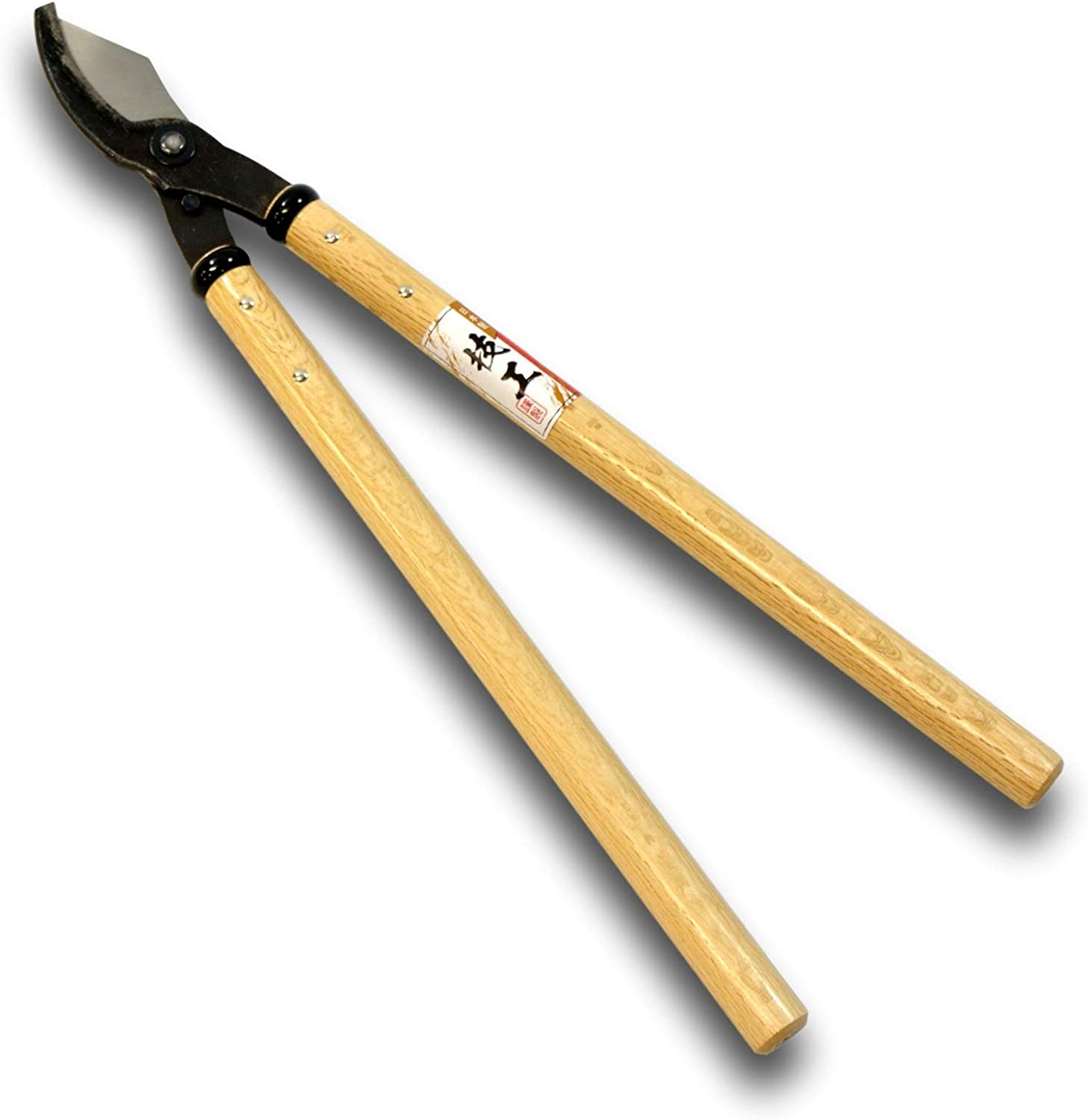 Image Credits: Cenbel.en.made-in-china.com
The two basic types of long-handled pruning shears are bypass and anvil pruning shears. You choose the most appropriate depending on what task you have at hand, whether dead or live wood. Both types have long handles allowing you to access branches that are too high while transferring the force you impart to the blade of the shear's head.
The mechanism creates great power, making these long-handled shears cut through much thicker and tougher branches than hand pruners.
1. Bypass long-handled shears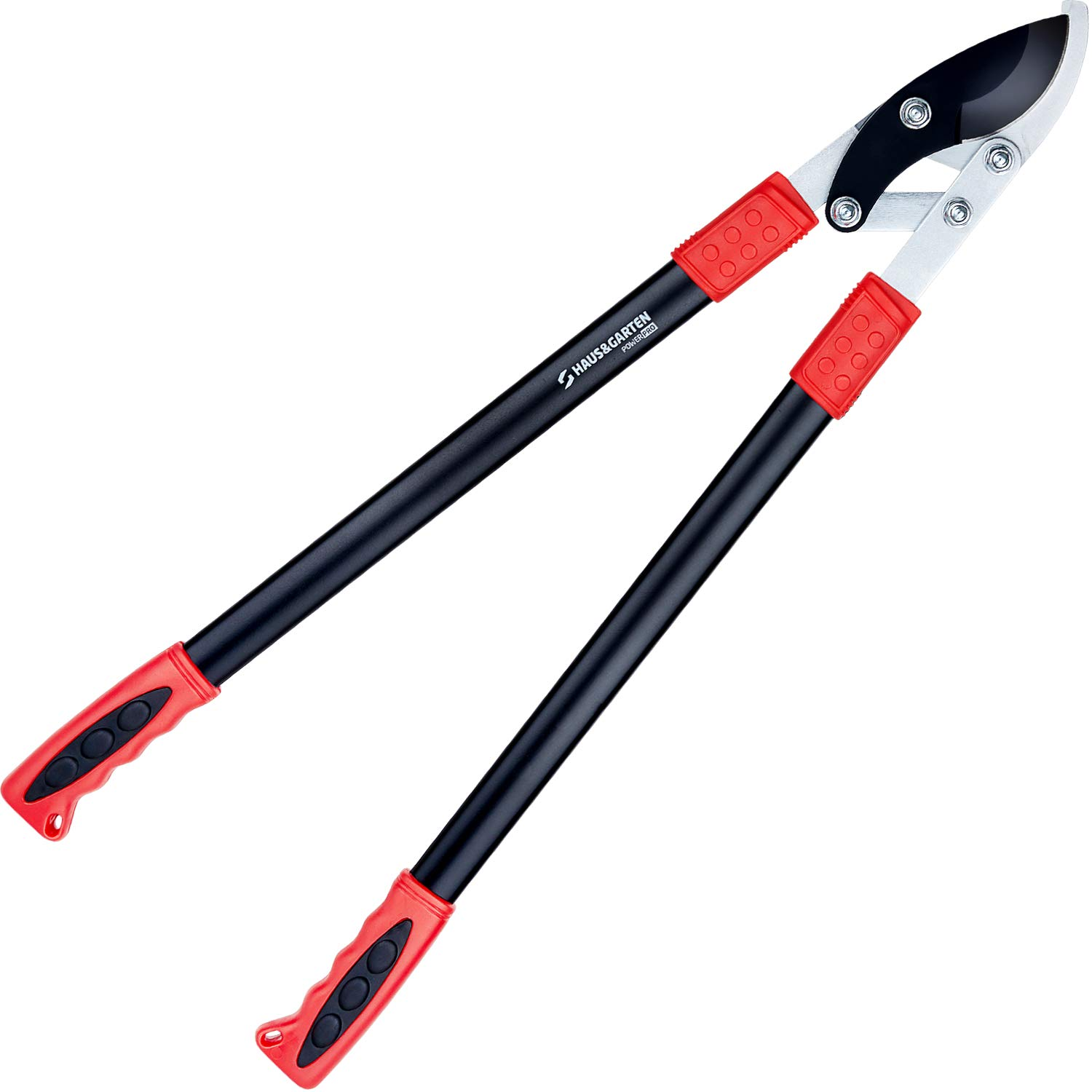 Image Credits: Amazon.com
The blades of the bypass lopper work the same as that of scissors. When you cut a brunch, the two blades pass each other, making a clean cut. When pruning green vegetation, you need these kinds of pruners because the cuts they create leave less surface area and reduce the risk of infections and contamination.
The clean cuts the bypass loppers produce are also neater and more aesthetically than those created by anvil loppers. The bypass loppers can cut closer to existing branches without touching unintended parts. Professional arborists prefer using the ARS bypass lopper for their daily use.
These loppers come with durable, ultra-sharp cutting blades that only produce clean cuts. This lopper is also light weight aluminum handles and well-designed grips that minimize hand fatigue. This means you can work comfortably for long hours.
2. Anvil long-handled pruning shears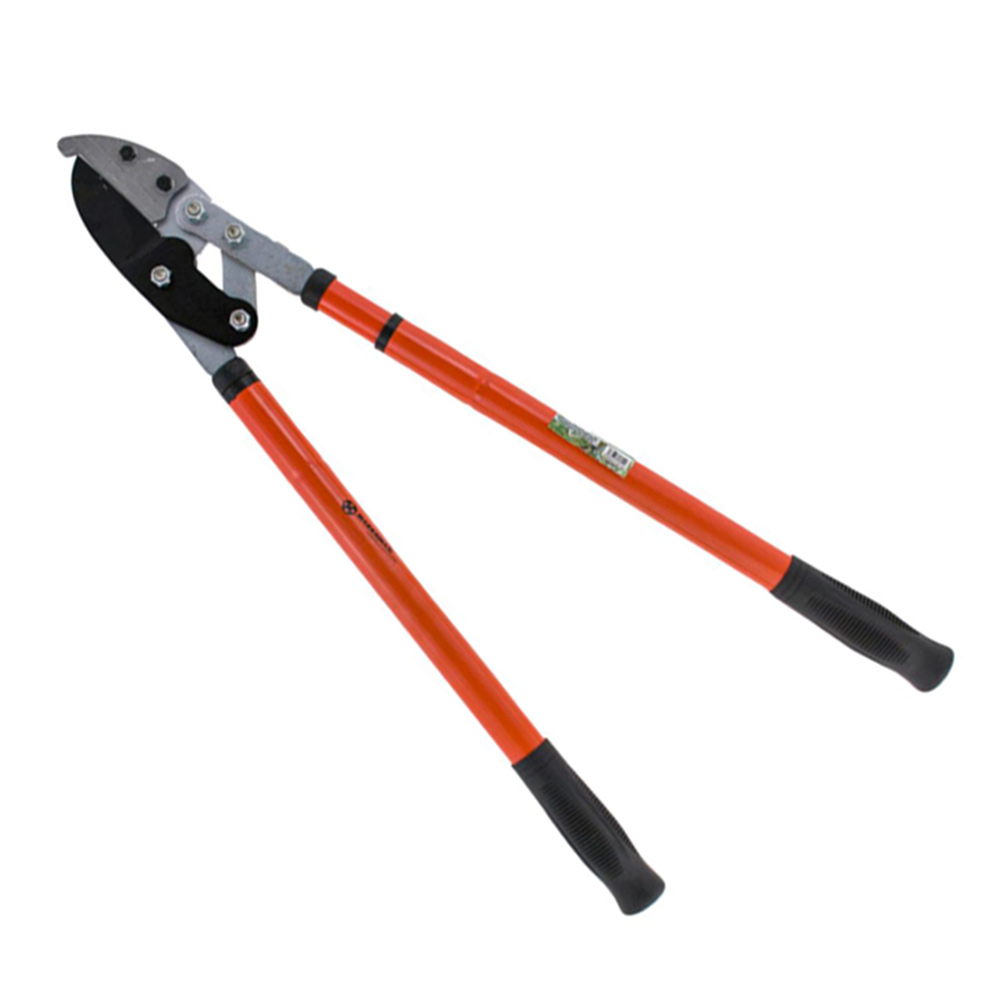 Image Credits: Prontodirect.co.uk
The anvil long hand pruning shears have only one blade. This blade presses against a flat surface underneath. Pruners of this kind operate much like a knife cutting through beef on a chopping board compared to the scissoring action of bypass pruning shears. The result is a crushing action, although it is a quick and efficient way of ridding dead branches and unwanted vegetation.
In the same breath, expert arborists recommend using the ARS LPA 30L Anvil lopper. This Japan-designed anvil lopper has a forged cutting blade and an aluminum counter blade. It also has lightweight handles and ergonomic hand grips that guarantee the comfort when working long hours.
Top 7 Best Long-Handled Pruning shears to Buy 2023
1. Tabor Tools Bypass Lopper
TABOR TOOLS GG11A Bypass Lopper with Compound Action,...
DELIVERS ⌀ 1 3/4" CLEAN CUTS effortlessly. This extraordinary...
The SHARP HARDENED CARBON STEEL BLADES will stay sharp, even...
COMFORT GRIP AND EXTRA LEVERAGE. This 30" model will allow you...
COMPOUND ACTION SYSTEM: The compound lever system with multiple...
ORDER WITH CONFIDENCE. We at TABOR TOOLS stand behind our...
When planning to prune your trees, all you want to think of is a pair of reliable tree loppers. The Tabor bypass lopper delivers fast and precise clean cuts, helping you preserve the health of your plants and trees. This shear has a compound action mechanism that triples the power of its action, making pruning incredibly easy.
Image credits: Store.tabortools.com
Its compound lever system has multiple pivot points and moving parts that increase the force applied to the blades. This balanced and powerful tool has sharp hardened carbon steel blades that stay sharp even after heavy use. The gliding blades are coated with a low-friction non-stick coat that makes even the elderly harder have a joyful experience.
The ergonomically designed handles offer optimal grip, while the anti-shock rubber grips on the handles provide extra comfort.
2. Melnor 84760-IN Telescoping Bypass Lopper
Sale
These telescopic bypass long-handled pruning shears allow you to keep the handles at 28 inches when working on branches not so far from you. You also can extend the handles up to 37 inches if the branches to prune are higher.
Its cutting capacity, however, is impressive because it can cut thick branches up to 2 inches around. The majority of other long-handled pruning shears cannot do this.
Image Credits: Turbro.com
The pruning shear comes with a pair of hand pruners, and you can get the entire unit for not more than $30. Both tools are also backed by a lifetime warranty by the manufacturer. Most buyers prefer the Melnor 84770-IN because it is lightweight and comfortable on two hands. The bypass pruning shears weigh only 3.34 lbs.
3. Fiskars 28-Inch Bypass Lopper
Sale
Fiskars 28" Steel Blade Garden Bypass Lopper and Tree...
IDEAL BRANCH TRIMMER: 28" Steel blade garden bypass lopper that...
MAXIMUM POWER AND PRECISION: Low-friction blade coating makes...
LONG-LASTING AND RELIABLE: Steel blades stay sharp through heavy...
QUALITY GARDEN TOOLS: Designed to help you cultivate a better...
INCLUDES: 1 Fiskars Manual Bypass Lopper measuring 28" long;...
If you want a long-handled pruning shear without extendable handles, then the 28-inch bypass pruning shear should be purchased in 2023. It has bypass-style blades that cut clearly when cutting soft greens. Its blades are sharp even after multiple cuts and are of high quality as they are made of hardened steel.
These blades do not rust and are corrosion-resistant, and come with a non-stick coating.
Image Credits: Walmart.com
The long-handled lopper also has ergonomic features such as thick and comfortable grips and a bumper between the handles for absorbing shock when making difficult cuts. It is also budget-friendly. The Fiskars 28 pruner is well-priced for the average home gardener and is backed by the manufacturer's lifetime warranty.
4. YARTTING Compound Action Lopper
The cutting mechanism of the Compound Action lopper from Yartting increases the pressure of the blades providing powerful cuts with less effort. The pivoting lever mechanism makes this long-handled pruning shear effortlessly cut through plants as big as 1.6 inches in diameter. You can use the lopper for long hours without fatiguing your arm and back.
Image Credits: Flexrake.com
This lopper is great for heavy-duty applications, unlike most loppers in this list. The anvil-style blades make the shears the most appropriate for heavy-duty jobs such as pruning woody plant branches and cutting up dead wood. The non-slip flat blade holds the branches in place for accurate cuts.
It might not be the best tool for green growth because its anvil blade will crush and tear the delicate stems of the greens. It is the appropriate tool for potted plant pruning, fruit tree pruning, rose bush pruning, and removing thick twigs.
5. STEELHEAD Heavy-Duty Adjustable Ratcheting Lopper
STEELHEAD Heavy-Duty 27-40" Adjustable Gear-Bypass Limb...
[COMPOUND-RATCHETING GEAR-BYPASS JAW] – Ideal for cutting back...
[TOOL-LESS TELESCOPING ARMS FOR ADDED LEVERAGE] – Easily extend...
[ERGONOMIC DURAGRIP HANDLES] – Easily grip, cut and hold these...
[FORGED FROM HIGH-CARBON STEEL w/ NON-STICK CORROSION RESISTANT...
[LIFETIME USA SUPPORT] – Protected by unbeatable lifetime...
The SteelHead's heavy-duty lopper's ratchet mechanism provides up to three times the cutting you need to cut through thick branches. This means you can effortlessly cut through branches of thick diameters up to 1.75 inches with less effort than you would with a manual lopper.
Image Credits: Walmart.com
The blades of this model are made from high-quality SK-5 Japanese steel. They are sharp and durable even after heavy use. It also comes with a low friction coating which prevents it from rusting and keeps sap, plant matter, and debris from sticking onto the blade. The pruner is also corrosion-resistance
This model is a bypass pruner; hence it makes clean cuts and is thus the most recommended for cutting soft green growth and woody branches. It has telescopic handles for working on tall trees. Its handles are 27 inches long, and when extended, they are 40 inches long. A gardener can use it for most trimming plants and pruning tasks.
6. Tabor Tools GL18 Small-Sized Bypass Lopper
TABOR TOOLS GL18A Small Bypass Lopper, Short Bypass...
POWER THROUGH 1" diameter thick branches with a quick chop and...
COMFORT GRIP. The rubberized grips on handles provide comfort and...
SHARP AND STURDY BLADE. The fully hardened carbon steel blades...
EASY STORAGE: The lopper features a smart uncomplicated storage...
ORDER WITH CONFIDENCE. We at TABOR TOOLS stand behind our...
If you are searching for a powerful lopper that, other than getting the job done fast, is worth every dollar, then you should go for this. It cuts branches of a diameter of up to 1 inch without struggling.
Image Credits: Tabortools.com
It has rubberized grips for ease of use and is also ergonomic, meaning you can use it without flinching. Tabor Tools GL18 is lightweight; hence you can carry it around, and anyone can use it, including the elderly.
When you purchase this long-hand pruning shear, you will not experience any problems with its bladders because they are made from hardened carbon steel and will stay as sharp even after a couple of usages. Storing the bypass pruner is easy, too, because it comes with a storage option that fits the holes of its blades.
7. Spear & Jackson 8290RS Razorsharp Loppers
Sale
The Spear & Jackson Razorsharp Lopper is a durable long-handled pruning shear that is durable and does work well compared to most of the long-handled pruning shears in the market today. This product is designed to meet your needs, especially because it has its upper blade coated with carbon steel to ensure sharpness last for a long even after many cuts. It also resists rust after cutting a plant.
Image Credits: Amazon.ca
The bypass pruner comes with pretty strong handles but is very soft while working. This makes it suitable for long hours to cut branches without suffering hand fatigue. It comes with a catch and locking mechanism for safe storage and is backed by a limited lifetime warranty.
What to Consider Before Buying a Long-Handled Lopper
1. Reason for Purchasing It
Before purchasing long-handled pruning shears, you must be clear about why you want to prune the trees. Is it because of their health or because of the property line?
2. Your Ability Level vs. The Job
If you have never used long-handled pruning shears, do you think you can use them, or you are the right person to use them? Maybe not, you might need to call a professional if you think you are comfortable using the kind of long pruning shears
3. The Size of the Branch
This is also very important to note. If you only have small branches to prune, you might need to use a hand pruner. You can also use a pole saw if the branch is too thick and too high. However, you can use long-handled pruning shears on branches about 1 inch in diameter.
4. The Distance of the Cut
Handheld secateurs will do the job if you are not cutting at a distance. But if you need more leverage, tree loppers would be ideal, while smaller and closer cuts hand-held pruners are the best.
Conclusion
Knowing the best gardening tools and their uses is cool but knowing which is the right tool to choose for your pruning task is more important. Now that you know what long-handled pruning tool you should choose in 2023, we believe you won't make mistakes while out in the market. Plus, your buying experience will be great and precise as you know what you need.