Whether you just moved into a new apartment or want to remodel the staircase of your home, you may need to research a lot before beginning. This includes the cost, ideas, and even tips that could make your work easier and less time-consuming.
So, we got you if you are stuck or still wondering how and where to start this remodeling project. This article discusses staircase remodel tips, ideas, and costs to help make your project less hectic.
Staircase Remodel Vs. Staircase Renovation
A modest adjustment to the fundamental elements of a staircase can give it new life and a brand-new appearance. Consider a remodel as a staircase makeover to enhance the staircase's overall aesthetic appeal and bring it in line with construction standards. Depending on your location, you may need a building permit.
On the other hand, staircase renovation is typically a much bigger and more expensive undertaking that involves removing and replacing important structural elements like treads, risers, and stringers.
Historical stairs can be renovated to restore them to life while preserving their original appearance and feel. Additionally, a staircase renovation restores the staircase to its original form, shape, and appearance in houses or businesses that have suffered fire or water damage. Also, if you would like to know which is better, renovation or relocation, have a look at this guide for more information.
Definition of Terms
These are terms you will come across in this article. However, to ensure a smooth reading experience, we have defined a few terms for you.
a) Stringer
The support board that goes down each side of a staircase is known as a stringer. It serves as a point of connection for accessories like the treads and risers and offers the entire staircase essential structural stability.
Image credits: Lapeyrestairblog.com
The outer stringer is typically on the side of the visible staircase, whereas the inner stringer is typically attached to a wall on the opposite side. The layout of the house and the staircase's design can change this.
b) Treads
You climb a staircase by stepping on the treads. To make it simple to use the staircase, these horizontal parts normally have a standard staircase depth of 10 to 11 inches at the very least.
Image credits: lowes.com
c) Baluster
A baluster describes the vertical poles that the handrail is attached to on a staircase. They virtually serve as a "guard rail," keeping people from slipping off the stairway's side.
Image credits: Ozstair.com
Balusters, also known as spindles, are a perfect spot to add a decorative element to your staircase so that it better reflects your style or the design of your house.
d) Risers
As you walk up a staircase's treads, your toes kick against the stair's vertical surface known as 'risers. The staircase risers can be open, giving the impression that it is a "floating" staircase but still providing stability and a place for decorative upgrades. Risers, like treads, are typically found at around 7 inches to make climbing stairs natural.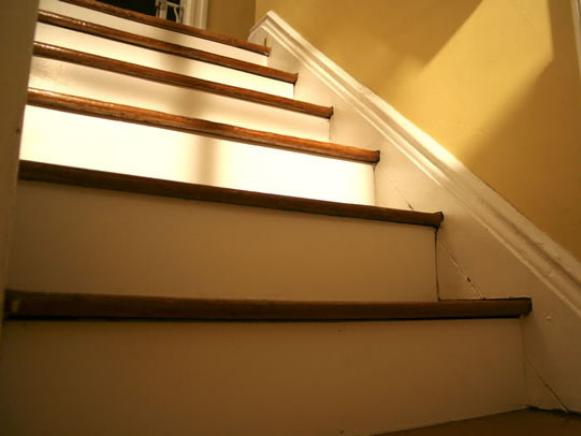 Image credits: HGTV.com
e) Handrail/Banister
When ascending or descending a staircase, you hold onto the handrail. It can be found on either side of a residential stairway and offers much-needed support.
f) Newel Posts
A newel is a thicker support piece that bookends your handrail and balusters at the top and bottom of your staircase at ground level. They are used to secure the staircase into the rest of your house.
Image credits: wastfirestairparts.com
Stair Remodel Tips and What to Consider When Remodeling
When planning to remodel a staircase, you may need a few tips to ensure you make the right call. Getting the right tips also helps you have different ideas and get creative with different options for remodeling. Here are the tips and tricks for a perfect staircase remodel.
a) Plan a Budget
A custom or regular staircase should have a clear budget before construction begins. That will assist in keeping your staircase plans in order, but it will also assist in material selection. For instance, wood spindles are available in various wood species, including cherry, walnut, mahogany, and more.
Know what price range you have to work with before buying anything because they will have various price tags. You can still acquire your ideal staircase in this manner without sacrificing any components.
b) Do Enough Research
Spend some time talking to friends, relatives, and neighbors about the renovations they have completed and the difficulties they encountered. In the planning process, having a wide range of knowledge from homeowners who have been in your situation can be essential. This knowledge may cause you to change your final strategy.
c) Professional Installer or DIY
Ultimately, each staircase or staircase component in your home must be secure. While some areas of stair remodeling are ideal for do-it-yourself projects, hiring a stair professional is strongly advised for others. You may want to know how to choose a remodeling contractor if you want to hire a professional.
Remodeling yourself saves a few coins as you won't have to pay labor costs. So, evaluate your project and what you need to do, then decide how to do it. If you are confident you can do it and achieve the desired results, it is better to do it yourself.
d) Check Your Daily Routine
If you are a skilled do-it-yourselfer, you are probably proficient at navigating the annoyances of a stair makeover. However, if you've contracted out any part of the work, make sure to be clear about your daily schedule and work with the contractor to determine start and end times that create the least interruption to your family's day. People prefer to avoid dealing with a tradesperson while still in their robe.
e) Design Inspiration
What you want the finished staircase to look like should be among the first things you think about when planning a remodeling job.
Of course, your options are unlimited since interior aesthetics are so broad and diverse. But even the design experts among us sometimes feel they need more options. You may also decide to remodel your floor, and that means you'll need flooring remodel tips and ideas for the best results.
Spend some time looking for interiors you like online and establishing a list of the hues, textures, and designs that appeal to you the most. This will help you focus your search. Then consider how to include those components in your design.
Staircase Remodel Ideas
There are various ways of remodeling a staircase. Some of these include the following;
1. Use Decorative Balusters
Your staircase balusters don't have to be boring. So, instead of worrying about how to remodel the staircase, you can use decorative balusters. You can use an ornately turned wood design to add a slight touch of tradition to your space.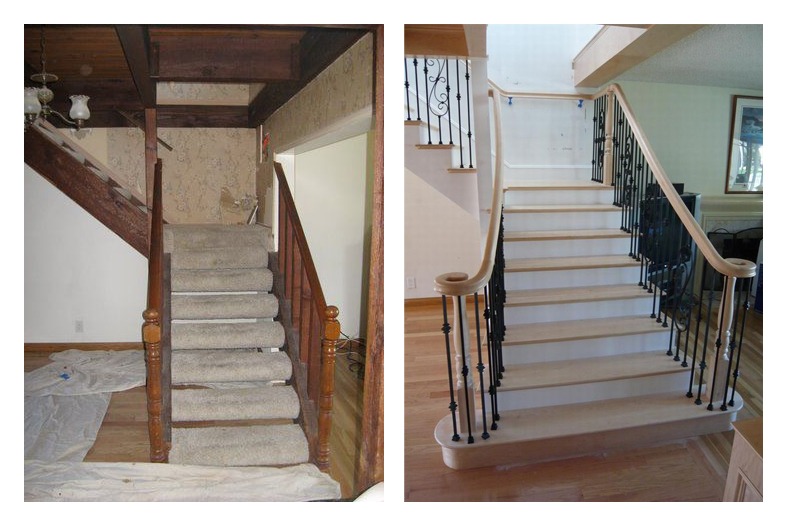 Image credits: woodstairs.com
Also, you can use forged iron to create a modern look and decent.
2. Cover an Open Staircase
An open staircase dominates your interior. Open staircases have no risers so that you may glance through them. Your interior is permeated by this transparent effect, which brings calm and clarity. It looks great in crisp, contemporary settings but works well in more traditional ones.
Image credits: designedstairs.com
It would be best if you took care of your open staircase because it draws attention to your hallway or living room. Consequently, high-quality materials and a finish are crucial. Is it time to refinish your open staircase? You can give it a nice remodel by covering it.
You can do this by selecting the best staircase covering. This can either be dark oak, steel, natural wenge, or concrete. While covering an open staircase, you have several options;
Closing an open staircase; fitting the stairs with risers that close the staircase
Covering the staircase on two sides; involves covering the stairs all round
Covering an open staircase on one side: this involves covering only one side of the step
3. Open a Closed Staircase
Although it may appear less transparent than an open staircase, a closed stairway is marginally safer. This is important, for instance, if you have little ones running around the house. Anyone who prefers a sturdy, compact appearance would love a closed staircase.
Image credits: firststepdesigns.com
If your closed stairway needs remodeling, there are different ideas you can try to suit your preference. You can remodel your staircase by replacing a few components that affect how much you are likely to spend. Here are a few options you may like depending on what you like.
A black staircase covering brings out an audacious effect
A combination of steel and concrete gives the stairway a sturdy look
Use an anti-slip covering to make the stairs safer
4. Link the Staircase and Decor Scheme with Color
Painting a staircase is another way to give it a remodeling. A fresh coat of paint gives it a modern and beautiful look.
Image credits: homeit.com
5. Utilize Understairs Space
If you want to maximize all available space, you can use understairs space for a few items. Instead of leaving it empty, you can install cabinets, shelves, drawers, and storage boxes in the understairs space.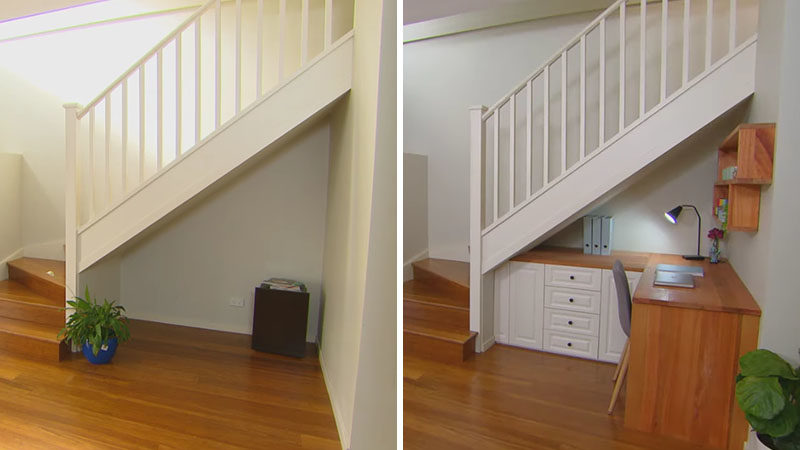 Image credits: contemporist.com
Pull-out storage cabinets are some of the most popular under-the-stairs storage options, as they are ideal for keeping your stored items safe and well hidden. In addition, this space is suitable for keeping toys, tools, clothes, and rarely-used equipment.
You can as well use the space as a secret pantry and library. If you do not have space beneath the stairs, you can add drawers to the actual steps of the staircase for a practical yet simple solution.
6. Use Ornate Risers
If you look at your staircase, you will notice that most of your vision is directed toward the risers, making them an ideal place to add a little fun.
Image credits: pursuetoday.com
You can have a lot of options when adding designs to your risers as that does not affect the integrity of your stairs in any way. For example, you can customize the risers with a coat of your favorite paint color. Another option is to add a decorative tile to bring out your personality.
7. Show Off Your Reading Obsession
Only book readers will understand this. However, this is not only limited to bibliophiles. You can use decals customized with words or images of your choice. You can use favorite sayings, characters, and even patterns.
Before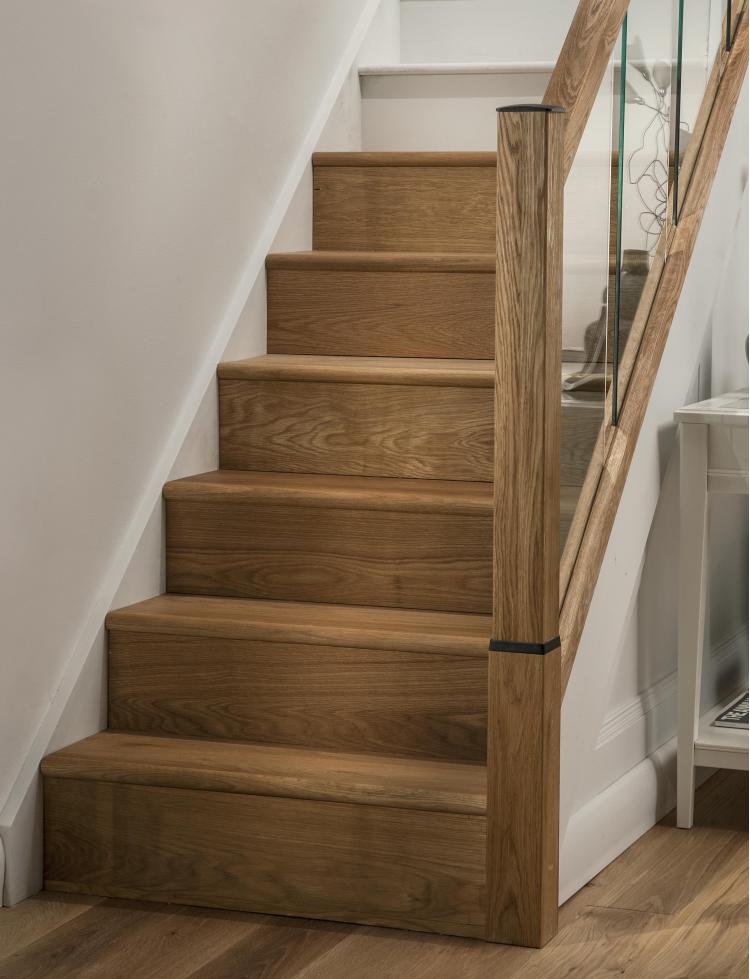 Image credits: blueprintjoinery.com
While working with decals, ensure you read the fine print. This is because the decals are just lettering or patterns, so you may need to paint the risers before doing anything else.
After
Image credits: simplemost.com
8. Show Your Obsession with Colors
If you truly love colors, why choose one? You can add a spectrum of colors to add interest in a previously neutral space. The pastels keep the effect soft, so it does not take away the farmhouse aesthetic.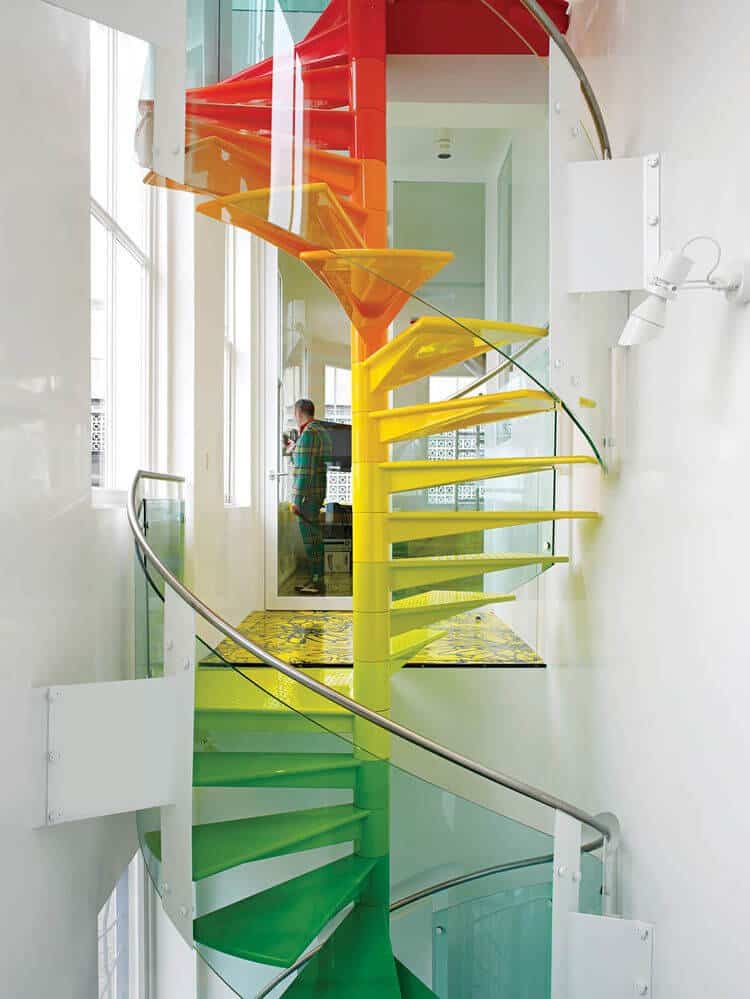 Image credits: donpedrobrooklyn.com
For a fashionable contrast, you may paint the treads and risers in various colors. For example, your staircase will look more inviting and substantial with light risers and darker treads.
Why not paint each step a different color if you're feeling brave? Alternately, an ombre color scheme with a gradient that gradually gets darker might seem interesting and dynamic.
If the stairway has a natural light source like a window nearby, the area will look light a constant ray of sunshine.
9. A beautiful Pattern with Chalk Paint
If you like a personalized staircase but want it to be something other than the focal point of the whole house, this is the way to go.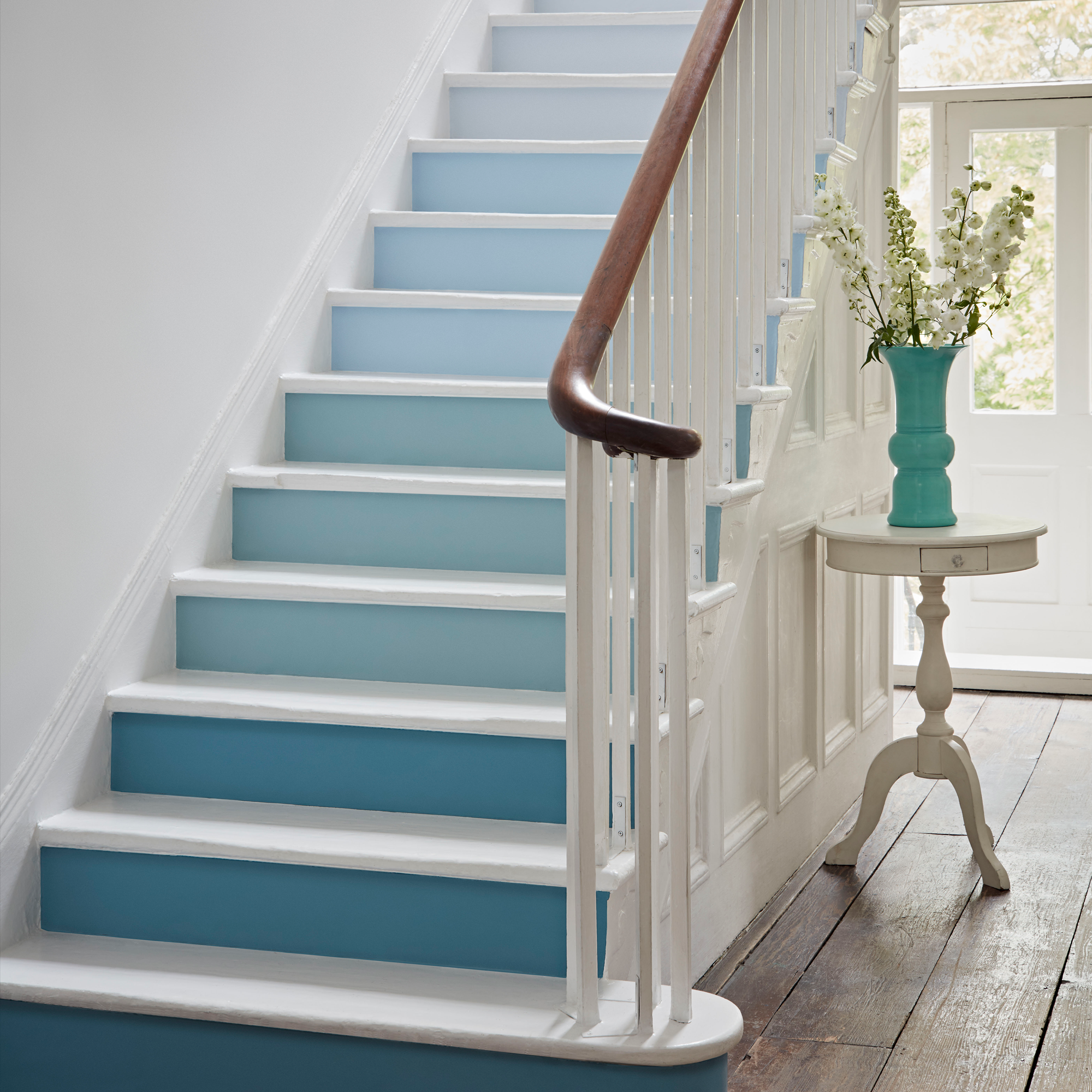 Image credits: idealhome.com
You can achieve such a look with colors and a chalky finish to prevent it from overpowering your room and the whole space.
10. Remove an Old Carpet
If your stairwell has an old carpet, consider removing it to expose your beautiful wood staircase. If the carpet runner is dirty and old, it can look ugly and outdated.
Image credits: pinterest.com
If you have a finished wooden staircase underneath those carpet runners, expose them for a new look by removing the runner. If the wood needs sanding, do as necessary. After sanding, add a stain and finish. This project is an easy DIY and does not take much time.
If you had a material other than wood beneath the runners, you may need to replace them with a different material you'd like to showcase. An example of wood suitable for use is oak. This is because you can easily stain it dark or light, depending on your goal.
11. Paint the Stairwell
Painting the stairwell is one of the cheapest ways to remodel your stairwell. Painting may not be your thing, but you can even hire a professional to do this task.
Image credits: kilpatrickpaintinganddecorating.com
You can pick a trendy paint color with the rest of the home theme. Adding a few geometric designs to the risers can make the stairwell more fun and unique.
12. Decorate the Staircase Wall
If you are out of remodeling ideas or want small changes, you can focus on the staircase wall instead. This is as the staircase and the hallway is generally used to get from one room to another, like the kitchen and the living room. It is an ideal space to experiment with your new design.
Image credits: thespruce.com
Adding a feature wall in a vibrant color can act as the focal point. Also, you can use a mural instead, especially one with decorative patterns.
13. Carpeting
The stairwell gets extra warmth and coziness thanks to the carpet. When people are moving up and down, it can also assist in minimizing noise. Finally, carpeting provides an additional layer of safety if you have children in case they trip or fall.
You can use the following;
I) Full carpeting
Covers the entire staircase floor. If the stair flooring is unattractive, it is useful. Full carpeting will hide the aging if your stairs show signs of wear, and you only want to remodel them partially. The drawback is that installing a whole carpet is more difficult and expensive.
Image credits: thespruce.com
ii) Carpet Runners
These are perfect when you want to avoid completely concealing your lovely stairway because they leave the sides of the stairs visible. Of course, runners won't cover the whole flooring, but they will provide some warmth. In addition, installing runners is simpler and less expensive.
You can add a carpet runner that goes up your staircase. Stair runners add coziness and also help to protect the staircase from heavy foot traffic in such spaces.
Adding a runner to an existing staircase is a great remodeling idea that suits most places, as they are available in different designs, patterns, and colors. This could be your focal point.
You can achieve this by using zany patterns and colors. But, on the other hand, you could also go traditional and elegant by using a simple runner.
The best thing about carpeting0 is that it makes small staircases look wider. However, you will have to secure it to the staircase to ensure it does not come off.
You can use stair rods to secure the runner. These rods also add a decorative touch and enhance your staircase's elegance. To make this more attractive, you could match the stair rods in material or color of your spindles. Check out how to attach stair rods to secure your carpet runner.
14. Spindle Replacement or Painting
The spindles of any staircase may be its most attractive feature. Therefore, one of the simplest methods to entirely change the appearance of your staircase is to replace these stair pieces.
Image credits: pinterest.com
You may add wrought iron spindles to an oak stair for a charming contrast that adds historical sophistication. Or, a glass balustrade could give an ancient staircase a contemporary, airy effect.
Oak spindles are more reasonably priced and may be found in various carving techniques to fit any style of home, whether classic or modern. You can either use the;
Twist spindles
Stop chamfered
Edwardian spindles
Square tapered spindles
Square spindles
15. Update the Handrails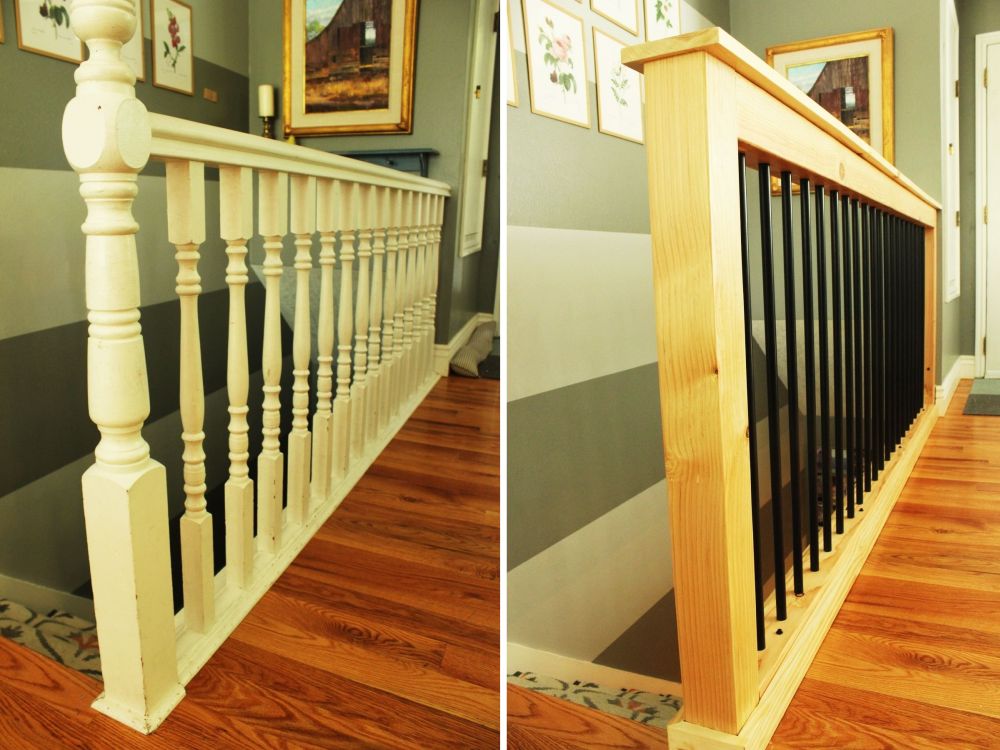 Image credits: homeit.com
The handrail that runs along your staircase is one of the components that ages the most and serves as a focal point for the staircase as a whole.
Throughout the staircase's lifetime, countless hands have climbed and descended the railing, making it appear worn and aged. While painting is undoubtedly possible, adding a new handrail with a complex pattern gives your old staircase a whole new look.
The Cost of Remodeling a Staircase
Remodeling a staircase varies. This is because it is not dependent on one factor but on many. Therefore, we shall look at various factors that affect the remodeling cost. This way, you can do an estimation depending on what applies to you.
a) Newel Posts
Due to their size and potential for intricate detail work, these are the most expensive part of any staircase. Red oak, poplar, cherry, white oak, maple, beech, hickory, sapele, and walnut are all available for newel posts.
Image credits: westfirestairparts.com
The least expensive options are often poplar newels, while sapele and walnut are the most expensive. The complexity of the carving determines the price of newell posts and the type of wood used.
The cost of a single post ranges from $64 to $ 440; for sapele or walnut posts, the price can be between $240 to $1,100. Newel posts have the biggest impact on most remodeling projects on the overall cost. The good news is that although they are expensive, you may only need two to six posts.
b) Handrails
For your staircase, handrails provide safety as well as aesthetic appeal. Choosing a sophisticated shape and style adds an extra flourish, even though simple spherical patterns may be the standard.
Image credits: haldane.uk
Handrails cost approximately $3 to $15 per linear foot. For the premium handrails like walnut and Sapele, a foot costs approximately $20 to $50.
c) Balusters
In addition to complementing the bigger newell posts beautifully, balusters are one of the staircase's components that require replacement the most frequently owing to damage or obvious wear.
Image credits: pinterest.com
Prices range from $3 to $14.50 per baluster. Balusters cost less compared to other components of remodeling. Though the number of balusters differs depending on the type of staircase, 50 is the most common number required for most staircases with two handrails.
d) Repainting the Stairwell
The whole area and walls surrounding the staircase are known as the stairwell. The cost of painting this area can be between $350-$450, depending on the size and complexity of the area.
Image credits: thespruce.com
However, you can only paint one part of your staircase if that's all you need to do. This will cost less, about $4-$12 per lineal foot, which is the cost of painting a deck railing.
e) Custom Staircase
Like all other factors, remodeling a custom staircase highly depends on the project. It could cost anything between $2000-$30000, or more if it is very complex.
Image credits: newhorizonsflooring.com
The best thing is that for a custom staircase, you are unlimited. So you can get as creative and sophisticated as possible, especially if you are ready to dig deeper into your pockets.
Buying pre-build custom stairs cost a minimum of $1000-$2000 but do not include posts or railings. Once you add those other features and including the installation fee will cost between $3000 to $4000. Also, note that the more complex the staircase is, the more expensive. Some custom projects get even above $40000.
Frequently Asked Questions On Stair Remodel Tips and Ideas
1. How can I make my stairs more modern?
There are numerous ways of getting creative with your stairs to make them modern. One way is to paint each step with a different color, making them start light and get dark as you go up. You can also add tiles with different patterns to the risers to give each a pattern of its own.
2. Should your stairs match your floor?
It is not a must to match your stairs and the floor. You can coordinate them without matching patterns and colors. You can instead use similar materials and finishes for a seamlessly bonded design.
3. What can I replace the carpet on my stairs with?
Among the most popular alternatives to carpets on stairs is laminate flooring. They are less expensive and offer a brilliantly affordable alternative to expensive carpeting.
4. Should stairs be lighter or darker than floors?
You can make your stairs darker than the floor. However, you don't have to do so. It is all a matter of personal choice and preference.
5. Can you modify an existing staircase?
Yes, although it may sound like a huge task, you can easily remodel an existing staircase to give it a new and modern look. You can do this with the help of a professional or a DIY project.