Caring for our surroundings is a necessity. Of course, to do that, you need yard tools like a 2-in-1 multi-tool. With impressive performance for everyday jobs and giving you a wide range of operations, there is nothing you can't do with this trimmer. In this review, we will discuss the wild badger power 2-in-1 multi-tool, and what makes it an excellent tool.
About Wild Badger
The Wild Badger company has dedicated its existence to providing customers with power, performance, and durability at an affordable price. It is not unusual to find that, with power tools, you have to sacrifice either price, durability, or power. When it comes to Wild Badger, all these attributes can be found in a single tool.
With the belief that high-power tools should be available for everyone, the company has committed itself, to providing a solution to all the shortcomings when it comes to power tools. Additionally, it helps that power tools are not out of budget for most customers, and Wild badger customer support is always there for them.
1) Wild Badger Power 2-in-1 Yard Care System Multi-Tool
Wild Badger Power 2 in 1 Multi Trimmer with Brush…
【2 in 1 Multi-function】The Wild Badger Power 52CC trimmer…
【Powerful engine】 The grass trimmer adopt commercial grade…
【Easy to start and Comfortable operation】Tool free air filter…
【Attachments compatible】 It easily connects to badger or…
【Reliable customer service】 If you encounter any quality…
The Badger straight shaft grass cutter is an immensely powerful weed eater. It is the perfect assistant for detail work and cutting very tough brush. Unlike most gas string trimmers, this unit works flawlessly in fact, it is a powerful and easy-to-use tool that will serve for a long time. We rated the grass trimmer using a few main points of functionality, product features, and customer service, as explained in detail below.
a) Power
It is important to note that this is a gas-powered trimmer, so it is crucial that you keep it topped up before use. The transmission of the trimmer is encased in a vented aluminum casing to ensure it is corrosion-resistant and durable. Furthermore, the casing greatly reduces vibration allowing you to work in comfort.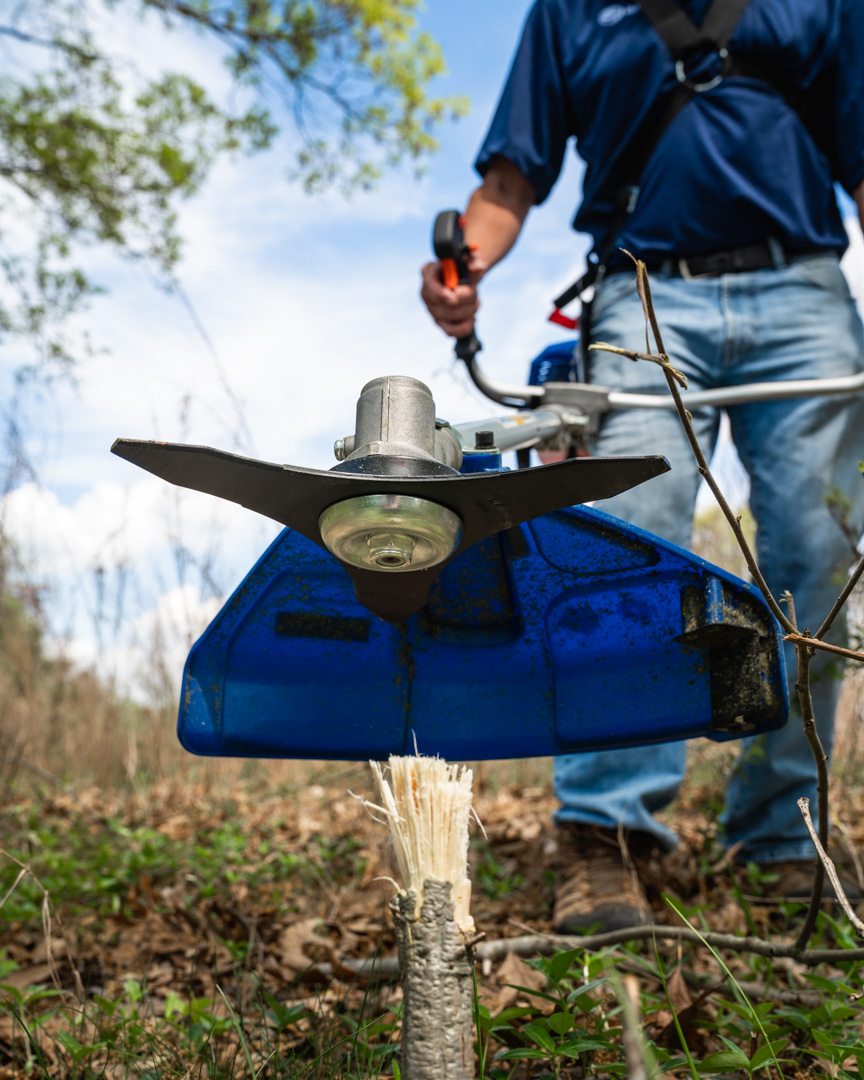 The grass cutter has a 52cc, 2-cycle, full-crank engine that is excellent at reducing emissions and increasing fuel efficiency. The brush cutter blade is very fast and efficient once you crank up the power.
When it comes to operating power and what kind of brush-cutting, hedge-trimming, lawn equipment gives you more power, you can select between two different styles; 26cc and 52cc. They are both excellent trimmers with great performance. However, the power of each varies between the type of jobs you do. So, you can adjust the style you purchase, based on your yard needs and what vegetation you have to cut down.
b) Multifunction
This grass cutter comes with a grass trimmer attachment, brush cutter, and harness to easily manage heavy tall grass. While you can use it to cut brushes and grass, it is also very nifty for trimming weeds around corners. Additionally, you can also use it to trim any unruly hedges, weeds, or burning bush plants. Each attachment contains the best blade for the job.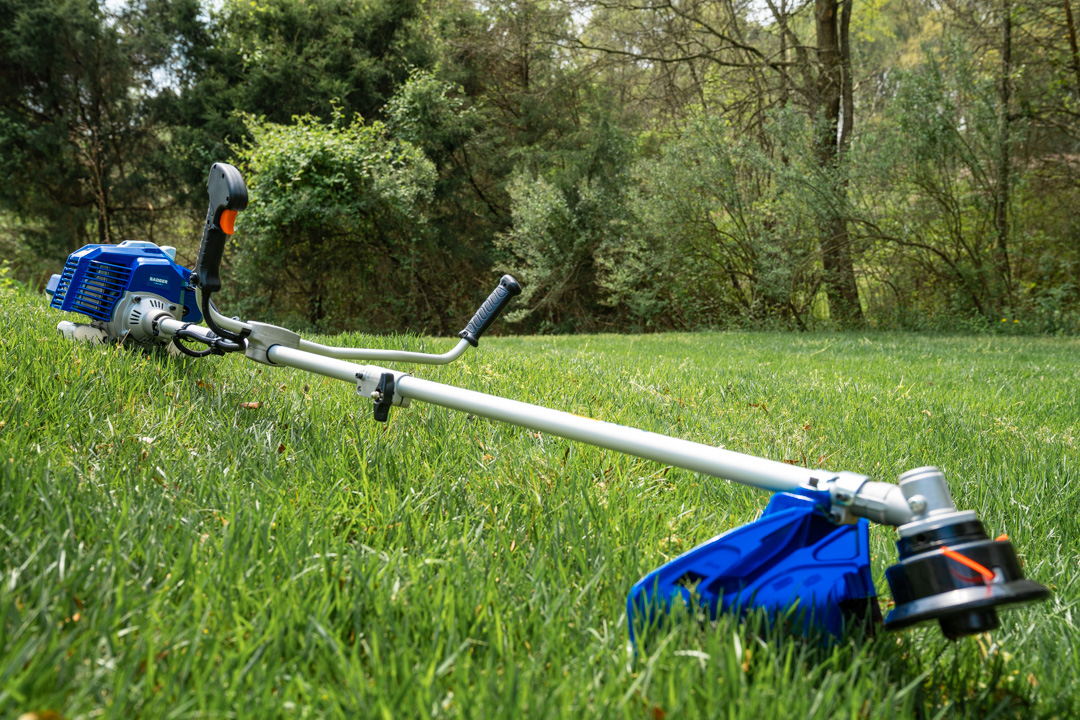 The shoulder straps are excellent for added support. You can adjust it to the opposite side shoulder from your dominant hand for more support at max power. Additionally, it is very easy to load the trimmer line and trimmer head, so your cuts are perfect. There is no doubt that this is a solid weed eater with a tri-tip blade to ensure efficiency.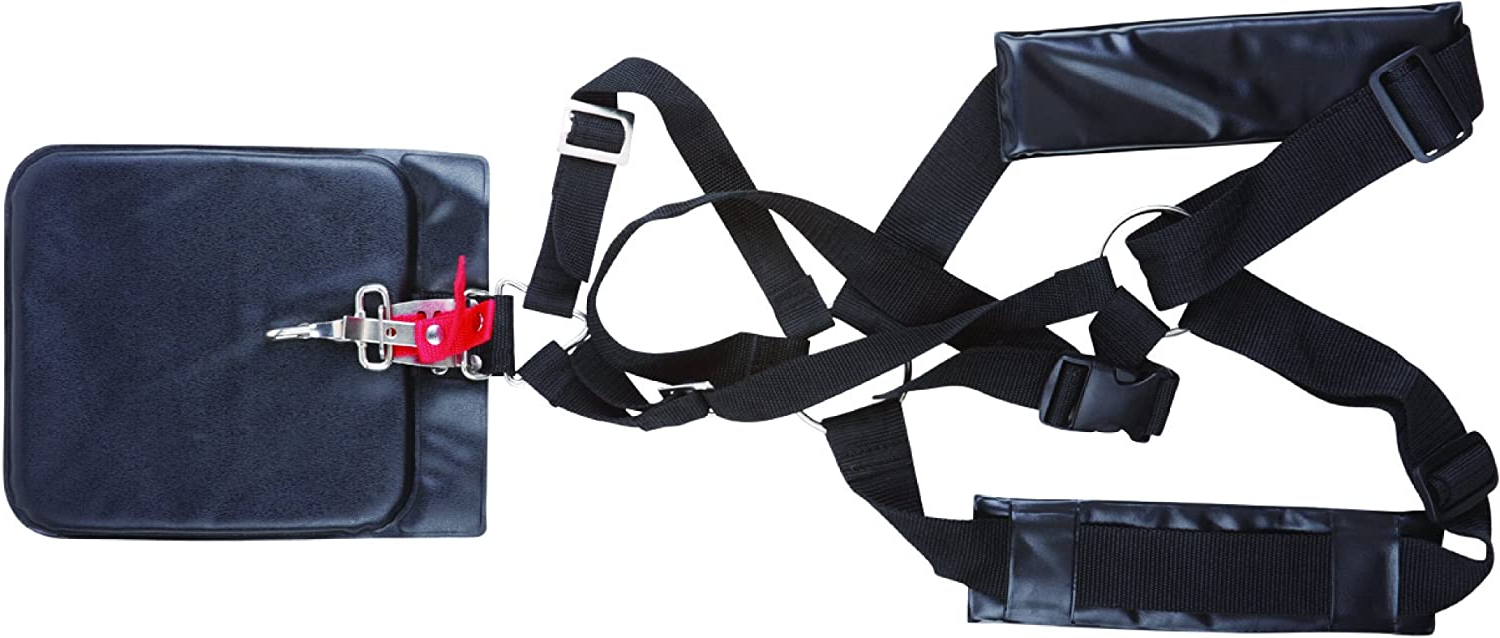 Furthermore, when cutting tough vegetation like shrubs and vines, it is better to replace the cord feeder mechanism with a saw blade for the best performance. You will be done with clearing brushes in a matter of minutes, and the swap is easy using an Allen wrench end inserted through a hole.
c) Durability
Brush clearing especially thick brushes and long grass, is easier since the unit is built with an aluminum tube. Additionally, the trimmer is meant for residential and commercial use. It can also last 3 years with regular use. Fuel consumption is very low with this unit, and its a nice saw-type blade.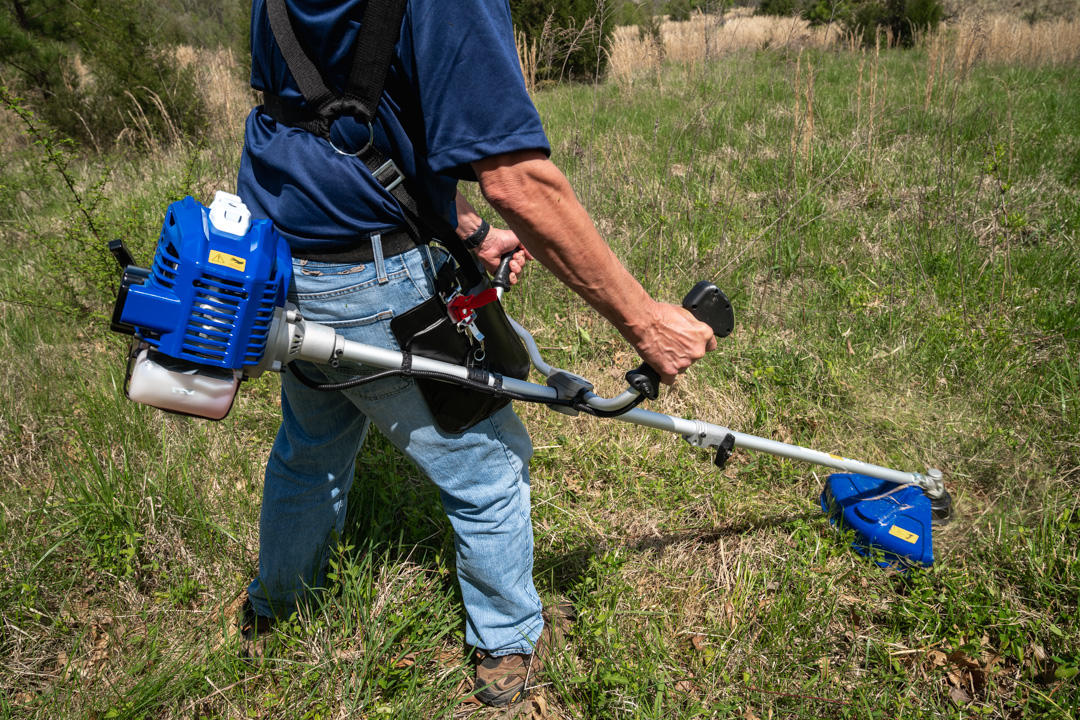 The unit weighted slightly heavier than expected. However, that should not be a problem once you get used to it. 23 lbs. might seem like a lot, but the trimmer makes up for it in durability and fuel consumption. You will barely use 1/2 a tank, even when maintaining shooting lanes. This gas string trimmer easily starts up with 3 pulls, so no burp is observed.
d) Ergonomic
The handles on the gas trimmer are like the handles on a bicycle, which makes the whole unit easier to control. The only failure that most customers were concerned about was that the non-throttle handle broke. However, this is an easy fix since Wild Badger will ship you a replacement immediately.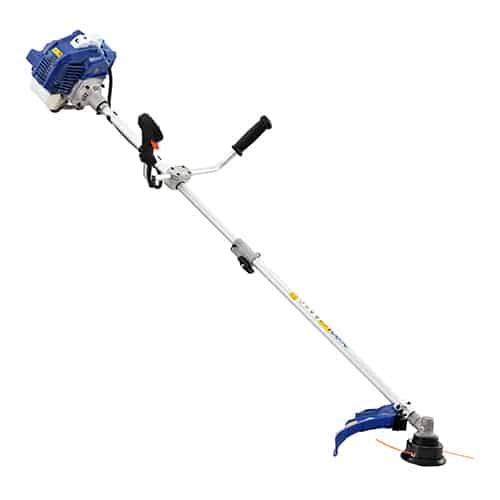 Additionally, the straight shaft trimmer with brush cutter keeps your feet safe as you guide it. However, it is recommended to wear protective boots to avoid maiming yourself. It is also easier to wear nice padded gloves, especially when working long hours, to avoid getting blisters.
The vibrations may be minimal (thanks to the rubber vibration-dampened handle), but after a long time, they make your palms sore. For an additional ergonomic feature, ensure to move the harness connection swivel upwards and towards the engine.
The robust aluminum tube can handle it, and as a bonus, this feature will prevent any back pain by balancing the unit well if you are a big-framed guy.
e) Quick Start
Most gas-powered trimmers are hard to start, especially if they haven't been used in a while. However, this trimmer is easy to start and quieter than you would expect. This brush cutter takes no more than three string pulls to come alive, all while delivering longer life. That's impressive for any gas-powered engine or lawn equipment, for that matter.
To improve the speed and functionality, you can change the quick line feed for a twin line cutting system using a max power line. A max power line improves any trimmer, regardless of the blade. This trimmer unit works with most brands of square-head end attachment-capable trimmers.
Wild badger Customer Service
Wild badger has excellent customer service. This is evidenced by many satisfied and returning customers. Since spare parts for this unit are cheap, you can stock spare parts directly from the company's website. As you buy spares, it is recommended to get a carb-adjusting tool in case your gas unit stalls.
With 24/7 reliable customer service, you can also get a new unit or a replacement free of charge, if yours stops working. As long as you are still covered by warranty.
Frequently Asked Questions About the Wild Badger Power 2-in-1 Yard Trimmer
i) How do I keep my Wild Badger trimmer blades sharp?
This trimmer is powerful and can cut through any brush, grass, and invasive vegetation. To keep the blades sharp, you need to clean them after every use with a brush. After that, oiling them is recommended to keep them in the best shape.
ii) How do I turn on my Wild Badger trimmer?
First, you need to prep the tool by pressing the small button near the carburetor. After that, make sure the power button and kill switch button are also on. Lock the throttle on, and pull the recoil starter within 5 times until you hear a "pop" sound.
The Bottom Line
With a Wild Badger power trimmer, most of your yard work will be an easy job. The full crank engine is designed for reliability and to provide a smooth start. The toughest yard jobs and opportunistic plants will not be an issue. Furthermore, the brush cutter doesn't make much noise so you won't wake up your neighbors with a noisy trimmer on a Sunday morning.