One of the current favorite sofa silhouettes is the floor sofa. These low-profile designs are not only trendy and stylish but also known to be cozy and lounge-worthy. They also offer the best seating solution for small spaces, but you can also find a full-floor sofa set large enough to furnish a spacious living room.
However, choosing the best floor couches can be difficult because there are several options from different brands on the market. I've curated the five best floor couches and designed a detailed buying guide to help you choose the best option.
My favorite floor sofa is the Millard Tri-Fold, a versatile mattress or sofa bed made with high-density foam. It is also lightweight and foldable, making it easy to move around and store. The Merax Floor Sofa is another excellent choice, combining design and functionality. Its adjustable five positions offer the flexibility to lounge, read or play games. Lastly, the WILLIAMSPACE 109" Sectional Sofa combines the floor sofa silhouette with premium chenille fabric to give your space a timeless, luxurious look.
Read on to find out more about these top three and other exciting floor sofas you can choose from.
What is a Floor Couch?
A floor sofa, also known as a lazy sofa, is any sofa that sits directly on or right above the floor. These sofas have a low, modern, space-saving profile and are available in various styles, including floor cushions, sectional sofas, and sofa beds. You can also find floor chairs, ottomans, loveseats, and chaise lounge sofas.
Floor-level sofas can be great for saving space, gaming, watching TV, lounging, or just for their minimalist appeal.
Best Floor Couches
| | | | |
| --- | --- | --- | --- |
| | | | |
| | | | |
| | | | |
| | | | |
| | | | |
1. Milliard Tri-Fold Foam Folding Mattress and Sofa Bed
Milliard Tri-Fold Foam Folding Mattress and Sofa Bed-...
Simple, but elegant alternative when full-size sofa beds aren't...
Great for apartment dwellers, college dorms, family dens and when...
Great for Video gaming, reading a book or camping and of course...
Made out of CertiPUR-US certified high density Foam so your bed...
Size: 78"x38"x4.5" (Twin XL). Storage Dimensions are 38"x29"x14...
I bought my Milliard Tri-Fold Foam Folding Mattress about two years ago as a spare bed for guests. We've sat on it, slept on it, and folded it up for storage many times, and it's still going strong. Its simple design is an elegant alternative to full-size sofa beds, especially when the floor space is limited.
Milliard Tri-Fold is made with an exceptionally robust metal frame and tri-fold latching mechanisms, capable of withstanding hundreds of uses. Despite the metal framing, this folding sofa is comfortable thanks to the high-density CertiPur certified foam that ensures it doesn't sag and remains lightweight.
Image Source: stacksocial.com
Another exciting feature of this floor sofa is the soft washable cover, making it an exceptional experience for video gaming, sleeping, or reading.
Needless to say, you cannot go wrong with the price, either. At a price of less than $200 per unit, it is an affordable way to add an extra guest bed to your home. Fold and unfold to your satisfaction, knowing that this Milliard convertible floor sofa will be there for the long haul.
2. Merax Floor Sofa
Merax Floor Sofa, Foldable Lazy Sofa Sleeper Bed with 2...
【Adjustable Backrest Angle】The backrest of this floor sofa...
【Most Comfortable Experience】The surface is made of composite...
【Sturdy and Comfy Construction】Constructed from a rigid steel...
【Foldable and Washable Design】When not in use, this futon...
【The necessity for Modern Life】From an upright position to a...
If you are looking for a floor sofa for maximum comfort while lounging, this Merax foldable sleeper sofa will serve you right. This floor couch is flexible; you can adjust it up to 5 positions, with an adjusting range from 90 to 180 degrees. You can instantly transform it into a sleeper sofa, chaise lounge, or sofa bed.
Image Source: walmart.com
It is made with a rigid steel framework that makes it sturdy on the floor and easy to recline to a comfortable position. Also, the entire sofa is upholstered with skin-friendly and wear-resistant premium suede and filled with thick foam to guarantee coziness and durability. Plus, it comes with two pillows to support your neck or lumbar while cuddling, reading, watching your favorite shows, or just relaxing.
Moreover, storing this futon sofa is a breeze, thanks to its foldable design, allowing you to store it in a corner. I could also store it under the bed in a completely flat mode. Also, I didn't need any help to move it around the house because it is compact and lightweight.
Merax floor sofa is available in many fabric colors, allowing you the option of choosing a color that complements your house design. And it doesn't require assembly.
3. WILLIAMSPACE 109" Sectional Sofa
WILLIAMSPACE 109" Sectional Sofa for Living Room,...
✅【Modern Sectional Sofa】The modern modular L-shape sofa...
✅【Comfortable Sofa Couch】This reversible sofa set...
✅【Free Combination】Not just a L-shape sofa couch, you can...
✅【No assembly required】This sofa can free of your...
✅【Efficient After-Sale Within 24 Hours】 - We have 8-member...
The Williamspace 109" Sectional Sofa is a modern chair with a floor sofa silhouette. It is created with aesthetics in mind, featuring a simple design focused more on clean lines and premium chenille fabric that is sure to bring a timeless and chic look to your living space or bedroom.
Image Source: overstock.com
Moreover, this reversible modern sofa set features plush comfort and spacious seating. It has integrated backrests and armrests with a super-soft and breathable chenille cover. And the sponge structure plus soft pillows are designed to offer a supportive, durable seat, making it an excellent all-day relaxing sofa.
Apart from the L-shape layout, I also put the chaise separately from the sofa to change my living room's layout. But its weight of 165 pounds is quite heavy, and I had to get support to move it around when trying new layouts. The seating is extra-wide, making this luxurious floor sofa an excellent place to enjoy relaxing with your family or watching TV.
As a bonus, this sofa frees your stereotyped nightmare of furniture assembly, but you may want to get a sofa slipcover for the bright white couches, especially if you have pets or kids.
4. BALUS Modular 7-Seater Sofa Couch
BALUS Modular 7 Seater Sofa Couch, Modern Sectional...
🎈【Free Combination Design】The modular 7 seater sofa can be...
🎈【Sturdy Solid Wood Frame】The frame of the single sofa...
🎈【Cozy Sponge and Soft Cotton】The cushion of this modular...
🎈【Upgraded Back Pillow Design】The back pillow of the...
🎈【Product Dimensions】When combine into a U shaped sofa...
The BALUS couch is modular, versatile, and comfy. It boasts a sturdy construction with high-quality hardwood frames padded with a high-quality sponge that is very soft and highly resilient. Its backrest is also filled with high-quality cotton making it more ergonomic and comfortable.
Image Source: amazon.ca
Moreover, this modular sofa comes with a trapezoidal pillow that can be placed behind the back pillow to strengthen its stability. You can also place the trapezoidal pillow as a neck pillow in the front. At the same time, its armless design is quite versatile, giving you plenty of room to stretch out and relax in any preferred position.
I love the idea of changing the layout of my couch, and this classy and modern sofa gave me the opportunity to try all possible layouts. You can add as many modular pieces as you want, expanding the BAHUS couch from a two-seater to a U-shaped or L-shaped, or corner sofa with seven seats, allowing it to fit any space! And the best part? Each modular piece has a weight capacity of up to 500 pounds.
The only issue I had with this floor sofa is the limited upholstery customization options, as it is available in only three color options
5. OTDMEL Soriana Sofa Fireside Chair
OTDMEL Soriana Sofa Fireside Chair, Mid Century Modern...
【 Soriana Chair】We offer 1-year quality guarantee service for...
【Structural Features】The Chair features a unique curvilinear...
【Generous Upholstery】Unique design not only makes it stylish...
【Mid-Century Style】By adding the Fireside Chair to your...
【Material Composition】The chair has a long-standing...
Soriana Sofa Fireside Chair is more than living room furniture. It is a work of art, a mixture of minimalism-meets-futuristic with a curvilinear shape wrapped in generous upholstery and accented with a giant metal brace to keep the upholstery in place. The backrest and seat cushions are also with a quilted effect created with the upholstered buttons.
Image Source: overstock.com
This floor seating made a statement in my living room with its unique design and aesthetics. But you can also use it in other indoor spaces such as bedrooms and home offices. It is available in 2 colors, dark orange and white. Introduce mid-century modern furniture to your space with this statement piece.
This Soriana floor couch is unique and beautiful and provides extraordinary comfort. This is because of its unique structure and high-quality materials such as chenille, bean bag, and metal, making it incredibly durable. The ample plush cushions support your body like a buoy on water, while the ergonomic backrest provides the best mid-back and lumbar support I've encountered on a floor sofa.
How to Choose the Best Floor Sofas
Image Source: bedbathandbeyond.ca
1. Comfort
Some floor couch styles are very low profile, while others offer standard seating height. Ensure that your chosen style and height suit your needs or lifestyle.
In addition to seat height, you should also consider the following:
Seat depth: A standard 20 -22 inches is a good seat depth for most people, but others prefer a deeper seat for lounging.
Backrest height: a standard backrest height of 26 to 32 inches is okay, but taller people may want more than 32 inches for proper support.
Cushion firmness: Companies usually rate firmness on a scale (e.g., from one to five). The higher the rating, the more firm the seat cushion. Some people prefer soft cushions rated at a one or two, while others will be more comfortable with a four or five.
2. Your Space
The right floor sofa should fit your needs, so ensure you measure your space. There are several lengths to choose from, including shorter two-seaters and more oversized sectionals that can fit in a corner space, so consider the inches you have to work with.
Also, finding color and a style that works well with your space is essential. So consider your decor and what textures, colors, and aesthetics would improve the room.
3. Material
The material is also an important factor to consider. There are more durable upholstery fabric choices like polyester or stylish statement pieces like velvet and leather. Your choice will depend on your needs, household, or whether you have pets. Also, most floor sofas are crafted with sturdy frames and can withstand daily use by people of varying weights and ages.
4. Price
You should consider the price of the item you want to purchase if you are working on a budget. There are many affordable floor-level sofas that will offer you comfort and satisfaction without breaking the bank, and there are also many great designer finds. Ensure you work within your budget so you don't strain.
Frequently Asked Questions on Floor Sofas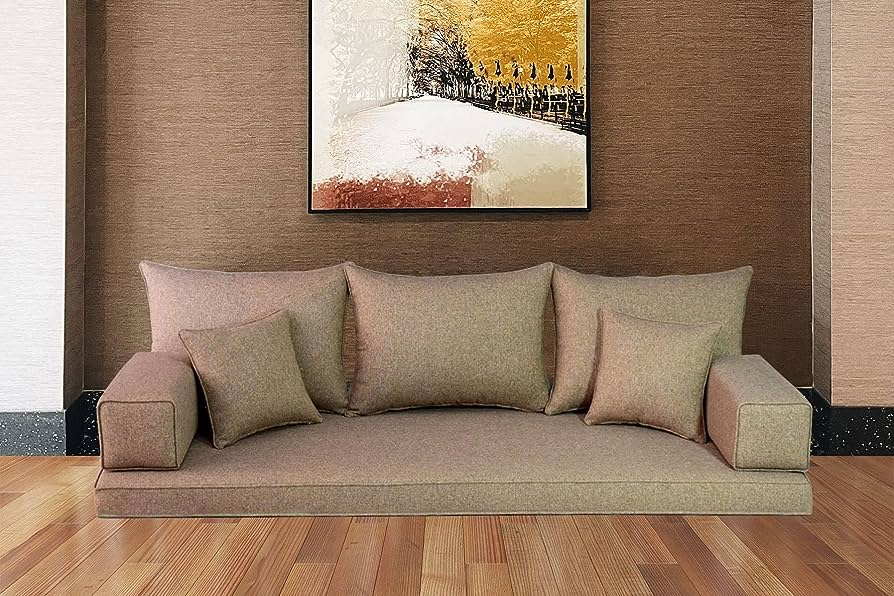 Image Source: amazon.eg
1. Are floor sofas comfortable?
Like any piece of furniture, comfortability varies based on design and overall quality. To ensure a cozy experience, seek models with standard or memory foam padding and back support cushions optimized for your lumbar region. 
When it comes to the floor sofas on today's list, they all offer premium comfortability for hours of continuous use.
2. Can I use a floor couch as outdoor furniture?
You should only use floor couches as outdoor furniture if you've ordered them with the appropriate upholstery. Outdoor floor couches use specialized fabrics like generic acrylic to resist corrosion from rain and shine. 
You should read the product's specifications or reach out to manufacturers directly to inquire about weather-resistant upholstery options.
3. When is a sofa too close to the floor?
There's no one-height-fits-all solution, as every floor sofa accommodates a different posture and seating position. Floor sofas can range from simple cushions that require stretching out your legs or sitting crisscross to oversized sectionals for everyday use.
If you're concerned about legroom, look for sofas with a minimum of 12″ to 14″ from floor to cushion. If you're shopping for living room furniture specifically, you can also add an ottoman or coffee table that lets you kick up your legs.