It would be best if you remodeled your bedroom to change or update the value of your home. Standard remodels of existing bedrooms can cost you up to $4000, while renovating the main bedroom can cost you up to $40000. Suppose you are looking for an average budget for remodeling your bedroom; you will need to pay at least $20000 to get a full renovation that includes the cost of labor, design inspection, and reconstruction. Let's discuss the perks and everything you need to know about bedroom remodels.
Why Do You Need A Bedroom Remodel?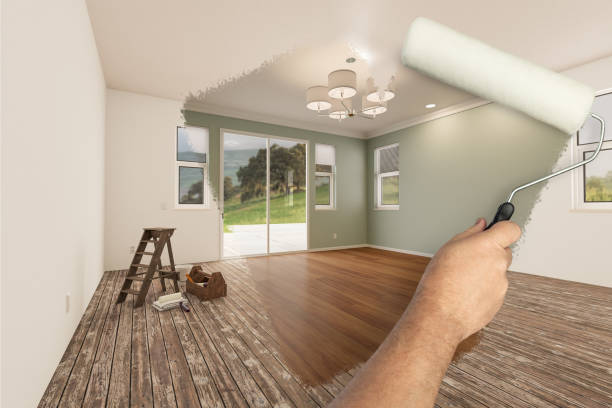 When doing a full house remodel, most people concentrate on areas such as the kitchen, sitting room, and bathrooms since they are the most frequently visited and attract attention. However, the bedroom may go unnoticed since you spend less time in it.
An average man spends 30% of their life in a bedroom, making it an essential room during remodeling. Therefore, ensuring that all your bedrooms are comfortable and offer a serene environment is important. A bedroom is where you get to unwind and meditate after a tiring day.
You can also get quality sleep in a calming bedroom, as sleep increases your energy levels and keeps you fit to face your daily tasks.
Lack of enough sleep contributes to physical illnesses such as high blood pressure and diabetes and promotes mental disorders such as depression and anxiety. This is enough reason to remodel your bedroom and create an environment that promotes sleep.
Bedroom Remodel Tips and Recommendations
Here are a few tips and recommendations you should put in mind before remodeling your bedroom
1. Do Proper Planning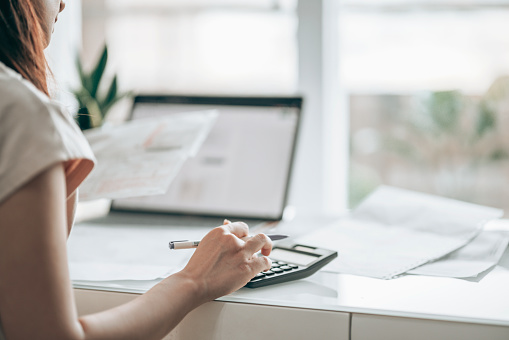 It would be best if you start by planning before remodeling any design project. Making solid plans before remodeling saves you time, money, and stress. Before you start any remodeling procedure, ask yourself the following questions.
Do you intend to remodel for function or improve the looks?
Do you have a large or small space?
Which bedrooms do you want to remodel?
Do you want to include a walk-in closet or a bathroom remodel?
If you plan earlier, you can choose the best design choices to suit your needs. 
2. Get the Prices Of Materials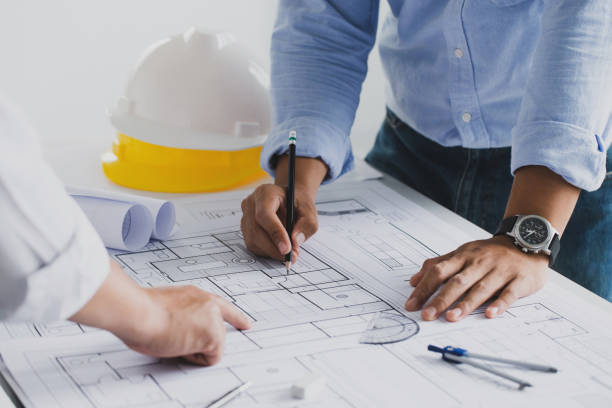 The price of materials varies depending on what you want to change in your bedroom. For example, if you want to replace your accent wall, you will have to budget for lumber, drywall, and insulation of exterior walls. In some cases, you can even replace windows or doors. We have listed some common materials and their costs to give you an easy time while remodeling.
Paint: $300-$800
Wood: $1–$5 per sq. ft.
Insulation: $900–$1,500
Drywall: $1–$3 per sq. ft.
Windows: $100 per window. You also choose specialized or custom windows that go for $1,500 per window.
Doors: $500–$5,000 per door
Molding: $2.50 per linear ft.
Flooring: $200–$7,000
3. Get the Labour Cost
You may need to contact bedroom remodelers to get the exact labor costs to remodel your bedroom. For instance, you can work with a local general contractor or consult an interior designer since they know the costs of remodeling bedrooms and advise you on the right materials.
Different specialists may quote prices depending on bedroom locations and the materials you want to be installed in your space. For instance, a basement bedroom remodel may need a waterproofing specialist, while an upstairs bedroom may only need a flooring installer or a painter.
4. Find a Contractor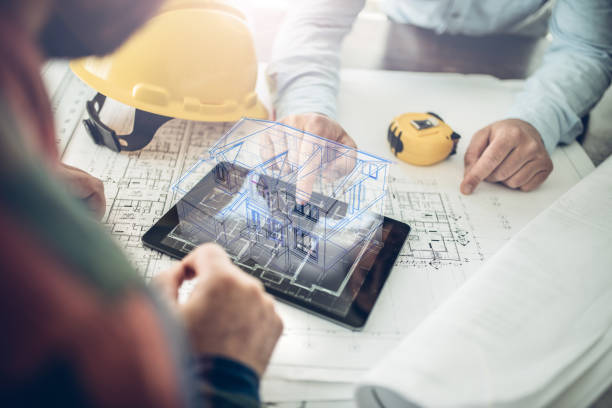 You can try out DIY options if you have the materials and are low on budget for contractors' fees. However, sometimes you want to achieve designs that require expertise, which is why we advise you to seek professional help in such a case.
You can get professional help regardless of your location around the globe. But first, you need to google the best house contractors near you and choose the best affordable services they offer.
Since these contractors have been in the market for many years and have dealt with many remodeling projects, they are in a better position it helps you remodel your bedroom.
5. Work on a Budget
Once you settle on the type of remodeling you want, you can settle for the budget of your materials. Always work within your means, and do not forget to budget for contractors' fees if you will seek help from them.
Process of Bedroom Remodels
Most people who are looking for bedroom remodel ideas for a minimalist design prefer a full-scale remodel. The process is quite simple as the first step is a tear out. A tear-out removes old flooring, light fixtures, and any closets or walls you wish to take down. You then frame your new closets and move or update any light fixtures.
You can install new windows and add ceilings if need be. Next is to finish the flooring, followed by the trim and doors. Once the finished work is done, you can paint, organize and place your furnishings.
Bedroom Remodel Ideas
Remodeling bedrooms can be easier if you are a DIY person. However, you can also explore creativity by trying out bedroom remodel ideas such as improving ceiling fixtures and flooring or adding plants. There are many bedrooms remodels to think of; we have outlined a few you can try out!
1. Adding a Statement Bedroom Light Fixture To a room with normal lighting
Before: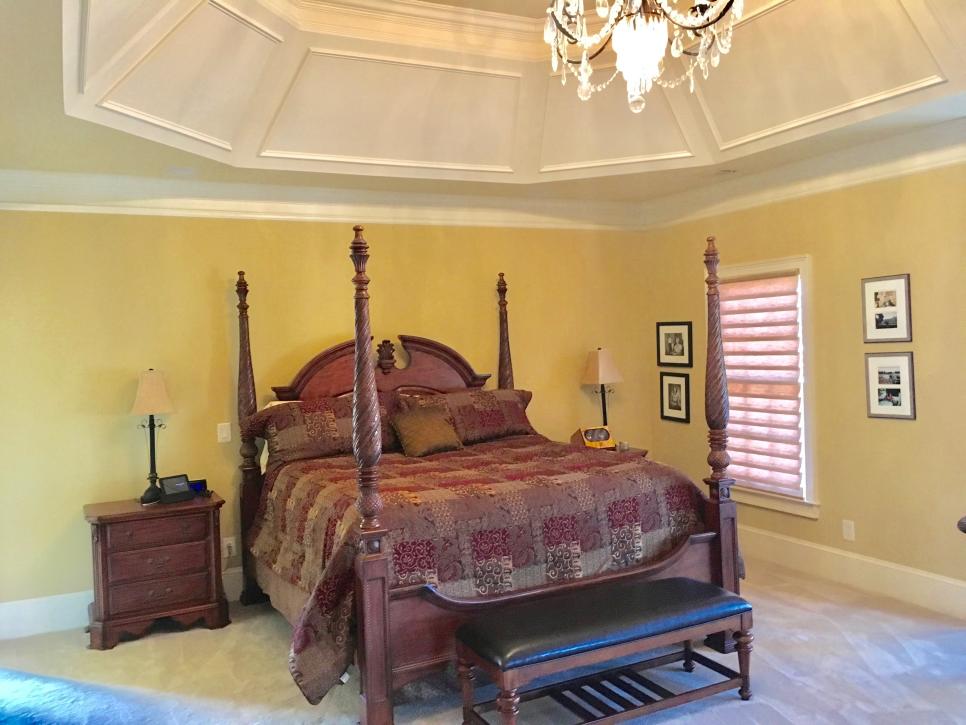 Image Credits: hgtv.com
If your bedroom has a centerpiece of a common ceiling fan, you can replace it with a ceiling light fixture. Adding a light fixture is an easy bedroom remodel idea, as you can install it yourself. However, if you are unsure how to install the light, you can contact a professional.
After: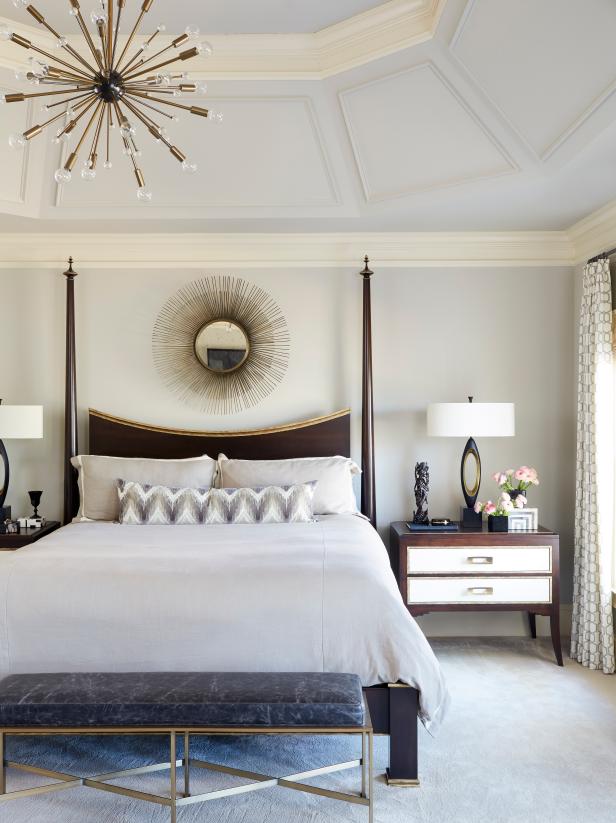 Image Credits: hgtv.com
Here are some lighting fixtures to include in your bedroom.
A). A Chandelier
A chandelier increases the beauty of a room while adding a bit of drama. A bedroom may require a small chandelier and be a final touch to a minimalist or a contemporary bedroom. If you want your chandelier to be the center of attraction, ensure you:
Mount it on a high ceiling
Choose a chandelier that has light moderation
Place the chandelier at the center of the room
B). Use Flush Mounting Ceiling Fixtures
The most common sources of overhead bedroom lights are the flush mounting lights placed on the ceiling. These fixtures include regular bulbs covered with plastic bowl-shaped or decorative glasses.
They are often simple but elegant. However, if you are looking for a sophisticated option, you can opt for metal or painted trim.
C). Include Wall Scones
You can use wall scones to elevate the lighting design of your bedroom. These modern wall scones are available in different shapes and sizes. They use the wall for support during installation and are excellent for adding a beautiful layer of lighting to your bedroom.
D). Use a Pendant Light
Pendant lights are common in contemporary bedrooms since they are trendy and versatile. They leave your bedroom looking spectacular. Pendant lights are mounted on the ceiling and hang down from it in the form of a long rod or chain.
E). Use Recessed Lighting
Recessed lighting is a downlight and a common light fixture for sitting rooms. You can also use them to add glam while remodeling your big bedroom. The lights are the best for achieving a contemporary look, as they blend perfectly with other light fixtures. However, you may need professional help installing the lights, which may cost extra.
2. Add Wall Art or Decor
Before: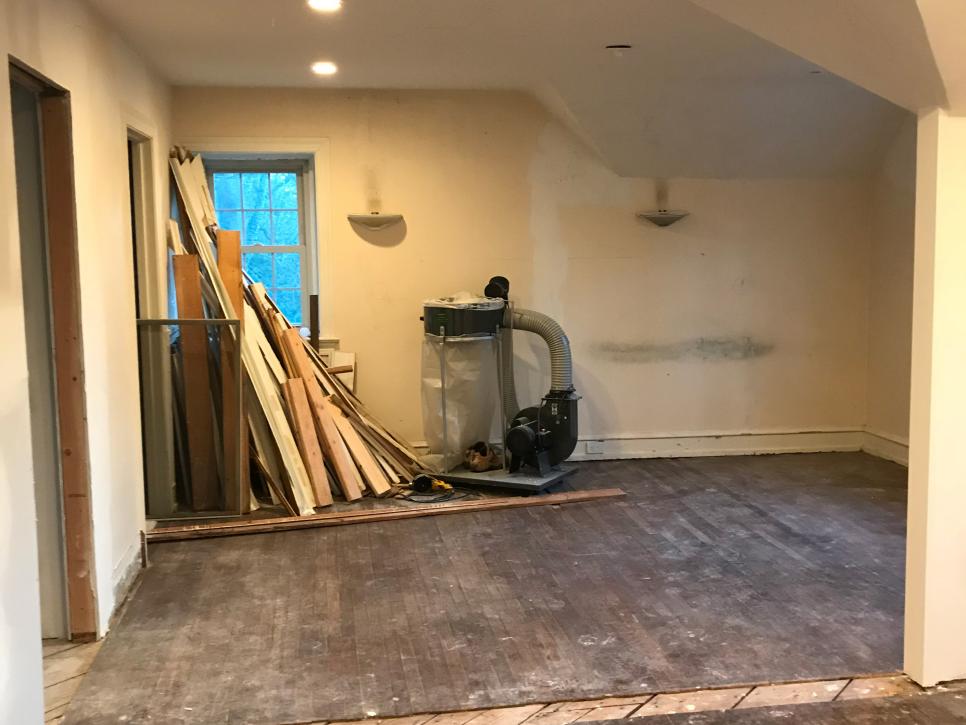 Image Credits: hgtv.com
Most people prefer repainting their bedroom walls as a quick fix since you can paint over the weekend, and the results can last over the years. However, if you dont want to repaint your wall, you can create a unique mural or an accent wall that compliments the theme color of your bedroom.
After: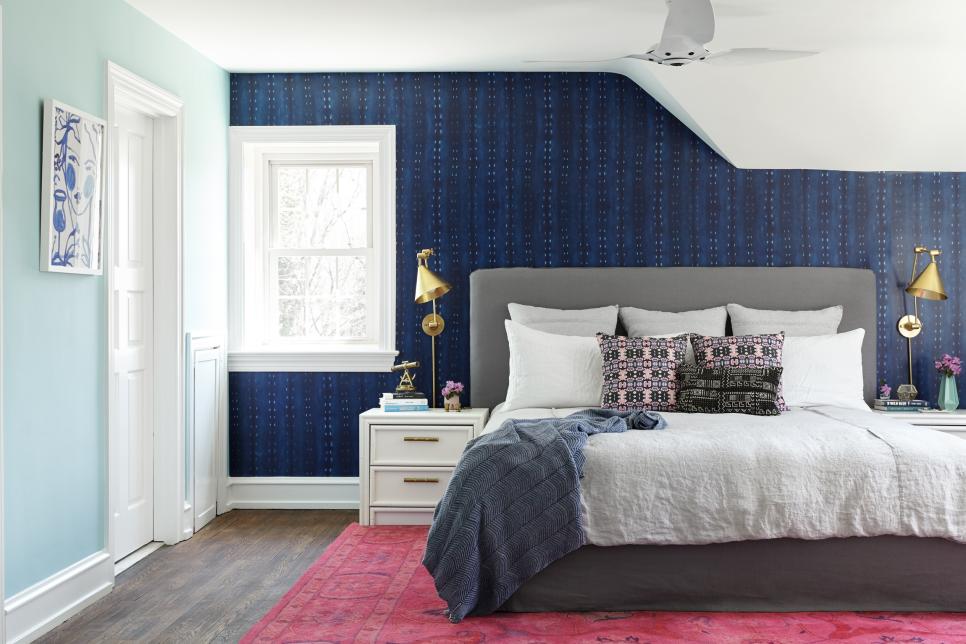 Image Credits: hgtv.com
If you are unsure of the color to go with, you can use a color wheel to help you with colors that go with each other. Generally, cool colors create a calm feeling, while warm colors bring energy.
3. Create a Bedroom Sitting Area
Before: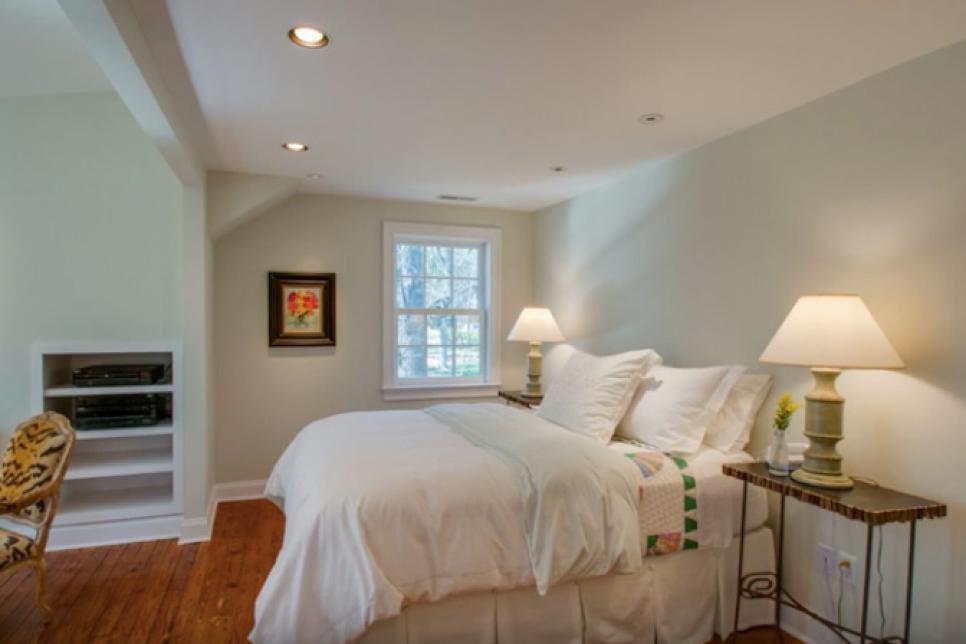 Image Credits: hgtv.com
If you want to get the most out of your bed, make it a sleep-only area. That means you are not sitting on your bed to finish office work. You need to add a bedroom sitting area to promote a functional space in the bedroom for doing extra chores such as reading, doing leftover office work, or having tea time. You can add a two-seat bench, a luxury television, or create a small office area.
After: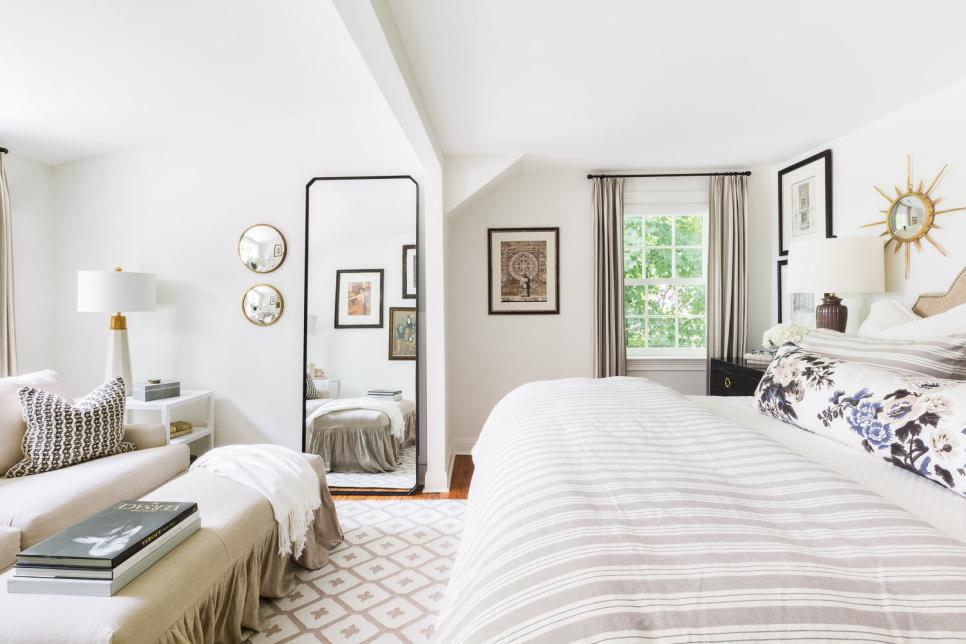 Image Credits: hgtv.com
4. Improve Your Bedroom Flooring Plan
Before: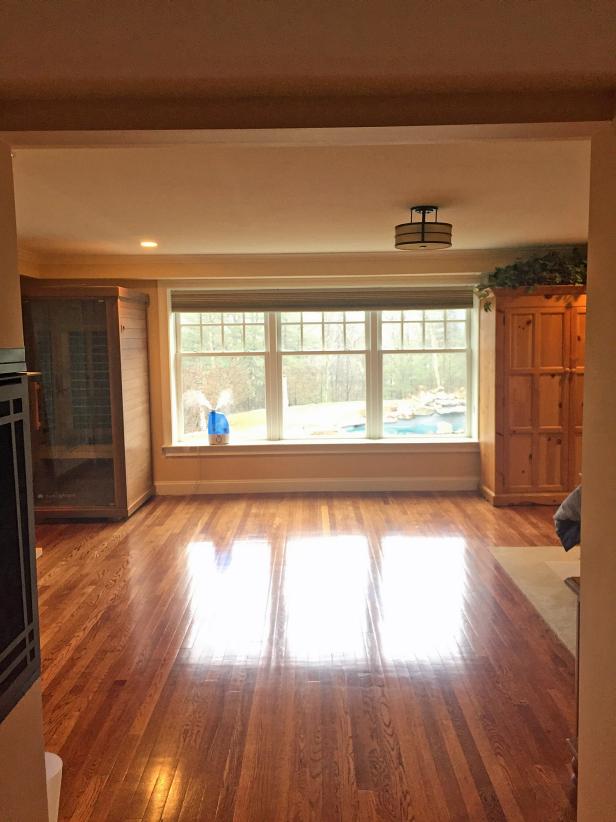 Image Credits: hgtv.com
You can add a bit of luxury to your bedroom by replacing the flooring with wood and adding area rugs. First, replace or refinish your wood flooring and add a soft rug underneath the bed to protect your feet from cold. You can also go for fluffy cowhide rugs if you like trendy choices. If you cannot afford wood flooring, you can opt for peel-and-stick flooring as it is more affordable, and you can install it yourself. Let's discuss some of the flooring ideas you can improve on.
After: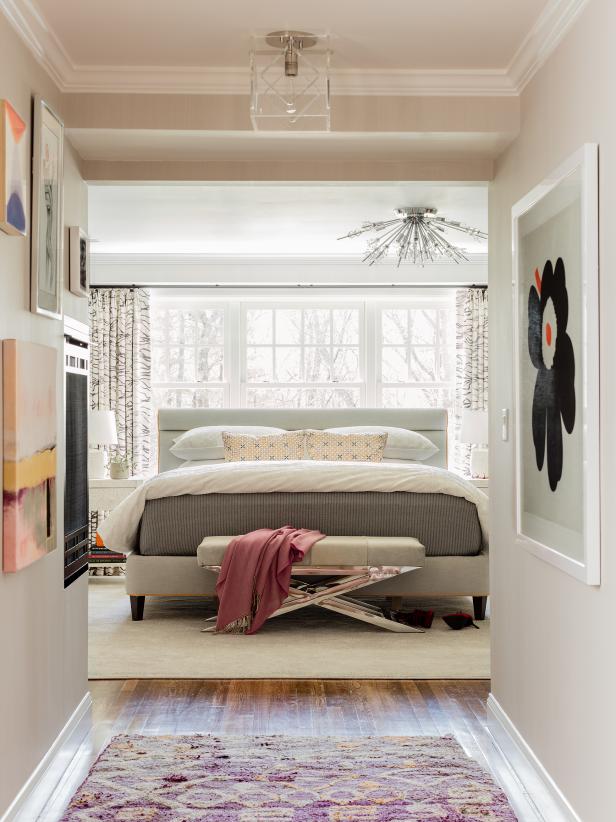 Image Credits: hgtv.com
a). Carpeting
Carpets bring in warmth and are soft on the feet. You can get them in different color themes, designs, and patterns. You can make a statement by including an eye-catching carpet that complements your space. Carpets are available in two main categories: loop pile and cut pile. These two categories are further divided by other subcategories.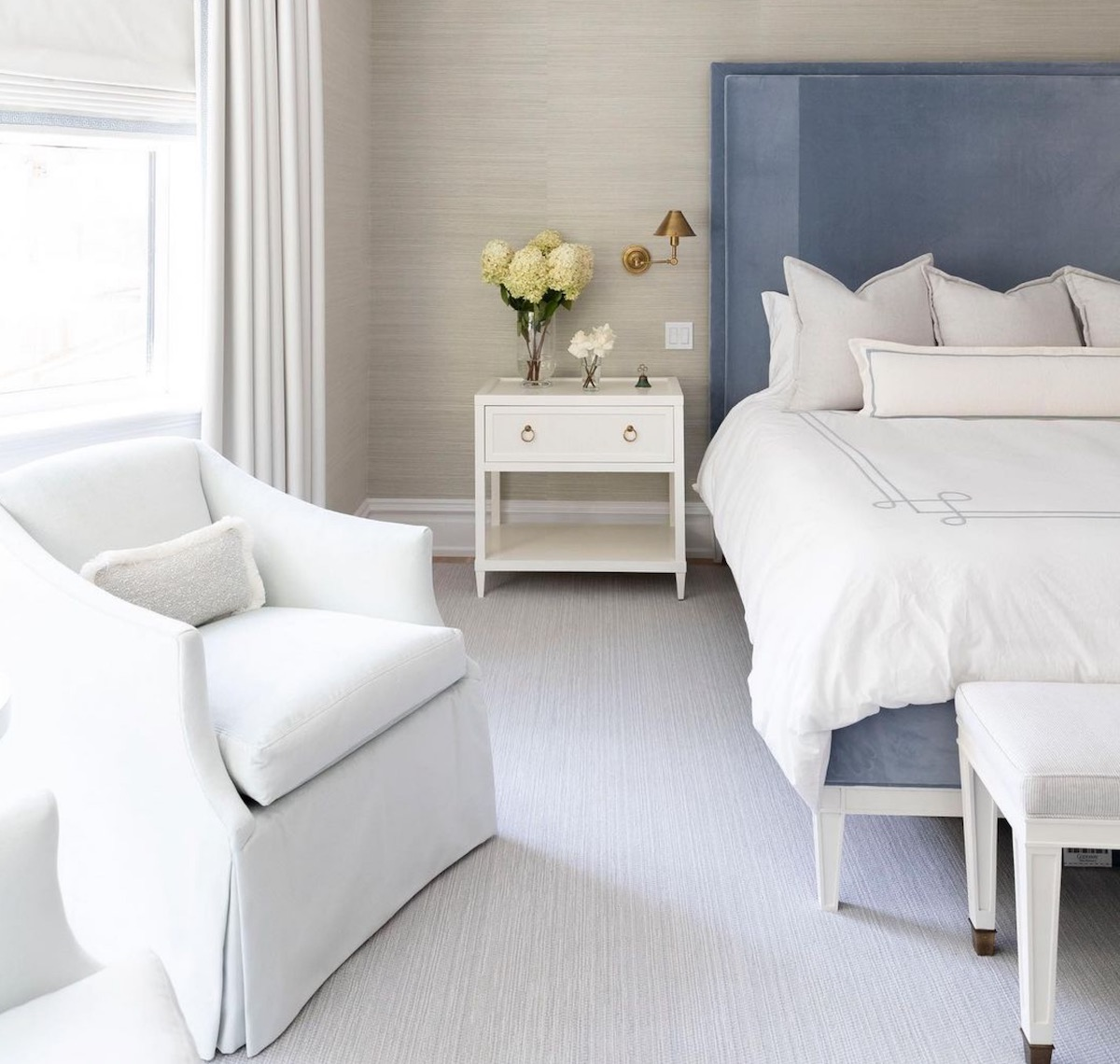 Image source: carpettimenyc.com
You can know if a carpet is a cut pile through its texture and Saxony. On the other hand, level loop and Berber are the main categories of loop pile carpets.
b). Include Area Rugs
Area rugs are the best since you can lay them over any flooring and still come out beautiful. You can also lay them over carpets since they are available in different sizes, colors, and materials. They make hard flooring soft by providing warmth and comfort. They also act as artwork for your floor; if you get quality ones, they will last long. You can also look out for bedroom rug placement ideas that will transform your bedroom.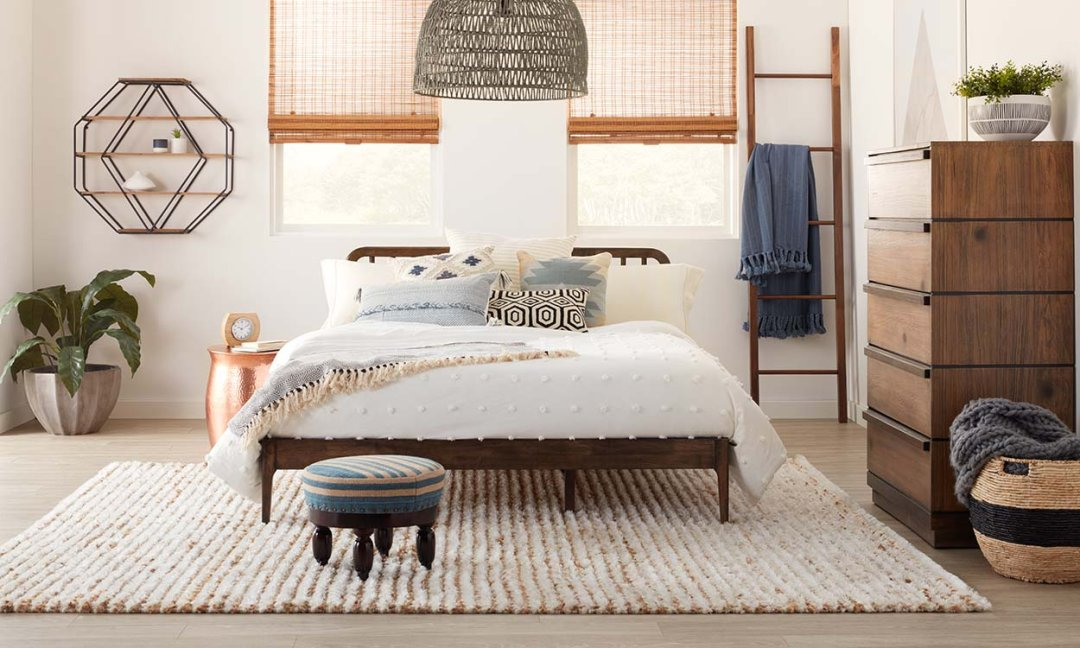 Image source: overstock.com
c). Include Laminate Flooring
Laminate flooring resembles natural wood and comes in many styles and wood-tone colors to fit a couple of decorating styles. It is less expensive to install and has an easy setup. Its downsides are that it is prone to scratching and buckling if it comes into contact with water or other liquids.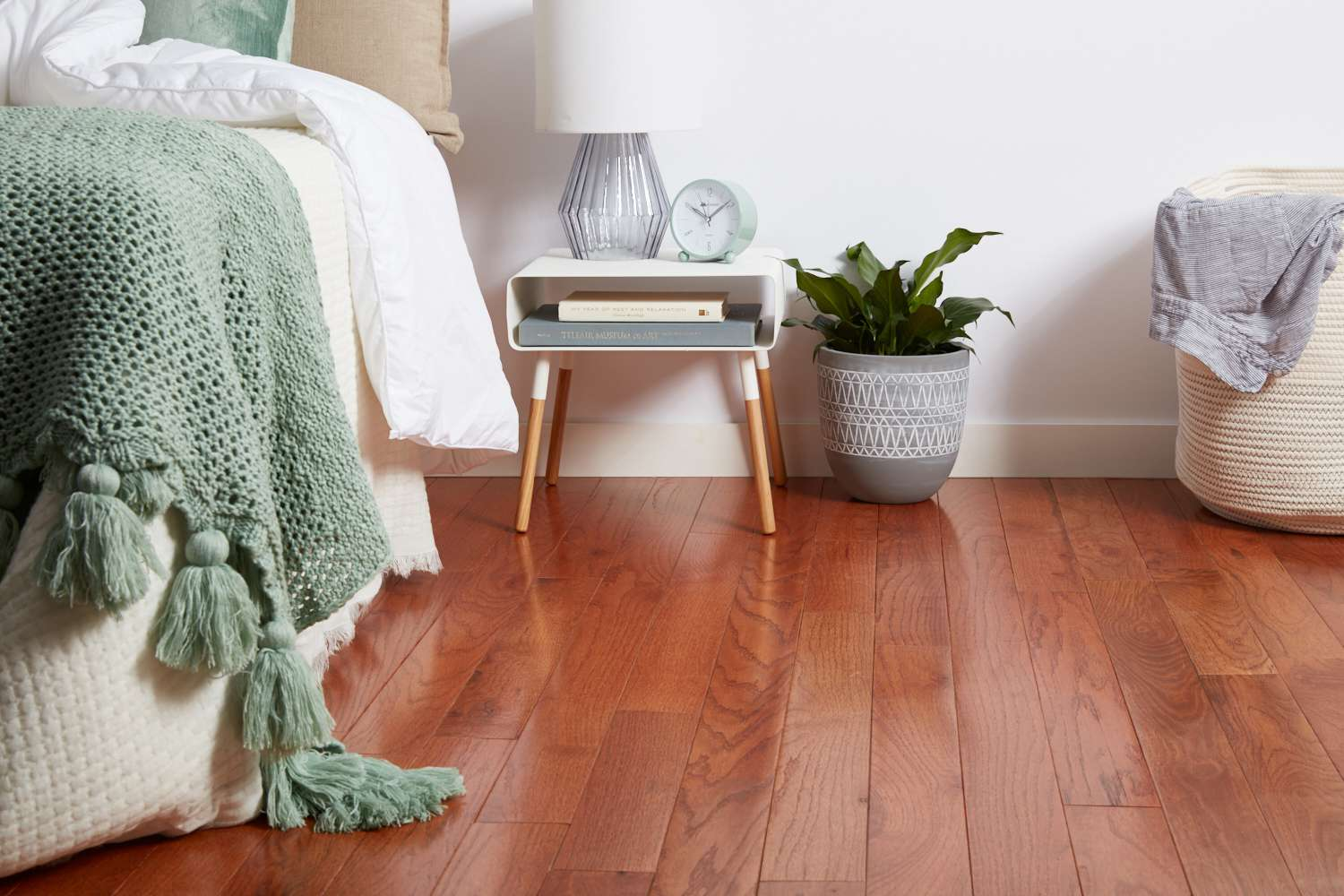 Image source: .thespruce.com
d). Use Wood Flooring
Wood flooring adds warmth and beauty to any room setup. You need to use hardwood flooring for your floor to be extra durable. You can use ash, oak, walnut, and maple. However, the easily available ones include strip, parquet, and plank.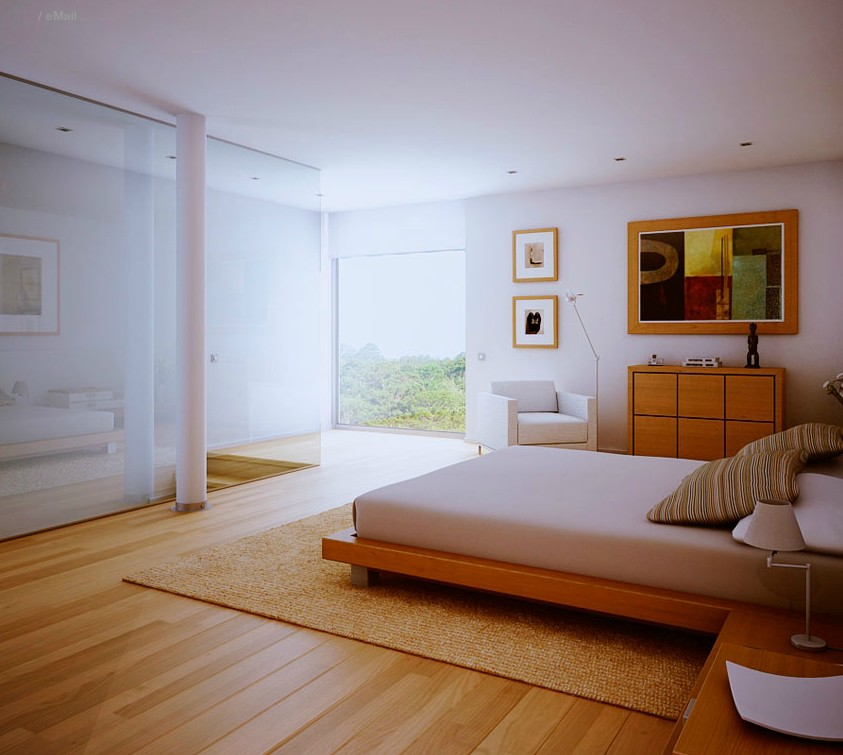 Image source: home-designing.com
E). Use Rubber Flooring
Rubber flooring is made from recycled or virgin rubber. It is available in different styles, patterns, and colors. Rubber flooring is quite durable since it can last for over 30 years. It's a great alternative for remodeling your children's bedroom since it s easy to clean and maintain.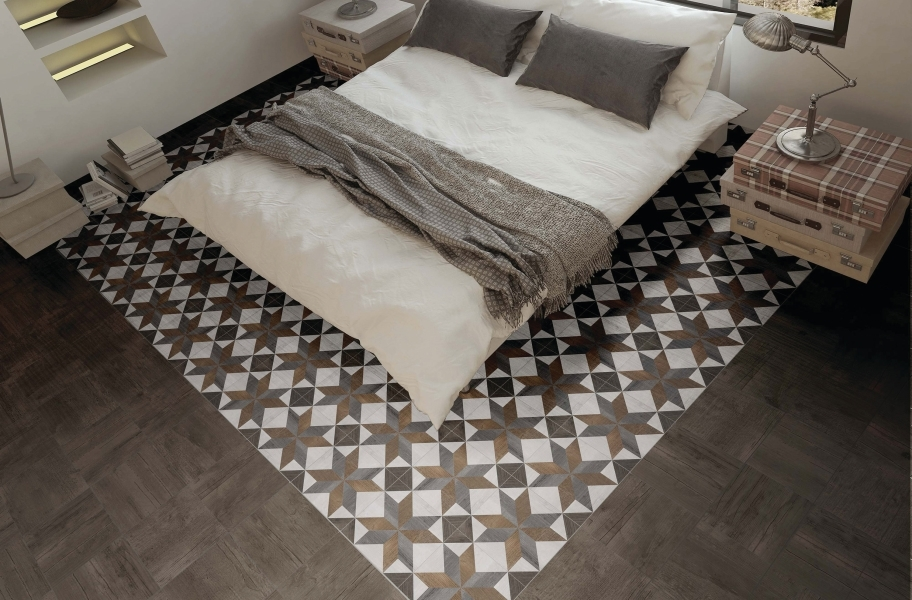 Image source: flooringinc.com
However, if you do not know how to install it, you may need professional help. You can look for quotations from different contractors to get the best deals.
5. Include Indoor Plants
Before: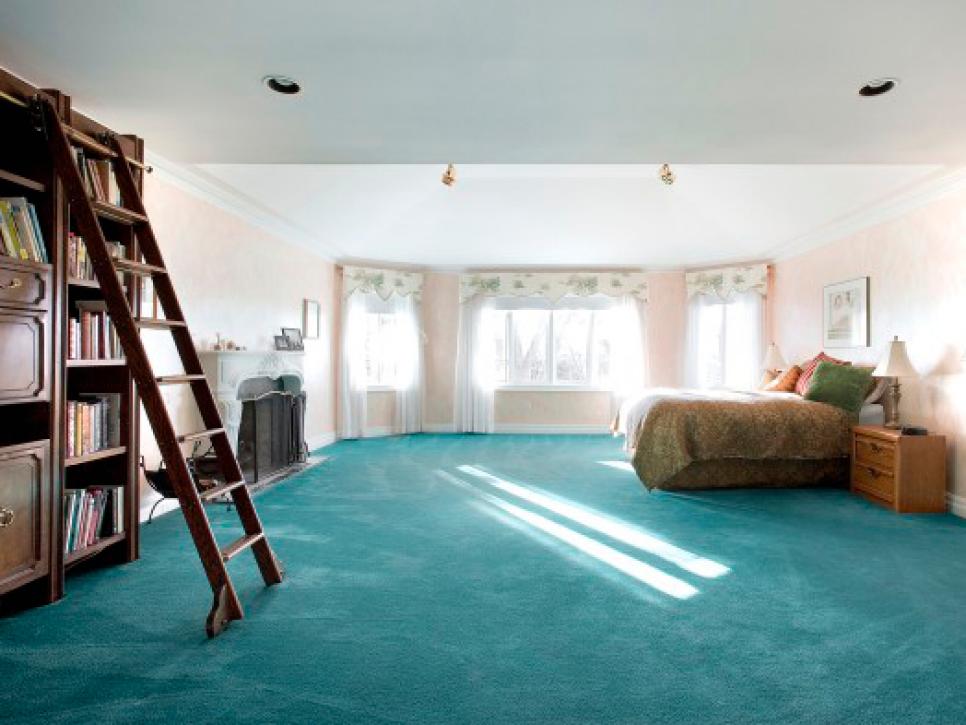 Image Credits: hgtv.com
Indoor plants are the best for increasing oxygen levels by making your room look rich and full of life. In addition, they enhance the mood and set a calming effect.  Some of the best plants for bedroom include the golden pothos, snake plants, spider plant, and weeping fig.
After: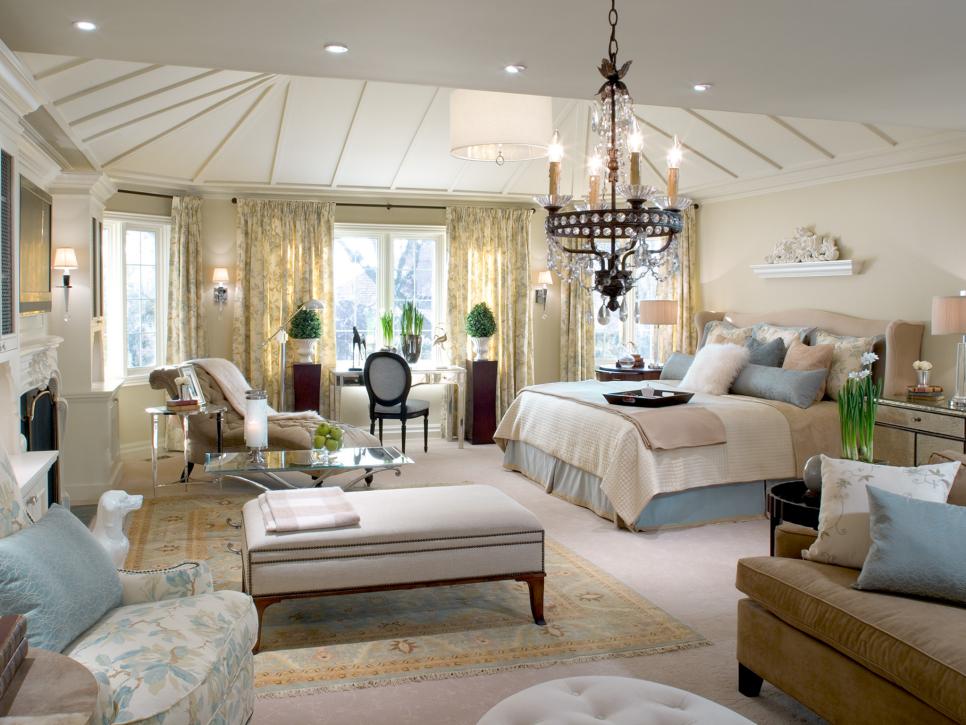 Image Credits: hgtv.com
However, if you are not a plant person, you can go for plastic plants since they do not require much maintenance. They look similar to natural plants, only that you will not have to care for them.
You can turn plants into the focal point of your bedroom by hanging them above your window. It's also an excellent way to add greenery to your room without taking the space on your dresser table or nightstand.
You can use a drapey plant to achieve an overflowing look when you hang it up a wall surface. Plants also add instant color and texture, giving your room a more dynamic look.
6. Add Items That Make Your Space Look Bigger
Before: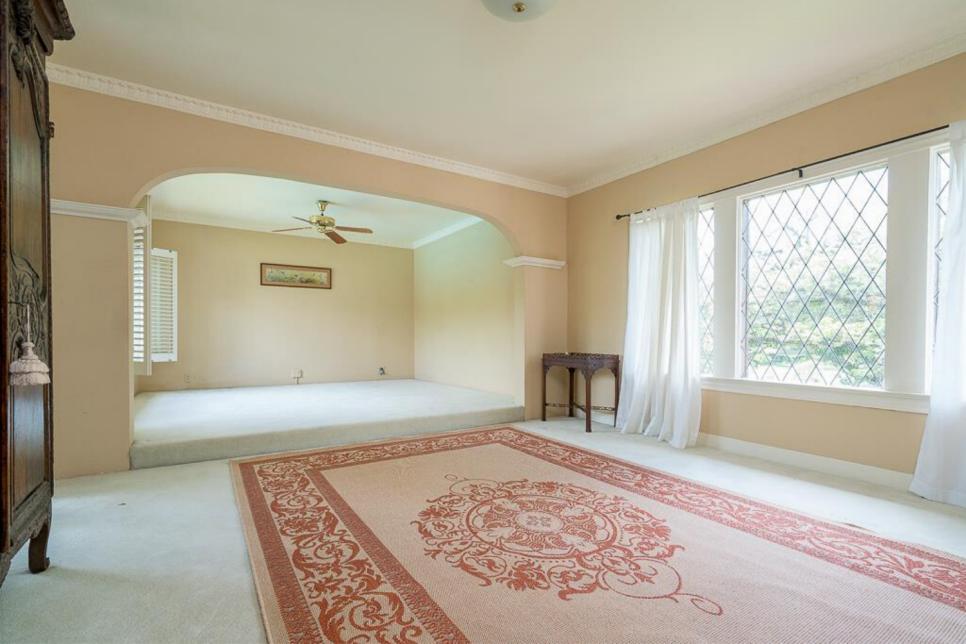 Image Credits: hgtv.com
Remodeling a bedroom setup can be expensive, but with the right one, it can be affordable and easy to create more space by removing items such as a door or a wall fixture that makes the bedroom look smaller.
After: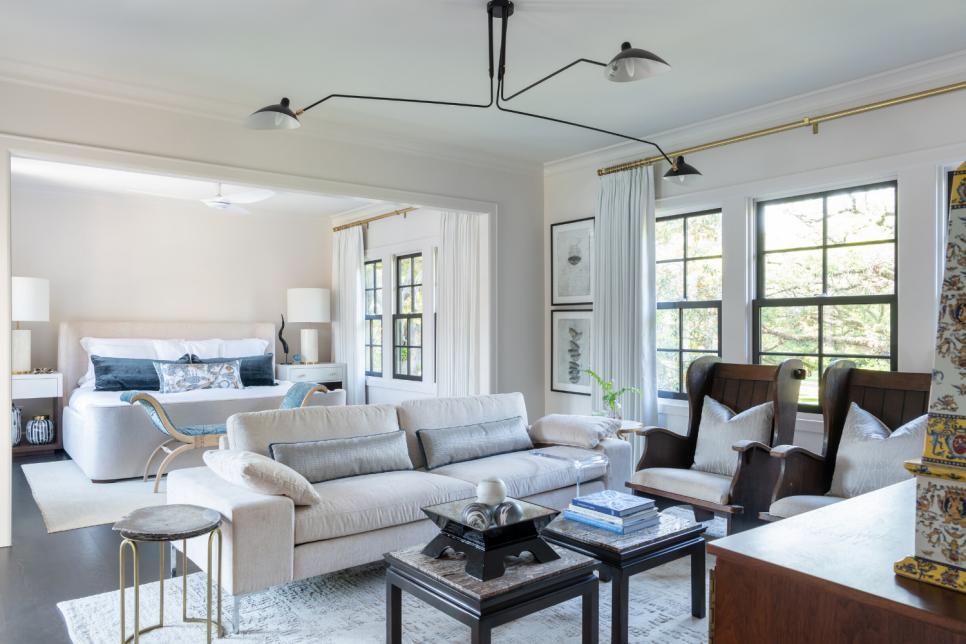 Image Credits: hgtv.com
You can add a door if a bathroom is next to the bedroom and create a primary bedroom suite without removing guest access to the bathroom.
7. Bring in New Bedroom Furniture and Decor
Before:
Image Credits: hgtv.com
If you already got your bedroom size, color, and functionality right, it's time to add a lite spruce by bringing new furniture and decor. Some bedroom remodels ideas do not need tools for construction; they are easy to install and cheap to acquire.
After: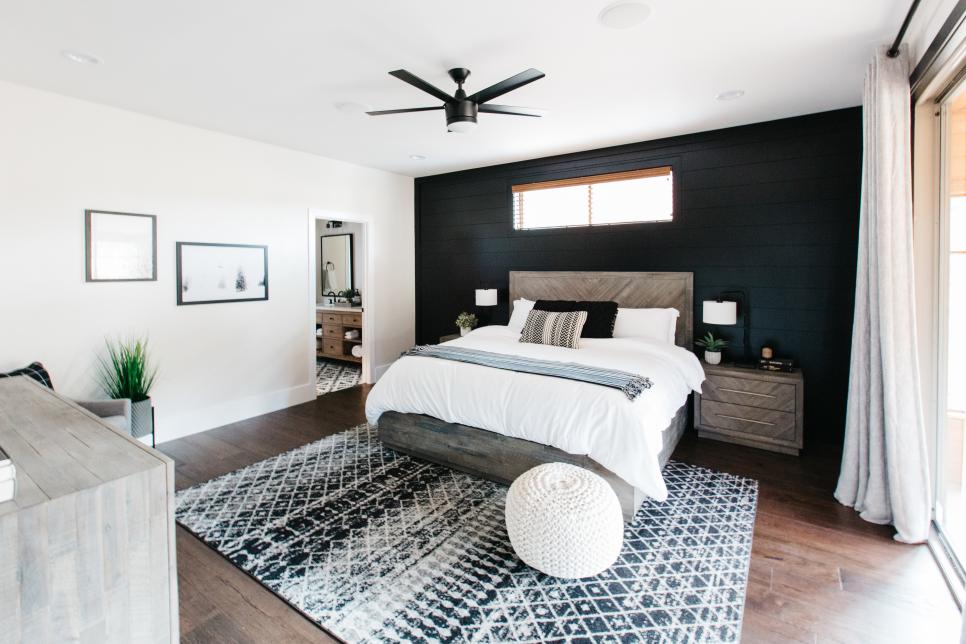 Image Credits: hgtv.com
If you add luxury bedding, you can revamp your bedroom, especially when you change your bed frame and add a new mattress. Since a bedroom is a place of calm and rests, you can pick a design style and color scheme that matches the energy you want. If you don't want to fiddle with multiple colors, choose furniture that comes in black or white with natural wood accents around the room. You can also choose furniture that has a natural wood finish for a more simplistic look.
8. Revamp Your Bedroom Ceiling
Before: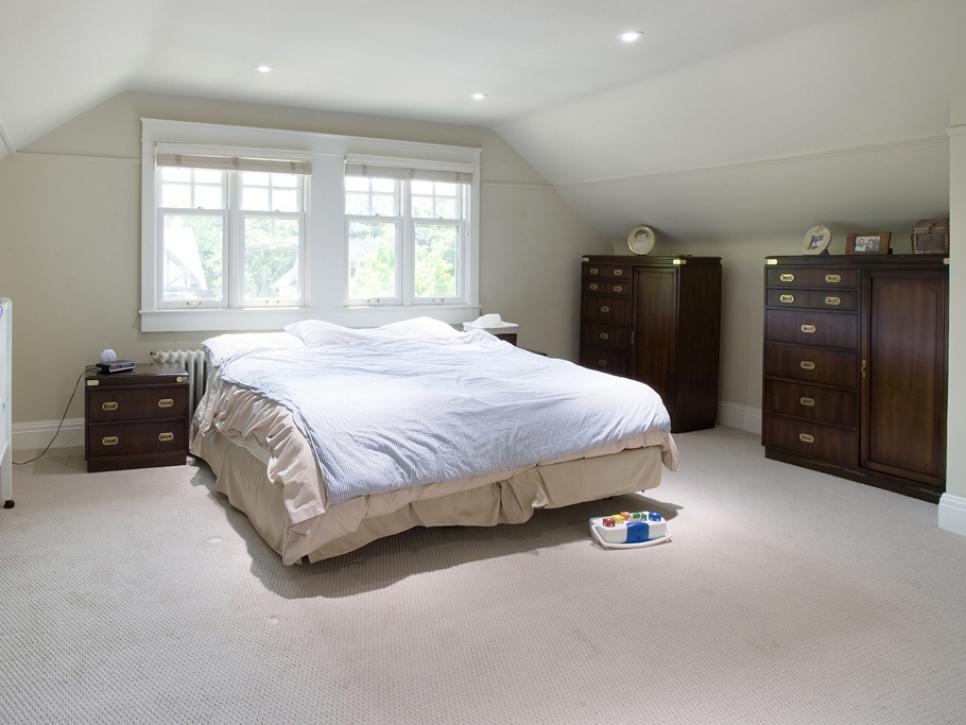 Image Credits: hgtv.com
The bedroom ceiling is the most overlooked part of bedroom remodeling ideas. You can add a little paint on it to freshen the room if you do not have the finances to do a full ceiling makeover.
After: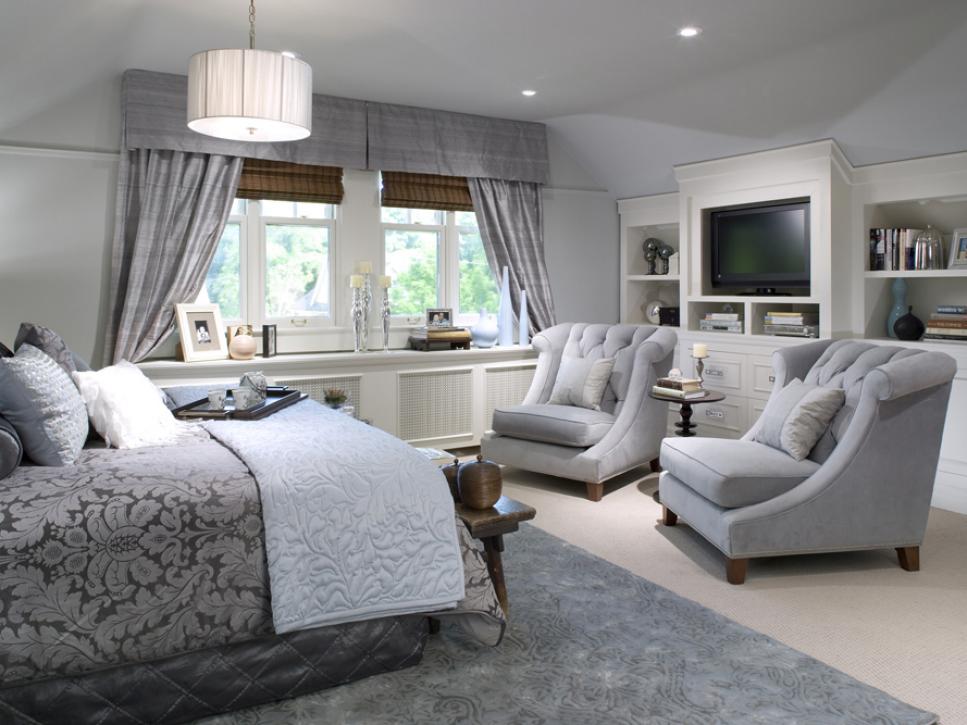 Image Credits: hgtv.com
The right paint will blend with the top section of the wall and give your bedroom a modern vibe. However, if you have a bigger budget for revamping your bedroom ceiling, you can opt for faux beams as they jazz up a bedroom ceiling.
9. Cover Your Bedroom Window
Before: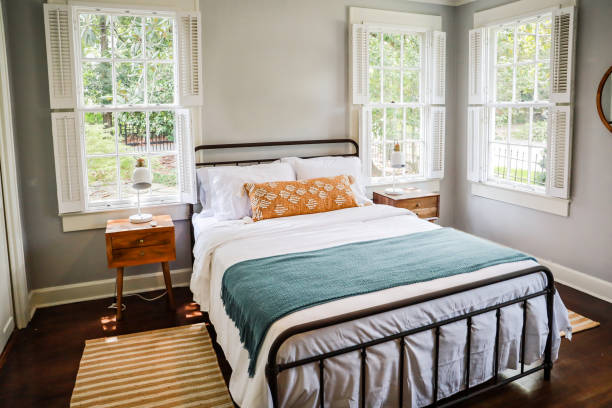 Remodeling your window area adds color, texture patterns, and softness to your bedroom. You can remodel your bedroom window by adding shades, linen, shatters, and sheers. Opt for a soft sheer that will filter out light or combine the sheers with opaque roller blinders that will block the light at night and give you privacy.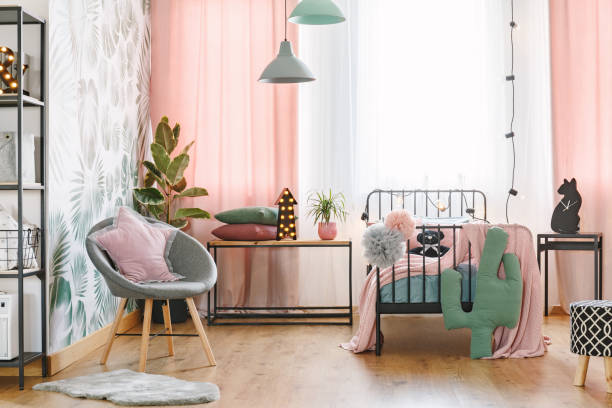 Curtains, shades, and blinds can be expensive, but you can opt for white panel curtains that are cheap, simple, and match any style. If you are looking for curtains that block morning light and are not heavy, you can choose thick velvet or cotton in warm colors.
Before settling for a curtain option, you must also decide on the coverage you want. Go for colors that blend with your room's theme. If your room looks more vibrant, you can match the color of your bedsheets to that of your curtains.
Bedroom Remodel Ideas for Storage Space
If you want to remodel your bedroom to increase your storage space, you can include a walk-in closet or any other dresser or wardrobe if there is enough flooring space. However, the built-in storage may be helpful if there is no flooring space.
If you design your bedroom uniquely, you can use the vertical space to create more storage space and leave room for a bench seat with built-in drawers. In addition, you can include two nightstands and overhead lighting.
1. Remodel Your Bedroom Vanity Space
Before: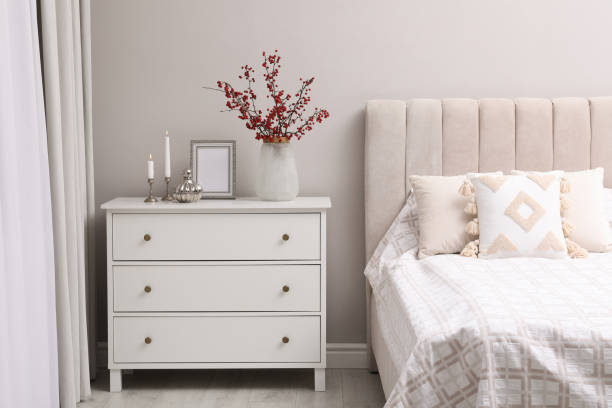 If your home has a limited bathroom space or you are experiencing many people and fewer bathroom situations, you might benefit from this idea. A bedroom vanity will provide a space you can use to apply your makeup or moisturizer without using the bathroom.
After: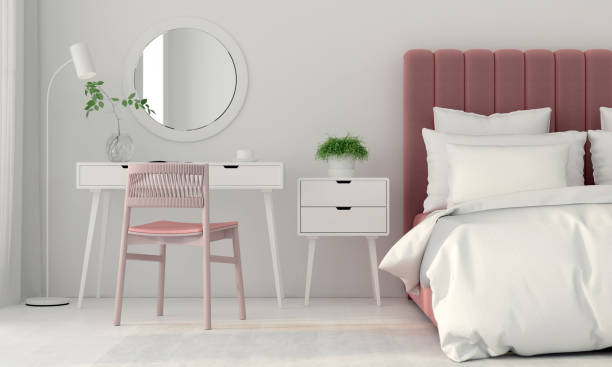 In addition, the bedroom vanity idea takes less space and is simple to set up. You only need a simple console table and chair setup, and you are good to go. You can also use the area as your work-from-home area and finish your work assignments there.
2. Add Character Touches To Your Bedroom
Before;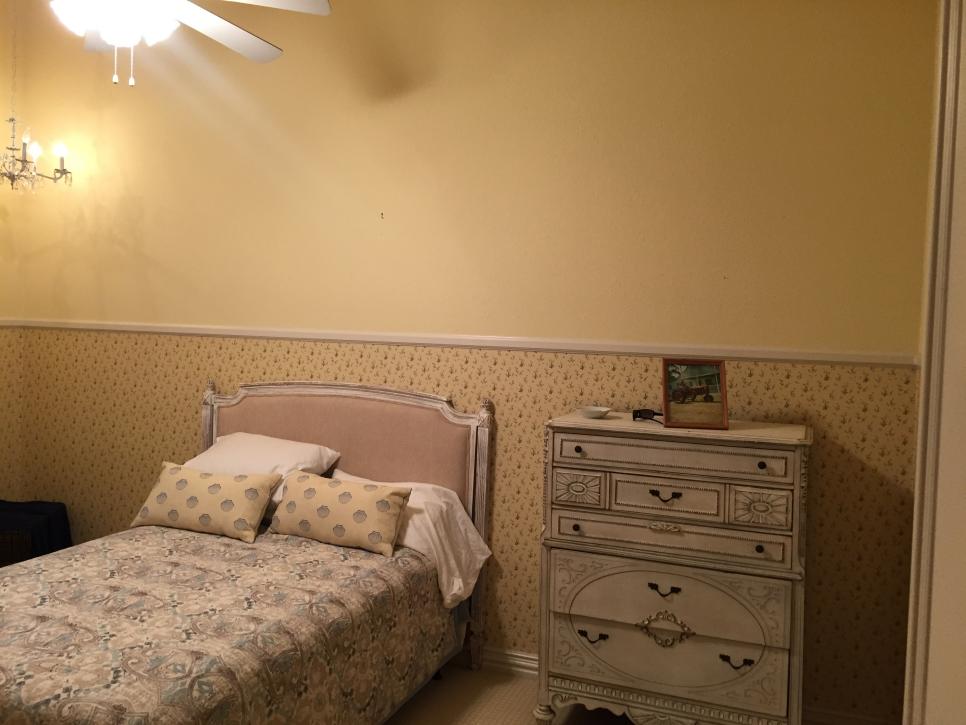 Image Credits: hgtv.com
You can add character to your bedroom to bring out your personality. Bedrooms with personalized characters turn the area into a destination instead of a sleeping area. Most bedrooms require only light touch up, while others require physical items that define a person. For example, you can choose a canopy bed, bamboo stands or add a unique ceiling fan.
After: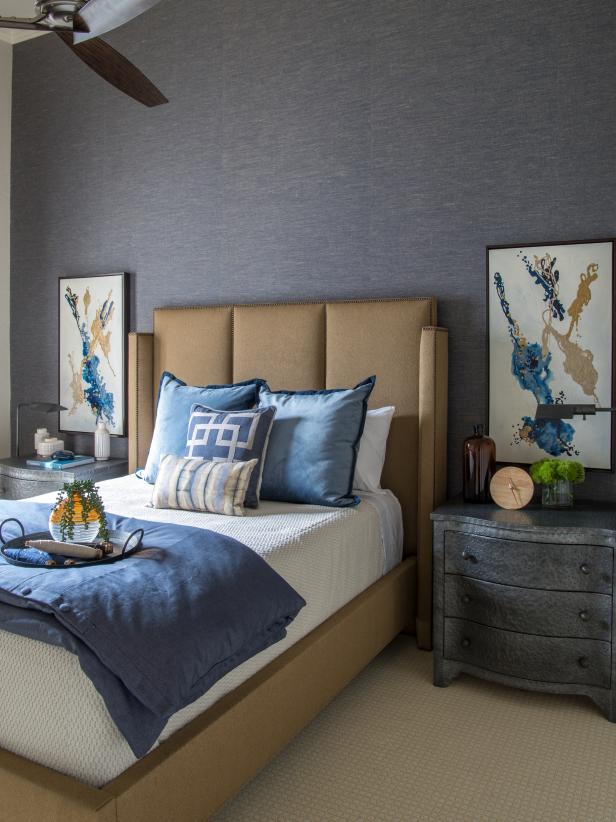 Image Credits: hgtv.com
If you are looking for an island look, you can use ornamental plants and pillow accents.
3. Turn Your Existing Bedroom Into a Primary Suite
Before: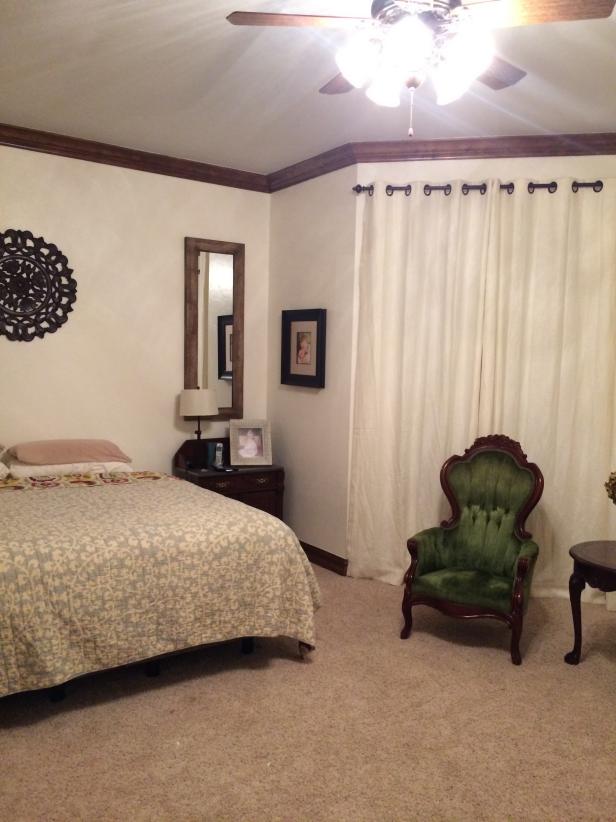 Image Credits: hgtv.com
Transforming a home is always expensive since you must add a new setup to almost everything. However, you can transform your existing bedroom into a primary one (what most people call the main bedroom) as long as you have space.
After: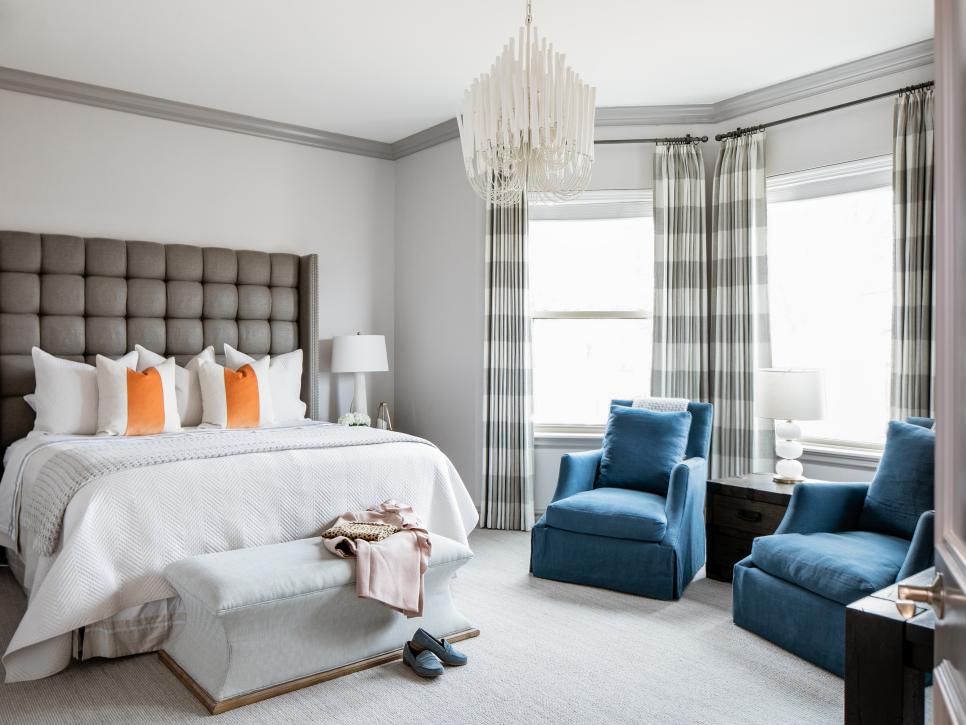 Image Credits: hgtv.com
You can create a primary suite without laying down a single square-foot foundation. Instead, you can merge two bedrooms and a hallway into one large area. The result will be a top-floor living-sleeping area with a lot of lighting and cozy at night.
Cost for A Bedroom Makeover According To Type
Bedroom remodels ideas are based on different types. If you opt for a standard remodel, you may need a new primer on the walls, fresh crown remolding, and maybe a new flooring plan. More intensive projects like converting a garage or basement into a bedroom will cost you more.
However, to get the most out of remodeling your bedroom's bathroom, you should keep its footprint intact. Remodeling a bathroom can be expensive since moving water supply lines costs a lot. Instead, you can maintain the existing infrastructure and redirect that money into styling your vanity, bathtubs, tiling, and fixtures.
1. Standard Remodels
Image Credits: pinterest.com
You will need an average cost of $4000 to $20000 to remodel an average-sized bedroom without adding any square feet. The cost will cover paint, new crown molding, and new floors. However, the cost can scale higher if you choose custom paints, premium floors or high-quality wood, and new windows and doors.
2. Room Expansion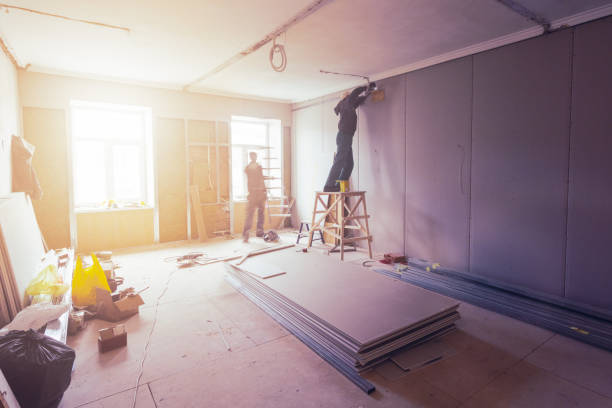 A bedroom expansion means you will need to add an extra square foot to update a small bedroom. It can cost more since it involves interior and exterior updates. Expanding an existing space can cost over $40000 since you need to add a new wall frame, drywall, paint, flooring, siding, and ceiling materials. You can also include new doors and windows if needed.
3. Combining Two Bedrooms Into One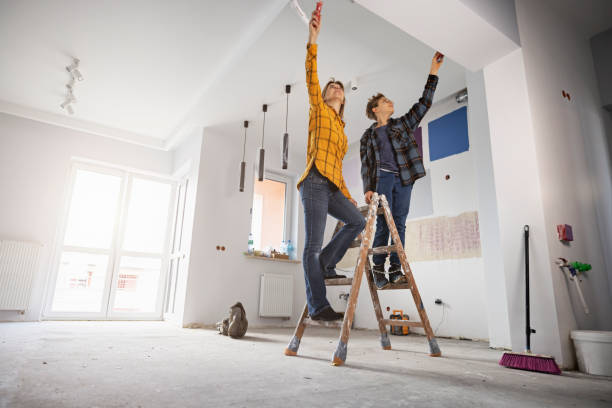 If you choose to remodel two bedrooms to one, you may spend less than expanding a bedroom, especially if the rooms have the same design and flooring.
The average cost may be around $2000 if you knock down a non-load-bearing wall and add minor touch-ups such as laminate flooring and fresh paint. However, you can also choose a more intensive construction with load-bearing walls, new primer and paint, and new flooring, costing you around $10000.
4. Attic, Basement, and Garage Conversions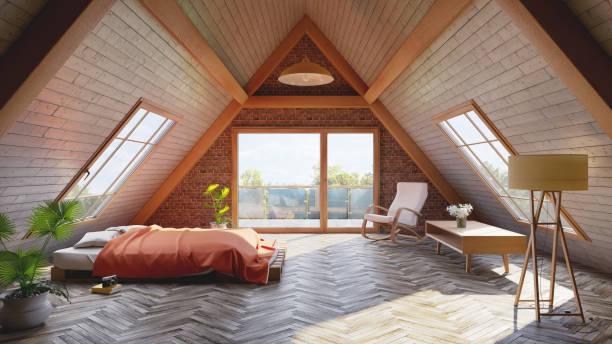 You can turn attics, unfinished basements, and garages into bedrooms, but you will need to work on them a little more to make them habitable. You will need to waterproof or insulate these areas as you will need new flooring, paint, ceilings, and electric work for outlets and lighting. The average cost of remodeling these areas to bedrooms can be around $20000 to $40000.
Factors that Influence Bedroom Makeover Costs
1. Type
Bedrooms come in different sizes and locations. They also have some attachments, such as bathrooms, or can be in an attic, garage, or basement. The cost of remodeling a bedroom can vary with the living space or location. Some spaces are more challenging and will require more money than others.
2. Size
Bedroom renovations that involve entire spaces or unused spaces cost between $100 and $200 a square foot. You can use the following quotations to renovate your bedroom based on its size.
3. Project Costs
You can remodel many areas in your bathroom, like surfaces, floors, walls, ceilings, walk-in closets, or windows. You can also choose to extend your bedroom or merge two bedrooms into one. Bedroom remodel costs are based on the project you intend to achieve.
Although not every remodel may contain these projects, you can get a quotation for your specific project and focus on the areas you want to remodel.
4. Materials
You will need a lot of materials for your bedroom remodel ideas. For example, you will need walk-in closets, new flooring, crown molding, and insulation, which can affect your budget.
5. Furniture and Decor
If you replace all your bedroom furniture after a remodel, you will have a higher budget. Most furniture and decor prices are based on your preferences, but they can be higher if you want new decorations and furnishings.
6. Smart Home Features
If you want your bedroom to feel more comfortable, you can add automated features such as smart lights or thermostats. You can budget around $1000 to $4000 if you want these smart technology and professional installation to be done in your bedroom. Although you are on a tight budget, you can get these smart light bulbs and outlet plugs for $10 to $100 each.
Conclusion
Remodeling your bedroom is an upgrade for people who want to come to a calm home or have a restful sleep. It gives your bedroom an elegant look while ensuring you get comfortable. A few remodeling ideas include painting walls, adding different light fixtures, adding flooring, or adding plants.