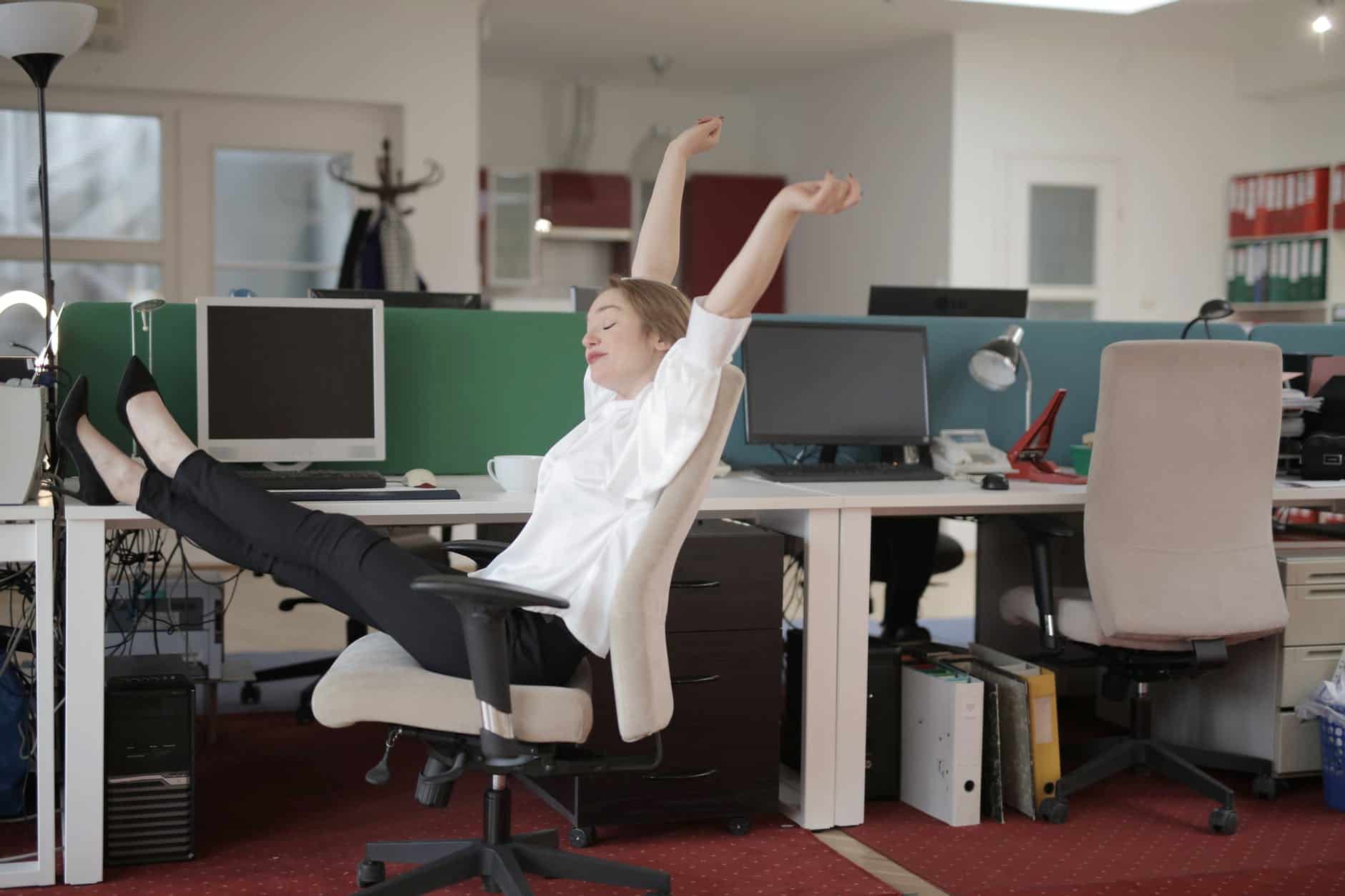 Best Computer Chair for Long Hours of Working or Gaming
Apart from sleeping, the next thing we do with our bodies for hours on end is sitting. According to the Washington Post, an average adult in the United States sits for about 6.5 hours per day. The pandemic has caused lockdowns, forcing many people to work from home. An uncomfortable chair may cause you back pains. Therefore, we will help you find the best computer chair for long work hours.
Best Computer chair for long hours
1. BestOffice Ergonomic Office Chair
Sale
BestOffice PC Gaming Chair Ergonomic Office Chair Desk...
BUILT FOR COMFORT - Our leather office chair is built for...
ERGONOMIC DESIGN - Designed with human-oriented ergonomic...
BIFIMA QUALITY-CERTIFIED - Our chairs pass all components of the...
EASY ASSEMBLY – Our chair comes ready to assemble, with all the...
CUSTOMER GUARANTEE – We want all of our customers to feel...
BestOffice Ergonomic office chairs are built for comfort with wider than average desk chair sizes. These chairs have an adjustable height and a locking mechanism. They are upright, so they reduce the chances of getting back pains by providing good lumbar support. In addition, BestOffice chairs have an ergonomic design that gives users the freedom to move around when working easily or gaming, allowing them to sit for hours without having to stand to move around.
Each BestOffice chair is easy to assemble and has all the necessary tools. A step-by-step guide will help you finish setting up the chair in 15 minutes. Every BestOffice office chair passes every test and has BIFMA certification. The leather chair has a sturdy and reliable option with a weight capacity of 250 pounds. Best service has great customer service, and the chair comes with a 90-day warranty to ensure that every client is satisfied before using it.
2. Respawn 110 Racing Style Gaming Chair
RESPAWN 110 Racing Style Gaming Chair, Reclining...
GAMIFIED SEATING: A racecar-style gaming chair that provides...
ERGONOMIC COMFORT: With segmented padding designed to give highly...
4D ADJUSTABILITY: Find your optimal position by raising or...
PREMIUM MAKE: Upholstered in bold, contrasting colors but...
WE'VE GOT YOUR BACK: Sit back and relax knowing this video game...
Respawn racing style gaming chair provides luxury and comfort for long working days or gaming. The chair has a segmented padding design for ergonomic comfort where you need it, reducing the chances of getting back pain. The office chair is equipped with an extendable footrest for maximum comfort. An adjustable headrest, padded armrest, and lumbar support pillows make Respawn the best ergonomic office chair available. The chair will provide an all-rounded comfort for your back and your whole body.
The desk chair can be raised and lowered and has a reclining degree between 90 and 155 degrees for an optimum seating position. The office chair has a full 360-degree swivel rotation which enables dynamic movement. Each padded armrest pivots with the chair as it reclines, ensuring uninterrupted sitting positions.
The gaming chair can be used in the office and has a 270-pound capacity for longer use. A limited lifetime warranty guarantees that Respawn has confidence in their office chairs to provide the back support your body needs for long hours of sitting to avoid injuries.
3. OFM ESS Collection Gaming Chair
OFM ESS Collection GAMING CHAIR BLACK, Racing Style
COMPUTER GAMING CHAIR: A race car style chair that provides...
ERGONOMIC SWIVEL CHAIR: With contoured segmented padding,...
ADJUSTABLE RACING CHAIR: Features height adjustment, center-tilt...
PREMIUM LEATHER CHAIR: Upholstered in SofThread Leather and...
DURABLE OFFICE FURNITURE: This heavy duty chair has a 275 lb...
The OFS ESS collection chair is a racing-style chair that provides comfort and luxury during long gaming or office hours. In addition, the chair has adjustable lumbar support with a contoured padded segment, padded arms and an integrated headrest padding to ensure maximum comfort. The chair has adjustable parts, enabling you to use the chair for long hours on any given day. Center-tilt control, flip-up arms, a 360-degree swivel and a height adjustment make the seat one of the best office chairs available on the market.
OFM is a premium leather chair upholstered in SoftThread leather and contrasting colors for a cool feel and an aggressive style. The heavy-duty chair can comfortably support up to 275 pounds for long-lasting use.
4. Herman Miller Aeron Ergonomic Chair
Herman Miller Aeron Ergonomic Chair - Size C, Graphite
Your purchase includes One Herman Miller Aeron Ergonomic Chair...
Chair dimensions: 43" H x 28.25" W x 18.5" D. Seat heights:...
Tilt Limiter lets you set the recline range at one of three...
Try the Adjustable PostureFit Sacral/Lumbar support. Two...
Fully Adjustable Arms adjust from a height of 6.8" above the...
The Herman Miller Aeron is a task chair for ultimate lumbar support. The seat has an 8-zone pellicle suspension seat and back with varying tension which supports and cradles the body, making the seat a very comfortable office chair. Posture brackets of the chair support the spine while keeping the forward tilt of the pelvis. The Aeron chair is a good chair for long work hours because of its adjustable pads that provide a lumbar supporting system and stabilize the base of the spine for a more powerful posture.
Aeron supports an entire range of movement, including leaning forward or reclining, with balanced and smooth movements. The chair has a very civilized design that sets ergonomic office chair standards.
5. Home Office Mesh Computer Chair
Sale
Home Office Chair Ergonomic Desk Chair Mesh Computer...
✿【Easy to Set up】 - Office chair comes with all hardware &...
✿【Soft & Comfort Seat】 - Desk chair using high-density...
✿【Quality Material】 - All the accessories of our office...
✿【With Armrest】 - It is a good choice to add one of our...
✿【Ergonomic & New Patent】- The cushion of office chair,...
Home Office mesh computer chair has a high-density sponge cushion and good lumbar support for the safety of your back. The office chair has a middle back design and rectangular ornaments for a good look and maximum comfort. In addition, the chair has a breathable mesh back, which ensures reduced body heating on your back, keeping you fresh all day.
The home office chair is very easy to put together and can take 10 to 15 minutes to set up for use. The chair passes the BIFMA test and has a weight limit of up to 250 pounds.
Factors to Consider Before Buying a Computer Chair
Most chairs will support an average weight of 250 pounds. However, other seats can support up to 350 pounds. A chair within your weight range will swivel safely, and the adjustments will not fail or break.
b) Adjustable Features
A good computer chair should be adjustable because sitting in one position for six hours is harmful. A good office chair for long working hours or gaming will have an adjustable headrest, armrests, footrest, recline angle and tilt. An adjustable height is appropriate for different workstations and people of different heights. Adjustable headrests will help your head and neck stay protected from injury or fatigue. In addition, the chair should have an adjustable seat depth which is the bottom line for your backbone.
c) Build Quality and Material
If the angles are off by the smallest margins, sitting for a long period can result in injuries. The tilt mechanism, wheels, adjustment features, and flexibility must work efficiently for a safe and comfortable experience. You should adjust the height easily without any hardship.
Seats built with bonded or PU leather will be priced differently than those made with breathable mesh. The bottom line is to find a material that is durable and up to the required standards
d) Price
The chair you want needs to fit within your budget. An office setup may require multiple seats, making your budget a very important part of the process. Gaming chairs have varying prices and can double up as office seats. The material used on the upholstery will make a difference in pricing. PU leather seats and mesh back seats will have different prices.
e) Comfort
Look at reviews before buying a seat. If you can try it out in the store before taking it home or to the office, please do so. Comfort means the user will obtain no injuries in the long run.
Images source: amazon.com