Since you cook on a gas stove, you will need specific sets of pots and pans. Though it may seem like any pan or pot can be used on a gas stove, some cannot heat food fast enough. Also, others discolor with time, so investing in the best cookware for a gas stove is critical.
In this post, we have listed several pots and pans that are safe to use, well-designed, durable, healthy, and affordable. Read on!
1. T-fal Ultimate Hard Anodized 17 PC Nonstick Cookware Set, E765SH
Sale
T-fal Ultimate Hard Anodized Nonstick 17 Piece Cookware...
DURABLE NONSTICK: Hard titanium reinforced, scratch resistant and...
THERMO SPOT INDICATOR: Ring turns solid red to show when pans are...
RIVETED HANDLES & VENTED LIDS: Handles are designed for comfort...
USE&CARE: Suitable for all stove tops (except induction); Oven...
SET INCLUDES: 8" fry pan, 10.25" fry pan, 11.5" fry pan with lid,...
The T-Fal Ultimate Hard Anodized E765SH Cookware Set is our top cookware for a gas stove. The set is made up of hard-anodized aluminum, which retains optimal heat, allowing you to cook in less time. Besides, it features a solid protective layer, making it corrosion and scratch-resistant. Additionally, the nonstick coating ensures that food does not stick to the surface.
This 17-piece set includes an 11.5" fry pan with lid, 10.25" fry pan, 8" fry pan, 10.25" square griddle, 3 quarts Saucepan with lid, 2 quarts Saucepan with lid, 1 quarts Saucepan with lid, 3 quarts stainless steel steamer insert with 2 side handles, 3.5 quarts deep sauté, 5 quarts Dutch oven with lid, and a 1 egg wonder fry pan.
T-Fal Ultimate Hard Anodized E765SH is safe in the dishwasher and oven. One of the features I like about this cookware set is that it comes with a thermos spot indicator, which shows when the pan is preheated, unlike other models I have used before. It also features riveted silicone handles designed to be safe and comfortable. Furthermore, the vented tempered-glass lids retain moisture and provide great visibility.
2. Rachael Ray 16802 Cucina Nonstick Cookware Set, 12 PC
Rachael Ray - 16802 Rachael Ray Cucina Nonstick...
SET INCLUDES: 1-quart and 3-quart saucepans with lids, 6-quart...
DURABLE DESIGN: Nonstick pots and pans from Rachael Ray are...
ENHANCED PFOA-FREE NONSTICK: Cookware set features...
CONVENIENCE AND CONTROL: The 12-piece nonstick cookware set...
OVEN SAFE: Oven safe to 400 degrees F, these versatile pots and...
Those who enjoy cooking may have heard of chef Rachael Ray. Rachael Ray 16802 Cucina Cookware set is from her cooking line. The unit has a modern design, incredible quality, and enticing color, which will fit well with your kitchen decor. The 12-piece set includes a 6-quart stockpot with lid, 1-quart and 3-quart saucepans with lids, 3-quart sauté pan with lid, 8.5-inch and 10-inch frying pans, a spoon, and a slotted turner.
Image Source: prudentreviews.com
Furthermore, the pots and pans set are made of solid aluminum with a hard-enamel porcelain exterior. It has dual-riveted rubberized stainless steel handles for your convenience. Also, this set has a PFOA-free nonstick surface which helps to release food easily.
Rachael Ray 16802 Cucina Cookware set comes with a nylon slotted turner and spoon for meal preparation. The set is ideal for a small or medium family. The pots and pans are also ideal for electric stoves apart from gas stoves. Cooking food has never been this easy for me because I can watch the food while cooking through the glass lid; I usually don't have to keep opening the lid to monitor the cooking progress.
3. Cuisinart MultiClad Pro 12 PC Cookware Set, MCP-12N
Sale
Cuisinart MCP-12N Multiclad Pro Stainless Steel...
Polished cooking surface does not discolor, react with food or...
Cookware also features cool grip handles secured with stainless...
Oven safe up to 550F, Rims are tapered for drip-free pouring.
Dishwasher safe, Tight-fitting stainless steel covers seal in...
12-piece cookware set. The set consists of: 1-1/2- and 3-quart...
Cuisinart MultiClad Pro, MCP-12N, is one of the best stainless steel pots and pans for a gas stove to count one. The cookware set is popular among both seasoned chefs and homeowners. Besides, the set comes with a brushed 18/10 rustless steel exterior and a polished interior. Moreover, the cookware features cold grip handles secured with stainless steel rivets.
Image Source: cookwareinsider.com
The 12-piece set includes a 1.5 Quart saucepan with lid, a 3 Quart saucepan with lid, a 3.5 Quart sauté pan with helper handle and lid, an 8 Quart stockpot with lid, an 8" skillet, a 10" skillet, 20cm steamer insert with lid.
The cookware set features a polished cooking surface that doesn't discolor, react with food, or change the flavor. It is also dishwasher-safe, making my cleaning routine easier. Additionally, it features a pure aluminum core and triple-ply structure for better heat conductivity; I'm never worried about half-cooked food.
4. Gotham Steel Pots and Pans Set Nonstick Ceramic Kitchen Cookware, 20 PC
Sale
Gotham Steel 20 Piece Pots & Pans Set Complete Kitchen...
Complete Kitchen In A Box: Includes everything you need to...
Ultimate Ceramic Nonstick: The Gotham Steel nonstick cooking...
Healthy & Non-Toxic: The Gotham Steel coating is composed of...
Metal Utensil Safe: The coating of the pan is infused with...
Effortless Cleanup, Dishwasher Safe: Spend less time with...
For the best cookware for a gas stove that comes with a budget-friendly price tag, count on the Gotham Nonstick Ceramic Cookware Set. The 20-piece set includes a full cookware set with skillets, saucepans, frying pans, stock pots with tempered glass lids, a casserole pan with a steamer tray and a deep frying, fry basket, and lid, plus a complete baking set with cookie sheet/jelly roll pan, muffin tin, loaf pan, and square pan.
Image Source: groupon.com
The set is well-designed, with three layers of the nonstick ceramic coating surface. The coating usually prevents the cookware from making toxic elements even in high heat. Furthermore, the cookware set is entirely oven safe and can withstand temperatures up to 500 degrees with the lead on. As a result, you can prepare your meals with ease.
This 20-piece set saved me a lot of money since it included a bakeware set. As a result, I'm sorted out whenever I need to bake cakes for my family. Conversely, the cookware comes with stainless-steel handles which are ergonomically designed for righties and lefties and remain cool to the touch. Moreover, the set is dishwasher-safe for quick and easy cleaning.
5. T-fal Ultimate Stainless Steel 13 PC Cookware Set, C836SD
T-fal C836SD Ultimate Stainless Steel Copper Bottom 13...
Set includes: 8 inches fry pan, 10.5 inches fry pan, 12 inches...
Multi layer strength: Heavy gauge base with multiple layers of...
Stainless steel interior: A well loved cooking surface, the...
Sturdy handles & vented lids: Riveted stainless steel handles are...
T-Fal C836SD Ultimate Stainless Steel Cookware is an all-purpose cooking set that includes everything you need for everyday cooking. The 13-piece set includes 12 inches frying pan with lid, 10.5 inches fry pan, 8 inches fry pan, 3 quarts; Saucepan with lid, a 1-quart saucepan with lid, 2 quarts; Saucepan with lid, 5 quarts; a Dutch oven with lid and a steamer.
Image Source: realsimple.com
The set features a heavy-duty stainless steel body and a thick copper bottom. This heavy-gauge base usually provides quick and equal heat distribution on a gas stove. My concern was the interior reacting with acidic food but rest assured that the cookware is safe for acidic meals. Also, the cooking surface of this cookware prevents food from sticking.
T-Fal C836SD Cookware has a modern design, exceptional durability, and high performance. As a result, you can conveniently use it in the oven and on any cooktop, even gas stoves. It features tempered glass lids with vented holes which helps to trap heat and moisture while allowing steam to escape. Moreover, it comes with riveted rustless steel handles for an ergonomic grip.
Factors to Consider Before Buying the Best Cookware for a Gas Stove
1. Type of Material
Image Source: amazon.com
i). aluminum
Aluminum pots and pans are among the best cookware for gas stoves. Aluminum material is lightweight and has great heat conduction and distribution properties. However, aluminum pots and pans can easily warp and react with acidic food. The good thing is that manufacturers are producing hard anodized aluminum cookware, which you can count on. Besides, this cookware doesn't react with acidic food or even warp.
ii). Stainless steel
Stainless steel cookware is also some of the best pots and pans for a gas stove to invest in. They are long-lasting, corrosion-resistant, and won't react with acidic foods. However, there are better models when it comes to even heat distribution. As a result, manufacturers bind other metals more heat-responsive to steel to improve their performance.
iii). Copper
Copper is yet another fast conductor and distributor of heat. It is a long-lasting material. However, copper cookware is costly and reacts with acidic foods.
iv). Cast iron
Cast iron cookware usually takes time to heat up. When they do, though, they conduct and uniformly distribute heat. But, on the other hand, they are heavy to handle on the stove cooktop.
2. The Lid
Another feature to consider when shopping for the best cookware for a gas stove is the lid of your cookware. First, ensure the lid securely seal your pots and pans. For instance, stainless steel lids usually seal in your food's juices, flavor, and aroma. They are also highly durable and can withstand high heat. However, you need to keep opening the cookware to know your cooking process.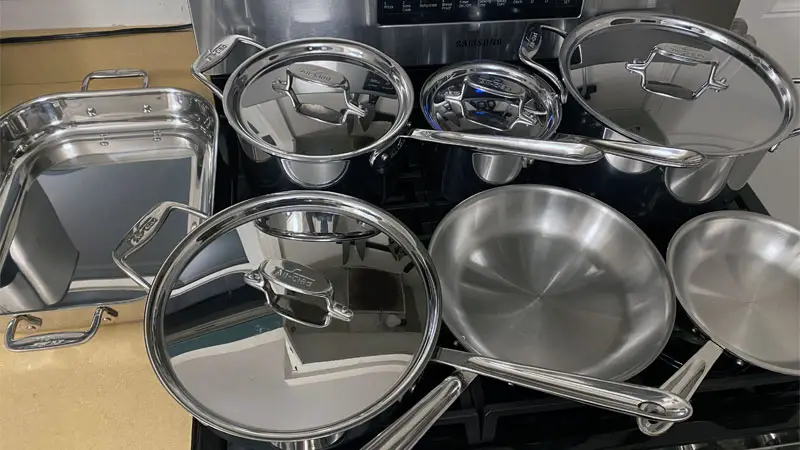 Image Source: homeawakening.com
On the other hand, tempered glass lids are durable and effective in retaining food's juices and flavors. And the good thing is that they allow you to monitor your cooking progress without opening the pot or pan.
So, which one do you prefer, the stainless steel lid or the tempered glass lid?
3. Heat Distribution
For the best cookware for gas stoves, go for a unit with good heat conductivity. This will ensure that the cookware will react quickly and consistently when cooking on low or medium heat. Note that hot spots can cause your food to overcook or undercooked, and you certainly do not want this to happen.
4. Durability
Using a gas stove with high heat usually requires the best durability from pots and pans. As a result, you must ensure that your cookware is durable. To know the cookware's durability, go through the customer reviews and read the experience of different users. Also, check the crucial areas, such as the handle, to determine how durable they are and what material they're made of.
5. Coating or Cladding
Before buying the best cookware for a gas stove, consider whether it has a coating or cladding. We recommend the cladding option since it's better for your health.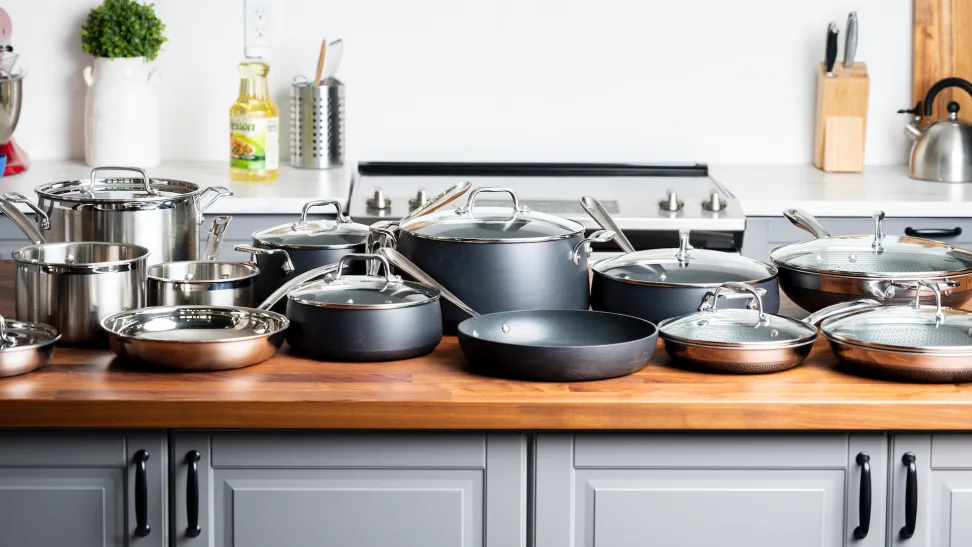 Image Source: reviewed.com
Cladding is often made of two materials, stainless steel with aluminum or nonstick with a base material. This allows both sides to benefit from their respective advantages without compromising any aspect, such as flavor.
6. Ease of Maintenance
When shopping for the best cookware for a gas stove, check whether it's easy to clean; you don't want pots and pans that will give you a hard time maintaining them. So, choose one with a smooth cleaning surface. Also, it's preferable if it is nonstick. Alternatively, look for cookware that's easy to clean even after getting burnt.
Frequently Asked Questions on the Best Cookware for a Gas Stove?
1. Are Colored Cookware Safe to Use on a Gas Stove?
We won't recommend using colored cookware pieces on a gas stove. The reason is you will be cooking on high heat at times. As a result, it may discolor, and the color can mix with foods. Besides, you will have to spend hours cleaning the pots and pans.
2. Is Ceramic Cookware Safe to Use on Gas Stoves?
Yes, ceramic cookware is usually a popular option for gas stoves. Ceramics are incredibly durable and versatile, making them suitable for almost any cooktop, including those with electric or natural gas stoves.
3. Do Food Tastes Better When Cooked on a Gas Stove?
There is no difference in flavor between cooking using gas and cooking using electricity. Since gas burns cleanly, there will be no flavor residue to detect.
Featured Image Source: thisoldhouse.com