If you dread cleaning your bathroom, you're not alone! According to a survey, cleaning the toilet is Americans' most hated household chore, followed by cleaning the oven and the windows. Scrubbing the stains and dirt on various surfaces is exhausting, time-consuming, and downright gross. So, why not get the best electric spin scrubber?
This is your ultimate tool for deep cleaning your bathroom. Not sure where to get one? You have come to the best place; we will review the top scrubbers on the market, including the Cordless Electric Spin Scrubber, which comes with rave reviews, the Labigo Electric Scrubber, which looks terrific and boasts excellent reviews; and the kHelfer Spin Scrubber that has two rotation speeds!
We will also provide tips on choosing the right one for your needs and preferences. After reading this article, you will be ready to transform your bathroom into a clean haven with the help of electric spin scrubbers.
Why You Need the Best Electric Spin Scrubber For Bathroom Today
An electric spin scrubber helps you clean various surfaces in your bathroom with minimal effort and maximum efficiency. It has a rotating brush that scrubs away the dirt, and you only have to wipe it away. The power scrubber also has different features and attachments to suit different surfaces and cleaning purposes.
But why do you need an electric spin scrubber? Here are the advantages of using one:
It saves you time and energy, so you don't have to spend hours scrubbing your bathroom by hand. It also reaches hard-to-clean areas, such as corners, gaps, and grout lines, that you might miss or skip.
It prevents the spread of germs and diseases. According to the CDC, cleaning and disinfecting your home effectively prevents the spread of disease and illness. An electric spin scrubber ensures your bathroom is clean and safe for you and your family
It makes cleaning fun and satisfying. An electric spin scrubber turns a tedious task into a fun and enjoyable one. You will watch the dirt disappear with a simple push of a button and feel the satisfaction of seeing your bathroom shine
Are you ready to buy the best spin scrubber on the market? Here are our top five suggestions!
| | | | |
| --- | --- | --- | --- |
| | | | |
| | | | |
| | | | |
| | | | |
| | | | |
1. Rechargeable Cordless Electric Spin Scrubber
Sale
When testing the best electric spin scrubber for the bathroom, we concentrated on four main areas: the brushes, the battery life, the RPM, and the build. So, here's how this model performed.
Image Credits: walmart.com
It is versatile, especially with six replaceable brush heads, including soft brushes for delicate surfaces and tough bristle brushes for deep cleaning. This ensures you have the right tool for every cleaning task, whether scrubbing your jacuzzi bathtub or cleaning stained bathroom tiles. The powerful tool runs up to 390 RPM, and we found it a breeze tackling stubborn stains and grime! Also, the rechargeable battery will last upto 90 minutes, enough time to scrub all bathroom surfaces!
We also loved how sturdily and ergonomically it is designed. The electric spin scrubber features a comfortable grip and a well-balanced handle, allowing for extended cleaning sessions without fatigue. Its lightweight design further enhances maneuverability, easily reaching every nook and cranny.
It is our best power scrubber, but we had to push down on it when cleaning different bathroom floor surfaces, detracting from the whole effortless cleaning experience.
2. LABIGO Electric Spin Scrubber LA1 Pro
We loved this electric bathroom scrubber first for its color. The white and gray combo is amazing, and so is the cleaning prowess. It runs up to 380 RPM, a good speed for getting grime and stains off your bathroom surfaces. We effortlessly cleaned stone tile floors, bathtubs, and even toilets.
Image Credits: labigo-home.com
It is a rechargeable cordless model, a plus because dragging cords and wires around the bathroom is a no for us! The rechargeable battery can last 3.5 hours, so we knew we had enough time to clean at least three bathrooms thoroughly. More on effortless cleaning - the ergonomic design of this scrubber is a big plus. It has four brush heads, and the detachable extension rod is super customizable.
While we loved all the features, we found the performance slow and wish the heads spun faster. Also, it is expensive compared to our first recommendation above.
3. kHelfer Electric Spin Scrubber
Sale
This kHelfer bathroom scrubber is a good model when elbow grease doesn't cut it. It runs up to 300RPM, enough power to get all those nasty stains and dirty grime off the bathroom tiles and surfaces. Our biggest surprise was that it comes with two spin speeds. This means you can adjust the speed depending on how much dirt you're dealing with. The tool runs up to 350 RPM at the highest speed, and you only need to long-press the power button.
Image Credits: dealmoon.com
This power scrubber also comes with four head brushes: a small flat brush, a large flat brush, a dome brush, and a corner brush. Replacing these heads was a breeze, and considering the power lasts up to ninety minutes, we could clean all bathroom surfacing with no fatigue.
The rubber comes with a metallic arm, and we loved the adjustable brush heads that adjusted to different cleaning angles. But, while it was powerful enough for our needs and affordable, we found it quite heavy. Its weight made for a challenging wall-cleaning experience.
4. TILSWALL Electric Spin Scrubber
TILSWALL Electric Spin Scrubber, Cordless Grout Shower...
🌀 NEW 2.0 UPGRADE: 【ENJOY NEW CORDLESS VERSION, SAVE MORE...
🌀 Metal Instead of Plastic: SHARING SIMILAR APPEARANCE BUT...
🌀 4 Multi-Purpose Brush Heads: Still worrring cleaning with...
🌀 12A Minimize Damage Rate: Facing stubborn stains, the...
🌀 Tool-free Extended Handle & Best Gift: SHORT OR LONG? IT'S...
Having used a corded version before, we loved how efficient this cordless model from Tilswall is. And it is affordable, too, not to mention ergonomic, and easy and versatile to use in the bathroom.
Image Credits: tilswall.com
This electric scrubber is packed with good RPM, running up to 300 RPM, and uses a torque of up to 35.4 Kgf.Cm. If you think that super powerful for removing dirt, stains, and grime from your bathroom surfaces, you will also love that the powerful battery can last up to 180 minutes.
Unlike other electric spin scrubbers above, the handle on this one is made with patented poly-ring rings and metal parts for the inner structure increase durability. That means it will withstand the high torque and make cleaning a breeze. It also comes with four replacement heads, with long and thick bristle brushes, so it will clean each stain with one swipe.
Our only worry is that the brushes may not last very long. We tested the flat brush head on stone tiles, and they bashed, so we reckon they can only last a few months with repetitive cleaning.
5. Oraimo Electric Spin Scrubber
Sale
Oraimo Electric Spin Scrubber, Electric Bathroom...
【2 Adjustable Speeds】Oraimo electric spin scrubber, called...
【One-Click Release Button】Oraimo electric bathroom scrubber...
【Retractable Tube, All-round Cleaning】The electric shower...
【Quality Gift & Service】No Adapter included, only Type-C...
【Multifunctional Brushes】Comes with 3 upgraded brushes, dome...
This Oraimo electric scrubber has two rotation speeds and, unlike other models above, has the best RPM of 430. That makes it up to 40% more powerful than all, and we hoped to see that translate into the best cleaning. It did an okay job.
Image Credits: oraimo.com
It comes with three brushes for all bathroom cleaning needs and has a high-quality handle that retracts up to 45 inches if you want to scrub the walls. Also, it is a cordless model with a rechargeable battery that lasts up to 90 minutes. Unlike our other recommendations, we loved that this scrubber only comes with a USB-C cable for charging rather than an adapter. We also found it easy to replace the brushes using a single button, and it's lovely how the arm retracts for easy storage.
That said, we wished the brush bristles were softer. While they did an excellent job cleaning, they also left some marks on bathtubs and steel surfaces.
How to Choose the Best Electric Spin Scrubber for Bathroom
Image Credits: gadgetreview.com
Cleaning your bathroom can be daunting, especially if you have to deal with stubborn stains, dirt, and grime. But with the right tool, you can make this chore easier and more enjoyable. Want to know how to narrow the list above to one model? Consider these factors:
I. Power and Speed
Image Credits: people.com
The first thing to consider is the power and speed of your electric spin scrubber. You want a device that can deliver enough torque and rotation to remove the toughest stains and dirt from your bathroom surfaces. Look for a device with a high-speed motor that can spin up to 350 rpm or more, like the Oraimo, which runs up to 430 RPM.
Some electric spin scrubbers have variable speed settings that allow you to adjust the speed according to the surface and the level of dirt. Also, check the noise level of your bathroom power scrubber to ensure it is not too loud or annoying.
II. Battery Life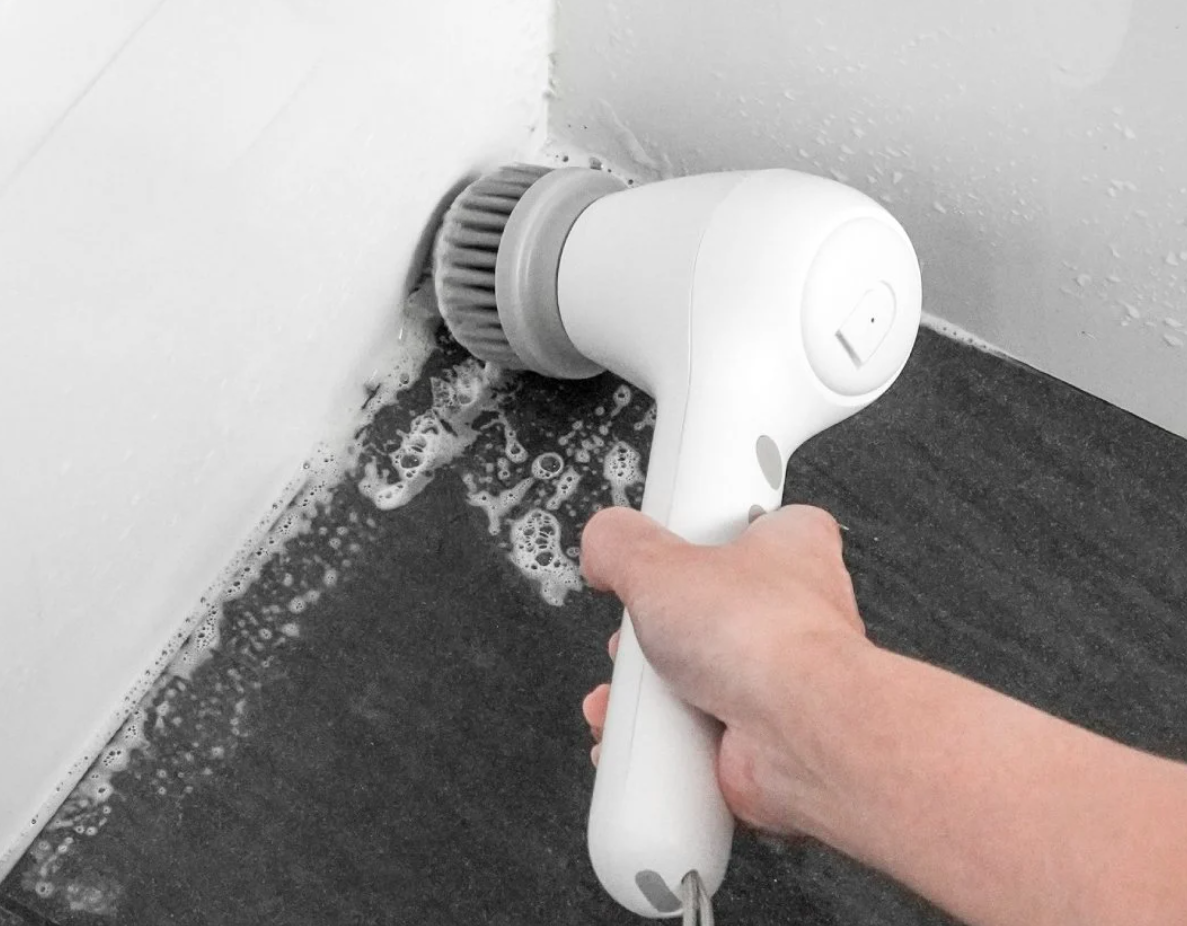 Image Credits: styledegree.sg
You want a cordless model, so we recommend rechargeable electric spin scrubbers above. Now, one of the most significant factors to consider is the battery life of the electric spin scrubber. You don't want to run out of power while cleaning your bathroom.
So, get a device with a long-lasting battery that can provide enough power for your cleaning needs. Some electric spin scrubbers have rechargeable batteries lasting up to 90 minutes or more on a single charge. Others have replaceable batteries that can be easily swapped when they run low. You should also check the device's charging time and indicator light to know when it is fully charged or needs to be recharged.
III. Attachments and Accessories
Image Credits: thespruce.com
The third factor to consider is the attachments and accessories of your electric spin scrubber. You want an appliance with multiple brush heads that suit different surfaces and cleaning purposes.
Get a scrubber with at least three brush heads:
A round brush for general cleaning
A flat scrub brush for large areas
A corner brush for hard-to-reach areas
Some electric spin scrubbers also have other accessories, such as extension handles, hooks, or storage bags, that make cleaning easier and more convenient.
IV. Durability and Waterproofness
Image Credits: goodpapa.net
Consider the durability and waterproofness of the model you want. Ensure it can withstand frequent use and exposure to water and moisture, and so get a device that has a sturdy and ergonomic design that can resist wear and tear. It would be best to look for a machine with a waterproof rating of at least IPX7, meaning you can submerge it up to one meter deep in water for 30 minutes without damage.
V. Price and Warranty
Image Credits: oraimo.com
A fifth factor to consider is the price and warranty of the electric spin scrubber. You want a device that offers good value for money and quality assurance. Still, it should have a reasonable price for your budget and expectations. Also, look for a spin scrubber with a warranty period of at least one year or more, which means you can get free repair or replacement in case of any defects or malfunctions.
Final Verdict
Are you ready to order your best power scrubber now? With the recommendations and buying tips above, you will have an easier time deciding which device works best for you. Don't forget to confirm the best battery life and waterproof features!
Frequently Asked Questions About Electric Spin Scrubbers
I. What is an electric spin scrubber used for?
An electric spin scrubber deep cleans various surfaces such as bathrooms, kitchens, floors, cars, and outdoor areas, providing efficient scrubbing power and removing tough dirt, grime, and stains. Our recommendations above are best for cleaning your bathroom surfaces, including the floors, walls, bathtubs, sinks, and toilets.
II. What is the price of electric scrubbers?
Electric spin scrubbers cost between $20 and $80. However, the price depends on brand, features, and quality factors.
III. What are the types of electric spin scrubbers?
Among the common types are handheld electric spin scrubbers, cordless models, and those with extension arms.
Handheld scrubbers are compact and portable, allowing targeted cleaning in specific areas. Cordless scrubbers offer the convenience of unrestricted movement without the limitation of cords, providing mobility during cleaning tasks. Electric spin scrubbers with extension arms feature long handles or poles for hard-to-reach areas, enabling you to clean high surfaces or inaccessible corners.
These variations in design offer versatility and make it more convenient to clean different areas of the home.