The master suite, whether small or large, is one place that you're likely to find yourself spending a lot of time in. But, for most, it's the one place they can truly catch some ultimate peace and relaxation. Hence, ensuring that it's well-decorated matters.
When searching for inspiring master bedroom ideas, what counts is thinking about how you'd like to feel. This will greatly help one decide on the color palette, furnishings, art, etc., needed to create your ultimate relaxation haven.
We curated a list of our top master bedroom ideas that are sure to inspire you and get you excited to start working on your cozy project.
1. Coastal Vibes
If you're all about good vibes and the ocean is your favorite spot, then this master bedroom style would be ideal. The blue and white palette, minimal style, and clean lines keep the space fresh and airy. The space gives off a serene and calm aura that is sure to have you feeling well-rested and at peace. Suspending the bed with iron " ropes" gives it a unique touch.
2. Have Fun With Your Accent Wall
Ideally is a place to relax and be at peace, but it doesn't mean you can't turn it into your own haven of inspiration. Accent walls are great at bringing in contrast, and they can add some pizzazz into a room. For example, the bedroom above features a bold black wall that contrasts the grey. It works well with the yellow headboard, plus the wall art also gives the wall some life, which saves it from being a plain dreary plain wall.
3. Tufted Headboard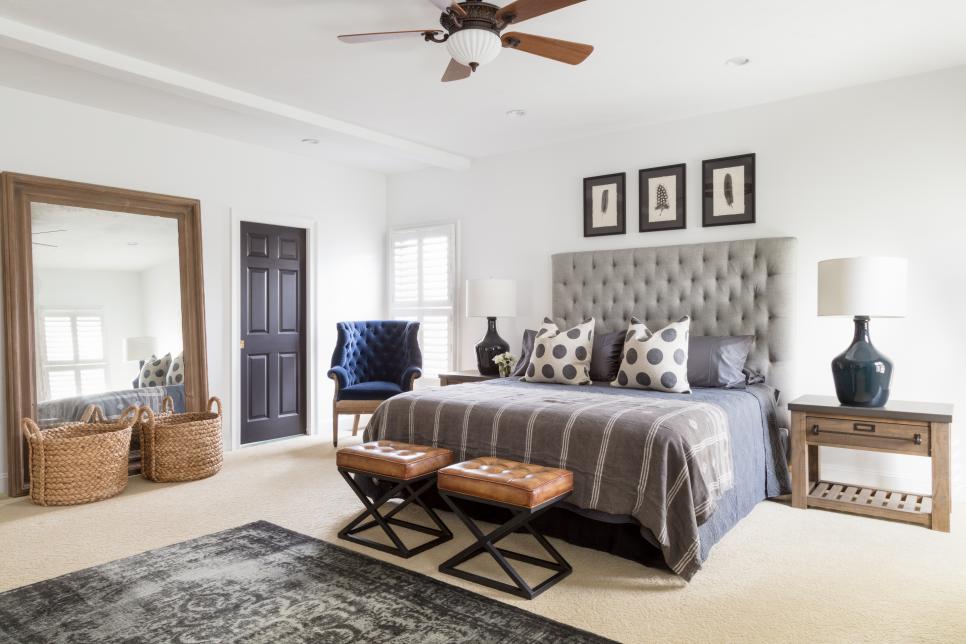 With a wide variety of headboards, choosing one for your bed is not as simple as it used to be. A tufted headboard is upholstered for comfort, but it's held by a tuft or button, making it easy to maintain and clean. In addition, you have the choice of neutral headboards like the one above, which let you change wall colors on a whim. You can also opt for an eye-catching headboard that becomes the focal point of the room but also contrasts with the color scheme of your master bedroom.
4. All White Bedroom
When looking for master bedroom ideas, an all-white room is always part of the list. However, more people have embraced the concept of white hues, white walls, white bedding, and a touch of white as it gives off an airy and clean aura. You can opt to leave it as is, or you can break it like the design above with natural wood accents. This can be done using reclaimed wood. For instance, the master bedroom above features an original closet door replaced with a natural wood salvaged door. The designer also chose black oak herringbone flooring and added a rustic pine bench.
5. Keep It Cosy
Your bedroom is the one place you want to feel the ultimate peace and comfort. It's the place you seek solace after a long day from work or after a busy day. It's also the one place you want to unwind without any distractions freely. Cozy bedroom decorating ideas include a careful selection of pieces and styles that will eventually tie in together to make your space feel warm and snug. For example, the master bedroom above features cozy bedding, long drapes, various soft colors and patterns, and a tufted headboard that make it feel warm and comfortable.
6. A Touch Of Gold
When it comes to gold accents, it's all about finding the right balance. Some decorating ideas opt for an all gold theme, from the bedding to the curtains. While other bedroom ideas like the one above express a contrast between black and gold. These two colors work well and elevate the elegance of the room. Gold has always been associated with wealth and royalty; hence, it gives off a classy charm when paired with black. The interior design of the master bedroom above has a black and gold theme. This is supported by black curtains, gold walls, and gold nightstand lamps.
7. Include A Seating Area
Adding a seating area to your master bedroom allows you flexibility when you want to spend time in your room but don't want to lie on your bed. It's also great for partners as one person can be on the seat and not disturb the other who's still getting some much-needed lie in.
A sitting area works well in both large bedrooms and studio apartments. It's all about how you organize your space. You can have a loveseat or a pair of comfortable armchairs at the foot of the bed alongside a small table.
The master bedroom above features a plush, curved loveseat in a calming hue of blue that makes for a sweet sitting area. The curved shape of the piece allows the occupants to easily walk around it while also serving as an intimate spot to relax.
8. Keep It Neutral
Keeping it neutral doesn't mean that you're boring. In fact, this is far from the opposite. There's something about being subtle that can bring out the glamour in design. If you're not about bright colors and get excited when the color wheel is around the browns, cream, and pastels... You can make this work for your bedroom. What counts at the end of it is finding colors that create a sense of harmony because you want your room to be a place of comfort. The designer opted for a neutral palette of brown and cream for the lovely bedroom above and elevated the glamour by combining luxurious materials, curved lines, and interesting accents.
9. Consider A Wood Ceiling
Floral patterns are known to add a soft touch to a room. If you're looking to achieve a delicate and subtle aesthetic, a floral pattern would be ideal. This can include wallpaper, draperies, throw pillows, and furniture upholstery. If you're a sucker for romance, you can also create a swoony romantic ambiance with florals.
The interior design of the master bedroom above incorporates a bit of Asian influence in the patterns on the bedside lamps, bench, and wallpaper. However, the furnishing and color are traditional in style.
11. Unexpected Accents
When thinking about interior design ideas for your master bedroom, it's essential to think about how you want to feel. After all, this is one room that you're likely to spend a lot of time in. Moreover, sleep is an important part of people's lives; hence ensuring that the space is balanced and exactly like you want it is key. For the master bedroom above, the owner wanted to achieve a breezy and comfortable atmosphere. Hence, he opted for white walls, curtains, white bedding with a mix of midcentury and Japanese-accented pieces.
12. Attic Bedroom
What's great about attic bedrooms is that they often tend to have a lot of extra roof space. Depending on the roof style, you can get an ethereal feel because of the unique architectural lines. One way to liven it up is to extend the paint from the walls up onto the eaves. Additionally, you can contrast the paint with your bedding.
You can also embrace your roof style, e.g., If you have an A-frame or sloped ceiling, embrace the dreamy vibe with romantic materials and light colors.
For instance, the way the light pours into the room above gives it an almost heavenly feel—it has a cocoon-like ambiance. Decorate with loose linens, a netted pendant light, and a vintage area rug for a pop of color.
13. Dramatic Statement
Image Source: McCroskey Interiors
If you're all about the drama, then why not go for something bold and striking? Think bold and dark colors, like the master bedroom above. It features stunning black walls that give the room a moody and dramatic vibe. However, the white ceiling breaks the monotony, plus the large windows that bring in the natural light also bring life into the room.
14. Throw Pillows Fun
Can one have too many throw pillows? Some might say that it is, but when it comes to master bedroom decor, throw pillows play a significant role in expressing the ambiance of a room. For example, when you've got a stunning bed a centerpiece, your pillows can further extenuate that. While there are various ways to arrange your pillows, you can't go wrong with classic Euro shams in the back, regular shams in the middle, and two or three pillows in front.
15. Creative Master Small Bedroom
Not all main bedrooms necessarily equate to large square footage. When you've got a small bedroom that also doubles up as the master, you'll have to get creative about how to make your space feel warm and cozy. In addition, you'll also have to be super selective about the pieces to pick. It's advisable to pick multi-purpose pieces.
In this master room, despite being a small bedroom, the side chair functions as a seat or a side table. The wall sconces help free up surface space, too, without making you forgo a night light.
16. Sophistication Meets Contemporary
Overlooking the city of Toronto, this master bedroom pairs bold colors with simple shades of gray. When it comes to contemporary design, it's common to come across modern and sleek furnishings. This design includes a leather platform bed that adds class to the colorful interior. The choice of blue and yellow definitely makes the room stand out in the concrete jungle.
17. Strategic Window Treatments
Bring in the natural light. There's nothing that natural light can't solve. Alright, that might be an exaggeration; however, it does pretty well at brightening up a room. With minimal decor, neutral bedding, and white walls, you're good to go. You'll have yourself an ethereal haven that you can escape to every night. Let's not forget about billowing drapes and a canopy.
Additionally, if treated to incredible views as the sea or nature, don't block it with intense window treatments. However, if you enjoy sleeping in late and prefer total darkness to do so, opt for blackout shades you can tuck to the side during the day, as these two designers did here.
18. Vibrant All The Way
What's your favorite color? If bright colors immediately come to mind, then your interior design ideas should definitely find a way to incorporate these colors. With bright colors, it's all about finding that balance. You don't want your room to feel like it lacks balance, but at the same time, you also want to express your inner child and passion. The bedroom above features bright red bedding, a mod bedframe, and a graphic lamp. The designer wanted everything to feel crisp and deliberate and a little bit wild. Each piece also nods back to the stunning abstract painting above the bed.