If you are remodeling or looking for a new kitchen sink, try composite granite sinks; from my experience, you won't be disappointed. With the best granite composite sinks, your kitchen décor won't be the same; you can expect an eye-catching look and exceptional durability. 
Which is the ideal granite composite sink?
Sometimes, when there are too many options, it can take time to narrow down to the best one. So, to make your search easier, we have compiled the top 5 best granite composite sinks for your kitchen.
What Is a Granite Composite Sink?
First, granite is an igneous rock that is naturally hard enough to withstand abrasion, impact, and weathering. Also, it's dense enough to absorb sound and vibration.
Image Source: houzz.com.sg
A granite composite sink is basically made of multiple materials, making it sturdy and durable. The word "granite sink" is collectively used for composite and purely natural granite sinks.
The granite composite sinks are highly stylish and can be customized to match any kitchen design. They come in several colors and styles, allowing you to select the right one for your house. Moreover, they are easy to clean and maintain, making them an excellent option for busy households.
1. Kraus Quarza KGD-433B Kitchen Sink, 33" Equal Bowls
Sale
Kraus Quarza Kitchen Sink, 33-Inch Equal Bowls, Black...
OUTER SINK DIMENSIONS: 33 x 22 x 10.13 inches - BOWL DIMENSIONS:...
LOOK OF REAL STONE with maximum resistance to impact and thermal...
DROP-IN DESIGN with extra-thick mounting deck installs with any...
HEAT SAFE up to 650°F: Stands up to chipping, hot plates, and...
LIFETIME LIMITED WARRANTY with top-rated customer service...
For the best double bowl sink, count on the Kraus Quarza Kitchen Sink, KGD-433B. The sink comes with two equal bowls offering enough space for washing dishes. Besides, the sink is dual-mount, meaning you can install it as an undermount or drop-in, allowing you to make changes to your remodeling plan even after the sink has been delivered to your house.
This type of kitchen sink has an intrinsic sound absorption ability, making it one of the quietest sink materials. The best thing for me is that, since it can withstand sudden temperature changes, I often set hot pans and pots on it without worrying if it will damage the surface.
Image Source: amazon.com
Furthermore, the sink rim features 1 pre-drilled hole and 4 knock-out holes, providing complete control over the number of faucet accessories. Also, the drain is positioned toward the back end of the sink bottom, increasing the kitchen sink workspace and storage space in the cabinet below. Conversely, installing the kitchen sink was quite easy.
2. KGD-54 Forteza Granite Kitchen Sink, 33 Inch
Sale
Kraus KGD-54GREY Forteza Granite Kitchen Sink, 33 Inch,...
KITCHEN SET INCLUDES: Sink, drain assembly, silicone mitt and...
HIGH-END GRANITE COMPOSITE SINK Designed for unparalleled...
LOW MAINTENANCE SURFACE is highly resistant to dirt and grime,...
A QUIETER KITCHEN SINK: Thick stone-like material engineered to...
DUAL MOUNT DESIGN offers installation flexibility with a...
Another composite granite sink to count on from Kraus is the KGD-54 Forteza model. This unit is a single-bowl sink with a simple yet lovely gray tone that helps prevent it from yellowing. It is designed to fit a 33-inch cabinet, the most common size for kitchen sinks.
Image Source: kraususa.com
Kraus KGD-54 Forteza comprises 80% real granite, offering exceptional impact resistance and chipping and scratch resistance. Also, the sink's surface is heat-resistant, chemical-resistant, and fade-resistant. Additionally, it has an extremely high UV resistance, so you won't have to worry about fading or discoloration over time.
I love that the sink is deep enough and has a relatively large capacity to minimize splashes on the countertop. Besides, I usually have an easy time washing large quantities of vegetables as well as managing big pots, pans, and chopping boards.
Furthermore, the kitchen sink has a slightly sloping bottom for drainage and preventing water stagnation. Conversely, the elegantly rounded corners combine ancient and new shapes and are quite easy to clean.
3. Delta Faucet Everest 75B933-33S-BL Granite Composite Kitchen Sink
DELTA FAUCET Everest 33-inch Granite Composite...
WORKSTATION SINK w/ WorkFlow LEDGE creates a multi-functional...
INCLUDED ACCESSORIES: Save space while working over the sink on...
SPACIOUS SINGLE BOWL fits large items with less splatter – REAR...
EASY-TO-CLEAN granite composite material is dense and non-porous...
CUSTOMER SATISFACTION GUARANTEED with Delta...
Another model to count on when looking for the best granite composite sinks is the Delta Faucet Everest 75B933-33S-BL. The kitchen sink is designed to fit 36-inch cabinets. Besides, it features a drain with a removable filter which allows water to be drained quickly while food particles are retained.
Image Source: deltafaucet.com
The DELTA Everest Kitchen sink is made of Metalltek composite material, which contains an 80% natural quartz-granite mixture and is complemented with metal particles to provide a premium look that resembles real natural stone. On the other hand, its elegant design has EZClean rounded edges at the sides and the bottom of the sink, so it's easy for me to clean.
This kitchen sink features a sloping bottom to direct water down the drain and prevent puddles in the sink. It also has several accessories that you can place right on the sink's edge to save space. One of the accessories includes a multi-function roll dish drying rack that I conveniently use to dry my plates and utensils. It's worth mentioning that the drying rack is detachable and heat-resistant.
4. Elkay Quartz Classic Single Bowl Undermount Sink, ELGRU13322BK0
Sale
Elkay Quartz Classic ELGRU13322BK0 Black Single Bowl...
Sink Dimensions: 33" X 18-7/16" X 9-7/16" Min. Cabinet Size: 36"
UNDERMOUNT INSTALLATION: Sink is installed beneath the countertop...
SINGLE BOWL: Bowl gives you uninterrupted space for washing and...
QUIET: Material is naturally sound-deadening, minimizing sound...
OFFSET DRAIN: Drain placement provides more usable space on the...
The Elkay Quartz Classic Kitchen Sink is 10" deep and features a matte finish in all available colors. Besides, Elkay's classic line provides a broad selection to match your décor. I went for the black one to match my kitchen decor. I find the single bowl configuration perfect for an uninterrupted workable space in the sink.
Image Source: amazon.ca
Furthermore, the sink's surface is non-porous and resistant to scratches that heavy utensils and cutlery might cause. On the other hand, the drain is situated at the back end, running along the center of the length. This leaves most of the working space wide open. In addition, the base is more sloped towards the drain to facilitate drainage.
The kitchen sink has the inherent advantages of a quartz composite sink. One of the many advantages of this composite sink, which I love, is that it acts as a great sound absorbent.
5. Ruvati RVG1033BK Drop-in Topmount Granite Composite Kitchen Sink
Ruvati 33 x 22 inch Drop-in Topmount Granite Composite...
Made in ITALY | Natural stone finish. Color: MIDNIGHT BLACK |...
The sink is colored all the way through, for a rich and...
DROP-IN TOPMOUNT installation. Cutout templates and mounting...
Includes MATCHING BLACK DRAIN | Exterior dimensions: 33" (wide) x...
Included in box: Sink, Matching color (black) strainer drain...
Ruvati RVG1033BK Kitchen Sink is extremely sturdy and has a lovely surface because it's finished with genuine stone. It is entirely made of granite composite material with 80 percent natural stone for durability, good scratch resistance, good impact resistance, and high heat resistance.
Image Source: ubuy.co.id
The bottom of this kitchen sink features a 1-inch slope toward the drain, which usually compensates for the optimal slope by allowing liquid to flow easily into the drain and preventing buildup. Also, the surface is scratch-resistant. And if you accidentally drop something sharp into the sink and make scratches, you can easily restore it by smoothing it with sandpaper.
Furthermore, I find cleaning the unit quite easy, thanks to the slightly rounded edges. Besides, the unit comes with a matching mesh drain assembly, a mounting clamp, a cutout design, and installation instructions which made my work easier while installing. Additionally, the sink has great heat resistance up to 650 degrees F.
Factors to Consider When Buying the Best Granite Composite Sinks
1. Composite Granite Sink Styles
Before buying the best granite composite sinks, consider the sink style. Kitchen sinks in different styles that you can choose from according to the decoration of your kitchen. The styles include;
Image Source: houzz.in
i) Undermount Granite Sink
As the name implies, undermount kitchen sinks are usually installed from beneath the counter. The granite stone's lips are bolted to the underside of the counter using the mounting hardware included in the package.
Because of such installation, the countertop runs in perfect continuity with the sink walls. However, because of the significantly heavier self-weight, installing a granite composite sink as an undermount kitchen sink can be more difficult than the drop-in option.
ii) Drop-In Granite Sink
Drop-in sinks are also referred to as top-mount sinks. When you install a granite composite sink as a top mount sink, there is a visible rim around the sink's periphery that rests level on the counter. Most homeowners usually prefer top-mount composite sink installation to avoid the extra labor needed in installing it from beneath the counter.
iii) Farmhouse Granite Sink
This kitchen sink style usually adds a refined elegance to your kitchen decor. The open front in this layout shows the natural beauty of granite stone. Also, a granite farmhouse sink is easy to install. Slide the sink into the above-cabinet cutout and connect the drain opening to the drainage line or the garbage disposal.
2. Ease of Maintenance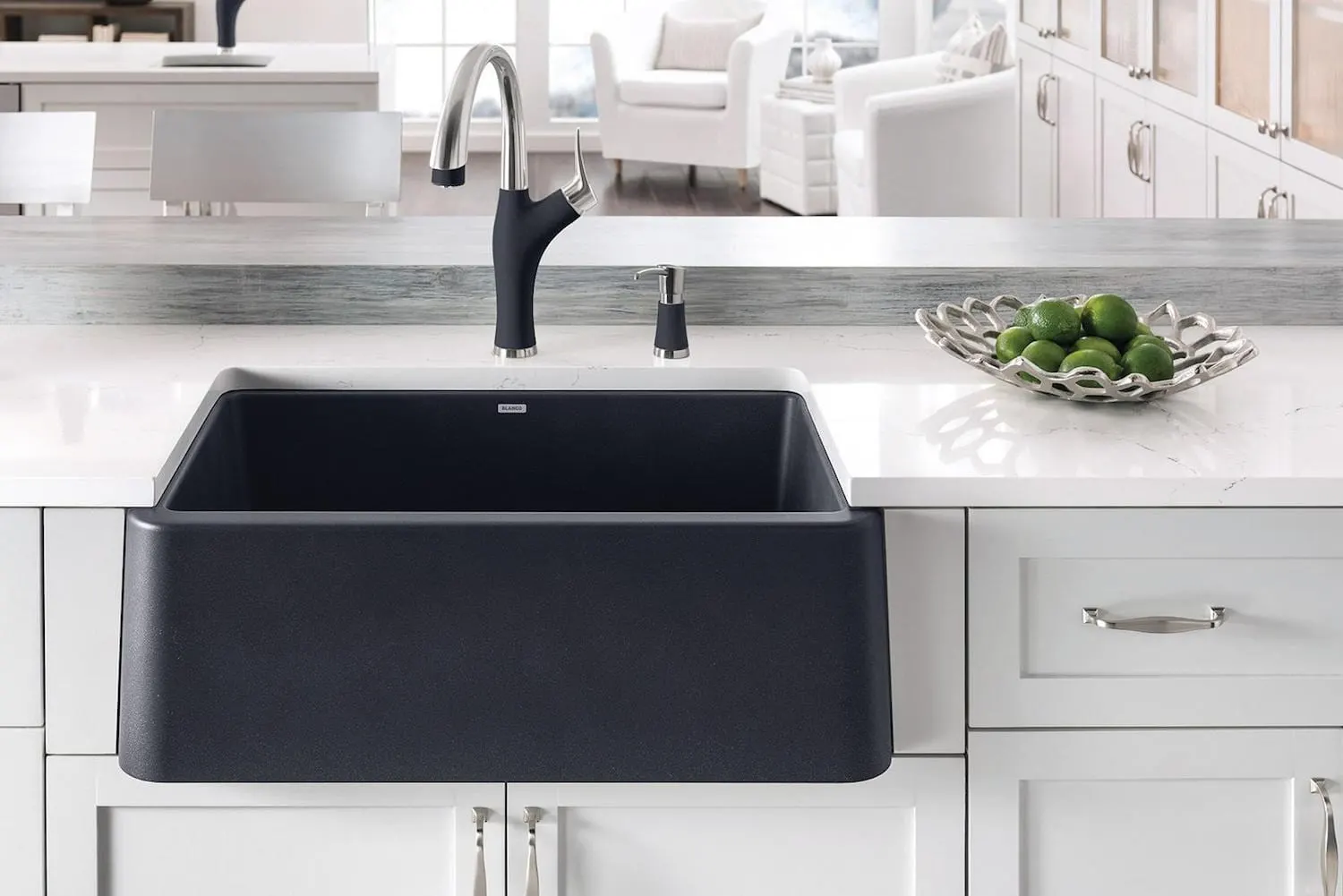 Image Source: qualitybath.com
Another important consideration while looking for the best granite composite kitchen sinks is the ease of cleaning and maintaining. The ideal sinks have a silky, smooth, and non-porous texture, making cleaning as easy as wiping it with a clean towel. Besides, non-porous surfaces are also advantageous since they do not accommodate bacteria, resulting in a more hygienic kitchen environment.
3. Durability
The good thing about composite granite sinks is that they are naturally long-lasting. However, you should still consider the quality of the sink you want to purchase. So, always check the composition of the material used to create your sink.
The best granite composite sink brands usually use 80 percent granite sand and 20 percent resins as bonding agents to make exceptionally durable sink materials. Furthermore, ensure that the sink is resistant to discoloration, scratches, chipping, stains, impact, and extreme heat. All of these factors contribute to the kitchen sink's durability.
4. Noise-Free
Image Source: sinkology.com
The sound can irritate you when washing your dishes in a noisy kitchen sink. But the good news is that most granite sinks have sound-deadening hard stones to reduce noise and vibration. We recommend checking out the reviews before buying the granite kitchen sinks to ensure they aren't generating any sound.
Frequently Asked Questions on the Best Granite Composite Sinks?
1. Are granite composite sinks more expensive than traditional sinks?
Though composite kitchen sinks are usually more expensive than traditional ones, there are a few exceptions. Some composite kitchen sinks are less expensive than traditional sinks and vice versa. It usually depends on the model and manufacturer.
2. Do granite composite kitchen sinks crack easily?
Granite sinks are made of granite stone dust and acrylic resins, which help bond the quartz for a stronger composite sink. This combination brings the average density of a granite sink to 2.65g/cm3. As a result, the strength of a granite composite sink exceeds 200MPa, making it solid enough to support a stone without cracking.
3. Can I place a hot pan in a granite sink?
Most granite kitchen sinks are heat resistant. Some, however, are not heat-proof and can't withstand severe temperatures, such as a hot pan taken off the stove and placed immediately into the sink. Consequently, the acrylic resin in the mix of a granite sink might melt or warp.
Featured Image Source: vevano.com