Pringles. Mmm... Even the word sounds crispy.
Because we want you to enjoy this crispy and tasty feeling as soon as possible, we're here to help you find the best Pringles flavor for you. So, get ready to take your taste buds on a glorious journey.
Pringles are known the world over for their unique packaging and flavor that always delivers. However, before we offer you the royal selection to choose from, let's first see what Pringles are actually made of.
What Are Pringles Made Of?
Although the common assumption is that pringles are made of potatoes chips, they're actually not. Instead, Pringles are made from dehydrated processed potatoes. This includes ingredients such as wheat, rice, corn starch, potato flakes, and water.
These ingredients are rolled into a flat potato sheet that you get to enjoy. This is done with the help of 4 tons of pressure, hot oil, and seasoning to create that crunchy, crispy snack you'll be enjoying in just a second.
The truth is that you can have several favorites when it comes to Pringles flavors even though you may not know how Pringles are made. This is why we're putting the first pick as the combined package of Pringles flavors. So that you can have plenty of Pringles to enjoy.
If you've never eaten Pringles before and are looking for the best one to get started, read along. We've selected the best Pringles flavor based on raving reviews by happy customers like your future self.
Let's dive in.
What Is the Best Pringles Flavor?
In this section, we have a selection of 10 of the most popular Pringles flavors in the market. Then, we describe them in detail so that you can have an idea of what you're about to eat.
However, we've decided to start with a variety pack for those who want to experiment a little. If you've never had a Pringle in your life, our first pick below would be a great place to start. Otherwise, knock yourself out with our other splendid options.
Pringles Potato Crisps Chips Variety Pack - For Curious Beginners
This is a variety pack that comes with various Pringles flavors. We have Pringles Original, Pringles Cheddar Cheese, Sour Cream and Onion, and Pringles BBQ.
If you are new to the Pringles world, we recommend that you start with this pick and then come back and order more of the flavor you fancy. The advantage of this option is that you get Pringles in travel-ready cans that you can carry anywhere.
This purchase comes with 15 individual Grab N'Go cans that are lightweight and very portable.
Now, let's get down to the specific flavors and what you'll love about them.
1. Pringles Original
When in doubt, feel free to go for the original. And in this case, the original doesn't disappoint. This original recipe mostly tastes like potato crips with the perfect amount of salt.
Imagine the last time you had some really tasty and perfectly salted french fries. Now, imagine they were crispy and ethereally salted. This is almost what you get with these Pringles. But, better.
Don't believe us? Try out for yourself and see. You will never leave your house again without a can of these Pringles.
2. Pringles Sour Cream & Onion
Pringle's sour cream and onion is the better option when it comes to the two Pringles sour cream flavor options. Taste for yourself, and you'll see why. This Pringles sour cream flavor is has a great flavor but isn't smelly.
3. Pringles Cheddar Cheese
The Pringles Cheddar Cheese is one of the most recognizable Pringles options after Original and the Sour Cream above. The cheese never disappoints and helps bring out all the other flavors from the Pringles.
The generous dusting of Cheddar cheese dust melts in your mouth to coat the rest of the crisp as you chew. The best part about this Cheddar Cheese flavor is that you won't frown at the small pile of broken chips at the bottom.
Instead, you'll almost be looking forward to getting to the bottom so that you can drink the dust of cheese and Pringles and enjoy the glorious flavor.
4. Pringles BBQ
Chips and barbeque often go well together, and the Pringles are no different. This Pringles BBQ flavor can almost give the sour cream onion option a run for its money.
If you are a fan of bbq sauce, you shouldn't leave this Pringle's option behind.
5. Pringles Salt & Vinegar
Ready your tongue for the perfect zing of salt and vinegar. Instead of the single flavor of salt, you also get vinegar on top.
This mouth-puckering flavor will leave you wanting more. You will love the balance in the flavors.
6. Pringles Pizza Potato Crisps
Who would have thought you could eat pizza as chips? Well, Pringles did, and they delivered in this case.
These chips will remind you of cheese-less pizza. Therefore, if you love pizza for the pizza sauce, you will enjoy this option.
7. Pringles Original Lightly Salted
We're not going to lie. These chips don't really taste like anything.
However, if you love the original flavor but think it's a bit too strong, this is the option for you. These chips are like a watered-down version of the Pringles original flavor, as the name suggests.
8. Pringles Jalapeno
The only thing we're going to tell you with this flavor is that go for it over the wavy option. That's it.
If Jalapenos are your thing, go for this Pringles flavor.
9. Pringles Honey Mustard
This Pringles honey mustard flavor is different from most of the other flavors we've looked at because it's sweet. The honey and mustard flavors blend together beautifully to give you an impressive taste.
On their own, mustard and honey can come out a bit too strong. However, together they complement each other in a unique and finger-licking way.
Note that these honey mustard chips are a bit more honey than they are mustard. Therefore, if you're leaning towards the mustard side, you may need to find another flavor. Otherwise, this honey mustard flavor is a good chill snack.
10. Pringles Screamin' Dill Pickle
This Pringles Screamin' Dill Pickle flavor is a combination of salt and a little bit of pickle. You may be skeptical initially, but give it a try. You might soon become a believer.
We have to warn you, though. The flavors on this Pringles Screamin' Dill Pickle flavor will likely hit you at first before they subside. Therefore, give it a bit of time before you give your younger sibling the can.
Nonetheless, if you are a pickle lover, you've found your chip. If not, consider the other options above.
Interesting Facts About Pringles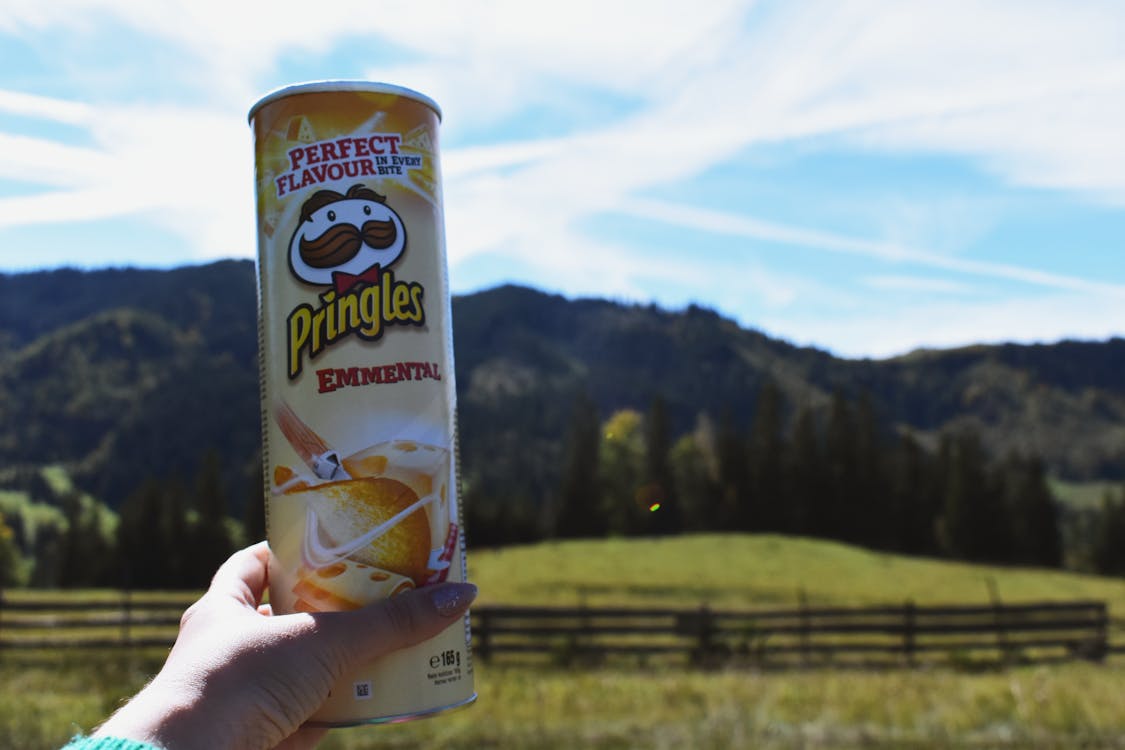 Now that we're done with some of the most popular Pringle flavors let's look at some fun facts about this amazing chip company.
1. Pringles Wasn't the Original Name
The first name that this company hit the market with was "Newfangled Potato Chips." However, you can already tell that that did not stick. And thank goodness for that. It's quite a mouthful.
Imagine saying, "I'm going to the store to get some Jalapeno Newfangled Potato Chips." You'd be tired before you even put your shoes on.
2. The Packaging is Scientific
Before your grandparents got their first taste of Pringles in 1967, scientists were working hard to ensure that all the chips stayed intact. The saddle shape of Pringles is thanks to Chemist Fredric Baur. This shape is technically known as the hyperbolic paraboloid.
The brand used powerful computers to ensure that the Pringles'aerodynamics kept each chip intact until it got to the consumer.
3. The Flavor Required Two Great Scientists
Although Fredric Baur is the one who conceptualized the Pringles product, Alexander Liepa is the one who picked it up from there. So Alexander was another scientist who came in and perfected the flavor.
Therefore, the next time you're enjoying some sour cream onion Pringles, you'll have these two amazing scientists to thank. If you look up the patent for the flavor, you'll see Alexander's name on there.
4. Pringles Came to Save the Crispy Day
Pringles were designed to be the perfect chip in the market. They were created to be what the other chips weren't. Thanks to Pringles, you won't ever have to worry about stale or greasy chips ever again.
Pringles were made to be non-greasy, crispy, and perfectly formed without getting broken in transit. This is why you can enjoy your Pringles Jalapeno, Pringles Buffalo Ranch, or even Pringles sour cream onion to the last crisp.
5. Pringles Are Worldwide
If you thought that you were the only ones enjoying some sour cream onion Pringles in your country, you were wrong. Pringles are available in almost 150 countries globally.
The great thing about Pringles being in many countries means that you get various flavors. Therefore, if you're tired of having the same Pringles that taste like onion powder or Cheddar sour cream, you can switch to some cultural-based flavors from other countries.
6. Once You Pop, the Fun Don't Stop
Have you wondered where this slogan originated? It likely comes from the fact that the famous Pringles container was designed specifically for Pringles.
This container was made to keep your chips in place and allow them to remain fresh until you were done eating. The original design by Baur had a silver pop-top that ensured that the inside remained air-tight.
This means that even if you're in your amazing hot tub and your can fell in, you won't have to worry about eating soggy crisps.
7. The Founder Was Buried in A Pringles Can
How cool is that? Dying and being buried with your invention? This is what Fredric Baur wanted and what he got.
Baur asked his children to bury his remains after being cremated in a Pringles can, and they did it. After a slight debate on which flavor to use, the children decided to go with the Original Pringles.
8. High-Tech Machinery is Used
These stackable chips require some serious machines during production. Imaging using 4 tons of pressure to produce a flat potato sheet.
This process's delicate and powerful nature needs the utmost care and innovation. After being rolled into a flat sheet, these potato sheets are fried in hot oil and coated with seasoning. Once they are nice and crispy, they do a cool backflip off one conveyor belt to another.
This is how you get your perfect stacks of crispy greatness. So the next time you open your Pringles Loaded Baked Potato, Pringles Parmesan, Pringles Ranch, Pringles Pizza, or Pringles Cheddar sour cream, know that a lot of care and innovation has gone into that piece of art.
Speaking of machinery, Pringles is now on the path to sustainability as it works to create cans that are more environmentally friendly.
9. They Aren't Exactly Potatoes
Pringles are made from dehydrated processed potatoes. This is what differentiates these crisps from other typical chips. This is actually why they are mostly referred to as potato crisps.
Therefore, the next time your sandwich maker stalls and you still need a snack, you can quickly grab your Pringles can and enjoy a good snack.
Frequently Asked Questions About the Best Pringles Flavor
1. Which Pringles flavors have a secret sauce?
The BBQ chips flavor has a tangy tomato sauce that blends in well with the other spices and smoky flavor.
2. Where did the name Pringles come from?
The original name for Pringles was "Pringle's Newfangled Potato Chips." As you can see, this was quite a mouthful and didn't fit well with the market.
Therefore, while prepping for the national market, Procter & Gamble selected the name Pringles from a Cincinnati telephone book because it sounded pleasant. This was from the Pringle Avenue in Finneytown, Ohio.
3. What is the Pringles mascot name?
The Pringle's mascot is called Julius Pringle.
If you've been enjoying Pringles for a while, you know that Julius'looks have changed over the years. Nonetheless, thanks to his unique mustache that looks like two crisps put together, he's easily recognizable.