If you plan to decorate one of your rooms with this deep shade of red, there are various colors you can use. If you can't decide which other color to add, here are several colors that go with Burgundy you could try out.
Burgundy is a solid color, so that you can use it with many other colors. It also comes in different shades, making it even more versatile.
What Color is Burgundy
If you are unsure what color we discuss here, let's clarify it. Burgundy is a dark red-brown color with a tint of purple. Image: Etsy
It is often confused with maroon, slightly brighter, brick-colored red, which otherwise lacks the purple hue. Burgundy got its name from Burgundy, France. This is because it resembles the richly colored red wines exported from Burgundy.
The Burgundy color signifies power, ambition, and sophistication. It is also associated with wealth.
Burgundy is a shade of red. However, it is not associated with the negative connotations associated with red. On the other hand, it is more energetic and comforting.
Burgundy Color Schemes to Note
This color is a great base if you want to pair it with other colors. Some of the color combinations that you may want to understand include;
a) Analogous Schemes
These combine any three colors next to each other in the color wheel triad. Examples of these colors include Burgundy, purple, and lilac.
b) Complementary Color Schemes
These are colors that occur opposite each other on the color wheel. These colors include Burgundy and teal.
c) Triadic Schemes
Triadic schemes are colors in the color wheel that are three spaces apart. Such colors include Burgundy, mustard yellow, and navy blue.
You can utilize these color schemes to create visually pleasing arrangements for your home décor.
Shades of Burgundy
Burgundy comes in different shades, making it a highly versatile color. We shall look at some of the shades of Burgundy to make it easier for you to select which shade to pair with other colors.
a) Vivid Burgundy
Vivid Burgundy is brighter than old Burgundy and can also be described as a dark shade or red.
Image: CrispEdge
b) Old Burgundy
This is a deeper shade of Burgundy that can also be categorized as a darker shade of red and a member of the brown color family.
Image: UHS Group
c) Bruised Burgundy
Bruised Burgundy is dark greyish pink. This color works excellently in the bedroom and formal spaces.
Image: CrispEdge
d) Schauss Pink
This hue is shifting towards a lighter burgundy tint, which indicates that it is heading toward a redder tone.
Image: Color-Name
The shade, often referred to as Bake-Miller pink or drunk-tank pink, is thought to help lessen feelings of hate and aggression.
e) Vulcan Burgundy
Vulcan is a warmer shade of Burgundy. It is a combination of red and pink. You can as well describe it as a darker greyish red.
Image: FineArtAmerica
So, What Colors Go With Burgundy?
This color has been popular over the years and is a great option for use in lipsticks, fashion, and interior design. It is warm and can be used to decorate any room. How amazing is that!
Burgundy is a versatile color that goes with most colors, including cool, bright, and even darker shades and neutrals.
1. Burgundy and Navy Blue
A timeless color combo that screams sophistication and class is Burgundy and navy. Both hues have a lot of contrast and are warm and rich.
Image: LuxDeco
The contrast makes them add visual interest to clothing or a space painted in a light, neutral hue. Additionally, it is a frequent combination for autumn weddings.
Blue hues are frequently thought of as tranquil, soothing colors. However, a darker shade, navy blue, is a commanding color that denotes importance and authority. Additionally, it is a very polished color widely utilized in corporate settings and uniforms.
Burgundy symbolizes power and ambition; therefore, when mixed with navy blue, you get a bold color combination with lots of visual intrigue and contrast. When both hues are applied heavily, Burgundy and navy can be a daring combination.
2. Burgundy and Mint Green
Why not try matching Burgundy with mint if you don't like classic green or are just searching for something a little softer? Burgundy and mint are an alternative to the classic combination of Burgundy and forest green.
Image: Pinterest
The two colors come together to form a stunning elegance. The powerful, serious burgundy colors help balance the softness of this pastel shade. On the other hand, the whimsical nature of mint green prevents Burgundy from being overpowering.
3. Burgundy and Purple
Burgundy may unquestionably be paired with purple because it has purple undertones. This will provide a brilliant color palette that is cool, elegant, and inviting.
Also, one thing is that purple goes with other colors, making it highly suitable for lightening up your room.
Image: Sheltermess
Small or large purple accents, such as purple rugs, throw cushions, or accent chairs, can significantly impact the design to create an opulent and enchanted atmosphere.
4. Burgundy and Beige
Beige pairs well with Burgundy if you want a lighter color that is warm.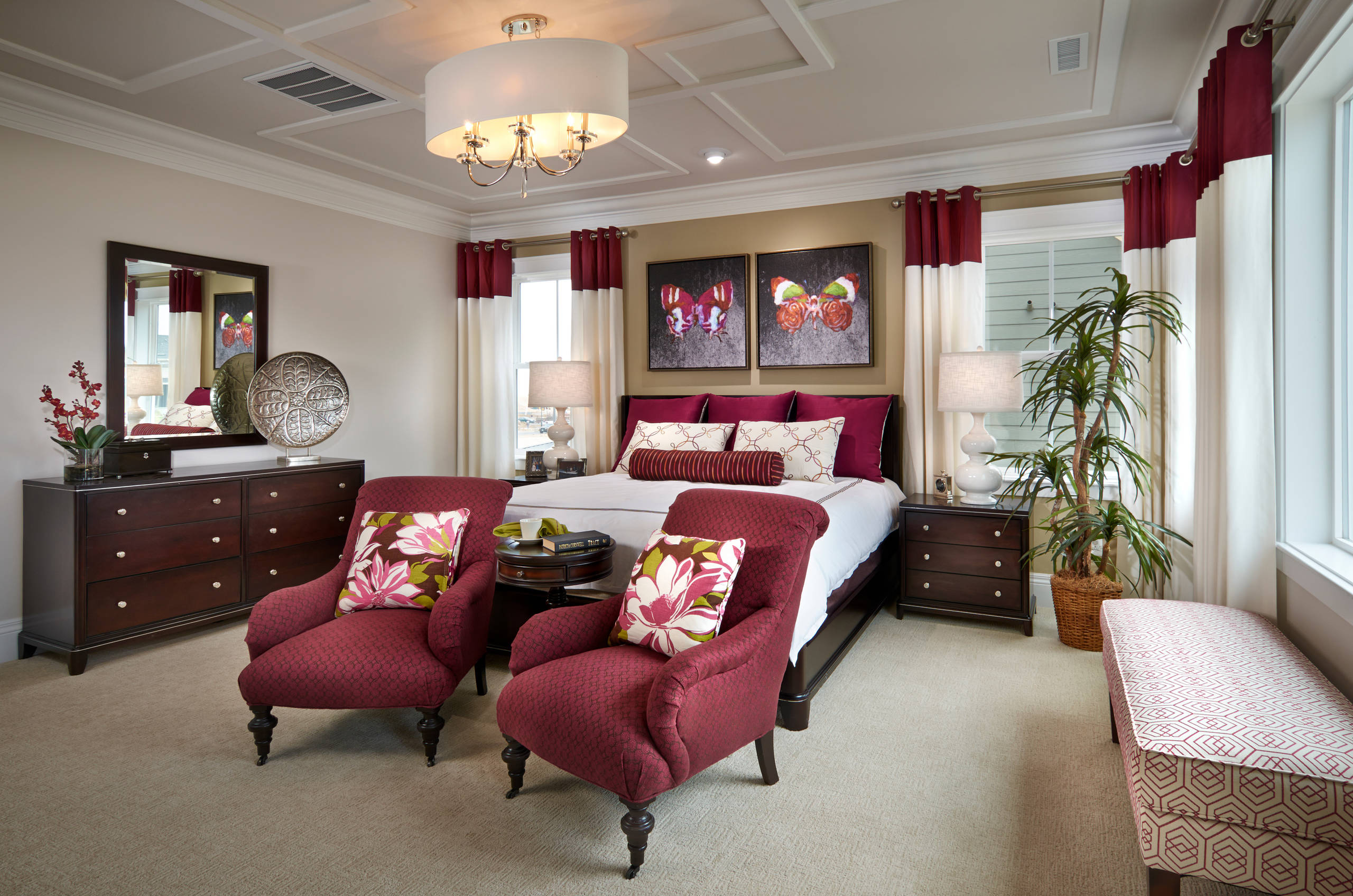 Given that you can pair it with the majority of colors to provide a warm, welcoming atmosphere, beige is a popular hue for decorating any room in a house.
Burgundy is the perfect color to mix with beige because it needs an accent color to make it stand out and be aesthetically appealing.
These colors work well together in any color scheme, especially if beige is the main color and Burgundy is added to give the space a modern, sophisticated feel.
5. Burgundy and Black
Black and Burgundy look great together to create a moody, gloomy atmosphere that is both classy and attractive.
Image: Pinterest
When these two hues are combined, a sense of elegance and refinement is quickly conveyed.
This color scheme is excellent if you want the room to look contemporary with a strong and vivid aesthetic.
6. Burgundy and Teal
A blue-green teal and burgundy combination might create a creative and interesting color palette. The two will increase each other's intensity and make each other pop because they are complimenting.
Image: L'Essenziale
Burgundy's intense red hues are complemented with teal, a wide variety of blue and green. Although both are robust and assertive, the paring has a more feminine color scheme.
7. Burgundy and Green
Burgundy and green have a propensity to make people think of the holidays, which isn't what most people want in their living area. But it doesn't have to cause those feelings when it's done well.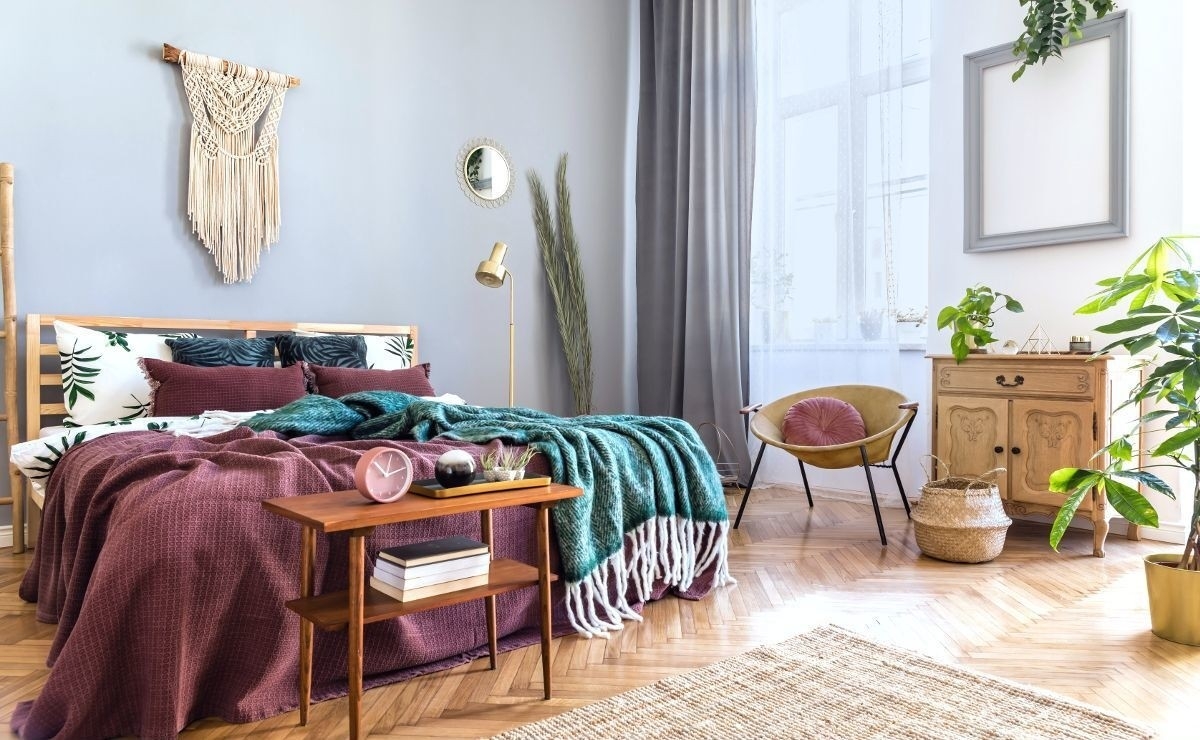 Image: Foter
In contrast to Burgundy, a paler green, like olive, can be employed as a more neutral tone, steering you away from the festive vibe and toward a classic design.
8. Burgundy and Ivory
Ivory is a neutral substitute for a crisp desired effect that is a step up from the starkness of white. Together, they provide for a striking contrast that isn't overly stark.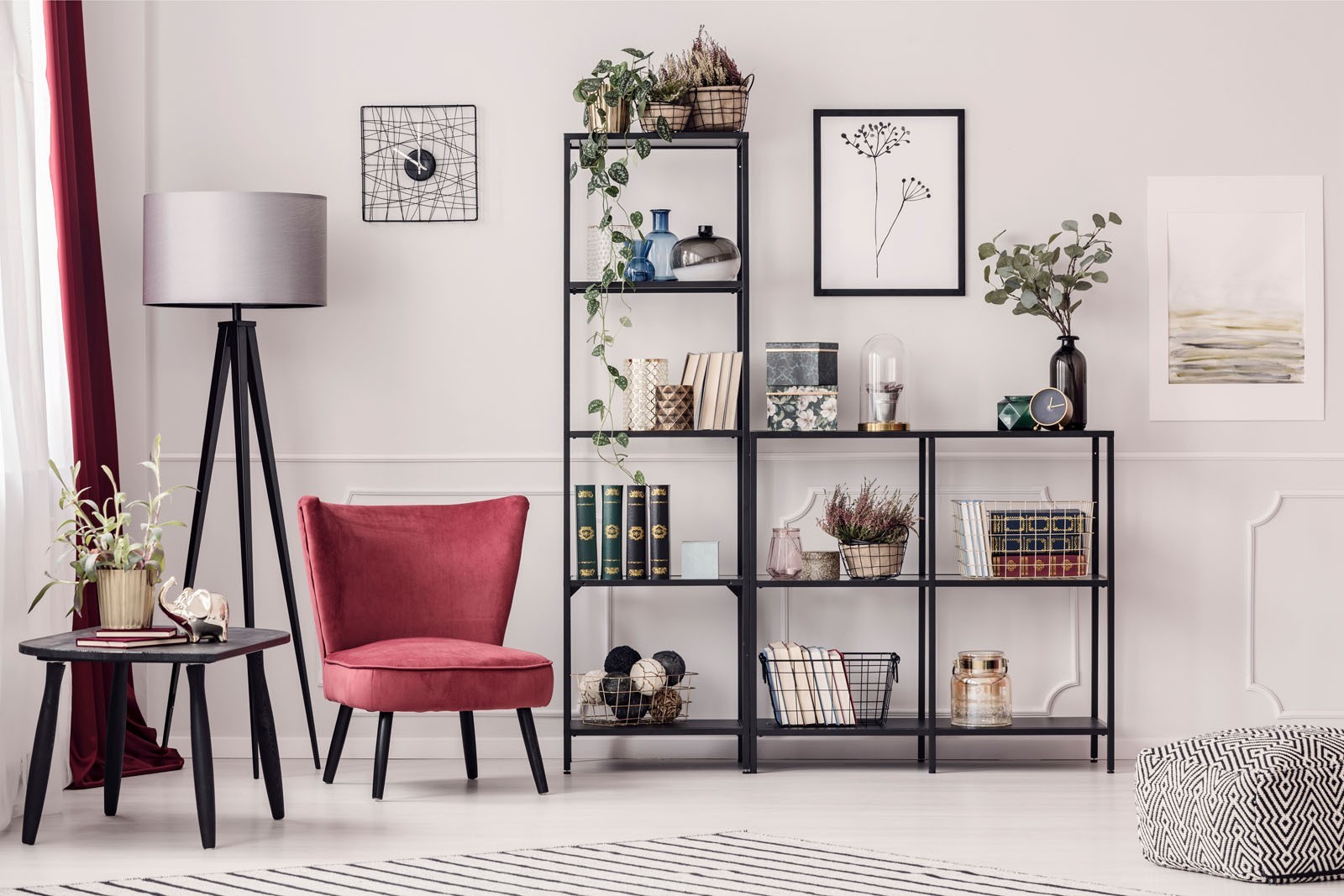 Image: Foter
Your burgundy pieces will command their proper position in the foreground, thanks to the ivory's plushness.
9. Burgundy and Mustard Yellow
Mustard and Burgundy are additional traditional fall color combinations. Although it might seem impossible that the two would get along, they make a friendly, lively team that gels nicely.
Image: Pinterest
These earthy hues give any space or clothing a dash of sophistication and richness. Ensuring the two colors are the same tone will assist them in blending. Try to obtain both hues at the same amount of lightness or darkness.
10. Burgundy and Blue
Any space in your home can benefit from the calming effects of the color blue. In addition, Burgundy can be utilized to create a homey ambiance because it is a warm and welcoming color.
Image: Pinterest
Blue and Burgundy work well together to give your property a refined appearance. You can use blue as an accent color with Burgundy if you want a more understated appearance. As in accent cushions or accessories, blue can be used to achieve this sparingly. There are many other colors that go with blue that you may want to try.
11. Burgundy and Bronze
These two hues can be employed to make your home feel cozy and welcoming. This is because they complement one another.
Image: YouTube
Consider adding burgundy accents all over the room and utilizing bronze hardware on your doors and cabinets.
Even painting a wall in this deep hue is an option. However, Burgundy can be a little heavy on the eyes, so ensure plenty of light in the space.
12. Burgundy and Orange
These two hues go well together. Consider using them to give your house a splash of color.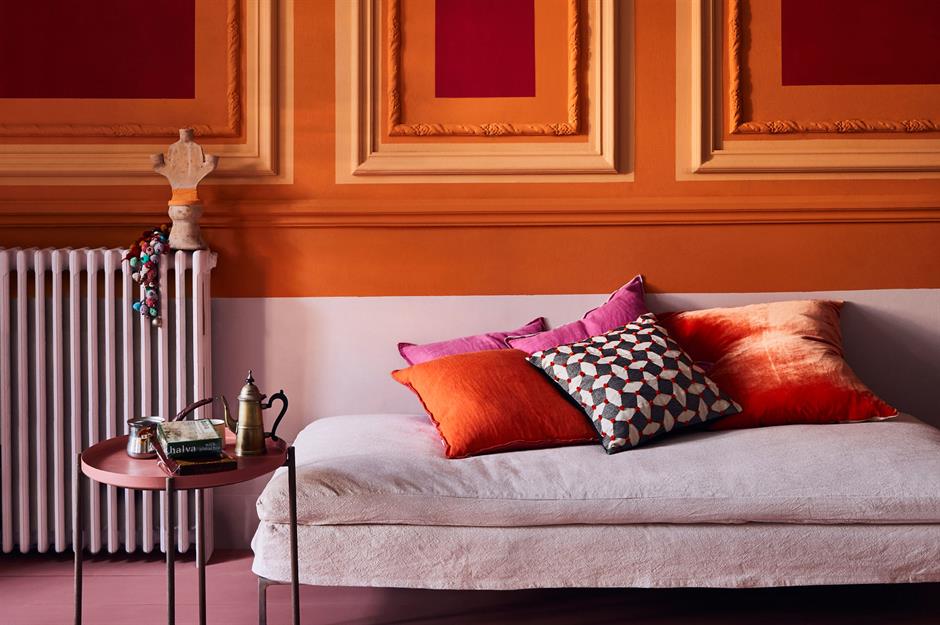 Image: loveProperty
They can be combined as accessories or as a component of a more comprehensive color scheme.
13. Burgundy and Turquoise
On opposite sides of the color wheel, these two colors can be used to make vibrant color schemes for your house. Start by painting a wall as an accent in one of the hues before combining them.
Then choose furniture, decor items, and carpets that go well with both hues. Textiles can also be used to include both hues.
If you want to combine Burgundy and turquoise but are concerned about the result being too cluttered, try utilizing several tones of each color.
For instance, lighten the Burgundy with some beige touches to achieve a more dramatic impact and use a darker turquoise.
14. Burgundy and Blush Pink
These two hues work well together to produce a warm yet powerful design that is alluring, feminine, and striking.
If you're using this color scheme to decorate a living room or bedroom, think about using the delicate shade of blush pink. This will make the walls and the rich, brilliant Burgundy as a statement item (sofa, chair, duvet, curtains).
15. Burgundy and Gold
Pairing burgundy with gold accessories can elevate your decor and create a timeless, sophisticated, and luxurious appeal for any room.
Image: Pinterest
It's nearly impossible to miss because of the ideal color scheme, which is spectacular and exquisite.
They look especially good when the sofa, bed, and walls are all this deep burgundy shade. You can enhance the look by ensuring they are accented with opulent gold mirrors, picture frames, and light fittings.
Given the intensity of the two colors, you may create a classic and modern design by accenting furniture and other decors with hues like black, grey, beige, and wood finishes. You can also use them for your dining room rug ideas if you want your dining area to look luxurious.
16. Burgundy and Mauve
Burgundy and mauve are complementary hues. Using these colors is a fantastic approach to giving your home a coordinated appearance. In addition, they can be utilized in fabric, paint, and accessories.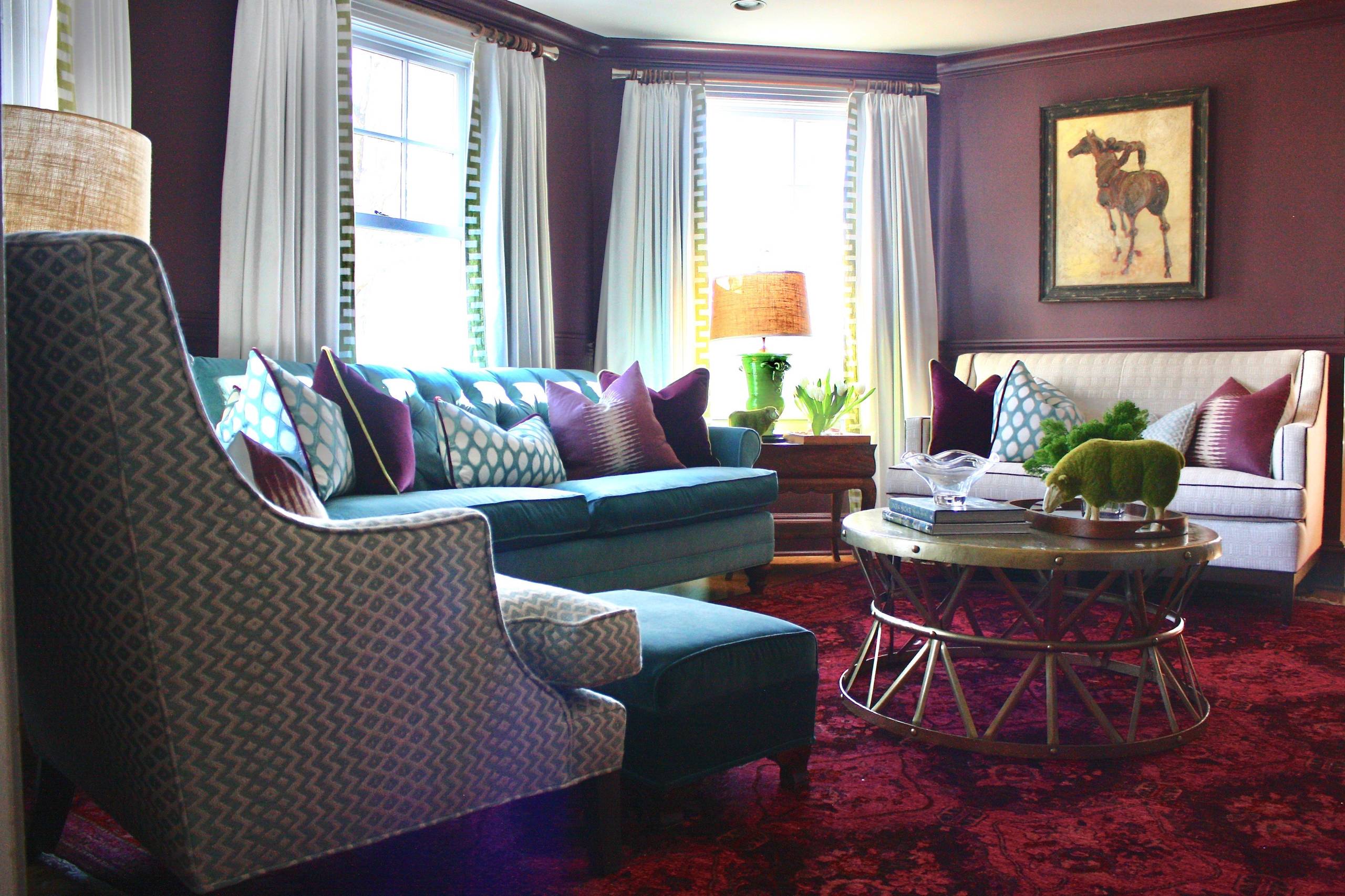 Image: Houzz
Try to utilize several hues of mauve and Burgundy if you're utilizing them in the same space. This will contribute to a fascinating appearance. To add interest, you can also utilize various textures and patterns.
Try to pick comparable colors if you plan to use mauve and Burgundy in various rooms. This will give your house a uniform appearance.
17. Burgundy and Brown
Burgundy and brown are an easy way to change an existing hue, making them ideal for fans of brown furniture.
Image: Eye for Design
In addition, it has a traditional feel that can be easily combined with various outdated fashions.
Frequently Asked Questions on Colors That Go With Burgundy
1. Is Burgundy a neutral color?
Burgundy is one of the perfect colored neutrals. It can seamlessly replace any other neutral shade like black, grey, and navy blue. It does this while also adding some colorful interest.
2. Is Burgundy calming color?
Reds with an undertone of blue are cool colors like Burgundy, raspberry, deep cherry, and ruby. These colors are usually described as calm.
3. Is Burgundy a versatile color?
Burgundy is among the most versatile and most appreciated colors. Burgundy works with almost every color direction.