Brown leather sofas are timeless, classic, and multifaceted pieces of furniture that can be designed up or down to fit any desired style. But with so many different colours available, it can be tough to know what colour goes with your brown leather sofa.
A brown leather sofa or recliner is a neutral foundation for various decorative accessories. It can be used as an anchor for your home decor because it is neutral and warm, making it easy to incorporate into various design styles. Additionally, brown leather sofas are the ideal choice for families with pets or young children as they are more forgiving regarding scuff marks, dirt, and stains.
When decorating a living room with a brown leather sofa, selecting a suitable colour scheme will significantly impact the overall look. This article explores some of the best colours to pair with a brown leather sofa. We'll also discuss some tips for creating a cohesive and stylish look. So whether you're looking for a classic neutral palette or something more daring, we've got you covered.
14 Colour Scheme Ideas to Go With Your Brown Leather Sofa
1. Bright White
You can never go wrong with the white colour choice. It always gives your space a clean, fresh look. Using a white colour palette in a living room with a brown leather sofa gives it a classic and modern aesthetic and lets your sofa become a focal point of the space. You can pair your leather sofa with white walls to create a clean, cozy look.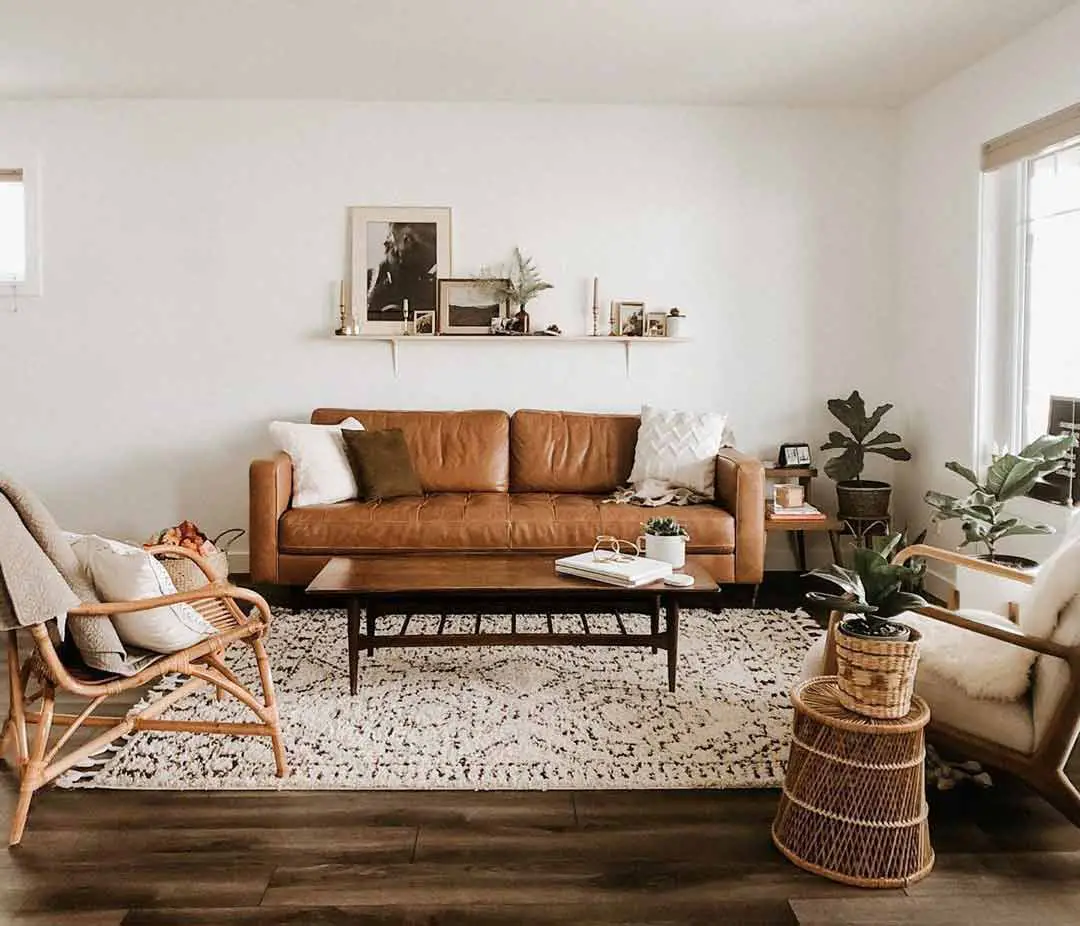 Image Credits: pinterest.com
To create a modern or sophisticated look, incorporate crisp whites. Use soft creams to make the living room feel cozier and inviting. But if you love a more traditional look, add translucent white curtains and throw pillows. Place white vases on your coffee table to add a touch of elegance.
2. Dark Green
Green with an undertone of brown gives your living a touch of nature. Paired with a leather couch, it evokes an earthy, calm, relaxing forest feel. Green works well with shades of brown leather sofas because this combination is nature-inspired.
Image Credits: pinterest.com
You can use complimentary tones like sage green walls or keep potted plants in your living room to create a sense of nature. The goal of styling your sofa using green is to use earth tones of the brown and green combination to create life in your living room.
3. Brown and Beige
You can mix different shades of brown tones to add an interesting character. Paint your living room walls with beige colour and put a neutral-coloured rug on the room's floor.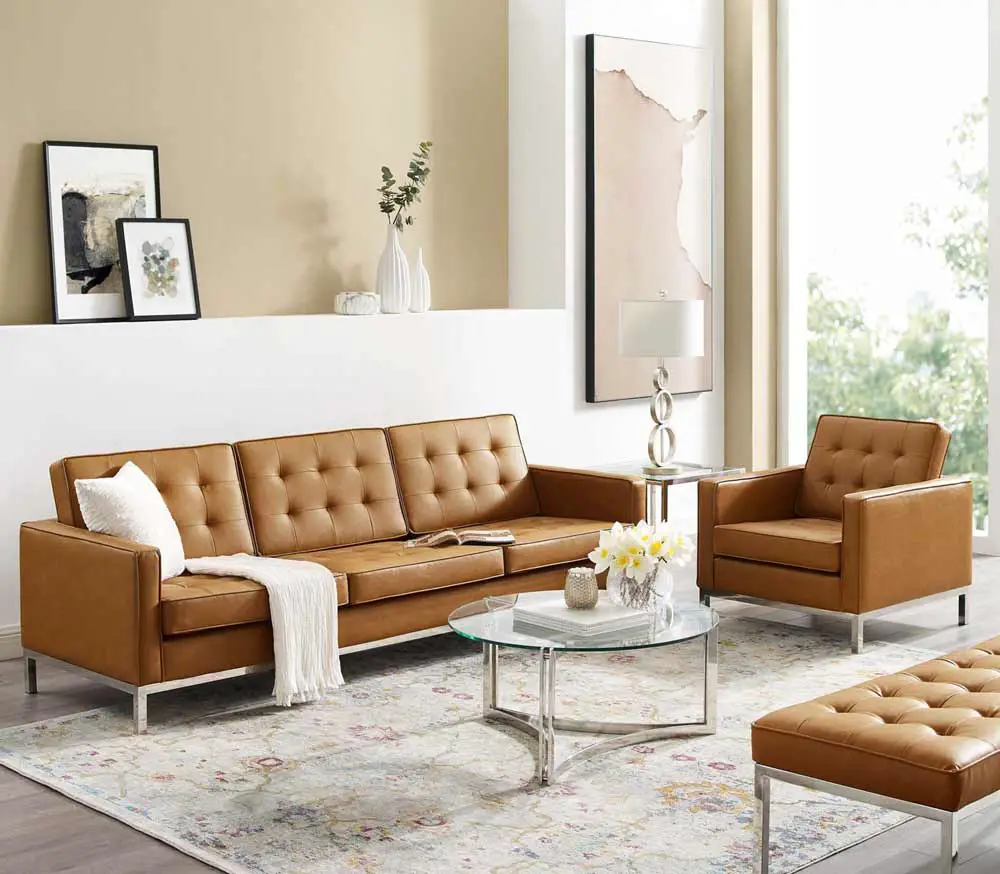 Image Credits: pinterest.com
Add a wooden coffee table to the room to create a more monochromatic look. You can also use different prints of throw pillows and cushions placed strategically to make the sofa stand out.
4. Light Scandinavian Hue
A light Scandinavian colour scheme makes your living or dining room airy and spacious. These colours reflect natural light, make your space look brighter, and prevent the space from feeling cramped.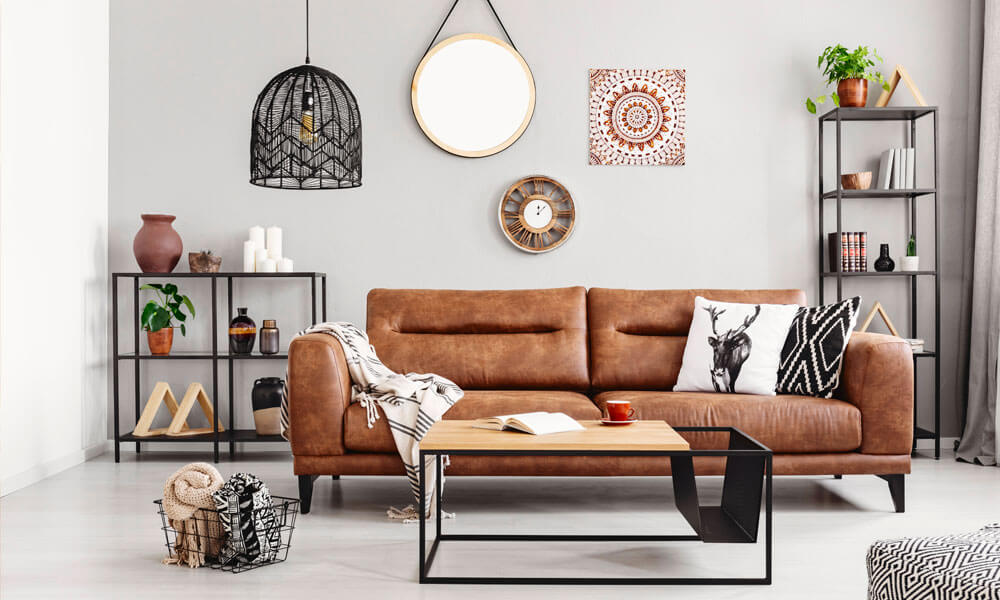 Image Credits: pinterest.com
To make the Scandinavian decor style match well with brown leather sofas, ensure that the walls are white and the floor is wooden, and also use light-coloured throw pillows and rugs to create a Scandinavian look for your living room. If you love a pop of colour, add a vibrant rug area, decorative pillows, or a unique piece of art.
5. Natural Wood Brown
If you want to add a rustic look and feel to your brown leather sofas, use a natural wood brown colour. This shade will give your space an inviting, earthy feel. Create rich wood tones or light brown layers to warm the room and add depth using different textures such as velvet or wool.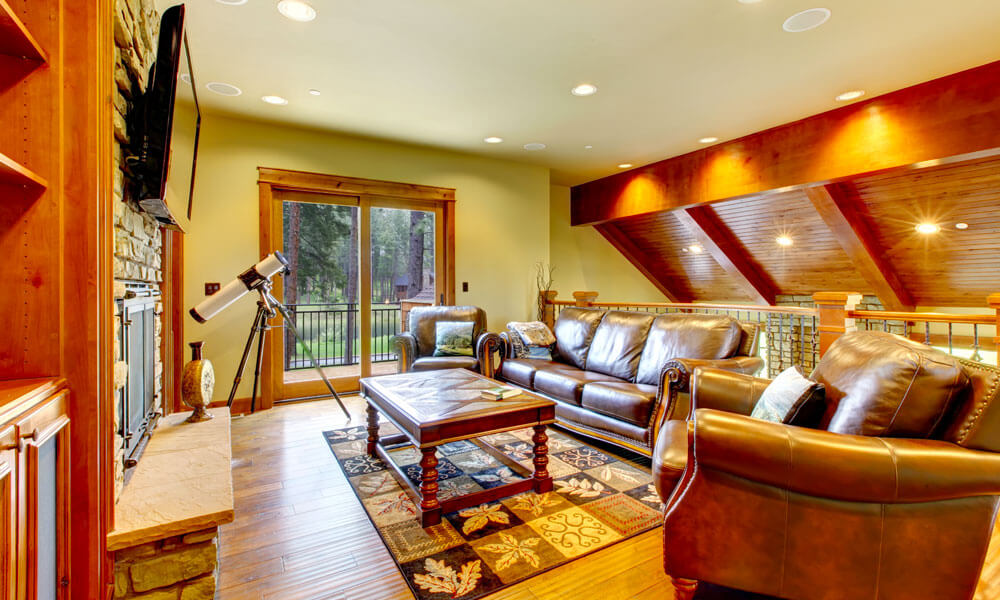 Image Credits: pinterest.com
Let your brown sofa rest on flagstone tile flooring and create faulted ceilings with hewn beams to achieve a lodge decor style. You can create this look using furniture and room decor made from natural materials such as wood and stone. You can add texture and visual interest by hanging tapestries on the walls.
6. Dark Shades of Charcoal
Cladding your walls with charcoal gives it an edgy feel, and combining it with dark floors or rugs enhances the moody vibe.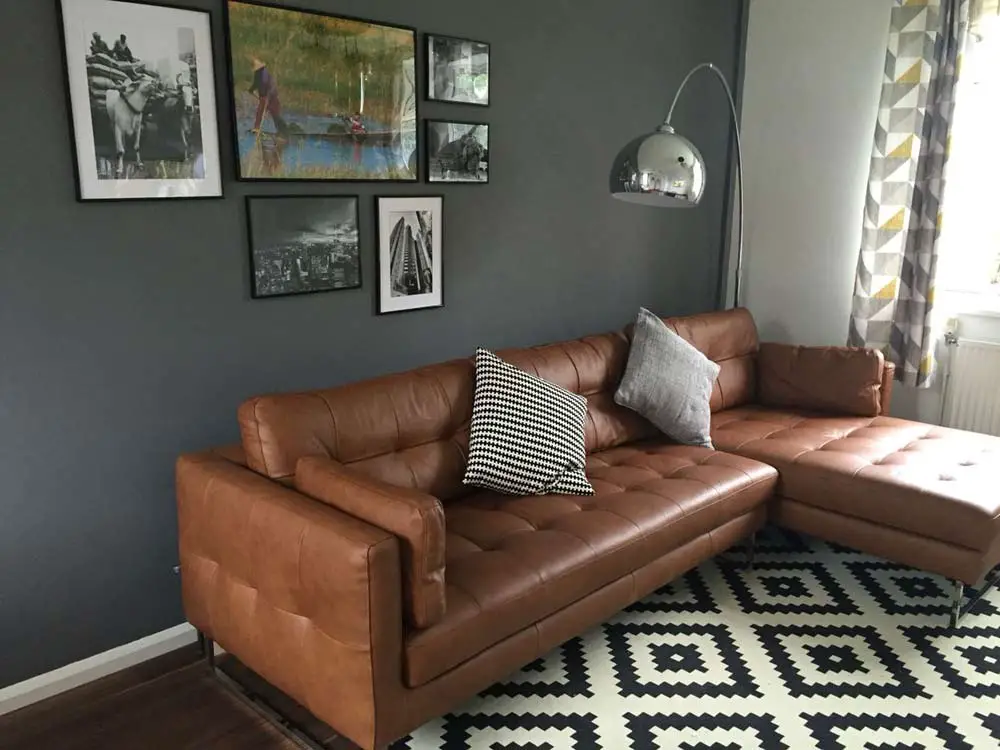 Image Credits: pinterest.com
If you want to create a mid-century modern look, add small details of gold and brass to the sofa or the coffee table's legs. You can add these details to your lamps and vases to contrast the dark wall colour.
7. Neutral Colours and Creamy White
Pairing your brown leather sofa with a creamy white colour will give your living room a classic look. Warm or creamy white gives you a simple and clean colour pellet.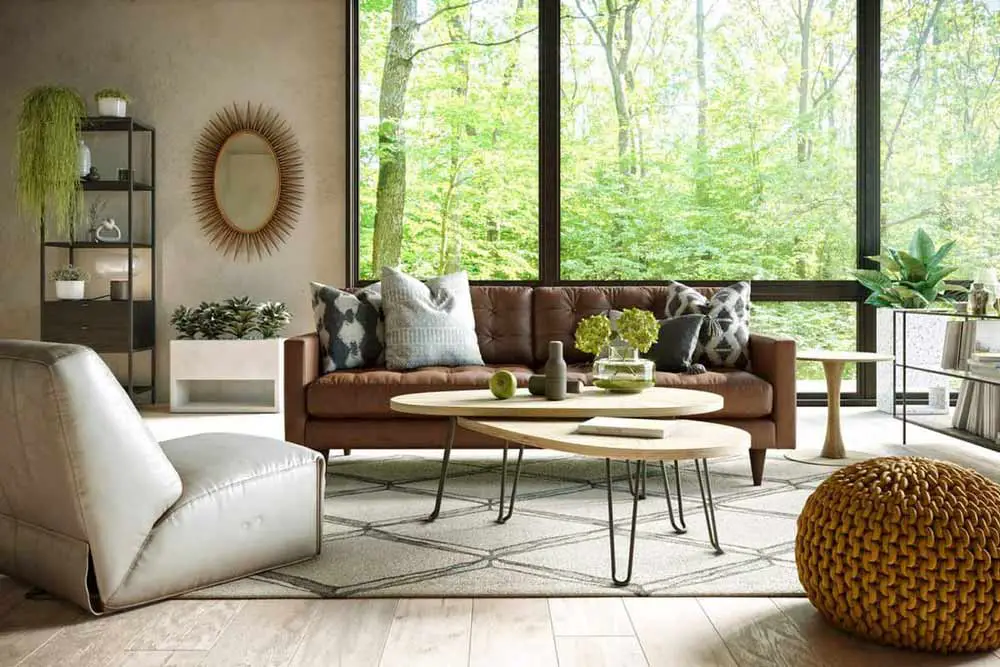 Image Credits: pinterest.com
Paint your walls creamy white and use neutral-coloured curtains. You can also use a neutral-coloured rug or one with creamy white shades to add texture and pattern to your living space.
8. Exposed Brickwork and Industrial Tones
Pairing your exposed brickwork with a brown leather sofa creates a warm and inviting space. The rich hue of the leather sofa compliments the natural tones of brick to create an attractive tone. The exposed brick adds texture and visual interest to a room, making it a top choice for creating a unique living space.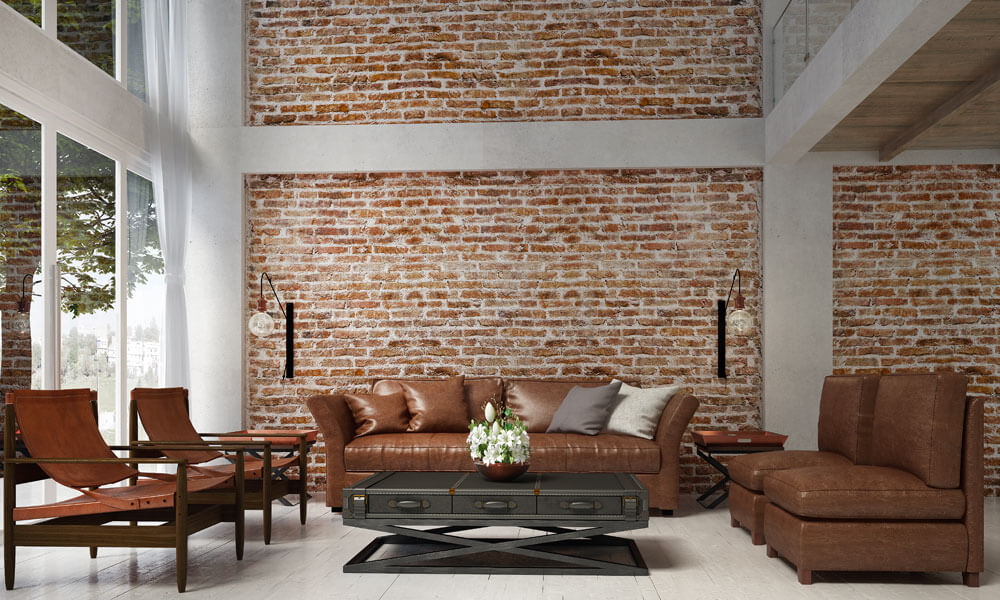 Image Credits: pinterest.com
Pair your brown leather couch with metal accents for an industrial chic look. You can add a coffee table with metal legs or an accent wall with metal rods or pipes. Incorporate metals like copper or brass to add depth and make your room feel more masculine.
9. Navy Blue and Grey
Living spaces featuring dominant navy and grey hues always work harmoniously well. Thus, it's unsurprising that adding a brown leather sofa complements the setting.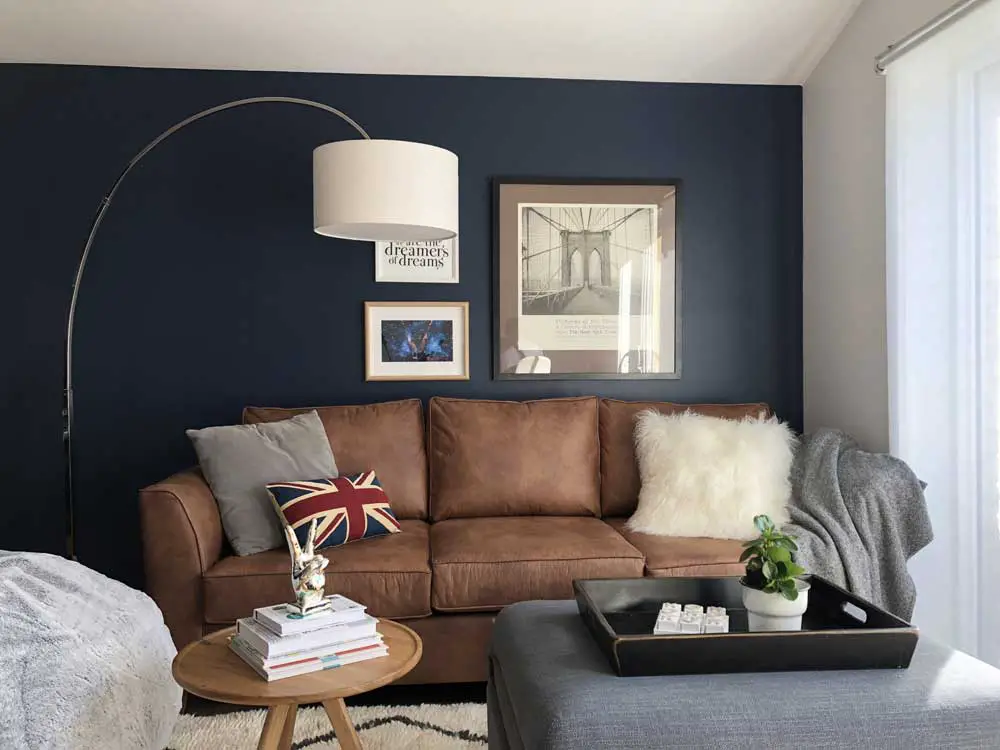 Image Credits: pinterest.com
The unity of the room is skillfully achieved through components such as the ivory lampshade, plush cushion with a snowy texture, and the grey aspects of the upholstery, throw pillows and ottoman. The navy blue accent wall also elevates the room with a majestic effect that is unattainable with paler tones such as cream or white.
10. Golden Yellow
Many people prefer a warm and welcoming colour scheme. A prime approach to accomplish this involves coupling yellow-hued walls with a leather sofa in a rich brown shade. This combination emits a radiant, inviting aura that brightens any living space.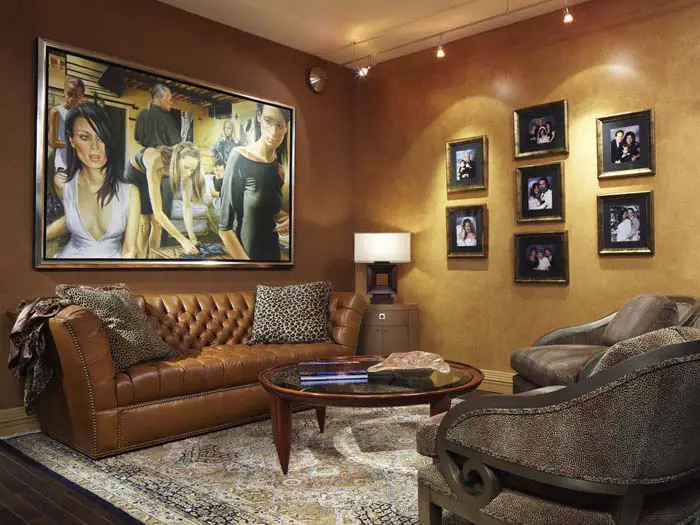 Image Credits: pinterest.com
Beyond its recognized reputation for exuding cheerfulness, yellow possesses the capacity to invigorate the mind and foster creative thinking. The rustic colour scheme works exceptionally well with a brown leather sofa with reddish undertones.
11. Soft Pink Hues
Pink frequently embodies sentiments of love, tenderness, and joy. Infusing pink alongside your brown leather sofa amplifies its welcoming ambiance. There are a variety of pink shades that will perfectly complement browns.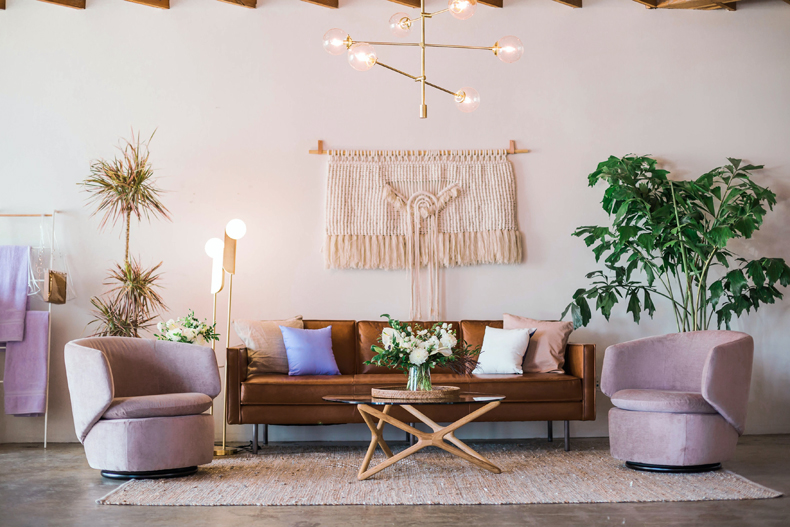 Image Credits: pinterest.com
Soft hues such as magenta, rose, or blush pink harmonize with light and dark browns and tan leather couches. Unleash your boldness and creativity by selecting darker, more vibrant pink tones, or embrace gentler shades for a delicately charming touch of candy-coloured elegance.
12. Sandy Shades
Consider incorporating a palette of sandy hues or paint shades to achieve a beachy ambiance. These tones will infuse your living space with a laid-back and breezy atmosphere. If you're curious about the specific shades, sandy hues, deep reds, burnt oranges, and antique brass tones work very well.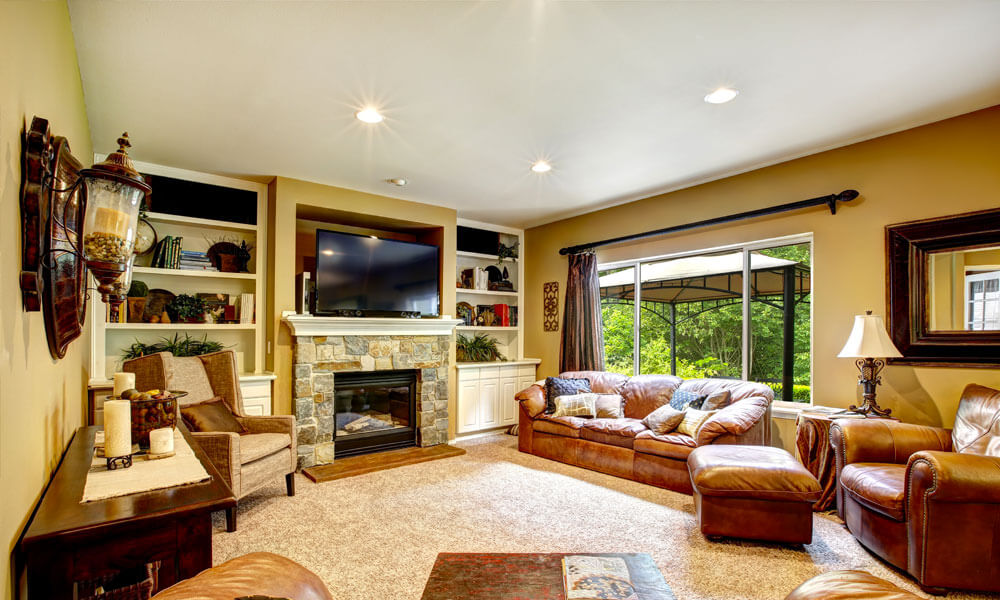 Image Credits: pinterest.com
If your brown leather sofa carries a reddish undertone, its allure will be enhanced when matched with darker variations of red-themed interior accents. Burnt orange can introduce a welcoming ambiance, making it an excellent choice for elements like your area rug or curtains.
13. Crimson Red
A deeply rich and dull brown can be harmonized with more vibrant reds. In this pairing, the crimson hue becomes the focal point of the room's visual interest. Simultaneously, the sofa, coffee table, and lighter brown wood flooring establish the foundational colour scheme.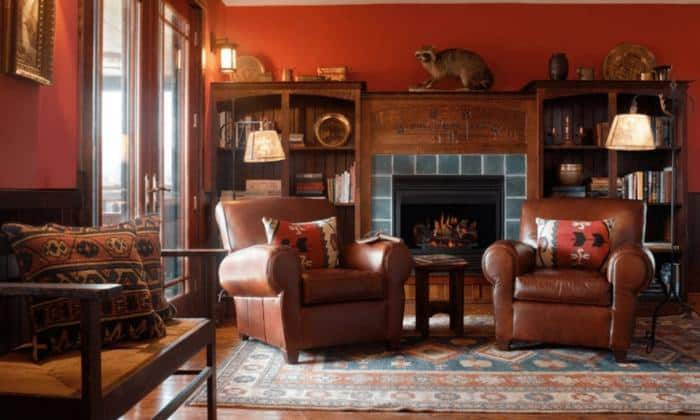 Image Credits: pinterest.com
Subtle white accents on the cabinet, sliding door panels, and beige cushions introduce an element of brightness. Fusing this crimson accent wall and the deep brown couch generates a warm and grounded aesthetic. This combination can create an inviting and dynamically lively atmosphere when illuminated with ample natural light.
14. Pumpkin Orange
Orange is a daring choice in living room colour palettes, particularly when you couple it with brown leather furniture.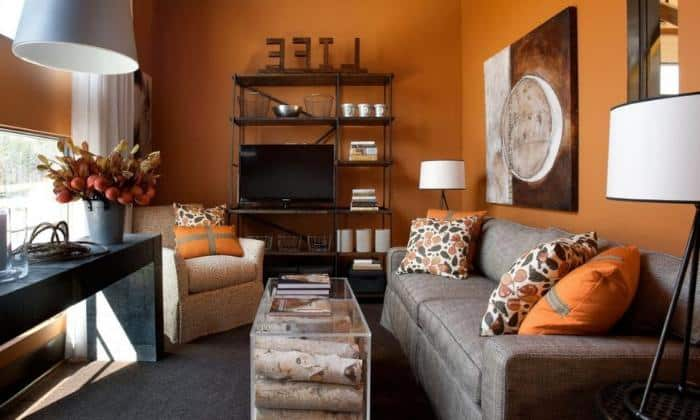 Image Credits: pinterest.com
An orange hue with brown undertones harmonizes perfectly with a rich, deep brown shade. The sofa and flooring's dark brown tones act as stabilizers, juxtaposed against the exceptionally lively yellows and oranges that naturally capture attention.
Final Thoughts
No matter what colour you decide on, use it throughout the room to create a cohesive look. Consider using the same colour for your walls, curtains, or pillows. You can also add pops of the same colour in smaller accents, such as well-displayed artwork or throw blankets and pillows.
With a little bit of design planning, you can easily create a stylish, inviting space with a brown leather sofa. So, don't be afraid to experiment with different colours and see what works best for you.
Frequently Asked Questions on What Colour Goes With Brown Leather Sofa
1. What colour matches with brown sofas?
Brown is a flexible colour that can be paired with many different colours. Here are some of the most popular colours that match well with brown sofas:
Neutral colours: White, cream, beige, gray, ivory
Earth tones: Olive green, terracotta, rust, tan, khaki
Cool colours: Blue, green, aqua, navy
Bold colours: Orange, red, yellow, pink, purple
When choosing colours to match a brown sofa, it is essential to consider the overall feel and style of the room and the desired mood. For example, if you want to create a warm and inviting space, you might choose to pair the brown sofa with neutral colours like white or cream. If you want to create a more modern and stylish space, you might choose to pair the brown sofa with cool colours like blue or green.
2. How to decorate a room with a brown leather couch?
Start with a neutral colour palette for the walls and other significant pieces of furniture. It will help the brown leather couch stand out and be the room's focal point. Adding pops of colour with pillows, throws, and other accessories is a great way to add personality and style to the room.
Also, consider the style of the brown leather couch when choosing other furniture pieces. For example, a modern couch would look good with sleek, modern furniture, while a traditional couch would look good with more ornate furniture.
Don't be afraid to mix and match different textures, as this will add visual interest to the room. Use plants to add a touch of nature to the space. Plants can help to soften the look of the brown leather couch and make the room feel more inviting.
3. What is a complementary colour for brown furniture?
A complementary colour is opposite to another colour on the colour wheel. The most common complementary colours for brown are blue and green. These colours create a striking contrast that can be very eye-catching. However, other complementary colours for brown include orange, red, and purple.
4. Which colour is best for leather sofa?
The best colour for a leather sofa depends on the overall style of the room and the desired mood. Neutral colours like white, cream, and beige are always a safe choice. They will go with any décor and create a calm and relaxing atmosphere. However, if you want to add a dash of colour to the room, you could choose a leather sofa in a bolder colour like red, blue, or green.