If you are trying out to match colors, check out white. This is a go-to color, versatile, and easy to pair and match with other colors. Plus, it helps add an elegant, appealing, and rich look to a space.
White also adds brightness to a room, which enhances its qualities. However, keep in mind that too much white in a room might make it feel overwhelming and sterile. That said, what are the colors that go with white?
It depends on the style you want to achieve. You can use white to create a calm, minimalist color palette or pair it with other brighter colors for a fun and dynamic look. 
Now, let's check out the color combinations that work well with white.
12 Colors That Go with White
1. Pair White with Red
Together, white and red colors are enlivening. These two colors are popular in portraying a romantic vibe and complement each other quite well. The red color offers a dramatic feature in a room, drawing your attention and making any place appear alive, classy, and personalized.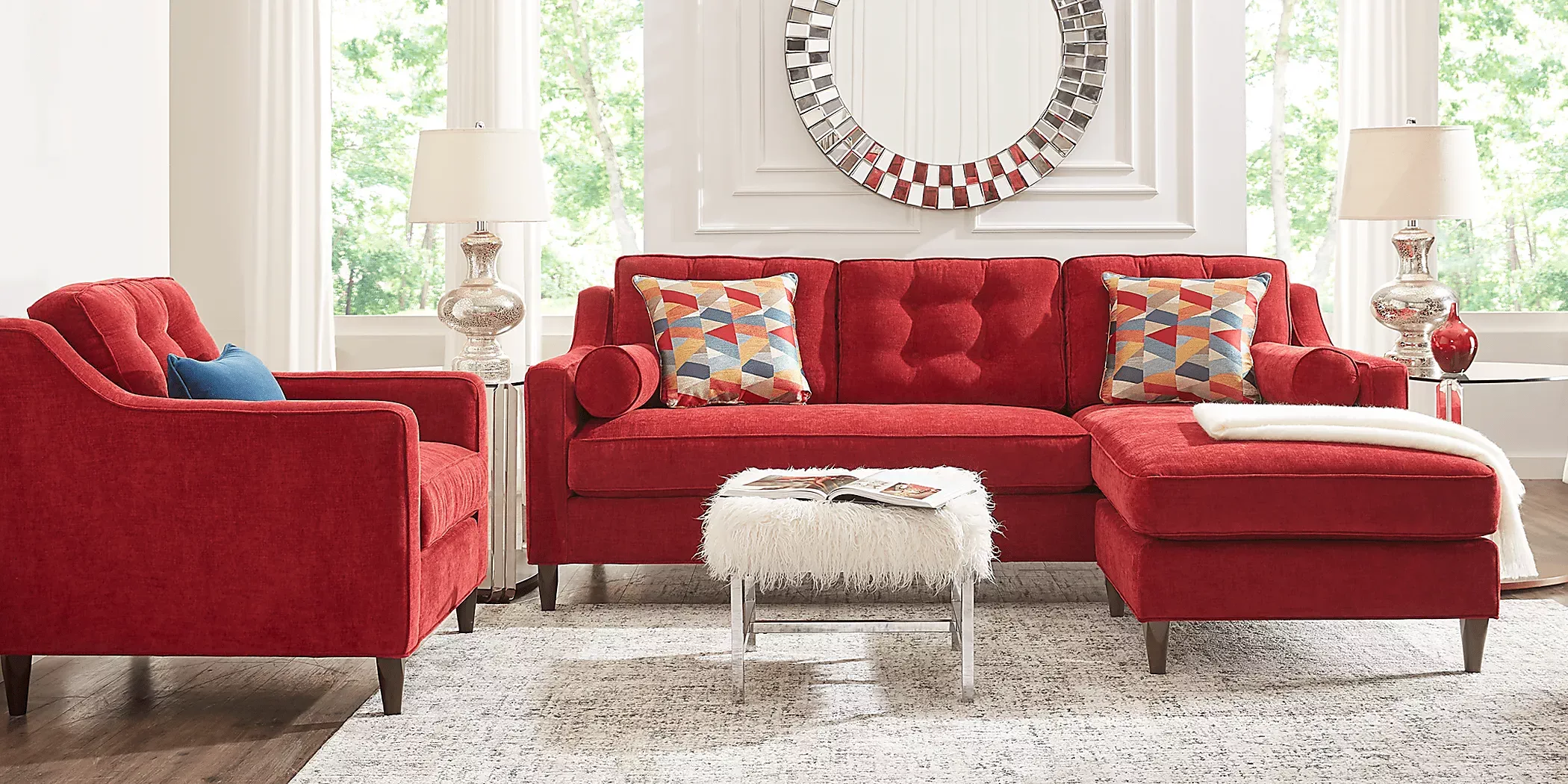 Image Source: furniture.com
In the image, the living room has white walls and red sofas, a bold and eye-catching combination. What do you think of the color combo?
2. Pair White with Black
There is no more traditional color combination than black and white. Though the combo might be sharp and graphic, there are ways to soften the look. To make the most out of this black-white combo, we recommend working with a 70/30 design. Choose one of the colors to be your main color and create a space that's 70% of that color. Then, add pops and accents of the other hue to balance.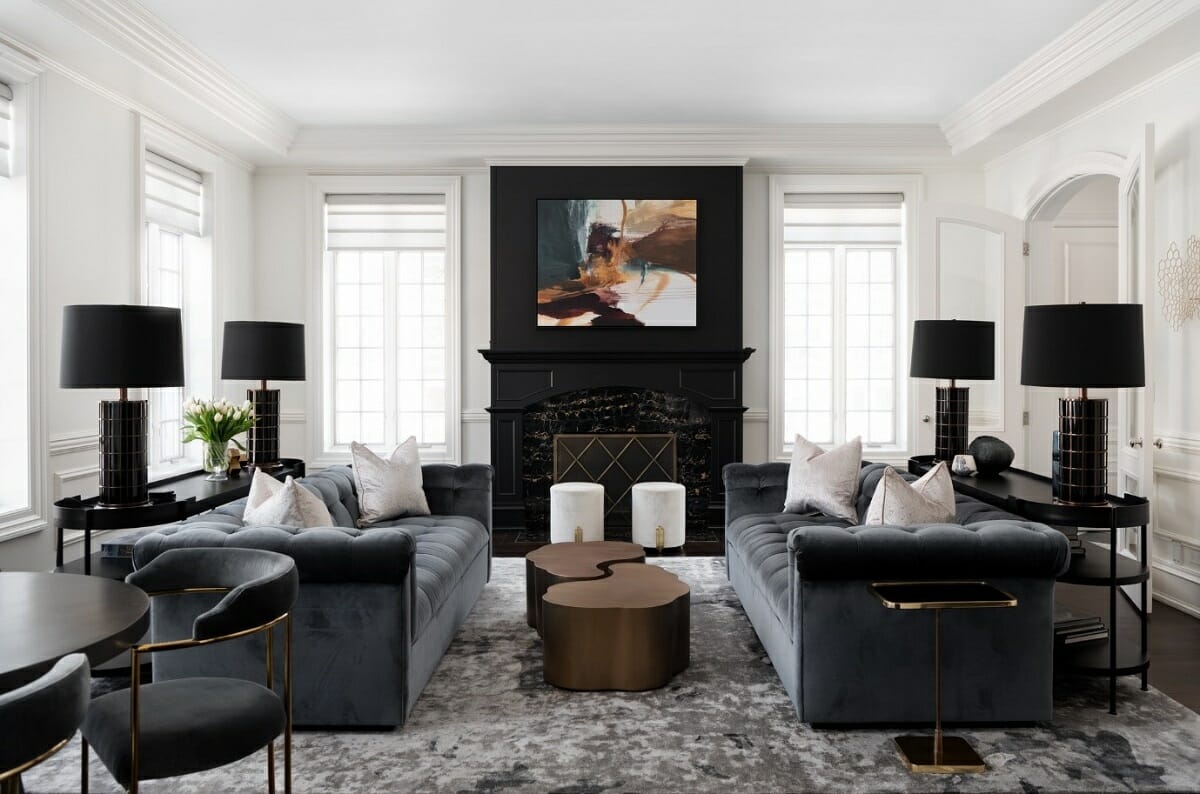 Image Source: decorilla.com
For instance, if you have white walls, you can furnish the rest of the space with dark furniture to define the room and achieve a modern and trendy statement, as shown in the image above. When these two hues are paired, they create a timeless, one-of-a-kind look.
3. Pair White with Gold
Gold is usually a bold color that makes a statement, creating a lavish, elegant vibe. If not paired carefully, however, it can look a bit tacky. White is an excellent color to pair with gold because it allows it to shine while being classy.
Image Source: sumanfurniture.com
A clean white backdrop would look fantastic with gold accents. This goes for white fixtures, furniture, or curtains. Add some gold accessories, such as a mirror, vase, or throw pillows, for a low-key look. Ensure you balance out the space with enough white color to create harmony.
For instance, the bathroom decor in the image above, how does it look? 
4. Pair White with Pink
If you are trying to achieve a soft, feminine, and pleasant aesthetic in your space, pair the white color with pink. A white room, whether it is a deep or light shade of pink, will immediately become alive and feel amazing. And the good thing is that this color scheme is suitable for any space.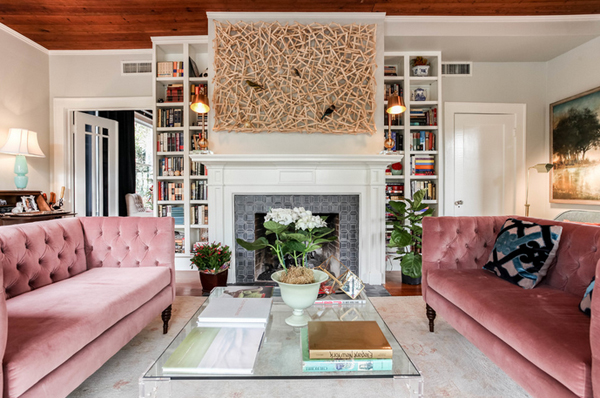 Image Source: homedesignlover.com
For instance, the white walls are paired with bright pink sofas and other accessories in the image, making the room look stunning.
Furthermore, consider painting your walls a brilliant pink, then temper it with plush white carpeting. If it is a bedroom, you can also use white bedding.
5. Pair White with Yellow
Yellow is usually best used as a small splash of color in components such as bedding and accessories; a lot of yellow can be considered too much of a good thing. So, a white and yellow color combo is the way to go if you want a space to feel cheerful, bright, and lively at the same time. Also, note that though a yellow color scheme brings energy to any room, including white will serve to ground the space.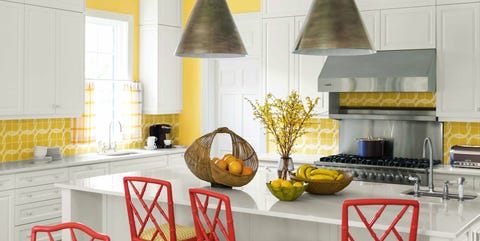 Image Source: housebeautiful.com
We recommend pairing white color with light yellow because a darker shade might feel overwhelming when used in large amounts. However, as seen in the above image, you can pair a medium to dark yellow tone if white is more prevalent in the decor.
6. Pair White with Beige
If you are looking for a darker neutral shade, you can always count on beige. For an elegant yet modest design, beige and white are a great color combo. Besides, beige is perfect, especially if you don't want to add a too-light color or too dark to the white but need something to help balance the space.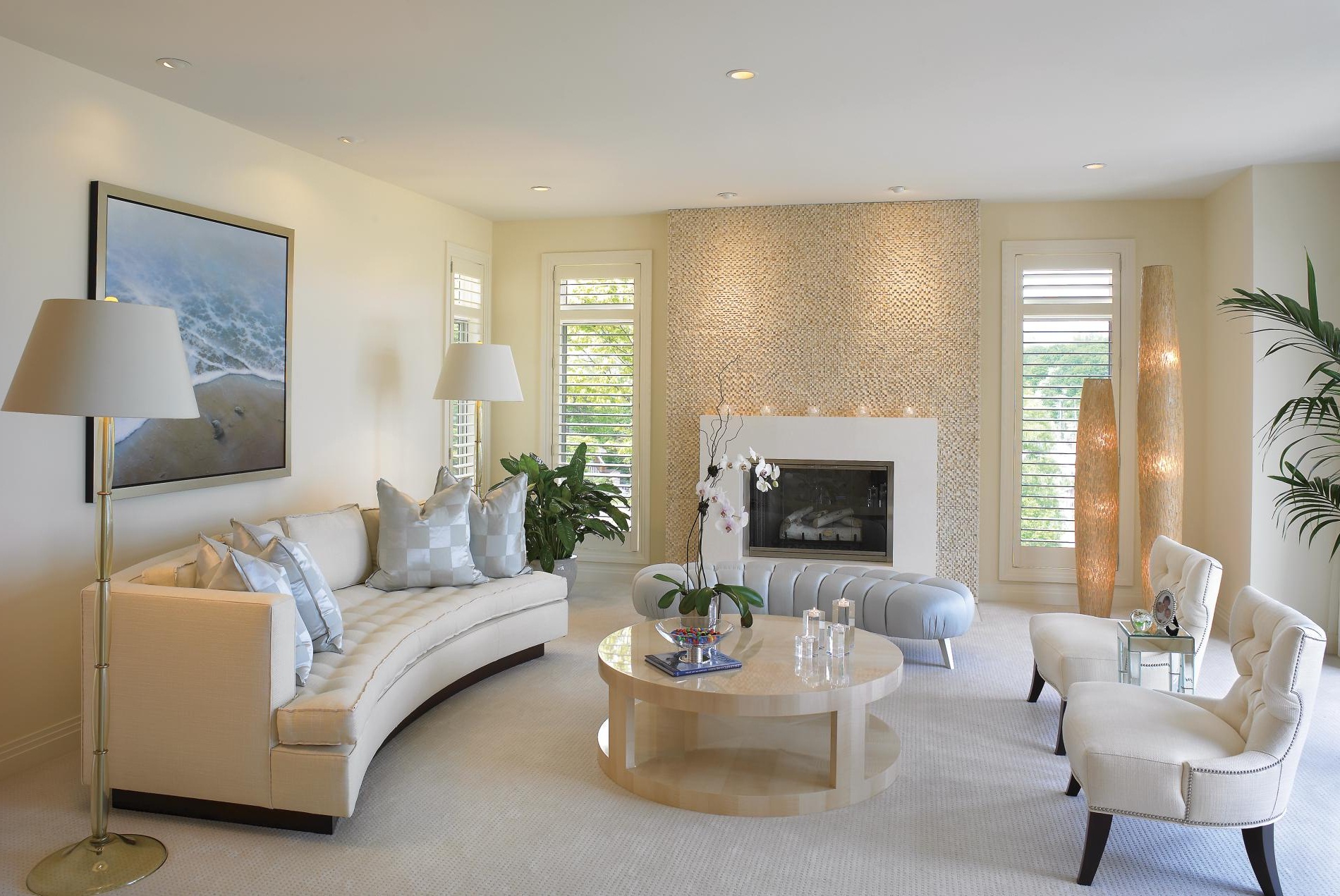 Image Source: decoist.com
Therefore, this color combo will be effective if you prefer a simple, minimalist style. It is also great if you have a smaller space and want to get the most out of it. Lighter colors usually make a room feel larger and more spacious. However, if you like, you can add some color with little bursts of color.
Since beige is a warm color, it will prevent your space from looking too chilly and clinical. Instead, you will have a friendly, welcoming environment to unwind and rest. Check out the above image, for instance.
7. Pair White with Gray
Gray is among the best neutral colors that are easy to match and works well with white to create a cohesive and attractive room. So, consider pairing white and gray if you prefer a more minimalist look. Though it's not as bold as the black-and-white color combo, it is still incredibly stylish.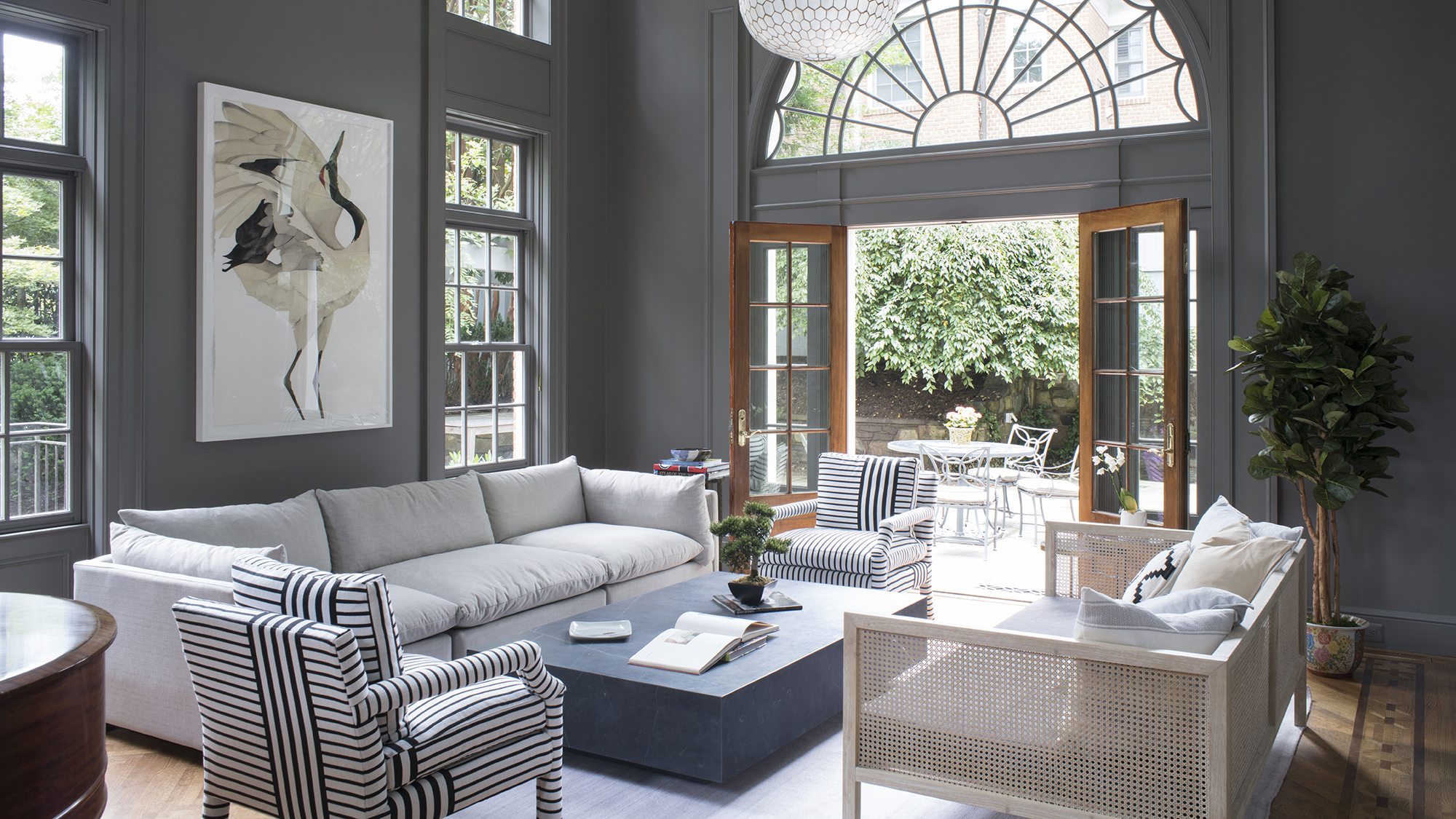 Image Source: homesandgardens.com
Keep in mind that gray and white are not technically colors because they are achromatic. That means they do not have a distinct hue. Consequently, you can use practically any color in the mix. Besides, you can choose an accent color for your space.
Gray comes in different shades ranging from charcoal to light gray, and they all look great with white. The higher the contrast, the more eye-catching the look. Check out the image above.
8. Pair White with Brown
Brown is usually a rich and earthy color that adds tranquility, calm, and refinement to any space. When paired with white, the color combination creates a pleasant, natural, warm, and rich vibe. The good thing is that whether it is a light or dark shade of brown, this color will stand out in a white color scheme.
Image Source: sunset.com
Using wooden tables, flooring, plants, and wooden art sculptures, you can incorporate the brown color into your space. Good is that on the image above. The color palette is ideal for creating an atmosphere that helps you feel comfortable.
9. Pair White with Orange
Though orange may not be your first thought when considering colors that go with white, try it out. Orange is a bold, vibrant color that creates an exciting and dynamic environment. And so it works well when paired with white to make a stronger statement.
Image Source: decorpad.com
Furthermore, orange will give your room an energetic and bold vibe. On the other hand, white will soften and balance the intensity of orange, as seen in the image above. Keep in mind that how you use it will affect how it creates definition and style.
10. Pair White with Green
Green is seen as a relaxing color. It creates a dynamic and pleasant atmosphere and makes a space appear bigger and more refreshing. Due to these effects, green is an excellent option for adding a splash of color to a space while keeping things grounded.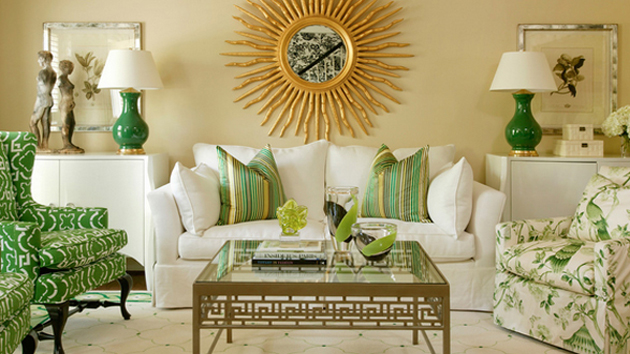 Image Source: homedesignlover.com
This color scheme and decor, as illustrated in the image above, excellently show how to make the color green work in an inviting white set that blends the open, bright space with pleasing and alluring natural tones of green.
Moreover, green is also a great color to use if you want to create a natural atmosphere, such as if you love indoor plants.
11. Pair White with Blue
Pairing white and blue is an enticing combination that always looks fresh, from contemporary to modern and classic to coastal. Besides, pairing a deep and enticing blue with white brings out its richness. The white will pop against this rich blue, and both colors will look equally beautiful and royal.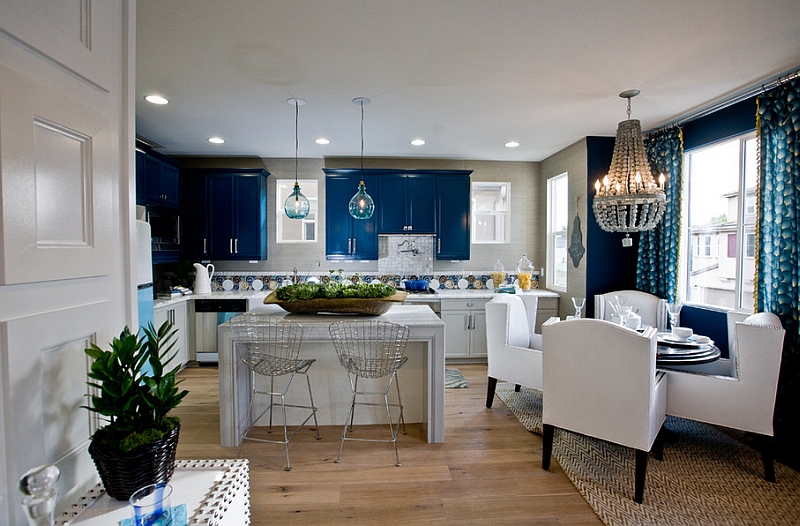 Image Source: decoist.com
Deep blue and white make an excellent color combination for a strong and attractive design. The image above illustrates that the color combination is comfortable and stylish. Additionally, these two colors complement each other so well that they make it easy to incorporate colors such as red, green, gold, gray, and metallics.
12. Pair White with Purple
Any shade of purple usually goes well with white since the two colors contrast well. However, it depends on the shade to create different moods and feelings. For instance, lighter shades of purple, like lavender, help to create a romantic and dreamy environment. In contrast, deep shades of purple, like plum, give off a luxurious and regal vibe.
Image Source: designcafe.com
In the image above, the clean and bright white is paired with lush shades of purple like lilac or mulberry purple to make the room look sophisticated and attractive.
Furthermore, paired with white, this color palette creates a luxurious and sophisticated space. Also, pairing white with purple can create a more vintage aesthetic depending on the shade of purple. Note that the color scheme is best suited for bedrooms.
Things to Consider When Pairing White with Other Colors
1. The Atmosphere
When looking for living room color ideas, use a lighter shade to create a cheerful and friendly atmosphere.
2. Lighting
The lighting in the room can also affect how the colors look together. For example, if the room is brightly lit, the colors may appear more vibrant. Conversely, darker shades will make the space feel smaller and more intimate.
3. Contrast
Contrasting colors will make a bolder statement than colors that are too similar. For instance, pairing white with a bright red or yellow will create a dramatic effect, while pairing white with a hot pink or blue may create a softer look.
4. Texture
Image Source: unsplash.com
The texture of the colors can also play an important role. For instance, pairing white with a matte finish will create a more muted look than pairing white with a glossy finish.
5. The Other Colors in Your Room
Just because a color pairs well with white does not necessarily mean it will match other colors in your room.
6. Tone
When looking for colors that go with white, it is important to consider the tone of the colors. For instance, pairing white with bright colors will create a more vibrant look, while pairing white with muted colors will create a softer and more subtle look.
7. Balance
When pairing white with other colors, we recommend looking for a balance between the colors. (Check out the color wheel). For instance, if one color is too overwhelming, it can make the other colors look dull by comparison.
Featured Image Source: designingidea.com