A fresh coat of paint can give your home the facelift it needs without you breaking the bank. Selecting the right shade is dependent on your taste and what your vision for your house is. Additionally, the options are limitless, and it helps to have a general idea of the direction you would like your home décor to take. Here are some of the most popular colors for your interior, regardless of whether you're a beginner or a veteran.
Popular Interior Paint Colors
1) Light or Pale Gray
Light gray will always be popular for its versatility. Not only does it look good in natural light, but it adds coziness and softness to any interior décor. Additionally, it's one of those neutral paint colors that go with anything, including monochromatic looks. Light gray for your interior is also a relaxed alternative to bright white paint.
Image Source: decorsnob.com
Lighter shades of gray also create a style statement and let your décor pieces shine through. A Benjamin Moore classic gray color will do well for any interior. Additionally, it is soft, relaxing, soothing, and provides a spacious feeling to any room, and complements accent colors. Any agreeable gray color scheme is perfect for a minimalist design pallet.
The best part about most shades of gray is that they tend to change appearance in various lighting, and can be paired with other cool or warm tones. You can easily pair gray with shades of blue for a cool effect, or red, yellow, or orange for a warm and cozy space. Gray has been around for a long time and continues to be popular.
2) White Paint Color
White paint has always been a go-to for most interior paint colors. A bright white interior has the potential to project a clean and ordered environment, and goes with everything. It's also a great fallback color since you can never go wrong with pure white walls. Of course, before settling on a white color for your interior, it is important to do multiple swatch tests to get a feeling of how the paint will look in a different light.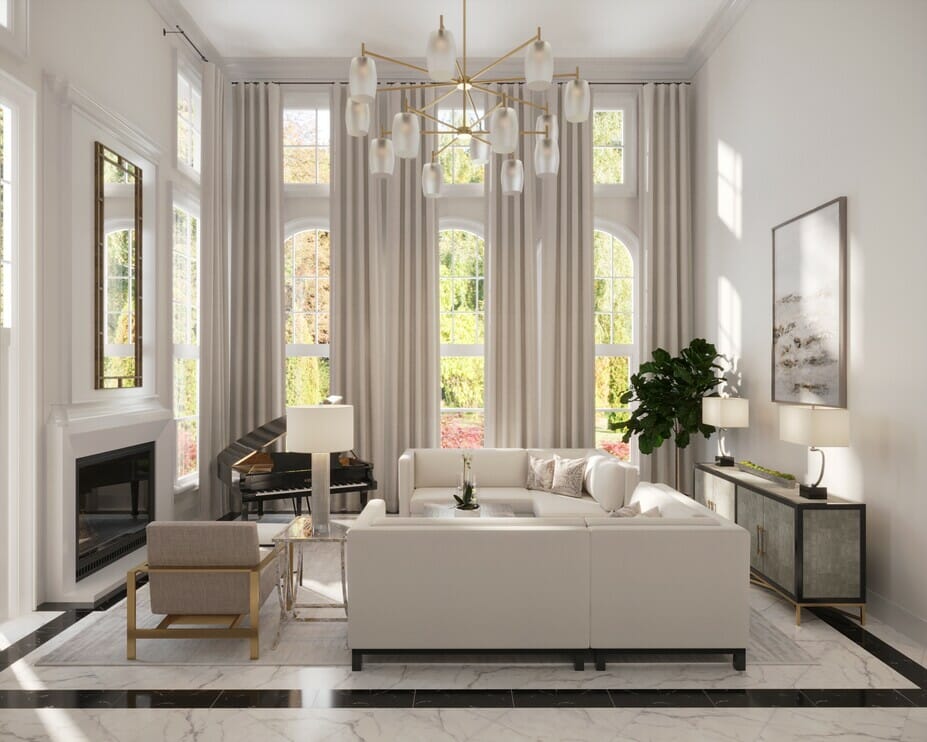 Image Source: decorilla.com
White offers a neutral and universally appealing backdrop that allows homeowners to visualize their preferred décor and how it would look. However, keep in mind that overusing white could make your space seem clinical and cold. A great place to start when it comes to white paint is the White Dove OC-17 by Benjamin Moore.
In addition, you should also consider how white complements the rest of your décor. A better probability is that warm white walls go with most décor and paint colors. Additionally, with so many undertones, nowadays white colors can have different nuances, like off-white, antique white, ecru, or ivory white, you won't go wrong.
3) Warm Beige
Warm beige has red and yellow undertones and therefore goes very well with bright and neutral colors in the décor. Additionally, if you have dark wood floors or tints around your house, warm beige goes beautifully with them. Furthermore, beige has very modest qualities that make it palatable with any type of interior design, creating the perfect canvas for interior paint colors since it looks great.
Image Source: pinterest.com
It also brings out the beautiful tones in any artwork you might have hanging in your interior. That being said, with beige, you can also create contrast with darker shades like black and dark brown. It also blends in really well with furniture items of the same color, adding more warmth to a space.
The Sherwin Williams warm beige wall color is the perfect backdrop to the search for all your neutral paint needs since it goes with cool and warm colors. Furthermore, all beige color combinations can easily spruce up any room regardless of the décor. Nevertheless, it is important to note that the colorful undertones in various shades of beige are what give appeal to warm beige as a color.
4) Deep Blues
Blue has always been a cult favorite for many people. Its broody nature can be converted into a sophisticated space full of life. However, while it's a cool color, it can easily be skewed in favor of warm tones without there being a color clash. Additionally, you can create the most eye-catching color schemes with deep blue.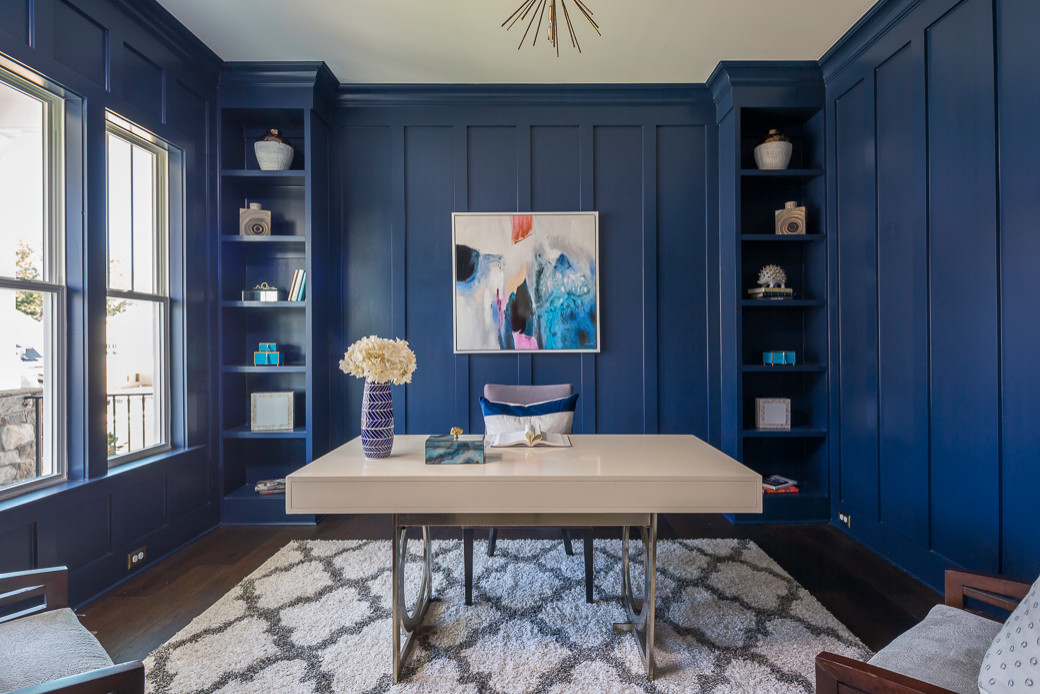 Image Source: houzz.com
As might be expected, deep blue tones go well with lots of natural light. So if you don't have multiple points of natural light coming into the house, it will look dark and unattractive. It might also make your space feel boxed in, which is the opposite of what you want. Additionally, blue goes with multiple colors, so you can custom-make your décor palette.
A shade like Farrow and Ball Hague blue is best paired with contrasting, warm, or metallic colors. Accents in mustard, gold, burgundy, and purple will improve your space by creating points of focus and casting the deep blue in a different light. Additionally, if you aren't sure about pairing blue with other colors, try to go with lighter colors that feel fun and fresh without necessarily being too dramatic.
5) Sage Green
Sage green paint color is an excellent choice if you don't want too much warmth, or prefer a lighter green shade, for your space. Sage green has been a background player in interior paint colors for a long time, and is still use for many living room and home color ideas. Additionally, it acts like a blank canvas and is striking enough to carry any interior color palette, which ensures its place on the list of truly timeless colors.
Image Source: cocolapinedesign.com
Any interior paint color should complement your décor, and sage green does this since it has earthy hues. It goes with everything including taupe, greige, and other neutrals like white and black. Additionally, sage green goes exceptionally well on furniture and cabinetry, so it would look great both in your kitchen and living room.
This color is great for a soothing space, and also works well as an accent color such as the Benjamin Moore Texas Sage. In the past few years, people have learned that sage green is a popular choice for kitchens and dining areas since people spend more time there. Not to mention, it always maintains a feeling of neutrality.
6) Black
Black has caught on in the past few years and is one of the best-selling colors for its enduring versatility. Additionally, black wall color can instantly modernize a space especially when used in North-facing rooms to ensure it doesn't look dull and flat. Furthermore, you can easily use it as an accent color on multiple walls both indoors and outdoors.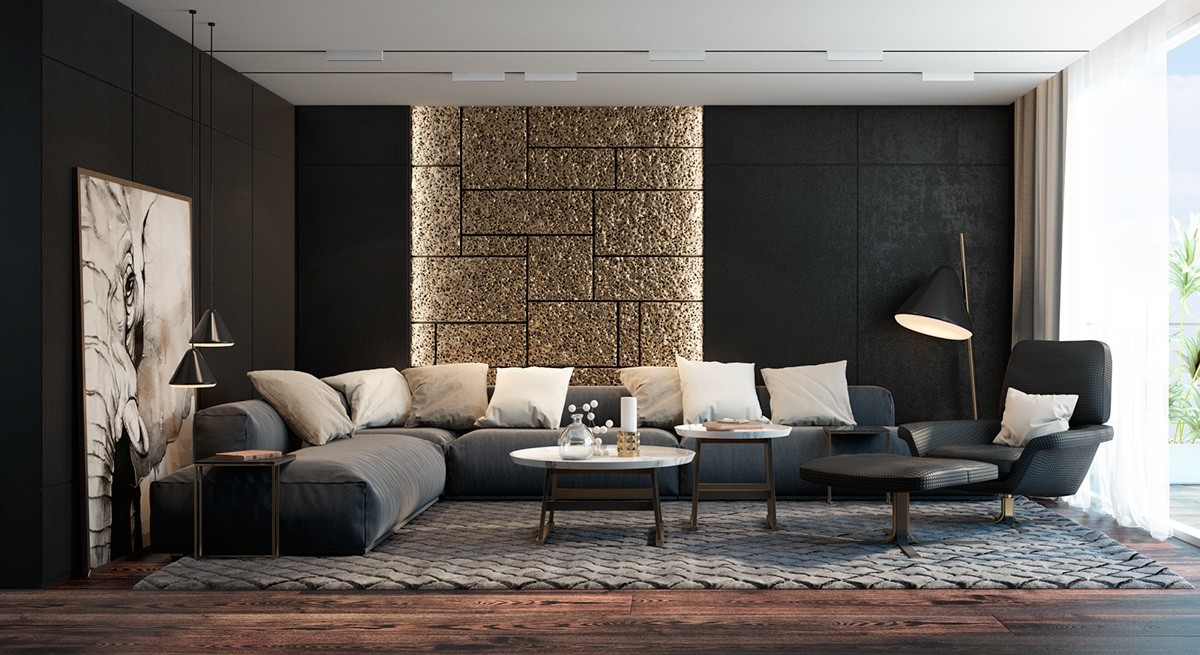 Image Source: interiordesignideas.com
A general rule of thumb is to try pairing black with wood tones, and metallic surfaces. If you aren't ready to commit to black, then painting your trim could ease you into the transition. Black is a classic and neutral color that blends with anything and also adds a flair of drama to any space. If you fancy a dark shade for your wall color, then black is a great place to start.
The best part about black is that it looks right at home in smaller spaces as well as larger spaces. It's also great in small doses like on trim and cabinetry, and striking on whole walls. Additionally, you can use Onyx black from Sherwin Williams as an accent for an edgy and contemporary space.
7) Dark Red
Red has always been a conversation starter regardless of where it's used. Red encourages creativity, productivity, and creativity when used tastefully. Therefore, experts suggest using red in areas where you work, or spaces you've carved out for your hobbies. While a red room might seem too much for most people, it has a certain appeal if it's used in darker shades of red, especially for entire rooms.
Image Source: pinterest.com
The right red paint color can play off a room's accessories, and decoration, and complement your furniture. Of course, red shades look better when infused with browns for a more stable look. A fire engine red might not be appealing when used in a room since it can create feelings of restlessness, and anxiety.
An excellent example of a dark red shade that has the potential to create an amazing space is the Chili Pepper by Benjamin Moore.
8) Soft Peach
A soft peach color will open up your space and ensure you have a large palette of complementary colors to choose from. Additionally, peach goes well with most colors including warm, cool, and neutral paint colors, so your space will look sophisticated regardless of the color you select. However, since peach is so versatile, you have to select the atmosphere you want to create in your house.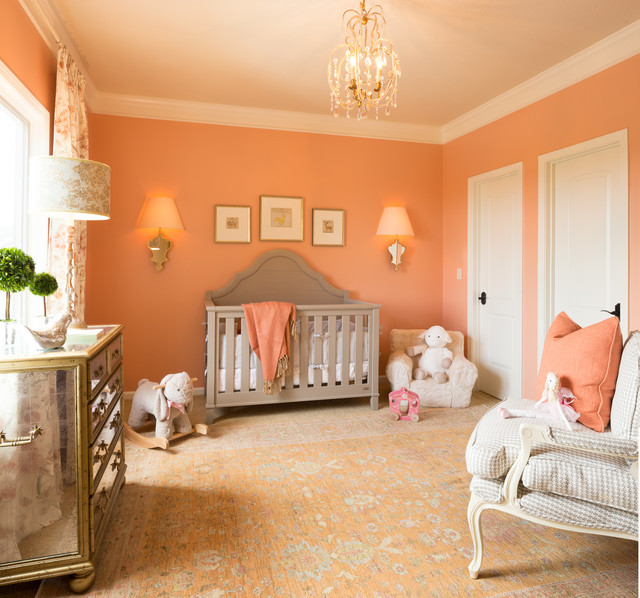 Image Source: houzz.com
If you want a cool atmosphere, then pairing peach with white gives your room a royal feel. On the other hand, pairing it with a color like mint will give you a soft and earthy vibe. Regardless of the color you select, peach is versatile, so it shouldn't be hard to pair it with any color of your choosing. You can spruce up your space with Benjamin Moore's Sun Kissed Peach. It goes with everything.
9) Muted Yellow
A muted yellow tone can create an open and happy space since it has a cheery and welcoming vibe. Muted yellow tones are soft on the eyes, and create instant warmth when applied. It makes sense that this shade is perfect for small boxed-in spaces since it reflects any natural light. So any dark space gets an instant facelift.
Image Source: homelane.com
Additionally, muted yellows like Sherwin Williams Funky Yellow blend beautifully with other warmer neutrals. However, before you choose a yellow paint color, observing it is important so you get the right shade of yellow. Some shades might make your walls look filthy in the light. Therefore, observing swatches of the paint color you want is very important.
Factors to Consider When Choosing Interior Paint Colors
1) Coverage
Any interior paint color needs to have the right coverage to work with the aesthetic you going for. You need to know how much lighter or darker the perfect shade is going to be. Therefore, the coverage and quality ensure there is an even application. Additionally, it is important to to know if you want to paint over your previous color, or strip your wall and go in with a fresh coat.
Image Source: harmonyadditives.com
Dark shades have enough coverage to go over lighter colors without the need for stripping your wall. However, you might need at least two coats for a full coverage effect, should you choose a lighter color like white, yellow, or beige.
2) Ease of Cleaning
Cleaning your walls should be easy, and your paint color should be durable enough to withstand a few wipe-downs. Before settling on a paint of choice, ensure it can tolerate water well, especially if you plan to paint high-traffic areas like the kitchen or living room. This will make your job easier considering any stains can be wiped or scrubbed off.
Image Source: themaids.com
Paint that is resistant to abrasion will hold up well and for many years without the need for change. Additionally, you should know that the more glossy the paint is, the better it will hold up to water and other atmospheric changes. Keep in mind matte and semi-gloss finishes might be durable, but they might not hold up as well as you hoped.
3) Colors You Love
Image Source: schemecolor.com
Going with colors you love is essential to ensure you don't come to hate your interior in a few weeks. Additionally, starting with colors you like is a sure way of ensuring you are comfortable with your decision, and you won't get overwhelmed by the infinite available choices. After selecting the paint colors you like, the number of options can be infinite. In addition, you can always find inspiration for your color choice from multiple platforms like Pinterest.
Frequently Asked Questions About the Most Popular Paint Colors
1) What is the latest trend in interior paint colors?
Brighter shades have taken a stand in interior paint colors because they are versatile, accentuate natural lighting, and open up small spaces. Not to mention it's very easy to decorate around such colors.
2) Which paint color is best for inside the house?
Various colors would suit your space depending on your taste, and what you have in mind for your space. However, some of the colors we feel are an excellent choice are pastels, and neutral paint colors for a well-rounded look.
3) What is the most popular color for a living room?
The most popular interior paint colors for living rooms are white, green, blue, and gray.
The Bottom Line
Painting your house can be a hectic and unnerving journey. However, we have identified some of the best and most popular interior paint colors to help you with your choice of color. A general rule of thumb we like to suggest is pairing colors that are adjacent to each other on a color wheel. This should help you harmonize everything in your house.