If you are traveling for business, one common mistake most novices make is to assume that hotels are the best choice for accommodation. While hotels can provide a superior travel experience for tourists and families, working professionals may have better options like corporate housing. So, what is a corporate apartment?
Corporate housing is a great way for business travelers to live flexibly. They can immerse themselves in the local culture while maintaining the facilities to work comfortably. This means they can adjust to living in a new city faster, which is an advantage for professionals constantly on the go.
Corporate housing feels less like a small accommodation with basic amenities and more like an extension of your home. These apartments are often located where one can live, shop, and commute like a local. 
So avoid the stress of traveling for business. If you need to find a good place to reside, read this article and learn more.
What Is a Corporate Apartment?
A corporate apartment, or corporate housing, is a short-term rental designed for long-term vacationers, contractors, and business travelers. Corporate housing companies allow users to rent a completely furnished apartment that looks like a permanent home for a minimum stay.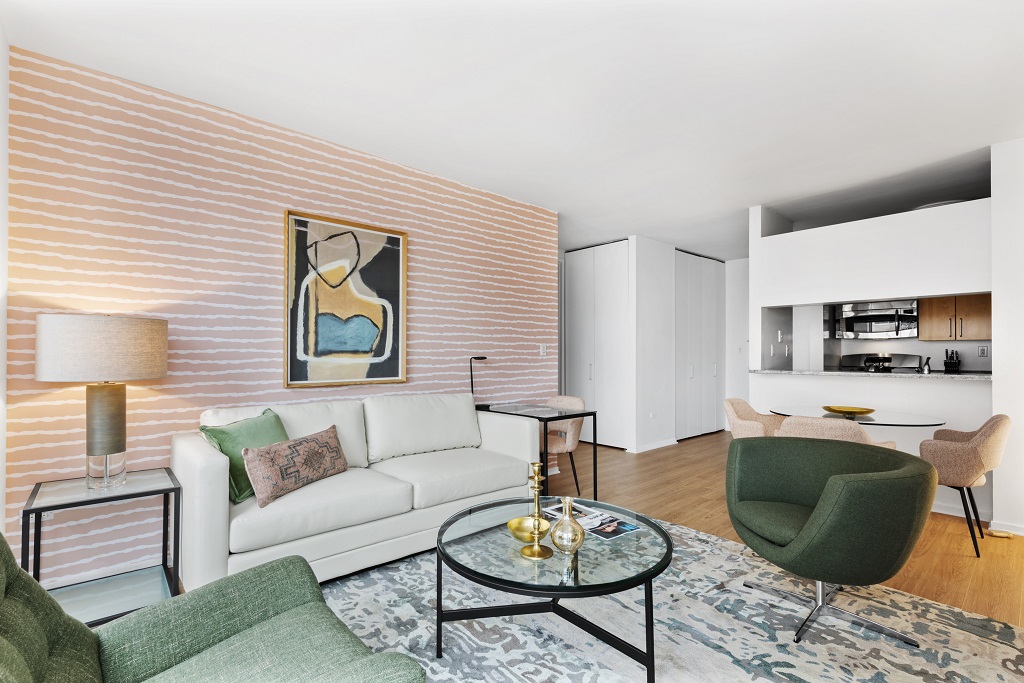 Image Credits: furnishedquarters.com
Corporate housing companies offer potential residents flexible, brief contracts. This implies that you won't be bound to sign a rental contract even if you intend to stay in a place for a few months or weeks. As these flats are completely equipped, you won't need to buy or rent furnishings for the space. In addition, rent often covers the cost of utilities.
Who Needs a Corporate Apartment?
From the traditional serviced apartments to modern corporate apartments, the evolution of apartment styles has transformed the way business travelers find their perfect accommodation. This short-term rental option can be ideal for anyone considering moving to a new place, staying in a region for a long vacation, or other reasons, even though they may first appeal to the corporate traveler. However, you can rent a corporate apartment even if you're not traveling on business. 
Is It Wise to Rent a Corporate Apartment?
Besides the obvious business visitors, a corporate housing option may benefit various individuals. This is a fantastic option to consider rather than subleasing a space or renting an unfurnished apartment, for instance, if you frequently travel for business or are on vacation during the summer.
Image Credits: taylormadefa.com
This temporary housing choice benefits if you're new to a city and trying to decide where to live, are caught between selling your home and buying a new one, or if a natural disaster has displaced you.
Pros and Cons of Renting Corporate Apartments
There are benefits and drawbacks to all sorts of apartments, whether you're considering a long-term or temporary basis. Corporate housing isn't spared from these pros and cons.
Pros of Corporate Apartments
1. Flexible
Corporate housing provides short-term leases from daily to weekly to monthly, making it more adaptable than regular flats. This can be a great option if you're only in a place for two to three months since it gives you all the comforts your home has.
2. Centrally Located
Corporate housing areas in large cities are typically on the same sites as major commercial areas or desirable neighborhoods. This can be particularly helpful if you rent an apartment while traveling for work or simply exploring a city before settling there.
3. More Economical
Corporate housing may be more economical than long-term holiday rentals, extended-stay hotels, or renting an apartment for longer than you need to stay. Also, you will only need to budget for moving expenses, furniture purchases, and other expenses if you relocate locally or between homes.
4. All Set to Move in
Image Credits; caterina.house.en
No matter your situation, you won't have to worry about furnishing one of these apartments. You'll have all the conveniences of home, including a fully equipped kitchen and living room.
Cons of Corporate Apartments
1. Alternatives for Brief-Term Leases
Alternatives for brief-term leases might be fine, depending on why you stay in corporate housing. However, this may only be a choice if you know how long you'll be in a place or if you need to renew your lease. After you vacate, a different renter will likely occupy the space. Hence, you won't be able to extend your lease because these units are considered temporary housing.
2. More Expensive
These apartment communities will likely cost more than normal flats because they are fully furnished units with all amenities. This isn't a huge drawback if you're looking for short-term rentals that aren't extended-stay hotels.
3. leasing without Seeing the Property
Most of the time, you'll sign your lease before seeing the apartment. Like purchasing a hotel room, you can only get an impression of the place from internet pictures, 3D tours, or a video tour with the leasing agency or landlord. Before signing the lease, make sure you enquire about potential rental scams.
4. Recurrent Moving Expenses
The prices increase rapidly if you move around and experiment with renting in different metropolitan neighborhoods, corporate housing, or even completely furnished apartments.
5 Tips for Scoring the Best Corporate Apartment for Your Trip
1. Find Someone to Help You with the Search
All you need to do is search the internet for corporate housing, and you will find a few options that catch your eye. However, it is ill-advised to decide based on the internet alone. The best decision is to find an intermediary or a corporate housing company that can vouch for each rental's safety and authenticity.
This way, you do not accidentally invest in fraudulent actors or malicious schemes—quickly evolving and becoming more sophisticated in our fast-paced, tech-oriented world. 
Go to reliable corporate housing companies like Blueground, created in 2013. Since then, it's grown quickly in size and status for property rentals. They offer plenty of options for travelers who need fully-furnished apartments with flexible lease arrangements. 
2. Look for Amenities That Support Your Job
High-speed internet is a must for any modern professional, especially post-pandemic. Plenty of remote work options are made available for employees around the world. If you have days where you can skip the commute and work from home, Wi-Fi is a must. 
Image Credits: marriot.com
If you are bringing pets, you should also consider whether the property has amenities for your furry companions and is okay with you bringing them along. 
For the fitness-savvy, some rentals are near gyms and yoga studios. This will make it easier to maintain your health while traveling. 
Finally, amenities like housekeeping, a laundry service, and an equipped kitchen are small details that go a long way. You may only sometimes have the time to clean out your space or the money to eat out. Having people dedicated to professionally cleaning your temporary home and a kitchen to cook your meals can be a lifesaver. 
3. Choose a Neighborhood You Will Like
It is difficult to say what the best neighborhood is like because the answer differs from one person to another. It will depend on where you work and what your personal preferences are. Here's what to look out for in a good corporate housing neighborhood.
4. Check Crime Rates and Local Law Enforcement
Head to your preferred search engine. Type in the name of your city and look for crime statistics by neighborhood. This should generate enough information for you to decide; however, the data available on the internet can depend on the size of the city you are moving to.
It is also worth remembering that different parts of the same town may be safer or more dangerous, so do not just rely on the internet. Ask around and even read crime reports in the local papers to get a clear picture of the area. 
5. Sports, Athletics, and Fitness Amenities
If you are a fitness nut, having plenty of space and opportunities to engage in physical activities is necessary. It's not just about having gyms and yoga studios in the area but also about ensuring plenty of natural open spaces like parks or beaches. These are great places to run, get tanned, and meet like-minded individuals. 
6. Walk around the Neighborhood
If you can visit the apartment community beforehand, try to get a feel of the area on foot. Look at the condition of the houses, streets, and sidewalks. Please note how the locals behave and whether they are friendly to one another. You can also check whether the streets seem quiet or noisy at certain points of the day.
Beyond that, keep an eye out for vacant lots or abandoned buildings. These are necessarily good indicators. Rather, they can be used for commercial developments, which could change the neighborhood's pace and affect the local property's values. 
7. List Down Your Requirements
The first step is to determine what you hope to get out of your new temporary residence because corporate housing comes in various asset classes, from serviced flats to professionally managed homes to co-living.
Image Credits: wwstay.com
Compile a "must-have" inventory to identify the most important elements for your search. Be conscious that you might need to look for pet-friendly housing or an apartment big enough to house a five-person household if you are traveling with your family or colleagues. A workstation, an ergonomic chair, and high-speed internet are important work-ready features. Plus, an apartment balcony could come in handy for grilling or hosting social occasions in your temporary abode.
8. Start Your Search Immediately
Just like when planning a vacation, starting your business accommodation arrangements early can help you get a better bargain on quality, cost, and location.
While prices may vary, particularly during the peak season and significant events, you can get a decent idea of price by comparing your choices within the business housing market for that particular area.
9. Look for Accommodation with Homely Amenities 
Arriving in a strange place can be unsettling, so staying in a comfortable place can make all the difference.
While some might link business travel with luxurious five-star hotels, this choice is beyond the finances of many businesses and is untested. Corporate furnished flats are necessary, but it's also worth looking for a place with extras like premium television, clean towels and bedding, and warm interior decor to make the stay more pleasant.
You could even go above and beyond and search for a bundle with hotel-level amenities like cleaning and gym access.
10. Research the Destination In-Depth
Finding a luxurious apartment is not the key to effective business housing. Make sure to (virtually) research the areas to find out which ones are handy and secure. Making a list of the top attractions in their new city that will transform their journey from purely business to leisure will also help you to pique their interest in going.
11. Let Corporate Accommodation Agencies Do the Hard Work for You
You can either speed up the process by contacting a team of corporate housing specialists for a fast, simple, and dependable experience, or you can Google "temporary housing" or "how to rent a corporate apartment" if you're ready for a protracted, drawn-out procedure.
Image Credits: thebalancemoney.com
Property owners offer a cutting-edge, user-friendly website where you can apply criteria to find the business housing options you require. They are all supported by a committed Customer Success team that can assist in locating the precise options you require.
Their staff is devoted to providing a duty of care for each visitor while upholding higher standards for security and safety.
How to Differentiate Corporate Housing from Regular, Serviced Apartments
Fully furnished apartments are also known as serviced apartments. Usually, it's a typical-sized residence with one, two, or three beds. It might even have a completely functional kitchen, easy access to washing, and lots of room for you to spread out. Additionally, it might have services like cleaning, an exercise center, a massage, or even an amusement area, which are typical of hotels.
So what distinguishes a serviced flat from a corporate apartment? Serviced and business flats are comparable, especially regarding apartment features and accommodation choices. The duration of the visit is the only distinction. Travelers who require accommodation for more than 30 days are typically provided with a corporate apartment.
As a result, they frequently provide extra services like weekly cleaning, electricity payments, and local taxation.
Similarities
They are a little less expensive than hotels
They are fully functional
They provide a "residence" feel
Differences
Corporate apartments do not provide a lengthier stay
Factors to Consider When Looking for a Corporate Apartment
1. Location of the Apartment
While looking for standard apartments, a business traveler often prioritizes location. Corporate housing providers association typically provide a vacation rental conveniently located in a city center since they know company leaders' hectic lifestyles.
This attention to detail enables visitors to take advantage of short-term lodging near the workplace, reducing commuting time in the morning and evening. Corporate apartments are usually situated close to local food and entertainment alternatives.
2. Customer service
Compared to typical flats, corporate apartments often offer a better standard of prompt customer service. Most of the time, staff members are on hand around-the-clock to attend to guests' requirements and will go above and beyond to ensure their comfort. In addition to providing outstanding customer service, staff members must be knowledgeable about the local entertainment, restaurants, and activities.
3. Furnishings
Corporate rentals almost often come completely furnished with common household items, but normal flats are rarely equipped before a renter moves in. This often contains welcoming seating, sufficient living space, a kitchen table, and most amenities visitors want. These apartments are furnished and made to seem warm and welcoming with contemporary décor to make visitors feel right at home.
4. Kitchen
Many corporate housing companies include a full kitchen. This includes various plates, cutlery, kitchen towels, pots, and pans. Business travelers with unique dietary needs or those tired of dining out will find these accommodations ideal.
5. Utilities
In an apartment setting, utilities are often paid separately from rent; however, in a corporate apartment, utilities have one inclusive cost, so there are no additional expenses to be concerned about, including the internet.
6. Housekeeping Services
Cleaning services are often included in corporate rents as well. This often goes beyond just providing clean beds and towels to straighten and organize several living spaces.
7. Recreational Spaces
Professional providers coordinate recreational spaces like swimming pools, fitness centers, BBQ pits, and other meeting spaces, these spaces are often reserved for adults only in corporate apartment buildings.
8. Coworking Space
A lot of corporate housing options also have a facility on site. This feature is useful if several of your coworkers work at the same complex since it makes it simple to take work from the office home and work in a professional atmosphere whenever you choose.
9. Bonus Services
The corporate housing industry provides extra services, such as limited transportation and grocery delivery services, for an additional fee since their staff is aware of the obligations and hectic schedules of visiting business leaders.
Frequently Asked Questions on Corporate Apartments
1. How much does it cost to rent a corporate apartment?
Like most vacation rentals, it depends on where you'll be staying, how long you'll be there when you need an apartment, and how big it must be. Normally, renting a furnished apartment on a long-term lease will be less expensive than utilizing fully furnished temporary housing.
Also, your costs will decrease the longer you remain. Property owners provide daily, weekly, and monthly rates, with the cost dropping with the duration of stay. Also, you'll spend more for a studio than a one-bedroom, a two-bedroom than a one-bedroom, etc.
Also, your costs are higher if you have children or pets with particular requirements. So, before you book, make sure to inquire. Plus, the pricing is greatly affected by the area as well.
You should carefully assess the corporate housing location depending on your driving ability or commuting choices, even though we often advise choosing a position farther from the city center. Ensure the location is safe and convenient to amenities like restaurants, coffee shops, and supermarkets.
2. How does corporate housing work?
Would you want to know more about corporate housing? The actions you must take to rent a home temporarily are listed below. Let's say you're making your reservation with a reputable corporate housing company.
You must submit an online request with your preferred new location and anticipated trip dates to discover acceptable accommodation.
You will then be able to choose your reservation after seeing your alternatives.
Lastly, you'll get instructions through email, and then you'll be ready.
Your reservation agreement should outline how things operate so you may make the necessary preparations and have a pleasant visit.