Cabinets are at the core of any kitchen design, helping set the space's overall tone. They also show off one's style, so you should select the right cabinetry to add elegance to your home. Although many homeowners base their decisions on apparent aspects like material, finishes, and door styles, there is much more than meets the eye!
Choosing between framed vs. frameless cabinets can help customize the space according to your taste and needs. Many homeowners ask, "What is the difference between a frameless and framed cabinet?" Well, the main difference is in how the cabinets are constructed. We will break down the specifics in this article, helping you to choose the best option!
Let's delve in!
Framed Cabinetry
Image Credits: Unsplash.com
Framed cabinets, as the name suggests, are cabinet boxes that feature a face frame. This cabinet construction style is standard in many American homes, earning them the tag American-style cabinets. The cabinet's frame is a supporting feature, creating a structure that can hold the box. As a result, the frame adds more strength, meaning the cabinet walls can be made of weaker or thinner materials like cardboard.
In framed construction, manufacturers often use a 1-½ inch solid wood frame for the cabinet opening. This frame is thick enough to support the door and add dimension to your cabinet's front look. In addition, manufacturers will often use 1- to ¾ inch hardwood for the inner frame to increase storage space. Supports are also attached to the frame, allowing adequate horizontal strength for drawer rollouts and pullouts.
i) Framed Cabinetry Styles
Making a framed cabinet lets you choose among three styles for your kitchen, including:
a) Full Overlay Door Style
Door and drawer openings completely cover the cabinets' face frame. As a result, the face frame is only visible when you open the door or drawer fronts.
Image Credits: Unsplash.com
b) Standard or Partial Overlay Doors
In this design, the cabinet door and drawers overlap the face frame but leave some space around the sides where you can see it.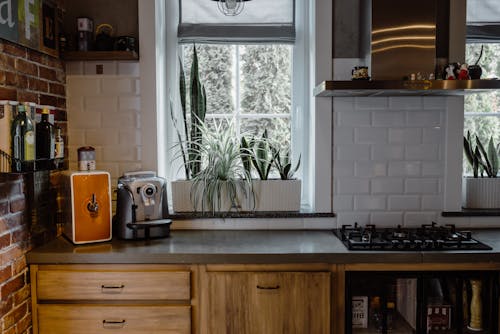 Image Credits: Pixabay.com
c) Inset Door and Drawer Openings
Inset drawer and door designs fit flush inside the frame, creating a seamless flat top surface. As a result, inset cabinet doors leave your entire face frame exposed.
Image Credits: Unsplash.com
ii) Advantages of Framed Cabinets
1. Sturdy
Face frames are often made from hardwood to create a sturdy cabinet structure. As a result, you get a solid area to attach the cabinet door hinges.
2. Classic Look
The face frame cabinets offer your kitchen the classic American look, so many homeowners easily identify with it. Consequently, more buyers will adore the cabinets in your kitchen when you decide to sell the house.
3. The Frame Keeps Your Cabinet "Square"
Two cabinet doors or drawers need to maintain 90-degree angles at each corner; otherwise, they may not open correctly. Face frames support the entire cabinet's structure, ensuring it does not go "out-of-square."
4. Better Style Flexibility
With a face frame, homeowners can install almost any door or drawer type, allowing style flexibility within the kitchen. Choose between either full or partial overlay designs and inset cabinet doors or drawers, depending on what looks best in your kitchen.
5. Easy Installation
Installing high cabinets on the kitchen walls can prove challenging, especially since they need extra support. However, framed cabinetry is sturdy, and its frame offers a better connection point for ultimate support.
6. Better Durability
Solid wood face frames protect the wood at the front of your cabinets, keeping them in excellent condition. In addition, screwing each frame onto adjacent frames ties together your kitchen, allowing your cabinets to hold together for a lifetime.
iii) Disadvantages of Framed Cabinets
1. The Frame Can Eat up Interior Space
Frames create a lip on the cabinet interior, which can obstruct and eat up cabinet space. In addition, the "lip" can be unattractive in high-end cabinetry designs since it is the first thing one sees upon opening the cabinet.
2. You May Need Separate Skin Panels to Cover Exposed Seams
Exposed seams along the cabinet's edges interfere with your kitchen's look. Unfortunately, frames leave some space you need to cover using skin panels.
Frameless Cabinetry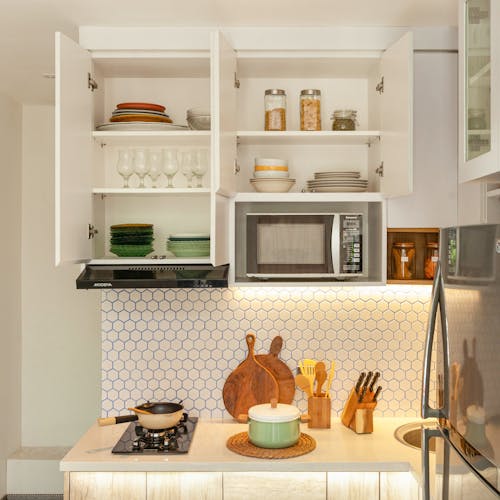 Image Credits: Unsplash.com
Frameless cabinets are cabinet boxes that attach four sides and a back without using a frame. This cabinetry construction design is European-inspired, often blending high-tech fixtures for a more modern and sleeker look. Frameless cabinetry manufacturers use thick MDF or furniture board panels (often about ¾ inches) to support the structure and compensate for lacking a frame.
During the cabinet construction process, the sides must flush with each other. Door hinges on this design can be attached to the interior of either side, creating a full overlay door style. As a result, the full overlay design throughout your kitchen from the frameless cabinet construction creates a sleek and clean appearance.
i) Advantages of Frameless Cabinets
1. Fully Accessible and Open Storage Space
Frameless cabinetry, compared to its counterpart, is more accessible since no frame obstructs the opening. As a result, you will have a larger cabinet interior for storing cookware and plates.
2. Frameless Cabinets Fit in Many Kitchen Designs
Frameless construction design for your kitchen cabinets creates versatility, meaning your cabinets can fit in many modern kitchen designs. This way, you can use them in design options like modern, traditional, transitional, or contemporary.
Image Credits: Unsplash.com
3. Shelves Are Easily Adjustable
Since there is no framework around the structure, frameless cabinets offer easily adjustable shelf positions to suit your needs.
ii) Disadvantages of Frameless Cabinets
1. Frameless Cabinets Have Design Limitations
Unlike framed cabinets that allow you to choose full or partial overlay designs, frameless cabinetry only works with a full overlay style.
2. Frameless Cabinets Can Get "Out-of-Square" Over Time
The lack of a sturdy frame for support in frameless cabinetry can cause the sides to bend or lean. As a result, the cabinets will not look symmetrical, creating problems opening doors and drawers.
Comparing Aspects of Framed vs. Frameless Cabinetry
Choosing between framed and frameless cabinetry for your kitchen project can be overwhelming. Aside from looks and design preferences, you want a practical option that can serve your household for years. Luckily, the varying aspects of both options allow us to compare them.
Here are some aspects and how they compare in frameless and framed cabinetry.
A) Storage Space
Face frames on framed cabinets do take up some interior space. As a result, you may have less room for your best dinnerware sets. However, frameless cabinets have a larger opening and feature a more accessible interior space. This means homeowners can comfortably maximize storage space on frameless cabinets.
B) Style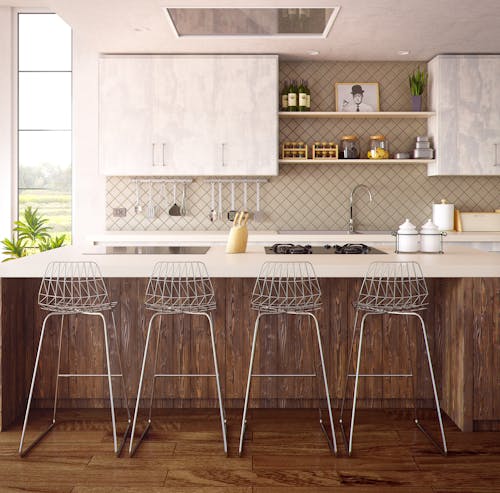 Image Credits: Pexels.com
Framed cabinets have been around longer and are often considered ideal for traditional or classic kitchen designs. Face frames also accept door or drawer front designs when styling your kitchen.
On the other hand, frameless cabinets are a more modern solution and can fit a broader range of designs. However, frameless cabinetry can only support a full overlay style which can feel limiting for many homeowners.
C) Accessibility
Framed cabinets have face frames sticking out once you open the cabinet door. The face frames can obstruct your vision of the entire cabinet and make it difficult to store large items. In addition, cabinets with a center stile attached to the frame can block your access to the items in the cabinet.
Alternatively, choosing a frameless cabinet allows you full access to your cabinets' interior space since the cabinet does not have obstructions. As a result, frameless cabinets can be ideal for storing large cookware and appliances.
D) Hardware Fixtures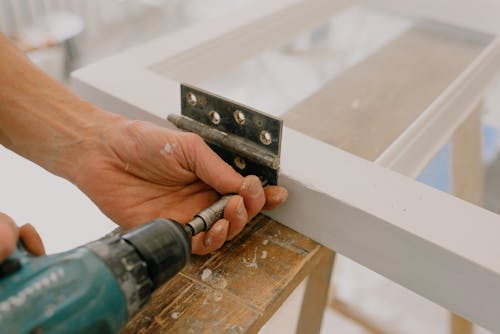 Image Credits: Pexels.com
Face frames offer more room to install different types of hinges. As a result, you can comfortably select hinge types depending on your door overlay style and cabinet design. On the other hand, frameless cabinets often limit manufacturers to concealed European-style hinges since they support a single overlay design.
E) Doors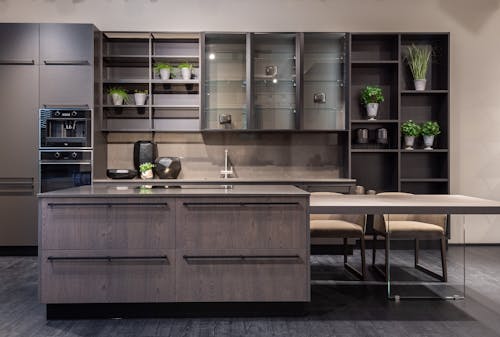 Image Credits: Pexels.com
Face frames can fit various door styles, including ones with moldings or raised panels. Some homeowners also create grooves on the frame to install sliding glass doors for an improved look.
However, manufacturers must stick with sleek and simple designs with frameless cabinets. While this might feel limiting, they have various materials, like glass, they can use for doors to create a custom and highly personalized look.
F) Cost/ Value
While you may assume frames take up more material, meaning they can be expensive, the difference is insignificant. Framed and frameless cabinets almost cost the same, so they can be ideal when creating your dream kitchen on a budget. The cost difference in framed cabinets can be kept low if the boxes are built of thinner material attached to the frame.
Despite the cost being similar, you can get better value by investing in framed cabinets due to their durability. Frameless cabinets lack solid wood to protect the front, meaning they wear down sooner. In addition, framed cabinets attach to door hinges and drawer tracks and can be attached to other structures for a solid kitchen look that can last for years.
Conclusion
Although the framed vs. frameless cabinets debate raises some vital points, the ultimate choice depends on personal preference. Frameless and framed cabinets are constructed using different methods, and, as a result, there is a clear distinction in their looks. However, the durability and structural quality of both cabinet types are equivalent. Work with a professional cabinetry construction expert for an outstanding kitchen design.
Featured Image Credits: Unsplash.com