When hiring an interior designer, firms look for multiple skills and abilities in applicants. First and foremost, they are looking for people passionate about this line of work. Interior design is a highly professional career, but unlike other corporate careers, such as business, it is a highly creative field. As any artist will tell you, passion is the most important quality.
It is what drives creativity. Firms are looking to hire people who live and breathe the brand. It has to come across your cover letter, resume, work experience, and everything you do. Passion or a lack of passion is the first thing recruiters notice, so being skilled is not enough here. Part of that passion for interior design is keeping up to date on open positions at different firms or companies.
What is Interior Design?
Interior design is the art and science of improving the interior of a space or building to achieve a visually appealing and functional environment for those using it. This includes choosing decorative elements like furniture, wall hangings, paint, lighting, flooring, and other design components to create a cohesive and harmonious space.
What Does an Interior Designer Do?
An interior designer is a professional responsible for designing aesthetically pleasing and functional living or working environments. They work with clients and creative teams to design spaces or buildings. They can also research trends and materials, choose furniture and décor, and coordinate design projects from start to finish.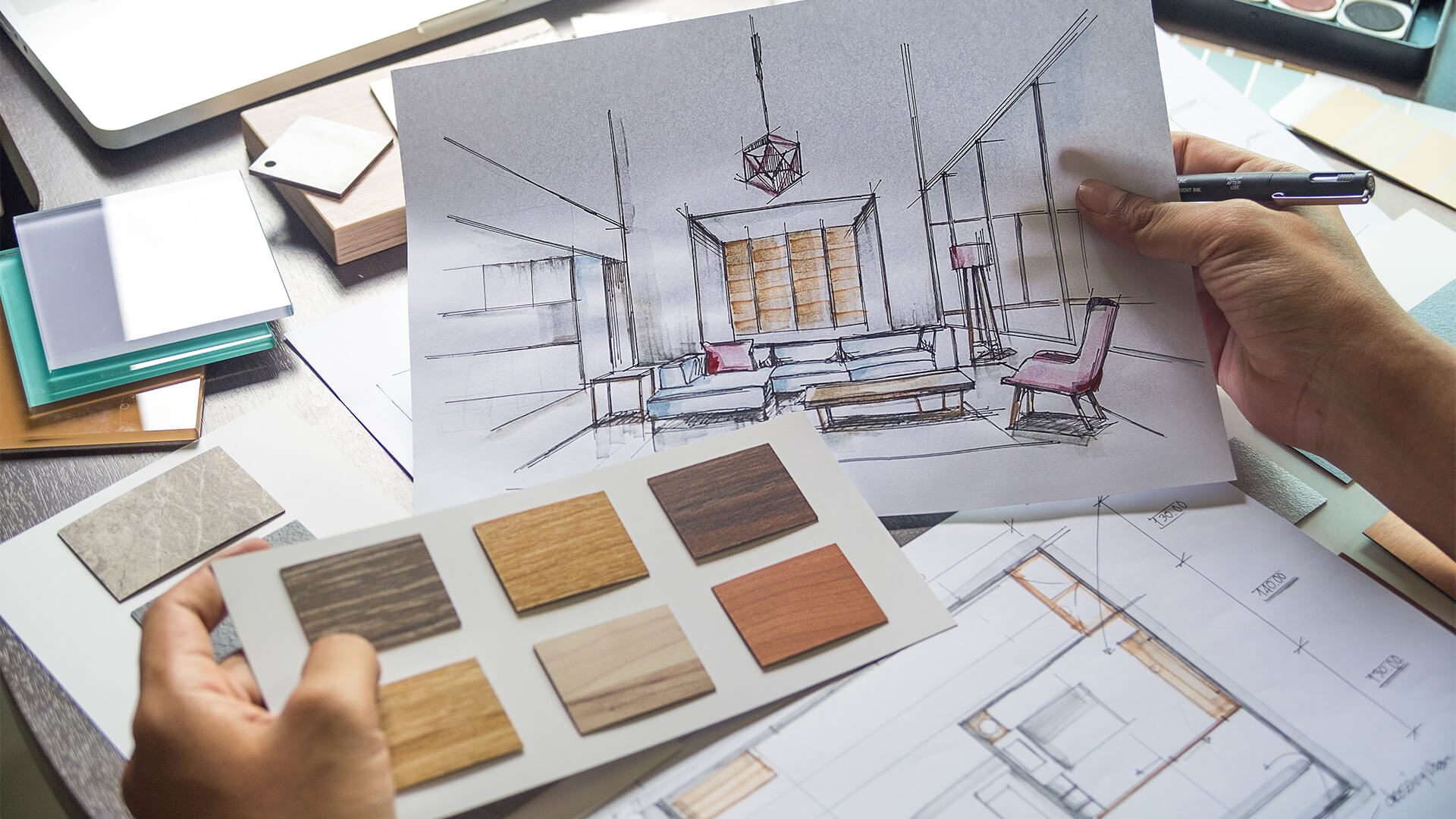 Image Source: build-review.com
Additionally, many interior designers deal with issues that may emerge during design projects, such as décor or furniture availability, changing customer requirements, and budget constraints. Also, an interior designer can complete tasks such as reading, drawing, and editing building blueprints and choosing paint colors, lighting, and other elements, to mention a few.
Like most modern-day job hunting, you can find interior design jobs through Lensa or similar job search engines. Before we get into the specifics of what skills firms look for, it is really important to know how to get into an interview. The way to do that is by having a great resume. These are just some basic tips, but if you can make your resume look great, get across your real passion, and master the upcoming skills, you have a shot at the best interior design firms in the world.
Skills for a Successful Interior Designer
1. Creativity and Attention to Detail
Design is an artistic career choice. Naturally, creativity is one of the most important skills for an interior designer. It would be best if you were up to date with the latest trends and popular styles, understood how different spaces can be used and could come up with exciting and innovative ideas. Additionally, having a good eye for detail and understanding colors, textures, and how to add finishing touches that can bring a space together is crucial.
Image Source: italianbark.com
Unlike many artists, you won't necessarily need to develop your style. Instead, you'll adapt your vision to your client's needs and preferences. While you must consider your client's requirements, you also get some creative leeway to develop a design that exceeds their expectations.
2. Communication and People Skills
Strong communication skills are an absolute must when succeeding in interior design. You'll need to frequently communicate your design intentions and why you think they're an effective solution to your client's problems. Even if you have a strong vision, your clients may not. Accordingly, understanding their needs would be best if you were an active listener.
You also need communication skills to translate concepts into approval-worthy proposals. Interior designers often work collaboratively, meaning you'll work alongside designers from various disciplines, such as architects, contractors, engineers, manufacturers, marketers, and more.
3. Budgeting
Something that people often don't know about interior designers is that the best of them can rival those with finance degrees. When working on an interior design project, you must stick to a clear budget, which means you must be comfortable working with numbers. You'll need to understand exactly how much each element of your plan will cost, from materials and labor to the cost of any delays in the work.
Many clients will come to you with an idea and a budget. Often, the cost of the former will far exceed the latter. You'll have to find creative solutions to financial and design limitations. Budgeting skills will help you give them a realistic idea of what their money can buy. You must note every cost and timing detail and keep receipts and invoices to bill your clients accurately.
4. Organization and Time Management
In most fields, delivering work on time and under budget is a surefire way to make a great impression. The interior design industry is no exception. When negotiating a project, you must present a budget and a realistic timeline. You'll need organizational skills to give yourself and your clients a reasonable due date.
You also need to coordinate with suppliers and contractors to ensure they're working to your schedule and that any issues or problems are resolved quickly. This means keeping your records up to date, responding to emails and phone calls, and keeping your client in the loop about how things are going. Suppose the projects exceed the deadline or the resources. In that case, you will struggle to find repeat business, so stick to a strict schedule and plan for unexpected delays, expenses, or other surprises ahead of time.
Suppose you've got a creative mindset, a passion for interiors and decor, and great spatial awareness. In that case, becoming an interior designer could be a good career choice for you. Working as an interior designer entails collaborating with creative colleagues and industry professionals. At first, this industry might seem daunting as you must juggle a laundry list of things but don't be too concerned. If you have the passion, possess some of these traits, and are willing to learn, you have great potential to succeed.
5. Problem-Solving Skills
Interior design projects can be challenging, and issues can arise anytime. As an interior designer, you must be able to identify problems, find solutions, and make adjustments as required to ensure you achieve successful results.
Image Source: housing.com
It would be best if you exercised critical thinking to help keep the project in line with deadlines and customer requirements and be able to approach problems from different perspectives to improve your problem-solving skills. You should also be able to anticipate problems and identify solutions before they happen.
For instance, furniture, artwork, or other items a client prefers may be unavailable. This may require finding a perfect replacement to avoid delays while satisfying client needs. Having effective problem-solving skills allows you to make rapid, logical, and sensible judgments.
6. Knowledge of Design Styles and Trends
Design trends are always changing, so it's crucial to research them regularly. Identifying and forecasting trends can make you more appealing to clients and keep you in demand. You can use these latest industry updates and trends to pitch clients innovative ideas that will set you apart from other interior designers. Besides, familiarity with classic styling components will help you meet various client needs, from residential to commercial environments.
On the other hand, interior design involves working with various design styles, from minimalistic to maximalist, traditional to modern. You must be flexible in your design style to meet your client's needs and preferences. Attending design shows and exhibitions and studying design history and theory are ways to develop your design style. In addition, you can learn styles and techniques from other designers by creating mood boards and collaborating with them.
7. Technical and Computer Knowledge
Technology can help enhance the efficiency and quality of design projects, so it's crucial to have technical and computer knowledge. To be a successful interior designer, you need various technical skills, including using design software programs such as Adobe Creative Suite, AutoCAD, and SketchUp. Also, you need to understand building codes, materials required, and construction methods.
Image Source: houzz.com.sg
You need to attend workshops, enroll in design courses, and even take interior design qualification exams to improve your technical and computer skills. Also, to remain up to date on the latest trends and technology, you can practice using design tools and consult with professionals in the industry.
8. Project Management Skills
Interior design projects involve multiple stakeholders, deadlines, and budgets. To ensure that everything works smoothly and on schedule, you must be able to manage projects effectively. To enhance your project management skills, you must practice setting clear objectives and timelines, allocating tasks, and evaluating progress. Also, you should be able to adapt to changes and solve problems independently.
9. Color Basics Knowledge
The color usually has transformative powers; it can change a space completely. To become an interior designer, you need to understand how to use colors to their fullest potential. Besides, knowledge of the color wheel, hues, and colors that go well with each other will make it easier to create palettes that will appeal to a wide range of clients. Though it's not as easy as it seems to become an expert in color theory, if you do, you will stand out from other interior designers.
10. Client Management Skills
As an interior designer, you'll work closely with clients, so you must know how to manage these relationships effectively. You need to understand their needs and preferences, communicate effectively, and build confidence and trust.
To enhance your client management skills, practice active listening, responsiveness, and patience, and provide great customer service. Besides, you can ask for feedback from your clients to understand how you can enhance your interior design services and build long-lasting relationships.
Tips to Become a Successful Interior Designer
To become a successful interior designer, you need artistic talent, technical expertise, and business acumen. You can construct a thriving interior design practice by prioritizing these tips and devoting substantial time and energy to your professional development. Check out some of the tips to help you on your path to success: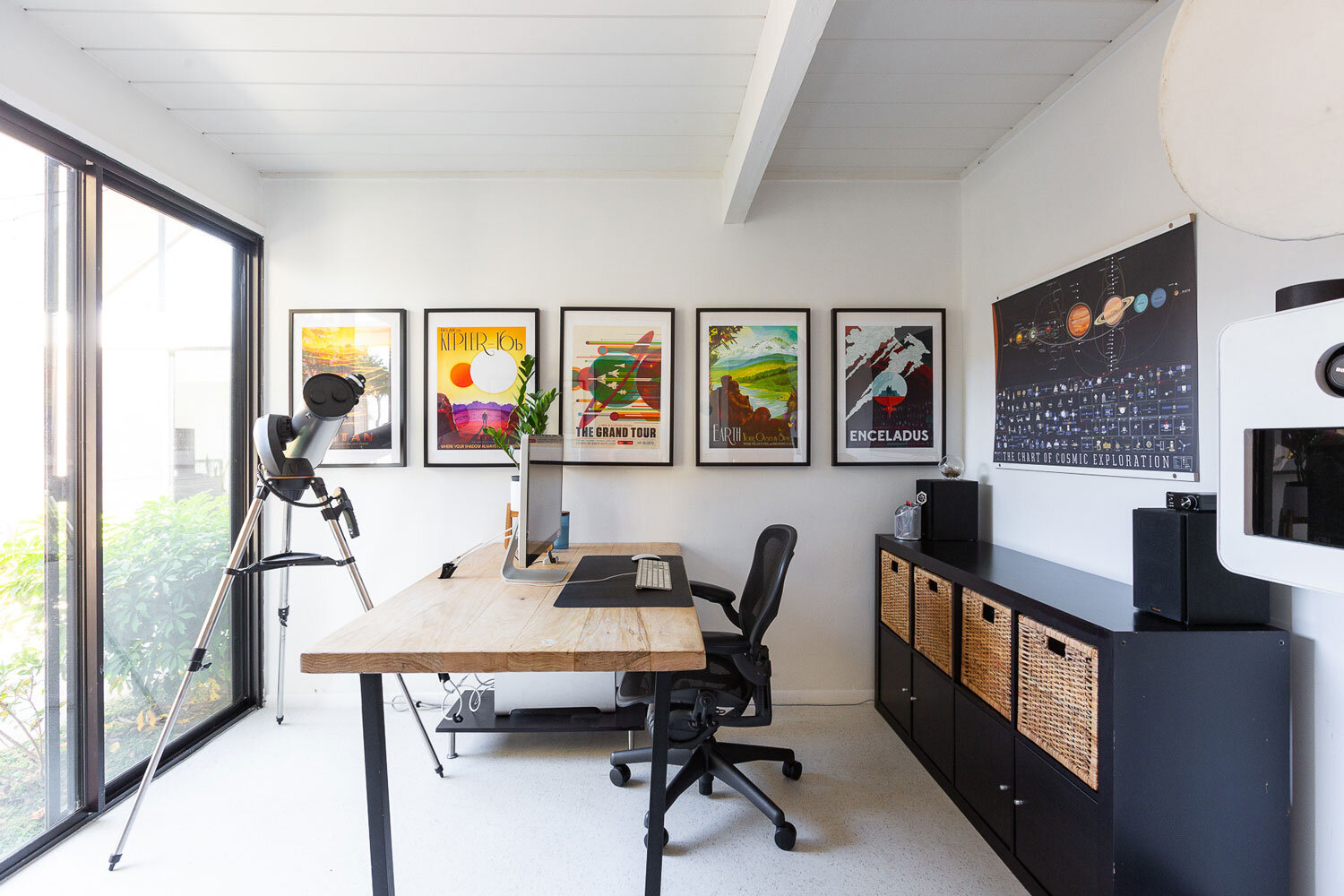 Image Source: mackenziecollierinteriors.com
1. Build your Portfolio
A portfolio is the best way to promote yourself as an interior designer. We recommend building a portfolio to showcase your interior design skills, experience, and design style to potential clients. The portfolio should include your best work, high-quality images, and up-to-date, to mention a few things.
2. Embrace Diversity
Diversity in interior design is the key to long-term success. As an interior designer, you might have dealt with clients with different views than yours. Some clients may want you to emulate their design ideas and turn them into a finished product. So, to do this, you need to understand how to embrace diverse designs and styles, even those that aren't your specialization.
For instance, if you specialize in minimalist designs but your client is looking for something loud and flashy, you will need to accommodate their needs and preferences.
3. Embrace Technology
To be among the most successful interior designers in the industry, you need to embrace technology. Technology is continually growing, and designers have several opportunities to use tech and enhance their skills, from adopting building information modeling to creating 3D drawings. Additionally, to be a successful interior designer, you need to be able to create cohesive and collaborative designs using the latest technology.
4. Develop your Interior Design Skills.
Interior decorating requires a range of skills, from technical know-how to creativity. To be a successful interior designer, you need to enhance your skills by attending workshops, taking online courses, reading design books and blogs, and learning from other successful interior designers, to name a few.
5. Be Patient.
Being patient is one of the skills an interior designer should have. As an interior designer, you need a lot of patience, especially regarding minor aspects like choosing the right color or lighting. It would be best to put in time and effort to appreciate color palettes, patterns, and hues since every element determines moods and evokes emotions differently. Besides, lighting enhances the environment, and you must be careful while picking the right tones and accents.
6. Stay Informed
Your client will expect you to know everything about style and its various forms as an interior designer. They will test your expertise, whether it's for art décor or sleek contemporary interior architecture, especially if they know what they want.
Image Source: onlinedesignteacher.com
For example, understanding the history of various art styles and designs can be crucial if your client wants you to emulate a modernized traditional design.
7. Work on a Budget Without Blocking Creativity
To be a successful interior designer, you need to be able to work on your budgeting skills without limiting your creativity. Clients usually want the best from an interior space but can only afford moderately priced options.
As an interior designer, you will be responsible for creating a budget that considers all of the client's requirements and expectations. On the other hand, if the client wants something outside your budget, you need to communicate it clearly and charge correspondingly. Don't be afraid to ask for more money from the client if you feel you must compromise on creativity.
8. Market Yourself Effectively.
Effective marketing is crucial to the growth of a successful designer. To market yourself effectively as an interior designer, you need to use social media, develop a professional website, attend networking events, and create a solid brand identity, just to mention a few things.
9. Be Willing to Go Beyond Design
You'll need to get your hands dirty while creating space. Interior designers can set up successful design companies and hire the right personnel for interior design jobs over time. But if you are starting your practice or your team is small, you might need to take on various duties to ensure the project is completed efficiently. Be willing to do any task that needs to be done as part of your project.
10. Maintain a Positive Attitude.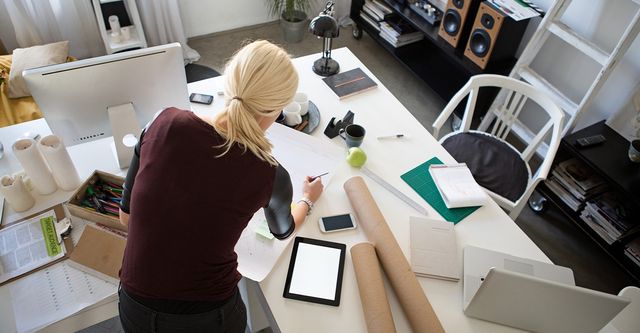 Image Source: thumbtack.com
Keeping a positive attitude while working as an interior designer is important since the job can be challenging and time-consuming. This includes keeping yourself motivated, striking a healthy work-life balance, and responding positively to setbacks. Besides, a positive attitude can help you stay motivated and focused even in difficult circumstances.
Frequently Asked Questions on Interior Designer Skills
1. What are the five elements of interior design?
The five elements of interior design include space, which refers to the available area of a room or space; color, which usually evokes different emotions and sets the mood of a space or room; texture, which refers to the surface quality of interior design materials; light, which creates ambiance and sets the mood of a space; and lastly, patterns, which add visual appeal and interest to a space or room.
2. What are the four things interior designers do?
Interior designers usually do space planning, which involves analyzing the available space and creating a plan to optimize it as expected. They also choose materials that match the client's preferences and the general design concept. Also, interior designers create a concept that reflects the client's vision and objectives for the space. Lastly, interior designers manage the project from start to finish, coordinating with contractors and vendors.
3. What are the seven fundamentals of interior design?
The seven fundamentals of interior design include balance, which can be achieved through the proper positioning of furniture, lighting, and other decorative elements; proportion and scale, which involve selecting the right size and placement of furniture; harmony and unity, which refer to the general cohesive look of a space; rhythm and repetition, which create visual interest and movement in a space; emphasis and focal point, which refer to the use of a single element in the space to draw attention; and contrast, which involves using opposing elements such as rough and smooth or light and dark to create visual interest in a space; Lastly, functionality, which involves designing a space to meet the needs and lifestyle of a client while still maintaining an aesthetically pleasing look,
4. What makes good interior design?
A good interior design involves:
A balance of aesthetics and functionality.
Creating a space that is attractive and functional.
However, the standards for what makes a good interior design vary from one individual to another.