Luxury living room design is all about creating an elegant, sophisticated space that exudes a sense of opulence. It's about using the highest quality materials, incorporating timeless design elements, and paying attention to every detail to create a truly luxurious space. Whether you are constructing a new home or remodeling an existing one, luxury living room designs can help you create a functional and aesthetically pleasing space.
From the grand entrance to the smallest details, luxury living room design is all about creating a space that is truly one-of-a-kind. So, if you want to create a home that is the epitome of luxury, this guide offers tips and ideas for design elements to consider incorporating into your space.
Tips for a Great Luxury Living Room Design
1. Neutral Color Palette
Using a neutral color palette in living room decor can be a great way to create a cohesive and timeless look in your space. Neutral colors, such as shades of white, beige, and gray, can serve as a blank canvas to add pops of color and personality through accents and accessories.
One benefit of using a neutral color palette is that it can help make a space feel more open and bright. Light-colored walls and furniture can help reflect natural light and make a room feel larger and more airy. Neutral colors can also create a calming and relaxing atmosphere, making them popular for living rooms and bedrooms.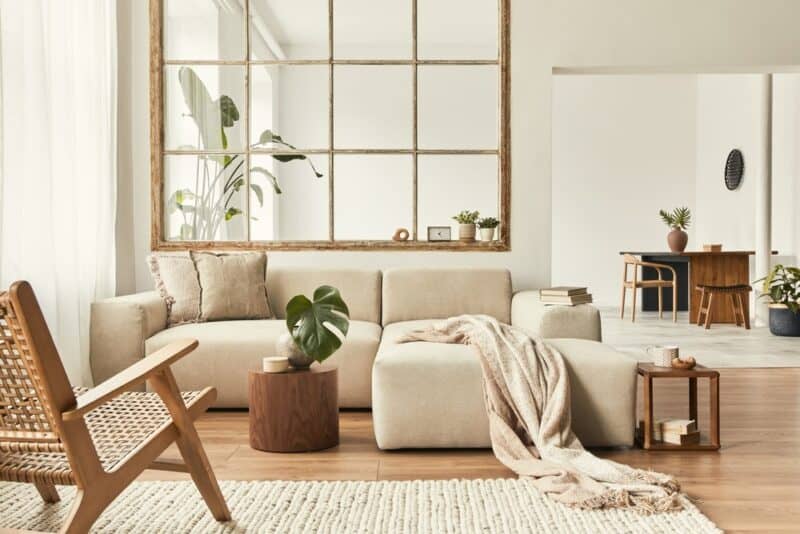 Image source: tricopainting.com
Another advantage of neutral colors is that they can be easily incorporated into any design style. Whether you prefer a traditional, modern, or bohemian aesthetic, neutral colors can be used as a base to build upon. They can also be easily updated by changing out accents and accessories, making them a practical choice for those who like to switch up their decor often.
If you're considering using a neutral color palette in your luxury living room decor, be sure to mix in different textures and materials to add depth and interest to the space. Combining wood, metal, and fabric can help bring a room to life and keep it from feeling too flat or monochromatic.
2. Invest In Quality Furniture
When it comes to furnishing a luxury living room, investing in high-quality furniture can make all the difference. Quality furniture looks and feels more luxurious and can stand the test of time and be passed down for generations. Here are some tips for choosing quality furniture for your luxury home:
i) Look for well-made pieces
When shopping for furniture, it's important to look for pieces that are well-made and constructed with attention to detail. Look for pieces made with solid wood frames, sturdy joints, and high-grade materials. These features will ensure that your furniture is built to last and can withstand daily wear and tear.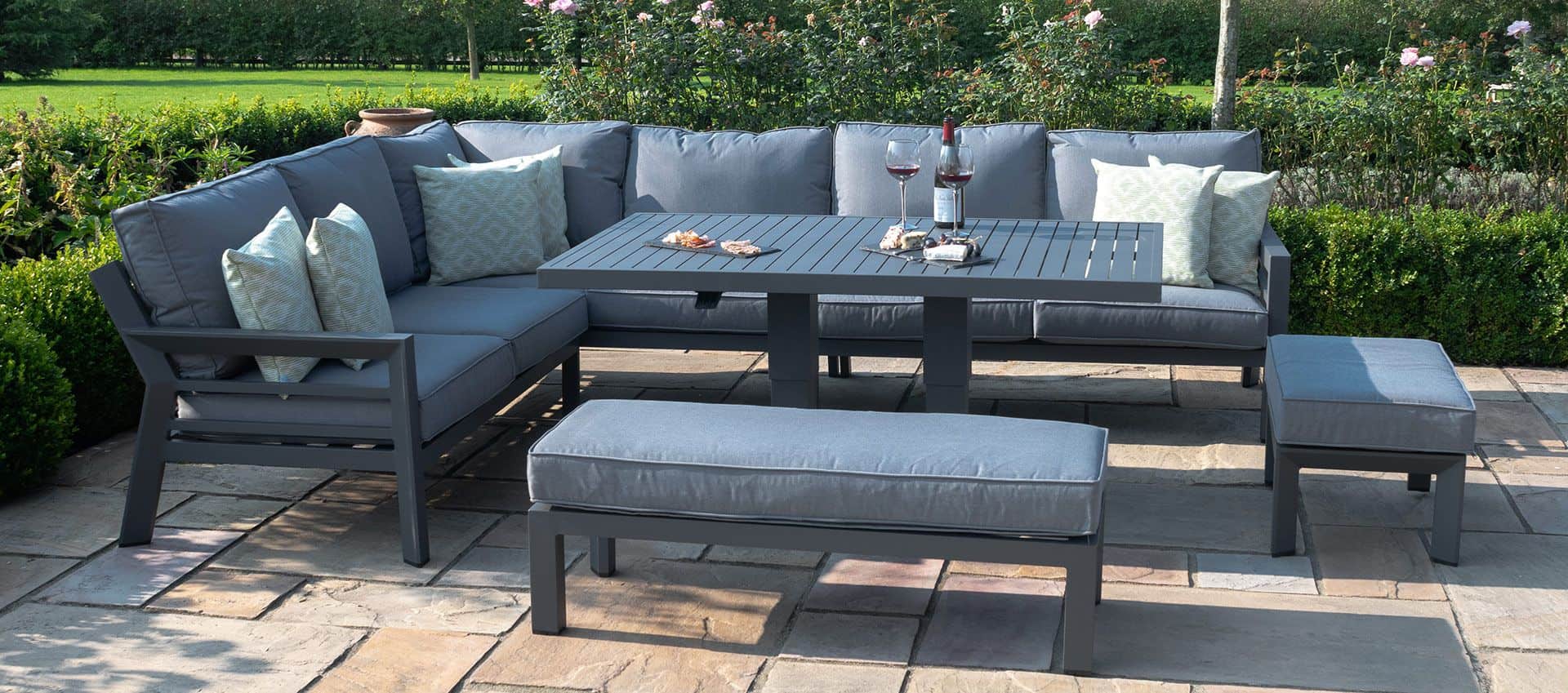 Image source: modernrattan.co.uk
ii) Consider the materials
The materials used in your furniture can greatly affect its quality and durability. Look for pieces made with high-grade materials, such as leather, wool, or silk, as these materials are more durable and can withstand wear and tear better than lower-quality materials.
iii) Pay attention to the finish
A furniture piece's finish can greatly affect its overall look and feel. Look for pieces with a high-quality finish, such as a lacquer or varnish, as these finishes are more durable and resistant to wear and tear.
iv) Invest in timeless pieces
While it can be tempting to go for the latest trends in furniture, it's important to invest in timeless pieces that will stand the test of time. Look for pieces with classic lines and clean, simple designs that can be incorporated into any design style.
v) Consider custom pieces
If you're having trouble finding the perfect furniture for your luxury home, consider investing in custom furniture. Custom pieces can be tailored to your specific needs and design preferences and can be made with the highest quality materials and craftsmanship.
3. Home Decorating With Modern Art
Modern art has long been a popular choice for interior design, with its bold colors, abstract shapes, and unique styles. From paintings and sculptures to installations and mixed media, modern art can add a touch of sophistication and contemporary flair to your living space.
One of the benefits of incorporating modern art into your living room's interior design is the versatility of the pieces available. Whether you prefer abstract expressionism, pop art, or minimalism, there's a style of modern art to suit every taste. You can also choose from various mediums to find the perfect piece for your luxurious living room, including painting, sculpture, photography, and digital art.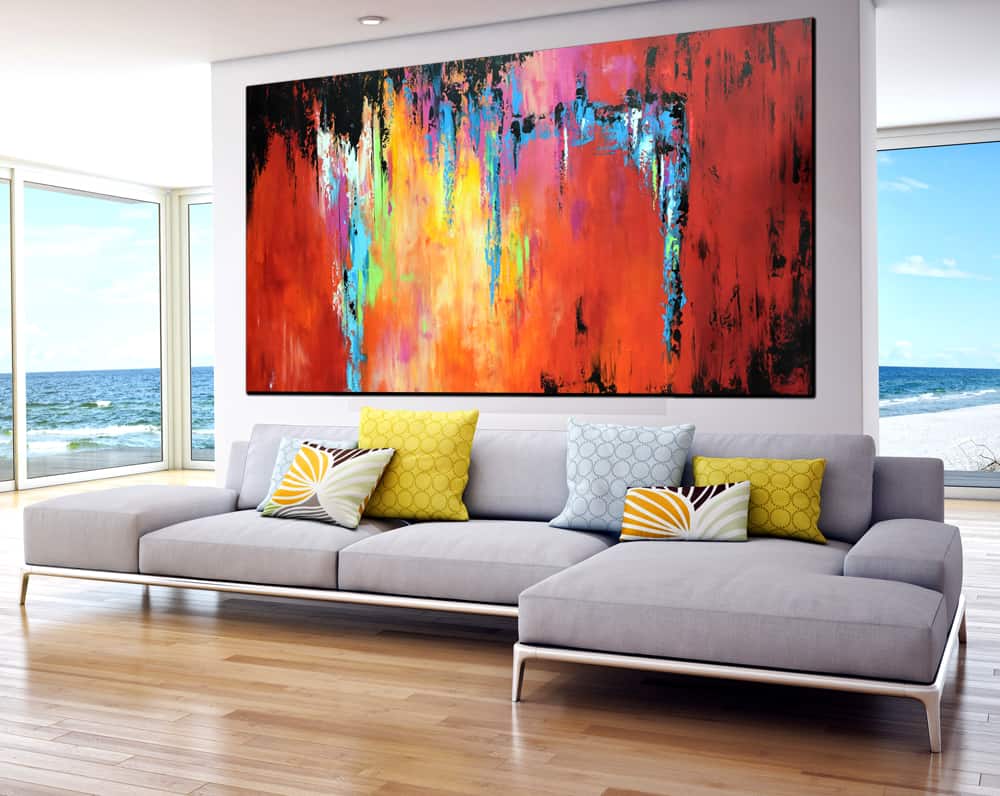 Image source: modernarthomedecor.com
In addition to adding visual interest to your home, modern art can also be a conversation starter and help set the mood for a successful gathering. Whether you're looking to create a lively and energetic atmosphere or a more relaxed and calming vibe, modern art can be the perfect addition to your living space.
So how do you choose the right piece of modern art for your luxury living room? Here are some tips to get you rolling:
Consider your personal style and the overall aesthetic of your home. Choose modern art that reflects your tastes and complements your existing decor.
Think about the size and placement of the piece. Choose a size appropriate for the space you have available, and consider the height and placement of the artwork to ensure it is visible and well-lit.
Choose a subject that resonates with you. Whether it's an abstract painting, a pop art portrait, or a mixed media installation, choose modern art that speaks to you and your interests.
Consider the colors and composition of the piece. Choose modern art that incorporates colors that complement your existing decor, and consider the composition and balance of the piece to ensure it fits well in your space.
Luxury Living Room Design Ideas for Your Inspiration
1. Go for Large Scale Art Pieces for an Impressive Display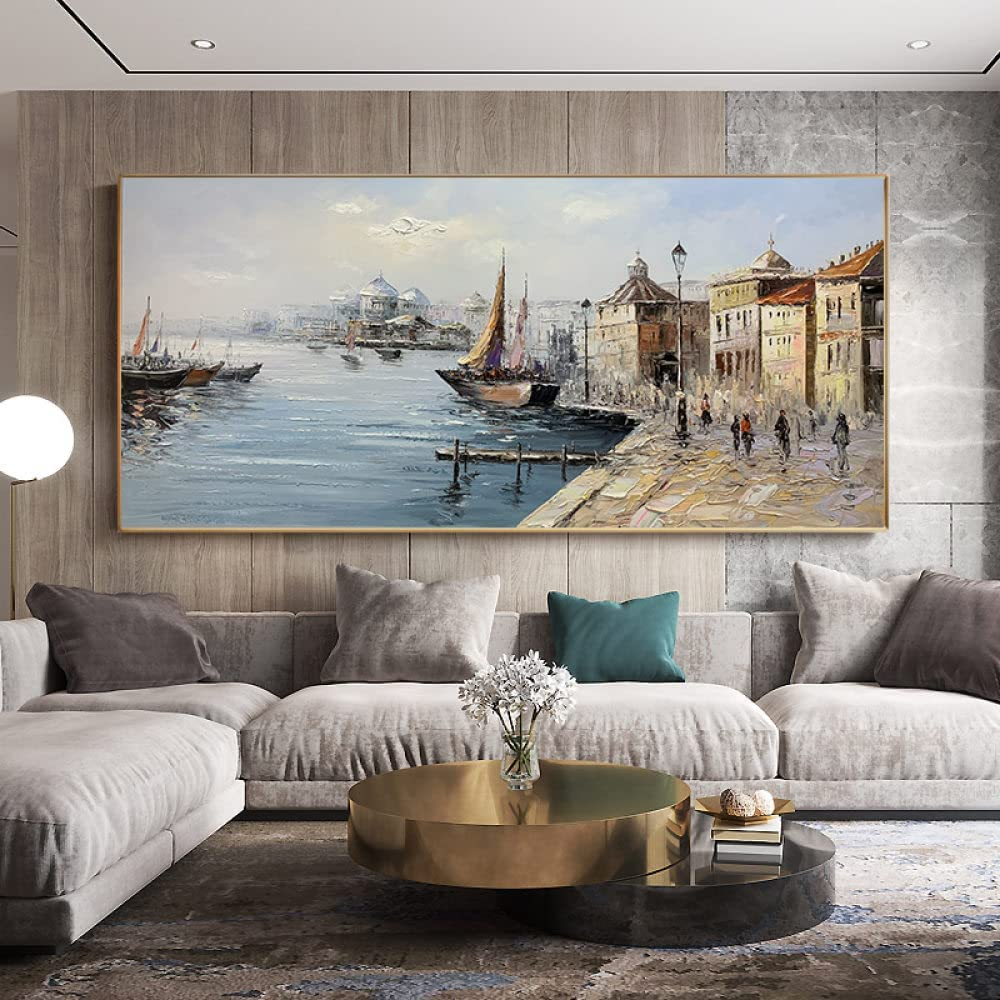 Image Source: amazon.co.uk
Art is a perfect way to add a jolt of color and create extra gravitas in your living room. Hanging large-scale wall art is one of the best living space design ideas to make your space look luxurious, especially if you want to add character and personality. For this luxury living room decor idea, it is best to create a focal point to give your space a wow factor by hanging a single oversized captivating piece of beautifully framed art. This creates an air of sophisticated luxury even in a sparse room, especially when paired with statement living room lighting.
When hunting for oversized wall art pieces to create a luxurious feel in your living room, go for pieces of artwork with a stylish and high-impact design, capable of making heads turn and start a conversation. Tons of oversized artworks are available even with the lowest budget and will enhance any living space, adding a sense of easy sophistication.
2. Conceal Your Television Sets
Most luxurious living rooms feature little or no appliances, including televisions. Typically, even the most minimal of flat screens are a waste of real estate design when they are off. Also, as practical as it may seem from an interior design perspective, all the cables are wiring jutting out can be an eyesore.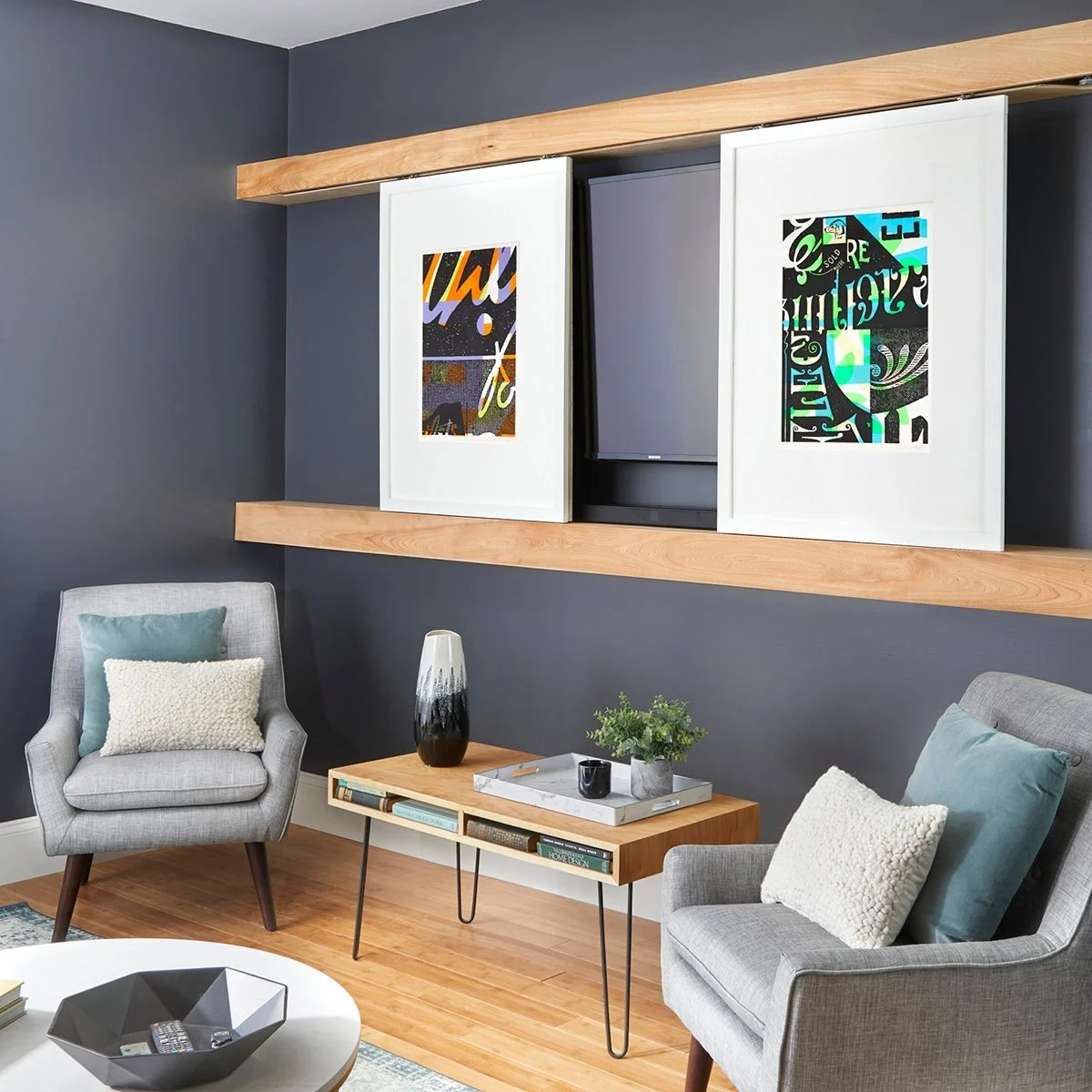 Image Source: familyhandyman.com
However, if you are against the idea of removing your TV set from your living room, you can conceal it with a flip-up TV unit or use a shutter concealing the screen when not in use. You can also visually minimize the TV's presence by arranging art or creating a gallery wall around it. This allows the television set to seamlessly blend with the artwork to distract the eye. Plus, ensure you conceal the cables and wires that could significantly make your living room look messy.
3. Less is More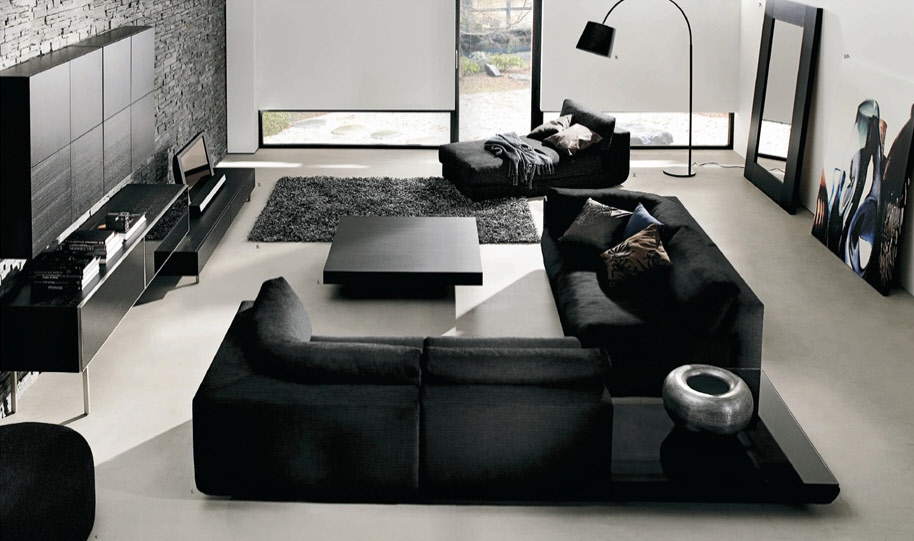 Image Source: decoholic.org
Moving towards a minimalist interior design doesn't mean a minimalist living room can't be luxurious and fabulous. You can find ways to create a focal point or send a powerful message using a few elements, especially in small living rooms. Introducing luxurious, comfortable materials like boucle and linen and trendy furniture in your space will enable you to create a luxurious aesthetic scaled-down space.
4. Use Mirrors to Maximize Your Space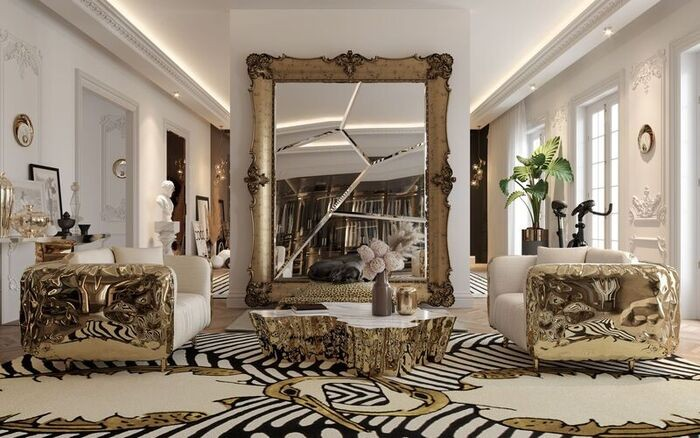 Image Source: linkedin.com
Mirrors may not be in the top living room ideas and designs, but large mirrors will add a hefty dose of glamour and glitz. Subtlety is the key. Huge windows with panoramic views and large mirrors make spaces look larger and more open, which are two characteristics of luxury living rooms.
5. Metallic Accents for Sophistication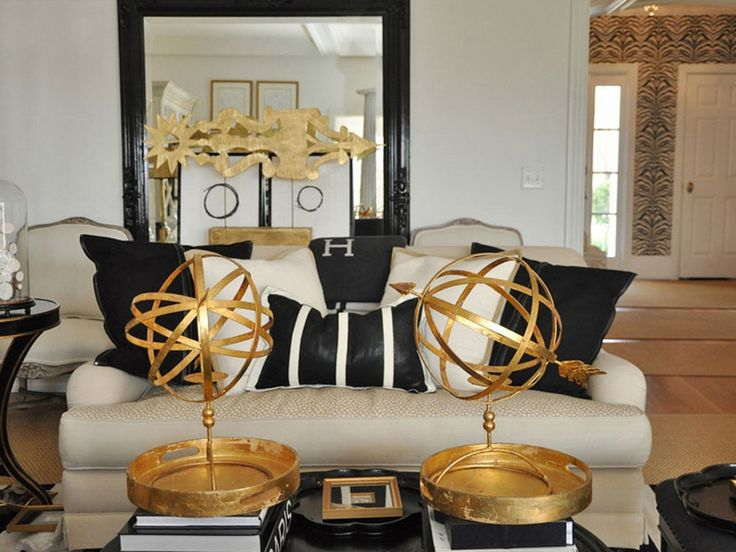 Image Source: pinterest.com
Every room can benefit from a dose of shiny and glittering accent pieces of silver or gold, and the living room is undoubtedly a perfect space to define this kind of glamour. Metallic accents in a living room work well and bring in a flair of sophistication. A metallic accent can also make a small living space look grand. When used correctly, it adds a luxurious touch to any room.
6. Bring in Sculptural Extras
To make your living room look more luxurious, consider bringing structural elements to your interior design. Instead of the usual straight lines or circular forms, look for furnishings that boast a unique silhouette or pieces with interesting shapes or design qualities.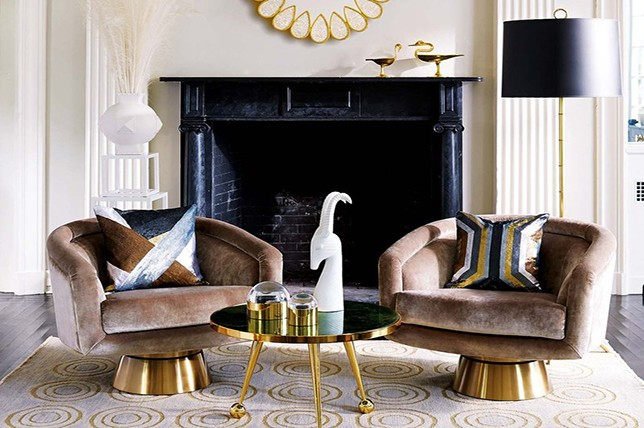 Image Source: decoraid.com
Consider the shape of a critical element in luxury living room interior design because it can strongly affect the subconscious mind, then incorporate fascinating sculptural items in your living room, even in the smallest doses. You should survey your living space, and if you notice only square edges and straight lines, then consider incorporating more curved and organic sculptural items.
There is an endless variety of sculptural designs you can choose from, from circular pendant lights to rounded chairs and abstract art objects.
7. Display Heirlooms and Antiques
Nothing gives a living room a sense of luxury than gorgeous antiques. This luxury living room design idea enables you to pay homage to the past, bringing new life to your space. Mix in the new and old in your most unique way because these designs usually boast a patina that can't be easily recreated.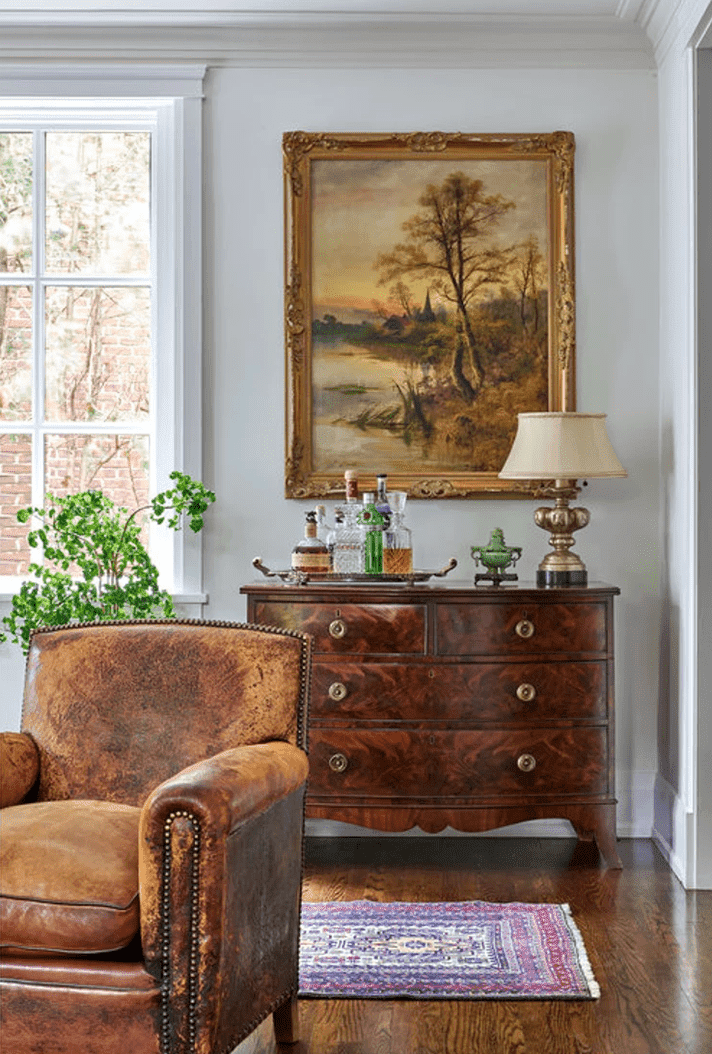 Image Source: mydomain.com
Again, you don't have to spend a fortune on this luxury design idea. A simple trick is to look for old rare items at a thrift or antique store. If you have living room accessories that have passed on generations, like bulky lamps, oversized mirrors, tables, vintage haunts, antique furniture, or art, incorporate them into your living space to add a touch of old luxury.
8. Modern Glass Walls For A Striking Glam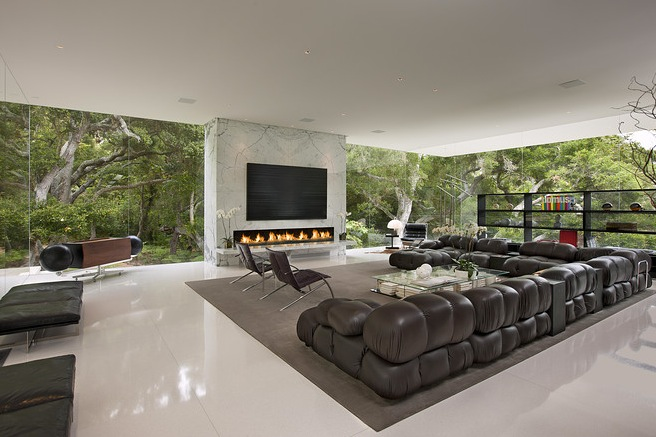 Image Source: home-designing.com
Glass walls display the architectural progress of the home's interior design. For a living room, massive, open glass walls allow in natural light, instantly translating it into an expansive space depicting luxury. These walls add a whole lot of drama, creating an everlasting impression. One of the best approaches is to completely design one wall in glass and use a combination of soft colors and subtle decor, and you'll come up with a very luxurious living room.
Also, clean out the wall by removing the clutter and the little add-ons. Let the room breathe space. Live large and upscale everything.
9. Make a Statement with Oversized Pendants
Whether you choose an oversized chandelier, striking sculptural beaded pendants, or a statement metallic geometric piece, a focal-point pendant will suit your space for an added level of luxe for a chic living room.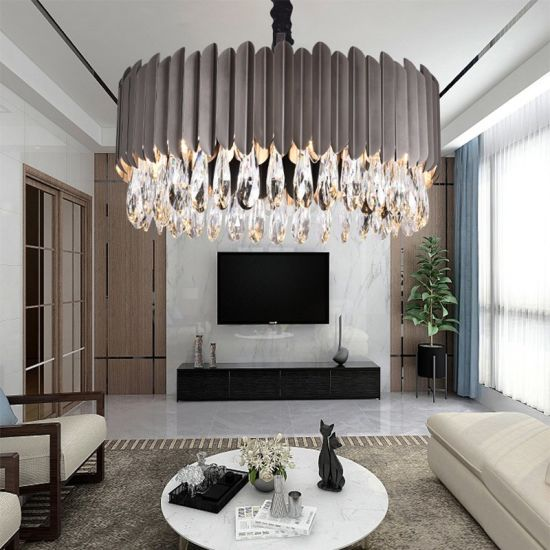 Image Source: made-in-china.com
For instance, bold, bright crystal chandeliers are the epitome of luxury typical in well-designed expensive homes. When hung centrally, these grand sculptural lights draw the eyes in and unite the whole space. Chandeliers provide maximum illumination, and the soft glow emitted from these striking centerpieces helps in zoning the living room, creating a luxurious living space.
10. Dress Your Windows with Stylish Treatments
When thinking about luxurious living room décor ideas, the windows might not be the first element in your mind, but a well-dressed window is a luxury living room design idea worth investing in.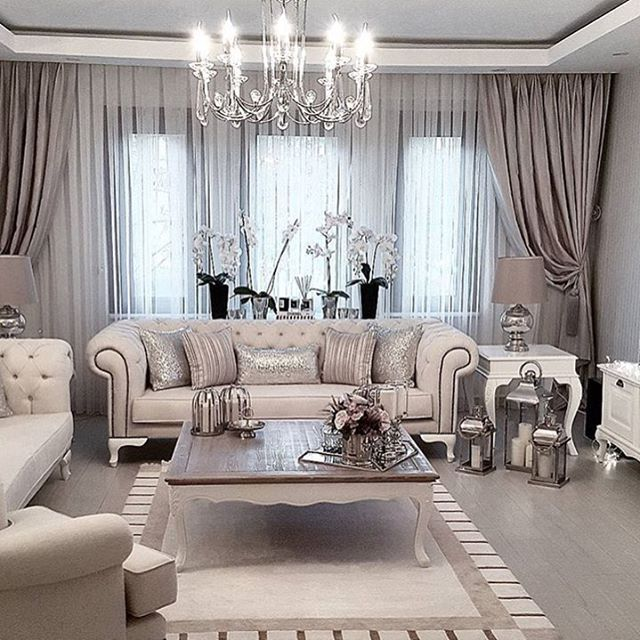 Image Source: pinterest.com
One of the easiest approaches to creating a decorative element from window treatments is to choose an elevated, bold, large-scale design for curtaining. This creates an eye-catching focal point and works best on large windows where the full-pattern repeat is appreciated. For smaller windows, choose small-scale patterns for a more refined look.
Frequently Asked Questions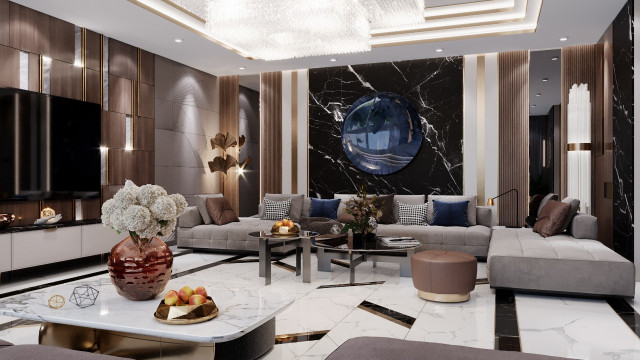 Image Source: antonvich-design.com
1. How do I make my living room more luxurious?
There are several ways to make a living room look more luxurious, and they all focus on luxury in some form. Décor plays an essential role in how a living space is received. Therefore when curating a luxurious living room, we recommend using essential pieces such as large art, glam accessories, luxe textiles and upholstery, posh window treatments, statement lighting, and area rugs, among others.
2. What is a luxurious living room?
A luxury living room features elegant classic furnishings while maintaining a contemporary feel through personal touches and a cohesive color palette. This space should elevate your personal state every time you walk into it. Luxury living room ideas such as uncommon materials and finishes, rich textures, and statement elements make you feel high-end or expensive as you spend time in your home.
3. What is luxury décor?
Luxury décor's definition may vary based on personal preferences. However, homes with luxury décor have a specific vibe. The high-end interiors major in quality, sophistication, elegance, and detail and exude the feeling that life is a breeze. It's this refined look that makes luxe décor so desirable.
4. How big is a luxury living room?
Generally, a luxurious living room measures 15 x 20 feet and above. Also, the basic minimum living room is at least 11 x 15 feet, while a comfortable living room measures 13 x 18 feet and above.
5. What makes a luxurious living room look tacky?
All it takes to ruin luxurious living rooms is bad lighting. Bright white lights amplify any tacky décor designs and make your space feel washed out. Alternatively, dim, minimal lighting is the best way to make your living room feel like a cave.
Conclusion on Luxury Living Room Design
There are various ways to make your living room look expensive without breaking the bank. By starting with a neutral color palette, investing in quality furniture, adding texture, using lighting to your advantage, and accessorizing wisely, you can create a luxurious and high-end look in your home. Remember to focus on quality, texture, lighting, and smart accessorizing to create a stylish and welcoming look. With a little effort and creativity, you can transform your space into a luxurious and expensive-looking space that you'll love for years to come.