Gone are the days we thought laminate countertops were a terrible option for the kitchen. Sure, they aren't as durable as wood and stone, but the laminate countertops you can get today will last for many years. So, if you want to give your kitchen and bathrooms a new look, I will tell you from which company to get the best laminate countertop, plus a few factors you should consider when buying.
What Are Laminate Countertops?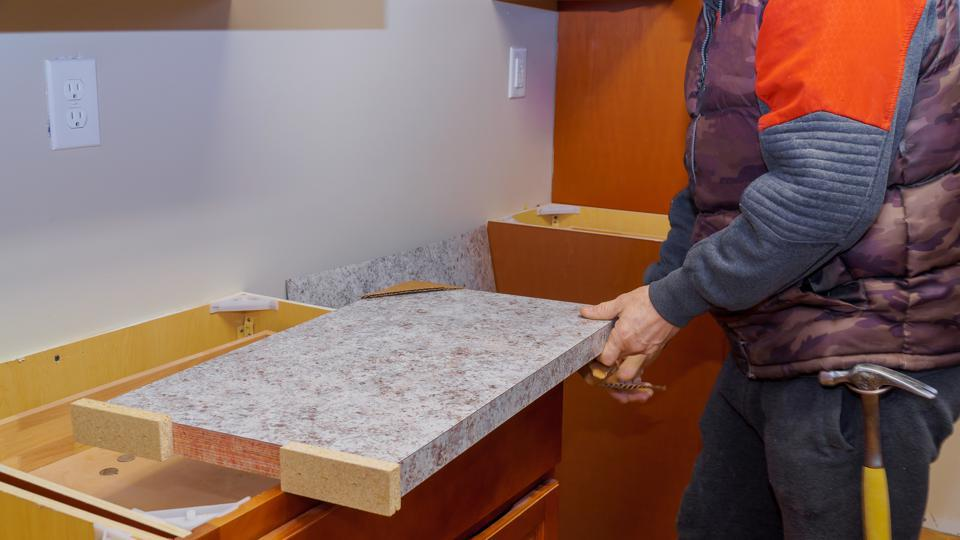 Image Credits: forbes.com
Laminate countertops are made with layers of kraft paper, plastic resin, and a decorative layer on top. These layers are pressed together and passed through a heat source for binding to make countertops of different depths. When the layer is ready to be used, it is adhered to a solid substrate, such as chipboard or particleboard, to create a functional solid surface.
Laminate countertops were invented in 1912 by the Formica company as cheaper alternatives to natural stone and wood surfaces. Still, they did not provide the durability, or visual drama homeowners wanted. Technology has since provided new manufacturing qualities, and you can now buy laminate countertops that withstand the test of time. 
Since laminate countertops are successfully making a comeback in the construction industry, you need to understand some of the best features to look for, including texture, luster, or sheen. I recommend going for high-pressure laminates (HPL) if you want the most premium and durable laminate tops. HPL laminates have high resistance to wear, chemicals, and even fire.
These features will determine how classy your counters look, and that, coupled with the dimensions of your counters, will also determine the cost. So if you want to install the laminate surface today, here are the best laminate countertops from three companies to buy.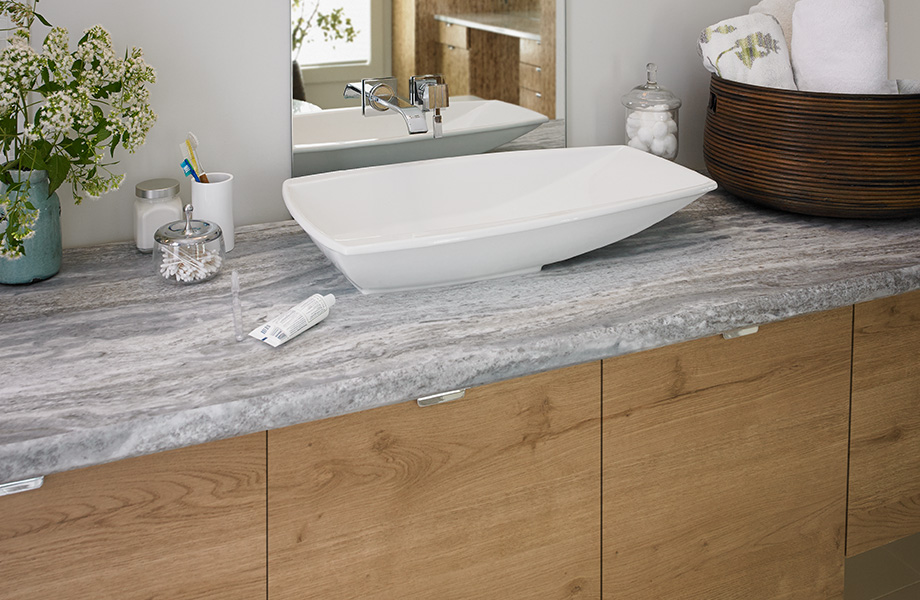 Image Credits: formica.com
Formica is the company credited with introducing laminate counters those many years ago. Today, you can use the best Formica countertops in the kitchen, bathroom, laundry room, or workplace. The company makes some of the best high-pressure laminates, like the 180fx laminate countertop.
I recommend getting this laminate countertop because it is durable and offers the best visual drama with true-to-scale woodgrain, natural stone, and granite patterns. You can choose from 34 colors and 8 textures, including matte, natural grain, Monolith, and Artisan.
If you have installed laminate countertops before, you know how the brown edge gives the laminate away. Luckily, Formica countertops can hide the edges with clipped, square, or curved IdealEdge edges that look like fabricated stone or quartz countertops.
This best laminate countertop is available in large sizes and is water, fire, and wear resistant. However, suppose you are unsure whether the countertop color will complement your kitchen cabinet paints. In that case, you can use Formica's intuitive design tool to upload photos of your kitchen and see how the countertop would look on your counters.
Image Credits: creativesurfacesshowroom.com
Wilsonart is another brand from which you can buy high-quality residential or commercial laminate countertops. The residential collection offers over 100 laminate countertops with the best color, texture, and pattern features. 
If you cannot find your best color, Wilsonart allows you to upload your best design through the Wilsonart By You (WXY) program, and they will custom-make your laminate countertops.
I recommend buying your premium laminate countertop from Wilsonart because you get the best performance features, such as wear, water, chemical, and fire resistance. In addition, their countertops are writeable, easy to clean, and have antimicrobial protection. The low-maintenance surfaces are also made fingerprint and scratch-resistant with the company's AEON technology, so you can expect the best durability for many years.
If you have bought cheap laminate countertops before, you know you can tell when a pattern repeats itself on the laminate surface, often after about 18 inches. It is one way a keen eye can tell you have laminate counters. Luckily, you can get the best 3D designs from Wilsonart that are not easy to inspect.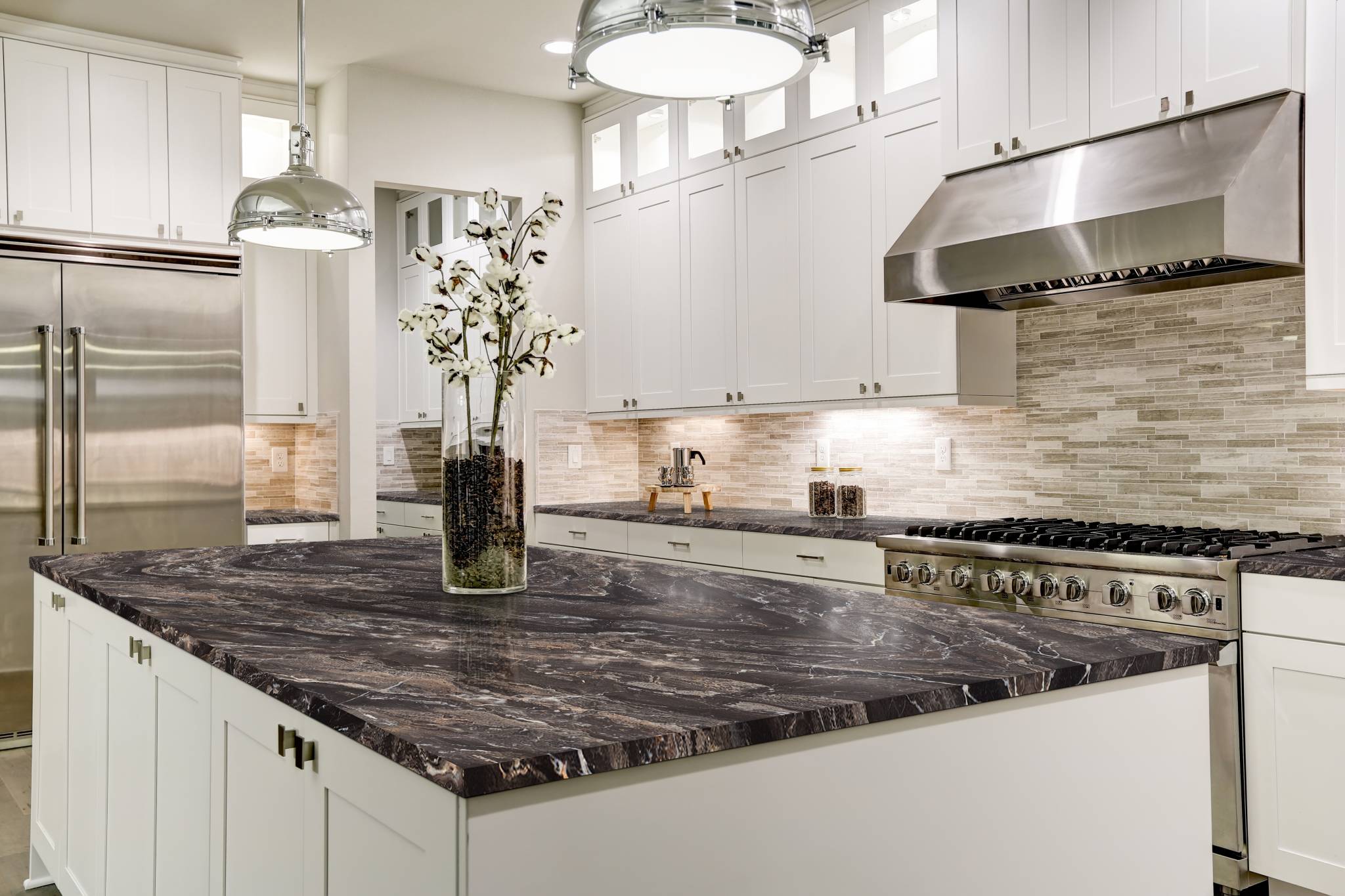 Image Credits: panolam.com
Panolam Surfacing Systems is another top brand to get verticle or horizontal laminate surfaces for countertops, walls, doors, and more. The company offers two types of high-pressure laminate layers branded as Pionite and Nevamar. I recommend buying your countertop materials from the Pionite brand for its superior quality and affordability, not to mention the naturalistic patterns and colors you can choose from.
Unlike the two companies above, Pionote offers abstract laminate countertops on top of the other solid wood, granite, and stone colors. In addition to the colors, the laminate countertops come in different finishes and textures.
Knowing laminate countertops are not as durable as natural stone or wood, I recommend looking for products manufactured with the latest technologies to last many years. This is why I find the Fiber Reinforced Laminate design of some Pionite laminate countertops a great feature.
The Pionite laminate countertops feature fiberglass panels between the kraft paper and resin layers, improving the counters' appearance and durability. With this design, you can install the laminate countertops in your kitchen or bathroom and won't worry about wear, heat, or water damage for many years.
Factors to Consider When Buying the Best Laminate Countertops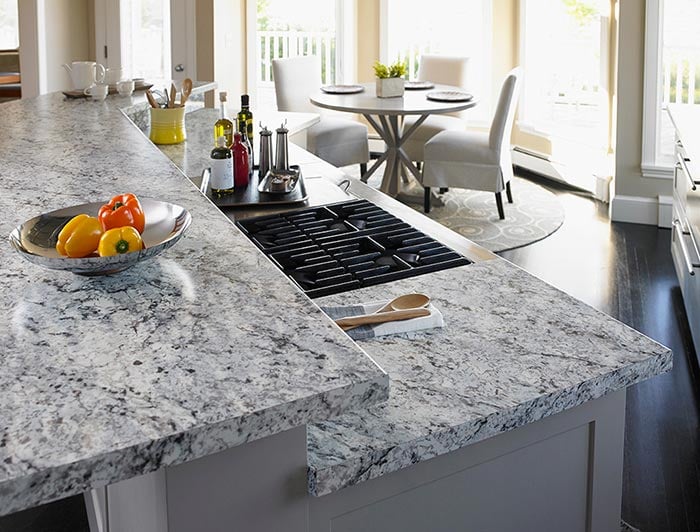 Image Credits: kitchenmagic.com
Before getting laminate countertops from the companies I shared above, here are some important factors I recommend considering for your project.
a) Price
All laminate projects, including laminate floors and countertops, are affordable alternatives to other construction materials like stone and wood. But, it is still best to work with a set project budget when you want to upgrade your countertops. 
Image Credits: ecohome.net
Generally, laminate countertops are measured by square feet, with each piece costing around $14 and $38 at retail.
Here are some factors to consider when looking for the best laminate countertop prices: 
Project size. Where do you want to install laminate counters? The number of laminate countertop pieces you need will help determine the overall project budget.
Design choices. Some design choices, such as self or beveled edges, will determine the cost of your project and affect the retail price of your laminate countertops. In addition, features like corners, radiuses, or built-in backsplashes will also determine how many pieces you need to buy, thus affecting the overall project cost.
Finishes. Laminate countertops come in different finishes, including soft, textured, glossy, or matte. Each choice will incur a unique cost, affecting the overall project price.
b) Durability
Image Credits: thespruce.com
One of the main reasons laminate countertops fell out of favor with homeowners and contractors was that they were not durable. But that has since changed, and manufacturers like Formica, Wilsonart, and Panolam guarantee durability by using the latest design technologies to create long-lasting countertop surfaces.
When buying your countertops, look for high-pressure laminate materials since these are bonded perfectly for durability. In addition, ensure the countertop is rated water, fire, and chemical-resistant as you may expose it to these conditions after installation.
Finally, ensure the material you choose comes with a good warranty from the manufacturer to protect your investment in case the countertops do not live up to your expectation.
c) Colors and patterns
Image Credits: pinterest.com
One rule I do not break when buying a countertop is matching the color to the room's theme, and I recommend you do the same. Laminate countertops come in more colors than other surfacing materials; they are designed to look like natural wood and stone surfaces, and you can also choose abstract colors for unique countertop appearances.
Ensure the colors, which range from creams to dark gray and black shades, will complement cabinet paints and other theme colors. For instance, you can match honey oak cabinets to cream laminate countertops. 
I recommend using textured and matte finishes since these hide imperfections such as scratches and fingerprints.
Here are some colors and patterns you can choose for your laminate countertops:
Simulated stone. If you love the look of granite on your kitchen and bathroom counters, I recommend going for granite laminate countertops that imitate real stone. The best thing with laminate counters is choosing different colors that match the interior, from bright to dark stone.
Faux metal. If you are after a modern industrial look, I recommend getting a laminate counter that looks like a metal surface. This look is ideal for bar tops or even kitchen countertops.
Woodgrain. Are you after a country home look? You can layer your kitchen cabinets with laminate countertops that look like wood. Luckily, manufacturers offer many color and pattern options that resemble your favorite wood grains.
Abstract countertops. An abstract countertop may be your best option if you want a unique contemporary look.
d) Versatility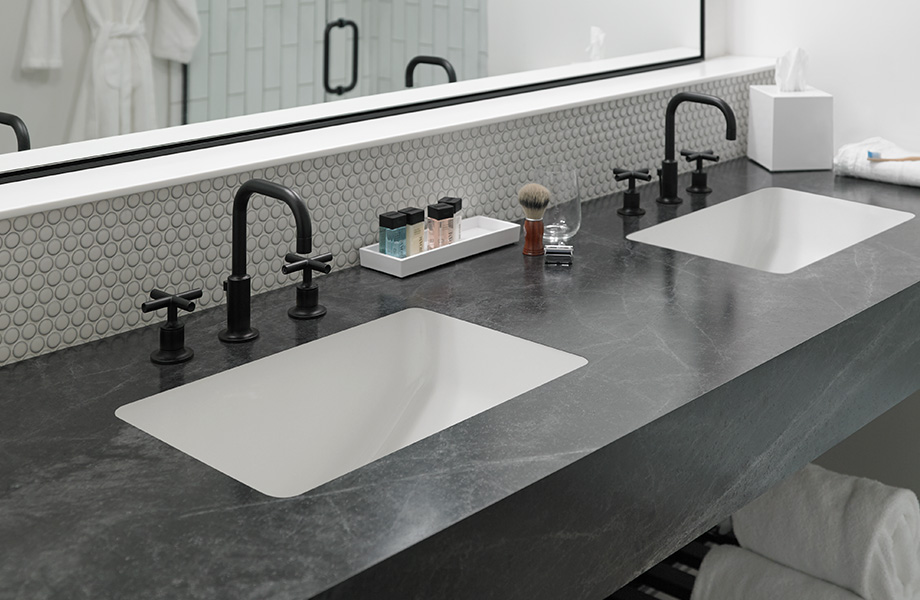 Image Credits: formica.com
When buying laminate countertops, look for pieces you can install in different areas. So, understand the different types or grades you can get from your favorite manufacturer. The grades range from standard to premium quality laminates with extra features like fiberglass panels for durability when exposed to different conditions.
You can install laminate counters in many areas, including kitchen cabinets, bathroom sinks, craft rooms, or even work desks, as they will withstand exposure to certain elements such as water, chemicals, and heat.
e) Maintenance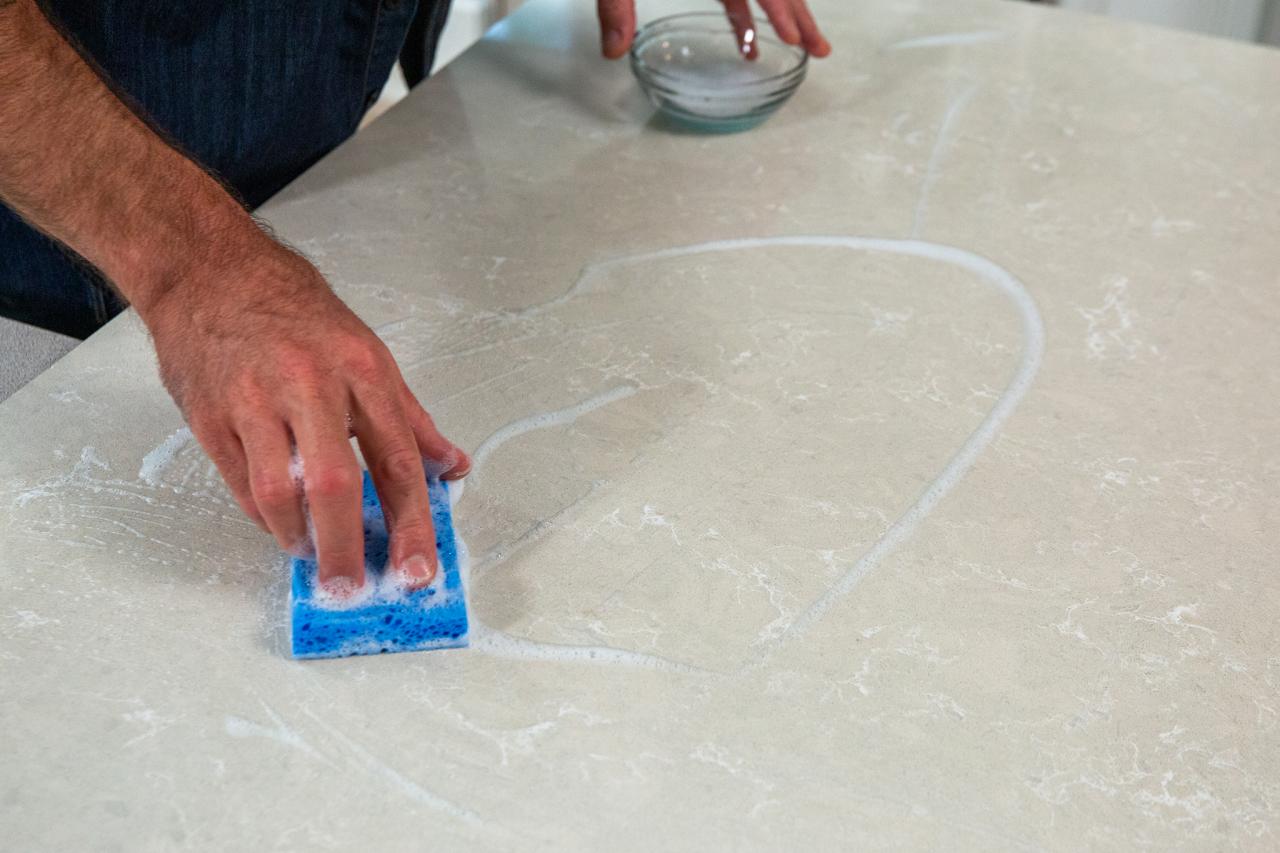 Image Credits: hgtv.com
Even though laminate countertops will be rated fire, water, and chemical resistant, you still need to be very gentle when using them to prevent scratches and stains.
The surface is easy to clean using a non-abrasive cloth that will not scratch the surface. If you need to disinfect, use a gentle surface cleaner or a mild soap with clean water. Finally, avoid flooding the laminate countertops, especially near the seams where the water can penetrate to damage the substrate.
Frequently Asked Questions About the Best Laminate Countertop
a) Is laminate worth the money?
You can use laminate countertops as inexpensive alternatives to granite, woodgrain, stone, and metal countertop surfaces. If you are worried about durability, today's laminate countertops can last many years with proper care.
b) Which are the best laminate countertop brands?
You can buy premium laminate countertops from Formica, Wilsonart, and Panolam. Formica is the oldest and most popular of the three, with most people associating laminate counters with the brand.
c) What are the different grades of laminate countertops?
There are two main grades of laminate: vertical and horizontal or standard grade laminate. The grade refers to how thick the laminate material is, which determines how sturdy and durable it is when exposed to elements.
When buying laminate countertops, it is best to get standard grade laminate as it is thicker than the vertical grade. The thickness makes it ideal for countertops because it has higher impact resistance.
d) How long do laminate countertops last?
Laminate countertops can last up to 14 years with good maintenance and light use. However, they may not last this long if you install them in a busy environment.
e) Are laminate countertops easy to install?
The countertops require little effort and time to install compared to other solid surfaces made with stone, tiles, wood, or metal. The process requires you to build cabinets, then adhere them to the laminate countertop. The process is even easier if your cabinets are already installed since all you will need is to remove the old countertop and replace it with the new one.
These are the four main steps to follow when installing:
Cut the laminate countertop to size, especially if you did not order precut laminate pieces.
Attach the laminate countertops to the base cabinets.
Use adhesive and miter joints to join the countertops to the base. Then, seal the joint between the countertop and walls or backlash.
Re-install appliances such as the sink and taps. If necessary, you need to cut holes in the laminate surface for the sink and other appliances, then reinstall them to continue using the countertop.