Farmhouse decorating style tends to be warm, relaxing and full of character and charm and is often organized around a central notion of practicality. The modern farmhouse is a nod to the past but firmly planted in the present. From the industrial lighting that gives it that rustic touch to the open concept furniture that gives it that modern touch.
The modern farmhouse look is all about achieving the balance between the classic and the new. Here are modern
farmhouse living room ideas
that will inspire you to put your own personal twist and style and will have you loving your space.
1. The Open Concept Farmhouse Living Room
The first thought that comes to mind for most people when they think of decorating their farmhouse living rooms is that they have to have a rustic touch. Well, your modern farmhouse living room is not limited to this style.
The best part about a modern farmhouse living room is that you are open to explore a wide variety of styles and find what works for you. If you have an open floor plan for your kitchen, the open concept farmhouse living room would be an ideal choice as it would flow throughout the entire space.
However, even if you don't have it as part of your dining space, it can still be an option to consider for your living room as it offers a welcoming feeling with a very personal visual.
This farmhouse style living room by Jennifer Robbins Interiors displays how an open concept living and dining area, complete with a glass-paned wall can modernize a traditional closed-in approach.
The use of comfortable furnishings, industrial light fixtures, and vertical shiplap give this living room a farmhouse feel that's not over-the-top.
2. Eclectic Farmhouse Living Room
Give your modern farmhouse living room décor a unique touch by combining it with different styles. It could be the light fixtures you use. A unique light fixture could be exactly what you need to give your modern farmhouse living room that twist of modernity.
You can also choose to keep the décor super traditional and add a rug, a modern sofa and unique coffee table to break up the style hence giving the room a completely different vibe.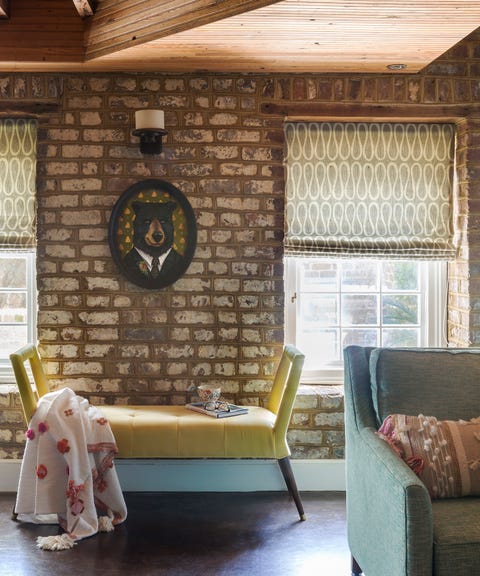 This farmhouse style features a modern light fixture in a room with a salvaged beam ceiling and an extra-large abstract canvas introduces an inviting eclectic vibe.
3. Monochromatic Farmhouse Living Room
Whoever said monochromatic is boring definitely hasn't seen these farmhouse living rooms. When it comes to monochromatic style, you should always consider the architecture of the room.
If the modern farmhouse living room already has wood beams, they can be incorporated into the décor as part of the other wood elements. Monochromatic style has a way of making a room feel grand it its own way.
When you incorporate shiplap around the fireplace, reclaim timber beams, tonal furniture and accessories, you transform a contemporary living room into a chic farmhouse retreat with the monochromatic style. It is that versatile.
4. Reclaimed Wood Ceiling Living Room
If you have a reclaimed wood ceiling, we've got just the idea for you. Add wood beams to give a hint of something new. It will give your ceiling a modern charm.
There is just something clean, cozy and crisp about a wooden ceiling. It screams both comfort and charm. Incorporating organic materials into an interior space allows the combination of textures to become the focal point hence the room speaks for itself.
5. Traditional Farmhouse Living Room
Sometimes all you might really want is the simplicity and comfort and that's where the traditional farmhouse living room comes in. You don't have go all out with expensive materials and might instead opt for items that add a relaxed touch with a nice, elegant finish.
A traditional farmhouse living room design can be styled with cozy items like blankets, scented candles and throw pillows for that amplified touch of comfort and relaxation. Throw pillows and a blanket are a great way to create a space where everyone wants to snuggle in.
You can choose pillows of varying sizes in both neutrals and colors. Some can be plain cotton, while others can be woven from yarn. The aim is to choose pillows that look large and poofy and ready to be sat on.
A rug is another must have as it not only covers the entire space but it can also bring the space to life depending on the color chosen. A woven rug will look natural in a farmhouse living room while a plush rug just feels great to dig your toes into.
6. Industrial Farmhouse Living Room
Industrial design tends to be rooted in raw textures and hard finishes however when paired with delicate textiles and wall signage it looks decidedly farmhouse.
Giving your modern farmhouse living room an industrial touch can be done by adding architectural pieces like Edison bulb pendants, natural wood around the room allowing you to capitalize on the structure of the modern farmhouse living room and complementing them with modern furniture like metal bar stools.
The aim to is add a few items that fee new yet are quite unique to the room. The furniture pieces don't necessarily have to work well together they just have to seem like they are.
The industrial farmhouse is ideal for city dwellers who want to honor their urban roots with a touch of warmth and texture borrowed from the countryside.
7. Use Shiplap
Shiplap paneling is one of the easiest ways of bringing farmhouse décor into your home. It works wonders when you want to add texture to a modern farmhouse living room as there is something about its unpolished edges and unique display that gives authenticity to a room without too much effort.
You can also consider stained wood for a unique twist that still has that shiplap allure. When installing, you can choose boards that have nicks and scrapes as they will give an illusion of longtime use and evoke a sense of history. This will give your modern farmhouse living room a more rustic farmhouse style.
To keep your shiplap looking fresh, you can paint them white. This will also brighten up your living room. If the white paint is dull, you can consider giving the wood a whitewash treatment. This will give you the benefit of white paint whilst also showcasing the beauty of the wood grain.
8. Add Farmhouse Color
A light, fresh color palette is a great choice to bring in that farmhouse appeal as it allows you to brighten up the room. With the age of minimalism and natural palettes, the first color that might come into your mind is mind is white but you actually don't always have to go white.
You can incorporate a pastel twist or maybe even a touch of blue or gray. Whatever it is, you can always have fun with the colors you choose to have as long as they are colors that work and combine well with your furniture whilst giving you the vibe, feel and look of what you're going for.
You may not necessarily be thinking white but you do appreciate your spectrum of neutral colors, then the ideal farmhouse living design will have a touch of the French farmhouse flair. To achieve this look, you'll pair neutral furniture with a neutral color scheme.
The furniture pieces will have a pattern that is either floral or toile de Jouy and will be antique with a bit of wear to them. You can pair them with luxurious or modern items in them room. For example a crystal chandelier.
9. Rustic Farmhouse Living Room
Who said old is boring? What makes the modern farmhouse so appealing is that it is an ode to the classic farmhouse. It is a balance between the old and the new hence it carries with it the comfort that comes from the pieces of history.
Your living room can include elements that bring this out for example you can style it with some distressed furniture, chicken wire cabinets or even some traditional farm chairs. The aim is to have your antique bits flow perfectly with what you already have.
10. Bring in the Natural Elements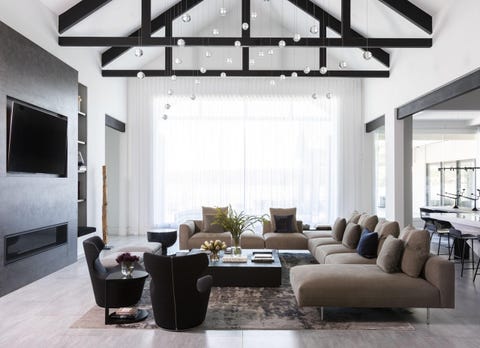 There's nothing better that feeling one with nature. You can achieve this with your modern farmhouse aesthetic by incorporating organic elements like live plants.
This farmhouse style living room by Contour Interior Design features natural elements like exposed wood beams and stone accents which help evoke a clean and relaxed modern farmhouse interior.
11. Contemporary Farmhouse Living Room
Most farmhouses tend to be associated with nostalgia however for those that enjoy and love contemporary design, one can still take advantage of its best characteristics.
This contemporary farmhouse living room by Northworks Architects and Planners features tongue and groove ceilings that are classically farmhouse look but the furniture and open concept give off a different look.
Additionally, to make a space feel more contemporary you can strip your floor if it is made of dark wood and refinish it in a light wood color something like a light oak color.
12. Add a Tufted Sofa
Styling your modern farmhouse living room with a tufted sofa gives you a hint of luxury and charm. Not only does it transform your living room giving it a sense of elegance and sophistication but also making it look comfortable.
Remember that your sofa is the focal point so you want to pair it with other fun farmhouse elements that make sense. The aim is to allow the sofa to feel like the star.
13. Coastal Farmhouse Living Room
Inspired by the ocean, you can give your farmhouse living design a coastal touch with inspired home decor pieces made from driftwood. You can also place plant in the room that naturally grown in coastal regions or consider adding blue to your neutral palette.
Both light and dark shades would work well. Other home decor pieces worth considering are seashells, a boat line used as trim or sea glass.
14. Add a Coffee Table
A coffee table is such an important element in any living room so it is key to take your time when looking for one as it needs to align with your farmhouse living room design and should also give off a cozy cohesive look.
Depending on your living room aesthetic you can have a rustic vintage wood coffee table or something metallic or marble to go with your industrial or contemporary look.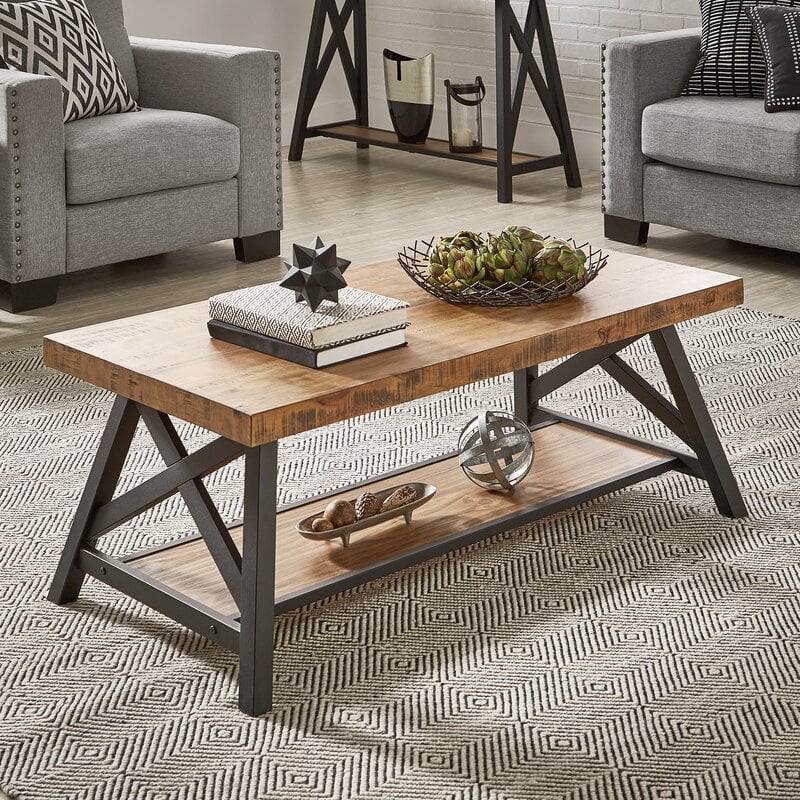 15. Add a comfy sofa
Having a large comfy sofa is always ideal because who doesn't want to come home to a large comfy sofa? Additionally, this is the place that your family will curl up and gather together or where you'll host friends and family for parties and game nights.
One key thing you need to ensure is not to buy a couch that will overwhelm the room. It needs to be proportional to the room and at least seven feet from the TV. This allows for quality viewing experience and plenty of room to place a coffee table.
16. Fireplace Decor
To complete your farmhouse aesthetic, a fireplace would be the best choice. If you have a real fireplace, you can outfit it with firewood, a basket for spare wood and the tools you will need to stoke the fire. You can accent the mantle above with your TV, florals or even a boxwood wreath.
Vintage lanterns or inspirational signage or art can also be placed on the mantle. Whatever you choose as along as it gives you the desired farmhouse feel you are going for.
Alternatively, you can create a faux fireplace by creating the surround and mantle with a small alcove then filling the space with candles or chopped logs. Don't forget to include the hearth around the front of the fireplace.
The hearth will be the perfect place to keep a basket with extra extra pillows and blankets or even a metal basin where you place flowers in. Remember that the flowers should be seasonal. The last option would be to get a fire pit and install one in your home.
17. Country Farmhouse Living Room
A country farmhouse living room design embraces wood. Some of the home decor ideas worth considering are using a wooden basket to help organize your living room or using materials that have a plaid or floral pattern.
You can style the living room by placing a large area rug that is either of a traditionally woven design or a primitive braided pattern design.
18. Use Barn Doors
Whenever used, barn doors transform and give any space a traditional farm feel and look. They are great space savers for small rooms and can easily partition an open concept floor plan. Sometimes, you are even better off with two barn doors.