Beauty and function are the holy grail of architecture, and most designs meet this threshold easily. However, some concepts like Palladian architecture have gone a step further to produce masterpieces that defy the passage of time to retain their elegance and relevance centuries after construction. But what exactly is Palladian architecture?
Come along as we walk into the inner confines of Palladian architecture to explore its origins and learn the secrets behind its timeless charm.
What Is Palladian Architecture?
Image Credits: adamarchitecture.com
Palladian architecture is a building style that emerged during the Italian Renaissance period of the 16th century. Named after the then-influential Italian architect Andrea Palladio, this architectural style features a balanced mix of Roman and Greek building concepts. Most buildings in this style stand out in their focus on symmetry, harmonious proportions, and the inclusion of classical elements and decoration motifs. They also feature perfectly mirrored façades, windows, and doors.
Palladian architecture draws inspiration from Vitruvius and Roman architecture concepts to include classical elements like columns, arches, and pediments, adding to the buildings' elegance. Palladian buildings also feature grand porticos, colonnades, and loggias.
The Palladian style became popular in England in the 17th century after British architect Inigo Jones studied Andrea Palladio's concepts in The Four Books of Architecture and Colen Campbell's Vitruvius Britannica. Inigo Jones, who was then a surveyor for the British Royal Family, included the Palladian style in most of his new constructions and refurbishments. His Architectural works laid the foundation for the popularity of Palladian architecture in England, inspiring other notable architects, like Richard Boyle, 3rd Earl of Burlington, William Kent, and Thomas Jefferson, who championed the trend into the 18th century.
This architectural style spread to America and other European countries in the 18th century. Architects in these countries combined the principles and aesthetics of Palladian architecture with their local decorative tastes to produce bespoke state buildings, country houses, and commercial buildings in their era.
Palladian Architecture Features
The Palladian style of building has many outstanding and unmistakable features that distinguish it from other architectural styles. The most prominent of these features include:
1. Palladian Window
Image Credits: thoughtco.com
The Palladian window is one of the most prominent and must-have features of Palladian architecture. Also commonly referred to as Venetian or Serlian windows, the design has three sections; a central light with a semicircular arch or triangular pediment on top and two rectangular sections on the sides. The two sidelights feature columns on either side with an entablature on the top. In some designs, the central light of the window is taller than the sidelights, making for balance and harmony in the design.
In the Venetian variation, the window emphasizes the use of geometric forms in blending the top arch with the rectangular surrounds of the window. The Serlian variation has openings on the main and side windows, allowing for more artistic expression. Most Palladian-style buildings with this variation have decorations like sculptures, reliefs, and other ornamental elements on the three sections of the window.
The Palladian-style window borrows heavily from Roman and Classical architecture. Andrea Palladio incorporated this window in his masterpieces as a prominent feature to enhance his buildings' functionality, aesthetics, and spatial experience. Other architects after him continued to favor the concept, adapting it fully or reinterpreting it to suit different styles and preferences.
2. Symmetry and Balance
Image Credits: pinterest.com
Symmetry and balance are principles used to express beauty in architectural designs. Andrea Palladio's buildings boast mirror-like symmetry on the façades, with elements like doors and windows placed proportionally on both sides of a central axis. These Palladian principles give a building a sense of equilibrium and order. It also contributes to the timelessness and universal allure of the architectural style, common in examples like Irish Palladian country houses.
3. Temple Fronts/Porticos
Image Credits: homedit.com
Another common feature of Palladian architecture is the use of temple fronts on the façades. Andrea Palladio adopted the Roman style of temple fronts to connect his architectural designs to his ancient Rome heritage. The use of temple fronts also contributed to the harmonious arrangement of forms on the façade and the overall beauty of the buildings.
The Palladian portico gives these buildings a sense of monumentality and dignity. The towering columns, inviting pediments, and entablatures give the façade its Roman temple feel and command of attention. This front also serves as an entryway and shelter from the elements.
4. Classical Elements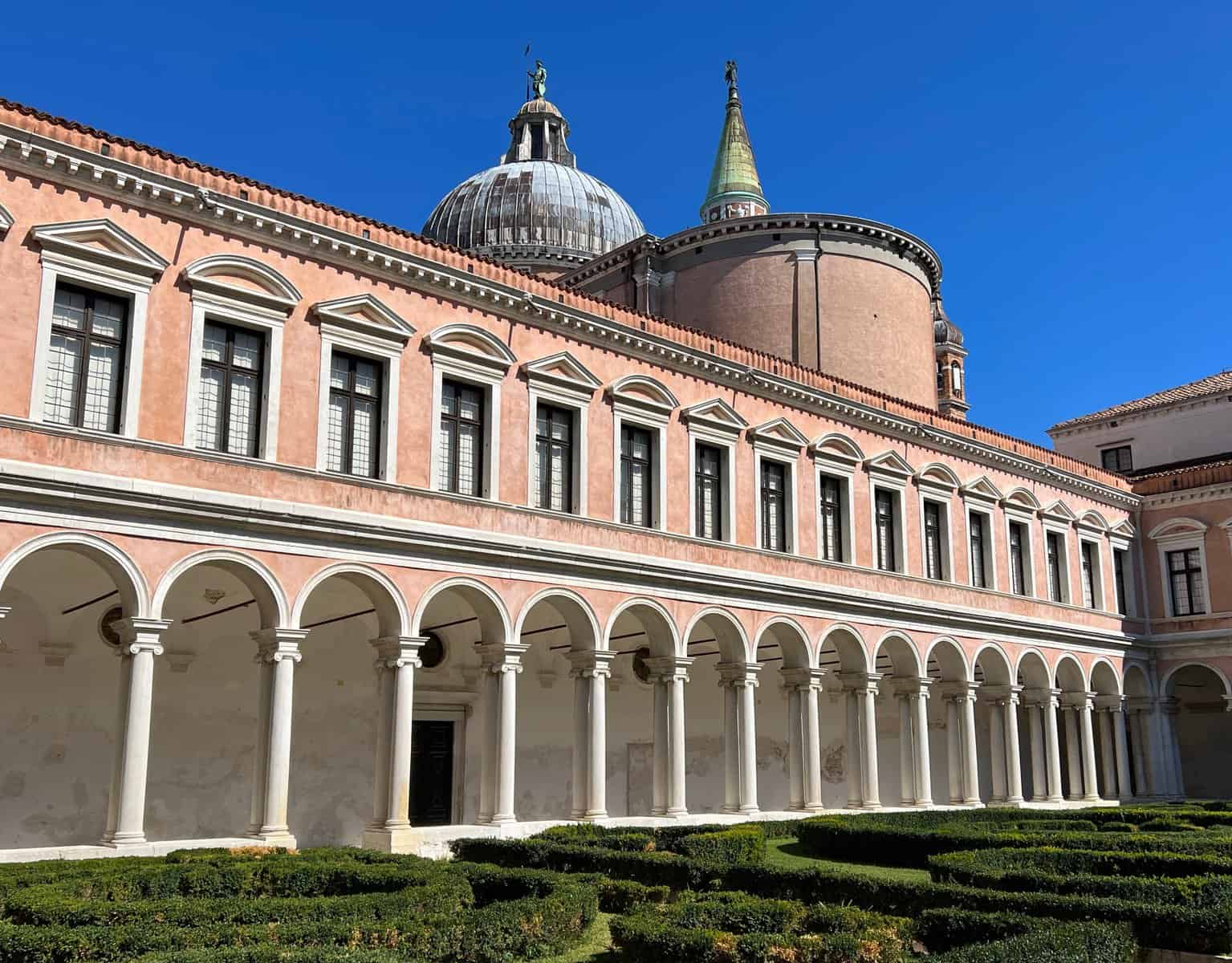 Image Credits: lionsinthepiazza.com
Palladian architecture has borrowed and seamlessly blended classical elements from Greek architecture with ancient Roman architecture. Some classical architectural elements you will likely come across in Palladian buildings are the columns, entablatures and pediments, and decorative ornaments. Palladian architecture favors Greek-style columns, borrowing the designs from the classical Doric, Ionic, or Corinthian orders. The columns add a sense of verticality, rhythm, elegance, and architectural excellence to the building.
The classical entablatures of Palladian-style buildings give them a sense of structural integrity. They also provide extra space for decorative details such as metopes, triglyphs, and dentil moldings, which add to the depth and richness of Palladian architecture. The pediments on the porticos and windows of Palladian buildings serve as focal points. They can be used to showcase sculptural elements or relief work, thereby contributing to the inclusion of classical features in Palladian architecture.
5. Rusticated Floors/Basements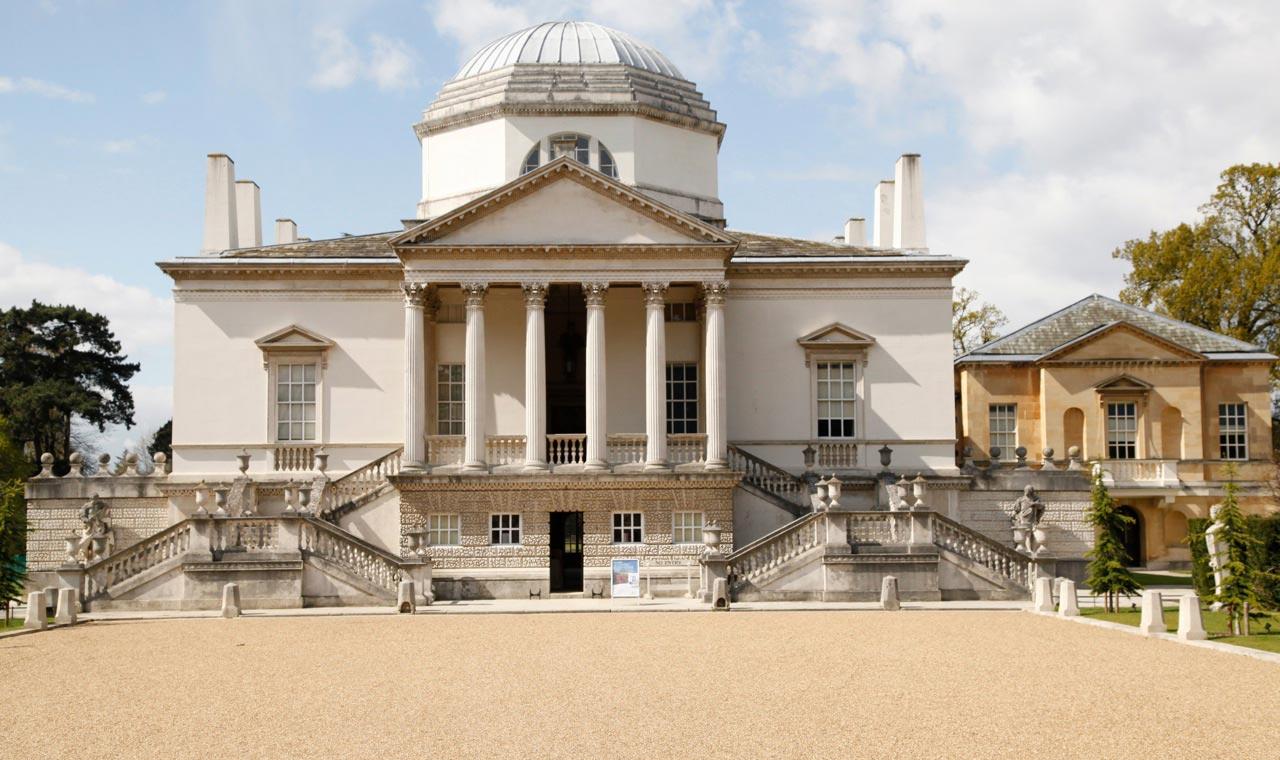 Image credits: archi.capital
Another interesting feature of Palladian architecture is the use of rough hewn-stone blocks and curved surfaces on the lower floors of the buildings. This rough texture of the lower floors contrasts with, the more refined upper floors of Palladian buildings. It also emphasizes the weight and importance of the lower floors, tactfully drawing your eyes to the elegance and lightness of the upper floors.
6. Integration of Form and Function
Image Credits: tuscanynowandmore.com
Andrea Palladio believed in buildings that served their owners' aesthetic and functional needs. In most Palladian-style buildings, you will notice that the rooms are positioned proportionally with clear circulation paths to facilitate a logical flow of movement. Every aspect of form in Palladian architecture, from façades to interior decorations, is meticulously arranged to provide a sense of unity and cohesion in the building.
Most Palladian villas also featured symmetrical wings on either side, accommodating farmhands and farm animals or serving as food stores. The wings could be attached or detached from the main building, and the structure's designs adhered to the same rules of symmetry, balance, and proportion, only lower in height compared to the main villa.
Palladian Style Architecture Examples
Want to know where you can find examples of Palladian architecture? Here are a few:
1. Villa Capra "La Rotonda"
Architect: Andrea Palladio
Year of Construction: 1567-1570
Location: Vincenza, Italy
Image Credits: vitourism.it
La Rotonda is one of the earliest and most famous designs by Andrea Palladio, situated on the hillsides of Vicenza, Italy. La Rotonda is highly symmetrical and proportioned as a first of this renaissance architecture concept. It has a circular central hall surrounded by porticos on all four sides. The villa features Palladian windows and classical elements like Corinthian columns, entablatures, and pediments that emphasize its beauty and timelessness.
In the La Rotonda design, Andrea Palladio integrated the villa with the surrounding landscape by including four porticoes which allow its inhabitants to appreciate the beauty of the countryside from multiple vantage points.
2. The Banqueting House
Architect: Inigo Jones
Year of Construction: 1622
Location: Whitehall, London
Image Credits: walklondon.com
The Banqueting House was the first English Palladian house designed and completed in the 17th century. This house was designed as the entertainment wing of the Palace of Whitehall. Its harmonious and perfectly balanced façade features a grand portico with Corinthian columns on the central block. The extraordinarily high ceiling resulting from the design's double-height halls and large windows give the building a sense of openness and grandeur.
Banqueting House has a symmetrical composition, imposing presence, and classical detailing that creates visual harmony and perfectly integrates the building with the surrounding environment.
3. The Queen's House in Greenwich
Architect: Inigo Jones
Year of Construction: 1616-1635
Location: Greenwich, London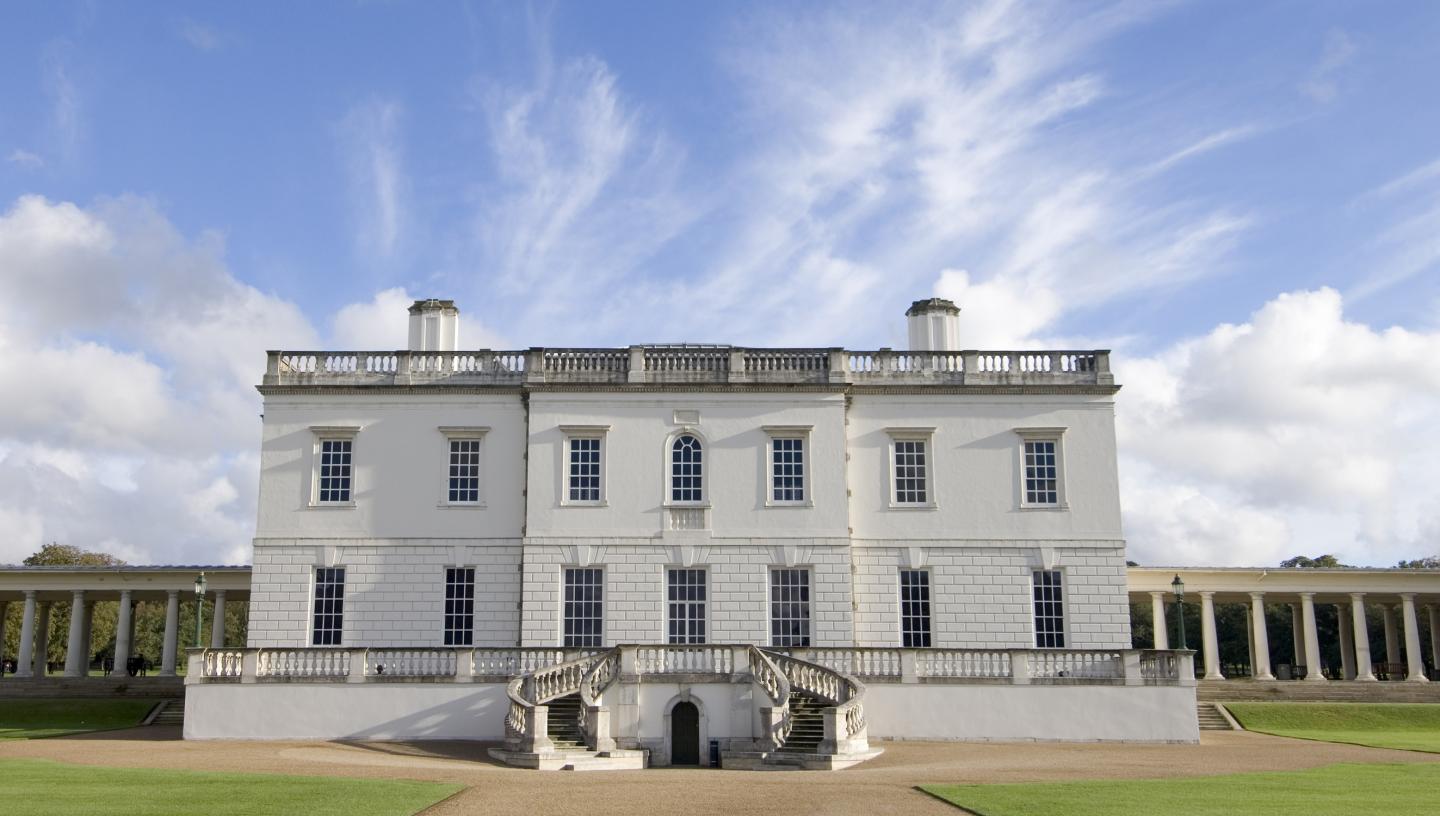 Image Credits: www.rmg.co.uk
The Queen's House Palladian style design marked the departure from Tudor architecture and Jacobean architectural traditions in England. Clean lines and classical proportions characterize its symmetrical façade. In addition, its central block features a classical portico with Ionic columns and a pediment with ornate detailing. The magnificent Tulip Stairs, one of the striking features of the Queen's house, is a testament to how the Palladian style can combine with local architectural tastes to create breathtaking visual experiences within a space.
4. Chiswick House
Architect: Richard Boyle, 3rd Earl of Burlington
Year of Construction: 1726-1729
Location: Chiswick, London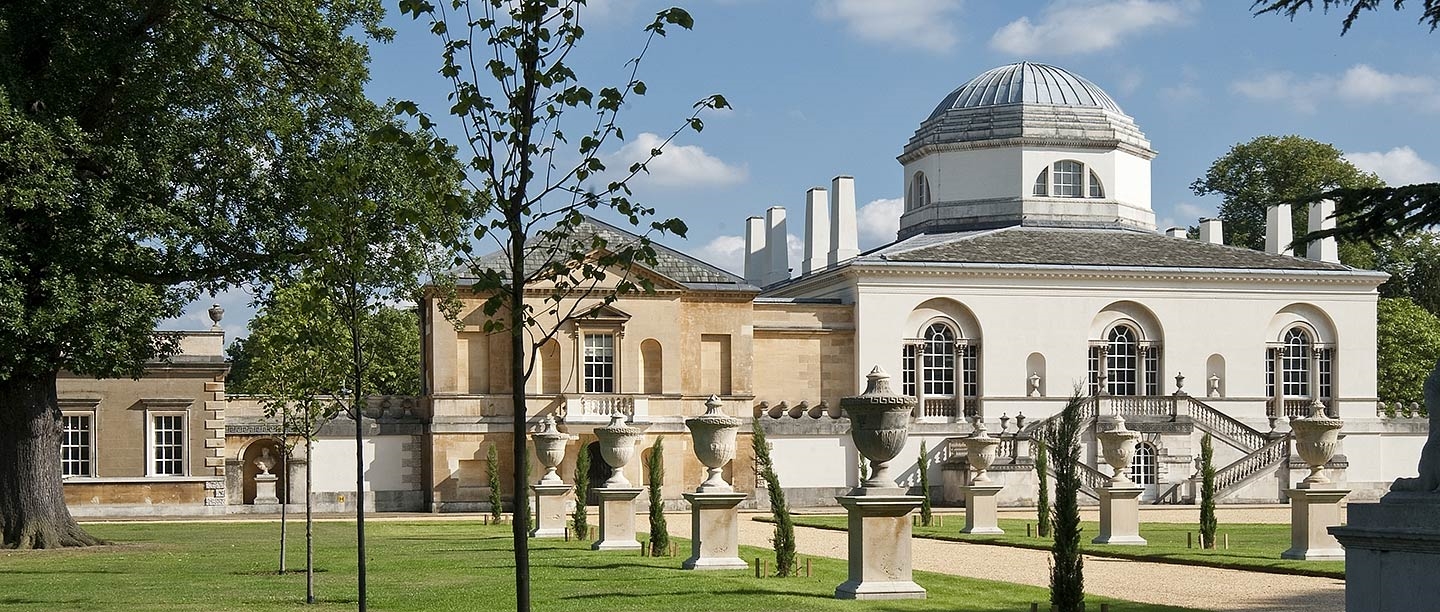 Image Credits: english-heritage.org.uk
Chiswick House is among the first 18th-century examples of Palladian-style buildings in England. Inspired by Andrea Palladio's principles, this house showcases a harmonious blend of classical Roman architecture with European architecture. Its symmetrical façade is characterized by a central block flanked by wings, with a white stucco exterior that gives it the purity and elegance of ancient Roman buildings. This villa has a protruding portico with Ionic columns and detailed entablatures, and its interior walls are adorned with paintings, sculptures, and other ornaments commensurate with Lord Burlington's appreciation of Georgian-era art.
5. Virginia State Capitol
Architect: Thomas Jefferson
Year of Construction: 1785-1788
Location: Richmond, Virginia
Image Credits: studiohillier.com
The Virginia State Capitol is one of the outstanding examples of Palladian architecture in America. Designed by one of the founders of America and an ardent admirer of Andrea Palladio, Thomas Jefferson, this house has a symmetrical façade centered on a projecting portico. Its Ionic columns create a sense of grandeur and balance, while the entablatures and pediments' detailing adds sophistication and classical elegance.
Jefferson designed the rhythmic repetition of windows, precisely aligned entries, and a smooth exterior to give the building its cohesive and visually striking presence. The Virginia State Capitol is an excellent example of the integration of form and function in Palladian-style buildings. Its chambers are designed in a simple and practical layout, with natural light filtering through the large windows to illuminate the spaces and create a sense of openness and transparency.
6. Raj Bhavan, Kolkata, India
Architect: Charles Wyatt
Year: 1799-1803
Location: Kolkata, India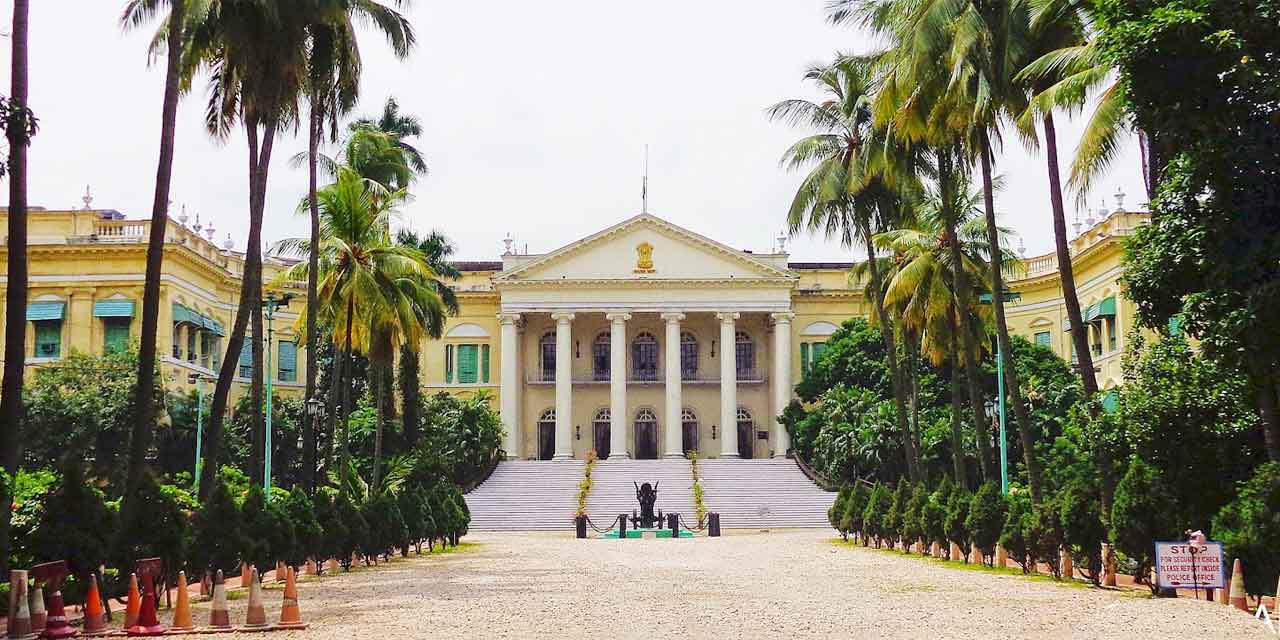 Image Credits: kolkatatourism.travel
Raj Bhavan, also known as Government House, has a symmetrical layout with classical proportions. Its façade features a central portico supported by Ionic columns, smooth white stucco exterior, and well-defined pediments with crafted detailing. The building's inner layout, with its central halls and interconnected rooms, allows for a seamless flow of space, highlighting the Palladian concept of integrating form and function.
7. Belle Mont Mansion
Architect: Unknown
Year of Construction: 1828-1832
Location: Tuscumbia, Alabama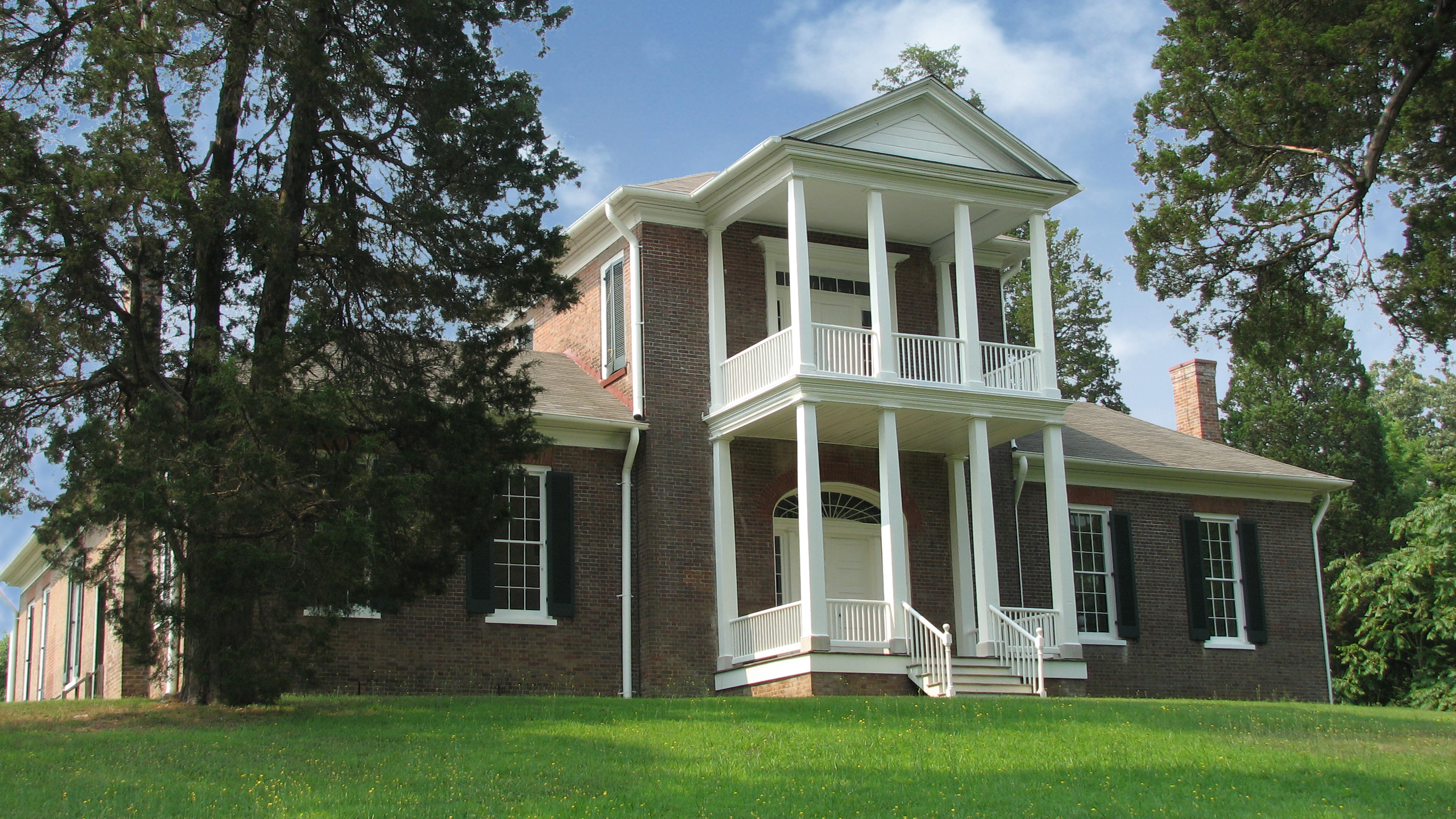 Image Credits: www.northalabama.org
This Belle Mont Mansion is a testament to Palladian architecture spread in America. It has a symmetrical façade, a graceful, projecting portico made of classical columns, and a triangular pediment that creates a sense of harmony and balance. Above the entrance is a large Venetian window that floods light and air into the house.
The house's rusticated basement contrasts with the smooth brickwork of the upper floors. The interior of the house has a central hall with a staircase and a large window that frames the landscape. You will also enjoy the classical craftsmanship and ornamental style of the furnishings inside Belle Mont House.
8. Lyceum Theatre
Architect: Samuel Beazley, Berte Crewe
Year of Construction: 1834
Location: Wellington Street, London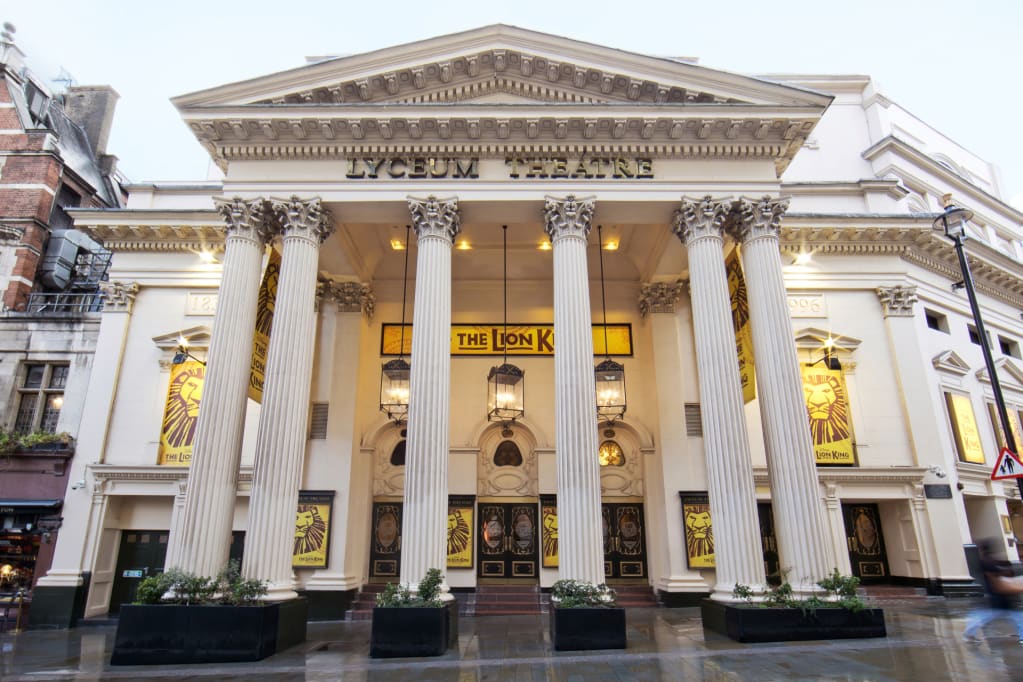 Image credits: www.atgtickets.com
The Lyceum Theatre is an outstanding example of neoclassical style buildings that draw inspiration from Palladian architectural concepts. Designed as an opera house and playhouse, the Lyceum Theatre has a portico with Corinthian columns, triangular pediments, and a large arched window above the portico. Inside the theatre, the Palladian influence in the design shines with features like the proscenium arch in classical detail, gilded accents, classical motifs, and decorative plasterwork adding to the overall elegance and sophistication of the building.
Another notable aspect of the Palladian architectural style in the theatre is its adaptability to host different types of performances, in line with Andrea Palladio's principles of integrating function and form in design.
Conclusion
Palladian architecture is one of the design concepts that traversed centuries and evolved into one of the most admirable concepts in architectural history. It has retained its key elements, majestic prominence, and beauty, as envisaged by Andrea Palladio in the 16th century and adopted by influential architects in the 17th, 18th, and 19th centuries. The existing buildings tell a story of resilience, adaptability, and timelessness.
So, be on the lookout the next time you stroll around town. That elegant and stately building you see might be one of the many surviving Palladian architectural masterpieces.