Prairie-style architecture, also known as the Prairie School, emerged as the first distinctly American architectural style, celebrating the integration of buildings with their natural surroundings. With their open concepts, spacious interiors, and large windows, Prairie-style buildings harmonize with the natural beauty of their surroundings, embodying a modern and distinctly American architectural style.
Inspired by the Arts and Crafts movement, it prioritizes functional and open spaces, departing from the ornate Victorian houses of its time. This architectural approach emerged as a response to the dominance of European revivalist styles and aimed to create a new design language that suited contemporary American living.
Prairie-style homes exhibit a more straightforward and less adorned aesthetic than their Victorian counterparts, emphasizing functionality over excessive decoration. This movement sought to challenge Victorian architecture's intricate and extravagant nature, valuing handmade craftsmanship and rejecting mass-produced industrial products.
Characteristics of Prairie-Style Architecture
1. Horizontal Emphasis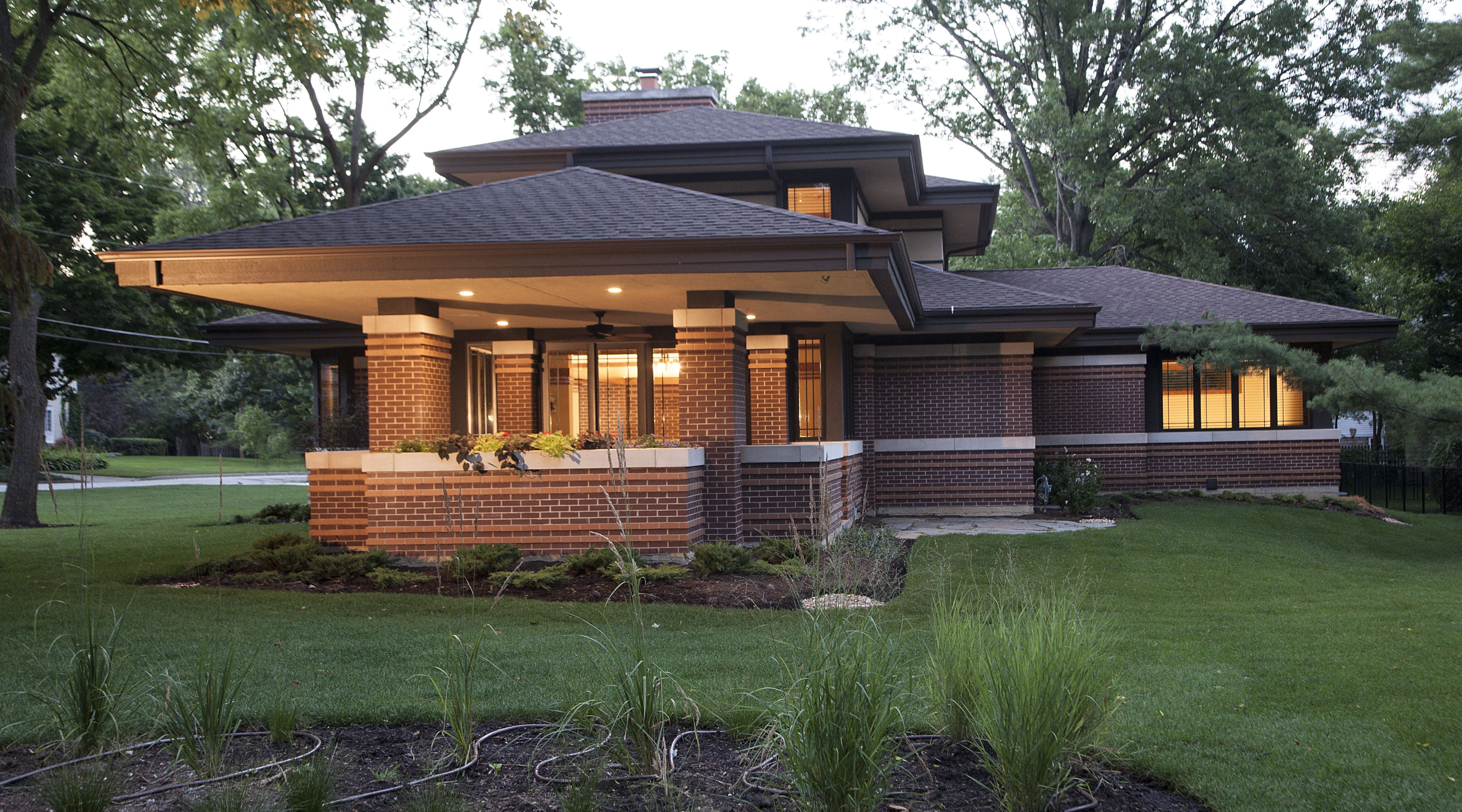 Image Source: deringhall.com
One of the defining features of Prairie-style architecture is its horizontal solid emphasis. Buildings designed in this style typically feature low-pitched roofs with broad overhangs, emphasizing a sense of horizontality that blends into the surrounding landscape. This design approach creates a harmonious connection between the building and the earth, symbolizing a seamless integration of human habitation with nature.
2. Organic Forms and Materials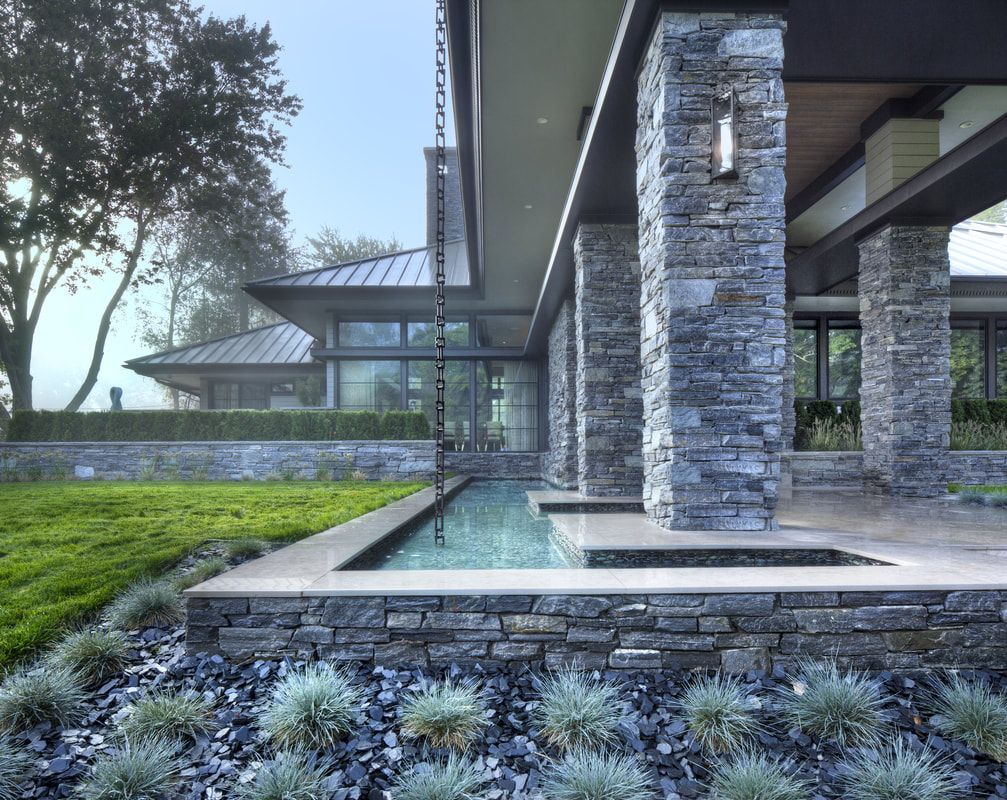 Image Source: vanbrouck.com
Prairie-style architecture emphasizes organic forms and natural materials. Wright believed that architecture should reflect the inherent qualities of its environment. Therefore, he incorporated locally sourced materials, such as stone, wood, and brick, into his designs. These materials blend the building with its surroundings and contribute to its longevity and sustainability.
3. Open Floor Plans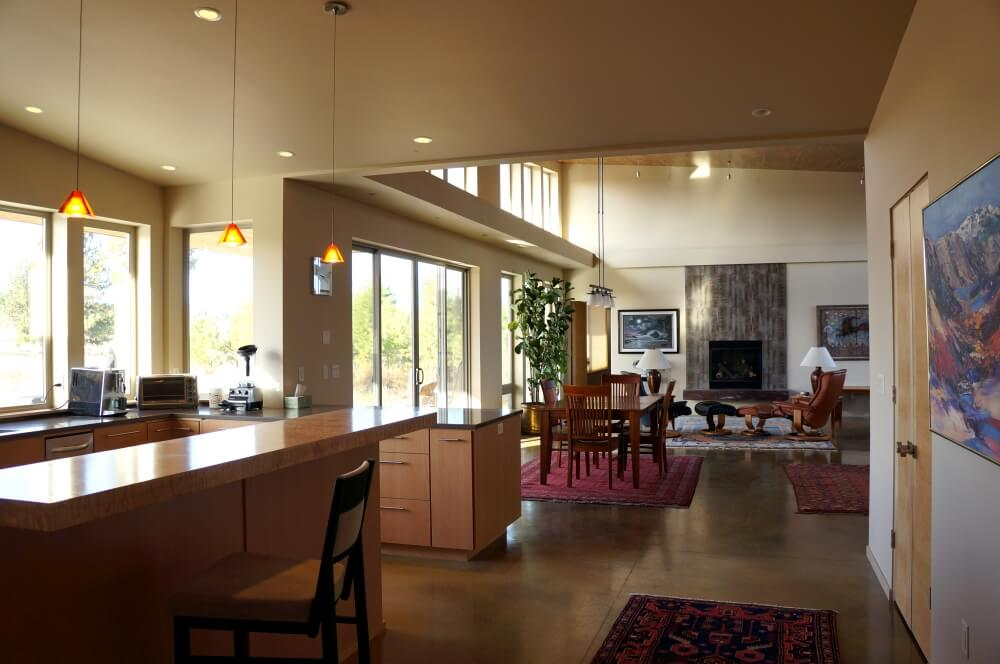 Image Source: homestratosphere.com
Prairie-style architecture revolutionized the concept of interior spaces by introducing open floor plans. Instead of compartmentalized rooms, this style emphasizes flowing, interconnected spaces. The integration of the interior with the exterior is achieved through large windows, often arranged in horizontal bands, which bring ample natural light into the living spaces and offer uninterrupted views of the surrounding landscape.
4. Strong Geometric Forms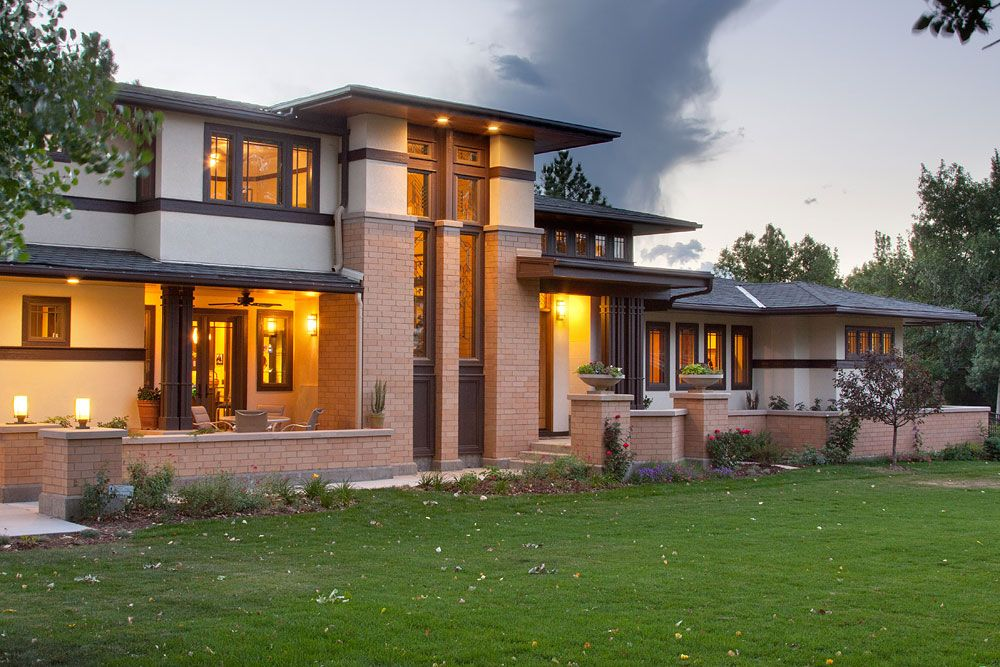 Image Source: kgarch.com
Prairie-style architecture incorporates solid geometric forms, emphasizing horizontal and vertical lines. The horizontal lines reflect the vast expanse of the prairie landscape, while the vertical elements, such as chimney masses and geometric ornamentation, provide a visual counterpoint. These geometric forms create a sense of balance and visual harmony in the overall design.
5. Unity of Design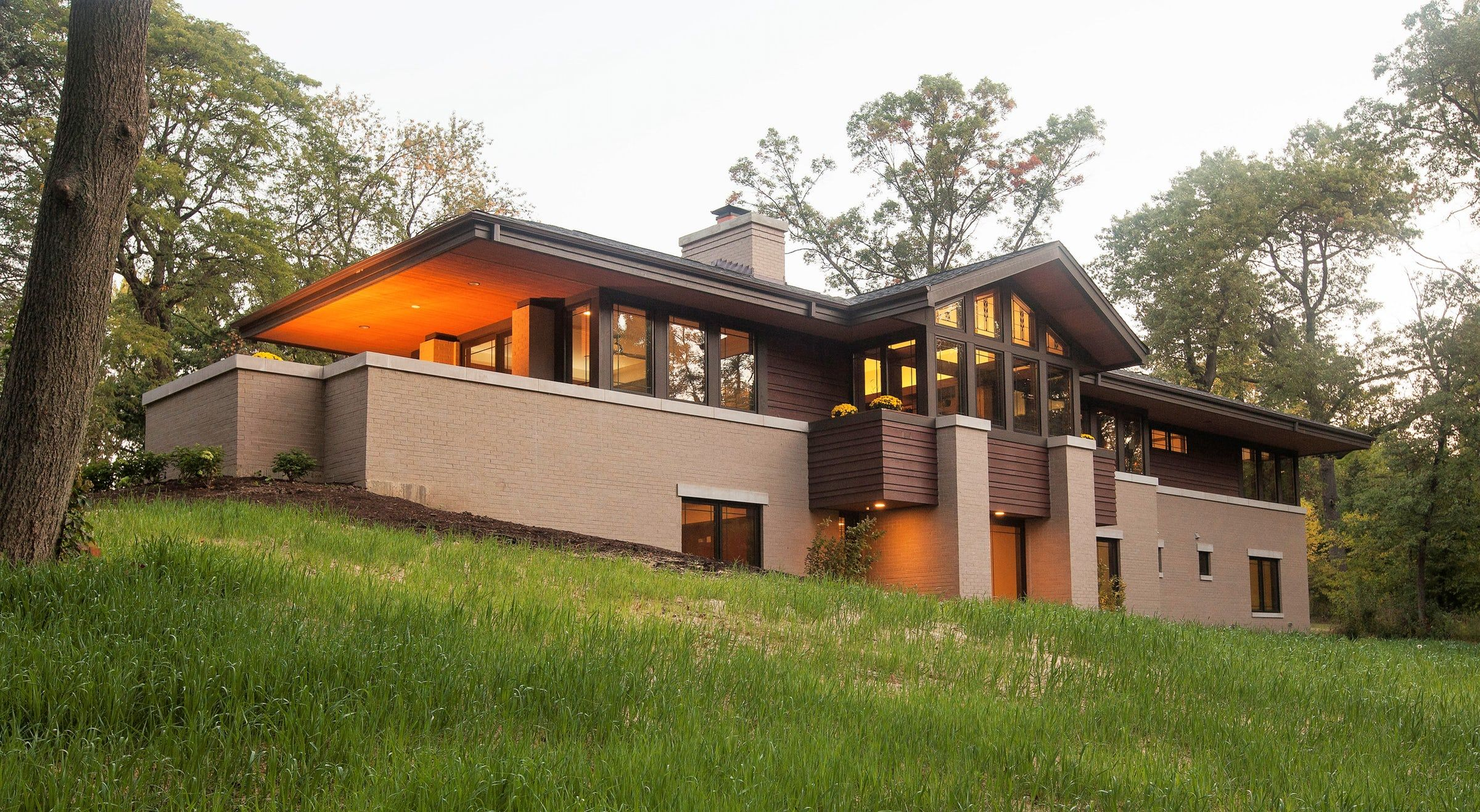 Image Source: houseplannarrowlot.blogspot.com
Prairie-style architecture emphasizes the unity of design, aiming for a holistic integration of all elements. From the building's exterior to interior spaces, furniture, and decorative details, every aspect is carefully considered and harmonized to create a cohesive whole. This attention to detail ensures that the architecture reflects a sense of unity and purpose.
6. Integration of Nature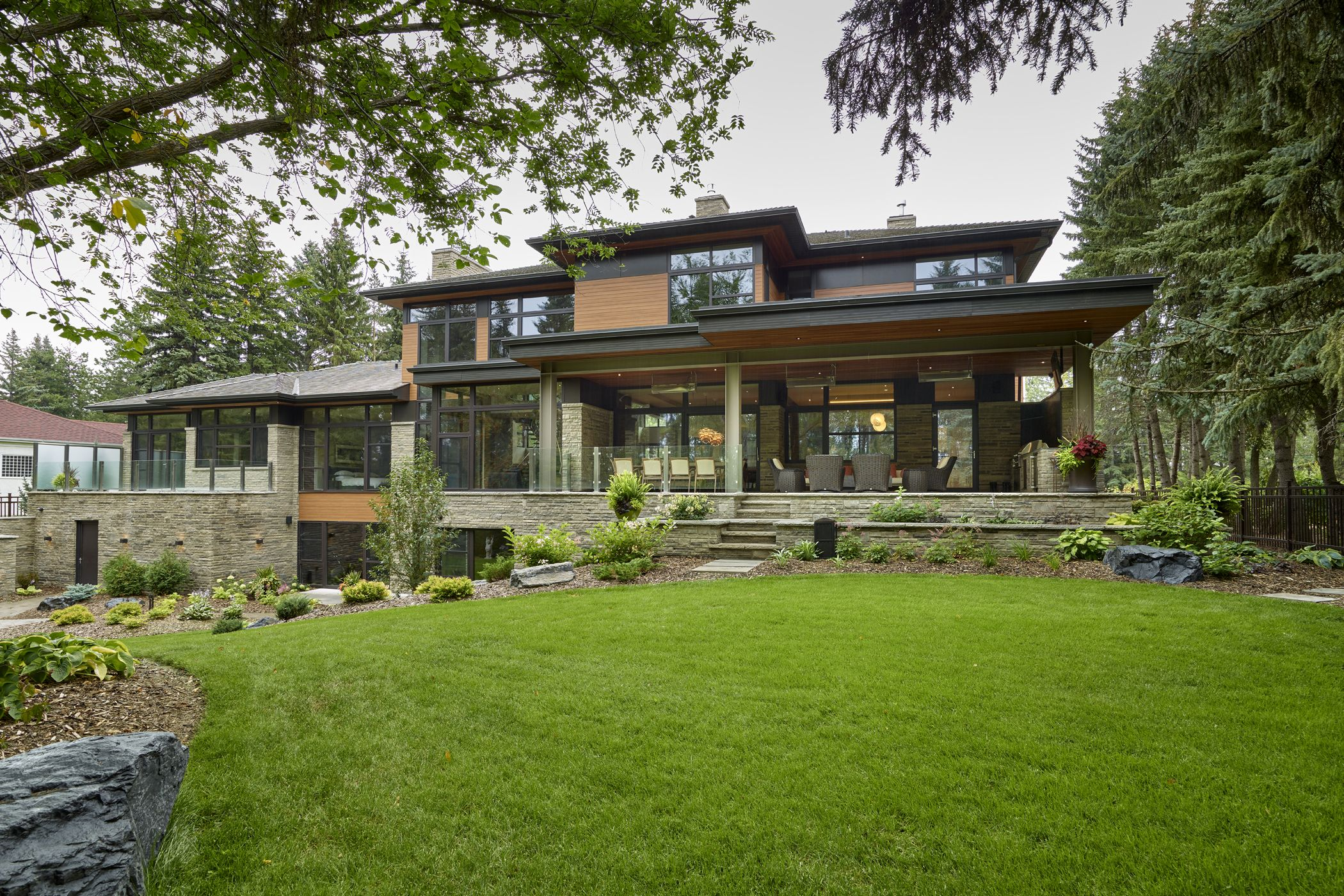 Image Source: davidsmalldesigns.com
Central to Prairie-style architecture integrates nature within the built environment. Wright believed in designing structures that coexist harmoniously with their surroundings, blurring the boundaries between the natural and the built. This is achieved through terraces, gardens, and interior atriums that bring nature into the heart of the building, creating a seamless transition from indoor to outdoor spaces.
Top 10 Best Prairie-Style Architecture Buildings
The Prairie School design is one of the most groundbreaking architectural strategies ever devised. While we greatly appreciate all the structures created in this style, we have a particular affinity for these exceptional exemplars of Prairie House Design. Here are our top 10 picks, showcasing the finest examples of this unique architectural approach.
1. Frederick Carter House
Year of Construction – 1910
Architect – Walter Burley Griffin
Location – 1024 Judson Avenue in Evanston, Illinois
The historic residence of Frederick B. Carter Junior stands as a quintessential representation of Prairie House Design. Meticulously redesigned by the esteemed Walter Burley Griffin, the Frederick Carter House serves as an early testament to Griffin's attempt to follow in the footsteps of his mentor, Frank Lloyd Wright.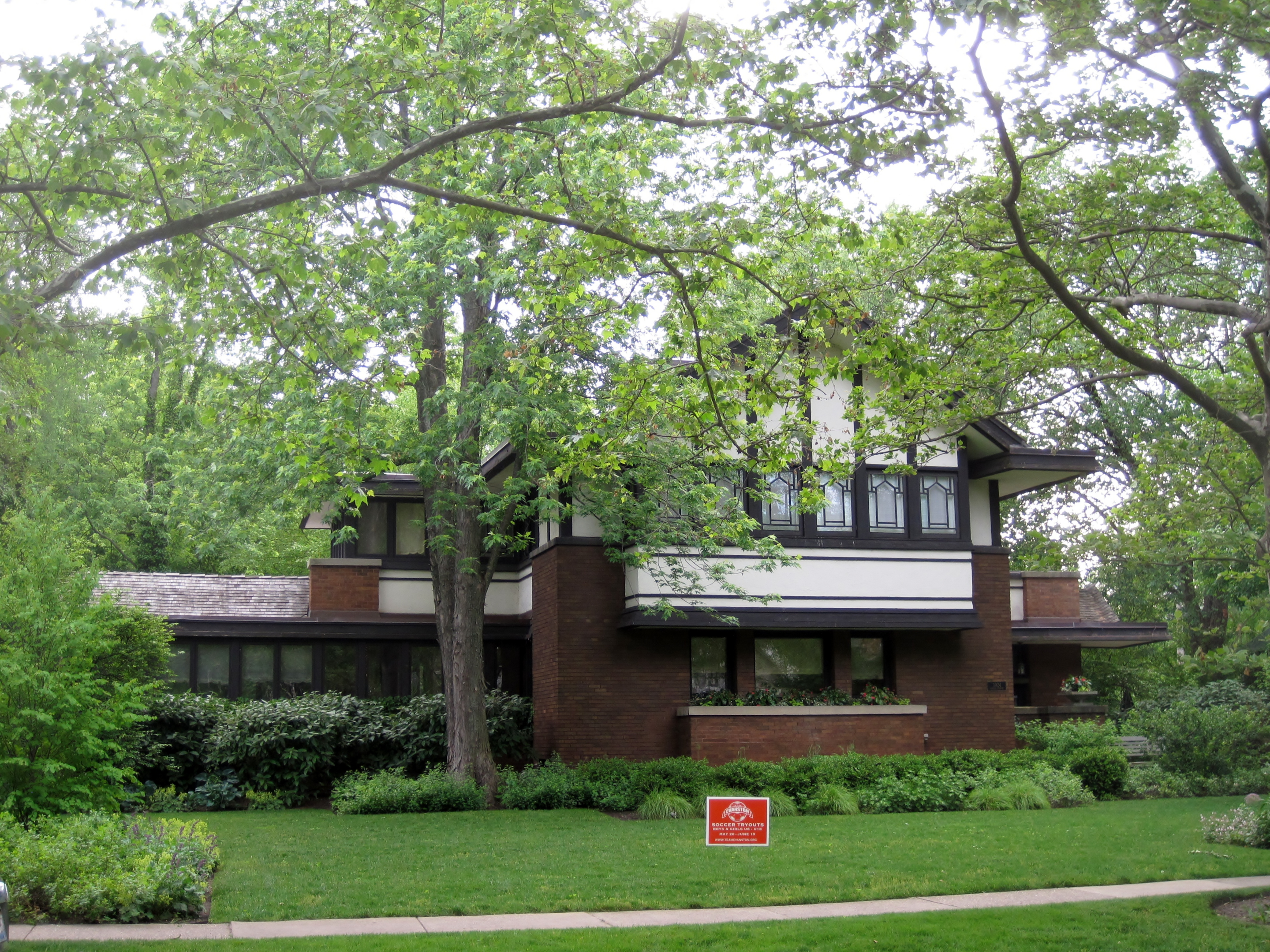 Image Source: commons.wikimedia.org
Crafted from a blend of brick and stucco and adorned with wooden half-timbering and trim, the exterior showcases the distinctive elements of this architectural style. The house boasts horizontal lines, receding massing, a prominent gable roof visible from the facade, and iconic overhanging eaves—hallmarks of a classic Prairie house design.
The architect sought to establish his unique design approach, incorporating elements such as a cross-shaped layout and expansive gables. As a testament to its historical significance and architectural merit, the residence was rightfully recognized and added to the National Register of Historic Places on July 30, 1974.
2. The Darwin Martin House
Year of Construction – 1903-1905
Architect – Frank Lloyd Wright
Location – Buffalo, New York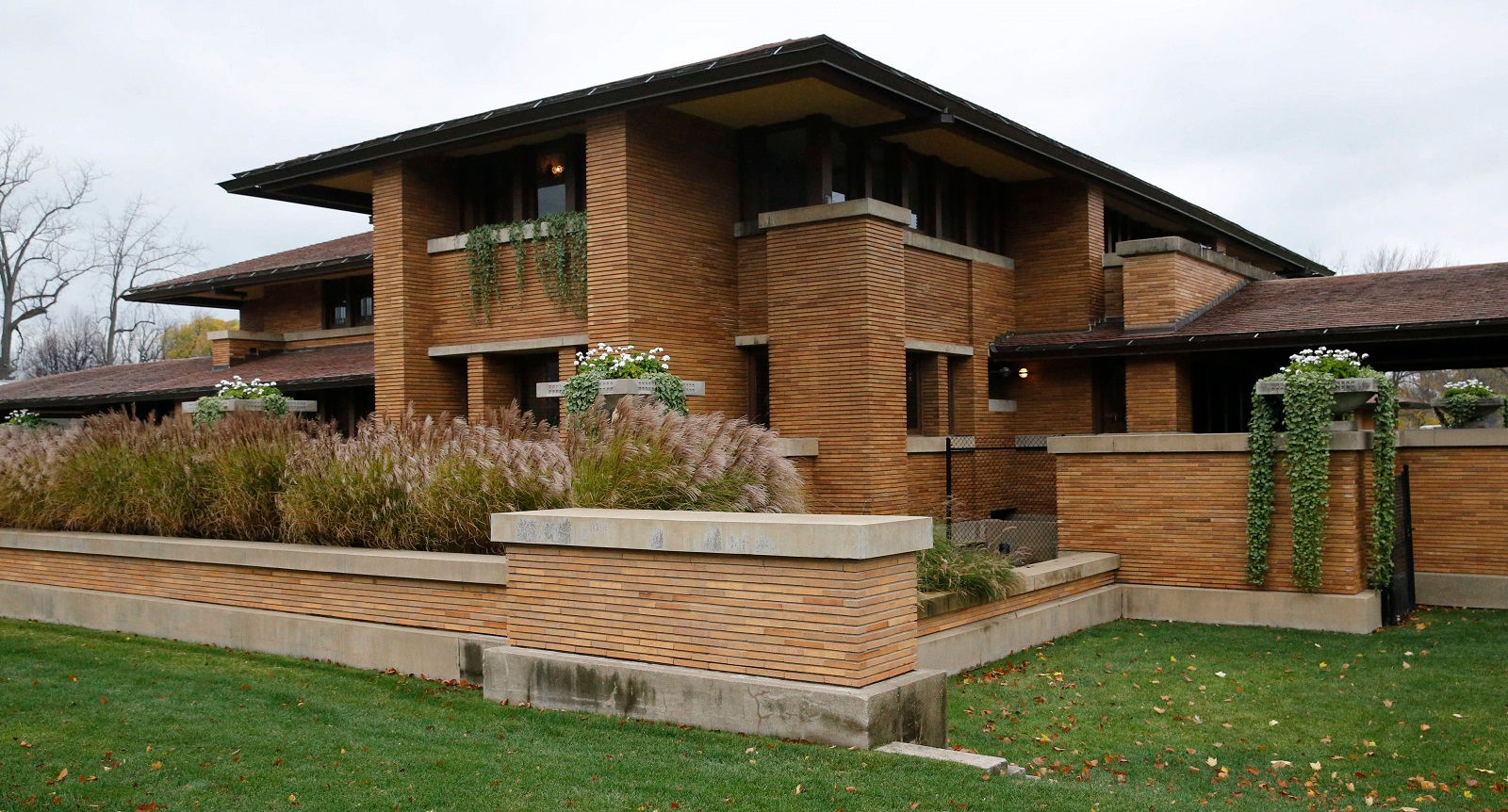 Image Source: buffalonews.com
The remarkable residence holds an esteemed position in the father of Prairie house design portfolio, Frank Lloyd Wright. Considered one of the most significant projects of his illustrious career. Affectionately known as The Darwin Martin House, this dwelling held a special place in Wright's heart, often referred to as his "opus" and hailed as a "well-nigh perfect composition."
Among its distinctive features are the 394 art glass windows, each thoughtfully crafted by Wright. Comprising various interconnected structures, it includes the Martin house, the Barton house, the carriage house, the gardener's cottage, the conservatory, and the pergola. The house boasts a gable roof accentuated by horizontal lines and showcases an extensive use of thin Roman bricks, contributing to its linear aesthetics.
3. Ward Willits House
Year of Construction – 1901
Architect – Frank Lloyd Wright
Location – Highland Park, Illinois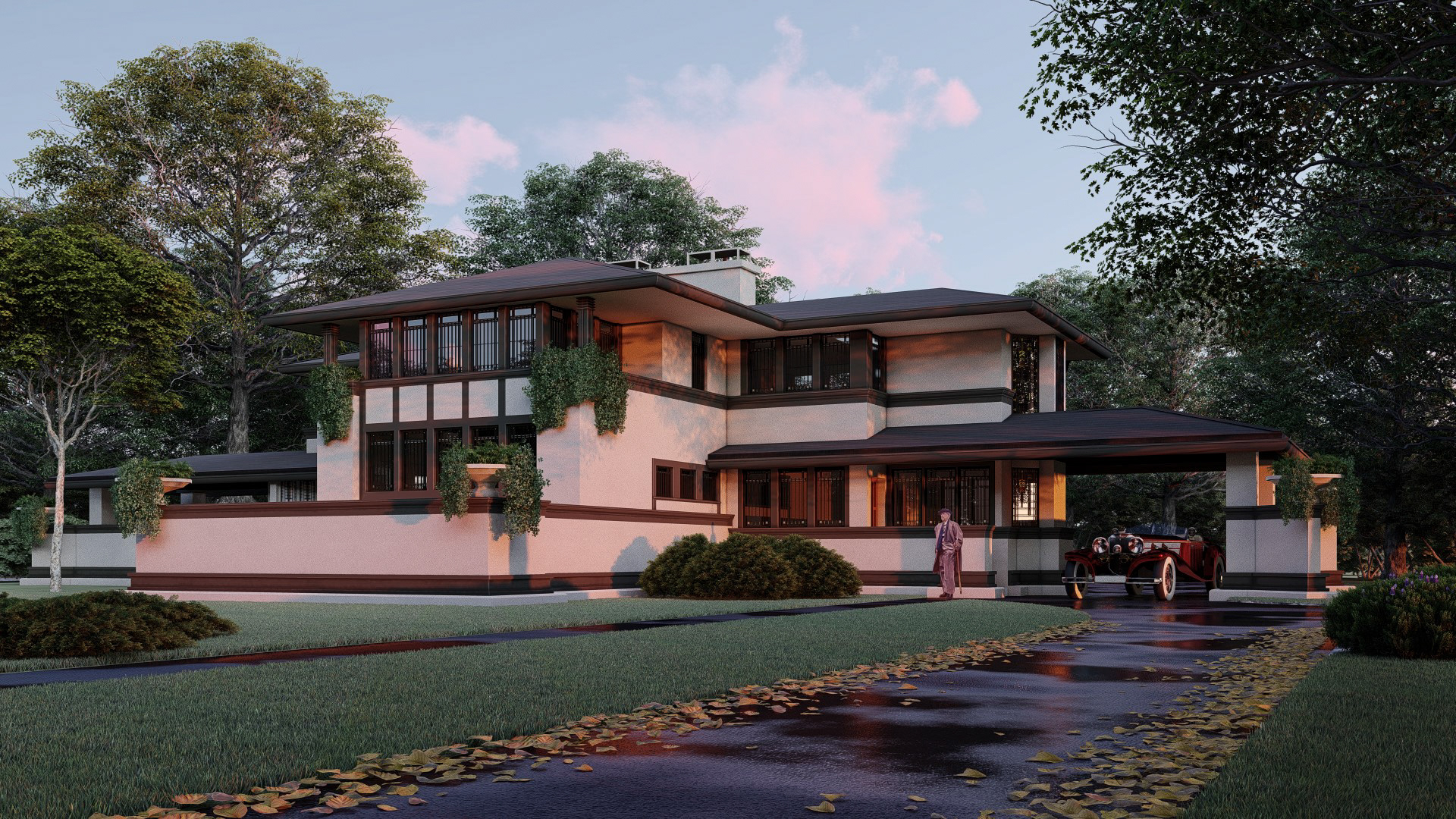 Image Source: behance.net
The Ward Willits House, an early creation by Frank Lloyd Wright, exemplifies the Prairie School architecture. Its symmetrical facade harmoniously blends with the natural surroundings. With a central fireplace as its focal point, the house extends into four wings. True to Wright's style, the residence showcases custom-designed stained glass windows and wooden screens, providing privacy and defining spaces.
Wright's holistic approach is evident in the furniture he designed specifically for his architectural projects, including the Ward Willits House. This residence marks his incorporation of wooden frames and stucco finishes. Notable features include a low roof, horizontal lines, an overhanging frame, and a cruciform plan structure. The house's layout reflects its purpose as an entertainment-style home.
4. Dana Thomas House
Year of Construction – 1902-1904
Architect – Frank Lloyd Wright
Location – East Lawrence Avenue in Springfield, Illinois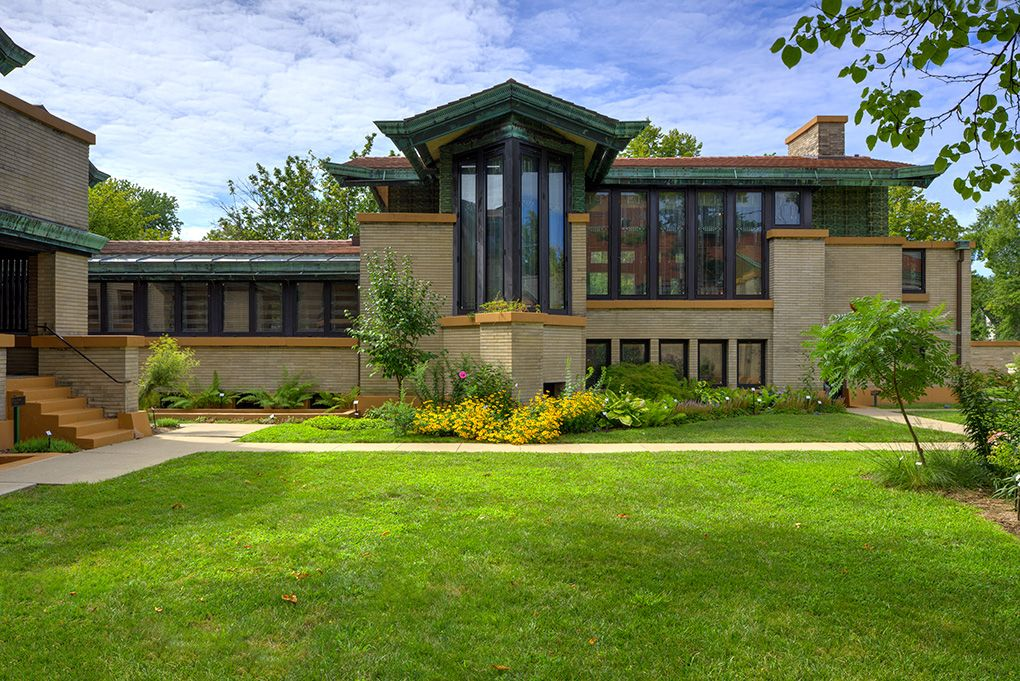 Image Source: dana-thomas.org
Frank Lloyd Wright's Dana-Thomas House is an outstanding example of organic architecture, set amidst a flat landscape. Inspired by Japanese aesthetics, Wright strategically placed windows to expand space and offer captivating views of the surrounding landscape.
The house boasts 450 art glass windows, skylights, door panels, sconces, and 100 pieces of bespoke white oak furniture and light fixtures, all designed by Wright himself. This historic site is preserved under the Illinois Historic Preservation Agency (I.H.P.A.) following a successful restoration from 1987 to 1990. Critics applaud the seamless combination of the patron's flamboyant nature and the architect's vision, resulting in a remarkable home that establishes modern American living.
5. The Meyer May House
Year of Construction – 1908-1909
Architect – Frank Lloyd Wright
Location – 450 Madison Avenue SE, Grand Rapids, Michigan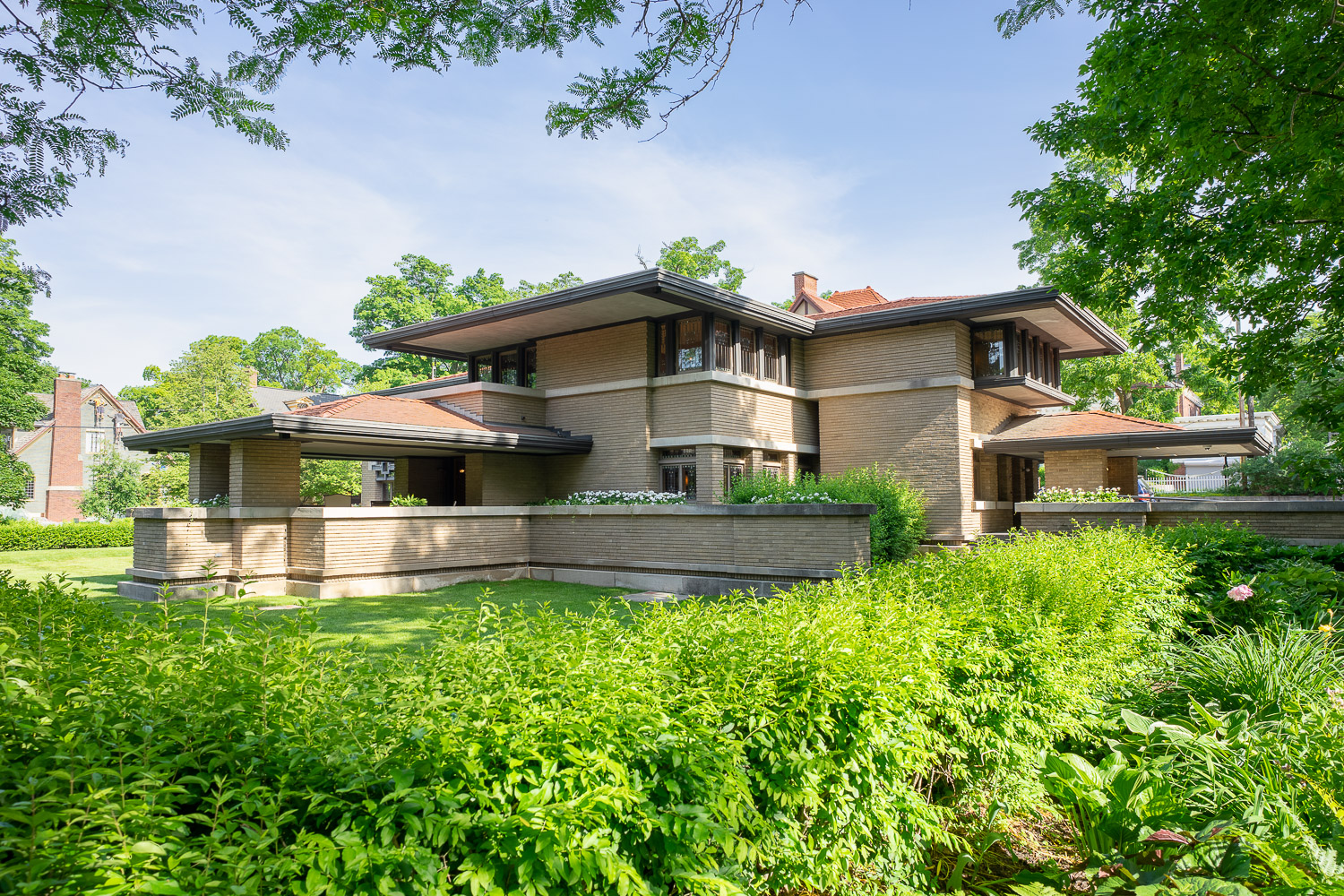 Image Sorce:  jeffbondono.com
A Prairie house designed by Frank Lloyd Wright between 1908 and 1909, this mansion in Michigan is hailed as the state's Prairie masterpiece. Commissioned by the president of May's clothing store and his spouse, the two-story house showcases a T-plan layout. Its facade exhibits thin Roman bricks, a hipped roof, expansive eaves, and skylights—embodying Prairie house design's essence. The architect's meticulous attention to detail is evident in the carefully crafted art glass windows.
The home prioritizes southern sunlight, with fenestrations adorned with lead casings and vibrant colors. Glass-accented doors open to terraces and gardens integrated into the design. In 1922, additional bedrooms and servant quarters were incorporated. Recognized as a Michigan State Historic Site in 1986, the Meyer May House is also part of the Heritage Hill Historic District. The house is also known as Michigan's prairie-style architectural masterpiece.
6. Harold. C. Bradley House
Year of Construction – 1909
Architect – Louis Sullivan and George Grant Elmsile
Location – Madison Wisconsin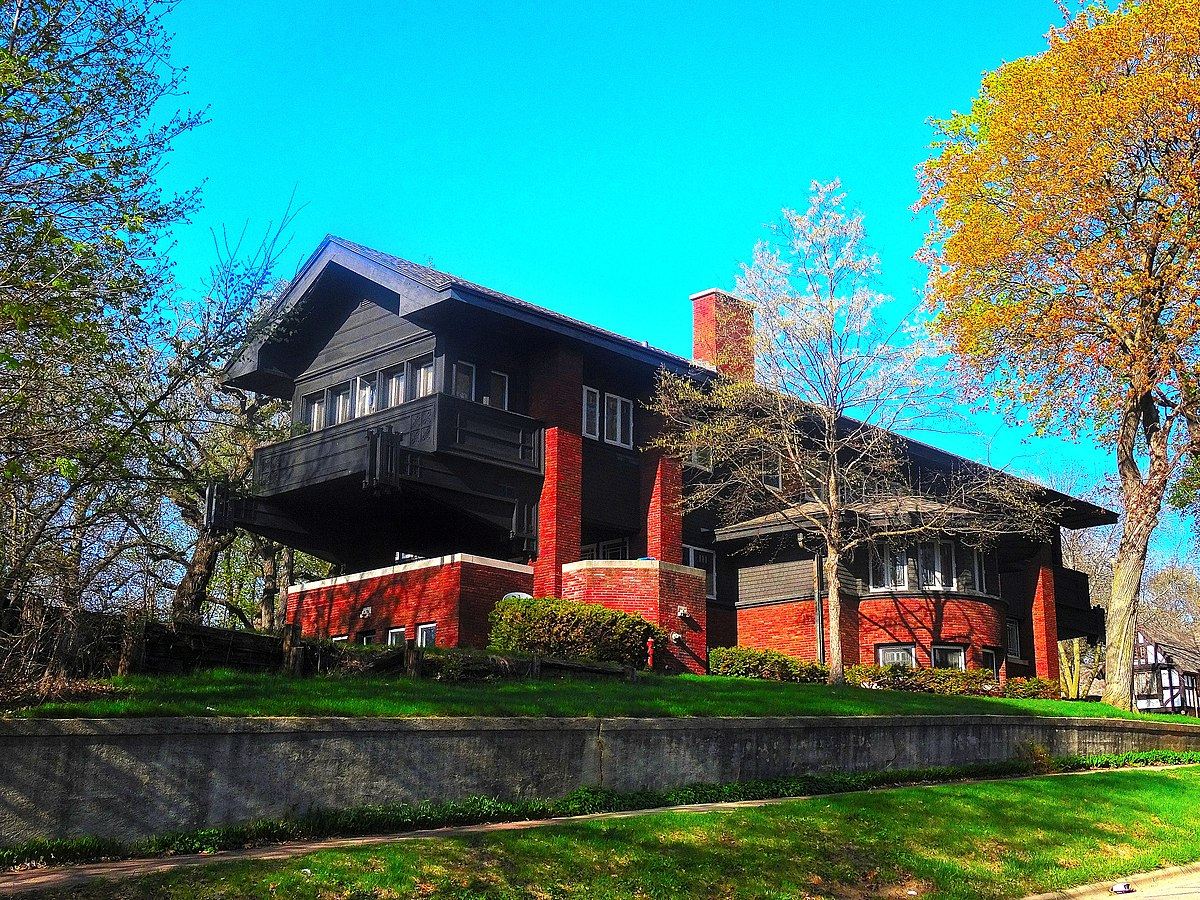 Image Source: commons.wikimedia.org
Designed by architects Louis H. Sullivan and George Grant Elmslie, the Mrs. Josephine Crane Bradley Residence, also known as the Harold C. Bradley House, is a notable example of Prairie house design. It showcases gabled roofs, horizontal lines, and the distinctive use of thin Roman bricks. Initially featuring a cruciform layout, the house was modified with cantilevered sleeping porches on the second floor, with input from Louis Sullivan. Recognized for its architectural significance, the Harold C. Bradley House was listed on the National Register of Historic Places in 1973 & designated a National Historic Landmark in 1976.
7. Pleasant Home
Year of Construction – 1897
Architect – George.W. Maher
Location – Oak Park, Illinois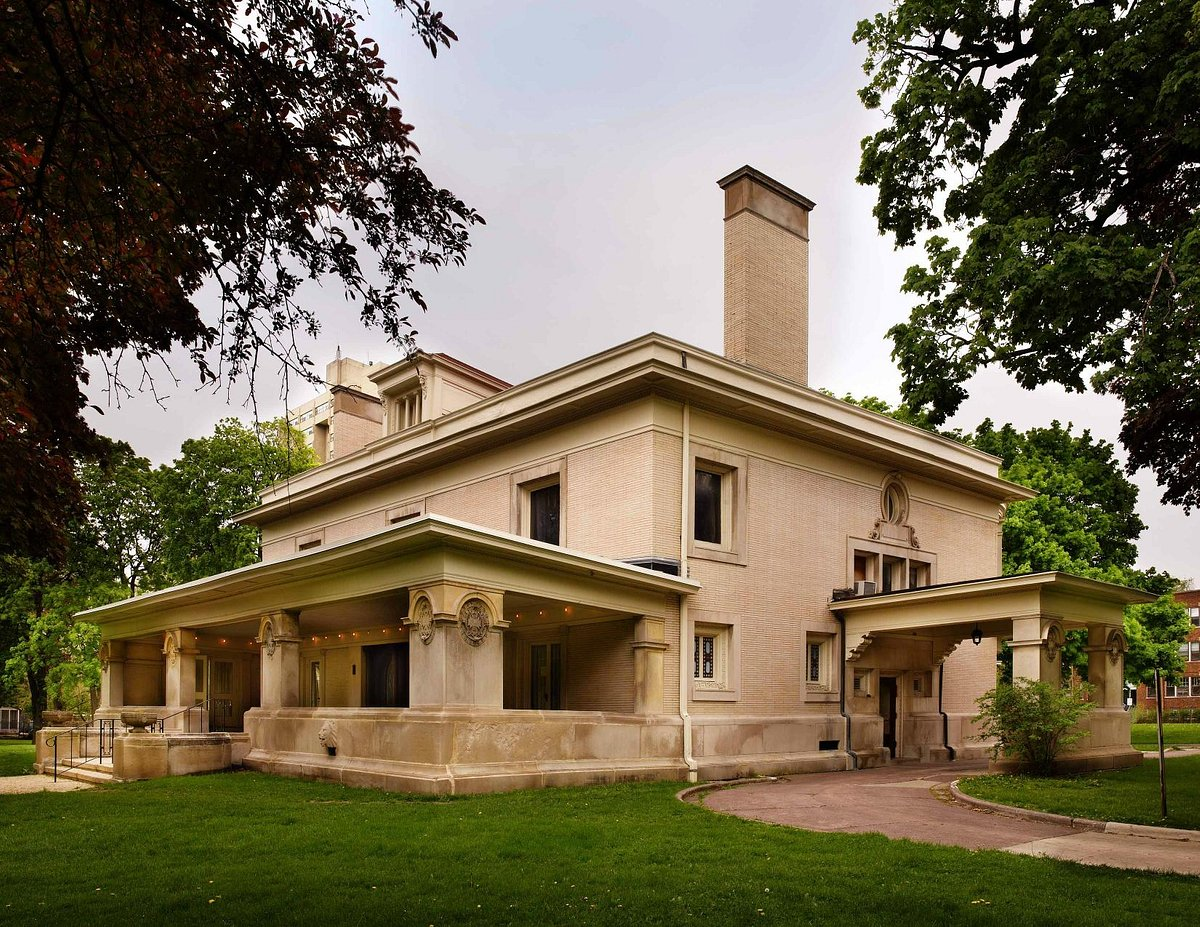 Image Source: tripadvisor.com
Embracing the name of John Farson House, the ethereal beauty of Pleasant Home emerges as an exquisite embodiment of Prairie house design. Nestled within a once thriving complex, where whispers of enchantment still lingered, it shared space with a Greenhouse and a coach house that sheltered majestic horse carriages. Alas, the hands of time were unkind, and the coach house and greenhouse, left untended, succumbed to the relentless grasp of neglect.
Behold the exterior of this architectural gem, adorned with wooden clapboards that whisper tales of strength and resilience. Delicate fascia and soffit dance gracefully along the edges, weaving a tapestry of exquisite craftsmanship. Tall windows stand sentinel, capturing the celestial radiance that bathes the interior with an enchanting glow. Above, gabbled roofs reach towards the heavens, mirroring the dreams of those who once walked these hallowed halls. The Pleasant Home, a mesmerizing symphony of design and history, beckons all who appreciate the timeless allure of the Prairie House domestic architecture.
8. Frank Thomas House
Year of Construction – 1901
Architect – Frank Lloyd Wright
Location – Oak Park, Illinois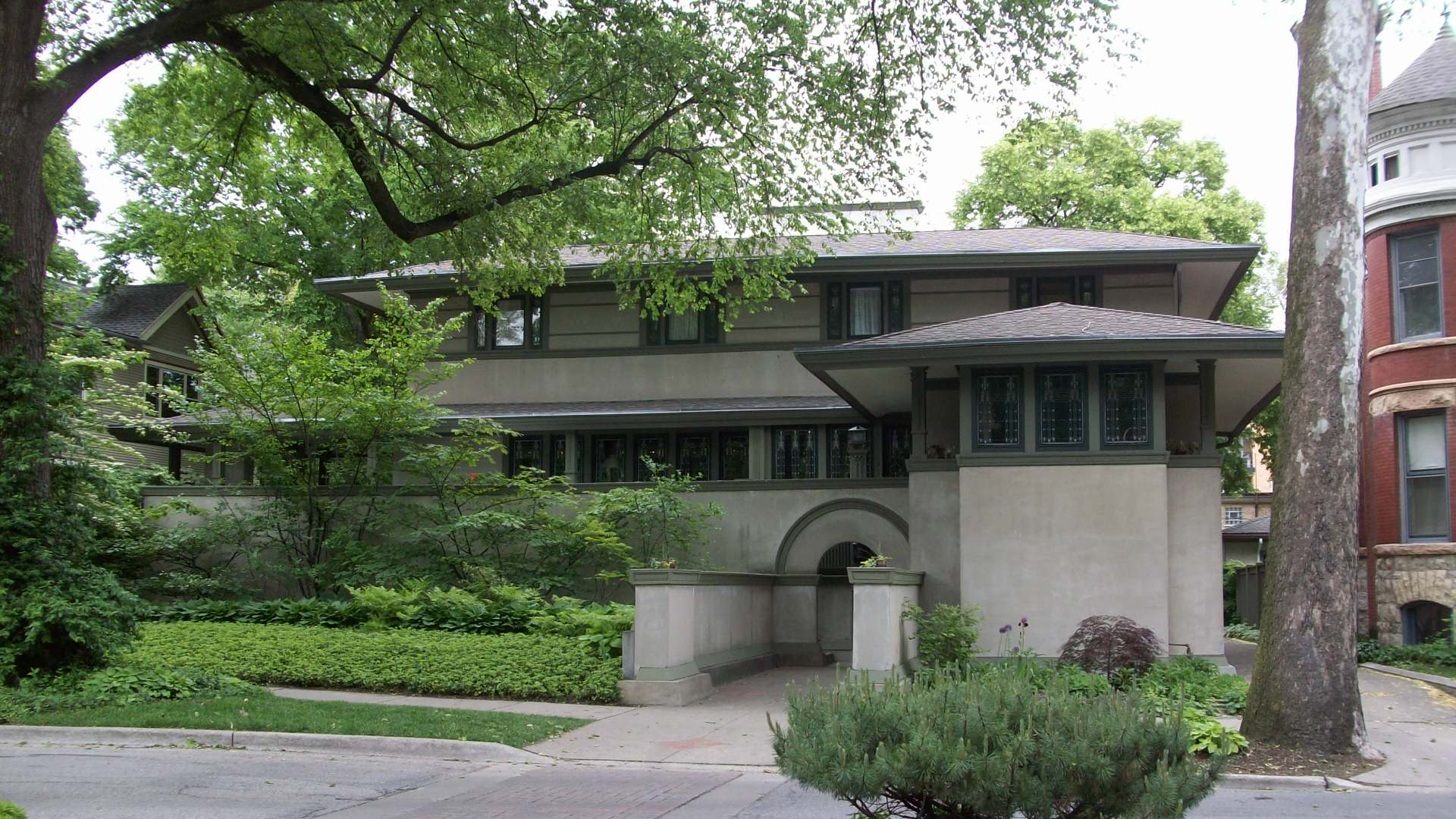 Image Source: waymarking.com
Nestled within the American landscape, the Frank Thomas House stands as a cornerstone of American architecture. As the inaugural Prairie house envisioned by Frank Lloyd Wright, its elevated rooms eschew basements while embodying the essence of the natural environment. Horizontal bands stretch across its form, echoing the flat lines that define Prairie house design.
Custom-designed furniture adorns its interior, while an L-shaped plan, guided by a central axis, leads gracefully to the entrance. The living room unveils a covered porch, inviting the harmony of the outdoors within. A breakfast room, embellished with a bay window-style seating area and expansive windows, basks in the embrace of natural sunlight.
Within the Frank Thomas House, the spirit of the American landscape intertwines with visionary design, forming an enduring testament to the power of harmonizing with nature.
9. Emil Bach House
Year of Construction – 1915
Architect – Frank Lloyd Wright
Location – Rogers Park Neighborhood, Chicago Area, Illinois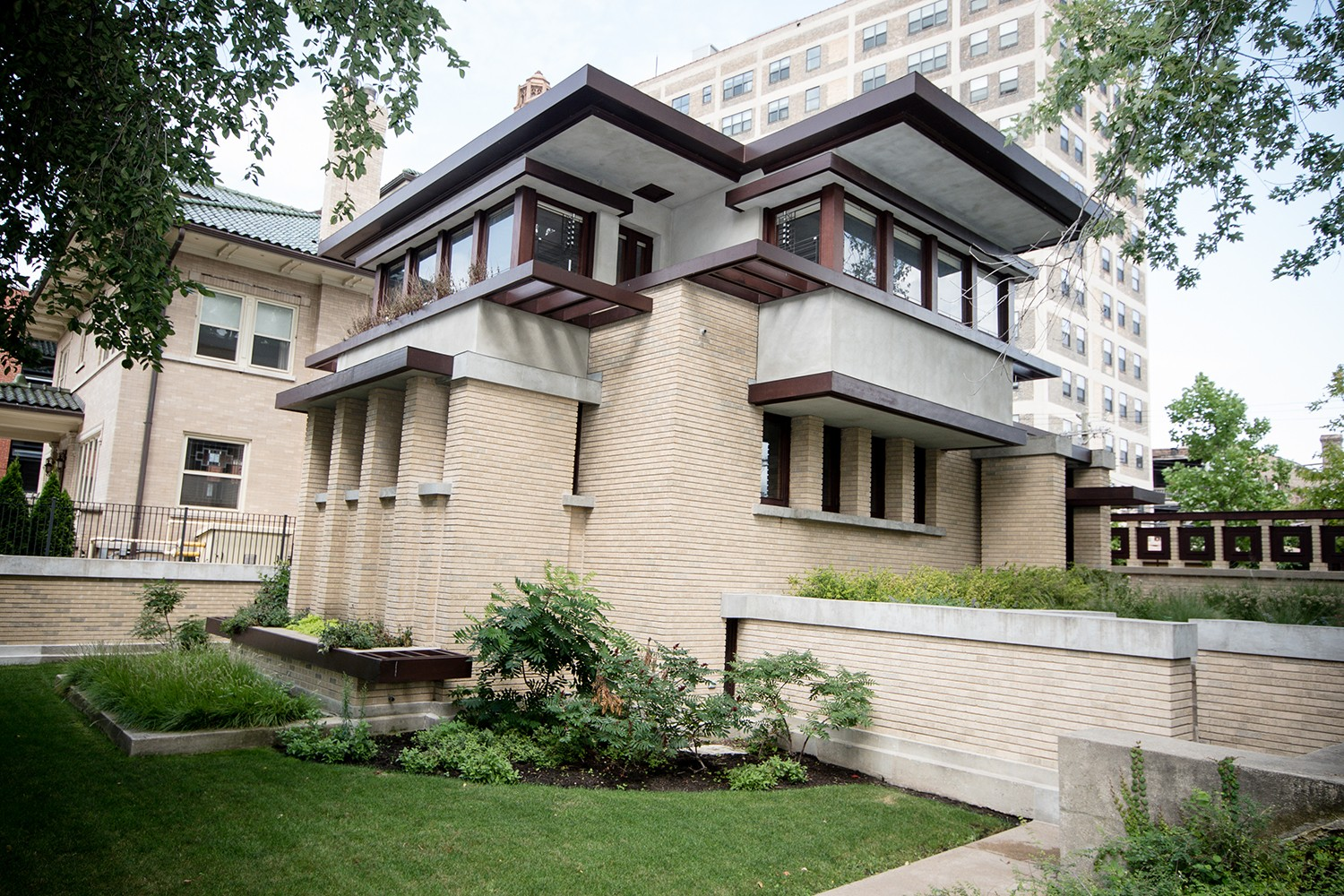 Image Source: openhousechicago.org
Located in the Chicago area, the Emil Bach House is another timeless creation by Frank Lloyd Wright, showcasing his affinity for Japanese architecture. This prairie-style home captures Wright's vision with geometric cubic masses and overhanging horizontal slab roofs, emblematic of his twentieth-century designs. With an open floor plan, it serves as a two-story residence for a nuclear family, including a basement.
The privately owned house once boasted a spacious rear porch and sun deck, offering captivating views of Lake Michigan from its East facade. Wright's hallmark of custom-made furniture still graces the interior. As one of his later works before embracing a more expressive and Japanese-inspired aesthetic, the prairie-style Bach House was designated a Chicago Landmark on September 28, 1977, and listed on the United States National Register of Historic Places on January 23, 1979, etching its place in American architectural history.
10. The Robie House
Year of Construction -1909
Architect – Frank Lloyd Wright
Location – University of Chicago, South Side Neighborhood, Hyde Park in Chicago Area, Illinois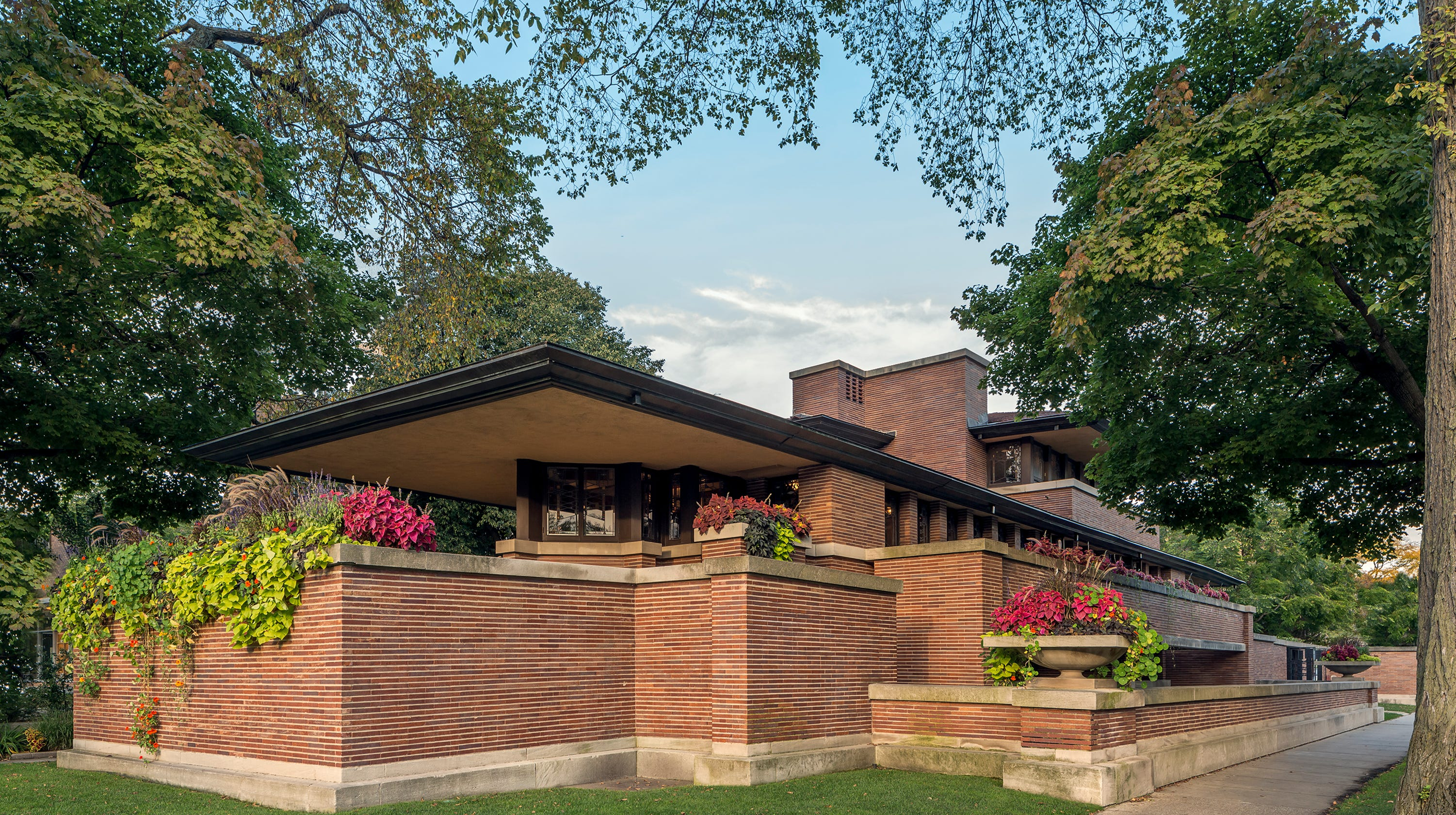 Image Source: jsonline.com
The Robie House, also known as the Frederick C. Robie House, is a quintessential example of Frank Lloyd Wright's visionary design. Created in 1910, this iconic structure showcases Wright's mastery in crafting architectural marvels. Conceived initially as a single-family residence, it has become synonymous with Prairie school design, an emblematic American architectural style. Every detail of the prairie-style house, from its interiors to fenestrations, lighting, carpets, and textiles, was meticulously envisioned by Wright.
Embracing the principles of Prairie design, the Robie House features projecting overhanging roofs, interconnected lines of art glass windowpanes, and the use of thin Roman bricks to emphasize linearity and horizontality. Its significance was further acknowledged when it was inscribed on the list of World Heritage as part of "The 20th-Century Architecture of Frank Lloyd Wright" in July 2019.
Recognized as a National Historic Landmark since November 27, 1963, and listed on the National Register of Historic Places since October 15, 1966, the Robie House stands as a testament to Wright's ability to create architectural wonders with his distinct style, characterized by flat planes and innovative design concepts.
Conclusion
In conclusion, Prairie-style architecture buildings are timeless masterpieces that embody American design's spirit. Designed by visionaries like Frank Lloyd Wright, these structures showcase the harmonious integration of nature and the built environment. With their horizontal lines, overhanging roofs, art glass windows, and emphasis on open floor plans, Prairie-style buildings continue to captivate and inspire, leaving an indelible mark on the landscape of American architecture.