A home renovation is an exciting prospect, but it can also be an intimidating one. If you're considering remodeling your home, you're not alone. According to Home Goliath, from 2013 to 2018, remodeling in the U.S. industry has grown by 6.4%, and reached revenue of $99 billion in 2018. However, even with the rapid growth of remodeling projects, there are plenty of stresses that go into this endeavor.
Whether you wish to add a new touch of color to your house or finally want the chance to improve your home security system, you must approach the renovation of your place by being adequately prepared. Luckily for you, you are just reading this ultimate, essential guide!
Tips for Renovating Your House
1) Prepare Your Schedule
If you are excited and cannot wait to renovate your house; you may wonder where to start. Many believe this process should start from the more manageable tasks, while others advocate that you should get rid of the most annoying stuff first.
The truth is that you should always start by preparing a schedule for your work. This is essential to renovate your house and staying aware of the many tasks you must complete. In your plan, you must outline every job that needs to be done, following the right order of priorities.
Image source: canva.com
You should also include the expected time frame to complete each task and how much it will cost. Based on the current conditions of your house, your schedule will vary. However, if you are still trying to figure out how to proceed, you should seek the advice of a designer or professional builder. Keep in mind the renovation of a whole house can take several weeks.
It would help if you also outsourced some of the DIY work to some family and friends. It would be helpful if you also tried to assign everyone their work and a time frame to complete it. This ensures everyone finishes their work on time.
2) Assess The State Of Your House
Before you start working on your renovation project, you must assess the correct status of your place in detail. In other words, this is the perfect time to check if your house needs any additional work and to fix all those structural problems you have always delayed.
It may be a good idea to hire a chartered surveyor. This professional can carry out a building report highlighting any areas of concern and potential repairs your house may need. This includes drainage problems, dampness, and even infestation. A house assessment can easily ensure accuracy and help you to avoid surprise costs along the way.
3) Consider Renovation Insurance
If you decide to carry out your renovation work, you will automatically become responsible for the site. At this point, it is essential to have adequate insurance from a reputable insurance company to cover the whole project and protect your home if it's damaged or destroyed in the process.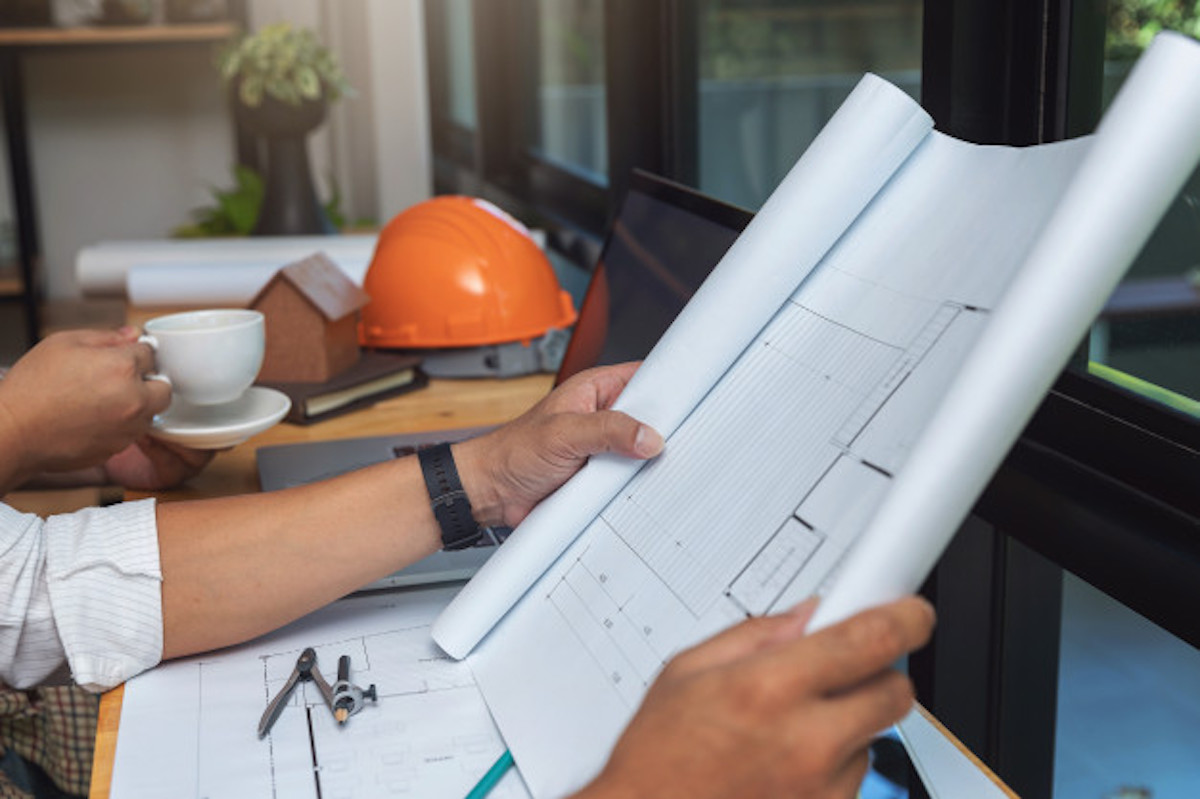 Image source: reshield.com
In many cases, you will not be able to take out a mortgage to fund your project if you have no proof of insurance that can cover you in any unpleasant situation, such as flooding, fire, or theft. However, if you hire a professional to assess your house and manage the renovation works, the insurance will most likely be included in your final invoice.
4) Check If You Need To Apply For Permission
Depending on your country's regulations and the type of work you wish to do, you may need a permit before starting your house renovation. Francis Home experts add that this authorization will allow you to carry out your planning and building.
Image source: pavelbuyshouses.com
Planning permission is always mandatory if your house is on a separate list or in a conversation or natural area. You must apply for this consent to ensure your schedule and even completely ban your plan.
5) Do I Need An Architect?
Homeowners tend to fear architects since this professional figure is often associated with paying a high bill. However, as a general rule, you will not need an architect to carry out your renovation plan, but it depends on the structural conditions of your place.
Image source: masterclass.com
Besides, if you plan to add any extensions to your house, seeking the advice of an architect may be mandatory. In the remodeling industry, hiring an expert will make your life easier. He can produce a perfect design plan that will make you see from the beginning how your house is going to be. Furthermore, you will be able to plan anything to detail, including the sources of natural light, the windows layout configurations, and the integration of a smart home system.
When hiring one of these experts, you must choose a relevant professional that could be an architect, an architectural designer, a house designer, or a structural engineer. Although this will make the cost of your renovation project considerably higher, it will also give you the assurance of having a proper expert working on your house and making everything look perfect.
This is also the most appropriate decision for those who have never carried out renovation work and do not know how to start and how to proceed. In other words, this is an investment that you should consider.
6) Borrow Tools
Borrowing tools for the renovation is a good idea. Borrowing or renting tools will be one of the most accurate ways to cut the cost of renovation. Furthermore, you can only do so many renovations with those power tools. Therefore, costly home improvement will be more manageable given the right tools.
Image source: comoxvalleyrecord.com
However, you don't have to buy new power tools since they are very expensive. Furthermore, if you hire a general contractor, you won't have to worry about tools.
Top Ideas for Renovating Your House
The best renovation project requires fewer changes than a remodeling project. With a renovation, it boils down to what you can do in your space to make it look beautiful. It mostly consists of DIY options rather than major remodels. The design mistakes that previous homeowners have made will be evident with major renovations. Here are some suggestions to get you started on your home remodeling process:
a) Change the Paint in Your House
Buffing out the old paint color and selecting new and lighter colors is a good start. I recommend that the renovation process start small and then move to bigger renovations. Doors are the first thing people see when they enter your house. Therefore, a refreshing coat of paint can change your whole house.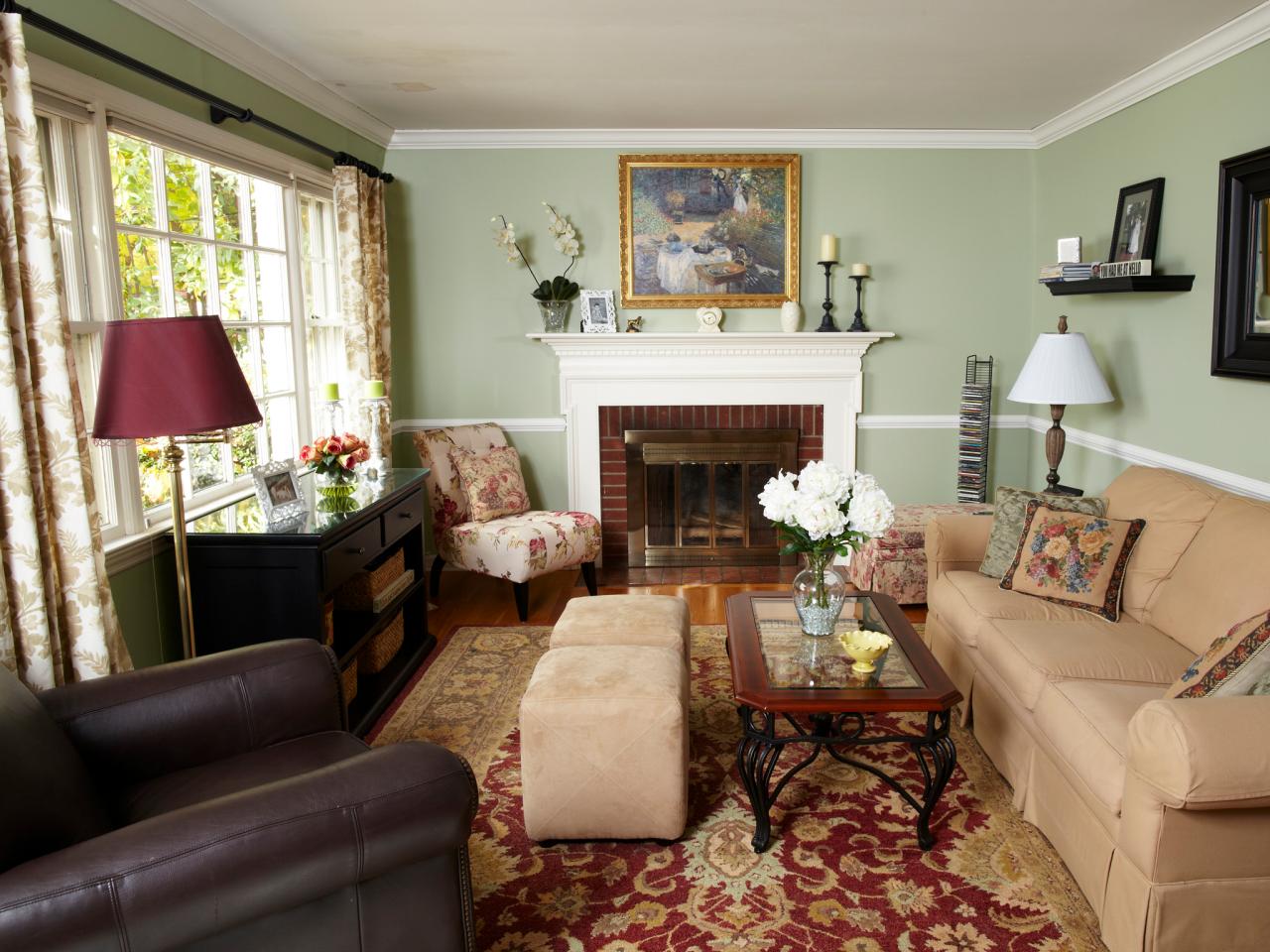 Image source: hgtv.com
A possible way to make your space pop is to use a lighter shade of the same color on your walls, doors, and trim in the entire home. However, too much of the same shade can overpower a space. Therefore, you can go with contrasting colors or shades of the same color to add a pop of vibrance.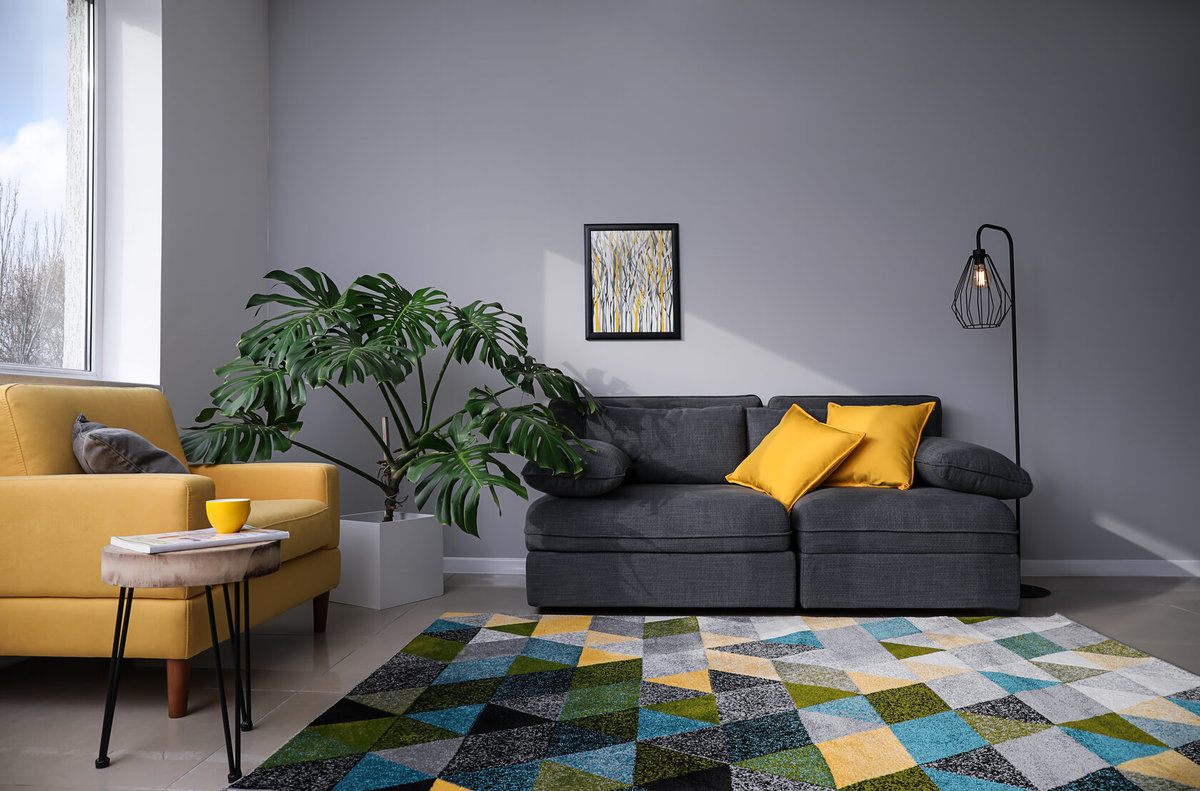 Image source: fixr.com
While changing the interior and exterior paint, you can always use a neutral palette. However, if you don't want the safe options, you can always mix up the colors. White is a great neutral, giving the illusion of a larger space. Therefore a fresh coat of paint is the best bet for a quick renovation. Don't forget your front door.
2) Kitchen and Storage
You will never go wrong when adding storage space to the kitchen. Keep in mind that there is always a need for storage space. Without completing a complete remodel, you can easily create more storage in your kitchen and save money. With kitchen renovations, you will get more usable space and home improvement.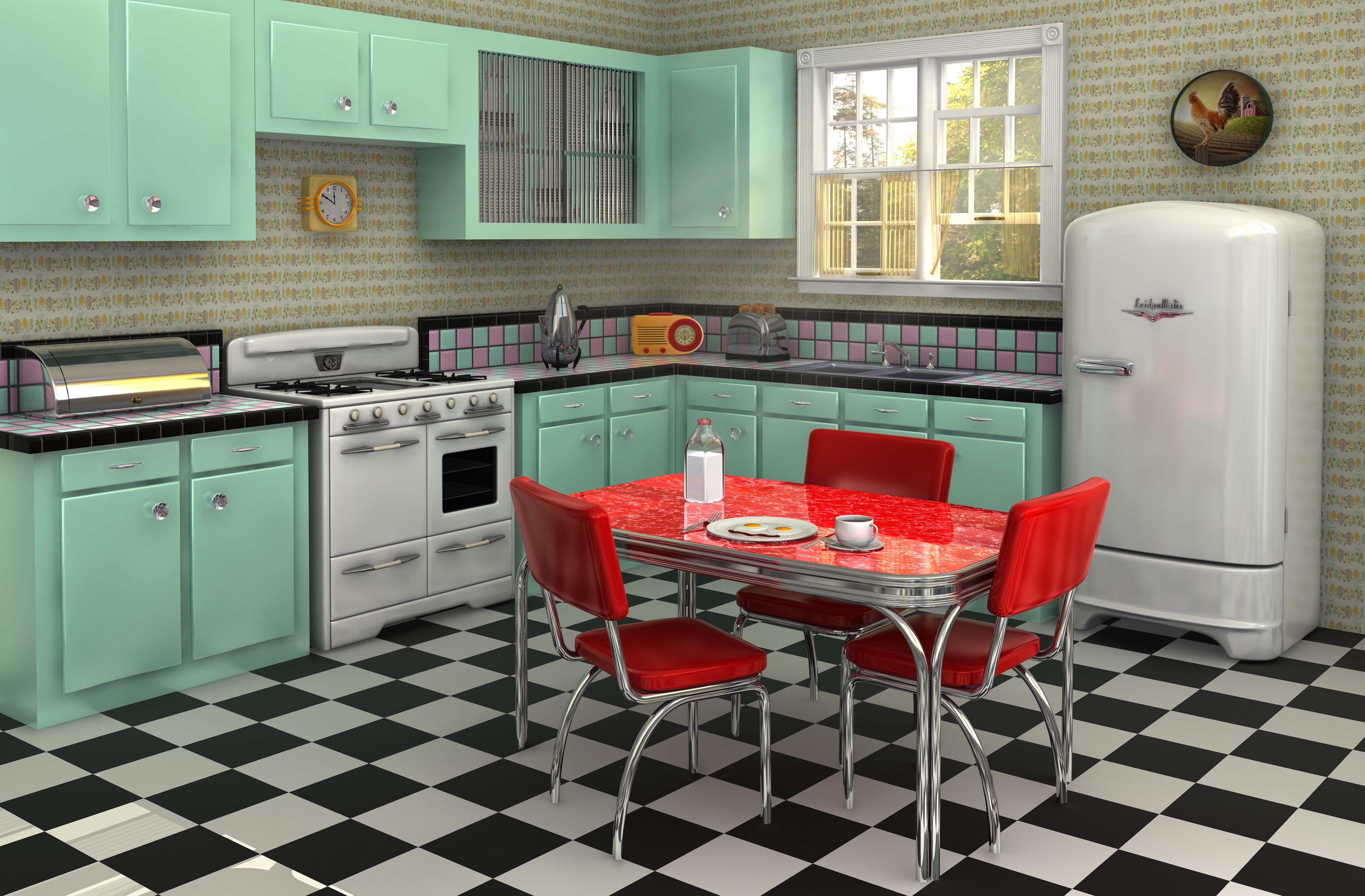 Image source: elledecor.com
The best part about adding storage to the kitchen is that you can DIY it by reusing or purchasing cheap materials for a revamp. For example, you can easily DIY storage space like cabinets using MDF or old materials for custom cabinets. MDF is lightweight, sturdy, and easy to work with. But, of course, you can always look into other storage solutions if you want something other than additional cabinets.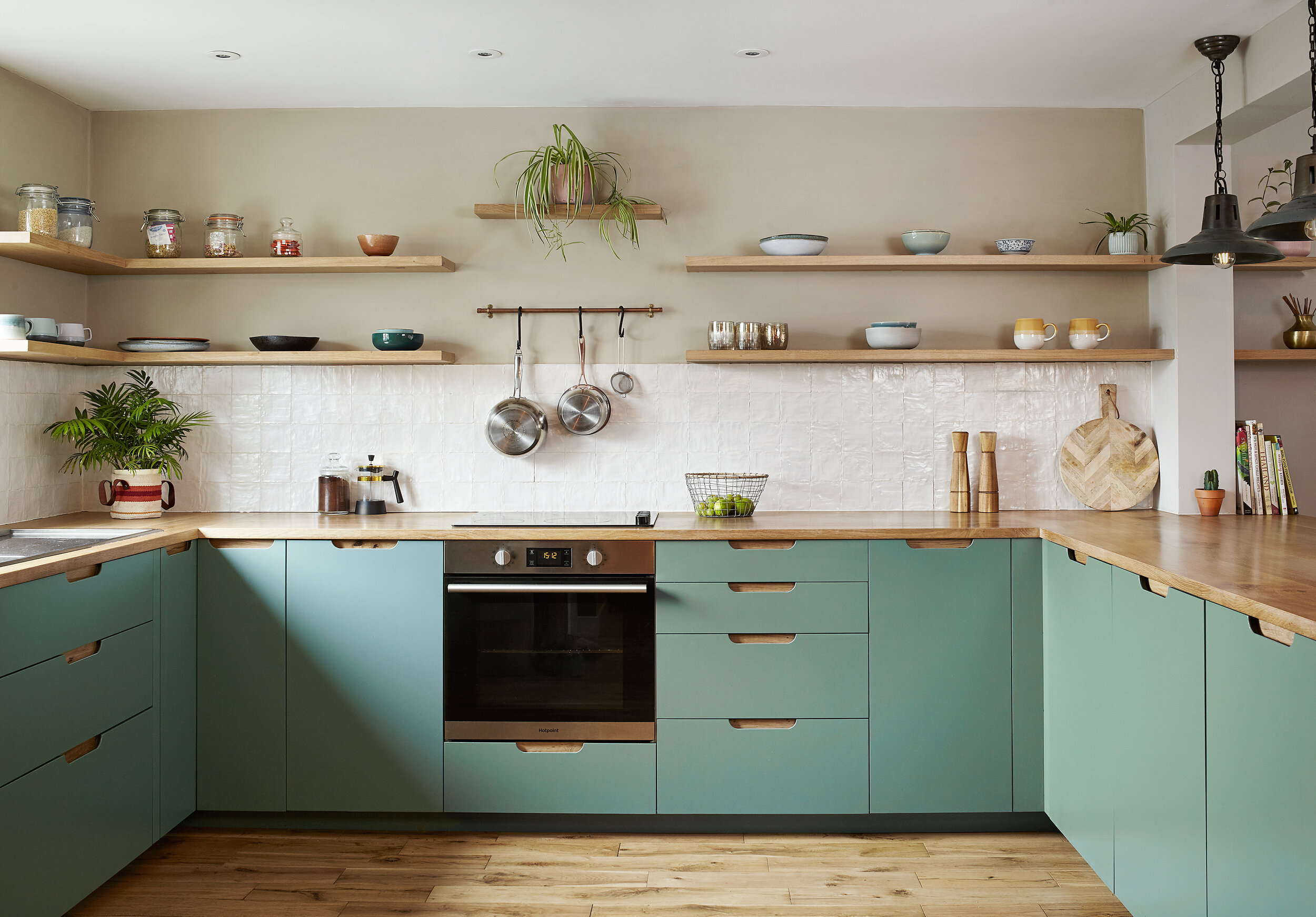 Image source: greenbirdworkshop.com
Storage solutions like floating shelves, baskets, and bins can help in the short term as a budget option. Additionally, if you don't want additional storage, you can easily re-paint your cabinets for that fresh look. Furthermore, it will be cost-effective and fit the budget without a problem.
3) Add an HVAC System
If you have an HVAC system, you know how they excel at energy efficiency. However, not everyone will install an HVAC unit. I bring it up for home renovation because it is time to acquire one if you don't have one. If you are on a stretched budget, you can still get a good second-hand HVAC system that's hardly been used. There are different types of HVAC systems you can choose for your home.
Image source: hvacboss.com
Installing air conditioning requires a little structural work, but not much. It takes a few hours for professionals to install the system and get it up and running. You can rest assured that an HVAC system will save you money, especially due to reduced energy consumption. Additionally, your existing HVAC might need a couple of parts when renovating.
This will save you upwards of $5000, which you would spend to get a new HVAC. Remember that if your home renovation project needs more money for an HVAC system, you should try it last. Sometimes you might need a few parts, but other times you might need a whole HVAC system. All this depends on the current state of your HVAC system.
4) Bathroom Renovation
I refuse to believe that a bathroom renovation is a complicated process. As long as your bathroom tile and plumbing systems are in good condition, the renovation process becomes easy. For a bathroom renovation budget, I recommend changing out most bathroom fixtures because they get old or catch rust quicker than any other room in the house.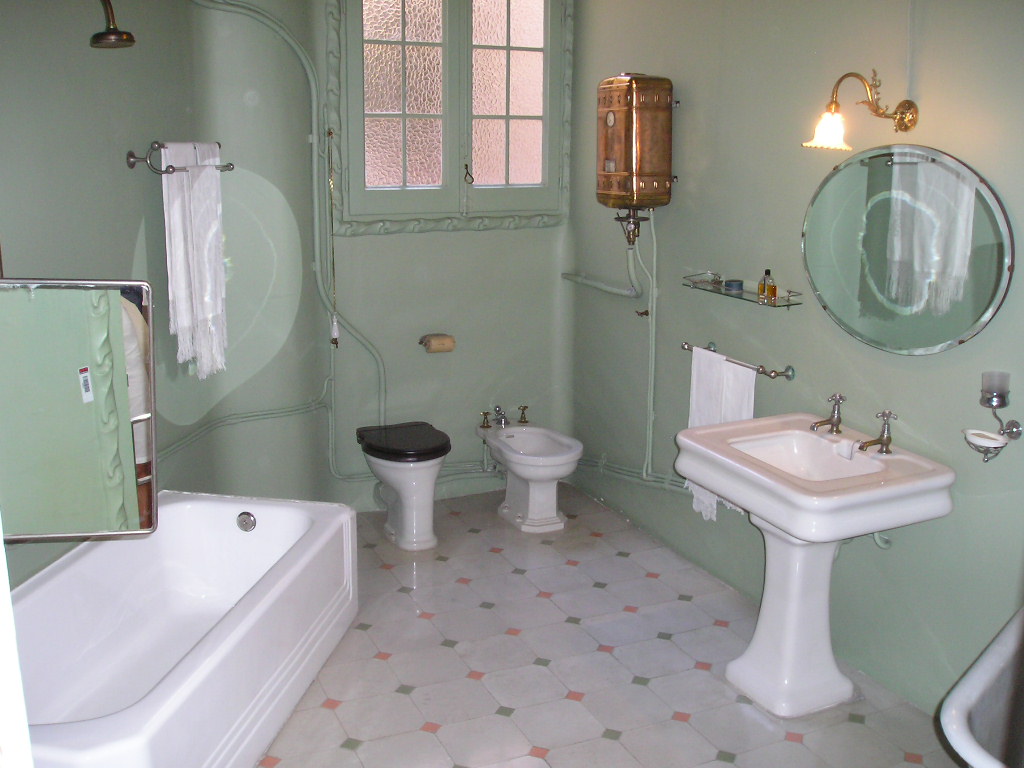 A bathroom with new paint on the walls will look stunning. This is why I recommend that any paint you choose should have a satin, semi-satin, or glossy finish with mildew resistance. Next, I like to add more mirrors and lighting to give the illusion of space. This works wonders if you have a small space.
Image source: homestratosphere.com
Bringing a vanity to your bathroom will change the look if you have the space. However, if you don't, making the sink area spacious and well-arranged is perfect. An acrylic organizer can help you arrange anything on the bathroom sink counter. Next, adding plush rugs in select areas of the bathroom will give it an elevated look.
If your bathroom has a bathtub or a shower area, then a rug under these areas will catch any water. Additionally, a rug on the front of your toilet ensures you aren't stepping on a cold floor as you do your business. Rugs keep your floor dry and cushion your feet from cold.
5) Family Room Renovation
The family room or living room has the most traffic in most houses. Since you aren't going for new construction, there are ways to renovate your room without major structural changes. After painting, the next best thing is to rethink the layout of the living room. For example, your room. You might be used to arranging the seats a certain way.
Image source: my100yearoldhome.com
However, you can always switch it up for added whimsy. For example, if your seats faced the North, you could easily turn them to the West and still have a beautiful space. Next, I encourage homeowners to switch up the seats' color. I prefer pastels or light shades for the seats. An accent wall would also spruce up the space.
Image source: interiordesignlovetoknow.com
Next is to focus on the flooring. Of course, you can always change your flooring with beautiful peel-and-stick tiles or something more permanent like vinyl. If you want to wait to change the flooring, you can easily distract the eye using large statement carpets or rugs. They work well in diverting the eye.
Lastly, adding décor and living room fixtures will enhance your space. You can find beautiful decorative pieces for cheap at your nearest home to renovate the store. But, of course, if you prefer to shop online, you can too.
6) Replacing Windows
Most projects would advise you to make a change to or replace the windows. Windows are visible from the exterior and interior of the house. Therefore, I recommend that they should always look their best. Dirty or run-down windows do little for aesthetic value. Remember that light comes through the windows. Therefore they should always maximize the light coming into their house.
When it comes to windows, sometimes a good buff, paint, and changing the glass panes will go a long way. However, you might need new installs when your window frames are ruined and need to be salvaged. Your contractors will let you know what path of action to take. However, you can also do it yourself after a preliminary test.
Image source: darlingdownsbricksales.com
If your windows need to be removed and re-installed again, then you have to buy a new window frame and new glass. However, you can also buff out old paint and give the window frame a well-deserved coat of paint. I suggest using a sealant to prevent chips and cracks in the paint.
Lastly, window treatments can make a significant difference to your whole home renovation. You can find window treatments that cost less than you expected or budgeted for. Ensure to capture windows in the planning process, or your entire house will look out of place, especially with well-painted interior and exterior walls.
7) Bedroom
With most bedrooms, renovation is simple because you don't have to change much. Adding task lighting will increase efficiency and conserve energy. Not to mention, well-placed lighting fixtures look phenomenal. Additionally, I suggest changing the current bed and bedding. It might be time to get a larger bed.
Image source: designcafe.com
No one wants a mundane room. Therefore, a few live or plastic plants will counter dull colors. For the bedroom, I recommend using a warm palette for the walls. Your best option is peach, dark shades of pink, white, and green. Keep in mind the total cost for the bedroom should fit into the total budget.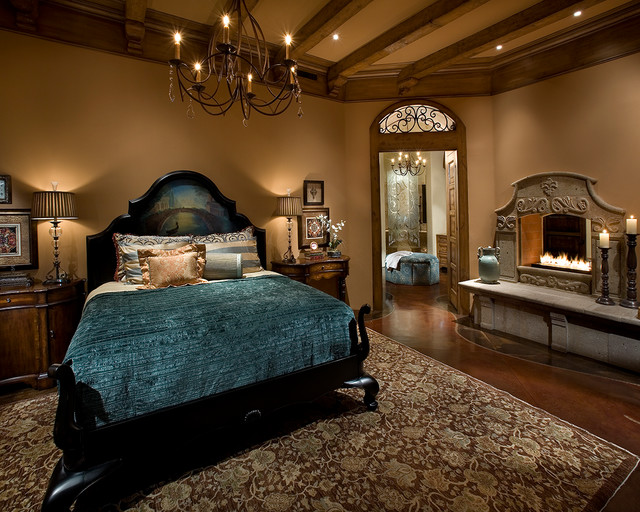 Image source: houzz.com
Don't underestimate the power of transformation that rugs have. They can change the look immediately. You can also add a vanity for that "wow" effect. It will give you extra storage for your stuff. You can also change your window treatments and switch from shades to drapes or curtains. With the bedroom, creating a cozy space and having a style in mind, even as you renovate a house, is important.
8) Garden and Driveway Renovation
I like to suggest setting the renovation budget for your driveway and garden separately. This is because they can be done over time if you are within a tight budget. However, you can make it work. All you need are some building materials for your driveway. Then, you can select any material depending on the type of driveway you want.
Image source: checkatrade.com
I prefer brick driveways because, once laid, they look beautiful. However, you can choose any type of driveway. Other families might be okay, even with cement driveways. Therefore knowing the type of driveway is important. Remember that driveways also need maintenance, and you will have to clean the driveway in your new house.
Instead of hiring someone to do the landscaping, you can easily weed out the garden and plant your seedlings. Gardens usually require care, but for the most part, planting seedlings is not difficult. Perhaps a small wicket fence around the garden to keep critters away. That should do the trick. In addition, the garden and driveway renovation enhance curb appeal.
Why Should You Consider Renovation?
Here are some reasons why a renovation project is a good idea for your house:
i) Keeping the House up to Date
House renovations are necessary and a way to bring your home into the current time. For example, the family room might still look great, but a 1970s kitchen might need to be revised. For a kitchen, most of the change might go toward plumbing and appliances. Each room's budget should be split in two. The budget sections should be focused on both appearance and functionality. This will help to keep your priorities straight.
ii) Maintenance
Maintenance is important at least once every decade. Keeping your plumbing, structure, and electricity up to date will keep your home value on the higher side. Additionally, you will find that replacing some parts of your appliances will be helpful in the long term. Finally, House maintenance is important to keep the house and structure stable enough to live in.
iii) Try New Styles
While you might only consider bringing the house into modern times, considering renovations might make your space cozier. Therefore, there is a need to try different interior design styles. However, since trends are usually short-lived, it is not recommended to go with a full renovation because of the trend. Instead, a renovation will do just fine.
What You Should Consider Before Renovating Your Home
If this is your first go-around with a remodel, there are several questions you should ask before jumping in. Consider your answers to the following queries before construction gets underway.
1. Can You Really Handle Renovations Yourself?
Are you planning on DIY-ing your home renovations? You may want to take a step back and really consider what that might mean. While HGTV shows make a home renovation project seem fun and easy (and quick to complete), the reality is you'll run into an array of obstacles you didn't expect once demolition starts. Unless you have a background in home renovation, you'll likely want to enlist the help of a skilled contractor who specializes in your desired projects. This is your home after all, and the right renovations could make your family more comfortable and secure, and may provide better resale value in the future.
2. How Will You Pay For Renovations?
Home remodeling is anything but cheap. Even if your desired projects fit into your budget at the beginning, change orders can wreak havoc on your expenses. Do you have your finances in place? In an ideal world, you'd have all the money you need in-hand; for most of us, that's not the case. You may need to consider home improvement financing solutions that allow you to borrow funds in order to complete your desired renovations. If that's the case, shop around and determine your options.
3. How Will You Eat?
Okay, this question sounds dramatic, but it's one worth asking if your planned renovations involve the kitchen. If your stove, oven, microwave, and sink are all out of commission, how will you prepare meals? Eating out at restaurants will be fun for the first day or two, but soon grow frustrating (and budget-busting). Note: if you do end up eating out a lot, make sure you're scouring the internet for deals – sites like Get 1 Free can help you save a lot more on restaurant fare.
Consider creating a makeshift kitchen in a separate area of the house that you can use to whip up easy meals. Don't have an eating area while renovations are underway? If it's warm enough, head outside for a picnic with the family.
4. If You Have To Leave Your Home, Where Will You Stay?
If you're planning on significant renovations that will make your home unlivable for an extended period of time, you may need to consider staying somewhere else. Hotel room expenses quickly add up, and staying with family and friends can cause tension – especially if the timeline on your renovations are extended. If your renovations are going to take more than a month, you'll likely want to consider renting a place to stay. You can also rent an RV or buy a used one to keep on site. When renovations are over, you can then sell the trailer.
5. Are You Prepared For The Upheaval?
No matter which way you shake it, a home remodel is bound to disrupt your life. When you're planning your timeline, make sure no big life events are going to occur during the renovations – that could mean weddings, the arrival of a new baby, or a retirement party. A home remodeling project can be a great source of stress especially when you have to choose living in an RV, so keep that in mind before penciling in your dates and hiring a contractor.
The Bottom Line
Renovations can be hectic even if you hire professionals. However, if you plan a renovation and ensure it goes well, it will cost you less money in the long run. Remember to save the small finishes and touch-ups for last. Then, you can enjoy a beautiful home with the right accessories, move furniture around, and change the paint color.