A bathroom remodeling project can be expensive and require a serious financial investment. That's why you should think about every aspect of shower renovation to ensure an accurate budget before you start. Luckily, if you get it right, there are benefits like reducing clutter and increasing your home value. Renovating your bathroom will be satisfying with a great idea, budget, and guide. This post covers the best shower remodel tips, ideas, and costs for a shower makeover.
Are you ready to find your next shower design? Let's get started!
Shower Remodel Ideas
1. Curved Cabin with a Bathtub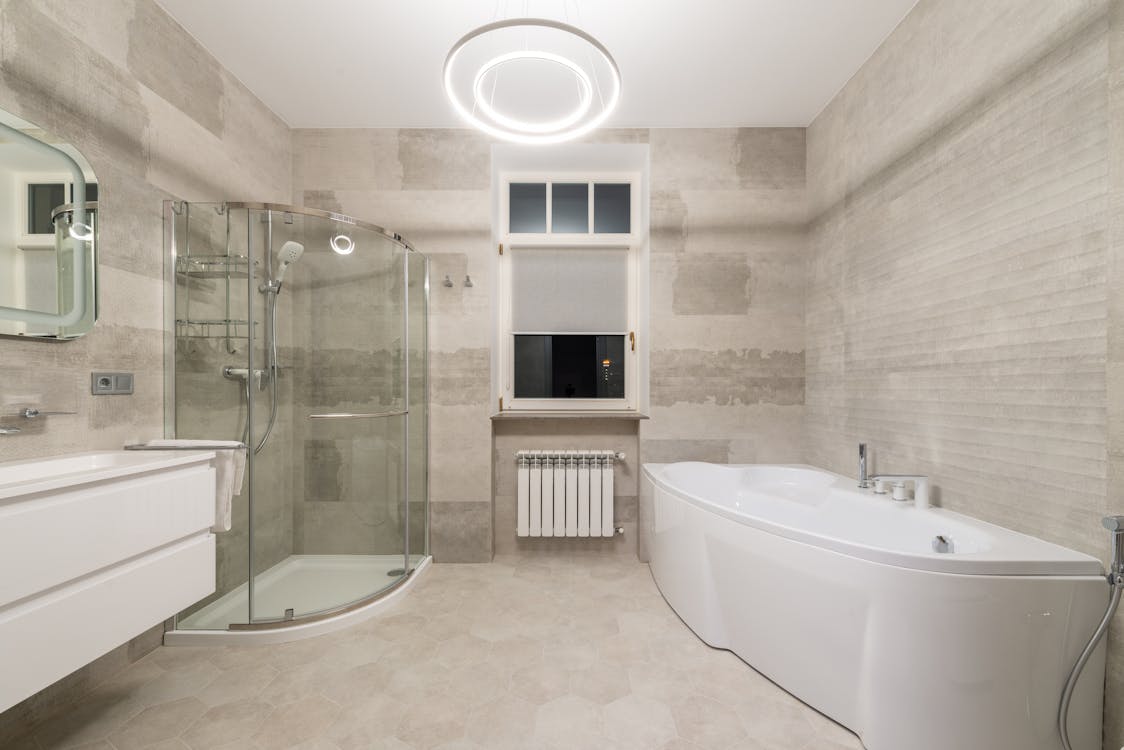 The first shower remodel idea for you is this modern walk-in shower with a curved enclosure and tub. It has a minimalist design that makes the bathroom appear spacious and airy. You can have the tub and shower on opposite ends to ensure enough room to walk around.
The cabin has a unique shape that adds to the elegance of the space. Plus, the glass panels ensure water won't splash all over the bathroom as you shower. This curved cabin is a pre-made unit that you can buy and install in your bathroom as long as the size is right.
2. Walk-in Shower with Multiple Shower Heads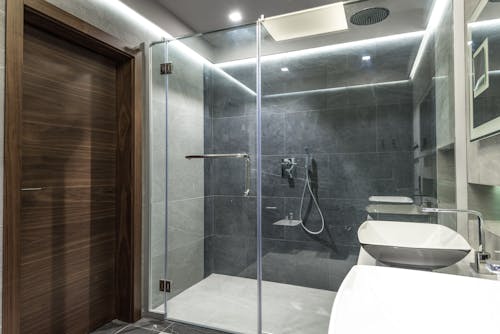 The design above is a great place to start if you don't need a tub and only want a stylish shower. The white shower pan and the dark grey shower walls contrast. Additionally, a hand-held and ceiling-mounted shower allow you to enjoy maximum convenience when showering.
The color scheme is great if you don't want the white to overwhelm the room. The shower cabin takes one side of the bathroom, giving you enough space to move inside without a hassle. Additionally, there's no need for a shower curtain in this sleek shower.
3. Corner Shower Cabin with Towel Rack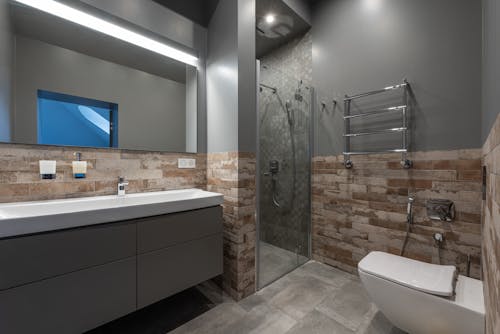 Some shower designs offer more privacy than others. For instance, if you don't want an all-glass walk-in shower, you can have it in the corner, like in the image above. That way, only the glass door is transparent, and the rest of the shower is concealed by the walls.
This design is excellent for a small bathroom where you want to conserve space in the remodel. Fortunately, this shower allows you to install a large sink cabinet that can store many essentials for bathing, laundry, and general cleaning.
4. White and Black Tile Bathroom with Shelves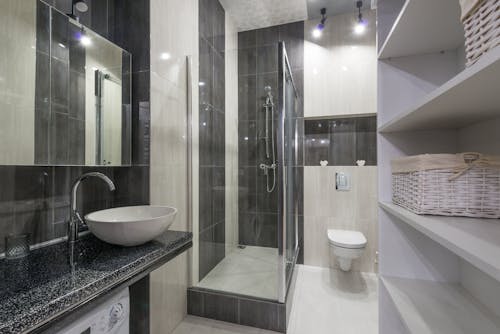 Another excellent idea for your new shower is an enclosed glass cabin with a wall-mounted and hand-held shower. The white tile work on the walls and floor keep the bathroom well-lit and looking clean.
Thanks to the sleek design of the shower cabin, there's enough room to include shelving for your laundry and other items that stay in the bathroom. So if you are looking for a remodeling idea that can help you save space, this is it. In addition, the marble countertop for the sink makes the bathroom look super stylish.
5. Brown-Themed Walk-in Shower
The next bathroom remodel idea to consider is this partially enclosed shower. You don't have to go with a white color scheme because you can remodel your bathroom according to your preferences. This remodel could benefit your home if you like how brown adds warmth and texture to the house.
You can use anything from wooden panels to brown-colored tiles. This design includes a stainless steel wall-mounted shower head and a hand-held one. If you'd like more options, you can have a ceiling-mounted shower installed.
6. White Tub and Shower Combo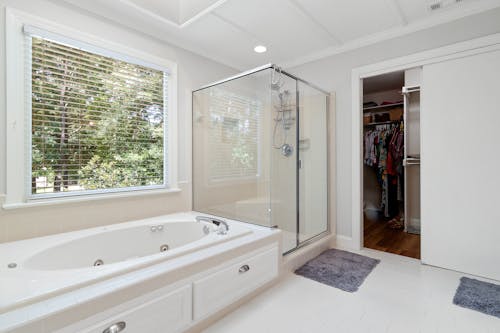 Here's an ideal design for larger bathrooms. This white-themed shower and bath is a great way to renovate your existing shower. Additionally, it features a corner shower enclosure with glass panels and a white tub alongside each other on the same side. Finally, this bathroom renovation includes hand-held and rain shower heads for a flexible shower experience.
If you don't have a lot of bathroom space, you should get a walk-in shower. However, if the renovation is for a large bathroom, you can include both a tub and a shower.
7. Contemporary Gold Framed Shower and Ceramic Bathtub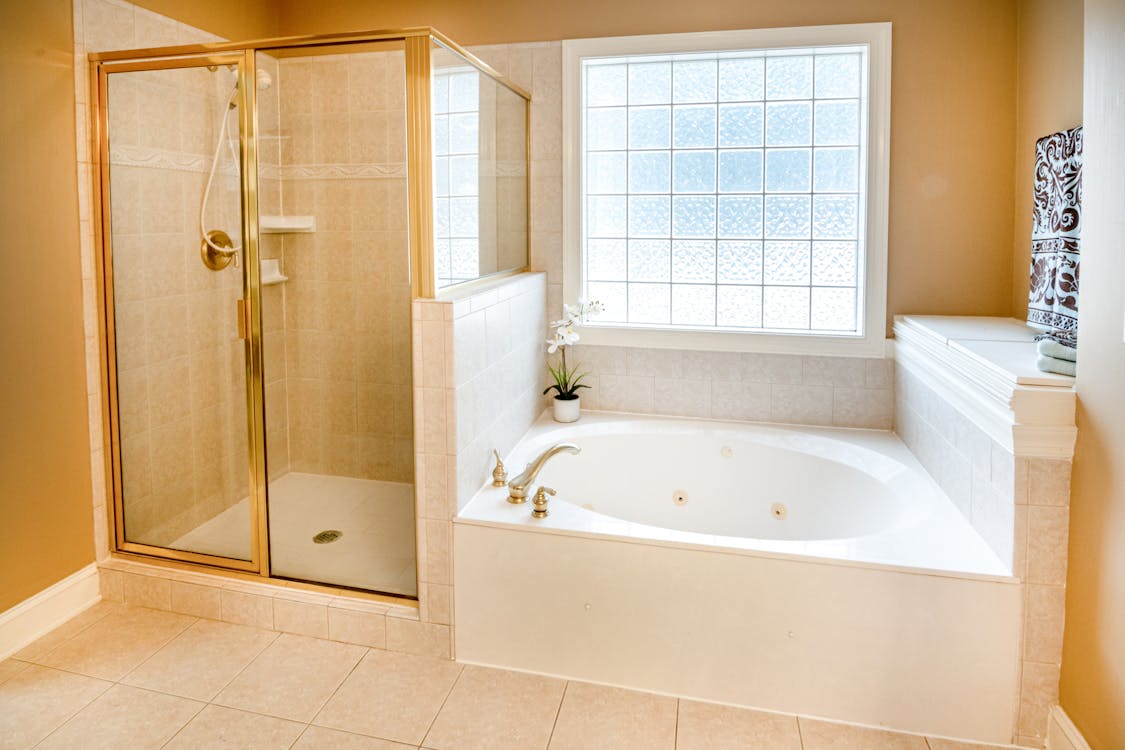 This next suggestion is an excellent pick if you want a bathroom that looks luxuriously neat. It features a ceramic tub by the window, allowing you to bask in natural light as you bathe. The shower cabin is right next to the tub, and it's made of clear glass panels housed in a gold-coated frame.
This design's simplicity and elegance will make your bathroom one of your favorite indoor spaces. Also, you can complement this great bathroom with gold-coated shower fixtures for the ultimate feel of lavishness.
8. Bathroom with Wooden Floor, Tub, and Shower Stall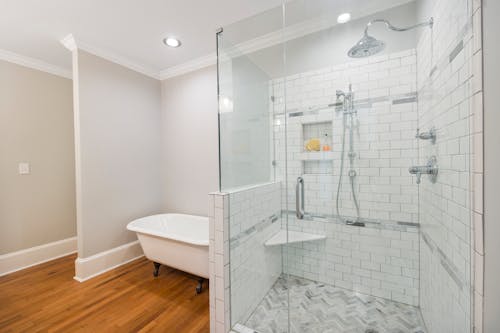 Here we have a shower stall made with white subway tiles and a light-grey shower pan. This cabin features a glass door, and inside, it has a hand-held shower and a rain shower head. Alongside the shower, a white freestanding tub sits on the wooden bathroom floor.
The white bathroom walls will help reflect light and ensure the entire space is illuminated even with minimal lighting. Plus, the brown color of the floor gives the bathroom a homey feel that makes it inviting.
9. White Ceramic Bathroom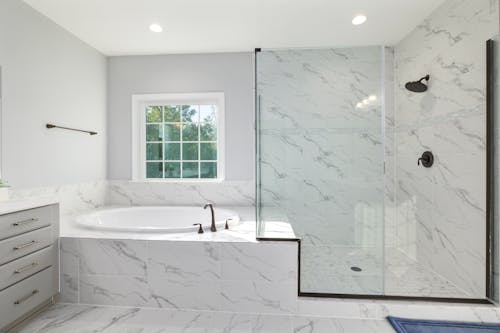 Ceramic tiles are popular when it comes to bathroom remodel projects. In addition to being beautiful, they are resilient and easy to maintain. So even if you tile your bathroom walls and floor with white ceramic, cleaning will be a breeze.
A glass door works well with a ceramic bathroom because of the glossy surface that makes the room sparkle in the light. You don't need to get a freestanding tub since installing a ceramic one can also add consistency to your overall design. Fortunately, if the tub and shower are on the same side, you can have extra space for bathroom storage.
10. Alcove Tub and Shower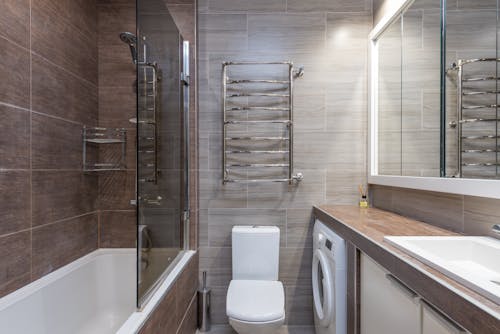 If you wouldn't mind stepping over the tub to get into the shower, an alcove shower design is a great idea. This bathroom renovation will help you maximize the little space available because it places the shower and tub in one location.
This renovation idea isn't suitable for homes with older people or those with a disability because it will be hard to step into the tub without assistance. On the opposite side of the shower area are storage compartments, one of which houses the washing machine. A built-in cabinet for your appliances can preserve space in a small bathroom.
11. Prefabricated Shower Unit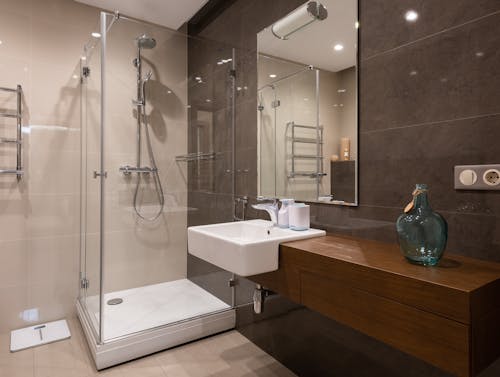 You don't have to go for a custom shower remodel design. A more convenient option is a prefab shower which comes ready-made and only requires installation in your bathroom. This can help reduce labor costs for your bathroom remodel project.
If you don't like bright colors, you can go for dark-themed wall tiles like in the bathroom style in the image above. A simple shower stall with glass panels can fit the overall aesthetic of your new bathroom.
12. Seamless Marble Tile Bathroom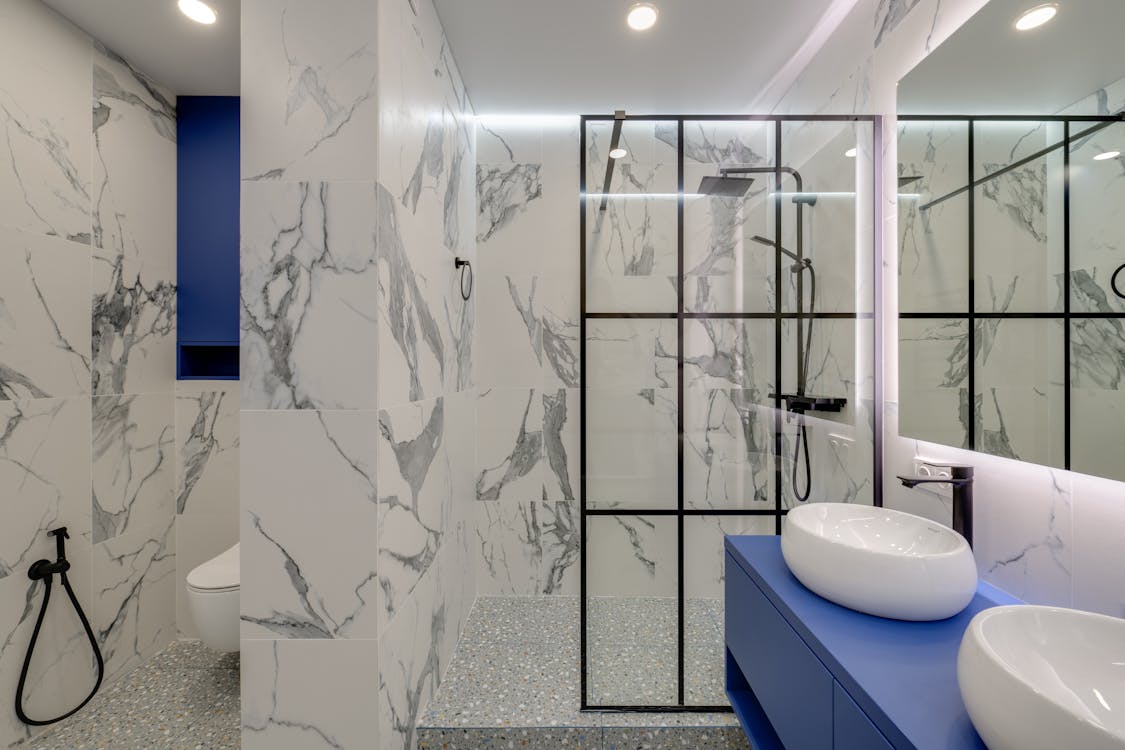 Not everyone is okay with having a toilet seat immediately next to the shower. In such a case, you can install a partition to separate the toilet from the shower, as in the above design. The seamless marble tiles give the bathroom a sparkle that makes it look elegant.
You also don't need full doors for your shower. As you can see, a partial enclosure is also a great idea that eliminates the need to open and close the shower door.
13. Large Shower with Black Cabinet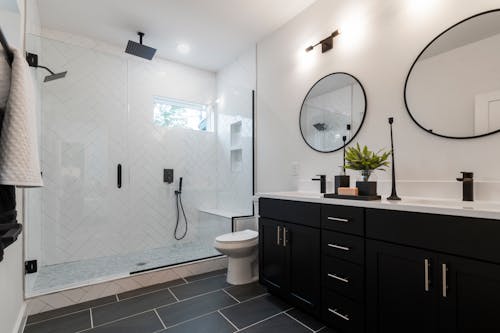 Adding contrast to your bathroom can be an attractive way to make your shower space interesting. You can achieve this by contrasting the wall tiles and floor. If the walls are brightly colored, the floor can be dark or vice versa. This shower remodel idea features a ceiling-mounted, wall-mounted, and hand-held shower for a full experience.
The bathroom storage cabinets match the color of the floor to enhance harmony in the entire design. These cabinets can hold everything you need in the bathroom, like toiletries, a washer, and laundry cleaners. You could also include a small house plant to liven up the place.
14. Attic Bathroom in Cottage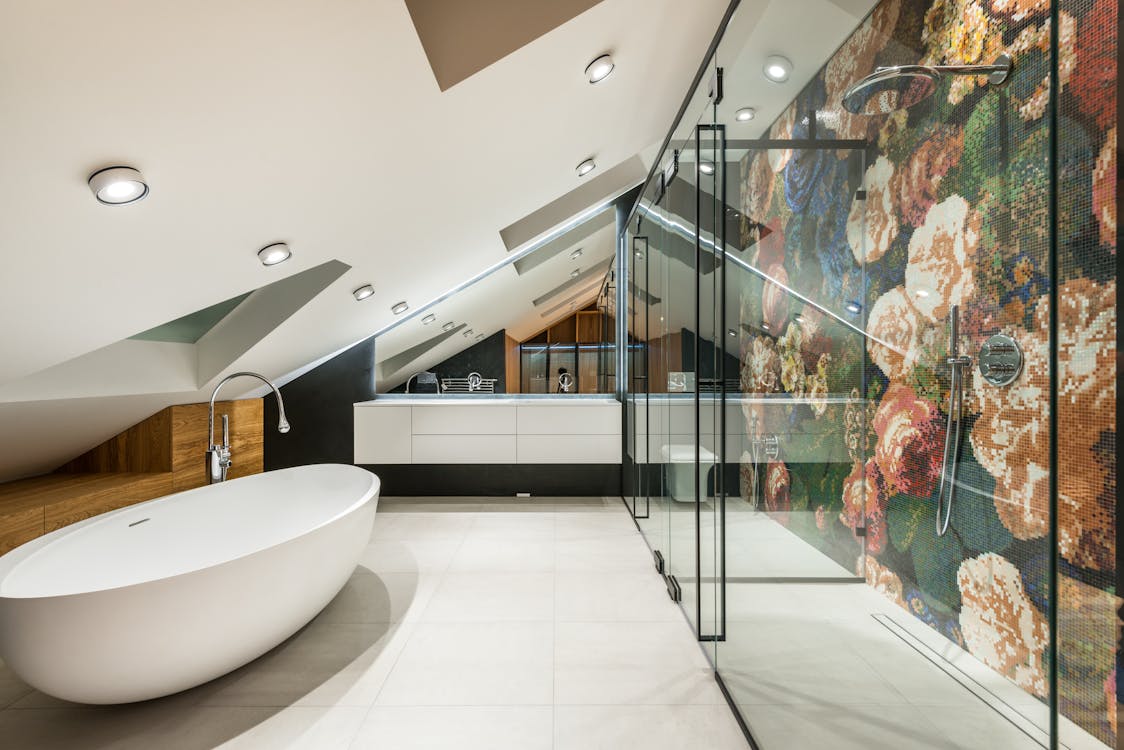 The lower levels of your home aren't the only suitable place for a bathroom. You can convert the space into a bathroom if you have an old-fashioned house with an attic. The slanted part of the room can hold the tub since you will be seated when taking a bath.
The shower can go along the wall of the attic. The walls of your bathroom don't have to be plain since you can have a colorful print or waterproof wallpaper that draws attention to the shower area.
15. Patterned Tile Tub and Shower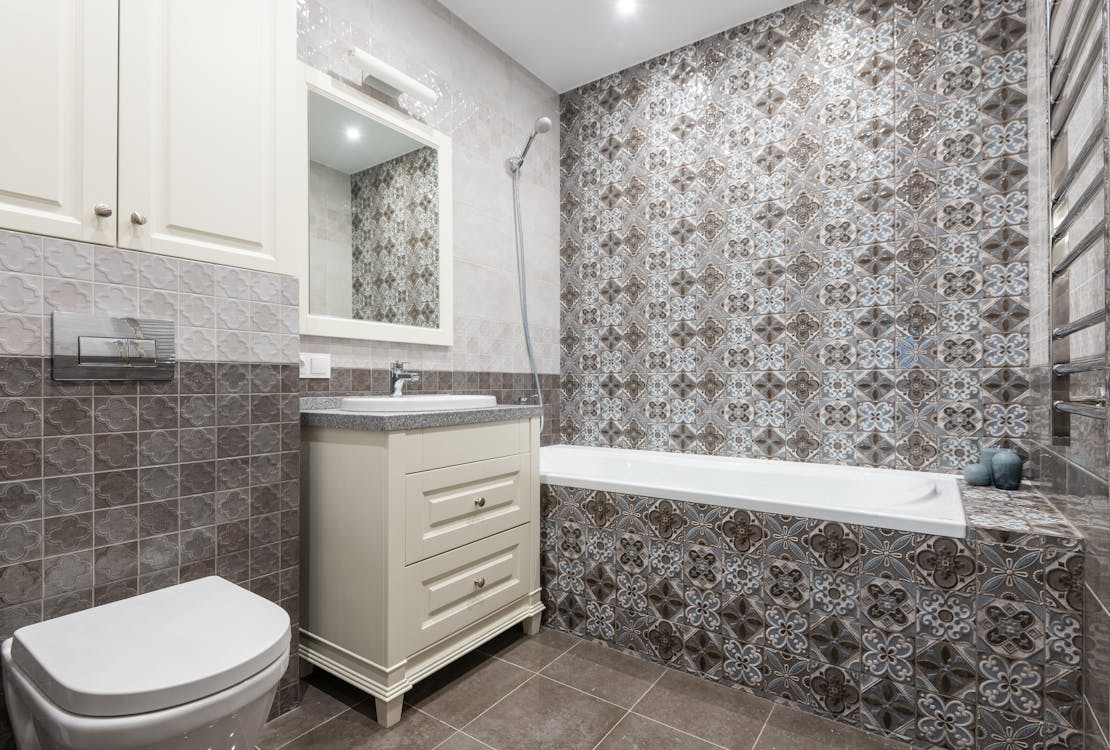 Patterned tile work is also a great way to renovate your shower walls. Plain shower floor tiles can create a visual difference between the ground and walls. This alcove tub and shower combo set your shower area against the wall of your bathroom, conserving space.
Since this remodel doesn't include an enclosed cabin, you can cut costs for a shower door. Also, you can get a shower curtain to close off the area for more privacy if you want. However, if you don't want a curtain in your bathroom, the design could still do without it.
How Much Does a Shower Remodel Cost?
Now that we've covered the best ideas for your shower remodel project, let's discuss how much a shower remodel costs. On average, shower remodels cost about $10,000, but this could vary depending on the specifics of your project. The cheapest renovations can cost as little as $2,500, while the most expensive could go well over $30,000.
Factors that Affect the Cost of a Shower Remodel
As we've already established, not all bathroom remodel projects cost the same. So, what exactly causes the prices of bathroom remodels to differ? Here are the factors that affect the overall cost of remodeling your bathroom.
1. Scope of Remodel
How big is your shower renovation goal? Do you want to upgrade the fixtures and shower, or will you demolish everything and reinvent the bathroom? These are questions that can inform the scope of your remodeling project. Upgrading several features will cost less than a full makeover. So, you can choose a suitable option according to your budget.
2. Shower Doors
Unlike traditional bathrooms, modern styles use materials that are as much appealing as they are functional. Your first option is a framed door which is about $190 to $500 and comes with a contemporary design. A sleek and compact frame offers more visual appeal than traditional framed showers.
The next option is sliding doors which can be pretty convenient because they can transform your shower cabin into a partially or fully closed shower. While the door is slid open, one part of the shower will remain enclosed. Again, your options will range from $100 to $300.
Frameless showers are also great because they look like sleek glass enclosures. Plus, frameless doors can't accumulate scum, moisture, or soap because they don't have a frame. These doors come between $300 and $3,000, depending on whether you want a prefabricated or custom unit.
3. Tiling
Tiles are among the most popular materials for renovating bathrooms. A square foot of tiling will cost you $2 to $17, so the size of your bathroom will determine how much you spend. Check out these ideas on how to use tiles in a small bathroom.
The two main types of tiles used for home improvement and construction projects are porcelain and ceramic tiles. Each has its price, which is another reason shower remodel projects have different costs.
4. Shower Pan
Replacing the pan is an excellent idea if you get a new shower. This part ensures proper drainage in the shower area while preventing water from leaking underneath the floor tile. A shower pan's average price is between $250 and $400.
5. Shower Heads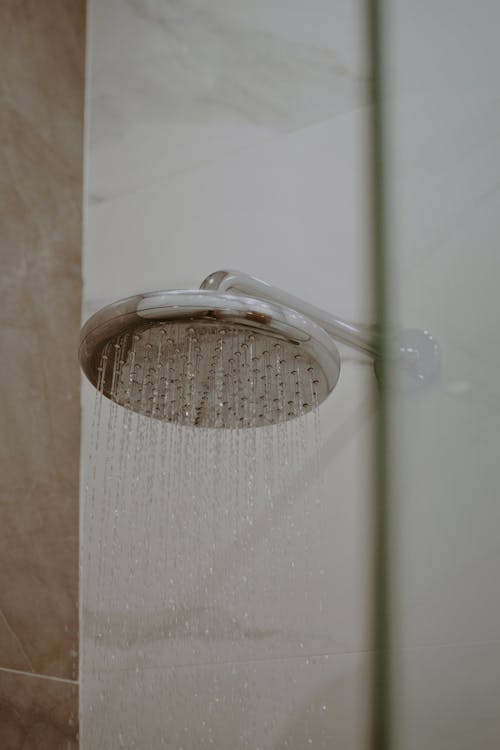 Shower heads take diverse forms to suit the needs of various individuals. For instance, wall-mounted shower heads are the most popular option in most bathrooms. However, if you don't want a standard showerhead, you can install a ceiling-mounted shower.
Ceiling-mounted showers are built into the ceiling, so that's where the water comes from when you shower. A hand-held shower head is great if you want control over where the water reaches. Shower heads differ in price according to type but range anywhere from $20 to $100.
6. Labor Costs
Labor costs can easily account for up to half of your entire budget. This is mainly for custom shower remodels. Nevertheless, the labor costs of installing a prefabricated shower are much less than those of designing a custom shower.
Custom showers mostly require demolition of the existing shower to install the remodel. As such, you need to consider demolition costs when considering your budget. Plus, rewiring the electricity, redirecting water lines, and replacing floors will require professional assistance.
7. Permits
Something else that goes into your total remodel cost is paying for permits. The cost of permits differs according to location, and you should check out what's necessary from your municipality. There's no way to avoid paying for licenses without severe consequences, so you should contact the local agency that provides permits before starting the project.
You can choose several options for your shower remodel, including prefabricated showers, custom showers, or a tub and shower combo.
1. Prefab Showers
A prefabricated shower is a pre-made enclosure that comes ready for installation. It's made in a factory, and a professional set up the pre-made shower kit inside your bathroom. If you are looking for a budget-friendly option, a prefab shower is what you need.
Depending on the shape and size of your prefab shower, it could cost you between $200 and $8,000. Still, these showers can fit bathrooms of different sizes, making them a convenient pick.
2. Walk-in Showers
Walk-in showers are perhaps the most popular option for those who want a sleek, modern bathroom. These showers don't feature shower curtains, doors, or curbs. Instead, you simply walk in and take your shower.
While they offer little privacy, walk-in showers are ideal for those with mobility challenges and senior citizens. They are easily accessible and luxurious because they use glass panels to partition the bathroom. Depending on other factors, these showers cost between $400 and $8,500.
3. Tub and Shower Combo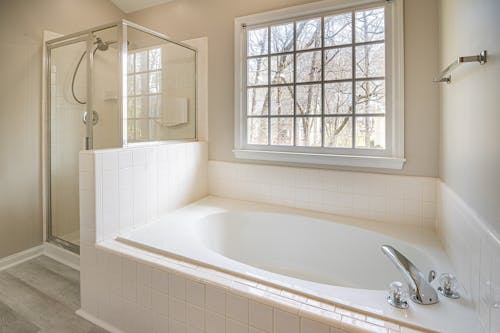 Are you caught between getting a shower and a tub? How about getting the best of both worlds with a tub and shower combo? This is an excellent solution for families with children because the kids can use the tub, and adults can use the shower.
You could also enjoy long baths with enough time to relax and showers for fast cleaning sessions. You can consider different types of tubs and prices, and you can check out some options here.
Why Should You Get a Shower Remodel?
If you are still on the fence about investing in a shower remodel, here are some reasons to help you say yes.
1. Increasing Resale Value
One of the most compelling reasons for bathroom remodels is raising the home value of your property. However, unless you make a minor repair, renovations can get expensive since you could be replacing the fixtures and systems of your bathroom.
Some practical reasons make renovations suitable for increasing resale value. For instance, replacing faulty water, drainage, and electric systems in your shower makes it a more functional space that provides value. Plus, people would rather spend more buying a home with a modern bathroom instead of renovating the shower after purchasing the property.
We've not even mentioned the aesthetic value that a renovated shower adds to a home. It can make your home more appealing, giving it a better chance of resale.
2. Improving Safety
An old bathroom can have numerous safety hazards, like blocked drains, mold growth, scum accumulation, and slippery tiles. A shower remodel is a quick way of eliminating these risks and making your bathroom a safe place to use. This is especially essential for homes with senior citizens or people with mobility problems.
You can install non-slip surfaces and add grab bars to make the bathroom safer for your family. Plus, an upgrade right now will save you the hassle of paying for it when you need these convenient features later in life.
3. Enhancing Functionality
Modern fixtures and systems can feature technology that makes them function better than their traditional counterparts. For example, modern showers can enhance the efficient use of water by increasing pressure while reducing the quantity. So, if you want better efficiency and functionality in your home, a renovation is an excellent solution.
Conclusion
Shower remodels can help your home get a higher resale value, become more energy efficient, and boast a better aesthetic. To begin with, however, you need the best ideas, tips, and cost evaluations to make a sound choice. With the designs we've covered in this post, finding the right remodel project for your bathroom will be easy.