Sunday Lawn Care is a professional lawn care company that offers boxed subscription nutrients used to care for lawns and gardens. This subscription service gives homeowners an easy way to maintain their lawns. Despite it being a newcomer in the lawn care industry, it is best known for its customized programs and environmentally friendly nutrients that are delivered right to your door.
Our unbiased Sunday Lawn Care reviews are based on the following features;
Company's profile

Plans and services offered

State availability/Location

Pricing

Customer service

Customer Reviews
Company's Profile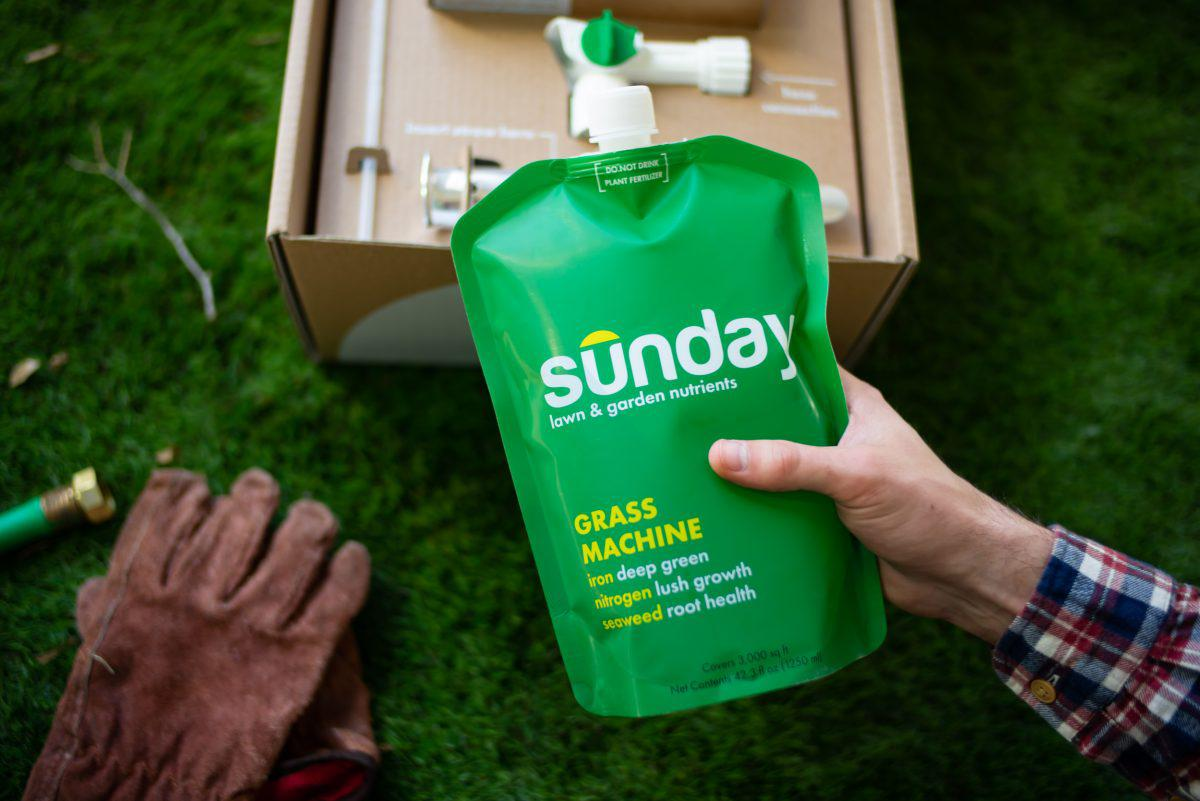 Image Source: forbes.com
Sunday was founded by two brothers who wanted to improve lawn care. It was founded in 2019 and has not yet received a rating on the Better Business Bureau (BBB) website. However, it was listed by TIME as one of the best inventions in 2019. It differs from other traditional lawn care services. For Sunday Lawn services, you do the work yourself using natural products, compared to other companies, where you hire a lawn care professional.
Location
The headquarters of Sunday Lawn Care is located in Boulder, Colorado. However, Sunday ships its products across all 50 states in the country. The delivery period is dependent on where you live. However, their delivery is generally fast.
Services offered by Sunday Lawn Care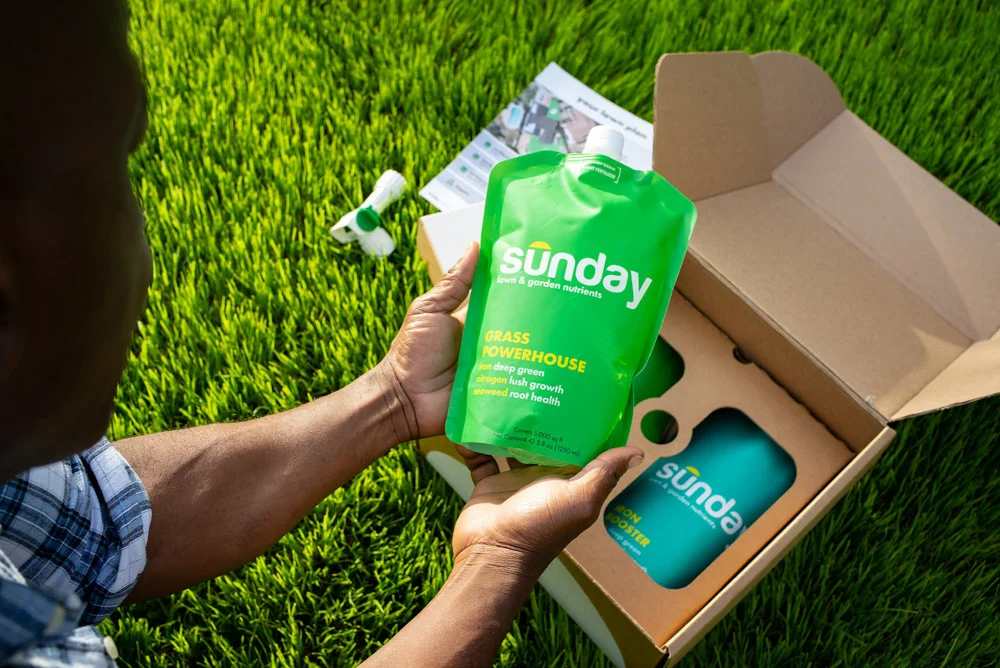 Image Source: cobizmag.com
Sunday Lawn Care aims to improve the lawn while still reducing the chemical-laced products that can negatively affect people and animals. Their products are designed to treat the lawn by use of the exact nutrients that your lawn needs.
How to Sign Up on Sunday Lawn Care
To sign up on Sunday Lawn Care, you can visit their sign-up page and fill in the required details, and you are ready to go. To get started, you will need to fill in your address to make it easier for Sunday Lawn to customize your plan. Sunday Lawn does this by checking the climate history of your locality and choosing a suitable plan for your lawn.
The locality analysis further gives more information on the soil type you are likely to be dealing with. Furthermore, you will know the growth potential of your lawn, the precipitation levels in your area, temperature patterns, and other statistics that may come in handy when servicing your lawn.
The information received by Sunday Lawn Care from you will lead to healthy grass seed growth and generally improved lawn health.
Sunday Lawn Care Plans And Packages
One year's subscription will include three shipments, with a total of six pouches, one lab soil test kit, and a lawn review. The three shipments include;
First box-Iron Booster, Grass Powerhouse, Lab soil test, and a sprayer

Second box- Lawn Strength and Grass Powerhouse

Third box-Lawn Strength and Winter Ready
The lab soil test helps in knowing the specific nutrient deficiencies and needs. It allows the team to refine the plan and determine the exact needs of your lawn.
If you would like to add weed control products to your box, there are several you can choose from. These include;
Weed Warrior: This organic weed control/killer eliminates moss and other weeds in 20 minutes. You need to ensure that you don't apply it to the good grass.

Dandelion Doom: This weed control formula is iron-based that kills broadleaf weeds and dandelion. It doesn't harm the grass.
Subscriptions start and renew between February and April. Your subscription includes a full growing season of nutrients split into three shipments, roughly every two months. These plans can be canceled at any time.
Pricing
Sunday boasts of their favorable prices. A Sunday Lawn Care cost starts at $69 annually. This is way cheaper than most lawn care companies.
Sunday Lawn Care Products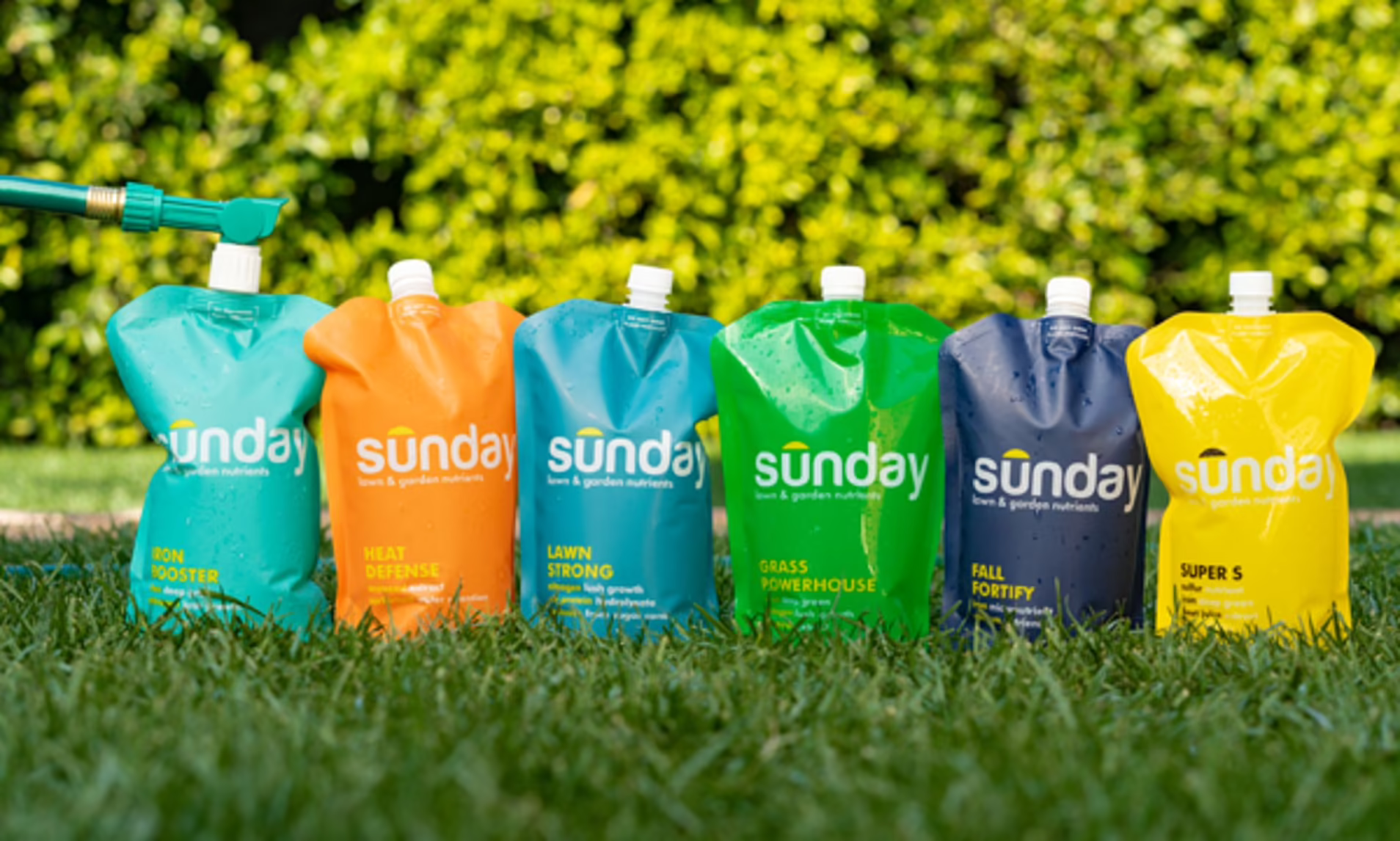 Image Source: dailymail.co.uk
Sunday Lawn Care products are categorized as a core nutrient, target nutrient, or focus nutrient. This helps the customers in deciding the nutrient packet that matches their lawn needs and lawn care service goals. They offer the following nutrient packets:
a) Core Nutrients
Lawn strength– It features molasses, nitrogen, and food hydrolysate.

Grass Machine– It aims to strengthen the roots and produce deep green blades. It can cover a lawn of up to 3000 square feet.

Grass Powerhouse– Designed to help in the growth of deep green lush lawns.
b) Focus on Nutrients
Heat helper– It is designed to help in the preparation of the lawn for peak heat. It also aids in grass growth.

Winter Ready– These nutrients aim to help in preparation for winter stress. It has nitrogen, seaweed kelp extract, and salicylic acid.

Green Out– Aids in keeping the lawn healthy and give it a blend of maximum color. It includes the manganese micronutrient and potassium macronutrient.
c) Target Nutrients
Micro Boost: This includes nitrogen, micronutrients, and iron.

Potassium Boost: It is designed to add a potassium macronutrient and seaweed kelp extract to the soil.

Starter Fertilizer: This Sunday Lawn Care fertilizer can be used when the soil shows some signs of phosphorus deficiency because it contains nitrogen and phosphorus nutrients.
It is important to ensure you read the list of ingredients on the products. Some of the above products may contain soy urea, food waste, and leonardite.
Sunday Lawn Care Products Available in Stores
| | | | |
| --- | --- | --- | --- |
| | | | |
| | | | |
| | | | |
| | | | |
1) Sunday Weed Warrior
Sunday Weed Warrior, 32oz - Grass & Weed Killer -...
SUNDAY IS OFFICIALLY ON AMAZON: Sunday Lawn Care, the premium...
FAST AND EASY: When it comes to stopping weeds, one warrior...
SAY GOODBYE TO PESKY WEEDS: Weed Warrior gets the job done...
NOT FOR YOUR LAWN: It's non-staining, so it won't discolor...
OMRI LISTED: Our convenient, ready-to-use weed killer is an...
Sunday weed warrior is a ready-to-use weed control spray. This makes it easier for me to use in my yard since I do not have to go through the arduous process of mixing the right parts. The weed killers from Sunday get the job done rapidly, dehydrating the weeds and ridding them of the chance to ruin your property.
Sunday Weed Warrior works in a matter of minutes to eliminate unwanted plants.
Image Source: blog.machanet.com
Take Note: The weed killer does not choose which plants to kill. Therefore, DO NOT apply it on your lawn, as it will kill everything, including grass.
The places I use the weed killer include on the driveway, where I do not want grass growing, or around the house. The best thing about the weed killer is that it does not stain bricks or concrete. While this particular weed killer is not what my lawn requires, it does come in handy sometimes.
2) Sunday Green Machine Fertilizer
Sunday Green Machine Fertilizer, 42.3oz - Lawn...
SUNDAY IS OFFICIALLY ON AMAZON: Sunday Lawn Care, the premium...
GET GROWING: Green Machine liquid lawn fertilizer is your answer...
MYSTERY FREE INGREDIENTS: Our 22-0-3 liquid fertilizer boosts...
WHEN & HOW TO APPLY: Apply every 4 to 6 weeks while grass is...
DIY LAWN CARE: Start the season off right by first applying our...
Once I had done my soil analysis, the Sunday Green Machine Fertilizer is all I needed to encourage lush growth on my lawn. The fertilizer works for any lawn size as it can cover up to 5000 Sq. ft., which is above the average lawn size.
Image Source: forbes.com
The Sunday fertilizer pack comes ready to attach to a garden hose to help me apply it evenly, making it a great pick when looking at options. With the Green Machine, I do not need to use pesticides on my lawn as it takes care of that too. This reduces the amount of lawn products I have to use. Since I can use the Sunday Green Machine on my own, I do not need to rely on professional services when using the product.
3) Sunday Bare Repair
Sunday Bare Repair Sun and Shade Grass Seed Spot...
SUNDAY IS OFFICIALLY ON AMAZON: Sunday Lawn Care, the premium...
QUICK & EASY GRASS PATCH REPAIR: Our proprietary formula combines...
FOR COOL SEASON GRASS: Best for northern and transitional...
THREE SIMPLE STEPS: When outside temps are about 60-85° F,...
HIGH-QUALITY GRASS SEED: Only A-LIST-approved varieties for their...
If you have a scruffy lawn, the sun and shade grass seed-spot treatment is here with us. I used the Sunday Bare repair on my lawn seed that seemed not to take off, and I got results soon after. Regardless of taking a soil test kit and working on samples, some areas in the yard can be slower, and Sunday Bare repair is the answer.
4) Sunday Lawn Kickstart Fertilizer
Sunday Bare Repair Sun and Shade Grass Seed Spot...
SUNDAY IS OFFICIALLY ON AMAZON: Sunday Lawn Care, the premium...
QUICK & EASY GRASS PATCH REPAIR: Our proprietary formula combines...
FOR COOL SEASON GRASS: Best for northern and transitional...
THREE SIMPLE STEPS: When outside temps are about 60-85° F,...
HIGH-QUALITY GRASS SEED: Only A-LIST-approved varieties for their...
Just as the name suggests, the kickstart fertilizer is great to set your lawn care on a positive trajectory. I like using fertilizer because it helps my lawn stay greener by fixing the iron. The fertilizer further nourishes my lawn with potassium, improving the hydration on the ground.
Image Source: lowes.com
The Sunday Lawn Kickstart fertilizer is one of my most preferred Sunday Lawn products as it has nitrogen which boosts growth. However, after use, I have to be ready with weed control sprays to kill the weed that benefits from the nutrient value added by the fertilizer.
How Sunday Lawn Care Compares to Competitors
a) Price
Compared to other options, Sunday Lawn is a bit costly. However, Sunday Lawn offers a more personalized professional lawn care service. Furthermore, you can save on some costs as you will do some of the work yourself.
b) Coverage
Sunday Lawn provides its services in 50 states, which is more than most lawn care service providers. However, since Sunday Lawn Care is a DIY lawn care service, no one will physically visit your lawn as the point is for you to do everything on your own. Competitors like Naturalawn of America have a door-to-door service with workers who will clean the debris before leaving.
So, while Sunday Lawn Care cuts across all 50 states, it is important to note that they only ship their products and lawn prescription to you.
Customer Reviews
Image Source: archived.curbed.com
Some Customers on their website are saying:
"I was skeptical at first, getting fertilizer for my entire yard that I can carry all at once and not need a wheelbarrow to lug 50 lb bags around. This is now my second year, and I already see results. I love the "to-do list" and not needing to know or find time to go get big box store fertilizer. I literally do nothing, then all of a sudden boom, get a package in the mail and know that in the following weekend, I'm fertilizing." Tim, April 2023
"Waste of time and money. Hose attachment works half the time, and the results have been less than stellar after 2+ years. We wanted something safe for the pets, but there is no substitute for the good stuff." Nick, April 2023
"After three applications last year, my lawn was full of weeds and yellow spots for the first time. I went back to True Green, and within 45 days, it was better. Now I just received a shipment of this stuff for this year, not knowing I had signed up for a service that would auto-renew. Shame on me for not knowing, so more money is wasted, and they won't take it back. So add poor service to a product that does not work." Chrisdubie, April 2023
"For me, I didn't get the product on time, so it was very late for the first application. I also bought the weed killer, and it was worthless and way more expensive than other products that really work. Eric, in customer service, is polite and kind but offered no refund or anything else to correct the weed killer's lack of effectiveness. I may try the lawn stuff one more time if I can get it on time, but the weed killer, never again." — Jeff R.
From our observation, most of the customers were not satisfied with the customer service, the company's mission, and the product.
Sunday Lawn Care Customer Service
While it is fair to note that people with a negative review are more likely to air their views compared to positive reviews, most reviews left by Sunday Lawn Care seem to be complaints.
The customer service of Sunday Lawn Care could do better, going by the customer reviews. However, whether the customers have a complaint, an inquiry, or something positive or negative to say, they will all receive a response from the company, which is commendable. The following is an example of a response from the company after someone complained of damage after using their product.
"Juan Pico—We're so sorry to hear this! It is extremely uncommon for our products to cause browning, we're going to have one of our turf experts reach out to you to try and diagnose the problem further and get this fixed! We do offer a full money-back guarantee if you're not happy with your results, but of course, we want to help get your green lawn back on track ASAP. Look out for an email from us, and again our apologies!"
Pros and Cons of Sunday Lawn Care
Frequently Asked Questions About Sunday Lawn Care
Image Source: getsunday.com
1. Is Sunday Lawn Care Legit?
Despite being around for only four years, Sunday Lawn Care is known for producing safer lawn care products than some traditional lawn care companies. They use natural, non-toxic ingredients like seaweed, kelp, molasses, and iron.
2. How Does Sunday Work?
To get started with the Sunday lawn care service, you need to visit their website, sign up, and select your package. A quick lawn care analysis will be provided to help you know what's required to grow a healthy lawn. If you think that your lawn wants additional care, you can talk to the support team and request a lawn review.
3. How Much Does Sunday Lawn Cost?
The Smart Lawn plan from Sunday Lawn care company starts from a $69 annual fee. You will get;
Six to eight nutrient pouches
A hose-end sprayer
A lab soil test
Customized instructions
Access to the Sunday support team
This boxed plan is shipped annually. You can purchase other products separately. Also, gift subscriptions are available, which include a welcome card and a customized lawn care plan for your climate. To get an estimate of the total cost, you can place your address and details online, then Sunday's tool will estimate the size of your lawn.
4. Does Sunday Lawn Care Kill Weeds?
Sunday has a Weed Warrior treatment that is herbicidal, a non-selective herbicide that easily kills weeds, including dandelions, chickweed, moss, and more. However, it can also kill the grass because it is non-selective.
Final Take on Sunday Lawn Care
If you are a homeowner or a property owner who doesn't require lawn services such as shrub removal but wants an innovative and eco-friendly approach to lawn care, then Sunday should be the best option for you. We consider Sunday to have as the best DIY lawn care package. This is because of their ease of use, their fast delivery, and reasonable pricing.