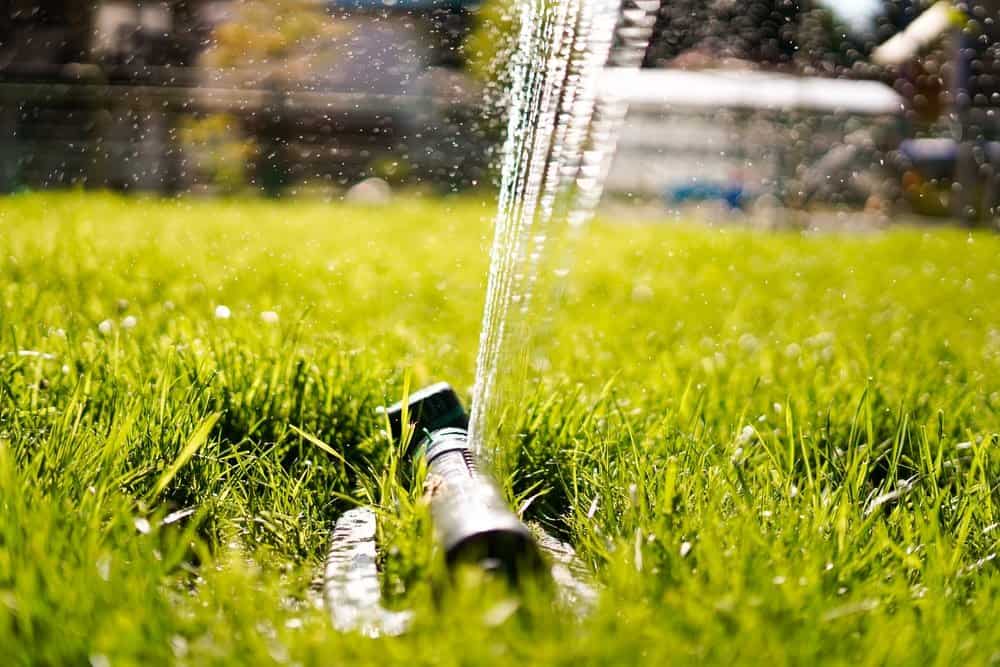 Best Oscillating Sprinkler That's Easily Adjustable
Lush green lawns and gardens require constant watering and tending. There's definitely more work that goes into ensuring your grass or vegetables stay watered, and sometimes it can often feel quite taxing, having to think about standing there with a hose spraying over your lawn/garden.
The best oscillating sprinkler provides an easy and effective way to water your lawn or garden. Ideally, the best models have ample range control to water the desired area and can be adjusted to only spray water where needed. Hence, it's essential to know the size of your yard or garden before you buy one. Adjustability is also key when searching for the right sprinkler. You want one that has a customizable width and length. ( sometimes referred to as range)
These picks below are the best oscillating sprinklers in the market, and we also outlined a helpful guide on features to consider when buying.
Best Oscillating Sprinklers
1. Aqua Joe SJI-OMS16 Metal Base Oscillating Sprinkler
Sale
Aqua Joe SJI-OMS16 Indestructible Metal Base...
CUSTOMIZABLE: Customizable coverage patterns
RANGE: Superior range control covers up to 3600 sq ft
DURABLE: Leak-resistant connection so you can water with peace of...
CLOG-RESISTANT: Equipped with 16 clog-resistant nozzles
COMPATIBILITY: Fits a standard garden hose connection
The Aqua Joe oscillating lawn sprinkler stans out for being very customizable. The sprinkler allows you to choose the coverage pattern that suits your needs the most.
It also features an adjustable spray that can cover up to 3,600 square feet of the ground.
The Aqua Joe metal base oscillating sprinkler has a control range with 16 nozzles, each designed to be clog-resistant. Hence, you're less likely to experience your sprinkler jamming. Another cool feature is their built-in cleaning tool that allows you to clear anything that may be causing the jets to get stuck.
The Aqua Joe oscillating lawn sprinkler is fitted with a sealed turbo gear-driven unit for reliable performance. Lastly, its leak-resistant connection ensures the maximum amount of water pressure goes to the sprinkler.
2. GARDENA ZoomMaxx Oscillating Sprinkler
GARDENA ZoomMaxx Oscillating Sprinkler on Weighted Sled...
Fully adjustable controls for width, length and water flow - area...
Compact oscillating sprinkler for the smallest areas
16 flexible rubber nozzles for even water distribution
Sealed turbo gear driven unit
Large Sled base for stability
The Gardena ZoomMaxx can be considered the best oscillating sprinkler for watering small spaces as it features a compact head with multiple rows of nozzles.
The oscillating sprinkler is equipped with fully adjustable controls for width, length, and water flow for an area of 76 square feet – 2,300 square feet. The coverage is ideal for small yards, gardens, and flower beds without wasteful overspray.
The Gardena Zoommaxx is fitted with 16 rubber nozzles for even water distribution. In addition, it features a sizable 11-inch diameter round sled base that provides a sturdy base for the sprinkler head. The adjusters allow you to set the range between 10 and 60 feet and the width between 10 and 40 feet.
Lastly, the oscillating lawn sprinkler has a sealed turbo gear drive unit that protects the sprinkler's moving parts from dirt while ensuring an even water distribution.
3. Melnor 65031-AMZ MiniMax Turbo Oscillating Sprinkler
Melnor 65031-AMZ MiniMax Turbo Oscillating Sprinkler on...
Coverage up to 3, 900 sq. Ft. Great for watering the lawn, newly...
Four-way adjustment for Precision watering right where it's...
Zoom control adjusts the overall watering area. Zoom in for a...
Quickly connect and disconnect the sprinkler with an included...
Backed by a Melnor Limited Lifetime . We stand behind our...
The Melnor oscillating sprinkler is a great pick if searching for adjustability.
You can control the width, range, and spray/watering area with ease. It has a range of control of up to 3,900 square feet, and you can turn the sprinkler head a full 360 degrees, so it can literally spray in any direction needed.
The sprinkler base is a spike, and it's inserted into the ground, thus ensuring stability. The sprinkler is constructed from a combination of plastic and metal. It features zoom control that adjusts the overall watering area. For example, you can zoom in for a small patch of newly seeded lawn or all the way out to cover a large section of the yard.
The sprinkler has 16 nozzles, and with the included quick-connect adapter, you can easily connect and disconnect the sprinkler to your garden hose using the included adapter.
The Melnor sprinkler is covered by a lifetime warranty.
4. Green Thumb 4200MGT Metal Oscillating Sprinkler
The Green Thumb 4200mgt oscillating is ideal if you're looking to step up from budget models but don't want to pay top dollar for premium sprinklers. It's the perfect balance between performance and price.
The Green Thumb 4200mgt has a coverage area of 3900 square feet. In addition, it features one-touch width control allowing you to adjust the area to suit your exact needs.
The sprinkler has a sturdy aluminum base that provides support for the unit and 18 rubber nozzles. However, the nozzles are made of a less durable plastic material. In addition, the jets are clog-resistant, and the Turbo Drive Motor is encased for an added layer of durability.
5. Melnor 65055 XT Metal Turbo Oscillator
Melnor 65055-AMZ XT Metal Turbo Oscillator with 3-Way...
20 Precision nozzles provide maximum coverage of large lawns or...
Twin touch controls adjust the width and range of the watering...
Zoom control adjusts the overall watering area. Zoom in for a...
Quickly connect and disconnect the sprinkler with an included...
Backed by the Melnor Limited Lifetime . We stand behind our...
The Melnor brand is known for its high-quality sprinklers; hence it's no surprise that this turbo oscillating sprinkler is part of this list.
The turbo oscillating sprinkler is made of sturdy and durable metal. In addition, the Melnor xt turbo oscillating sprinkler features 20 nozzles that provide a maximum coverage area of up to 4,500 square feet.
It has two twin touch controls that are very easy to adjust, so you can set the width and range of the watering pattern to cover the whole yard or a narrow flower bed. In addition, you can easily connect and disconnect the turbo oscillating sprinkler to any standard garden hose with the included adapter.
The Melnor Xt is covered by a lifetime warranty and is available in different formats, such as a two-way adjustable sprinkler with a timer.
Features To Consider When Buying Best Oscillating Sprinkler
a) Size of Lawn and Sprinkler Coverage
When searching for the best oscillating sprinkler, you need to consider the size of your lawn. Essentially, you want a sprinkler that will ease your watering burden and won't need to be moved around too many times to cover the entire of your yard.
To work out the size of your lawn, multiply its length by its width and look for the best oscillating sprinklers that can cover this square footage area.
Something worth noting is that oscillating sprinklers will cover a rectangular-shaped area that will miss the corners of a non-rectangular yard, so you may need to purchase more than one sprinkler to achieve full coverage for an even, non-patchy stretch of grass.
b) Materials and Durability
Most oscillating sprinklers are made using plastic or metal, with each having its own benefits and disadvantages when it comes to durability.
A metal oscillating sprinkler tends to be more durable as it has a higher impact tolerance and sturdier base to support the sprinkler head. The downside is that rusting and corrosion are likely to occur.
On the other hand, plastic sprinklers are more affordable but are more prone to breaking or snapping.
When searching for the best oscillating sprinkler, you also need to consider the mechanism that controls the sprinkler's head movement. This is one of the most vulnerable elements of an oscillating sprinkler. Some sprinklers feature a casing covering this mechanism to protect them from damage, while others that don't will come with a higher risk of dirt or rubble getting trapped in the gears, causing them to get stuck.
c) Water Pressure
The oscillating sprinkler you consider will perform according to the level of water pressure from your source.
When searching, consider a sprinkler for low water pressure if your water source is below 100 psi.
Range and coverage patterns are determined by water pressure in some sprinklers. Unfortunately, this means they typically don't have many controls.
Hence, check to see if the oscillating sprinkler you're selecting will work efficiently with the water pressure range you're dealing with in your yard.
d) Holes and Handles
Oscillating sprinklers with many holes will provide greater coverage. However, you may not require one if you have a small lawn. You're better off getting a variant with fewer holes to limit the coverage area in such a case adequately.
Additionally, a well-designed and properly positioned handle makes it easier to move the sprayer.
e) Water Conservation
Water conservation is a key priority, especially with the dangers of climate change.
Oscillating sprinklers can use up to 17 gallons of water per minute, but there are ways you can try to provide maximum nourishment for your lawn while conserving water.
For instance, position your sprinkler wisely such that you're only watering the desired area and not wasting water on unnecessary spaces like driveways and walkways.
Additionally, you can also search for oscillating sprinklers that allow you to set a timer so it will switch itself off after a certain amount of time has passed. Again, this is a great way to prevent overwatering.
Benefits Of Buying An Oscillating Sprinkler
a) Convenience
Oscillating sprinklers afford you the convenience of watering your lawn as all you do is link it to a sprinkler system, and it automatically waters your grass and flowerbeds.
b)Portable and Easy to Move
Oscillating sprinklers are lightweight and compact, making them easy to move around the lawn or flowerbeds. This makes them effective for watering.
c) Good for Lawns and Flowerbeds
An oscillating sprinkler features an adjustable crossbar or head that makes it easy to set custom watering ranges to suit your flowerbeds or lawn, reducing overwatering.
d) Wide Coverage
With an oscillating sprinkler, you can maximize on your lawn despite its size, unlike with hoses or bucket watering.
This means you can avoid overwatering plants and reduce the risk of wastage. An oscillating sprinkler creates a fanlike spray pattern that provides good coverage for any size yard, small, medium, and large yards. It can be set to reach the nearest and furthest edges of your yard with ease.
e) Smart Tech
Though an oscillating lawn sprinkler is a fairly basic device, some are compatible with smart tech. In addition, they have useful features like built sensors to detect rainfall – it will automatically switch the sprinkler off if it starts raining, reducing water wastage.
Frequently Asked Questions About Best Oscillating Sprinkler (FAQs)
a) How Long Can You Water The Lawn With An Oscillating Sprinkler?
This depends on the weather condition, soil type, and the sprinkler's water flow. Generally, on a small to medium-sized lawn, you can water anywhere from 15 to 20 minutes in each area to get sufficient water coverage.
You should water your lawn deeply 2 to 3 times a week instead of daily. Daily watering can cause the grass to develop a shallow root system that dries quickly; hence the grass remains weak.
Spreading the watering schedule allows the grass root system to become healthy as it digs deeper into the ground. This makes the grass strong and drought resistant.
b) Can You Over Water Grass?
Yes, it is, and it happens when watering your lawn too much. As a result, this prevents the grass from getting enough oxygen and makes it more prone to damage and disease. Excessive weeds, patches of dead grass, and a squelching sound when you step on it are all signs that you may be overwatering your lawn.
c) Why Does My Oscillating Sprinkler Keep Getting Stuck?
It could be that the oscillating sprinkler is not of the best quality, leading to faulty parts. In that case, any of the sprinklers reviewed here would make a great replacement. It could also be that your sprinklers are getting stuck due to low water pressure or water volume, which can limit the distribution bar's movement.