Living in a permanent home is such a convenient and fulfilling experience for most people, especially professionals. However, the challenging part is keeping up with mortgage payments, which means maintaining a regular income flow to avoid missing monthly dues. While living in a big house is a dream come true, average wage earners find it difficult to shoulder. That's when living in smaller houses makes more sense, and such a concept paved the way for the tiny house movement.
The Tiny House Movement
The tiny house movement started in the 1970s when Allan Wexler started investigating the concept of living in a smaller or more compact space. Designers later came to the scene and took the concept to heart and fruition. Downsizing houses come with downsizing to or living a simple and happy life, which is the tiny house movement's essence. This term is also referred to as the tiny house movement. There are no zoning laws in the past, so people can set up tiny houses wherever they like, giving a sense of freedom from cage-like, permanently fixed living. But, what makes the tiny house movement very popular?
Here Are The Good-To-Know Things About The Tiny House Movement:
1. Defining A Tiny House
A tiny house is a dwelling unit that measures a maximum of 37 square meters or 400 square feet. People who choose to live in tiny dwellings put more effort into saving money than those in traditional housing. Due to high mortgage rates or new house construction costs—choosing this lifestyle focuses on building meaningful relationships and saving Mother Earth through environmentally conscious design and sustainable home solutions.
2. Small Yet Decent Tiny Homes:
Tiny homes come in different sizes and shapes, such as small cabins on wheels, trailer homes, and micro-apartments. The layout is carefully planned to maximize them and ensure comfortable living even in a limited space.
3. Shipping Container Housing:
Nowadays, shipping container housing is a popular tiny house option. Shipping container homes are made of steel shipping containers. Some states that allow mobile-friendly shipping container housing include Texas, California, Tennessee, Louisiana, Missouri, Oregon, and Alaska.
Tiny House Movement Inspiration Ideas
1. Tiny House on Wheels
Most people looking to purchase a tiny house have or are after a flexible and adventurous lifestyle, and a tiny house on wheels can give you that flexibility. Tiny houses are financially flexible and are less expensive compared to stationary and traditional homes.
2. Minimalist Tiny House Kitchen
Living in a minimalist tiny house kitchen allows tiny house owners to simplify and declutter their living and headspace. These minimalist designs have been on the rise, ranging from simple hardware and monochrome color schemes to sleek modern cabinets. The minimalist kitchen looks excellent for kitchens of different shapes and sizes and mostly the ones part of the tiny house movement, and they make a small space appear pretty large and less cluttered.
3. Choose Bunk Beds
A tiny house idea for families of the tiny house movement or tiny house hunters would be investing in bunk beds that save up lots of space. The bunk beds maximize sleeping areas and be a fun way to add themed sleeping areas for your kids. More so, if you have plenty of vertical space, you can maximize on the bunk beds and even triple up the beds.
4. Bring the Outdoors In
One of the tiny house movement ideas can be adding a large deck or installing windows that open your outdoors or bring the outdoors in. You can quickly bring the outdoors in a tiny house if you are not into large windows by decorating your interiors with plants.
5. Skylights Galore
Without some form of natural lighting, tiny housing options can feel very dark, and that's why natural lighting is essential in tiny home communities. Skylights will help home-owners have more light in their tiny house decor, giving a homey feeling. The skylights always help bring the outdoors in and increase the natural light in your home during the day while giving you incredible views during the night.
6. Use Steps for Storage
A brilliant staircase storage idea is a perfect idea for a tiny house to use the space under the stairs for storage purposes. Build open storage spaces and store decorative items, hats, books, clothes, shoes, and items you usually use daily.
7. Invest in Miniature Appliances
Appliances take up plenty of space in any home, and therefore, when trying to live small, you should go for appliances that take up less of your space in your tiny house. Some ways you can ensure you do this is choosing compact ovens, microwaves, refrigerators, and coffee makes that help any tiny homeowner of the tiny house movement save money and space. Additionally, you can choose multipurpose appliances like washer-dryers or microwave ovens that reduce the appliances needed leaving more space to work with.
8. Hidden Storage
Generally, you have to utilize all the storage compartments possible for tiny houses and create some for yourself. Another storage space a tiny house owner can utilize is the under-floor board storage, where you can keep less-used items. The secret is to ask the tiny house builder to find any space that can act as extra storage, anywhere from under the bed to couches, benches, or even under the kitchen or bathroom sink.
9. Embrace Built-ins
In the tiny house movement, choosing off-the-wall decor ideas is a welcome solution because it helps with some benefits such as saving plenty of space and lowering your cost of living. Apart from appliances that can be built-in for tiny house owners, you can also have dressers and drawers built into the wall.
10. Vacation Home
Some tiny house community members use their tiny houses as vacation tiny homes for holiday getaways or family vacations. You can custom design your tiny house to suit your needs and style, and it will save you plenty of money compared to renting an average home-size vacation home. Your tiny house can also act as your storage space for winter gear during the summer season or more bunk beds to fit your family members when they come over.
Additionally, with the rise of Airbnb, you can furnish your tiny house to become a guest house when they are vacationing and charge an amount which means more income for you. What you can do with your tiny vacation houses is endless, and the limit is your imagination as a tiny homeowner.
11. Use Ladders
One excellent idea to incorporate in the tiny house movement lifestyle is using ladders instead of steps in your tiny house. This idea benefits mostly tiny home-owners since traditional stairs naturally take up a lot of space and ladders do not, and some can also be folded. Ladders can also access the lofts/ or upper storage space and add a rustic design to your home.
Another way to avoid the traditional stair and have a helpful way to get to your loft is by using storage boxes and arranging them to be a staircase. These are Japanese-inspired steps that can be used in any country tiny house.
12. Use Small Patterns & Pops of Color
Decorating a tiny house is more of a personal choice, and the best idea is to mix up the colors to bring out your vibe. Color can change the aesthetic of a room and positively impact people using the tiny house living lifestyle. Bright colors tend to make a small space appear larger than it is, and warm colors can give your tiny house a cozy feel.
However, you should check not to use too many competing colors and patterns to avoid making your house feel cluttered. Showing your style should be in a sensible way without going overboard with a design like in the kitchen backsplash, colorful throw pillows, one unique tile in your shower, and also an accent wall in your living room.
The colors you choose for your tiny home are essential, more important than you might think. Not only does color make an aesthetic impact, but a psychological one too and can bring happiness. Light and bright colors can help make space appear larger, while warm colors can make it feel cozier.
13. Opt for Neutral colors
While still on colors, because you can quickly go wrong with bold colors, you can choose to go for neutral colors like greys, beiges, or whites because they help tiny houses to feel airier. They also affect making tiny houses feel more significant than they are because they are great at reflecting light.
14. Choose Natural Accents
Tiny home living and environmental sustainability translate to be relative for some country people, and therefore they prefer decor t=with a natural accent. If that's the case and keep up with the tiny house movement trend, furnish your home with as many refurbished or preloved items as possible to bring the naturality out of a room. You can do this in your space by adding texture to some walls, using stained wood for both stools and countertops, and finding more ways to reuse building materials.
15. Use Plants to Decorate
Plants as decoration have been a rising trend and have become an everyday staple in cities and tiny house decor. You can play with plants by hanging them from the ceiling, mounting some plants on your wall, or getting succulents to add in some areas to add a pop of color to your tiny house living life.
16. Make Use of Runners in Tiny Houses
Your tiny home can feel more extended with a rug, and this is a trick that magnifies your tiny space because it keeps the eye moving. You can connect your living room to the kitchen using a rag in your entryway to welcome your guests. Small rugs are also suitable to add anywhere in tiny houses because they add coziness.
17. Loft Your Bed
Another commonly used tiny house layout idea is to loft your bed. The loft might create space for you if you don't have space for a bedroom in your tiny houses. Also, this type gives your guests some room for privacy because it can act as a second bedroom.
18. Get Funky with Lighting
Furnishing a tiny home can be a challenge because you are avoiding overwhelm your tiny space. Luckily, lighting fixtures don't take a lot of space, so that you can go all out.
19. Embrace Sliding Doors
Sliding doors create separate rooms without taking up a lot of space while adding some style to your tiny houses. The sliding doors, pocket doors, or a rolling barn door are a perfect way to close your bathroom or bedroom in your tiny homes because they don't take a lot of ton of square footage.
20. Embrace Multi-Purpose Furniture
One of the decor house trends for the tiny house movement is multipurpose furniture in your household as they serve for both form and function. There is plenty of multipurpose furniture a tiny home-owner can use, from using an ottoman that still serves as a coffee table, getting a couch that transforms into a bed, a bench that acts as a storage space, a bed with underneath storage space, or even hideaway desks to mention a few.
21. Get creative with tiny houses design and decor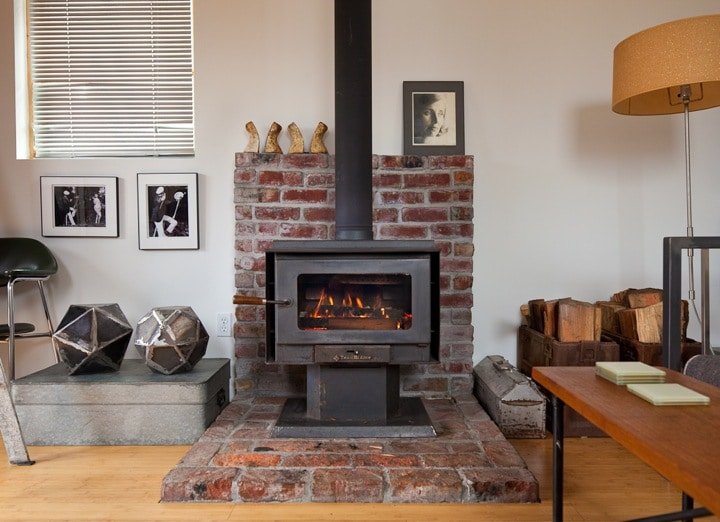 To get the most out of your tiny houses, you should gather all the relevant, innovative ideas and use them. For example, hanging your bike or guitar as art, and a spinning TV and fireplace.
22. Embrace Folding Furniture
Folding furniture can work as extra working space and working stations or extra seats in tiny homes. You can also use drop-leaf tables when trying to save some space in our tiny houses.
23. Use a Shipping Container for Tiny Houses
Instead of building your tiny homes from scratch, you can use available materials like shipping containers to reduce your cost of living and make you a part of the tiny home community.
24. Use Mirrors in your Tiny House
Adding some mirrors to your tiny home can make your space look and feel larger and also more open while still keeping up with the tiny house community.
25. Embrace the Bus House Conversions
This is a tiny house trend that people are warming up to that entails turning old buses into tiny homes, and they need careful planning to give a beautiful home that is part of the tiny house movement.
26. Go Off-Grid
People in the tiny house movement usually transition to the off-grid lifestyle for financial reasons and also because they are self-sufficient. Some off-grid appliances include incinerator toilets, solar panels, a rainwater collection system, or a camp stove.
27. Using a Trailer as a Tiny Home
Trailers nowadays are being used by residents of the tiny house movement to put a tiny home. With detailed planning, it turns out to be a perfect space in whatever city.
28. Use Your Tiny Home Roof
This comes in handy, especially if your tiny home has a flat roof where you can use your roof for sunbathing or watching the sunset, doing yoga, or set up a small veggie garden.
29. Tiny Tree House
Some people of the tiny house movement usually make tiny houses on top of a tree. However, it would be best if you kept in mind that the smaller the tiny home, the easier it is to put it up the tree.
30. Tiny House Headroom
Above the headboard are DIY shelves custom-made to hold some of your things and therefore adding additional storage.
31. Tiny House Smart Kitchen
The smart kitchen features smart storage, in which instead of storing cooking utensils in cabinets like pots, or utensils, you display them on the wall.
The Popularity Of Tiny Houses On Wheels
Jay Shafer is the man behind the modern concept of small houses on wheels. In 1999, Shafer built his first small house in Iowa. His tiny houses were 110 square feet. It has a porch and a steep gabled roof, likened to children's stories Gothic cottage. The first tiny house he sold to a New Hampshire filmmaker was worth US$31,000.
The Great Recession
When the world was struck by the economic crisis in 2008, people found tiny houses as a great solution to their housing financial problems. Everybody was seeking better opportunities so their families can eat better, start a small business, and build an affordable home. It was this time when small housing projects of the governments rescued their homeless citizens.
Impressive Architectural Design
Since the beginning of human civilization, houses and buildings are being built with exceptional architectural design, applying the laws of physics, geometry, and other arts and sciences. The tiny house movement paved the way for creating impressive interior designs, turning small into well-thought-out sleek spaces.
Learning From The Tiny House Movement
Many families on a very tight budget found tiny homes efficient. Tiny houses consume less energy, which helped homeowners save bills on lighting, heating, and cooling. Solar panel installation requires a smaller carbon footprint too.
A tiny house with wheels is portable. It gives homeowners an option to locate from one place to another. People with a small parcel of land can fully maximize their space, allowing them to set planting, playground, and even business spaces.
Along with tiny homes, homeowners find ways to use limited space by investing in smaller appliances. The tiny house movement teaches homeowners to avoid buying unnecessary things that will crowd the space of tiny homes.
The psychology behind the tiny house movement revolves around a person's desire to live a simple life. It includes living in adventure, conserving resources to protect the environment, and living self-sufficiently.
Conclusion
The concept of living in tiny houses or the tiny house movement helps homeowners financially by saving on electricity bills and the costly maintenance of a large house. It's an eco-friendly and practical solution to the rising cost of real estate properties.
This concept started in the 1970s and was popularized by Jay Shafer when his design-and-build company started selling tiny houses in the United States. The great recession put tiny houses in demand because it was a practical solution to the financial problems that people were experiencing at that time.