Despite the shift from drawing boards to digital screens, physical architectural models still play an important role in helping architects, clients, and the public visualize the architect's blueprints. The best 3D printers for architects help bridge the gap between the digital and physical worlds. They empower architects and model makers to design high-precision architectural exemplars quickly and cost-effectively, directly from digital drawings.
Nevertheless, purchasing the right 3D printer for architects can be difficult, considering that many brands offer these products. This guide will provide detailed information about our tests of 3D printers that produce architectural models and how you can choose between them. Keep Reading!
What Are 3D Printers Used For?
Designers use 3D printers to create product models and prototypes quickly. Some items made with the tools include shoe designs, furniture, wax castings for making jewelry, tools, tripods, gift, and novelty items.
3D printers for architects are mainly used to fabricate models for projects. In addition, most architects use 3D printing services to create a tangible model faster and more accurately. The impact of a physical object is much stronger than a visualization on a screen. The amazing thing is that the 3D printer does all the work, which in the long run saves time that you would have used to create models by hand.
With that understanding, let's dive right in and look at some of the best 3D printers for architects you can purchase to make your work easier.
1. MakerBot Replicator + 3D Printer
Sale
MakerBot Replicator + 3D Printer, with swappable Smart...
Your purchase includes One MarkerBot Replicator, One 3D Printer...
Item's dimensions – 17.4" W x 20.8" L x 16.2"H | Build volume...
Works with MakerBot PLA Material - Large Spool, Small Spool &...
The only 3D printer tested by NIOSH for environmental safety in...
Winner of PC Mag Editor's Choice Award, iF Design Award,...
If you want a 3D printer that is accurate and fast at the same time, I would recommend purchasing the Makerbot. This is one of the easiest-to-use printers I have come across. Plus, what I love most is that it gives you a wide variety of 3D printing and comes with its own MakerBot software.
With this printer, you can use different materials when building models for a more accurate presentation. I also love that you can use the in-built camera that comes with this printer to see the progress of your printing and reduce errors during the printing process.
Again, it has a great building capacity and a maximum build volume of 9.49 L, making it perfect for any project. The printer also uses two special filaments, MakerBot PLA filament, and MakerBot Tough PLA filament, which are as good as ABS and as reliable as PLA.
2. Dremel DigiLab Award Winning 3D45-01 3D Printer with Filament
Dremel DigiLab Award Winning 3D45-01 3D Printer with...
Pcmag 2018 Editors' Choice Award And Google For Education Partner...
Easily Removable Glass Build Plate Heated Up To 100°C And All...
5-Inch Full Color Touch Screen With Intuitive Icons For Easy...
Fully Enclosed Sturdy Plastic Design With A 6. 7" X 10" X 6"...
Dremel DigiLab printer is the other amazing printer used in most architecture firms. I love the fact that it is an easy-to-use and intuitive printer. In addition to its printing accuracy, this printer comes with other amazing features that make it stand out to me.
Image credit: Dremel.com
For starters, the Dremel printer has a built-in enclosure that allows you to use printing temperature-sensitive materials such as ABS. I also love the printer's front side because it is clear, allowing you to see your blueprints as they print without opening the door. Amazingly it also has its own software, which provides adjustable settings that you can use to control how prints are made.
The printer's touch screen is another feature that interests me. This touch screen is used for printing from a USB thumb drive or loading filament. I also enjoy using the printer since it allows me to connect multiple printers to a print farm and control them all from a single place. Additionally, it is also able to print different types of materials, including those that require high printing temperatures.
3. Creality 3D CR-10 Large FDM 3D Printer
Creality 3D CR-10 Large FDM 3D Printer All Metal Frame...
【EXTRA LARGE WORKING AREA】🎁Creality Large 3D Printer CR-10...
【OPEN SOURCE FOR ALL USERS】🎁In the spirit of innovation...
【HIGH QUALITY BY METAL FRAME】🎁Creality 3d printer cr10 has...
【RELIABLE AND FLAT GLASS BED】🎁3D printer cr10...
【EASY TO USE】🎁Supports SD card off-line printing, can also...
The Creality 3D CR-10 3D printer is another reliable printer that I love working with. Although this printer is ideal for printing architectural models that are very large, it also works perfectly for small architectural models. The amazing bit is that it has a unique Bowden extruder design that reduces the weight on its X-axis, delivering better performance even on very tall prints.
image credit: Creality3D. com
The printer is stable and has a sturdy metal frame that you can easily adjust to suit your liking. It also has POM engineering thermos-plastic wheels that offer exceptional dimensional stability even during extended use. I love that this machine allows you to print continuously for over 100 hours.
Moreover, the printer comes with a reliable, flat glass bed that ensures a usable, level surface for any architectural model. The major downside is that the printer does not come fully assembled but is not hard to put together since it comes with a DIY guide.
4. LulzBot Mini Desktop 3D Printer
LulzBot Mini Desktop 3D Printer
Enjoy awesome ease-of-use features including auto-bed leveling,...
Print Volume: 6in x 6in x 6.2in (152mm x 152mm x 158mm). Layer...
Maximum temperatures of 300°C (572°F) for the hot end and...
Modular tool head carriage design allows plug-and-play with...
Freedom to use any number of 3D printing software programs, Cura...
The LulzBot Mini 3D printer is a compact device I recommend for anyone looking to work on smaller projects. This is the printer I use in my home office, where there is limited space. So, if you don't have to make large or complex structures, then the small print volume of this printer will not be a problem.
image credit: ucsflibrary.zendesk.com
This printer allows you to print architectural models of different kinds in the comfort of your home or small office. What I love most is that the 3D printer is compatible with any 3D printing software.
Again this affordable printer has an excellent printing speed, and it can print up to 275 mm /10.83 in. The other thing I love about this printer is that you can use different building materials when building models and standard materials like ABS, PLA, and PETG.
5. JGAURORA 3D Printer Desktop FDM 3D Printers
JGAURORA 3D Printer Desktop FDM 3D Printers Metal Frame...
Large 3D Printing Volume: 11*7.1*7.1in ,Lots of 3D Printing...
Z-603S have LED light on the extruder helps you to watch printing...
Separate control extruder fan helps you to print high temp....
Using Optical End stop, more sensitive and responsive, durable...
It is widely used at Home, School, Laboratory, and could be also...
The other printer I recommend for professional architecture is the JGAURORA Z-603 3D. Before purchasing this unit, I was skeptical, but its overall operation impressed me. First, I was amazed by the sturdy metal frame used to make this printer. You can be assured you are getting decent quality for the price.
image credit: pinterest.com
The printer comes fully assembled, and you can start printing immediately. This printer circulates air via a small fan, and its heating bed is appropriate for a size of 280 x 180 x 180 mm. What I love most is that the nozzle temperature of one nozzle ranges from room temperature to 250°C, therefore, supporting the adhesion properties of the print model.
The other feature that fascinates me about this printer is the layer thickness of 0.1 to 0.3 mm with a nozzle diameter of 0.4 mm. But, again, its printing speed is from 10 to 120 mm/s, meaning you can get more done within a short period.
What Are the Benefits of a 3D Printer?
image credit: lifeofanarchitect.com
1. Better Presentation
As an architect having physical architectural models will allow you to present ideas better to your clients. The 3D printers will add levels of detail that will make your scale model even more impressive whenever you try to win a client over.
In addition, innovation is encouraged by 3D printing. Having the ability to create your vision in a couple of hours gives you room to create new and even better designs. So, they will give you room to experiment with different designs for better presentation.
2. Flexible Design
Unlike traditional scale models, 3D printers come with flexible designs that allow you to print even the most complex structures and designs. Again, traditional processes have design restrictions that do not come with 3D printing.
3. Time
Using a 3D printer for your architectural designs will save you some time. Most architectural projects will take on the form of 3D CAD models, and they take a lot of time to print. However, with these models in 3D, the printing time is drastically reduced. The time used to create traditional models may be days or weeks. Regarding 3D printing, it might only take hours to create the same projects.
4. Low Cost
The materials and costs involved in keeping the 3D printers running are much lower than that used in traditional methods. Most people think that the excellent details provided by 3D printers mean you need to spend more, but it's quite the opposite. The amount of time saved and the low cost of creating 3D models make it way better than traditional methods.
5. High Detail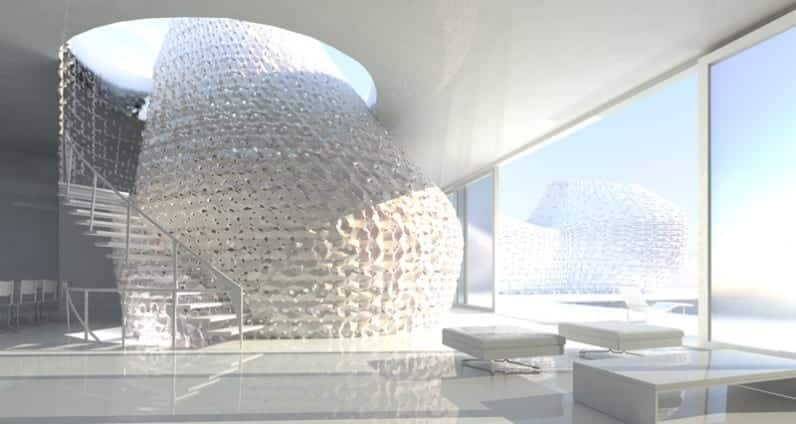 image credit: NDA.ac.UK
The level of detail that the 3D printers for architects provide is incredible. With these printers, you can have less than 0.2mm detailed architectural models. Unlike the traditional models, these printers will allow you to get a more accurate duplication of color and texture. This way, your clients have the exact image of the designs you present to them.
6. Reduce Errors
When it comes to designing products, architectures have to consider efficiency. For example, most traditional printers require many steps to complete your projects, leading to more mistakes. On the other hand, the 3D printer uses a single-step manufacturing process, which is more beneficial since it eliminates the chances of having as many errors.
Factors to Consider When Purchasing the Best 3D Printer for Architects
image credit: adsttc.com
1. Size
The first main factor to consider while shopping for a 3D printer is the size. Even though the overall dimension will help determine if the machine will fit properly in your space, the build volume is vital. After all, the printer's dimensions will show the amount of printing space it will provide. For instance, if you are getting a printer for professional architects, 3D printers with a larger print volume are the best since they can hold various shapes and sizes.
2. Speed of the Printing Process
Architectural firms are mainly interested in the printing speed of the printers they use—the faster the printer, the faster the outcome. Therefore, quick and efficient 3D printing machines will come in handy when printing multiple projects.
The print speed is represented by millimeters (mm) or microns per second. So when making a purchase, you will be guided by these measurements. The higher the figure, the faster the printer is. However, it's important to note that different models or brands will have specific speed requirements that you must follow for the best printing results. 
3. Print Quality
Another important factor you will need to pay attention to is the printing quality. Different 3D printers for architects have different printing quality. There are various factors that may affect the quality of a printer.
The best way to determine the printer quality is by checking the layer resolution, which is measured in mm. The lower the height or thickness, the better the resolution. High resolution will help ensure quality printouts with fine details and smooth edges.
4. Cost
The other vital factor you need to consider is the cost of the printer. Different companies price their products differently based on the materials used to build the product and their different features. Therefore, to purchase the best 3D printing machine, you must prepare and plan ahead of time since most of them are not cheap.
However, it does not always mean that expensive printers are the best. So it's advisable to look at the features and materials used to make the printer you want to purchase and ensure it matches your needs.
Frequently Asked Questions
1. Can you build a house using a 3D printer?
Yes, 3D-printed homes are transforming the construction industry by making home building cheaper and quicker. The great bit is that you can have a 3D printers print the foundation and walls for a home in a matter of hours. This will not only save on time, but it will also use a fraction of the cost of normal house construction.
2. How much does a 3D printer cost?
The prices of 3D printers will vary based on different factors. The cheap ones will cost anywhere between $100 to $400. Then the high-end printers can go up to $1,000. However, if you want professional 3D Printers, the price range will be between $1,000 to $10,000.